! >
Broadway To Vegas
  
  REVIEWS INTERVIEWS COMMENTARY NEWS

| | |
| --- | --- |
| | |
DANNY DEVITO MAKES WEST END DEBUT - - PRINCE HARRY RECEIVES AWARD IN WASHINGTON DC - - AMERICAN PSYCHO THE MUSICAL - - AUDITIONS FOR MUSICAL BY JULIE ANDREWS - - NEA GRANTS REWARD INTERACTIVE VIDEO - - ROBERT REDFORD TELLS OFF PRIME MINISTER CAMERON & PRAISES PRINCE CHARLES - - TRIBUTE TO MARY RODGERS GUETTEL - - MORE MOOSE MURDER DROPPINGS - - DONATE . . . Scroll Down


Copyright: April 29, 2012
By: Laura Deni
CLICK HERE FOR COMMENT SECTION

NEA GRANTS SEND A MESSAGE THAT TELEVISION IS OUT, VIDEO COMMUNICATION IS IN

Just as soon as senior citizens awaken from their naps and partake of their 4 p.m. dinner coupon specials, shock waves will vibrate off of walkers everywhere, as viewers of revered PBS programs discover that, unless they fork over some of their kids' inheritance in the form of PBS pledges, their favorite programs could be off the air.

The NEA has announced their grant recipients. Just because you've been to the party before, doesn't mean you got an invitation this year.

Among the PBS programs receiving significantly less money are Live From Lincoln Center, which was granted $100,000 last year and nothing this year. The Metropolitan Opera received $50,000 to support its national Great Performances at the Met telecasts, $100,000 less than last year.

Out of 329 applications, 78 grants were awarded totaling $3.55 million in funding for the not-for-profit organizations, with an average grant amount of $45,513.

It seems that television is just so - yesterday.


Recently Renee Fleming and Gosh Groban appeared on a Live From Lincoln Center presentation. Live From Lincoln Center, produced by Lincoln Center's John Goberman, remains the only series of live broadcast performances on American television today.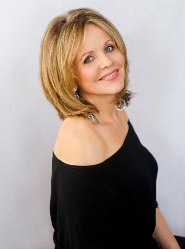 Today?

Instant, video, and participation is what it's all about.

Those receiving grants included:

Let's Breakthrough, Inc. in New York City received $75,000 to "support the development of an interactive video game for social change." This online and mobile game project hopes to engage kids "in a creative exploration of democracy, diversity, and social change."

The Spelman College in Atlanta received $100,000 to develop "HERadventure, a multi-episode, augmented reality computer game." The mobile and web-based game is targeted to college-aged women and tells the story of "a young female superhero sent to Earth to save her own planet from devastation because of climate change."

The University of Southern California received $40,000 to support production costs for a video game based on the writings of Henry David Thoreau at Walden Pond. You'll "inhabit an open, three-dimensional game world which will simulate the geography and environment of Walden Woods."

New York City-based Games for Change organization received $75,000 to support the "development, production, and hosting for a game for Facebook based on the book Half the Sky by Nicholas Kristof and Sheryl WuDunn." The book "documents the true stories of women around the world who ultimately overcome tremendous obstacles" and the game will task players with "the safety and well-being of their own village."

A Web-based program from the Odysseus Group of New York City called Power Poetry, received a grant to encourages youths to write poems via texting.

Also on the list is The Flea Theater's production of a new play using interactive technology which "will apply video game technology to professional theater productions to create a new medium for the performing arts".

The Massachusetts-based Jacob's Pillow Dance Festival received a grant for "developing an interactive dance company guessing game" that will be available on smartphones and tablets.





Broadway To Vegas is supported through advertising and donations. Priority consideration is given to interview suggestions, news, press releases, etc from paid supporters. However, no paid supporters control, alter, edit, or in any way manipulate the content of this site. Your donation is appreciated. We accept PAYPAL. Thank you for your interest.



ART AND ABOUT


STUDY OF CADAVERS HELPED ARTIST SOPHIE DICKENS CREATE MASTERPIECES

Life-sized Judo sculpture of the perfect Morote Seoi Nage by Sophie Dickens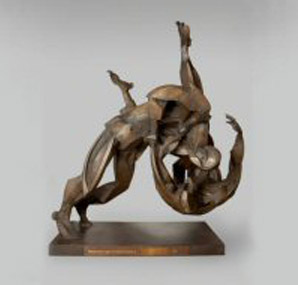 in turn about is fair play - just as medical students are using a study of art to help them in diagnosing patients, ( See Broadway To Vegas column of April 22, 2005 ) Sophie Dickens the great-great-granddaughter of Charles Dickens, used cadavers to help her create lifelike sculptures.

Sophie has created a special Olympics sculpture which is on display through May 30 at Oxford's Ashmolean Museum before transferring to the Victoria Art Gallery, Bath for a May 26-July 1, 2012 exhibition. Then the life-sized Judo sculpture of the perfect Morote Seoi Nage throw will be shown at the ExCel centre, the venue for the judo competition during the London Olympic and Paralympic Games. Profits from the project will be used to benefit disadvantaged or disabled young people through the life changing work of the Youth Sport Trust and ParalympicsGB.

The 45-year-old worked closely with the European Judo Union.

"I had to watch a lot of judo bouts and meet the athletes but thank goodness I didn't have to do a throw, or get thrown," she says. "Two experts demonstrated for me over and over again. It looked agonizing."

Jan Gosiewski, British Judo Squad member repeated the throw dozens of times for Sophie when she visited Team Bath, at the University of Bath, to sketch and take photographs of the sport before starting work on her impressive creation, She constructed the artwork from shaped pieces of seasoned oak, which really capture the movement in one of the classic winning judo throws Morote Seoinage or the two arm shoulder throw.

Before launching her career as a sculptor Sophie Dickens, who divides her time between England and Mexico, studied art history at the Courtauld Institute, sculpture under Clive Duncan at the John Cass Foundation in White chapel and anatomy at The Slade, where she would study cadavers.

"I never stopped going to life classes. I was always trying to get to grips with anatomy," said Sophie.

The artist admitted that a miserable point in her life was when she was "working at a Bond St Gallery, selling Victorian paintings to tourists. It was awful. One day, I just walked out."

Fortunately, she received a commission from a museum in Plymouth to sculpt the head of Walter Raleigh. "I had to make him out of clay," she recalled. "Doing it was just instant happiness. It gave me the feeling of well-being which comes when you realize, immediately, that this is what you must do."

In addition to mulling over cadavers, she also studied those still breathing - sometimes being the only person in the Life Drawing Room. "It was great. I could get the model to do whatever I wanted. I used to get one man to act just like a chicken."

"For me, the wonderful thing about relating sculpture to the human figure is that nobody is excluded from it," Sophie explains. "Through the application of pieces of wood onto a steel armature I can convey emotions and preoccupations that are meaningful to me - vulnerability, spiritual energy and the Don Quixote-ness of man's struggle with his own humanity."

"My technique evolved from the traditional modeller's practice of packing out armatures with pieces of wood before applying clay to the form. I started using curved pieces of wood, creating an interplay of concave and convex surfaces that relate to anatomy and movement. The faceted surfaces translate very well into bronze, accentuating the jutting reliefs and airy voids that inform the momentum and physicality of the sculptures."

PAUSE AND PLAY: A POP-UP GALLERY a temporary gallery, offers visitors a new space in the museum to see popular culture and math-related objects from the collections and partake in hands-on activities.

Displays feature entertainment artifacts from the 1950s and early 1960s including a Superman costume, a Howdy Doody marionette, the Lone Ranger's mask and silver bullet, puppets from Captain Kangaroo and characters from Sam and Friends, the precursor to The Muppets, including the first Kermit the Frog.

Music items on display include one of Patsy Cline's costumes; fan magazines featuring Elvis, the Beatles and Alvin and the Chipmunks; and 45-RPM records highlighting Little Richard, the Beach Boys, the Everly Brothers and Brenda Lee.

A case located at the entrance to the gallery features objects used to teach children arithmetic from the late 1890s to today. Objects include flash cards, early calculators and other math games and toys.

Visitors to the gallery are invited to watch 1950s and 1960s era commercials, try their hand at drawing their own comics on a "graffiti" wall, and play with toys from the same era, including Mr. Potato Head and Etch-A-Sketch. Through Labor Day on the First Floor, West Wing of The Smithsonian's National Museum in Washington, DC.


SWEET CHARITY


JUILLIARD SCHOOL'S APRIL 30 GALA TRIBUTE TO MARY RODGERS GUETTEL

Mary Rodgers Guettel is the honoree of Juilliard's gala, on April 30. Photo by Nan Melville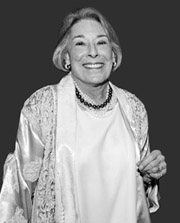 at the Peter Jay Sharp Theater includes performances and appearances by Donna Murphy, Maru Louise Wilson, Laura Linney, Jamie Bernstein, Boyd Gaines, Helen Hunt and Faith Prince.

The black-tie evening promises highlights from Guettel's career as a composer, lyricist, author, producer, arts patron and trustee at Juilliard.

Performances by Juilliard's actors, dancers and musicians (classical and jazz) and the Juilliard Orchestra will also be featured. It is directed by Stephen Wadsworth, with music director Eric Stern and associate music director Lee Musiker.

The evening continues with a dinner in the Tent at Lincoln Center in Damrosch Park followed by dancing with The Peter Duchin Orchestra.

Proceeds from the evening will help support Juilliard student scholarships; 90 percent of Juilliard's actors, dancers and musicians need financial assistance to attend.

Mary Guettel served as Chairman of Juilliard's Board of Trustees from 1994-2011, helping to lead the planning and first two years of the successful $100 million Campaign for Juilliard. The daughter of Broadway composer and Juilliard alumnus Richard Rodgers, she is also an acclaimed composer - Once Upon a Mattress, Free to Be…You and Me, author of Freaky Friday, and The Rotten Book and lyricist Captain Kangaroo theme.

Guettel is vice president of the Rodgers Family Foundation, a member of the Dramatists Guild Council, and the Board of Trustees of the Bridgehampton Chamber Music Festival, which has presented many Juilliard artists in performance.

As a mother of five, Tony Award winning composer Adam Guettel is part of her brood.

THE PRINCE'S TRUST SPRING BALL a star-studded charity event, will be headlined by Boy George.

The evening begins with cocktails followed by dinner and dancing.

Established by Prince Charles, the Prince's Trust offers support by training, mentoring and financial assistance to help disadvantaged young people achieve their potential.

Thursday May 10, 2012 at The Hurlingham Club in London.

EBONY, IVORY & INK Olney Theatre Center's first ever benefit concert takes place May 4 and 5 at the Olney Theatre near Washington, DC in Olney, Maryland.

Led by Christopher Youstra, musical director of Grease and The Sound of Music. Sit back and relax to the musical stylings of a few of the greatest piano songwriters of the past century - George and Ira Gershwin, the Sherman Brothers, Scott Joplin, Rodgers & Hammerstein, Billy Joel, Jason Robert Brown, Franz Schubert, Menken & Ashman, Elton John and more.

Musical guest performances include Felicia Curry, George Dvorsky, JJ Kacynski and Tracy Lynn Olivera.

All proceeds will go to Olney Theatre Center's educational and outreach programs.

KURT PETERSON AND VICTORIA MALLORY IN WHEN EVERYTHING WAS POSSIBLE, A CONCERT (with comments) for one night only, Sunday April 29th as a benefit for Broadway Cares/Equity Fights AIDS.

They will be joined by a thirteen-piece band (Michael Rafter, Music Director), playing new orchestrations by Tony Award winner Jonathan Tunick. Larry Moss directs, with musical staging by Joshua Bergasse. Carolyn Wong will provide lighting design, with sound design by Leon Rothenberg and projection design by Telegraphicmedia.

The show will also feature images of stage photography from the era's greatest photographers including Van Williams, Kenn Duncan, and others - many never before on public display. The concert, featuring songs from the shows they were in - including The Frog Prince, Aladdin, West Side Story, Dear World, Carnival, Dames at Sea, Follies, On the Town, A Little Night Music and Sondheim - A Musical Tribute.

This is the story of Victoria Mallory and Kurt Peterson in the present but also the story of New York, 1966 -'74, the last gasp of the golden age of the American Musical, when everything was possible.

Following their inner music, two kids came to the biggest city in the world and went to work. They didn't want to be famous - they wanted to be good. Along the way they sang for Noel Coward, with Richard Rodgers, Stephen Sondheim, Jerry Herman, Betty Comden, Adolph Green and Leonard Bernstein; hung out with Liz and Dick; sat in the Oval Office and the Apollo capsule; flew the Lunar Lander and crashed on the faux surface of the Moon. And in the summer of '68, as the world flew apart, these two unknowns held court at the State Theatre at Lincoln Center, captivating audiences as Tony and Maria in West Side Story. Together with the talented gangs of Jets and Sharks they made a statement about the world's bigotry and violence in a way that only words, music and dance can.

They worked, lived, grew close, grew up, made mistakes and finally… parted. 36 years would pass until they would meet again, and they found they still had a few things left to say - and sing.

"How lucky we all are to have Victoria Mallory and Kurt Peterson back together again, and sharing their musical lives with us! The personal story told and sung by these two talented artists will take some of us back, and introduce others to a rich era in not-too-distant history. Two young kids arriving in New York, who find careers that touch some of the legendary people and legendary shows, is only the beginning. What happened, both professionally and personally, is quite remarkable," said Ted Chapin, President of the Rodgers & Hammerstein Organization, and Chair of the American Theater Wing.

THE DUKE AND DUCHESS OF CAMBRIDGE - WILL AND KATE

Prince William holds an umbrella over his wife's head as the two enter the charity premiere for African Cats at BFI Southbank in London. Photo: Getty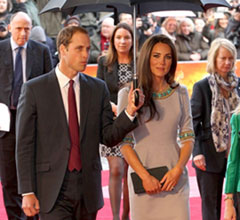 attended a fund-raising gala held last Wednesday at the British Film Institute. The red carpet outing was for the London premiere of the Disney documentary African Cats.

The royal couple, who celebrate their first wedding anniversary today, Sunday, April 29, were greeted by Amanda Neville head of the BFI.

Kate wore a grey Matthew Williamson dress with three-quarter-length sleeves and subtle peplum detail accented with deep turquoise and gold beaded details around the neck and sleeves. She accessorized with dark court shoes and matching clutch by British shoe designer Emmy Scarterfield. Wills picked a dark blue suit.

Mark Knopfler, legendary guitarist of Dire Straits, was among the guests along with filmmaker Guy Ritchie and Dragons' Den judge Deborah Meaden, a patron of Tusk Trust.

The gasps heard at the red carpet event weren't in acknowledgement of the royal couple, but rather because the ill-fitting sides of the one-piece, halterneck, black pants outfit worn by Guy Richie's girlfriend Jacqui Ainsley, 30, provided too much of a side view. When she moved everything popped out.

The film, narrated by Sir Patrick Stewart, follows a mother lion and her cubs and a cheetah mom with her offspring in Kenya's Masai Mara nature reserve, and tells the story of how lions and cheetahs teach their cubs the ways of the wild.

The gala premiere is in aid of William's charity Tusk Trust, which was founded in 1990 to help protect African wildlife.

DANCE AGAINST CANCER An Evening to Benefit the American Cancer Society Monday, May 7, 2012.

The evening begins with cocktails followed by a performance and a reception at the Manhattan Movement & Arts Center in the Lincoln Center area.

All proceeds from this event will benefit research initiatives as well as all patient and family services programs that American Cancer Society funds.

The evening's performance, produced by New York City Ballet's Daniel Ulbricht and Manhattan Movement & Arts Center's Erin Fogarty, will feature dancers from New York City Ballet, American Ballet Theatre, Martha Graham Dance Company, and Alvin Ailey American Dance Theater.

Performers to include Ailey's Clifton Brown and Matthew Rushing; NYCB's Robert Fairchild, Maria Kowroski, Lauren Lovette, Tiler Peck, Amar Ramasar, Teresa Reichlen, Daniel Ulbricht; American Ballet Theatre's Herman Cornejo; Martha Graham Dance Company's Katherine Crockett.


AUDITIONS SLATED FOR FAMILY AFFAIR MUSICAL BY JULIE ANDREWS


Just in time for the holiday season Julie Andrews and some of her relatives will present The Great American Mousical, billed as "A Musical Love Letter to Broadway."

Based on the book Julie wrote with her daughter. That credit lists the duo as Julie Andrews Edwards and Emma Walton Hamilton. The younger one is not only a best-selling children's book author, professional editor and arts educator, but co-founded the Bay Street Theatre in Sag Harbor, New York where she served in numerous capacities through 2008. She is currently a faculty member for Stony Brook Southampton's MFA in Writing and Literature Program.

The family friendly production is described as:

In this secret space, a troupe of theater mice Below the bright lights of Broadway, in the depths of the historic Sovereign Theatre, sits a long-forgotten architect's model of the great Sovereign Theater. There a troupe of musical-making mice rehearse a new show. When the theatre is threatened by demolition and their diva Adelaide disappears, it will take all paws on deck to fulfill the time-honored tradition: the show must go on! Filled with singing, dancing, and show biz lore, The Great American Mousical is a tribute to life in the theatre that celebrates the two most glorious words in the English language: musical comedy!

The Great American Mousical promises to "entertain adults with its wit and musical theatre history while kids will fall in love with the wonderful characters that inhabit the Sovereign Theatre."

In writing the book, Julie stated: "It is an awesome responsibility to write for young people, for I am always aware that they face more choices today and have to make more difficult decisions than I have ever known. In this media-driven world of sound bites, lightning-fast imagery, video games, and'reality' TV, I worry that we are spoon-feeding a steady diet of 'manufactured' slices of life to our children, so that all they have to do is receive rather than participate in any way."

"Emma, Tony and I had so much fun working on this book and are now overjoyed that it will come alive on the stage," said Julie Andrews. "I'm so blessed to be working with this creative team in adapting our book for the theatre."

Directed by the beloved Academy Award-winning actress, singer and best-selling children's book author, Andrews has previously helmed productions for Bay Street Theatre and Goodspeed Musicals including The Boy Friend and its National Tour.

The book for the musical adaptation is by title of show Tony Award nominee Hunter Ball.

Music comes from four time MAC Award winners and composers of Taylor, The Latte Boy, Zina Goldrich and Marcy Heisler, who are the perfect pair to pen the songs for a family audience show. Heisler's ability to write lyrics can't be overstated and Goldrich knows how to pen a perky tune. ( See Broadway To Vegas column of November 22, 2009 ).

Scenic and Costume Design is by Oscar, Emmy and Tony Award winner Tony Walton, who is the father of Emma Walton. He also illustrated the book. With descriptive statements such as "all paws on deck," speculation is that Walton will have delicious opportunities to elevate dressing cats into show stopping purrfection.

Choreographed by Tony nominee Christopher Gattelli, whose current Broadway credits include Godspell and Newsies.

The Musical Director is Andy Einhorn. Who will handle the sound hasn't been announced.

The Great American Mousical will debut at Goodspeed's Norma Terrace Theatre on November 8 with a run through December 12.

Auditions take place Monday, May 7, 2012 at Goodspeed Musicals in East Haddam, CT.

10 AM - Equity female singers who are excellent dancers (especially tap).
2 PM - Equity male singers who are excellent dancers (especially tap).
Chorus rules are in effect.
A monitor will be provided
$566 week minimum.

Prepare 16 bars of a traditional musical theatre song. Bring sheet music in the correct key; an accompanist will be provided, but may not transpose. Please bring a photo and resume, stapled back-to-back.

Casting: Telsey + Company, Rachel Hoffman. Performers of all ethnic and racial backgrounds are encouraged to attend. Rehearsals start October 9, 2012.


MOOSE MURDERS TO DROP SOME MORE ON THE STAGE
One of the biggest flops in Broadway history will wheeze again thanks to The Beautiful Soup Theater Collective. If they can get their act together, Arthur Bicknell's cult flop Moose Murders will open October 24 and play (maybe) a limited run through November 4 at The SoHo Playhouse.

No, it isn't April Fool's Day, nor Friday the 13th.

Co-directing and starring as the eccentric showbiz couple Snooks and Howie (one's blind, the other is tone-deaf) will be Steven Carl McCasland as Howie and Mallory Berlin as Snooks. (They are very young and don't know any better). They will be joined by Collective members Anna Kirkland as Hedda, Jordan Tierney as Stinky and Orlando Iriarte as Joe Buffalo Dance.

The notorious flop - or as the author likes to recall - "for one gloriously legendary night" there was Moose Murders, which closed on its opening night, February 22, 1983, at the Eugene O'Neill Theatre, following 13 previews.

Moose Murders it is now the gold standard of awfulness against which all Broadway failures are judged.

According to the official plot line: The Holloway family arrives at the Wild Moose Lodge, which they have recently purchased, in the Adirondack Mountains. They soon find themselves trapped there during a storm, along with Snooks and Howie Keene, failed entertainers who had worked at the lodge before the Holloways arrived, and Nurse Dagmar, who cares for Sidney Holloway, the family patriarch and an apparent vegetable. They pass the time playing a murder mystery game. During the night, one Holloway son attempts incest with his mother and several murders take place.


ROBERT REDFORD DISAGREES WITH THE BRITISH PRIME MINISTER - AND SAYS SO
Robert Redford at Sundance London didn't mince words about PM Cameron. Photo: Getty.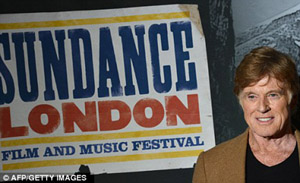 He may have had a smile in his voice, but Robert Redford didn't mince words when he accused British Prime Minister David Cameron of having a "narrow" view of films.

That surprise attack came during a press conference ahead of Sundance London, the first foreign outing of his annual Utah showcase for independent cinema, credited with discovering directors including Quentin Tarantino and Steven Soderbergh.

The lashback was in response to Cameron calling on UK film producers to concentrate on making mainstream movies which would be potential moneymakers.

Well, if wishes were horses ... If one could pinpoint a box office success, we'd all be film producers and there would be no flops.

The 75-year-old screen legend spoke at the O2 Arena, which hosted a selection of films, discussions and musical performances during the four day event. Redford was responding to a question inquiring if he agreed with Cameron's who, before a visit to Pinewood studios to celebrate the opening of The Richard Attenborough Stage on March 27, suggested that UK producers "try to support more commercially viable pictures".

"No," replied the Sundance Institute founder. "That may be why he's in trouble," joked Redford, referring to the British Coalition's recent bad press. Quickly Redford continued, "I won't get into the other reasons, that's not my business."

He added: "I don't want to say it speaks to the man but that view, I think, is a very narrow one, and doesn't speak to the broad category of film makers and artists in the business. And it doesn't speak to audiences either."

Redford emphasized that Sundance had showcased a variety of British independent films from An Education, Carey Mulligan's 2009 breakthrough, to Four Weddings And A Funeral.

He said: "I started in my career working in large Hollywood films but it didn't satisfy the need I had for films which where more risky. When we started Sundance it was basically to enlarge the category of film to include those people that might be shut out by the mainstream thinking. There is a hunger for these kinds of film."

Redford also tossed a few barbs America's way. He accused the US government of failing to offer "money and acknowledgement" to the arts.

Nor is the Hollywood heavyweight a fan of 3-D.

Redford informed the crowd of his fears about the technological advances of 3D and IMAX which he speculated might overshadow the importance of the story. "I think technology has probably gotten a little too far, too fast," Redford said. "I'm not a particular fan of 3D at the moment. My feeling right now is probably things have gone too far, at some great cost by the way. Time will tell whether it really works or not, I'm not sure it will."

One harmonious duo is Redford and Prince Charles. The two teamed up yesterday, April 28, for the premiere of Harmony: A New Way of Looking At Our World, a documentary narrated by the Prince of Wales, which sets out his plan for a sustainable future for the planet.



Robert Redford and Prince Charles at a reception for the film Harmony: A New Way Of Looking At Our World which was screened at the first Sundance London film and music festival at the O2 Arena. Photo: Pool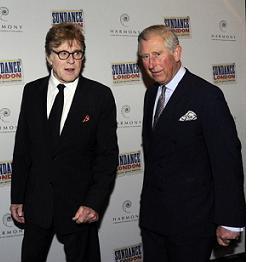 The film has been described as the Prince's version of An Inconvenient Truth, Al Gore's Oscar winning film and features an interview with the former vice president.

Redford said he and the Prince had long shared a passion over the issue of environmental sustainability. "I met with him last Spring to discuss a the idea of how we could work that into our festival. It seemed like a natural fit that Sundance could support his film in his country."

For decades Charles has been ridiculed for his pro environmental activism, a position which Redford understands.

Redford emphasized that their shared belief "has been manifested by action. What Prince Charles has done to commit to that ideal is just incredible," declared Redford.

He added: "I think he has been ahead of the curve - he has been way ahead. And I know what that feeling is, to be ahead of the curve and castigated for it. It is our collective responsibility to do whatever we can to maintain sustainability."

In introducing his environmental film, Charles invoked some humor when he said he hoped the audience "would stay awake for most of it".

Getting serious he said he was "enormously touched and honored", and praised Redford for inviting him to screen Harmony and for bringing Sundance to London. "I think we owe him a huge debt of gratitude for that," said The Prince of Wales.

Harmony, narrated by and starring the prince, stresses a more sustainable, spiritual and harmonious relationship with the planet.

The film was made by Stuart Sender and Julie Bergman Sender, and based on the book of the same name that Prince Charles co-wrote with Tony Juniper and Ian Skelly.

Two decades ago the prince made his first film touting environmentalism.

"Twenty years later, the dangers, the challenges, are even more intense and the urgency is even greater to try to do something about this – if nothing else, for the sake of our children and grandchildren and all who come after us," Prince Charles declared.

"Somehow, over the last 250 years or so, we have decided we can operate outside of the bounds that nature sets, without having to pay a penalty for that.

"All we wanted to do with this film is to show people that there is, perhaps, another way of looking at things now. We have carried on in a 19th-century approach to the way we operate for too long. We are now discovering that there are some limitations and we need to look again."

Other films screened at the festival included Under African Skies, where Paul Simon tours South Africa recalling the making of his album Graceland; Luv, the story of an 11-year-old orphan boy who discovers an ugly truth about his uncle; and The Queen of Versailles, a documentary about a couple whose plan to build America's biggest house is thwarted by the financial meltdown.

Despite the disagreement and offering only a selection of 14 films and 8 shorts, handpicked from the 2012 January Utah festival program, Redford hopes that Sundance London will become an annual event.


HEARTS A FLUTTER AS PRINCE HARRY HEADS TO WASHINGTON DC
Prince Harry will receive his award from Gen. Colin Powell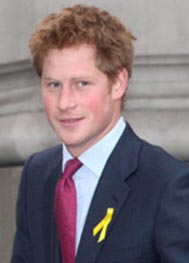 Girls near the Washington DC area are hoping for a peak at Prince Harry

The personable - and eligible - Prince will receive the Atlantic Council's 2012 Award for Distinguished Humanitarian Leadership, in recognition of his charitable and humanitarian work supporting servicemen and women.

The Prince will be presented the Award at the Atlantic Council's annual Awards Dinner on May 7 in Washington, DC.

Prince Harry has chosen to accept the award on behalf of his brother The Duke of Cambridge, and their joint work through The Foundation of Prince William and Prince Harry. The award will be presented by General Colin Powell.

Harry will use the award to pay tribute to British and American veterans' charities for their achievements in helping to rehabilitate wounded servicemen and women and to reintegrate those who have served in the Armed Forces into civilian life.

Before receiving the award Prince Harry will attend a reception at the British Ambassador's residence in Washington, to meet teams of British and American veteran athletes, who will have taken part in the April 30-May 5 Warrior Games in Colorado Springs, Colorado.



Violin Virtuoso Anne-Sophie Mutter will receive her award from her ex-husband, Sir André Previn. They divorced in 2006, but remain on amicable terms and have continued to work together in concerts.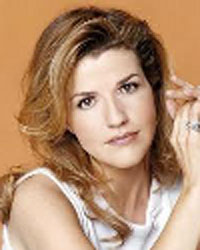 Prince Harry has supported a number of charities that work in the field of rehabilitation of servicemen and women, including Walking with the Wounded, ABF The Soldiers' Charity and Help for Heroes. Will and Kate attended the Service Nation: Mission Serve Hiring for Heroes event in California in July 2011.

In early 2012, The Foundation of Prince William and Prince Harry announced it will work in partnership with The Forces in Mind Trust to support British former military personnel and their families with the transition to civilian life.

The Atlantic Council is a non-partisan institution that has worked for over 50 years to strengthen transatlantic cooperation and international security. The Council has promoted constructive US and European leadership and engagement in international affairs, working with global partners to address crucial issues.

Each year the Atlantic Council recognizes leaders who represent the pillars of the transatlantic relationship: diplomacy, military, business, humanitarian and artistic achievement.

In addition to Prince Harry, during the Awards Dinner, The Atlantic Council will recognize the outstanding achievements of the following leaders:

Ban Ki-Moon, Secretary General, United Nations (Distinguished International Leadership Award) Presented by Dr. Henry A Kissinger.

Paul Polman, CEO, Unilever (Distinguished Business Leadership Award) Presented by Dr. Rajiv Shah.

The enlisted men and women of the United States Armed Forces (Distinguished Military Leadership Award) Presented by Senator Chuck Hagel.

Anne-Sophie Mutter, Violin Virtuoso (Distinguished Artistic Leadership Award) Presented by Sir André Previn.

The Warrior Games was created in 2010 as an introduction to Paralympic sports for wounded, injured and sick service members and veterans. More than 200 servicemen and women and veterans are expected to compete in seven sports in the 2012 event.


SPREADING THE WORD


1776 the musical with music and lyrics by Sherman Edwards and a book by Peter Stone, currently being staged at the Ford's Theatre in Washington, DC through May 19, will have a pre-performance discussion on May 7 with Dr. Edna Medford. She will discuss the African-American experience during the American Revolution, including the role of black soldiers in both the British and Continental armies and the promises of emancipation made by both sides.

Dr. Medford is Associate Professor and Director of Graduate Studies in the Department of History at Howard University. Specializing in 19th-century African-American history, she also teaches both graduate and undergraduate courses in Civil War and Reconstruction, Colonial America, the Jacksonian Era and Comparative Slavery.

AMERICAN PSYCHO: THE MUSICAL a world premiere musical presented by Britain's Headling Theatre Company with electronic music and lyrics by Duncan Sheik. Roberto Aguirre-Sacasa wrote the adaptation.

Reports suggest that "audiences may be advised to bring their raincoats as the writer of the work has promised "a lot of blood".

Headlong's artistic director Rupert Goold, helms the project, which doesn't yet have an opening date or a venue.

SIR BRUCE FORSYTH returns to the London stage on May 3, for the first time in more than a decade, to celebrate 70 years in show business.

More commonly known as Bruce or Brucie, the 84-year-old Strictly Come Dancing host will perform for one night only at the Royal Albert Hall.

The show, Bruce Forsyth - Bruce Live, will be a mixture of comedy and music.

An orchestra will accompany the veteran entertainer as he performs a selection of swing tunes from his hit album, These Are My Favourites.

The star, who began his career on the music hall circuit as a teenager, was Britain's highest-paid entertainer by the 1960s, earning £1,000 ($1625) a week. He received his knighthood from Queen Elizabeth at a Buckingham Palace ceremony in November 2011.

He currently co-hosts BBC One's Strictly Come Dancing - now in its ninth year - with Tess Daly. Sir Bruce has also signed on to share a stage with Bob Dylan, Suede and Primal Scream at this year's Hop Farm Music Festival. Brucie will performing with his big band at the festival in Paddock Wood, Kent. The three-day festival, which prides itself on having no VIP areas and a back-to-basics style, kicks off on Friday June 29.

A PLATFORM SERIES TALK ABOUT CLYBOURNE PARK with author Bruce Norris and director Pam MacKinnon. Moderated by Anne Cattaneo - Dramaturg and Director, LCT Directors Lab.

Thursday, May 3 in the Beaumont Theater Lobby of Lincoln Center Theater, NYC.


OTHER PEOPLE'S MONEY


WICKED is set to fly into Seoul's Bluesquare Theatre on May 31. When the box office opened February 28 for the Seoul season 23,000 tickets were sold, breaking the record of the highest number of tickets sold on one day for an English language production in Korea.


GET WELL SOON TO . . . .


CONDUCTOR KURT MASUR the former principal conductor of the London Philharmonic Orchestra between 2000-2007 who fell off the stage at a concert in Paris.

Masur, 84, lost his balance while conducting the National Orchestra of France on Thursday night, April 26, 2012.

France's president, Nicolas Sarkozy sent his best wishes to the German-born conductor, calling him a "legendary musician".

Masur had been conducting Tchaikovsky's Sixth Symphony and Shostakovich's Symphony No 1 when he fell backwards almost 5 feet into the front row of the audience at the Theatre des Champs-Elysees.

He was transported to a hospital where he was found not to have suffered any serious injuries.

"After a reassuring in-depth examination, [Masur] is resting in hospital," the orchestra said in a statement. "He took a few steps this morning (Friday) and is expected to leave hospital soon."

The night before the accident Masur led a special concert for Amnesty International at the Théatre du Châtelet. For that performance, the former director of the New York Philharmonic lead the ONF in the Tchaikovsky Violin Concerto with soloist Sarah Nemtanu and Shostakovich: Symphony No. 1.

Maestro Masur holds the title Honorary Music Director for Life with the Orchestre National de France, and returns to its podium on a regular basis.



TONY AWARD NOMINATIONS will take place Tuesday, May 1, 2012, announced by Kristin Chenoweth and Jim Parsons.

The American Theatre Wing's 66th Annual Antoinette Perry "Tony" Awards will air on CBS on Sunday, June 10.



OUR SHOW OF SHOWS World Premier Production presented by Morris Broadband. Based on: the original 1950s Variety Show on NBC.

"The guy who invented the first wheel was an idiot. The guy who invented the other three, HE was a genius."- Sid Caesar.

From 1950 to 1954, millions of viewers tuned their television sets to NBC for a 90-minute sketch comedy show starring Sid Caesar, Carl Reiner, Howard Morris and Imogene Coca.

The writers were Mel Brooks, Neil Simon, Michael Stewart and Mel Tolkin and the show was called Your Show of Shows. The show changed television forever and influenced every television comedy that came after it. Now, in this all new stage production, classic television comes to life as we invite you to laugh out loud at some of the greatest comedy skits ever written.

On the Mainstage of the Flatrock Playhouse May 3-20 in Flatrock, NC.

ASSASSINS music and lyrics by Stephen Sondheim and book by John Weidman. The production is directed by Jim Petosa, with music direction by Matthew Stern and choreography by Judith Chaffee.

The production features students and designers from the School of Theatre, supported by a live orchestra.

Assassins is a striking satire of the anarchic political violence that tragically persists at the core of American culture. The musical explores the history of presidential assassinations in the United States, ranging from well-known historical figures such as John Wilkes Booth, John Hinckley, Jr., and "Squeaky" Fromme to lesser known assassins and attempted assassins including Samuel Byck (attempted assassin of President Richard Nixon), Leon Czolgosz (assassin of President William McKinley), and Charles Guiteau (assassin of President James Garfield). The musical style of each song in the 90-minute production reflects the historical period in which the individual "assassins" lived.

Petosa, who also serves as Director of the BU School of Theatre, states, "It is typical for Sondheim and his collaborators to develop theatrical pieces that explore surprisingly complex concepts. Assassins probes the minds of these notorious American characters, who dared to change the world by employing the darkest of means. The musical's assertion of their motives and our own societal response to them makes for compelling theatre."

With the 2012 presidential election process well underway, this production of Sondheim's Assassins delivers a timely investigation of the American political system. The production also marks the conclusion of the Keyword Violence Initiative, the BU College of Fine Arts' year-long examination of the theme of violence. According to Joanne Gordon's 1990 book, Art Isn't Easy: The Theater of Stephen Sondheim, "(Sondheim) confronts pain in order to cauterize the decay and heal the sicknesses which lurk at the core of our society."

The original New York run of Assassins was staged Off-Broadway in 1990. During the 2004 presidential election year, a Broadway revival won five Tony Awards. This production is staged May 4-10 at the Boston University Theatre in Boston, MA.

FOLLIES Direct from Broadway. The Kennedy Center's lush and critically acclaimed production of the Tony Award-winning musical Follies.

With book by James Goldman and music and lyrics by Stephen Sondheim, Follies is directed by Eric Schaeffer with choreography by Warren Carlyle and music direction by James Moore.

See it with a "once-in-a-lifetime" cast of Broadway stars, a 28-piece orchestra and one of the largest ensembles ever to appear on the Ahmanson stage.

Follies stars four-time Tony Award nominee Jan Maxwell, Tony Award winner Victoria Clark, two-time Tony Award nominee Danny Burstein, three-time Emmy Award nominee Ron Raines and Olivier Award winner Elaine Paige.

When former members of the 'Weismann Follies' reunite on the eve of their theatre's demolition, two couples remember their past and face the harsher realities of the present. Reminiscing about their younger selves and the years gone by, the crumbling theatre brings back memories for both couples of good times and bad.

The production features scenic design by Derek McLane, costume design by Gregg Barnes, lighting design by Natasha Katz, sound design by Kai Harada and the original orchestrations by Jonathan Tunick.

May 3-June 9 at the Ahmanson Theatre in Los Angeles.

THE SCOTTSBORO BOYS

(from left) Jeremy Gumbs, Rodney Hicks, Josh Breckenridge, Derrick Cobey, Kendrick Jones, Julius Thomas III, Joshua Henry, Christian Dante White and James T. Lane in the Broadway production of The Scottsboro Boys, which runs April 29 - June 10, 2012 at The Old Globe. Photo by Paul Kolnik.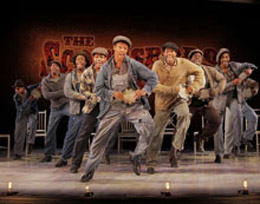 music and lyrics by John Kander and Fred Ebb, libretto by David Thompson, musical direction by Eric Ebbenga and direction and choreography by five-time Tony Award winner Susan Stroman with her work recreated at this West coast premiere by an associate. Jeff Whiting is the Associate Director and Choreographer.

Scenic Design by Beowulf Boritt. Costume Design by Toni-Leslie James. Lighting Design by Ken Billington. Sound Design by Jon Weston. Assistant Choreographer, Eric Santagata. Fight Director, Rick Sordelet. Casting by Janet Foster, CSA. Stage Manager, Joshua Halperin.

Nominated for 12 Tony Awards, this daring and wildly entertaining new musical explores a pivotal moment in American history with arresting originality, innovative staging and a breathtaking score.

Based on the notorious "Scottsboro" case of the 1930s, this inspiring and shocking story tells of the nine unjustly accused African American young men whose lives would eventually spark the Civil Rights Movement.

Possibly the most important musical Broadway has seen in recent memory, this is a co-production with American Conservatory Theater.

The cast Tony Award winner Ron Holgate as The Interlocutor, Clifton Duncan as Haywood Patterson, Jared Joseph as Mr. Bones and JC Montgomery as Mr. Tambo.

The cast also includes David Bazemore (Olen Montgomery), Nile Bullock (Eugene Williams), Christopher James Culberson (Andy Wright), Eric Jackson (Clarence Norris), Kendrick Jones (Willie Roberson), James T. Lane (Ozie Powell), Clifton Oliver (Charles Weems), Clinton Roane (Roy Wright) and C. Kelly Wright (The Lady), with Audrey Martells (The Lady Understudy) and Shavey Brown and Max Kumangai (Swings).

Performances will play April 29-June 10 on the Donald and Darlene Shiley Stage in the Old Globe Theatre in San Diego, CA.

The Old Globe will present three educational seminars about The Scottsboro Boys and the historical significance of the Scottsboro legal case. Admission is free, but reservations are required for these special events.

INSIGHTS SEMINAR: Monday, April 30 - Director and choreographer Susan Stroman and playwright David Thompson will discuss the history of the production and the issues they faced in the creation of the musical.

DIVERSITY IN THE ARTS: Monday, May 7 - Join Delicia Turner Sonnenberg (MOXIE Theatre) and Seema Sueko (Mo'olelo Performing Arts Company) for a conversation about how theatre artists - both present and past - explore stories about race on stage.

TURNING POINTS IN SAN DIEGO CIVIL RIGHTS HISTORY Monday, June 4 - The Scottsboro case galvanized a generation of African Americans and became a turning point in civil rights history. Dr. Carrol Waymon and Dr. John Warren lead a discussion of the civil rights movement in San Diego.

MODIGLIANI written by Dennis McIntyre and directed by BjØrn Johnson.

In 1916, a gifted artist wages a personal war against his demons as well as a world that refuses to accept his creative vision. Modigliani, madly in love with his mistress, becomes distraught and needs money to rescue and raise their child. Modigliani tackles his art work with the hopes of creating a masterpiece, and knows that all the artists of Paris are, doing the same.

The cast of includes Jon Collin Barclay, Daniel Escobar, Ruben Gomes, Nasser Khan, Peter Lewis, Jeff Lorch, Matt Marquez and Nicole Stuart.

The Set Design is by Zachery B. Guiler. The Lighting Design is by Sammy Ross. The Sound Design is by Jeff Polunas. The Costume Design is by Anthony Tran. The Prop Design by Tamara Becker.

Modigliani will begin previews on Monday, May 1, 2012 at the Open Fist Theatre in Hollywood.

THE FABULOUS PALM SPRINGS FOLLIES after nearly 200 performances, the 21st edition of The Fabulous Palm Springs Follies - Hot! Hot! Hot! - comes to a close on Sunday, May 20.

The legendary vocal group The Diamonds perform their classic hits, including Why Do Fools Fall In Love, Little Darlin' and The Stroll.

And concluding his encore engagement is ventriloquist Brad Cummings and his prehistoric sidekick, "Rex", the dinosaur.

As always, lavish production numbers and a star-spangled finale are all performed by a cast old enough to remember the way it really was!

In preparation for the Follies' all-new show opening November 1, 2012, auditions will be held in late May, and the cast returns in August to begin 10 weeks of rehearsals.

The Fabulous Palm Springs Follies has been seen by nearly three million patrons, and celebrates the music and dance of Mid-Century America with a cast ranging in age from 58 to 82 years young. In 1998, it was the subject of an Academy Award-nominated short-subject documentary. The Follies is housed in downtown Palm Springs' historic Plaza Theatre-a neon-encrusted, storybook old movie house and is an attraction unto itself.

THE CARETAKER by Harold Pinter. Directed by Christopher Morahan.

Two-time Tony and Olivier Award winner Jonathan Pryce gives a tour-de-force performance as the darkly funny and deeply human Davies.

A pair of working-class brothers allow a homeless man (Pryce) to stay in their decrepit London flat, an act of compassion that sparks a cycle of cruelties, delusions, and shifting loyalties in a desperate struggle over territory.

May 3 - June 17 at BAM in Brooklyn, NY.

THE SUNSHINE BOYS by Neil Simon.

Directed by Thea Sharrock.

The production stars Danny DeVito in his West End debut alongside London theatre veteran, Richard Griffiths.

The Sunshine Boys tells the story of a former Vaudevillian double act, who are reunited for a television comedy special after not speaking to each other for years.

Their bitter rivalry is reignited in this blisteringly funny battle of two colossal egos, each unwilling to realize he relies on the other.

The 1975 film version starred Walter Matthau and George Burns, who won an Academy Award for his performance.

Previews began April 27 before an official opening date of May 17 at the Savoy Theatre in London.

The strictly limited engagement will end July 28, 2012.


WHO'S WHERE


NICKELBACK entertain Monday, April 30, at the Verizon Center in Washington, DC. Wednesday's show is at the Philips Arena in Atlanta, GA. Friday the tour stops at the Amway Center in Orlando and on Saturday they'll be on stage at the Bank Atlantic Center in Sunrise, FL.

BRUCE SPRINGSTEEN AND THE E STREET BAND head close to home with a show Wednesday, May 2, at the Prudential Center in Newark, NJ.

VAN HALEN in the spotlight Tuesday, May 1, at the BOK Center in Tulsa, OK. Saturday's show is at the Dome in Tacoma, WA.

STRAIGHT NO CHASER bring their distinctive sounds to the University at Buffalo, NY on Tuesday, May 1. On Wednesday they stop at the Benedum Center in Pittsburgh. Friday's show is at the PAC at North Charleston, SC. Saturday they are on stage at the Johnny Mercer Theatre in Savannah, GA. Next Sunday, May 5, they perform at the Saenger Theatre in Pensacola, FL.

HUMAN NATURE up for a busy week with a show Tuesday, May 1, at Proctors in Schenectady, NY. On Wednesday the show is at The VETS in Providence, RI. Thursday's performance is at the Casino Ballroom in Hampton Beach, NH. On Friday they can be enjoyed at the Orpheum Theatre in Boston. On Saturday the tour stops at the Oakdale Theatre in Wallingford, CT and next Sunday, May 6, the are in the spotlight at the Beacon Theatre in New York City.

ESPERANZA SPALDING opens a two nigh gig at the House of Blues in Dallas on Tuesday, May 1. On Thursday she'll be appearing as part of the New Orleans Jazz & Heritage Festival. Saturday's show is at the Paramount Theatre in Austin, TX.

BILL MAHER entertains audiences with his pithy opinions May 5-6 at The Orleans in Las Vegas.

DIANNE REEVES universally admired for her virtuosity, improvisational prowess and unique jazz and R&B stylings, the four-time Grammy Award winner performs Saturday, May 5 at the Scottsdale Center for the Performing Arts in Scottsdale, AZ.




FINAL OVATION


TIAGO KLIMECK a Brazilian actor who died after accidentally hanging himself while playing Judas in an Easter Passion play on Good Friday in the city of Itarare, 214 miles west of Sao Paulo, Brazil.

The actor was taken to Santa Casa de Itapeva hospital in a critical condition.

Scans revealed that the incident caused cerebral anoxia as the oxygen supply to his brain had been cut off. Mr Klimeck's life support machine was finally switched off on Sunday afternoon, April 22, 2012.

The incident is being investigated by the local police. He was 27.

While enacting the suicide of Judas during the performance, the actor was hanging for four minutes before fellow performers realized something was wrong and unhooked Klimeck, who was unconscious.

Spectators at the open air performance captured and posted pictures of Klimeck's dangling unconscious body.








Next Column: May 6, 2012
Copyright: April 29, 2012. All Rights Reserved. Reviews, Interviews, Commentary, Photographs or Graphics from any Broadway To Vegas (TM) columns may not be published, broadcast, rewritten, utilized as leads, or used in any manner without permission, compensation and/or credit.
Link to Main Page
---
Laura Deni



For the snail mail address, please E-mail your request.
CLICK HERE FOR COMMENT SECTION