! >
Broadway To Vegas
  
 SHOW REVIEWS CELEBRITY INTERVIEWS GOSSIP NEWS

| | |
| --- | --- |
| | |
CORAM BOY OPENS AT IMPERIAL THEATRE ON BROADWAY - - JAMESTOWN CELEBRATES 400TH ANNIVERSARY - - SPAMALOT SETS COCONUT ORCHESTRA RECORD - - BUSY ACTOR RICHARD KIND - - THANKS FOR THE MEMORIES: THE LYRICS OF LEO ROBIN - - THE WORLD'S OLDEST STILL PERFORMING SHOWGIRL - - THE 2007 PACIFIC PLAYWRIGHTS FESTIVAL - - LEFT-OVER PROPS FED TO ANIMALS IN SEATTLE - - DONATE . . . Scroll Down


Copyright: April 29, 2007
By: Laura Deni
CLICK HERE FOR COMMENT SECTION
RICHARD KIND -TRIPLE THREAT: FATHER, ACTOR, GOLFER
Richard Kind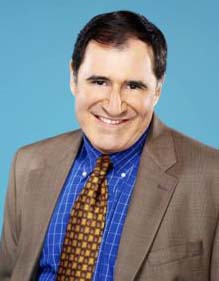 George Clooney, Richard Kind's good friend, was best man at Richard's Central Park wedding on November 13, 1999, to Dana Stanely.

That might temp some to think of Kind as a party hardy animal.

What gets Kind excited is looking after his three children - his top priority, which also affords him the most personal enjoyment. It's what he was doing when he spoke with Broadway To Vegas.

The youngsters don't really know daddy is an actor.

"That's because Skyler is five and the twins are two," explained Kind.

"There are voice-overs that I do that they know. So, my daughter sort of knows and the twins have seen Cars, and there is Go Baby on the Disney channel," said Kind referring to being the voice of Van in Disney/Pixar's Cars, and being the narrator for Disney's Go Baby.

"Skyler has gone to the theatre, but not the twins," related Kind about his acting preference - performing in front of a live audience.

Born in Trenton, New Jersey, Kind was raised in Bucks County, PA and became a house hold name for his roles in the hit sitcoms Mad About You and Spin City. He's a 1978 graduate of Northwestern University and also an alumnus of The Second City in Chicago.

An accomplish actor, Kind excels at both comedy and drama. He is also under appreciated and possibly taken for granted because he makes it all look so easy. "I couldn't agree with you more," he said matter-of factly - without a hint of any ego.

He hopes to work forever and admits that professional longevity is easier for a man.



Richard Kind as Paul Lassiter in Spin City
"That's for sure," he stressed. "To be a woman is this business is just a horrible fate."

Is it because men can look sexier as they get older - a 45-year-old man looks better in a tuxedo that a 17-year old.

"I don't think it's that," he answered. "The public is more accepting of a character man who has aged than a character woman, especially if that woman is very beautiful. Because people want to remember the actress as being beautiful. That can be cruel. To be a great beauty in their 20's and 30's and then all of a sudden they age and they aren't beautiful any more. Going under the knife, I don't think, is the way out. It's very difficult."

Kind simply enjoys working and doesn't micro analyze a script. He doesn't look for anything in particular.

"I wish I could say 'yes' but no, not really. I just happen to be one of those actors who just likes working. So, if a part comes along that interests me, I'm pretty prone to taking it."

"TV is very easy," divulged the actor who has done seven television series with two of them running for over seven years. "I do theater because I like to work hard. Television for me was actually very simple. Especially the situation comedies. The hours are so easy," he said about a schedule that is generally no more than five days a week, during daytime hours.

Lately, Kind has been accepting a lot of stage work.



(l-r) Wilson Mizner (Howard McGillin), Nellie (Michele Pawk), Addison Mizner (Richard Kind) and Hollis Bessemer in the Goodman Theatre's production of Bounce. Photo: Liz Lauren
He created the role of Addison Mizner in Stephen Sondheim's Bounce. Broadway To Vegas covered the show when it was staged at the Goodman Theatre in Chicago. ( See Broadway To Vegas column of June 29, 2003.)

Kind and his co-stars Howard McGillin and Michele Pawk received rave reviews. "Oh, Michele is unbelievable!" exclaimed Kind, whose performance as Mizner earned him the 2003 Joseph Jefferson Award for Actor in a Principal Role (Musical).

He also appeared in the 2004 Broadway production of Sly Fox; as Max Bialystock in Mel Brooks' mega-hit musical The Producers in 2002 and Charles Busch's award winning play, The Tale of the Allergist's Wife in 2000. Kind will be reprising his Broadway role in The Tale of the Allergist's Wife, co-starring with Jobeth Williams in five performances, May 16 through 20, at the Skirball Cultural Center in Los Angeles. All performances will be recorded to air on LATheatre Works' nationally-syndicated radio theater series, The Play's The Thing, which broadcasts weekly on public and satellite radio. ( See Broadway To Vegas column of February 25, 2007.)

"I look forward to doing it here. Of course they say one of the greatest things is to have Richard Kind's face on radio," he kidded.



Richard Kind records in front of a live audience for LATheatre Works's The Play's The Thing. Photo courtesy of LATheatre Works.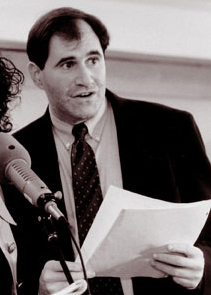 In doing voice overs, or being recorded for radio broadcast, those who can act float to the top. There is no help from gestures, body language, lighting or staging. You're acting with only your voice - something that in many instances has been pushed to a back burner, thanks to modern technology and the importance of special effects.

"There are certain scenes, especially in this show in which expression helps," said the personable man who has been called rubber-faced. "But, I've got to tell you, I never think about the recording. We've got five performances in front of about 300 people and that's the time that I really enjoy - in front of the audience. If it works on radio or on a recording disc, all the better. But, I really have to say I love working in front of a live audience."

For the next few months that is exactly where Kind can be found.

"I'm busy until September 2," he related. "I'm doing a concert version of an old play, It's A Bird, It's a Plane, It's Superman, said Kind about the Reprise! concert performance of the 1966 Broadway musical, May 14, at the Freud Playhouse at UCLA. Patrick Cassidy - whose late father Jack Cassidy originated the role of villain Max Mencken on Broadway - will star alongside Kind and composer Charles Strouse will narrate.

"Then I do The Allergist's Wife." That is followed by Kind returning to the Williamstown Theatre Festival. "I do The Front Page, playing Walter Burns. I can't wait!" he said of the show which was penned by Ben Hecht and Charles MacArthur, and runs on the Main Stage July 4-15.

"Then I am doing another Charles Busch play, The Lady In Question. That will be at The Bay Street Theatre in Sag Harbor."

The Lady In Question, which will be directed by Christopher Ashley, is a free-wheeling satire of 1940's thrillers which tells the suspenseful tale of Gertrude Garnet, a glamorous diva and self-obsessed concert pianist on tour in the heart of Bavaria. Her colossal ego is challenged when a handsome American professor engages her aid in rescuing his mother from a Nazi prison.

So what does Kind think of Charles Busch?

"I adore Charles," replied Kind. " I think he is a great guy. I love his writing, so I really get a kick out of everything that he does."

When not on stage or in front of a camera, Kind indulges in hitting a ball into a hole in the ground.

"I'm a big golfer. Yes, I'm pretty good." Despite that his children aren't in danger of becoming golf orphans. "What I really enjoy doing is taking care of my kids."


400TH ANNIVERSARY OF JAMESTOWN HAS HIGH PROFILE PARTY


Everybody loves a good party and this one has the A-list. Queen Elizabeth, her husband Prince Philip and President George W. Bush.

Accompanied by around thirty members of the royal household, the Queen and Prince Philip will cross the pond on a British Airways Boeing 777 to participate in the 400th anniversary of Jamestown, Va., the first permanent English settlement in the Americas. The nation's first representative government, free enterprise system and culturally diverse society began at Jamestown.

It was, though, a difficult learning curve.

There was a lot going on - sex, naked dancing, smoking and drinking. But, they all weren't happy campers. For instance, cannibalism.

Rule number one - the person should already be dead, preferably buried. Turning the person into an entree while they are alive and kicking is considered murder and frowned upon. Especially if she if your pregnant wife.

Jamestown was a tawdry band of desperate people.

All of that - and more - is being explained, honored and celebrated with the celebration of the 400th anniversary of the founding of Jamestown.



Queen Elizabeth will also pay tribute to the students of Virginia Tech and attend the Kentucky Derby. Photo by Lord Snowden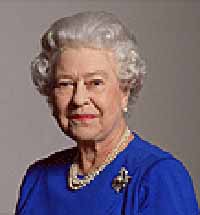 The Queen and Prince Philip will be hosted by Virginia Governor Timothy M. Kaine who in a statement said; "This Royal visit speaks to the importance of Jamestown to both of our countries, reaffirms the strong, historic ties between our nations, and demonstrates a mutual commitment to reinforce these connections as we go forward together."

"Our Commonwealth will welcome the Queen with true southern hospitality, and our year-long commemoration of the 400th anniversary of Jamestown certainly will benefit from the international attention that this Royal visit will bring."

Also in attendance at the Jamestown celebration will be President George W. Bush who will participate in ceremonies on May 13, the final day of America's Anniversary Weekend.

If you think the little get together you throw takes a lot of work, this one caps 10 years of planning by Jamestown 2007 and the federal Jamestown 400th Commemoration Commission. Queen Elizabeth's participation in America's 400th Anniversary will focus international attention on Jamestown's legacies – the introduction of democratic government, free enterprise and a culturally diverse society – and the three cultures that converged at Jamestown – Europeans, Virginia Indians and Africans.



Jamestown settlement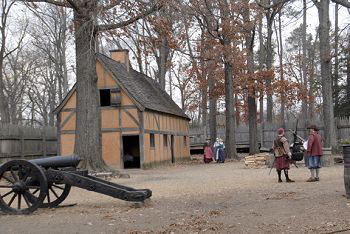 Jamestown "is the creation story from hell," writes historian Dr. Karen Ordahl Kupperman Professor of History at New York University. She authored a splendid new book on the settlement, The Jamestown Project. Conflict, disease, horrific killings and starvation — including a man dining on his pregnant wife — are all part of the back story of Jamestown, founded in 1607 as a business venture.

Admittedly it was a messy first decade which actually represents a period of ferment in which individuals were learning how to make a colony work. Despite the settlers' dependence on the Chesapeake Algonquians and strained relations with their London backers, they forged a tenacious colony that survived where others had failed. Indeed, the structures and practices that evolved through trial and error in Virginia would become the model for all successful English colonies, including Plymouth.

Colonists began experimenting with tobacco, and colonial elites gradually realized that people were more willing to work when they were laboring for themselves. Backers in England began to think more flexibly about how to create colonial profits. But the dark side of this success story is the institution of indentured servitude, which proved key to Jamestown's success.

It's the tawdry side of Jamestown which captures people's attention. When not dining each other, the banquet included starved colonists eating rats, shoes and excrement.

About the guy who killed, carved up and salted his pregnant wife. He was promptly tortured and executed, like many others at Jamestown, a settlement plagued by crime, mutiny and indolence.



Driven by desperate famine, a colonist in the Starving Time killed and ate his pregnant wife. Willy Balderson portrays the madman, Trish Balderson the unfortunate wife in this Colonial Williamsburg presentation. Photo Colonial Williamsburg.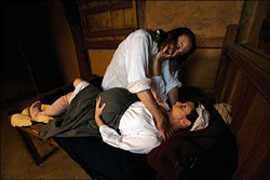 No wonder that Americans have traditionally preferred to glorify Plymouth.

Newly discovered artifacts and intelligent, well written books tell an epic of suffering - by English, Indians and Africans - that was fateful not only to the survival of a colonial fort but to the character of a future nation.

London based journalist Benjamin Woolley's has penned Savage Kingdom, and Philip Barbour wrote a well-annotated, three-volume The Complete Works of Captain John Smith.

Jamestown is the British fort known to Capt. John Smith and the Indian princess Pocahontas which was built in 1607, 13 years before the Pilgrims landed at Plymouth Rock.

Jamestown's founders were sent by London's Virginia Company to dig for gold, Christianize the natives and find a way to the Orient. Fortunately, archeological detectives and other scholars have been changing the public's understanding of Jamestown, which many people only know through Walt Disney's cartoon Pocahontas, whose miniskirted heroine falls in love with the dashing John Smith and persuades her father, Chief Powhatan, not to execute him.

In truth, by the time Jamestown gave way to Williamsburg as Colonial Virginia's capital (1699), its denizens had mortgaged themselves to tobacco-growing and African-American slavery.



Colonists searched the wife eater's home for pieces of her body in a Colonial Williamsburg reenactment. Photo Colonial Williamsburg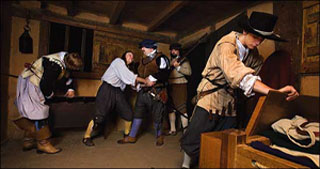 "It is the English who demonstrably resorted to cannibalism in the early days of the Jamestown colony," wrote Mark Nicholls for Colonial Williamsburg. Nicholls is a fellow, tutor, and librarian of St. John's College, Cambridge, England

"When grisly reports reached England, carried by runaways on board the Swallow in the summer of 1610, they caused a stir," wrote Nicholls. "To allege cannibalism among one's erstwhile comrades was suspect in men guilty of deserting a beleaguered colony, but their tales won credence in London. If exaggerated, they were fundamentally accurate. When dearth and disease swept through Jamestown, reducing its population perhaps by 80 percent in the catastrophic Starving Time of 1609–10, some individuals had turned to cannibalism out of hunger. As Percy and other survivors told it, sporadic cannibalism was a manifestation of a partial breakdown in civilized society in the face of inescapable disaster:"

From the menu to the laws, life wasn't as they had known it in English.



Sir George Percy in a nineteenth-century portrait by Herbert Luther Smith, who copied an earlier work. Photo Colonial Williamsburg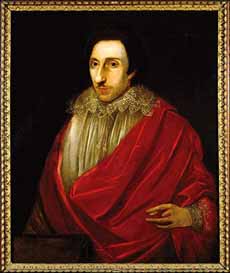 George Percy served as governor of Virginia between September 1609 and May 1610 and from March 1611 to May 1611. He wrote at length about his relation of the Starving Time and the war with the Indians from 1609 to 1612. From First Hand Accounts of Virginia, 1575-1705 - part of the Virtual Jamestown Project.

In those writings, Percy conceded that he passed a sentence of death on the wretch who salted and ate his pregnant wife - if for murder rather than cannibalism - having extracted an admission under torture, hanging his prisoner "by the Thumbes with weightes att his feete a quarter of an howere before he wolde Confesse the same." Though Percy did not say so, the man was burned alive, a punishment that follows no conventional penalty for murder under English law.

That punishment paled in comparison to the ad-hoc torments inflicted by Sir Thomas Dale, wrote Nicholls. Deputy governor in 1611, Dale showed no patience with those "idell" colonists who preferred sloth or desertion to hard work. That impatience was apparent when he set out upriver to found a settlement, eventually named Henrico after the king's eldest son, Prince Henry. Deep in Powhatan territory, Dale took a tough line with recaptured deserters. Percy records the consequences:

"Some he apointed to be hanged some burned some to be broken upon wheles others to be Staked and some to be shott to deathe, all theis extreme and crewell tortures he used and inflicted upon them To terrefy the reste for attempteinge the Lyke. And some which Robbed the store he cawsed them to be bownd faste unto Trees and so sterved them to deathe."

As Nicholls pointed out, "the absence of charity toward women and children, illustrates a mutual contempt and fear unusual in the wars between major European nations."

Diaries show that culinary expertise had recipes for humans - carefully - "boiled and stewed with roots and herbs," "powdered," "carbonadoed."

With Colonial Williamsburg being a major sponsor of the Jamestown celebration - nothing is glossed over. The reenactment are entertaining, educational, and vivid.

Her Majesty, Prince Philip and President Bush don't need to brown bag it. The annual Washington Correspondent's Dinner is over and all press are accounted for. The Jamestown vitals are more than suitable.

Commemorative events began April 26 with the launch of a replica of the Godspeed on a tour of major East Coast ports. There was a re-enactment of the settlers' first landing at Virginia Beach's Cape Henry. Then the Godspeed continues to Hampton, Newport News, Claremont/Surry, and Jamestown for Anniversary Week-end.

In 1607 the original Godspeed, captained by Bartholomew Gosnold and sailing alongside the Susan Constant and the Discovery set sail from England for Virginia.



Jamestown Settlement's Godspeed under sail on the James River. Photo courtesy of Jamestown Yorktown Foundation.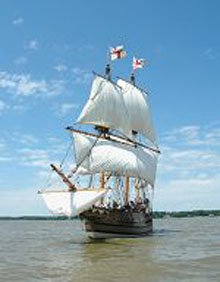 Its roughly 52 passengers and crew sought that elusive passage to Asia and to establish a colony to reap America's riches.

They ended up pioneering the first successful and permanent English colony in America, changing the course of history and making the Godspeed - according to Eric Speth, maritime program manager for the Jamestown-Yorktown Foundation - one of the most historically significant ships ever to sail the ocean.

A new replica of the Godspeed, was constructed by Rockport Marine, Inc., a 42-year-old business in Rockport, Maine, that specializes in wooden boat construction and repair.

The three-mast, wooden sailing ship replaces an existing replica at Jamestown Settlement living-history museum which is operated by the Jamestown-Yorktown Foundation, an agency of the Commonwealth of Virginia.

The ship was designed by Tri-Coastal Marine of Richmond, Calif., based on extensive research of 17th-century ships and the 40-ton volume of cargo capacity of the original ship documented by Captain John Smith. Except for the recorded tonnages, no other conclusive historical information about the Godspeed or Discovery has been found.

The size and proportions of the ship were developed from 17th-century principles of tonnage measurement. The new replica has an overall length of 88 feet and a beam or width of 17 feet. The mainmast is 72 feet.



Godspeed crew climbing mast Photo courtesy of Jamestown Yorktown Foundation.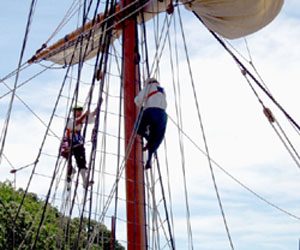 The construction, outfitting, and rigging and sails of the vessel is in accordance with 17th-century European shipbuilding practices. However, the Godspeed was built using durable hardwoods, bronze fasteners and modern sealants and coatings to ensure a longer service life and lower maintenance costs. The sails and rigging are synthetic blends simulating 17th-century fabric and cordage.

Total cost of the new Godspeed is $2.64 million. Gifts, grants and Virginia state funds are underwriting the research, design and construction of the Godspeed and Discovery.

Jamestown Settlement chronicles 17th-century Virginia through gallery exhibits and historical interpretation in re-created settings – the three ships that arrived in 1607, a colonial fort and a Powhatan Indian village – and a riverfront discovery area. The new Godspeed and Discovery are part of a comprehensive master plan that includes a new visitor services and gallery complex and renovation and enhancement of the outdoor interpretive areas.

On Friday, April 27, a special exhibition opened at Jamestown Settlement theater and special exhibition building, placing America's first permanent English colony in a global context, portraying a larger world of discovery, strife, expansion, innovation, artistic expression and cultural exchange.

Major artifacts from collections around the world are on display, including a 15th-century copy of Magna Carta and a 16th-century African ivory carving. The exhibition features major artifacts from museums, libraries and private collections from more than 10 countries.

On Saturday, May 5, in Norfolk, Virginia, the Birmingham Royal Ballet Gala takes place. Attendees will see Britain's leading classical ballet touring company in its only North American appearance performing Sleeping Beauty. This staging is a multi-sensory treat—Tchaikovsky's score performed live by the Virginia Symphony, lavish costumes, grand scenery – and a story that lives forever. VIP tickets also include a black-tie post concert reception - festive champagne, delectable desserts.

America's official Anniversary Weekend takes place May 11-12 with a slew of artistic performances.

Performance highlights for Friday, May 11 include; The Virginia Symphony Orchestra, under the direction of JoAnn Falletta, and Richmond Symphony Orchestra, under the direction of Mark Russell Smith, play separately and then combine – for the first time ever – to premier new works by John Corigliano, John Duffy, Adolphus Hailstork and Jennifer Higdon written especially for the commemoration.

On Saturday, May 12, three-time Grammy winner Bruce Hornsby & The NoiseMakers leads an evening of rock, R&B and progressive bluegrass. Bruce will be joined by legendary funk and R&B artist Chaka Khan, as well as progressive bluegrass master Ricky Skaggs and his band Kentucky Thunder. Their performances caps 400 Minutes of Music, an afternoon-long program featuring contemporary rock infused with native American musical traditions from Brule', a mix of folk, world, blues and soul music from South African artist Vusi Mahlasela, folk roots music from Michael Seeger, poetic urban folk from Jen Chapin, and alternative country from Scott Miller & The Commonwealth.

On Sunday, May 13, a 1607-member chorale and 400-piece orchestra made up of musicians and singers from around the nation will perform. Journey of Destiny, an original production using the words of John Smith and other key figures in the Jamestown story will be staged. A spectacular fireworks salute will close America's Anniversary Weekend.

During the Royal Visit, Queen Elizabeth will pass on her personal sympathy to some of those who survived the shootings, as well as possibly meet with relatives of some of the victims of the recent Virgina Tech massacre, as part of her visit to the Richmond, the state capital of Virginia during her State Visit to America. The royal tour is due to begin on Thursday.

The Queen's trip also includes a visit to the Kentucky Derby, called "a lifelong dream of the monarch." Long a racing fanatic, those who frequent the Las Vegas racing and sports books will sympathize with a racing buff wanting to watch two major races. According to published reports, the royal household reportedly made a request to British TV channel, Racing UK.

That request indicated that Elizabeth II wanted a satellite TV in the royal box and asked for Racing UK to feed coverage of the 2,000 Guineas race at Newmarket, so it will appear on the Queen's TV at Churchill Downs.

An event since 1875, and the first jewel in the Triple Crown of Thoroughbred horseracing, the Run for the Roses is held annually in the first Saturday of May at Churchill Downs. Enough to make a horse race addict go schizophrenic is the Saturday, May 5 running of the glittering San James Guineas Festival. The eyes of the racing world will have one on the Kentucky Derby and the other focused on the most historic stretch of turf in the entire world of sport - Newmarket - where equine champions have been crowned for centuries.


ROYAL WEDDINGS - LET THEM EAT CAKE
Wedding photo of Princess Elizabeth and Prince Philip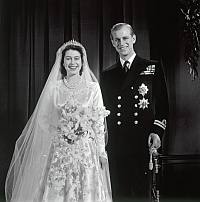 Most wedding cakes are decorated with hearts, love birds and bells. Not the wedding cake for then Princess Elizabeth Alexandra Mary Windsor to Prince Philip of Greece and Denmark. Their cake by McVitie and Price consisted of four tiers, was nine feet high, and weighed about 500 lb. Eschewing more romantic frou-frou, the royal cake was decorated with Scottish heather and "emblems of cricket, tennis, and racing" - presumably a gesture of uniting their respective hobbies - his being cricket and tennis and hers the love of racing.

Queen Elizabeth and Prince Philip celebrate their 60th wedding anniversary in November. As part of their diamond wedding anniversary celebration, a new exhibition called Royal Weddings 1840-1947 opened at Windsor Castle on April 27.

The exhibition shines a spotlight not only on the wedding of The Queen and The Duke of Edinburgh, but will also cover four other royal weddings, including the wedding of Queen Victoria and Prince Albert in 1840. Photographs, jewels and even pieces of wedding cake will be displayed, along with many other items of wedding memorabilia.

Ten wedding cakes were actually received for Elizabeth and Phillip's wedding. They were made by McVitie and Price Ltd, McVitie Guest, J Lyons, Bollands, Mackie, Huntley & Palmers, Jacobs, Peek Frean, The Ulster Menu Co, and the British Cake & Biscuit Association.

The cake made by McVitie and Price was the one cut by the Royal couple at the wedding breakfast, although the other cakes were also later cut and distributed.

McVitie & Price got their foot through the royal door thanks to Queen Victoria's daughter, Princess Mary of Teck, who pronounced McVitie and Price's cake the best of those made for her wedding in 1893. Later, as Queen Mary, she named the firm the royal family's official supplier of wedding and christening cakes, a tradition that has continued through all its succeeding generations.

The McVitie & Price wedding cake for Elizabeth and Philip boasted a special recipe prepared using ingredients which were shipped to England as a gift from the Girl Guides of Australia. Food donations were necessary since Britain was still under rationing, and rationing applied to the royal family, too. To get sufficient ingredients for what had to be a Very Big Day, the rest of the world came to the rescue with donations of food parcels collected by the Girl Guides.

The wedding cake recipe for Elizabeth and Philip still exists in McVitie's archives, Ingredients included; Butter, caster sugar, moist Tate and Lyle pieces, flour (Clark & Butcher), frozen whole egg, honey, salt, spice, cassia, nutmeg, ground ginger, ground cloves, ground almonds, cherries, currants, sultanas, mixed peel, caramel powder, glycerin, egg color, oil of lemon, oil of orange, brandy, sherry, rum.

Queen Victoria ascended the throne three years before her marriage to Prince Albert and was the first reigning queen to marry. At the wedding ceremony on February 10, 1840 Queen Victoria was attended by twelve train-bearers, all daughters of peers of the realm.

Two boxes containing pieces of Queen Victoria and Prince Albert's wedding cake are included in the exhibition. One of the cakes is said to have measured three yards in circumference and weighed over 300 lbs.

The bride of Queen Victoria's son, the Prince of Wales and future King Edward VII, was Princess Alexandra of Denmark. Her arrival in London for her wedding in 1863 was greeted by huge crowds and celebrated in a welcome address by Alfred, Lord Tennyson.

The marriage in 1923 of the Duke of York and Lady Elizabeth Bowes Lyon, the future King George VI and Queen Elizabeth (The Queen Mother), was the first royal wedding to be recorded on film.

The religious ceremony was followed by the traditional afternoon Wedding Breakfast, the menu of which lists Consommé à la Windsor, Suprèmes de Saumon Reine Mary, Côtelettes d'Agneau Prince Albert, Chapons à la Strathmore, and Fraises Duchesse Elizabeth. A number of ornately decorated wedding cakes were created for the occasion, including one supplied by McVitie and Price that was nine-foot high and weighed 800 pounds.

The Wedding Breakfast of Elizabeth and Philip was held in the Ball Supper Room at Buckingham Palace. Cakes were made from ingredients supplied from around the world, and pieces were distributed throughout the United Kingdom. One of the silver-coated cake decorations, in the form of a tiny shoe, is included in the exhibition.

For the 60th anniversary of Queen Elizabeth and Prince Philip, renowned photographer, The Earl of Snowdon, has reportedly been asked to take the officially portraits of the Queen and Duke of Edinburgh for a series of stamps.

77-year-old Snowdon, who was at one time married to the Queen's sister, Princess Margaret, has been the photographer of choice for senior members of the Royal Family for some time, including the official portrait celebrating the Queen's 80th birthday.

The photographs will be featured on a set of commemorative stamps to be released for the Diamond wedding anniversary later in the year.

The exhibit Royal Weddings 1840-1947 is open to the public through March, 2008.


ART AND ABOUT


BEYOND CRAFT: KAMISUKI, PAPER AS PROCESS The Museum of Craft and Folk Art brings the traditional Japanese papermaking art of kamisuki to the San Francisco Bay Area in this, organized by the Museum of Craft and Folk Art and curated by Misako Mitsui. It focuses on a centuries-old and nearly-disappeared papermaking technique from the mountains in Shikoku Island of Japan, revived by Mr. Isao Nakamura, his family members, and fellow villagers. Beyond Craft: Kamisuki, Paper as Process will be on view at the Museum of Craft and Folk Art in downtown San Francisco from May 3 through July 22.


SPREADING THE WORD


WORLD'S OLDEST STILL PERFORMING SHOWGIRL

Dorothy Kloss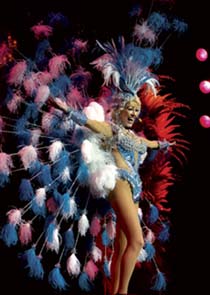 is twelve-season Palm Springs Follies veteran Dorothy Kloss, age 83, who was recently named World's Oldest 'Still Performing' Showgirl by Guinness World Records. Follies Impresario Riff Markowitz and UCLA Center on Aging Director Dr. Gary Small will formally present her with the award during a symposium entitled Living Better Longer at Palm Springs' Plaza Theatre on May 4.

That evening, Kloss will also participate in a panel discussion with Markowitz, Small and three other members of the Follies cast, Glenda Guilfoyle, Hank Brunjes and Dick France. The symposium, the first event of its kind presented by the Follies, will be co-presented by the UCLA Center on Aging, one of the nation's leading research and educational institutions studying the mental and physical health of seniors.

"When you think it's over, it will be," says Kloss. "Never let it go, because-when you do-you're finished. When I was diagnosed with colon cancer, I had the surgery and that was that. When the doctor started to tell me how many years I'd have, I said stop! We're not even going there,' and I've never looked back. That was 17 years ago!"

"Dr. Small and his colleagues at UCLA demonstrate scientifically what we at the Follies have long understood intuitively," notes Markowitz. "The constant and continuing use of our bodies and minds-in the learning of complicated dance routines and the exertion of hundreds of hours of rehearsals and up to nine performances per week over 16 years-have enabled us to continue to function more or less as we did decades ago."

Markowitz adds, "Our cast continues to take risks and perhaps that is the secret, or maybe it's that they always have something to look forward to: the next show. Miss Kloss best exemplifies this truth. How fitting that she receive this recognition during an evening devoted to exploring how to age well. She and the other members of our cast are experts on that subject!"

Dorothy Dale Kloss began dancing when she was three years old. While working with a young Bob Fosse in a Chicago class, she won a tap contest and catapulted to stardom doing her own act at the Empire Room in Chicago. She toured the country from New York to California, and played Mexico City with the legendary Cantinflas.

She worked with Eddy Duchin until his orchestra was drafted during World War II, and then performed for the USO. In 1946, she became the hostess and dance instructor of television shows, broadcasting out of Chicago on WBKB.

STEM CELL RESEARCH: THE WAY FORWARD a panel discussion with Chuck Close, Kevin Eggan, Michael J. Fox, Susan L. Solomon and Harold Varmus. Leonard Lopate, moderator.

A majority of Americans support it. Scientists are determined to harness its potential to treat and cure major diseases. Hear a panel discuss was that citizens, scientists, governments, philanthropists and patient advocates can work together to move stem cell research from the lab bench to the bedside.

This program is presented in conjunction with The New York Stem cell Research Foundation.

Makor, Steinhardt Building on Thursday, May 3. New York City.

THANKS FOR THE MEMORIES: THE LYRICS OF LEO ROBIN Andrea Marcovicci artistic director, script, vocals. Shelly Markham, music director & piano. Vocalists Brian Byers, Klea Blackhurst and Jennifer Sheehan. Christopher Denny on piano. Larry Saltzman playing the guitar. Jered Egan performs on bass. Drummer Warren Odze.

Lyricist Leo Robin (1900-1984) wrote the lyrics to hundreds of songs during the 1920s, '30s, '40s and early '50s, including classics like Bob Hope's signature song Thanks for the Memory, for which Robin won an Academy Award with his longtime collaborator Ralph Rainger; Diamonds are a Girl's Best Friend with Jule Styne, made famous by both Carol Channing and Marilyn Monroe; and Beyond the Blue Horizon with Franke Harling and Richard Whiting.

Part of the 92nd Street Y Concert Series. Saturday, May 5, at the Kaufmann Concert Hall in New York City.



Broadway To Vegas is supported through advertising and donations. Priority consideration is given to interview suggestions, news, press releases, etc from paid supporters. However, no paid supporters control, alter, edit, or in any way manipulate the content of this site. Your donation is appreciated. We accept PAYPAL. Thank you for your interest.


SWEET CHARITY


MANHATTAN THEATRE CLUB'S SPRING GALA takes place Monday, May 7, at the New York Hilton, beginning with cocktails and a silent auction, followed by dinner at the Gala Performance hosted by Emmy Award winner and MTC alum, Allison Janney. Performers include the star of Company, Raul Esparza, the cast of A Chorus Line, and Spring Awakening.

Manhattan Theatre Club's Spring Gala is a black-tie benefit which raises critical resources to help bring theatre to over 4,000 New York City schoolchildren through MTC's education and outreach programs, and fulfill its mission of producing new and contemporary plays on and off Broadway.

AN EVENING OF INSIGHT WITH FRANK McCOURT is a fundraiser for the Long Wharf Theatre in New Haven, CT. The Pulitzer Prize-winner for Angela's Ashes, he will talk about a later period of his life, recounting stories from his years as an educator in the New York Public School system, a period he writes about in Teacher Man: A Memoir.

Tickets for the fundraiser are $50 and $75. May 3 at Long Wharf Theatre in New Haven.


THE 2007 PACIFIC PLAYWRIGHTS FESTIVAL


South Coast Repertory's Pacific Playwrights Festival (PPF) celebrates its 10th annual outing with a lineup of longtime collaborators and new theatrical voices. Since its creation in 1998, PPF has grown into one of the most important festivals of new scripts in the United States. Well known as SCR's premiere showcase for introducing new plays and writers to the national stage, PPF also serves as a gathering place for writers and theatre leaders from across the country to meet and share ideas and interests.

This year's Festival in Costa Mesa, CA will take place from May 4 through May 6 and features seven plays during an action-packed weekend: a workshop production, four staged readings and two fully-staged world premieres on SCR's two major stages.

Six of the seven plays in the Festival were commissioned by SCR, including new plays by preeminent American playwrights Richard Greenberg, Donald Margulies, José Rivera and John Strand,and two by newcomers David Wiener and Kenneth Lin. The Festival's seventh offering was contributed by Los Angeles playwright Julie Marie Myatt.

READINGS



José Rivera
Boleros for the Disenchanted by Jose Rivera. Friday, May 4 on the Segerstrom Stage.

"A man must sin. It's in our blood." So says Flora's fiancée, Manuelo, but she will have none of it. Nor is she interested in her mother's idea that a witch's spell can make him faithful, or her father's cheerful proposal to have Manuelo killed. Instead, Flora goes away to forget, and handsome Eusebio arrives to see that she does.

Rivera, an Obie Award-winning playwright and Oscar-nominated screenwriter, has poignantly captured the heart of a Puerto Rican family trying to hold onto the old ways while searching for a better life. A story of commitment, faith and how to endure the ravages of time with hope and humor.

Shipwrecked! The Amazing Adventures of Louis de Rougemont (as Told by Himself) — An Entertainment by Donald Margulies. Friday, May 4 on the Julianne Argyros Stage

A dog, a giant octopus, a pickpocket, a crusty old sea captain and a librarian are just a few of the characters in Pulitzer Prize winner Donald Margulies' whimsical new play. Louis narrates the story of a man (himself!) lost at sea who embarks on a 30-year adventure so inspiring of awe — according to Louis — it will make your pupils dilate and your pulse race. Because it's about the very nature of artifice and storytelling, Shipwrecked is alternately thrilling, silly, moving — and utterly wonderful. As for believability, that all depends on how imaginative you are.



Richard Greenberg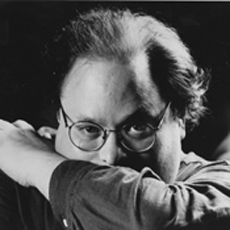 Our Mother's Brief Affair by Richard Greenberg. Saturday, May 5 on the Segerstrom Stage.

Adult siblings Seth and Abby have reunited to tend to their elderly mother, Anna, who has the habit of playing out periodic deathbed scenes for her children. But this time something is different. This time Anna has a story to tell, about long-ago Saturday afternoons, about escorting young Seth to his viola lessons at Juilliard despite his constant protestations… and about what she did while he played scales. A love affair made out of weekly matinees at a small hotel, with a man whose name is synonymous with betrayal.

Tony Award-winning playwright Richard Greenberg returns to SCR with his latest urbane comedy of human foibles.

The Italian Straw Hat book and lyrics by John Strand. Music by Dennis McCarthy. Directed by Stefan Novinski. Sunday, May 6 on the Segerstrom Stage.

This rollicking new musical follows hapless young bridegroom Fadley as he scrambles through the landscape of turn-of-the-century New York, trying to correct a horrendous misunderstanding that may derail his wedding. It seems Fadley's horse has eaten a young lady's hat, and if he can't find a replacement — today! — all will be lost. But where to find another Italian straw hat? With flavors of vaudeville, light opera, and even barbershop quartet, Dennis McCarthy's music lends period pizzazz to John Strand's felicitous American adaptation of the classic farce by Eugene Labiche.

WORKSHOP PRODUCTIONS

Po' Boy Tango by Kenneth Lin. Directed by Chay Yew. Friday, May 4-6 in the Nicholas Studio.

Richie Po is an immigrant factory worker, the middle-aged son of a celebrated Chinese chef. Gloria B is an African-American nurse whose specialty is soul food. These two unforgettable characters reunite over a sizzling duck sandwich, and as they share stories and recipes they gradually sort out what went wrong ten years ago, when a life was saved but a friendship was lost. Presiding over all is Richie's mother, Po Mama, creator of the Great Banquet, who kicks the pants off every television personality who ever stirred a pot of shark fin soup. In life, as in cooking, secret ingredients make all the difference.

FULL PRODUCTIONS

My Wandering Boy by Julie Marie Myatt. Directed by Bill Rauch. March 30 - May 6.

Emmett had it all — but he went looking for something else. For the detective on his trail, only the mystery of Emmett remains, kept alive by those who came under his spell.

System Wonderland by David Wiener. Directed by David Emmes. April 22 - May 13.

It's the age-old story about the lure of Hollywood. But before Wiener sends his characters out to swim with the sharks, he tears up the formula and starts all over.



CLASSIC BRIT AWARDS find Sting and Sir Paul McCartney in contention for Album of the Year along with Scottish violinist Nicola Benedetti and Welsh mezzo-soprano Katherine Jenkins among others.

The awards will be presented Thursday, May 3, at the Royal Albert Hall in London. Guest of honor is Camilla, the Duchess of Cornwall, who will present a Lifetime Achievement Award to conductor Dr. Vernon Handley CBE. She will also meet the performing artists at the awards including members of the London Chamber Orchestra, of which she is Patron.

The wife of Prince Charles will be making her first public appearance since undergoing a hysterectomy on March 5.

Prince Charles accompanied Camilla as she was admitted to the King Edward VII Hospital in Central London, which has previously treated several members of the Royal Family, including the Queen. Three days after the surgery Prince Charles took Camilla to their London residence Clarence House to continue her recuperation, which at that time was estimated to be six weeks. Rumors have floated about that there are concerns her recovery is not as rapid as expected.

During the televised event, rock star Sting, who regularly appears at events on behalf of The Prince's Trust, will join lutenist Edin Karamazov to perform music from their new album, Songs From the Labyrinth. Entertainment during the evening will also include the young choral quartet All Angels with NS&I alongside conductor Dr Vernon Handley CBE, cellist Natalie Clein, Chinese pianist Lang Lang, American violinist Joshua Bell, Peruvian tenor Juan Diego FlÓrez, mezzo soprano Katherine Jenkins, the Fron Male Voice Choir and the London Chamber Orchestra under the baton of Christopher Warren-Green.

The evening will include a special celebration of British classical music and the 150th Anniversary of the birth of Edward Elgar.

The Classical BRIT Awards are an annual awards ceremony held in the United Kingdom covering aspects of classical music, and are the classical equivalent of pop music's BRIT Awards.

The event combines the magic of live performances from some of the most highly regarded classical musicians and performers in the world today, with a number of specially commissioned awards presented throughout the evening.

Voting for the awards is done by "an academy of industry executives, the media, the British Association of Record Dealers (BARD), members of the Musicians Union, lawyers, promoters, and orchestra leaders," except for Album of the Year which is voted for by listeners of Classic FM.

( For a complete list of those nominated click here.)

OUTER CRITICS CIRCLE the organization of writers and commentators covering New York theater for out-of-town newspapers, national publications and other media beyond Broadway, announced on Monday, April 23, its nominees for the 2006-07 season in 23 categories. Broadway stars and former Outer Critics Circle Award winners Victoria Clark and John Lloyd Young presided over the announcement ceremony at Manhattan's historic Algonquin Hotel.

Based on a recommendation by the OCC Executive Committee, Special Achievement Awards will be given to Angela Lansbury and Marian Seldes in recognition of their outstanding and distinguished careers in the theater.

Celebrating its 57th season of bestowing awards of excellence in the field of theater the winners will be announced on Monday, May 14th and the annual awards ceremony will be held on Thursday, May 24th at the legendary Sardi's Restaurant in New York City.

( For a complete list of those nominated click here.)

NOMINEES FOR THE 2006-2007 DRAMA LEAGUE AWARDS have been announced. The Drama League Awards Luncheon will be held May 11 at the Marriott Marquis Hotel in New York City.

Gary Beach will serve as host. Those scheduled to present awards include Tony Award winners Bernadette Peters, Chita Rivera, Christine Ebersole, Tony Kushner, Liev Schreiber and Audra McDonald as well as Mary Poppins' Ashley Brown and Spring Awakening's Jonathan Groff.

Founded in 1916, the Drama League is an association of theatre professionals and patrons dedicated to "encouraging the finest in professional theatre and has since then developed into the theatre's premiere service organization."

( For a complete list of those nominated click here.)

DRAMA DESK AWARD NOMINATIONS were announced by Tony Award winners James Naughton and Beth Leavel on April 26 at the New York Friars Club.

The Drama Desk, which presented its first awards in 1955, is an organization of theatre critics, writers and editors that honors all areas of New York theatre, including Broadway, Off-Broadway and Off-Off-Broadway.

The winners will be presented with their awards on May 20 at the LaGuardia Concert Hall in a ceremony hosted by Kristin Chenoweth.

( For a complete list of those nominated click here.)


OTHER PEOPLE'S MONEY


THE TONY RANDALL GRANT will be presented Tuesday May 1, at Soho House in Manhattan. Heather Randall and The Board Of The Tony Randall Theatrical Fund will honor this years recipient of The Tony Randall Theatrical Fund, the Mint Theater for their production of Leo Tolstoy's The Power Of Darkness, directed by Martin Platt.

The Tony Randall Grant is a $100,000 award given annually to a Tri-State area non-profit Equity theatre company for the production of a classic play, an adaptation of a classic play or a work inspired by the classics. Grants will also be awarded to the Red Bull Theatre ($10,000) for its production of Christopher Marlowe's Edward The Second, opening off-Broadway this fall; The Gorilla Repertory Company ($2,500); and Target Margin Theater ($2,500).

Also being honored with the Tony For Kids Grants for educating public school children in the arts. The following organizations have been selected for two-year, $20,000 grants: Midon and Friends, for providing exciting music education classes and program to underserved public school children throughout New York City. National Dance Institute, for providing in school and after-school instruction in all forms of dance to children in public schools all over the country. MOMA, for School Visit Programs. Over 40,000 public school K-12 students to attend the museum. TheatreWirkds USA, for it's Early Stages Plus! program which distributes thousands of free tickets to disadvantaged communities and as well as on--site teaching experiences to the children. 52nd Street Project, which brings together kids aged 9-18 in the Hell's Kitchen area of Manhattan with theatre professionals to create original theatre in after-school and summer programs.

This year, the Theatrical Fund received over 45 proposals from area theater companies. The 2007 Tony Randall Grant beneficiary was selected from a finalist pool of 10 very deserving companies. The 2007 Tony Randall Grant Selection Committee Members included Jed Bernstein, Steve Buscemi, Charles Busch, Michael Cerveris, Cherry Jones, Jack Klugman, Michael Mastro, Marian Seldes, Gary Springer and Ben Vereen.



CORAM BOY a new play adapted by Helen Edmundson from the novel by Jamila Gavin, with direction by Melly Still, comes to Broadway direct from an engagement at the National Theatre of Great Britain.

It is an epic adventure which sheds light on a hidden part of the eighteenth century, child cruelty.

The benevolent Thomas Coram has recently opened a Foundling Hospital in London. Unscrupulous men, known as "Coram men," take advantage of the situation by promising desperate mothers to take their unwanted children to the hospital for a fee. Set in 18th century England, Coram Boy tells the tale of two orphans at the Coram Hospital for Deserted Children: Toby, saved from an African slave ship and Aaron, the abandoned son of the heir to a great estate as their lives become closely involved with this true and tragic episode of British social history.

Coram Boy features a cast of 40 including Jolly Abraham, Uzo Aduba, Jacqueline Antaramian, Bill Camp, Dashiell Eaves, Xanthe Elbrick, Tom Riis Farrell, Brad Fleischer, Karron Graves, Laura Heisler, Angela Lin, David Andrew Macdonald, Quentin Maré, Jan Maxwell, Kathleen McNenny, Cristin Milioti, Charlotte Parry, Christina Rouner, Ivy Vahanian, Wayne Wilcox; a 20 member on-stage choir and a seven piece chamber orchestra.

Set design by Ti Green and Melly Still, lighting design by Paule Constable, original music by Adrian Sutton, sound design by Christopher Shutt, music direction by Constantine Kitsopoulos and fight direction by Thomas Schall.

Officially opens May 2 at the Imperial Theater in New York City.

OTHELLO by William Shakespeare. Director Wilson Milam who received a Tony Award nomination in 2006 for The Lieutenant of Inishmore on Broadway.

The republic of Venice employs Othello, a self-made man and a Moor, to defend its overseas territories against the Turks. But for all his military success, Othello remains an outsider in the city, an object of racism, envy and mistrust. As the Turkish threat gathers and Venetian forces are dispatched to Cyprus, Iago, a junior officer secretly enraged by his lack of promotion, exploits Othello's ambiguous position and ingenuous nature, driving him into a passionate and uncontrollable jealousy.

Performed for the first time at the Globe, Othello, with its racing concentrated plot and intense dramatic details, is one of Shakespeare's most exciting, atmospheric and heartbreaking plays. By introducing to early 17th-century England a black character as complex as Othello, it is also one of his most extraordinary imaginative achievements.

Designer Dick Bird. Composer Stephen Warbeck.

Opens May 5 at Shakespeare's Globe Theatre in London.

GOD'S EAR

(Left to right): Gibson Frazier (Ted) and Christina Kirk (Mel). Photo by Carol Rosegg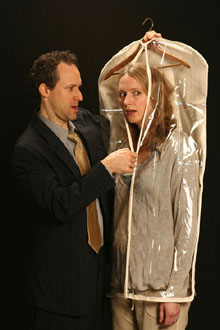 by Jenny Schwartz. A full-length play with musical interludes, directed by Anne Kauffman. Michael Friedman will compose the play's songs with additional lyrics by Ms. Schwartz.

The production features Christina Kirk, Gibson Frazier, Judith Greentree, Raymond McAnally, Annie McNamara, Matthew Montelongo, and Monique Vukovic.

Christina Kirk (as Mel) and Gibson Frazier (as Ted) have lost their young son. Now, wherever Ted goes, he meets people with dead sons. And whatever Mel touches falls apart. Mel and Ted try to continue their way through the world, guided by their young daughter Lanie (Monique Vukovic), and the Tooth Fairy (Judith Greentree) and G.I. Joe (Matthew Montelongo).

The set design will be by Kris Stone, the costume design by Olivera Gajic, the lighting design by Tyler Micoleau, and the sound design by Leah Gelpe. The production stage manager will be Megan Schwarz. Presented by New Georges on an Off Broadway contract at the East 13th Street Theater, in New York City. Performances will begin on May 2, and the official Opening Night will be Monday, May 7.

THAT FACE by first-time playwright, the now 20-year-old Polly Stenham, is a hard-hitting, intense and visceral dissection of parent-child relationships. This was written when Stenham was 19-years-old and was a product of the Royal Court's Young Writers Program.

Directed by Jeremy Herrin. Starring Tony Award winner Lindsay Duncan, Matt Smith and noted television actress Felicity Jones in her first stage role. The cast also includes Abigail Hood, Catherine Steadman and Julian Wadham.

Mia is at boarding school. She has access to drugs. They are Martha's. Henry is preparing for art college. He has access to alcohol. From Martha. Martha controls their lives. Martha is their mother.

Set design by Mike Britton. Lighting by Natasha Chivers and Sound by Emma Laxton.

Officially opened April 23 with performances through May 19 at the Royal Court Jerwood Theatre Upstairs in London.

LOVEMUSIK an original musical about the marriage of Kurt Weill and Lotte Lenya. It was written by Alfred Uhry and directed by Harold Prince, the 21-time Tony Award winner.

Starring Donna Murphy and Michael Cerveris in the leading roles.

The production also stars David Pittu as Bertolt Brecht and John Scherer as George Davis.

Musical staging is by Patricia Birch.

An exciting collaboration from some of the theatre's most esteemed artists, this rich, riveting work follows the life of composer Kurt Weill and his famed marriage to Lotte Lenya, who starred in many of his groundbreaking pieces. From their courtship and early collaborations in Europe, through their journey to America and the debut of the landmark musical The Threepenny Opera, this production gets deep inside this fascinating, complicated partnership.

The musical features some of Weill's best-loved songs, including Speak Low, Surabaya Johnny, It Never Was You, Mack the Knife and September Song. Presented by Manhattan Theatre Club in New York City, preview performances began April 12 and the official opening is May 3.

THROWING RUBIES written by Terri Sissman and directed by Sue Hamilton.

In a journey stretching from the TB sanatoriums of the 1940s to the AIDS hospital wings of the 1990s, Throwing Rubies is the story of Margaret, a retired bank officer and new volunteer, assigned to Jeffrey, a gay man with AIDS-related tuberculosis. Separated by the worlds they inhabit, Margaret and Jeffrey are drawn together by the disease Margaret survived and Jeffrey battles. Their unlikely friendship bolsters Jeffrey's struggle and allows Margaret to face a buried past of forbidden love and loss.

The cast features: Jim Braswell, Rebecca Brunk, Susan Damante, Mylika Davis, Iris Gilad, Terry Ray, Buster Rojas and Ellen D. Williams.

Throwing Rubies features an award-winning design team. The set design is by Lisa D. Lechuga. The lighting design is by Sandy Lee. The sound design is by Cricket S. Myers. The costume design is by Kharen Z.

Throwing Rubies officially opens on Saturday, May 5 running through Sunday, June 10 at the Stella Adler Theatre, in Hollywood.

UPRISING/IN YOUR ROOMS Hofesh Shechter, one of the UK's emerging choreography talents, presents a double bill including Uprising and a new work commissioned by The Place, Sadler's Wells and Southbank Centre.

The evening begins with Uprising, performed by a cast of seven male dancers. A highly charged short work with a propulsive, percussive score, and a unique approach to narrative.

In Your Rooms brims with playful, gritty physicality and is at times provocative, political and deeply personal. The work features an original score, composed by Shechter himself, in collaboration with Nell Catchpole.

The cream of dance talent including Amy Hollingsworth, Ino Riga, Leon Baugh, and Young Jim Kim come together in this program.

May 4-5 Queen Elizabeth Hall, Southbank Centre, London.


| | | |
| --- | --- | --- |
| | | |
WHO'S WHERE


TONY BENNETT opens a two night stand this evening at the Royal Albert Hall in London. On Wednesday he's in the spotlight at The Bridgewater Hall in Manchester, UK and on Thursday the show is at The Glasgow Royal Concert Hall in Glasgow.

CHRISTINA AGUILERA in the spotlight Tuesday, May 1, at the RBC Center in Raleigh, NC. On Wednesday, she is at The Arena at Gwinnett Center in Duluth, GA. On Friday she entertains at St. Pete Times Forum in Tampa, FL ands on Saturday the show moves to the BankAtlantic Center in Sunrise, FL.

JOHN PIZZARELLI opens an extended engagement at Cafe Carlyle in New York City. He'll be appearing their Tuesday, May 1 through May 26.

BILLY JOEL brings his show to the Palace of Auburn Hills in Auburn Hills, MI on Friday, May 4. On Wednesday he'll be delighting the crowd at the Excel Energy Center in Saint Paul, MN.

DIANA ROSS stars at the Seminole Casino in Hollywood, Florida on Monday, April 30. She then flies across the pond to perform Sunday, May 6, at the NEC Arena in Birmingham, UK.

EARTHA KITT entertains Monday, April 30 at the Philharmonic Center for the Arts in Naples, FL.

NORAH JONES has a busy week. On Monday she stars at the BJCC Concert Hall in Birmingham, AL. Tuesday finds her at the Murat Theatre in Indianapolis, IN. On Wednesday she's on stage at the Fox Theatre in Saint Louis, MO. Friday the show is at the Michigan Theater in Ann Arbor, MI. She's in the spotlight, Saturday, at the Riverside Theatre in Milwaukee and next Sunday, May 6, the show is at The Orpheum Theatre in Minneapolis, MN.

CHRIS BOTTI on stage Saturday, May 5, at the Count Basie Theatre in Red Bank, NJ.

PAUL ANKA who always delivers an audience pleasing performance is at the Hilton Hotel in Las Vegas May 4-5.

RAY ROMANO making people laugh May 4-5 at the Mirage Hotel in Las Vegas.

DAVID SANBORN blowing his own horn May 4-5 at the Suncoast Hotel in Las Vegas.




PIFFLE AND PROFUNDITIES


SPAMALOT CAST SETS COCONUT ORCHESTRA RECORD The cast and creators of the Monty Python musical Spamalot gathered April 23 in Trafalgar Square in London to set a new record for the world's largest coconut orchestra.

Original Month Pyton cast members Terry Gilliam led the coconut shell "clip-clopping as 5,567 people "clip-clopped" in time to the Python classic Always Look On The Bright Side of Life.

Guinness World Records' (GWR) officials presented a certificate to the cast confirming the record after Monday's performance.

The event was followed by a special screening of Monty Python and the Holy Grail in Trafalgar Square.

The event coincided with St. George's Day in which the Mayor of London decided to mark St George's day with a series of activities around London that celebrate the contribution of English humor to world culture.

The previous record of 1,789 coconuts being played at the same time was set on March 22, 2006 outside the Shubert Theatre in New York, to celebrate the one year anniversary of the Broadway production of Monty Python's Spamalot.

A Las Vegas production is staged at the Wynn Resort.

THE CLEAN HOUSE

ACT's master properties artisan Ken Ewert delivers apples to sheep at the old Maxwell Milk Farm.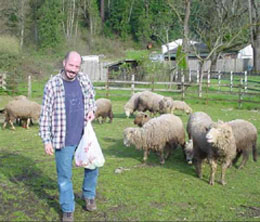 currently in production at the ACT Theatre in Seattle, has been providing treats for local animals. What does a theatre do when the script calls for characters to sample more than 500 apples over a 33-performance run? ACT turned this into a windfall for a group of very happy horses and sheep in Maple Valley.

When faced with the need to dispose of more than 275 pounds of partially eaten apples, Ken Ewert, ACT's master properties artisan, thought of Jim Baum, a friend who owns the old Maxwell Milk Farm, a 17-acre farm in Maple Valley.

Two or three times a week, Ken has been dropping by with the latest batch of apples. "The sheep now recognize me when I pull into the drive," says Ken. "I'm lucky if I can get the apples out of the bags before I'm mobbed!"

What part do the apples play in The Clean House? The curious have only until tonight to find out. The Clean House closes Sunday, April 29. Broadway To Vegas suspects that the horses and sheep are sorry to see the curtain drop and the apple supply dry up.

Next Column: May 6, 2007
Copyright: April 29, 2007. All Rights Reserved. Reviews, Interviews, Commentary, Photographs or Graphics from any Broadway To Vegas (TM) columns may not be published, broadcast, rewritten, utilized as leads, or used in any manner without permission, compensation and/or credit.
Link to Main Page
---
Laura Deni


CLICK HERE FOR COMMENT SECTION