! >
Broadway To Vegas
  
  REVIEWS INTERVIEWS COMMENTARY NEWS

| | |
| --- | --- |
| | |
PRINCES WILLIAM, HARRY AND DUCHESS KATE VISIT HARRY POTTER STUDIO - -SHIRLEY KNIGHT RETURNS HOME FOR THE INGE FESTIVAL - - BOSTON HEALING THROUGH THE ARTS - - THE NIGHT OF 1000 STARS - - HENNING'S WISCONSIN CHEESE MUSEUM - - PIPPIN AND BETTE MIDLER ARE HITS - - MONEY IS THE SECRET TO A WOMEN LOOKING BEAUTIFUL - - TONY NOMINATIONS ANNOUNCED: LAS VEGAN WINS OLIVIER AWARD - - DONATE . . . Scroll Down




Copyright: April 28, 2013
By: Laura Deni
CLICK HERE FOR COMMENT SECTION


PRINCES WILLIAM, HARRY AND DUCHESS KATE MAKE MAGIC
Princes William and Harry and Catherine, Duchess of Cambridge walk through Hogwart's Great Hall in the Harry Potter films Photograph: Chris Jackson/PA/Clarence House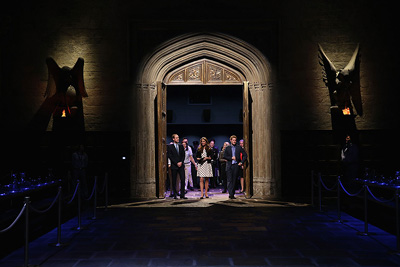 Sometimes it seems that the royals do have more fun.

Prince William has seen all of the Harry Potter movies, while his wife one ups him by having also read all of the books. Wills wants the Batmobile - one equipped with a child's seat, while brother Harry carped that his brother and sister-in-law received lessons on how to use the magic wand and he didn't.

Last Thursday the trio officially opened the $150 million Warner Bros Studios in Leavesden, Hertfordshire.

It's the only film studio in the UK to be owned and operated by a major Hollywood studio.

That fact wasn't lost on Prince William.

As President of the Baftas, William delivered a short speech in which he thanked the company for making the investment at Leavesden. "You were right to do so, and all three of us hope you have a long and prosperous stay here - and please make another of the Dark Knight series," he said.

Regarding Batman, he joked: "Christian Bale is getting old and tired... I will step in if I have to."



Catherine, Duchess of Cambridge speaks with author JK Rowling Photograph: Chris Jackson/Getty Images/Clarence House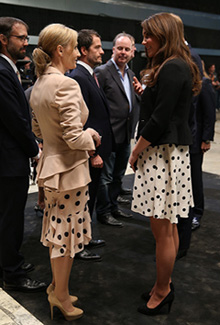 He continued: "The journey to today began most obviously with the now legendary story of an aspiring author - JK Rowling - translating her phenomenal imagination on to paper in the form of the Harry Potter series.

"But in another sense, the journey to today began way before, since this country has a long and proud literary and visual arts history - a history that is unmatched in the world for its variety, its commercial success and its longevity.

"The ancient cradle of talent that is this country has given rise to the great Jacobean playwrights and to the Victorian literary masters. Our capacity to produce brilliant works continued into the 20th century with the great British pioneers of film and television, both here and in Hollywood."

The future heir continued: "The journey to today began most obviously with the now legendary story of an aspiring author - JK Rowling - translating her phenomenal imagination onto paper in the form of the Harry Potter series.

"Catherine, Harry and I are very much looking forward to the Harry Potter Studio Tour coming up shortly, and thank you to Warner Brothers for hosting hundreds of children from the charities of which we are fortunate enough to be Patron."

William also announced his support for three new Bafta scholarships in film, television and games.



Prince William and Prince Harry inspect the Tumbler, a vehicle used in the Batman films. William suggested to Harry that the two ought to borrow the car for the week-end Photograph: Chris Jackson/Getty Images/Clarence House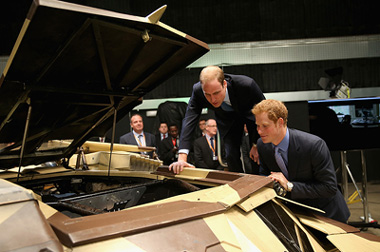 At the end of his speech, William held up a movie production clapper board and as he closed it announced: "Warner Bros studios Leavesden, Act 1, Take 1."

The royal visitors were then introduced to Harry Potter author JK Rowling ahead of viewing sets and props from the movie series. The studio complex is where the Harry Potter film series was produced.

Other films made at the site include the James Bond movie Goldeneye starring Pierce Brosnan, the first of the Star Wars prequel films, The Phantom Menace and director Tim Burton's gothic horror Sleepy Hollow.

The studios now include nine sound stages, a 100 acre back-lot and one of the largest underwater filming tanks in Europe.

The Royal visit included a tour of The Making of Harry Potter attraction, which opened last year.

While the two brothers wore their customary dark suits, mom-to-be Kate looked stunning in a $59 short, black and white polka dot Topshop Tall dress, black suede heels and a black Ralph Lauren jacket

William and Harry proved that - as the saying goes - the only difference between men and boys is the price of their toys."



Kate laughs as her husband rides the Batpod. Photograph: Chris Jackson/Getty Images/Clarence House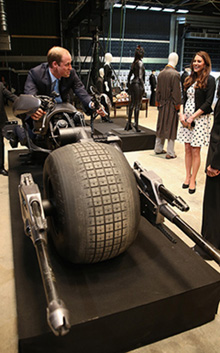 William jumped on the Batpod, leaning forward and gripping the handlebars. He joked "Where's the start button?". Then he added, "It's awesome, absolutely incredible."

His younger brother put his fingers beside his head for Batman's ears and said "You need the ears".

Wills stuck his fingers in his ears as the vehicle, which has a 5.7-litre engine with 350bhp, was revved up.

When William finally emerged, he said: "I'm a very happy man," but he then noticed his wife and apologized, saying: "Sorry, sorry".

After removing himself from the controls, William joked to Harry: "We should borrow that for the weekend."



While her husband was playing with the cars Kate looked at the costume including this one for the character Hagrid. Photograph: Chris Jackson/PA/Clarence House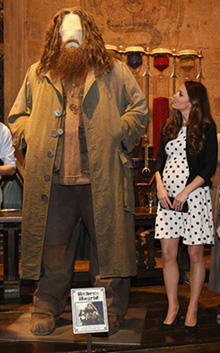 While her husband had been playing in the car, Kate had been admiring an original Dark Knight costume, which is said to weigh 400 kilos and take 25 minutes to put on.

William, Kate and Harry were greeted by local dignitaries including Herts police chief Andy Bliss, Watford Mayor Dorothy Thornhilll, Three Rivers Chairman Kemal Butt and Hertfordshire County Council Leader Robert Gordon.

Those in attendance also included Warner Bros chairman Barry Meyer.

Under Meyer's leadership, Warner Bros. consistently rank as one of the strongest, most profitable and best-positioned studios in the industry.

In 2012, the Warner Bros. Pictures Group grossed $4.3 billion at the worldwide box office ($1.66 billion domestic, $2.67 international) with both its domestic and international divisions crossing the billion-dollar mark for a 12th consecutive year, a feat unmatched by any other studio.



Prince William and Prince Harry look at a Batsuit. Photograph: Chris Jackson/PA/Clarence House
Also helping the royal trio to have a good time was Josh Berger, the global entertainment firm's president and managing director of its UK, Ireland and Spain operations.

Berger is also non-executive chairman of Chickenshed, a 38-year-old theater company/charity based in London.

The group brings people of all ages, backgrounds and abilities together to create stage works and operates three nationally accredited education courses and has outposts throughout England and in Russia.

Berger, an American by birth, was named a Commander of the British Empire and previously served as VP of The American Friends of Chickenshed, set up to encourage US and international support for the charity.

Chickenshed has performed at the Royal Opera House, The Royal Albert Hall, the Edinburgh Festival and 10 Downing Street. Its performers have appeared in more than 40 TV programs and DVDs.

Supporters have included Judi Dench, Bob Hoskins, Kenneth Branagh and Jeremy Irons.

In addressing the Warner executives William stated: "To be honest, I'm over the moon just to have seen the real Batmobile and Batpod - Josh, Barry, you don't do baby seats for those cars, do you, by any chance?



Prince Harry missed his magic lesson because he was in the Weasley kitchen. Located in The Burrow, this is where the Weasley family lived. Photo: Chris Jackson/PA/Clarence House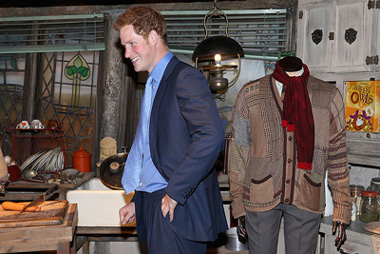 "On the other hand Harry's just excited to see a real life talking owl in the Harry Potter studios. I haven't told him yet that Harry Potter is fictional, so please keep the secret for a little longer."

Then the royals were taken to the set of Diagon Alley, a cobbled wizarding alley and shopping area where the young wizards go to buy their wands and books for school.

To enter Diagon Alley, one must go through The Leaky Cauldron to a rear courtyard and tap a brick in the wall, found by counting three up and two across, three times.

Permitted to enter, Wills and Kate were given a lesson in special effects while Harry raced into the Weasley kitchen. Located in The Burrow, this is where the Weasley family lived.



Prince Harry with his magic wand. No word on whether it can be used to make the press disappear. Photo: Chris Jackson/PA/Clarence House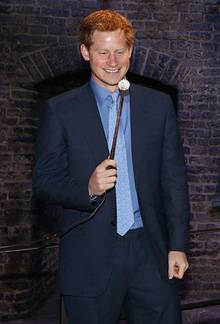 When Harry rejoined them, the three were each given a wand that lit up in a different way. They were then invited in turn to point their wand at a sign in the shape of a cauldron and press a button hidden in the base of their prop to make it explode.

William and Kate executed their moves perfectly, but Harry's failed to activate. He protested: "It's not fair, they have had a lesson."

Harry, Kate and William were taught how to cast spells by wand movement teacher, Scott Heron, 20.

William cast an "expelliarmus" spell to disarm Kate during a duel. Given their competitive nature, the couple had agreed to duel each other.

They took their places facing each other and raised their hands in the air, brought their wands forward with a violent flick of their wrists and then burst out laughing.

At the end of the tour the royal trio were given specially made hand crafted wands and a Harry Potter Tour passport.

On receiving their presents, the brothers joked about taking part in a wand dual and Prince Harry asked: "Do they work?" and "How magic are they?"

No truth to the rumor that the boys wanted to use the wands to make the press go away.







Broadway To Vegas is supported through advertising and donations. Priority consideration is given to interview suggestions, news, press releases, etc from paid supporters. However, no paid supporters control, alter, edit, or in any way manipulate the content of this site. Your donation is appreciated. We accept PAYPAL. Thank you for your interest.


ART AND ABOUT


HENNING'S WISCONSIN CHEESE MUSEUM

To celebrate the royal wedding, Central Market in Houston paid tribute to the royal couple by proclaiming them "The Big Cheese". Sarah Kaufmann (known as Sarah, the Cheese Lady) carved the royal couple into a 1000 pound wheel of Henning's cheese. Photo: Henning's Cheese Museum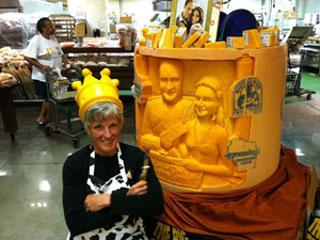 is where the cheese came from that was carved into a celebratory wedding piece honoring the marriage of Prince William and Kate. The couple celebrates their 2nd wedding anniversary on Monday.

A dream of Everett Henning's, the son of founder Otto Henning, had always been to build a cheese museum showcasing the cheese equipment that was used during the early 1900's.

Everett's dream came true in 2008 with the opening of the new cheese store and museum at their factory in Kiel, Wisconsin.

The museum features an old cheese vat, press, separator, and some old butter making equipment. Some other items include testing equipment used to check the butterfat in farmers milk, an old can washer, cheese forms, milk receiving equipment and cheese making equipment (wooden rake and shovel).

To celebrate the royal wedding of Prince William and Kate, Central Market in Houston paid tribute to the royal couple by proclaiming them "The Big Cheese". Sarah Kaufmann carved the royal couple into a 1000 pound wheel of Henning's cheese.

No word as to whether she is carving a cheese wheel baby carriage.

While visiting the store and museum, you can watch cheese being made through two large viewing windows that overlook the factory, watch a video on how to make cheese, and enjoy lots of samples of cheese and ice cream.

In 2012 their Colby won the Gold in the 2012 World Championship Cheese Contest and their Aged Peppercorn Cheddar took home the Bronze.


SWEET CHARITY


STEPPENWOLF'S 2013 GALA is a uniquely memorable evening for the theater bringing together the Board of Trustees, the city's leading civic and business leaders and members of Steppenwolf's beloved ensemble to celebrate the theater's 2012/13 season in a theatrically transformed venue.

The Gala raises $1 million annually - vital resources needed to produce ambitious plays, impact a young audience through our educational programs and sustain Steppenwolf's stature as a leading cultural institution and a destination to see ground-breaking American theater.

Gala co-chairs are Ron and Paula Mallicoat, Deborah and Stephen Quazzo, and Colette Cachey Smithburg and Tom Smithburg.

During the evening members of Steppenwolf's acclaimed ensemble reunite in Chicago for the Gala, serving as hosts for: an exclusive 30-minute performance including a special selection from their world-premiere production Head of Passes by ensemble member Tarell Alvin McCraney, directed by ensemble member Tina Landau.

Elegant cocktail reception and intimate seated dinner with members of the Steppenwolf ensemble in a theatrically transformed venue, the expected live auction "featuring extraordinary adventures with our artists" and a live rock band and dancing with chic after-hours lounge and DJ.

In Chicago on Saturday, May 4, 2013.

BUCKS COUNTY PLAYHOUSE'S 2013 GALA BENEFIT takes place May 4, 2013 in New Hope, PA.

The evening will include cocktail, dinner, auctions, dancing and "starry" entertainment.

Located 90 minutes from New York City, the Bucks County Playhouse opened in 1939 on the site of a grist mill dating from the late 18th century and is called "America's Most Famous Summer Theatre.".

THE NIGHT OF 1000 STARS will be celebrating the works of the great Broadway producer and director, Harold 'Hal' Prince.

Featuring timeless classics from Princes' shows including: West Side Story, Evita, The Phantom of the Opera, Kiss of the Spiderwoman, A Little Night Music, Sweeney Todd, Follies, Cabaret and Parade.

Performers confirmed from London's West End include Heather Headley and Debbie Kurup (The Bodyguard), Denise van Outen and Tiffany Graves (Chicago), Katie Rowley-Jones (Wicked), Alex Bourne (Kiss Me Kate), Ian Knauer (Mamma Mia!), Marcus Lovett, Shona Lindsay and Tabitha Webb (The Phantom of the Opera) and Kristen Beth Williams (Top Hat).

From Europe, Denmark's leading man, Christian Lund; from the US, Jason Robert Brown (Parade), Kenneth Nichols (Show Boat) and Broadway Legend and TV star, Len Cariou (Sweeney Todd, A Little Night Music and Blue Bloods on SKY Atlantic). Celebrated violinist Diana Yukawa will also join the company on-stage and there will be special appearances from perennial favorites, Brian Conley and Robin Cousins (Dancing on Ice).

The West End's distinguished maestros, Kevin Amos and Stuart Morley will once again supervise the musical forces. The evening will be directed by Hugh Wooldridge.

A spectacular musical event hosted by Alan Titchmarsh benefits The Caron Keating Foundation. This wonderful charity makes a considerable difference to individuals and families affected by, and dealing with, cancer. It gives a significant number of grants throughout Britain and is administered by Caron Keating's mother, Gloria Hunniford, and her family.

Sunday, May 5, 2013 at Royal Albert Hall in London.


BETTE MIDLER AND PIPPIN ARE LAST TO OPEN ON BROADWAY BEFORE TONY NOMINATIONS


Just when you thought Broadway couldn't get any better, thanks to the opening of such delights as Kinky Boots and Matilda, along comes Pippin and a one-woman show starring Bette Midler.

The Divine Miss M has returned to The Great White Way after an absence of 38-years. In 1975 she starred in Clams on the Half Shell.

Now she is captivating as the sassy and caustic Sue Mengers in John Logan's I'll Eat You Last.

The multi-talented Midler, in this non-singing role, nails the part.

Joe Mandella's direction is perfect and so is the staging by Scott Pask.

It doesn't matter if you've never heard of super-agent Sue Mengers, Midler's performance is enthralling.

You might as well call Diane Paulus the Queen of the Musical Revivals.

She's the one who brought Hair back to Broadway. Then she defied the pre-opening criticism to successful mount her revival of Porgy and Bess.

She's done it again with Pippin, the first Broadway revival since the musical won the Tony in 1972.



The cast of Pippin. Photo by Joan Marcus.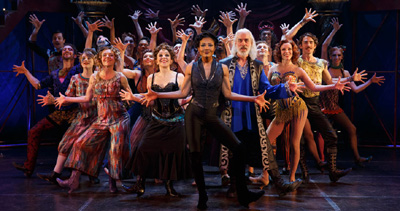 An energized revamp by the American Repertory Theatre at the Music Box Theatre. A musical with music and lyrics by Stephen Schwartz, successfully re-imaged by circus artist Gypsy Snider of the Montreal-based troupe Les 7 doigts de la main.

A busy Scott Pask, who did the above mentioned Midler show, also stage crafted this one. Lighting by Kenneth Posner and costumes by Dominique Lemieux. Choreography by Chet Walker

If you can't run away and join a circus - at least enjoy this one.

Most of the cast members had to undergo circus training. They are exceptional. The dazzling musical features Patina Miller as the Leading Player, Matthew James Thomas as Pippin. Rachel Bay Jones, as Pippin's love interest, Catherine, Charlotte d'Amboise, as Pippin's scheming stepmother, Andrea Martin as grandma, Terrence Mann as Pippin's father, Charlemagne and Rachel Bay Jones is Catherine, the young widow.

The revival deserves to run for years.


BOSTON HEALING THROUGH THE ARTS
Lu Lingzi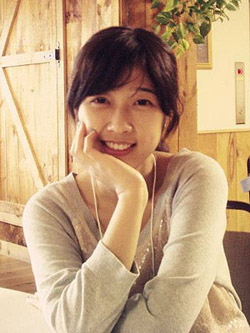 In response to the tragic violence of the Boston Marathon and the succeeding events the devastating week brought forth, students at Boston University College of Fine Arts are joining together to help not only the injured, but also one another in this emotionally traumatic time.

"Among those lost was Lu Lingzi, a BU graduate student. Though pursuing a statistics degree, Lu also studied piano at CFA, because music brought her joy. Music was part of her identity, just as Lu was part of ours," stated the school.

Approximately 1,200 people, including Lu's family from China, attended a memorial service for Lu Lingzi at the GSU Metcalf Ballroom on April 22.

Her friends stated that "beneath her formidable intellect - juggling four courses while studying the piano and getting excellent grades - Lu Lingzi was a woman who could be endearingly silly, her burnt breakfasts often setting off a smoke detector, her fear of kitchen mice requiring roommate Li Jing to become, in Jing's words, her "brave warrior." And beneath all lay the dreams of a woman who, at 23, should have had an adult lifetime to fulfill them."

Others spoke of Lu's love of blueberry pancakes, green tea ice cream, and violinist Itzhak Perlman, and of her goal of becoming a financial analyst.

"Her dream was very simple," friend Zheng Minhui told 1,200 people in the George Sherman Union, which was filled with students and staff, including all the University chaplains, as well as the general public and Massachusetts Governor Deval Patrick and Lieutenant Governor Timothy Murray. "She wanted a not necessarily rich life, but a peaceful life, with a stable job, a happy family, and a lovely dog."

According to the school newspaper, Zhong Ruiming, deputy consul general from China's New York consulate, offered condolences from the speaker's podium, where an enlarged photo of Lu beamed at the crowd. Musical selections threaded the memorial, including one of Lu's favorite pieces, Chopin's Op. 48, No. 1, performed by her piano teacher, Han Nah Son.. A horseshoe table in the rear of the GSU's Metcalf Ballroom was laden with white bouquets and two teddy bears in BU sweaters, while a gong was placed at the entrance doors, which were draped in white.

"We know that a memorial service cannot bring closure to the grief that parents who lose a child must endure," University President Robert A. Brown said. "Nothing can be as it was before; the grief is too immense. We hope tonight in our words and prayers to show our understanding of the magnitude of the grief. We also hope to assure Lingzi's family that she was very much a cherished member of our community.

"Astronomers tell us that when a star dies somewhere out there in the universe, its light continues to travel across time to reach us," the president said. "One way in which the light of Lingzi's life will continue to shine is in the scholarship in her name," created and endowed by the University trustees last week.

Lu who was studying statistics "had finished taking her qualifying exams just two days before she died," said Eric Kolaczyk, a College of Arts & Sciences professor and director of the program in statistics. "In fact, she passed those exams with flying colors, although she did not live long enough to hear the final results." Rare for a master's student, she coupled her course work with statistical research, he said.

Lu Jun, Lingzi's father, recalled a confident, fun-loving little girl who had been "the family's Shirley Temple," in a eulogy delivered in Chinese and translated for the audience by Willis Wang, a BU vice president and associate provost for global programs. As she grew, her father said, her work ethic and love of music developed; before leaving for Boston, she asked her parents to care for her large CD collection, "and told us that she would come back to enjoy them later on."

According to the school paper, after the service, guests flowed out of the ballroom, many of them reaching for tissues and wiping away tears. Among them was Hedieh Mehrtash, an international student from Dubai who didn't know Lu, but came for closure after a long, emotional week. "I feel like a brother or sister has been lost," she said.

That is the same feeling that students at CFA's Schools of Music, Theatre, and Visual Arts have felt with three lives lost, hundreds injured, and thousands stunned. They are demonstrating their resilience of spirit through the Arts Outreach Initiative, an unprecedented partnership between the Boston University Medical Campus and CFA that builds productive relationships between artistic creativity and health care practices. The students are stepping forth to use their individual mediums to help the 23 victims being treated at Boston Medical Center, BU's affiliated academic hospital.

"Since last October, the Arts Outreach Initiative has been articulating an ongoing artistic presence in the Medical Campus, with special emphasis at Boston Medical Center," says Moisès Fernández Via, Project Curator & Researcher for the Arts Outreach Initiative. "At this very moment, BMC is providing care to patients injured at the Boston Marathon. Surgical and Trauma units are dealing with exceptional levels of stress and anxiety. Nurses and staff are working under an exceptionally overloaded emotional context."

In the face of the extraordinary circumstances of that tragic week, the next generation of artists shares a message of hope, resilience, and collaboration. "For the Arts Outreach Initiative, this exceptional moment demands an exceptional response - understanding that not only medical care is required at this point, but stress relief, consolation, and empathy," continued Fernández Via.

Almost immediately, students from the School of Visual Arts launched Still Running: An Art Marathon for Boston, an open call for art to celebrate strength and raise money for victims. And in a remarkable spirit of community, both casts of the Opera Institute's production of La Clemenza di Tito, shared their final performance with one cast performing Act 1, and the alternate cast performing Act 2.

Music and Theatre students are also responding to the devastation, performing for patients injured at the Marathon, and staff at BU Medical Campus, as part of the new outreach initiative, are focusing on artistic intervention.

Educating the Citizen Artist is central to CFA's mission. Much of the College's programming, discussions, and collaborations have revolved around the annual theme - resilience - the buoyancy of the human spirit in times of war, tragedy, hardship, suffering, and oppression.

"None of us could have predicted the relevance of CFA's keyword: Resilience before the tragic events of April 15th," continues Dean Juárez. "Wounded, the city of Boston mourned, and did what this great city, the birthplace of America, has done before: it grew stronger, more resilient, and I am so proud to say that our CFA community did the same."

"We've heard it said that the arts community comes together during times of tragedy," says Benjamín Juárez, Dean of Boston University College of Fine Arts. "In the days immediately following the Boston Marathon, I witnessed this first-hand."




SHIRLEY KNIGHT RETURNS HOME FOR THE INGE FESTIVAL
Shirley Knight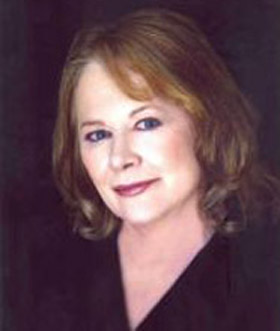 Tony and Emmy Award winner and Academy Award nominee Shirley Knight returns to her native Kansas to perform at the 32nd annual William Inge Theatre Festival, which takes place May 1-4 in the town of Independence, in celebration of William Inge's 100th Birthday. The Inge Festival - the official Theatre Festival of the State of Kansas - is sponsored by the William Inge Center for the Arts at Independence Community College.

Knight takes featured roles in the Thursday, May 2, presentation of A Great Wilderness, by Samuel D. Hunter, and again on Saturday, May 4, in the finale Tribute Farther Off From Heaven, a celebration of the life, work, and legacy of William Inge.

The acclaimed actress will also participate in workshops and panels throughout the week.

A life member of The Actors Studio, Knight's stage credits include Three Sisters (1964), We Have Always Lived in the Castle (1966), Kennedy's Children (1975), which earned her the Tony Award, and A Lovely Sunday for Creve Coeur (1979). She was nominated for the Drama Desk Award for Outstanding Actress in a Play twice, for Landscape of the Body and The Young Man from Atlanta, which also garnered her a Tony nomination.

Her new film Redwood Highway opened April 6 at the Ashland Oregon film festival. Her Steven King film Mercy, will open later in 2013.

At the Inge Festival, Miss Knight will be in the concert reading of A Great Wilderness. The play is by Samuel D. Hunter, who will also be present at the Inge Festival to receive the Otis L. Guernsey New Voices in the American Theatre Award. The New Voices Award is named for the late theatre scholar Otis Guernsey and bestowed to an accomplished, emerging playwright.

Joining Miss Knight in A Great Wilderness will be John Herzog, Dakin Matthews, Mari Nelson, Elaine Rivkin, and Alan Safier. A Great Wilderness centers on a teenage Christian boys' camp for parents who fear their sons have homosexual tendencies. A new camper, played by Kansas actor Cameron Lopez, precipitates a crisis of faith. The director is Braden Abraham, associate artistic director of Seattle Repertory Theatre.


BEAUTIFUL VERSUS PHOTOGENIC


This past week much has been made about the People magazine issue's photo spread on the 50 most beautiful women in the world.

Yes, they are all beautiful. But what they really are is - photogenic. It doesn't matter how beautiful they look in person, if they didn't photograph well, they wouldn't be in the magazine.

When questioned about what keeps them looking young - all proffered the Hollywood PR version of the truth - friends, a positive outlook, etc. While there are numerous benefits from a positive attitude, the truth is, what keeps them looking years younger than their birth age is one word - money. For an extended period, and on a regular basis, they have been able to afford the best plastic surgeons, skin fillers, personal trainers, hair stylists, skin care products and special nutritional items. They have help for household chores and child care. They work at an occupation that affords them praise. Most receive clothing and other services free of charge.

The 50 chosen were dressed, coiffed and made-up by the best experts. They were photographed by skilled artisans whose job was to put them in the best possible light.

That photo spread should be viewed on the same level as going to an art gallery or a museum and looking at works of photographic art on display. Singling out 50 celebrities and calling them the most beautiful women in the world does a tremendous disservice to the average woman. The already overworked woman can get depressed. No woman is going to look at those pictures and feel happy that she looks like a drudge in comparison. The man in her life might look at those pictures and secretly wonder why his girlfriend or wife can't look like that. One word - money.


SPREADING THE WORD


SURVIVING MOMMIE DEAREST billed as "an empowering and inspirational new production" starring Christina Crawford - actress, activist and author of the 1978 best-selling autobiographical book Mommie Dearest.

The show features an award–winning bio-pic documentary covering 100 years of show-biz history and details the turbulent relationship between Christina and her movie legend mother, Joan Crawford.

Complete with film clips and footage from forgotten 1940's home movies, Surviving Mommie Dearest is slated for a limited run of 5 performances, during the week of Mother's Day and will run off-Broadway at the Snapple Theater Center in Manhattan.

In addition to the Hollywood glitz and glamour of Surviving Monnie Dearest, Ms. Crawford who wrote and narrates the documentary, recounts the abuse that she endured in her life, discusses her road to recovery, takes questions from the audience and closes the 90 minute show with a book signing.

Also featured in the documentary is George Riddle, the star of Blood Country, which was recently awarded Best Film at the Toronto Film Festival. Music featured in the Documentary is by former American Idol David Hernandez.

Christina Crawford's memoir, "Mommie Dearest" created a worldwide sensation and was published in seven foreign languages. Since then, she has written: Black Widow (a novel), Survivor, No Safe Place and Daughters of the Inquisition, in addition to publishing first the 20th Anniversary and then the 30th Anniversary Editions of "Mommie Dearest", with updates and some revisions. The film of the same name was released in 1981 but without her participation in production or final approval. She has not received any royalty payments in the 30 years since the film was released.

She has served as appointed Commissioner on the first Lost Angeles County Commission for Childrens Services and has been given awards from the Illinois Governor, the California Attorney General and the United States Dept. of Children and Family Services for her work on behalf of public awareness regarding child abuse & family violence prevention.

A special press performance takes place May 2 with regular performances of Surviving Mommie Dearest slated for May 8-12.

THE SONG IS YOU: JEROME KERN COAST TO COAST part of 92Y's Lyrics & Lyricists program.

Deborah Grace Winer serves as Artistic Director, writer and host. John Oddo is the Music Director and Mark Waldrop serves as the Stage Director.

Vocalists are: Karrin Allyson, Debby Boone, James Naughton, Paula West, Karen Ziemba, and Jeffry Denman who also handles the choreography.

Barbara Carroll is the Special Guest.

With shows, films and songs like Show Boat, All the Things You Are and I Won't Dance, he redefined American Music. It's no accident Jerome Kern was known as The Dean.

May 4, 5, 6 at the 92Y in New York City.

MEL BROOKS: MAKE A NOISE In Person: Mel Brooks, Robert Trachtenberg, Writer, Director, Producer, Editor Susan Lacy, Executive Producer. Moderator: Richard Benjamin.

Mel Brooks has been in show business for more than sixty years, and is a member of the elite EGOT class (Emmy, Grammy, Oscar, and Tony winners). Yet the comedy giant has energetically avoided a documentary profile being made, even issuing an informal gag order on his friends … until now. In advance of its broadcast premiere, the Paley Center presents this special premiere screening and onstage conversation celebrating the iconic comedy genius.

Showcasing the Brooklyn native's brilliant, skewed originality, American Masters Mel Brooks: Make a Noise journeys through Brooks' early years in the creative beginnings of live television - with Sid Caesar on Your Show of Shows - to the film genres he so successfully satirized in Young Frankenstein, Blazing Saddles, High Anxiety, and Spaceballs - to the groundbreaking Broadway musical version of his first film, The Producers. The documentary also delves into his professional and personal ups and downs - his childhood, first wife, and subsequent forty-one-year marriage to Anne Bancroft - capturing a never-before-heard sense of reflection and confession.

The documentary features new interviews with Brooks, his friends and colleagues, including Matthew Broderick, Nathan Lane, Cloris Leachman, Joan Rivers, Tracey Ullman, and his close friend, with whom he created The 2000 Year Old Man more than fifty years ago, Carl Reiner.

Thursday, May 9, 2013 at The Paley Center in Los Angeles. American Masters: Mel Brooks airs on PBS on Monday, May 20, 2013.

TESLA a radio play for the stage by Dan Duling, directed by Michael Arabian, starring French Stewart and Sandra Tsing Loh, will present a one night-only staged reading on May 4, 2013 on the mainstage of the Pasadena Playhouse in Pasadena, CA.

The reading is presented by The Pasadena Playhouse and The Experimental Performance Laboratory at Caltech. Telsa, A Radio Play for the Stage tells the story of Nikola Tesla's life as a brilliant but controversial inventor and futurist during the late-19th and early-20th century. The play is excitingly staged as a radio drama featuring live sound effects. Tesla's volatile relationship with Thomas Edison, his allegiance with George Westinghouse, and his confrontation with the power brokers of American business are recounted from the perspective of the possible implications of his work to national security.

Special guest stars include Phil Proctor as Thomas Edison; French Stewart as Tesla; Sandra Tsing Loh as Katherine, Dr. Ashley Stroupe (JPL Mars Rover Opportunity Driver) playing multiple roles, Dr. Steven Collins (JPL Mars Rover Curiosity Engineer) playing multiple roles and Brian Brophy (Director of Theater Arts at Caltech) playing multiple roles. Live sound effects by SFX artist Tony Palermo.

A post-show conversation and reception with the playwright, actors, and director will follow the performance. A portion of the proceeds for the event directly supports Theater Arts at Caltech.

The staged reading of Tesla, A Radio Play for the Stage kicks off the second year of the Experimental Performance Laboratory at Caltech's New Plays Festival, a series of four staged readings of new science-based plays.

STAR TREK'S ZACHARY QUINTO will make his Broadway debut in Tennessee William's The Glass Menagerie, when it transfers from London to New York September 5th.

Quinto, who reprises the role of Spock in the forthcoming Star Trek sequel Into Darkness, is the play's narrator, Tom. The production also features two-time Tony award-winner Cherry Jones, who plays his mother Amanda Wingfield.

SOLEDAD O'BRIEN one of the best and brightest in the news business is headed to Harvard. The Harvard Graduate School of Education announced that the former CNN morning talk show host will become a distinguished visiting fellow for the 2013-14 school year. O'Brien will focus on public education in America.



LYRICIST DANIEL MATE AND LIBRETTIST ALAN GORDON have been named the recipients of the 23rd annual Kleban Prize for Musical Theatre. Each writer will receive $100,000 over the next two years to support his work.

They will be presented with the 2013 Kleban Prizes June 24 in a private ceremony hosted by ASCAP and BMI. The Kleban Foundation was established in 1988 under the will of Edward Kleban, the late Tony and Pulitzer Prize-winning lyricist of the musical A Chorus Line.

The award is administered by New Dramatists on behalf of The Kleban Foundation, Inc. Board of Directors: Andre Bishop, Elliot H. Brown, Sheldon Harnick, Richard Maltby, Jr., John Weidman and Maury Yeston.

The 2013 judges included award-winning composer Henry Kreiger, Tony Award-winning actress Michele Pawk, and director of the Theater Wing at the Kaufrman Center, Sean Hartley.

Previous recipients of the annual Kleban Prize include David Lindsay-Abaire, Jason Robert Brown, John Bucchino, Gretchen Cryer, Michael Korie, Jeff Marx and Robert Lopez, Michael John LaChiusa, Glenn Slater, John Weidman, Marcy Heisler, Andrew Gerle and Matt Schatz.

THE 2013 OLIVIER AWARD WINNERS were announced Sunday, April 28, 2013 in a ceremony in London. The winners included Las Vegas resident Leigh Zimmerman for Best Performance in a Supporting Role in a Musical for her performance in Chorus Line.

For a complete list of the 2013 Olivier nominees and winners: See Broadway To Vegas column of March 31, 2013 )

THE TONY AWARDS ADMINISTRATION COMMITTEE has announced that Sophia Gennusa, Oona Laurence, Bailey Ryon and Milly Shapiro, who share the title role in Matilda The Musical, will receive Tony Honors for Excellence in the Theatre. They will not be eligible in the Best Performance by an Actress in a Musical category; however, the Tony Awards Administration Committee "wishes to recognize their outstanding performances this season."

Nominations were announced April 30 at The New York Public Library for Performing Arts, Dorothy and Lewis B. Cullman Center.

THE 2013 TONY AWARD NOMINATIONS ARE:
BEST PLAY The Assembled Parties - Lucky Guy, The Testament of Mary -Vanya and Sonia and Masha and Spike

BEST MUSICAL Bring It On, A Christmas Story, Kinky Boots, Matilda

BEST BOOK OF A MUSICAL Joseph Robinette for A Christmas Story - Harvey Fierstein for Kinky Boots - Dennis Kelly for Matilda - Douglas Carter Beane for Rodgers & Hammerstein's Cinderella

BEST ORIGINAL SCORE (Music and/or Lyrics) Written for the Theatre Cyndi Lauer for Kinky Boots - Tim Minchin for Matilda - Paske and Paul for A Christmas Story - Trey Anastasio Amanda Green for Hands on a Hardbody

BEST REVIVAL OF A MUSICAL Annie - Pippin - The Mystery of Edwin Drood - Rodgers & Hammerstein's Cinderella

BEST PERFORMANCE BY AN ACTOR IN A LEADING ROLE IN A PLAY David Hyde Pierce in Vanya and Sonia and Masha and Spike - Tom Sturridge in Orphans - Tom Hanks in Lucky Guy- Nathan Lane in The Nance - Tracy Letts in Whose Afraid of Virginia Woolf

BEST PERFORMANCE BY AN ACTRESS IN A LEADING ROLE IN A PLAY Holland Taylor in Ann - Cicely Tyson in A Trip to Bountiful - Laurie Medcalf in The Other Place - Amy Morton for Whose Afraid of Virginia Woolf? - Kristine Nielsen for Vanya and Sonia and Masha and Spike

BEST PERFORMANCE BY A LEADING ACTOR IN A MUSICAL Bertie Carvel in Matilda The Musical - Santino Fontana in Rodgers + Hammerstein's Cinderella - Rob McClure in Chaplin - Billy Porter in Kinky Boots - Stark Sands in Kinky Boots

BEST PERFORMANCE BY A LEADING ACTRESS IN A MUSICAL Stephanie J. Block in The Mystery of Edwin Drood - Carolee Carmello in Scandalous - Valisia LeKae in Motown The Musical - Patina Miller in Pippin - Laura Osnes in Rodgers + Hammerstein's Cinderella

BEST PERFORMANCE BY AN ACTOR IN A FEATURED ROLE IN A PLAY Danny Burstein for Golden Boy - Richard Kind for The Big Knife - Billy Magnussen for Vanya and Sonia and Masha and Spike - Tony Shalhoub for Golden Boy - Courtney B. Vance for Lucky Guy

BEST PERFORMANCE IN A FEATURED ROLE BY AN ACTRESS IN A PLAY Carrie Coon for Whose Afraid of Virginia Woolf? - Shalita Grant for Vanya and Sonia - Judith Ivey for The Heiress - Judith Light for The Assembled Parties - Condola Rashad for Phloella

BEST PERFORMANCE BY AN ACTOR IN A FEATURED ROLE IN A MUSICAL Gabriel Ebert for Matilda Terrence Mann for Pippin - Chari Brown for Motown the Musical - Keith Carradine for Hands on Hardbody - Will Chase for Edwin Drood

BEST PERFORMANCE BY AN ACTRESS IN A FEATURED ROLE IN A MUSICAL Annaleigh Ashford in Kinky Boots - Victoria Clark for Cinderella - Lauren Ward for Matilda - Keala Settle for Hands on a Hardbody - Andre Martin for Pippin -

BEST DIRECTION OF A PLAY Bartlett Sher for Golden Boy - George C. Wolfe for Lucky Guy - Pam MacKinnon for Whose Afraid of Virginia Woolf? - Nicholas Martin for Vanya and Sonia and Masha and Spike

BEST DIRECTION OF A MUSICAL Diane Paulus for Pippin - Mathew Warchus for Matilda - Scott Ellis for Edwin Drood - Jerry Mitchell for Kinky Boots.

BEST CHOREOGRAPHY Jerry Mitchell for Kinky Boots - Chet Walker for Pippin - Andy Blankenbuehler for Bring It On - Peter Darling for Matilda

BEST ORCHESTRATIONS Chris Nightingale for Matilda - Stephen Oremus for Kinky Boots - Ethan Popp and Bryan Crook for Motown the Musical - Danny Troob for Cinderella

BEST SCENIC DESIGN OF A PLAY John Lee Beatty for The Nancy - Santo Loquasto for The Assembled Parties - David Rockwell for Lucky Guy - Michael Yeargan for Golden Boy

BEST SCENIC DESIGN OF A MUSICAL Rob Howell for Matilda - Anna Louizos for Edwin Drood - Scott Pask Studio for Pippin - David Rockwell for Kinky Boots

BEST COSTUME DESIGN OF A PLAY Albert Wolesky for The Heiress - Catherine Zuber for Golden Boy - Soutra for Cyrano de Bergerac - Ann Roth for The Nance

BEST COSTUME DESIGN OF A MUSICAL William Ivey Long for Rodgers & Hammerstein's Cinderella - Dominique Lemieux for Pippin - Gregg Barnes for Kinky Boots - Rob Howell for Matilda

BEST LIGHTING DESIGN OF A PLAY Jennifer Tipton for The Testament of Mary - Japhy Weideman for The Nance - Jules Fisher and Peggy Eisenhauer for Lucky Guy - Donald Holder for Golden Boy

BEST LIGHTING DESIGN OF A MUSICAL Kenneth Posner for Kinky Boots, Pippin and Rodgers & Hammerstein's Cinderella - Hugh Vanstone for Matilda

BEST SOUND DESIGN OF A PLAY Leon Rothenberg for The Nance - Peter John Still and Marc Salzberg for Golden Boy - John Gromada for A Trip To Bountiful - Mel Mercier for The Testament of Mary

BEST SOUND DESIGN OF A MUSICAL Jonathan Deans and Garth Helm for Pippin - Peter Hylenski for Motown the Musical - John Shivers for Kinky Boots - Nevin Steinberg for Cinderella

SPECIAL TONY AWARD FOR LIFETIME ACHIEVEMENT IN THE THEATRE Bernard Gersten, Paul Libin and Ming Cho Lee

REGIONAL THEATRE TONY AWARD The Tony Awards Administration Committee has announced that it will present the 2013 Regional Theatre Award to the Huntington Theatre Company of Boston, Massachusetts.

ISABELLE STEVENSON AWARD will be awarded to Larry Kramer.

TONY HONOR FOR EXCELLENCE IN THE THEATRE Career Transition For Dancers - William Craver - Peter Lawrence - The Lost Colony



SHOW BOAT

From the Lyric Opera of Chicago production of Show Boat. Photo by Dan Rest.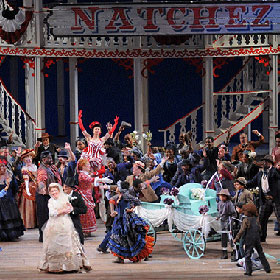 the Washington National Opera's production of the Jerome Kern and Oscar Hammerstein II's masterpiece. Based on the novel Show Boat by Edna Ferber.

Directed by WNO artistic director Francesca Zambello. John DeMain will conduct the WNO Orchestra.

The productions stars Andriana Chuchman and Jennifer Holloway double cast in the role of Magnolia, Michael Todd Simpson and Rod Gilfry alternating as Gaylord Ravenal, Alyson Cambridge and Talise Trevigne as Julie, Morris Robinson and Soloman Howard as Joe, Angela Renée Simpson and Gwendolyn Brown as Queenie, Tony nominee Lara Teeter and Wynn Harmon as Captain Andy.

The single cast parts include Bernie Yvon as Frank, Kate Loprest as Ellie, and Cindy Gold as Parthy.

The Kennedy Center states: "More than 100 singers, actors, and dancers will fill the Kennedy Center Opera House stage to tell the tale of a troupe of riverboat performers as they make their way through the decades, and a 50-piece orchestra will play Show Boat's legendary score, which mixes the best traditions of opera, musical theater, jazz, gospel, and vaudeville."

The score features such classics as Ol' Man River, You Are Love, Can't Help Lovin' Dat Man, Bill and many more.

Set design by Peter J. Davison, costume design by Paul Tazewell, lighting design by Mark McCullough, choreography by Michelle Lynch, sound design by Tom Clark/ACMA Sound Partners and hair and makeup design by Anne Ford-Coates for Elsen Associates.

The chorus master is Steven Gathman.

This company premiere and new production is co-produced with Lyric Opera of Chicago, the San Francisco Opera Association, and Houston Grand Opera.

Performances at The Kennedy Center Opera House in Washington, DC May 4-26.

HERE LIES LOVE with concept and lyrics by David Byrne, music by David Byrne and Fatboy Slim, additional music by Tom Gandey and J Pardo.

Directed by Alex Timbers. Choreography by Annie B-Parson.

Audience members are required to stand for the entire 90 minute - no intermission - performance. Officials recommend that audience members wear comfortable shoes and clothing. Large bags and jackets are not permitted in the theater. Items can be checked at the door.

Imelda Marcos retracing her meteoric rise to power and subsequent descent into infamy and disgrace at the end of the People Power Revolution. Here Lies Love is billed as "neither a period piece nor a biography, neither a play nor a traditional musical but an immersive theatrical event combining songs influenced by four decades of dance music, adrenaline-fueled choreography, and a remarkable 360-degree scenic and video environment to go beyond Imelda's near-mythic obsession with shoes and explore the tragic consequences of the abuse of power."

Performances at The Public Theater in New York City.

THE ROYALE World Premiere by Marco Ramirez. World premiere directed by Daniel Aukin.

Featuring Robert Gossett, Diarra Oni Kilpatrick, David St. Louis, Keith Szarabajka, and Desean Terry.

Set in the boxing world of the early 1900s and loosely inspired by the story of Jack Johnson,the first black pop culture icon, and whose reign as the world heavyweight champion lasted from 1908 to 1915. Jay "The Sport" Jackson has talent and confidence and wants what he feels is owed to him: a shot at the championship. Even though blacks were not offered bouts with white boxers, Jay wants to be the first African American crowned undisputed heavyweight champion of the world, and is pushing hard to have that realized, no matter the consequences.

Marco Ramirez, who was a member of CTG's 2010-2011 Writers' Workshop, has had plays produced at The Kennedy Center, The Juilliard School, Black Dahlia (L.A.), and Actors Theatre of Louisville's Humana Festival (where his pieces I am not Batman and 3:59AM were both recipients of the Heideman Award for Best Short Play). Other honors include the Bryan Award from The Fellowship of Southern Writers, a Helen Hayes nomination, the Lila Acheson Wallace Juilliard Playwriting Fellowship, Lincoln Center's Le Comte du Nouy Award and TCG's Edgerton Foundation New Play Award. He trained at both NYU and The Juilliard School.

April 28-June 2, 2013 at the Kirk Douglas Theatre in Culver City, CA.

MIKE DAISEY the provocative monologist, returns to Seattle Repertory Theatre with the West Coast premieres of two new works, American Utopias and F***ing F***ing F***ing Ayn Rand.

Both works are directed by Jean-Michele Gregory.

American Utopias explores how we create public spaces in which we come together to act out our dreams of a better world. Daisey takes us everywhere to pursue the story: from Disney World and its nostalgic theme park perfection, to the drug-fueled anarchic excesses of Burning Man, to Zuccotti Park, where in the unlikeliest place the Occupy movement is born. Gunplay, giant glittery dildos, raving animatronic presidents, and brutal police actions come together to paint the landscape of our American dream.

F***ing F***ing F***ing Ayn Rand is an evening dedicated to that most frustrating and difficult woman in our literary and philosophical canon, Ayn Rand. Reviled by millions for her infantile philosophies and turgid prose, she is simultaneously worshipped by millions more for her ideological purity and dedication to the self at all costs. Torrid rape sex, terrifyingly bad movies, and the underpinnings of the modern American financial system all play a role in how Ayn Rand became the most powerful woman in the American mythos today.

Mike Daisey lived in Seattle until 2001 and worked at Amazon before moving to New York, where he is currently based. While in Seattle, he was active in the local theatre scene, and since leaving he and collaborator Jean-Michele Gregory continue to return to the city to develop Daisey's work.

Each monologue will run for four performances only May 1-11, 2013 in Seattle Rep's Leo K. Theatre.

THE MATCH BOX by Frank McGuinness. Directed by Lia Williams.

"And she grew to be a girl, my daughter, my Mary. Sing a song, Mary. Sing for grandma and granda. Sing."

The ties that bind can never be broken. For Sal, they hang like a noose around her neck, just loose enough to keep a small but potent flame alive inside.

A passionate story of one woman's journey through forgiveness, revenge and redemption.

Leanne Best plays Sal.

The London premiere of a new play by one of Ireland's greatest playwrights with performances May 2 - June 1, 2013 at the Tricycle Theatre in London.

PASSION PLAY Written by Peter Nichols. Directed by David Leveaux.

Starring Olivier Award-winner Zoë Wanamaker.

A black comedy about love and infidelity.

Comfortably married for 25 years, James and Eleanor's world is upended when James agrees to a secret rendezvous with their recently widowed friend Kate. As the lies mount up, the affair strips the marriage bare and reveals the illicit desires and hidden passions that lie beneath the everyday facade.

Winner of the Evening Standard Award for Best Play makes a much-anticipated return to the West End May 1-August 3, 2013 at the Duke of York's Theatre in London.

THE FOX ON THE FAIRWAY by Ken Ludwig.

The Dinner Theatre will become the "clubhouse" for a hilarious show about a wild game of Golf. It's a tribute from playwright Ken Ludwig to the great English farces of the 1930s and 1940s.

The Fox On the Fairway takes audiences on a hilarious romp which pulls the rug out from underneath the stuffy denizens of a private country club. Filled with mistaken identities, slamming doors, and over-the-top romantic shenanigans, it's a furiously paced comedy that recalls the Marx Brothers' classics. A charmingly madcap adventure about love, life, and man's eternal love affair with... golf.

May 3, 4, 10, 11, 16, 17, & 18, 2013 at the Fort Gordon Dinner Theatre in Fort Gordon, Georgia.

RED by John Logan. Directed by Alkinos Tsilimidos . Starring famed Australian Colin Frields together with recent Victorian College of Arts graduate Tom Barton.

Red is a dramatic look at the life of Mark Rothko, one of the preeminent abstract expressionist painters of his generation who, over five decades, created a new and impassioned form of abstract painting.

Colin Friels breathes life into tortured artist Mark Rothko as he broods and seethes in his Bowery studio, literally painting himself into a corner, in Red. In the 1950s, Rothko took a commission that would set him up for life - a series of paintings that would decorate the swanky Four Seasons Restaurant in the new steel-and-glass monument to corporate modernism, the Seagram Building on Park Avenue.

He forged his art into a weapon against the richest bastards in New York, vowing clandestinely to create stomach-turning crimson canvases that would "ruin the appetite of every son- of-a-b*tch who eats there" – but in 1959 he stormily reclaimed the paintings and gave back the money.

Running through May 19, performances began last night, April 27, at Queensland Theatre Company in Brisbane, Australia.


WHO'S WHERE




MICHELE SERROS performs May 6 as part of Hip-Hop Poetry Open Mic. Presented by Oregon Shakespeare Festival, Ashland, Oregon. The California native is a former staff writer for The George Lopez Show and author of several books, including How to Be a Chicana Role Model. She was nationally selected to tour as a Road Poet for Lollapalooza and by the Poetry Society of America to have her poetry placed on MTA buses throughout Los Angeles.

CHRIS BOTTI blows his own horn at the Moran Theater in Jacksonville, FL on Saturday, May 4.

ANDREA BOCILLI stars at the Mercedes Benz Arena in Shanghai, China on Tuesday, April 30.

FLEETWOOD MAC entertain Tuesday, April 30, at the Sprint Center in Kansas City. On Wednesday the show is at the BOK Center in Tulsa, OK. Friday's gig has them at the Verizon Arena in North Little Rock, AR.

MICHAEL FEINSTEIN plays the American Songbook May 4, at the Colden Center-Queen College in Flushing, NY.

TAYLOR SWIFT sings at Ford Field in Detroit, MI on Saturday, May 4.

PINK is on stage Tuesday, April 30, at the Sportpaleis Antwerpen in Merksem, Belgium. She then spends the rest of the week with shows in Germany. Wednesday's gig is at the O2 World in Hamburg. Friday's show is at the 02 World in Berlin and on Saturday she can be found at the TUI Arena in Hannover.

TONY BENNETT one night in concert, May 3, at Caesars Palace in Las Vegas.


FINAL OVATION


GEORGE GLENN JONES the country music legend died April 26, 2013 dies at Vanderbilt University Medical Center in Nashville after being hospitalized April 18 with a fever and irregular blood pressure. He was 81.

Jones has had more than 150 hits during his career, both as a solo artist and in duets with other artists.

In August 2012, it was announced that at the conclusion of his 2013 tour, Jones' would retire to spend more time with his family. Titled "The Grand Tour", Jones' final tour takes place across 60 dates.

Jones has been a member of the Grand Ole Opry since 1956. He was inducted into the Country Music Hall of Fame in 1992. In 2012 he was presented with a Grammy Lifetime Achievement award.

Neil Portnow President/CEO of The Recording Academy issued the following statement: "Two-time Grammy Award winner and Recording Academy Lifetime Achievement Award recipient George Jones was a true icon of country music. From honky-tonk tunes to country ballads, he recorded numerous hits over his legendary half-century career, including White Lightning, Still Doin' Time and the enduring classic He Stopped Loving Her Today, which is considered one of the most revered songs of the genre. The music community has lost a gifted and cherished artist. His legacy will continue to be celebrated for generations to come, and our heartfelt thoughts and condolences go out to his family, his friends and all of his fans who were lifted and inspired by his music."

Jones was married twice before he was 24. His 1950 marriage to Dorothy Bonvillion lasted a year, but they had a daughter, Susan. In 1954, Jones married Shirley Ann Corley. This marriage lasted until 1968 and produced two sons, Jeffrey and Bryan. He married Tammy Wynette in 1969. They stayed married for six years and had a daughter, Tamala Georgette. As Georgette Jones, she is a country singer and has performed on stage with her father. Jones married Nancy Sepulvado, on March 4, 1983.. Nancy, who went on to become his manager, was credited by Jones for rescuing him from drinking and cocaine. Nancy now lives in Franklin, Tennessee.







Next Column: May 5, 2013
Copyright: April 28, 2013. All Rights Reserved. Reviews, Interviews, Commentary, Photographs or Graphics from any Broadway To Vegas (TM) columns may not be published, broadcast, rewritten, utilized as leads, or used in any manner without permission, compensation and/or credit.
Link to Main Page
---
Laura Deni



For the snail mail address, please E-mail your request.
CLICK HERE FOR COMMENT SECTION