! >
Broadway To Vegas
  SHOW REVIEWS     CELEBRITY INTERVIEWS     GOSSIP     NEWS 
| | |
| --- | --- |
| | |
Copyright: April 28, 2002
By: Laura Deni
CLICK HERE FOR COMMENT SECTION

FAILED USHER BECOMES BROADWAY STAR

Tina Maddigan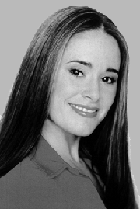 Tina Maddigan was rejected as a theatre usher because she wasn't qualified. Three years later she is starring as Sophie in the Broadway hit Mamma Mia!

On Friday as she raced down the street, in the middle of Times Square, late for a fitting to get the costume repaired that she had ripped, she spoke with Broadway To Vegas.

"It was my Voulez Vous costume. I just went and kicked my leg and ripped a hole in my pants. We have these mishaps all the time. There was a boy on stage who was literally standing there and we could all see his butt, because he had ripped the seat of his pants right open. He continued right on, but he didn't bend over," she laughed.

Few were stooping to help this bright and exuberant performer as she struggled to break down those entertainment doors.

"I was waitressing in Toronto. I had like 16 callbacks and no job. I thought maybe I should be an usher at the Royal Alexandra Theatre, which is a big theatre in Toronto. Maybe if I was an usher I'd meet people in the theatre community - some directors and performers. I put in my resume and went back a few days later. They said - You don't have the qualifications to be an usher. Maybe I wasn't good enough at passing out the programs," she ruefully quipped.

"Literally, it was two weeks later that I found out about Mamma Mia! I went back in there and auditioned. About two weeks after that, I was picking up my script. I said - You guys turned me down to be an usher in this exact same office. They didn't believe me. I said whoever hires your ushers turned me down. They looked it up in the file and there was my application and picture."

Tina got hired for Mamma Mia! She isn't sure whatever happened to the usher hiring person.

Mamma Mia! opened October 18, 2001 at The Winter Garden Theatre with the second largest Broadway advance ever.

The production features Louise Pitre, Judy Kaye, and Karen Mason. Pitre is cast as a forty-something single mother and owner of a small island hotel. Tina plays the daughter, twenty year-old Sophie, about to marry Sky. She yearns for her unknown dad to walk her down the aisle. While snooping through her Mom's diary she discovers three potential dads. The production is a loosely constructed script meant as a vehicle to string together 22 hits of ABBA.

Although only 26, Tina was raised on the ABBA songs. "My aunt, Pam Cheeseman, was a singer and really into ABBA. When I was four or five we totally danced to them all the time. We'd use hair brushes as microphones."

"My mom was the one who was raising me with good moral values as a good Catholic girl. I went to an all girls school and was raised by the nuns. My aunt was the retro aunt. She is the one who introduced me to The Sound of Music, confessed Tina.

"I was really fortunate to be raised Catholic and strict. I had no bad experiences. The only thing was that the nun who taught me piano did hit my knuckles with a ruler." While the corporal nun is now deceased Tina stays in touch with many of her teachers.

"I actually loved playing the piano but I wasn't good at reading the music when I was younger. I would make up music on the piano and convince my mom that was what I had to play."

She fondly remembers her math teacher. "I am terrible in math. Horrible at it. He was so patient with me. His wife just passed away from a brain tumor," related Tina who had said her prayers for the woman.

Tina was born and raised in Newfoundland, the product of a close knit family.

"My father passed away from diabetes. He had lost his eye sight and then he lost his leg. Then gangrene set into his arm. When they came to amputate his arm he said - let me go. That was it. I was six years old," Tina softly recalled.

"So, in a way I do relate to the character Sophie, because she is searching to find out who her real father is, being raised single handedly by her mother on an island. My father passed away when I was very young. My mother raised me single handedly and I was raised on an island.



Tina's family on opening night front row: Aunt Pam, Tina, Mother Patricia, Grandmother Beatrice, Cousin Melissa, Friend Darren. back row: Stepdad Patrick, and Music teacher Jacinta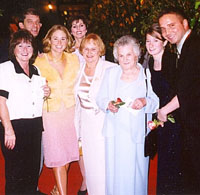 "I wish my family could be here more often," she wistfully continued. "It was really amazing on opening night to see all of my family there. My grandmother, Beatrice McCarthy, was in the front row. She had bought a new suit. She was tickled to death. She had been an amazing opera singer. My aunt, my cousin who is now singing, my mother who has always been the strength of the family - who has kept it together - all were there."

"My mom just recently remarried," Tina joyfully reported. "My step dad is fantastic. It's really funny because my mom dated him when she was young. When she was about 15 she'd had a date with him. It makes me so happy that she has somebody. That has always been something that has been on my mind. I had always wanted her to be happy and not alone."

"My grandmother lives downstairs with them, and they just got a new puppy."

Tina grew up in a fishing village where her mother encouraged her to register with a modeling school. "I was really chubby as a kid. My mom thought if I went to a modeling school it would give me a little self confidence. I would then walk with my head high. I went to that school because they had a talent section.

Tina emphasized that no pressure was ever placed on her to lose weight or be anything other than herself. " No! Nothing like that at all!" she exclaimed. "They just wanted you to be who you were. They told you how to take care of yourself - maybe you could try your hair this way. It was like a bunch of girls getting together with an older woman who was classy. That's why they called it Classique Models."

"I had a fantastic relationship with them. Through Classique I registered for the Canadian Model and Talent competition."



Tina starred as Sister Mary Amnesia in Nunsense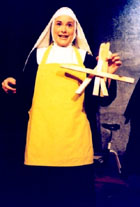 Maddigan took the trip from her hometown of St Johns, Newfoundland to Toronto in March of 1994 to launch her acting career by attending the Canadian Model & Talent Convention. At CMTC, Tina won numerous awards including the prestigious Grand Overall CMTC Canadian Actor of the Year Award. Following CMTC, Tina was booked for television commercials and landed roles in theatre productions including Nunsense.

A graduate of Sheridan College, the institution is openly proud of her accomplishments.

The Ontario Government recognizes excellence in college graduates by bestowing the Premier's Awards, presented to college graduates who have excelled in their careers and made a significant contribution to society. Recipients receive a bronze medal and designate a $5,000 prize to the college of their choice for student bursaries. Awards are presented each year in the following areas: creative arts and design; community services; business; health sciences; and, technology. For the first time in 2001, a new award category was established to honor a recent college graduate. That award was won by - Tina Maddigan.

"It was a $5,000 grant. I could choose what to do with that money for the school. I divided it up into five scholarships at $1,000 each, that would go to a student who had to move away from home to study at Sheridan College, because that is what I had to do - a student that wasn't living with family and had to a apply for a student loan. The money would go directly to their student loan."

Tina and her image can be seen everywhere promoting Mama Mia!, on television commercials, billboards, in newspapers, magazines and programs.

"It's funny because when the auditions came out and I saw the poster I said whatever role that is I want to play it, because I want to be the poster girl. I never actually dreamed that I would be here in New York City. I come from a very small community. Half of the community fishes for a living. It's a small island and I'm here playing in New York City which is like a dream come true."

"The members of the cast, the ensemble, have been so endearing, so amazing," she added. "I truly believe the Mamma Mia! tour helped construct the Sophie that I play. I had a fantastic time on tour and saw America - places I never thought I'd see. My one blessing in the show has been Joe Machota who plays Sky. He has been a big brother. He is my boyfriend on stage and off stage he is my best friend."



Joe Machota and Tina in Mamma Mia!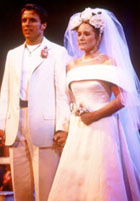 "He can give me his honest opinion and he knows when I need a shoulder to lean on. He has saved me in every way shape and form," she stressed.

The once chubby kid is now a grown up glamorous woman who still likes junk food. "I sort of watch what I eat. I crave French fries. Every now and again I'll have them, but I'll just spend extra time at the gym. I love kickboxing. That keeps the weight off. I'm a very active type of person, so I enjoy working out. I always took gymnastics as a kid. I was an Air Cadet when I was younger. So, I try to stay involved with kids. Usually when there are kids at the stage door one of my favorite things to do is to actually bring them back stage and give them a quick tour."

Tina is looking for her own apartment rather than subletting and is in Mamma Mia! for the long haul - "I'll stay with the show as long as they want me."

And then what? "I would love to have an audition for Saturday Night Live. That is a dream of mine - to be a cast member of Saturday Night Live.


PHYLLIS DILLER TAKES HER FINAL BOW
Phyllis Diller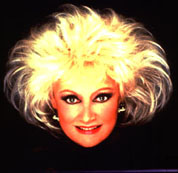 Next Sunday Phyllis Diller will walk on stage for the last time. The brilliant comedian opens at the Suncoast Hotel in Las Vegas on Friday for a three night engagement. When the final applause dies down Diller will retire a stand-up career than has spanned 47 years.

That doesn't mean she is falling off the face of the earth. On May 8 Phyllis will appear as Mimi's grandmother on ABC's The Drew Carey Show.

An irrepressible lady with an outrageous cackle, she paved the rocky road for other female comics. She has starred on television, in movies, and on the stage, and has headlined in venues all around the world as a professional comic.

Born Phyllis Driver in Lima, Ohio, on July 17, 1917, to Frances and Perry Driver. Older than most parents, they raised their only child with a stern resolve. Phyllis graduated from Central High School in 1935 and at the encouragement of her mother, studied at Sherwood Music Conservatory in Chicago for three years. Music studies continued at Bluffton College in Bluffton, Ohio, where she met her first husband, Sherwood Diller.

They married in 1939 and then moved to San Francisco. Phyllis had wanted nine children but after having five in ten years, she stopped. Money was always a problem in the Diller household. and she went to work to supplement their income."I didn't start until I was broke."



Phyllis Diller on stage at the Flamingo Hotel, Las Vegas in 1964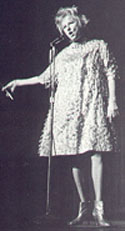 At the San Leandro News Observer she wrote articles about the shops who advertised. When the paper attempted to economize by cutting her work week and paycheck Phyllis moved on. She became employed at radio station KSFO, San Francisco, as a publicist, and writer. Then she accepted a job at an Oakland department store writing advertising copy. It was there that she saw a book, The Magic of Believing, which she credits with giving her the confidence to believe in herself. It also changed the entire course of her life as she learned how to focus on one task at a time and not on many.

Urged by her husband she prepared a night club act and was booked into San Francisco's Purple Onion. Her first appearance took place on March 7, 1955. She was 37 years old. She slithered around the piano, lampooned current celebrities, brandished a cigarette holder and made fun of high fashion and daily life routines that would make her the high priestess of the ridiculous. Booked into the Blue Onion for two weeks, she stayed for 89!

For the next four years, she received bookings for her act without the benefit of a manager, publicist or writer. A major breakthrough occurred when she appeared on the Jack Paar Show. She was a instant success.

She followed this debut by a tour, polishing her act and developing the housewife routines. In a scant five years she went from earning $60 a week as a local comic to $75,000 a week as an international star.

She co-starred with Bob Hope in three films: Boy! Did I Get A Wrong Number, Eight On The Lam, and The Private Navy of Sergeant O'Farrell. A long-time friend, Hope is one of her biggest boosters. She accompanied him on one of his Christmas jaunts to Vietnam. Hope told reporters the war would have been over in three days of Phyllis had cooked for the enemy. She has also appeared on 22 of his TV specials. She calls him "my idol."

She terms the highlight of her career starring on Broadway as Dolly Gallagher Levi in the 1970 production of Hello Dolly! She returned to the stage in 1988 playing the feisty Mother Superior in Nunsense in San Francisco. But equally satisfying have been frequent stints in summer arenas and tents, and vast showcases like Soldier's Field in Chicago and Madison Square Garden in New York City.

Form 1972 to 1982, Diller appeared as piano soloist with over 100 symphony orchestras in the U.S. and Canada. Audiences have acclaimed her interpretation of such works as Beethoven's Concerto #1 and various works of Bach. Her piano virtuoso name was Dame Illya Dillya.

She has written four best-selling books for Doubleday: Phyllis Diller's Housekeeping Hints; Phyllis Diller's Marriage Manual, The Complete Mother, and The Joys of Aging and How to Avoid Them. She is currently penning her autobiography. These books, and several comedy albums, crystallize the famous Diller wit-the housewife's lament about her hair, her clothes, her housekeeping ability, kids, pets, neighbors-the gamut of American suburban life. A poem she wrote entitled My Prayer was set to music by Alvin Mills.

She may, as she says, "look like a lamp shade in a whorehouse" when she goes on stage - but, off-stage, the twice divorced multi-talented lady lives in a large, English-style home in Brentwood Park, Los Angeles. Rooms bigger than some efficiency apartments hold one of the most expensive and largest wardrobes in the world. There is a separate room for her 350 wigs. Her collection of automobiles isn't bad, either. There is a custom-made Checker Wagon, circa 1967; and Excalibur 1927 Mercedes Phaeton (red); a 1959 Silver Cloud Rolls Royce; and a 1971 Mercedes Sedan (SL 200).

She is a fabulous cook, a gifted painter, an expert needlepoint artist, and a devoted mother and grandmother.

She was the first celebrity to have the courage to admit to having undergone plastic surgery. Diller not only announced it, she made it part of the act. "I've had so much cosmetic surgery over the years that no two of my body parts are the same age."

Diller's approach to comedy is unique. She writes most of her own material, editing her words so tightly that she can machine gun, rapid fire short jokes, delivering as many as 12 punchline per minute - earning her a place in the Guinness Book of World Records. And she strictly avoids off-color jokes and situations, describing her comedy as "tragedy revisited." She also says "nobody knows how hard stand up comedy is. There is a lot of pressure."

As to how she would like to be remembered Phyllis has always said: "As a fine comic, a good mother and a lady."



Broadway To Vegas is supported through advertising and donations. Priority consideration is given to interview suggestions, news, press releases, etc from paid supporters. However, no paid supporters control, alter, edit, or in any way manipulate the content of this site. Your donation is appreciated. We accept PAYPAL. Thank you for your interest.


PRIVY TO THE PAST

Toilet paper is celebrating a centennial. Not one to be a party pooper, last Wednesday Mayor Paul Jadin of Green Bay, Wisconsin, led a group of MacArthur Elementary School students and Georgia-Pacific Corp. employees in singing Happy Birthday to Quilted Northern bathroom tissue.

Special gratitude was given for the invention of splinter free toilet paper.

Prior to the 1930s simple paper making procedures often failed to remove small splinters from the finished product. Northern Paper engineers addressed the problem by perfecting a manufacturing method called linenizing. This involved extending the cooking process until splinters were reduced to harmless pulp. Softer, splinter-free bathroom tissue then became a reality for consumers and provided an advertising slogan for Northern Tissue.

Known as the Toilet Tissue Capital of the World, Green Bay is flush with pride because their mills have produced toilet paper for a century.

Georgia-Pacific is sponsoring a new exhibit at the Neville Public Museum called Privy to the Past: Inside America's Most Private Room, which opened yesterday. It explores the history of the bathroom, from chamber pots to flush toilets, and the history of other common bathroom products like toilet paper, toothbrushes, deodorant, razors and soap.

The Neville's curator of history, Michael Telzrow, assembled artifacts from the past 100 years to depict the history of the bathroom, from the toilet's evolution to the story behind toilet tissue.

In colonial America, corn cobs were one of few alternatives to toilet tissue. Alternatives included old catalog paper and newspapers. Other countries used everything from discarded sheep's wool to lace for French Royalty.

In ancient Rome, all public toilets had a sponge attached to the end of a stick which soaked in a bucket of brine (salty water). The rich used wool and rosewater.

Nobody is too sure when toilet tissue was first produced. The first reference to paper as toilet paper was recorded in 1718.

In the late 1700s, women discreetly hid a small portion of tissue in a fan, dubbed "Madame's Double Utility Fan." The fan's handle contained a compartment which held about 150 sheets of bath tissue, cut to conform to the fan's shape.

The first documented use of a roll of toilet paper versus sheets was in 1882 in New York state. Before bath tissue was introduced in perforated forms in 1884, some U.S. outhouses were stocked with dried leaves.

In 1973 talk show host Johnny Carson joked about a toilet tissue shortage prompting actual scarcity of the bathroom staple as 20 million viewers emptied store shelves nationwide.

Carson was doing the NBC Tonight Show when on December 19, 1973 he heard about a Wisconsin congressman, Harold Froehlich, who claimed that the federal government was falling behind in getting bids to supply toilet paper and that "The United States may face a serious shortage of toilet tissue within a few months."

The show's monologue frequently made sport of current events. Carson said: "You know what's disappearing from the supermarket shelves? Toilet paper. There's an acute shortage of toilet paper in the United States."

People took him seriously. The average consumer uses 8.6 sheets per trip - a total of 57 sheets per day. That's 20,805 sheets of toilet paper annually or about 105 regular rolls of 200 sheets.

The next morning, many of his 20 million television viewers ran to the supermarket and bought all the toilet paper they could snap up. By noon, most stores were out of stock. Store managers first attempted to ration purchases, but customers had the runs and the stores couldn't keep up with the demand.

A bemused Carson went on the air several nights later and explained that there was no shortage and apologized for scaring the public. However, when people saw all the empty grocery store shelves in the stores, they refused to believe it was a joke, so the stampede continued.

Scott Paper went so far as to go on national news shows, airing videos of their plants in full production and asking the public to stay calm - there was no shortage. The video was of little help. The panic fed itself and continued.

It took three weeks to get the shelves restocked and end the artificial shortage. It is the only time in American history that a comedic monologue actually created a major shortage of something - usually it takes a war.

Production of bath tissue was limited during World War II and Americans were warned against "unpatriotic" tissue hoarding.

Victory Morning Paper WWII Toilet Paper was introduced in 1943 by the Randolph Novelty Co., Chicago, Ill. It poked fun at Hitler, Hirohito, and Mussolini (Wipe out the AXIS!)

Consumers view their toilet paper seriously and have very specific use methods. 40% are folders or stackers 40% are wadders or crumplers 20% wrap it around their hand

It was President Bill Clinton who looked upon the use of toilet paper as an income opportunity. In 1996 toilet paper was added to a tax list that includes pet food, horse blankets, cigarette and cigar boxes - tacking on a 12 percent tax, or about 6 cents, onto the cost of each roll.

Privy to the Past: Inside America's Most Private Room is on display through November at the Neville Public Museum in Green Bay, Wis.


OUTER CRITICS CIRCLE NAMES WINNERS

Outer Critics Circle, the organization of writers on the New York Theatre for out-of-town newspapers, national publications and other media beyond Broadway, announced early today its award winners for the 2001-02 season in 22 categories - the first Broadway-Off Broadway award winners of the season. Based on a recommendation by the OCC Executive Committee, Special Achievement Awards will be given to Mos Def and Jeffrey Wright for their performances in Topdog/Underdog.

This season is the 52nd Anniversary of the Outer Critics Circle, an association of over 75 critics and writers from over ten states. The annual awards ceremony will be held on May 23rd at the legendary Sardi's Restaurant.


2001-2002 AWARD WINNERS

OUTSTANDING BROADWAY PLAY The Goat
OUTSTANDING BROADWAY MUSICAL Urinetown
OUTSTANDING OFF-BROADWAY PLAY The Dazzle
OUTSTANDING OFF-BROADWAY MUSICAL tick, tick Boom!
OUTSTANDING REVIVAL OF A PLAY Morning's at Seven
OUTSTANDING REVIVAL OF A MUSICAL Oklahoma!
OUTSTANDING DIRECTOR OF A PLAY Mary Zimmerman for Metamorphoses
OUTSTANDING DIRECTOR OF A MUSICAL John Rando for Urinetown
OUTSTANDING CHOREOGRAPHY Susan Stroman for Oklahoma!
OUTSTANDING SET DESIGN Anthony Ward for Oklahoma!
OUTSTANDING COSTUME DESIGN Isaac Mizrahi for The Women
OUTSTANDING LIGHTING DESIGN David Hersey for Oklahoma!
OUTSTANDING ACTOR IN A PLAY Alan Bates in Fortune's Fool
OUTSTANDING ACTRESS IN A PLAY Mercedes Ruehl in The Goat
OUTSTANDING ACTOR IN A MUSICAL John Lithgow in Sweet Smell of Success
OUTSTANDING ACTRESS IN A MUSICAL Sutton Foster in Thoroughly Modern Millie
OUTSTANDING FEATURED ACTOR IN A PLAY Frank Langella in Fortune's Fool
OUTSTANDING FEATURED ACTRESS Katie Finneran in Noises Off
OUTSTANDING FEATURED ACTOR IN A MUSICAL Shuler Hensley in Oklahoma!
OUTSTANDING FEATURED ACTRESS IN A MUSICAL Spencer Kayden in Urinetown
OUTSTANDING SOLO PERFORMANCE Elaine Stritch in Elaine Stritch at Liberty
JOHN GASSNER AWARD Suzan-Lori Parks in Topdog/Underdog
SPECIAL ACHIEVEMENT AWARD Mos Def and Jeffrey Wright in Topdog/Underdog
SWEET CHARITY


NINTH ANNUAL KIDS FOR KIDS CELEBRITY CARNIVAL the to benefit the Elizabeth Glaser Pediatric AIDS Foundation takes place today in Central Park, NYC. Michael Douglas will join Debra Messing at Wollman Rink. Carmen Electra will be in the dart booth; Heidi Klum will give girls makeovers, and Donna Karan, Kenneth Cole, Diane von Furstenberg, Tommy Hilfiger, Betsy Johnson and Cynthia Rowley will offer fashion advice. Also manning booths will be Dave Navarro, Keith Richards, Billy Baldwin, Denis Leary and Steve Buscemi.

THE PAJAMA GAME a City Center Encores! production. Five performances only, opening May 2. The production stars Brent Barrett, Ken Page, Diedre Goodwin, Karen Ziemba and Mark Linn-Baker. City Center is throwing a Pajama Party Gala Benefit on May 6.

BABY BUGGY founded by Jerry Seinfeld's wife, provided needy kids with quality, safe new and gently used, infant necessities. The first benefit concert for Baby Buggy takes place May 6 at the Beacon Theatre, NYC. Diane Sawyer hosts the event sponsored by Babies "R" Us, AmEx and Old Navy. The stars are Jerry Seinfeld, Garry Shandling and Colin Quinn.


THE MUSIC GOES ROUND AND ROUND


THE SPITFIRE GRILL a new musical by James Valco and Fred Allen, based on the film by Lee David Zlotoff has its original cast recording released tomorrow on Triangle Roads Records.

The recording features the original off Broadway cast of Garrett Long, Liz Callaway, Mary Gordon Murray, Steven Pasquale, Armand Sachultz, Stephen Sinclair and Phyllis Somerville.

The Spitfire Grill concerns Percy Talbott, a young woman with an uncertain past, who decides to start anew by moving to tiny Gilead, Wisconsin, where she is met with suspicion and distrust. Taking a job at a rundown Spitfire Grill, she hits upon a scheme to breathe life into the dying backwater country and to bring solace to a grieving mother. Shwe soon discovers that it will take more than good will to overcome the unchanging ways of Gilead, town still haunted by tragedies of the past.

The original soundtrack features 20 tracks, an 8 page booklet with full synopsis and 10 photos from the Playwrights Horizons production.


ROBERT CUCCIOLI TO DIRECT JEKYLL & HYDE

He starred in the production on Broadway. Now Robert Cuccioli will step to the other side of the footlights to direct the musical.

Pittsburgh CLO has announced their best of Broadway summer season June 4 - August 4 at the Benedum Center. The award-winning list of professionals associated with the program includes Broadway's original Jekyll & Hyde, who will direct the CLO premiere of this Broadway blockbuster.

The season kicks off June 4 -16 with Singin In The Rain as Pittsburgh CLO helps the world celebrate the 50th Anniversary of this classic Gene Kelly film with a toe-tapping production directed by award-winning Broadway director Charley Repole. He directed the highly acclaimed concert versions of Dubarry was a Lady starring Faith Prince and Robert Morse, Call Me Madam starring Tyne Daly for the prestigious City Center Encores! Series, the revival of Gentlemen Prefer Blondes and A Salute to Frank Sinatra at Carnegie Hall.

Next up will be Fiddler on the Roof - June 18-30 followed by George M! - July 2-7 and Guys and Dolls, July 9-21 which will star Cuccioli as Sky Masterson. Following his portrayal Masterson in Guys and Dolls, Cuccioli, who earned a Drama Desk Award, an Outer Critics Circle Award and a 1997 Tony Award nomination for his electrifying portrayal of mad scientist Dr. Jekyll and his sinister alter ego Mr. Hyde in the Broadway production of Jekyll & Hyde, will extend his stay in Pittsburgh and lend his directorial talent to the CLO premiere of this Broadway musical. July 22-28



HOLLYWOOD ARMS by Carrie Hamilton and Carol Burnett, directed by 20-time Tony winner Harold Prince is having its world premiere at the Goodman Theatre in Chicago.

Based on One More Time, Burnett's best-selling memoir Hollywood Arms is a bittersweet story set in a less-than-glamorous Hollywood neighborhood in pre- and post-World War II.

The production stars Linda Lavin, Michele Pawk and Frank Wood.

The central role of Helen will be played by nine-year-old Sara Niemietz as a young girl and Donna Lynne Champlin as an adult. The cast is completed by Steve Bukunas, Christian Kohn, Patrick Clear, Emily Graham-Handley, Nicolas King, and Barbara E. Robertson.

Bittersweet certainly is the way to describe Burnett's life - especially this year. Overshadowing her recent marriage was the death of her daughter, writer-director Hamilton, who died of cancer on Jan. 20. Hamilton, 38, an actress-writer who starred in the first national tour of Rent, had conceived the idea of writing a play based on her mother's memoir, One More Time. Hamilton and Burnett share authorship credit for the resultant Hollywood Arms. It was Hamilton's idea to adapt the book to a stage presentation. When the mother-daughter team learned that their project would be presented at the Goodman, they issued press releases.

"I had always thought Mom's book, One More Time, would make a wonderful play," said Hamilton. "Having only written screenplays, however, I didn't think I'd be up to the task. When Mom offered to co-write, I was thrilled. Through the tutelage of the Sundance Institute, and being guided by the genius of Hal Prince, Mom and I learned how to craft our play."

"For me, however, learning a new skill was surpassed by the excitement of learning about my family through writing about them. The closeness I now feel not only to Mom, but to my grandmother, grandfather and great-grandmother is the greatest gift of all. Writing Hollywood Arms has been the most amazing experience professionally as well as personally that I have ever had."

Said Carol Burnett, "I started out wanting to be a playwright when I was a freshman at UCLA, and now I've come full circle - and what better way, than to work with my own daughter on something so personal. We're doubly happy to have Hal Prince as our director. He's a close friend, and I sent a rough draft to him a year and a half ago to get his ideas on who would be a good director for the project. When he volunteered, Carrie and I were thrilled beyond belief! Now the cherry on top of the whipped cream is the Goodman, one of the most prestigious and beautiful theaters in the country. "My cup runneth over!'"

After Hamilton's death The Goodman Theatre issued a release stating the production would not be postponed. Hamilton had completed the script prior to her passing. Hollywood Arms was originally scheduled for the Goodman's 2002-03 season. A Goodman spokesman said that Hamilton's health was "just one factor" among several reasons for moving the production forward to this spring. The play began previews April 19, officially opens April 29 and runs through June 1.

MOURNING BECOMES ELECTRA by Eugene O'Neill starring Tony Award winner Jane Alexander opened April 25 in The Falls Space at ACT in Seattle. ACT artistic director Gordon Edelstein directs the drama, which runs through May 17.

Mourning Becomes Electra, comprised of three parts and 13 acts usually runs about five hours. The O'Neill estate gave Edelstein permission to trim the text down to three hours - roughly one hour for each trilogy. Joining Alexander are Michael MacRae, Mireille Enos, Steven Sutcliffe, Liz McCarthy, Clayton Corzatte, Jason Cottle, and Thomas Schall. The ensemble is Chris Blanchette, Jonathan Frank, Paul Ray and Peter Sill.

Andrew Jackness in charge of sets, Paul Tazewell costumes designer. Lighting by Jennifer Tipton and John Gromada responsible for sound and original music.

RED HOT MAMA which is Sharon McNight's one woman tribute to Sophie Tucker has its New York City premiere beginning April 30 with the official opening slated for May 8. Jay Berkow is the director. Louis Goldberg serves as musical director. Musical arrangements by Stan Freeman. James Morgan is scenic designer with Patti Whitelock's costumes. At the York Theatre through June 9.

THE BUDDY HOLLY STORY starring Erik Hayden, performing May 2 at the Lowell Memorial Auditorium, Lowell Mass, May 3 in Springfield MA, May 4 in Wallingford CT. at the Oakdale Theater. Hayden is an alumnus of the Marblehead Little Theatre, one of the oldest community theater groups in New England

BRIGHT EYED JOY by Ricky Ian Gordon will be presented April 28-29. Some of Broadway's most accomplished stars including Audra McDonald, Kristin Chenoweth, Brian D'Arcy James, and Darius deHaas perform selections from Gordon's new work Bright Eyed Joy. Ted Sperling provides musical direction. Solomon R. Guggenheim Museum Peter B. Lewis Theater, NYC.

A FEW STOUT INDIVIDUALS by John Guare starring William Sadler, Polly Holliday and Donald Moffat. The cast includes Michi Barall, Charles Brown, Umit Celebi, Cheryl Evans, Mark Fish, Amy Hohn, T. J. Kenneally, Tom McGowan, Clark Middleton, and James Yaegashi.

A great man is dying penniless, his son having squandered his fortune. A publisher offers the dying man a fortune to write his memoirs. How will the family keep him alive to finish? Michael Greif directs A Few Stout Individuals for Signature Theatre Company which was founded in 1991 by artistic director James Houghton.

Designers are Allen Moyer (set), Gabriel Berry (costume), Jim Vermeulen (lighting) and David Van Tieghem (sound). Production Stage Manager is Michael McGoff.

The world premiere takes place at the Peter Norton Space. Previews began April 23, with an opening of May 12. Performances continue to June 2.

PRIVATE LIVES by Noel Coward has Howard Davies directing Alan Rickman, Lindsay Duncan, Emma Fielding, Adam Godley, and Alex Belcourt, transferring to American from their award winning London production.

Tim Hartley is the set designer. Jenny Beavans in charge of costumes. Lighting by Peter Mumford with John Leonard as sound designer. Private Lives officially opens at the Richard Rodgers Theatre, NYC today.

GARRISON KEILLOR the guy who has A Prairie Home Companion has written an opera Mr. and Mrs. Olson, about a married St. Paul couple searching for romance. The opera will have its debut May 24-26 at the Ordway Center in Minneapolis.

The opera stars soprano Maria Jette, mezzo-soprano Alexandra Hughes, tenor Mark Thomsen, baritone Robert Orth, bass Brian Jauhiainen and will feature the St. Paul Chamber Orchestra.

MUSICALS ON BROADWAY by Scott Siegel who is both writer and host, presents its second offering of the season The Broadway Musicals of 1951 on May 13. Now in its second season, the presentations offer excellent commentary and historical perspective with a well respected cast from the Broadway and cabaret communities. Some of the artists appearing include Bryan Batt, Natalie Douglas, Julie Reyburn, Chip Zien, Alison Fraser, Davis Gaines, Amanda McBroom, Tom Andersen, Brent Barrett, Liz Callaway, Richard Skipper playing Carol Channing in the 1964 season, honoring Hello, Dolly! on June 10, Steven Brinberg playing his Simply Barbra as a tribute to Funny Girl, also on June 10.

The Broadway by the Year series is produced by The Town Hall. Siegel is host of The Town Hall's film series. May 13 at Town Hall NYC.

THOROUGHLY MODERN MILLIE

Sutton Foster in Thoroughly Modern Millie Photo By Joan Marcus
starring future household name, Sutton Foster, in her first Broadway starring role, is living the role she creates on stage.

She's young, talented, beautiful and a from-out-of-nowhere-star. Previously the understudy, she was thrust into the top spot with a resume that had her major credential as playing Eponine, the adopted waif in Les Miserables on Broadway. The unknown with the big voice proves she is super nova quality.

The group recorded the original cast album CD last week. The RCA Victor release, produced by Jay David Saks, is expected in stores June 11.

Thoroughly Modern Millie has a book by Dick Scanlan and original screenwriter Richard Morris, lyrics by Scanlan, and music by Jeanine Tesori. The lavish, brand new, feel good production also features Gavin Creel, Angela Christian, Marc Kudisch, Harriet Harris, Francis Jue, Ken Leung, Sheryl Lee Ralph and Anne L. Nathan.



Sutton Foster Photo By; Joan Marcus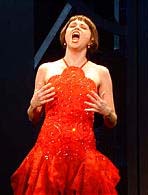 The ensemble includes Kate Baldwin, Roxanne Barlow, Melissa Bell Chait, Catherine Brunell, Joyce Chittick, J.P. Christiensen, Julie Connors, David Eggers, Gregg Goodbrod, Aldrin Gonzales, Jessica Grove, Susan Haefner, Amy Heggins, Joanne Hunter, Alisa Klein, Matt Lashey, Darren Lee, Dan LoBuono, Casey Nicholaw, Noah Racey, Aaron Ramey, T. Oliver Reid, Sharon Scruggs, Megan Sikora and Brandon Wardell.

Michael Rafter is musical director. Choreographed by Ron Ashford. David Gallo is the set designer, Martin Pakledinaz in charge of costumes, Donald Holder is the lighting designer and Jon Weston is in charge of sound.

One of the producers of this show is Whoopi Goldberg who did her own turn on Broadway in A Funny Thing Happened on the Way To The Forum Directed by Michael Mayer. Enjoy it at the Marquis Theatre, NYC.


WHO'S WHERE


MAUREEN McGOVERN in Concert April 30-May 6 & May 8-May 13 Cinegrill Grand Re-Opening, Los Angeles, CA.

DIANA KRALL recently taking home all of the top prizes at the Canadian Juno awards, winning Artist of the Year, Album of the Year and Best Vocal Jazz Album of the Year for The Look of Love performing in Abravanel Hall, Salt Lake City, Utah on Wednesday, May 1. When she isn't singing for the public she's entertaining for charity. Krall's benefit concerts have raised more than $130,000 for the Vancouver General Hospital's Leukemia/Bone Marrow Transplantation Program.

ALANIS MORISSETTE kicks off her North American tour Wednesday performing in the Cox Arena in San Diego, CA. On Friday she begins a two night gig at the Universal Amphitheatre at Universal City, CA.

PAT BENETAR brings her '80s rock to Oneida Bingo & Casino on Sunday night. Green Bay, Wisconsin.

B.B. KING center stage Tuesday in Saint John, NB at Harbour Station. On Wednesday he is in Halifax, NS at the Metro Centre. Thursday finds him in Montreal, Quebec at the Place des Arts. He then heads back to this country for a show on Saturday in Bristol, Tenn at the Viking Hall.

HARRY CONNICK, JR taking his show on the road with performances Tuesday in Missoula, Mont. at the Adams Event Center. On Thursday he can be found in Fargo, North Dakota at the Fargo Civic Auditorium. On Friday he is in the spotlight in Ames, Iowa at the Stephens Auditorium.

HOOTIE AND THE BLOWFISH on stage May 2 in Louisville, Kentucky at Jillian's. On Saturday the show is in Memphis, Tenn. at the Beale St. Music Festival.

GEORGE CARLIN explaining the seven dirty words and a few others on Thursday in Charlotte, North Carolina at the Blumenthal Center. On Saturday he goes over the vocabulary in Washington, D.C. at the Warner Theatre.

KEELY SMITH is currently starring at Feinstein's at The Regency in NYC. On May 5th David Kenny's Everything Old Is New Again radio show will feature an interview with Smith during to her Feinstein's engagement and showcase her music Everything Old Is New Again can be heard every Sunday 9-11 PM(EST) over WBAI 99.5 FM and on the Internet at: www.2600.com/offthehook/hot2.ram

JARS OF CLAY perform Thursday at the Mabee Center Arena in Tulsa, Oklahoma. On Friday they are center stage at the Shrine Mosque in Springfield, Missouri.

THE HACKBERRY RAMBLERS with drummer Ben Sandmel also serving as manager and producer takes his Metairie, LA, based group on their first European tour beginning in June. Meanwhile they will be stirring things up at the New Orleans Jazz Festival May 4.

KAREN AKERS opens a month long gig at the Algonquin's Oak Room on April 30.

RITA RUDNER last Friday celebrated her first year performing at New-York-New York in Las Vegas. A pink party was thrown with a pink lights on the hotel's Statue of Liberty which was adorned with pink ribbons. People dressed in pink and Rita actually enjoyed the party because she "didn't have to clean up or worry about somebody sleeping on my sofa."

USHER stars Thursday at the Coors Amphitheatre in Chula Viata, Ca. On Friday the show is at Verizon Wireless Amphitheatre in Irvine, California. On Saturday the production takes place at the Autowest Amphiteatre in Marysville, California.

PAUL McCARTNEY long and winding road takes him Wednesday to the Palace of Auburn Hills in Auburn Hills, CA. On Saturday he's in the spotlight at the Staples Center in Los Angeles and next Sunday at the Arrowhead Pond in Anaheim, CA.

ALAN JACKSON performs May 1 in Lubbock, Texas at the United Spirit Arena. On Thursday he is in the spotlight in Denver, Colorado at the Pepsi Center. Friday finds him in Lincoln, Nebraska at Pershing Auditorium and on Saturday he is center stage at the Heames Center in Columbia, Missouri.

JIMMY BUFFETT holds his musical party on May 4 in New Orleans, LA at Fairgrounds Racetrack.


PIFFLE AND PROFUNDITIES


MAGICAL QUEST FOR PEACE

Siegfried and Roy with Benjamin Netunyahu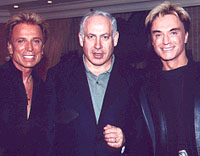 if Siegfried and Roy could manage to conjure up a magical trick that would bring world peace the Las Vegas illusionists would have performed their greatest fete.

Encouraging them was former Israeli Prime Minister Benjamin Netunyahu who recently saw the magician's show at the Mirage Hotel and then visited with them backstage.

They discussed the Mideast war which reminded the entertainers about their upbringing in war-torn Germany.












Next Column: May 5, 2002
Copyright: April 28, 2002. All Rights Reserved. Reviews, Interviews, Commentary, Photographs or Graphics from any Broadway To Vegas (TM) columns may not be published, broadcast, rewritten, utilized as leads, or used in any manner without permission, compensation and/or credit.
Link to Main Page
---
Laura Deni


CLICK HERE FOR COMMENT SECTION