! >
Broadway To Vegas
  
  REVIEWS INTERVIEWS COMMENTARY NEWS

| | |
| --- | --- |
| | |
THE ATLANTA JAZZ FESTIVAL - - SHIRLEY JONES & JACK CASSIDY: MARRIAGE TYPE LOVE CD REVIEW - - LATIN GRAMMY CULTURAL FOUNDATION - - THE YEARS OF LA DOLCE VITA - - NO CLOTHES: THE NAKED TRUTH - - 2014 OUTER CRITICS CIRCLE NOMINATIONS - - 2014 TONY AWARD NOMINATIONS - - OVER BY CHRISTMAS - - DONATE . . . Scroll Down




Copyright: April 27, 2014
By: Laura Deni
CLICK HERE FOR COMMENT SECTION


BROADWAY AWARDS' SEASON IN HIGH GEAR


On Tuesday, April 20, nominations for the 2014 Tony Awards will be announced. Broadway To Vegas will post the nominees at that time.

2014 Tony Award nominations

The Outer Critics Circle, the organization of writers and commentators covering New York theater for out-of-town newspapers, national publications and other media beyond Broadway, announced on April 22, 2014 its nominees for the 2013-14 season in 24 categories. Stage and screen stars Cecily Tyson and Vanessa Williams presided over the announcement ceremony at Manhattan's Friars Club. The winners of the following categories will be announced on Monday, May 12th and the annual awards ceremony will be held on Thursday, May 22nd at the legendary Sardi's Restaurant.

2013-2014 OUTER CRITICS CIRCLE AWARD NOMINATIONS

OUTSTANDING NEW BROADWAY PLAY
Act One
All the Way
Casa Valentina
Outside Mullingar
The Realistic Joneses

OUTSTANDING NEW BROADWAY MUSICAL
After Midnight
Aladdin
Beautiful The Carole King Musical
A Gentleman's Guide to Love & Murder
Rocky

OUTSTANDING NEW OFF-BROADWAY PLAY
Appropriate
Choir Boy
The Explorer's Club
The Heir Apparent
Stage Kiss

OUTSTANDING NEW OFF-BROADWAY MUSICAL
Far From Heaven
Fun Home
Murder For Two
Storyville
What's It All About? Bacharach Reimagined

OUTSTANDING BOOK OF A MUSICAL (Broadway or Off-Broadway)
Aladdin
Beautiful The Carole King Musical
Fun Home
A Gentleman's Guide to Love & Murder
Rocky

OUTSTANDING NEW SCORE (Broadway or Off-Broadway)
Aladdin
The Bridges of Madison County
Fun Home
A Gentleman's Guide to Love & Murder
If / Then


OUTSTANDING REVIVAL OF A PLAY (Broadway or Off-Broadway)
The Cripple of Inishmaan
The Glass Menagerie
Machinal
Twelfth Night
The Winslow Boy

OUTSTANDING REVIVAL OF A MUSICAL (Broadway or Off-Broadway)
Cabaret
Hedwig and the Angry Inch
Lady Day at Emerson's Bar & Grill
Les Misérables
Violet

OUTSTANDING DIRECTOR OF A PLAY
Tim Carroll Twelfth Night
Michael Grandage The Cripple of Inishmaan
Lindsay Posner The Winslow Boy
Bill Rauch All the Way
Lyndsey Turner Machinal

OUTSTANDING DIRECTOR OF A MUSICAL
Warren Carlyle After Midnight
Laurence Connor & James Powell Les Misérables
Sam Gold Fun Home
Alex Timbers Rocky
Darko Tresnjak A Gentleman's Guide to Love & Murder

OUTSTANDING CHOREOGRAPHER
Warren Carlyle After Midnight
Peggy Hickey A Gentleman's Guide to Love & Murder
Steven Hoggett & Kelly Devine Rocky
Casey Nicholaw Aladdin
Susan Stroman Bullets Over Broadway

OUTSTANDING SET DESIGN (Play or Musical)
Christopher Barreca Rocky
Beowulf Boritt Act One
Bob Crowley Aladdin
Es Devlin Machinal
Alexander Dodge A Gentleman's Guide to Love & Murder

OUTSTANDING COSTUME DESIGN (Play or Musical)
Gregg Barnes Aladdin
Linda Cho A Gentleman's Guide to Love & Murder
William Ivey Long Bullets Over Broadway
Jenny Tiramani Twelfth Night
Isabel Toledo After Midnight

OUTSTANDING LIGHTING DESIGN (Play or Musical)
Kevin Adams Hedwig and the Angry Inch
Howell Binkley After Midnight
Paule Constable Les Misérables
Natasha Katz Aladdin
Philip S. Rosenberg A Gentleman's Guide to Love & Murder

OUTSTANDING ACTOR IN A PLAY
Bryan Cranston All the Way
Ian McKellen No Man's Land
Brían F. O'Byrne Outside Mullingar
Mark Rylance Twelfth Night
Tony Shaloub Act One

OUTSTANDING ACTRESS IN A PLAY
Tyne Daly Mothers and Sons
Rebecca Hall Machinal
Jessica Hecht Stage Kiss
Cherry Jones The Glass Menagerie
Estelle Parsons The Velocity of Autumn

OUTSTANDING ACTOR IN A MUSICAL
Michael Cerveris Fun Home
Neil Patrick Harris Hedwig and the Angry Inch
Andy Karl Rocky
Jefferson Mays A Gentleman's Guide to Love & Murder
Bryce Pinkham A Gentleman's Guide to Love & Murder

OUTSTANDING ACTRESS IN A MUSICAL
Sutton Foster Violet
Audra McDonald Lady Day at Emerson's Bar & Grill
Jessie Mueller Beautiful The Carole King Musical
Kelli O'Hara The Bridges of Madison County
Michelle Williams Cabaret

OUTSTANDING FEATURED ACTOR IN A PLAY
Paul Chahidi Twelfth Night
Michael Cyril Creighton Stage Kiss
John McMartin All the Way
Alessandro Nivola The Winslow Boy
Brian J. Smith The Glass Menagerie

OUTSTANDING FEATURED ACTRESS IN A PLAY
Barbara Barrie I Remember Mama
Andrea Martin Act One
Sophie Okonedo A Raisin in the Sun
Anika Noni Rose A Raisin in the Sun
Mare Winningham Casa Valentina

OUTSTANDING FEATURED ACTOR IN A MUSICAL
Danny Burstein Cabaret
Nick Cordero Bullets Over Broadway
Joshua Henry Violet
James Monroe Iglehart Aladdin
Jarrod Specter Beautiful The Carole King Musical

OUTSTANDING FEATURED ACTRESS IN A MUSICAL
Judy Kuhn Fun Home
Anika Larsen Beautiful The Carole King Musical
Sydney Lucas Fun Home
Marin Mazzie Bullets Over Broadway
Lisa O'Hare A Gentleman's Guide to Love & Murder

OUTSTANDING SOLO PERFORMANCE
Jim Brochu Character Man
Debra Jo Rupp Becoming Dr. Ruth
Ruben Santiago-Hudson How I Learned What I Learned
Alexandra Silber Arlington
John Douglas Thompson Satchmo at the Waldorf

JOHN GASSNER AWARD (Presented for an American play, preferably by a new playwright)
Scott Z. Burns The Library
Eric Dufault Year of the Rooster
Madeleine George The (Curious Case of the) Watson Intelligence
Steven Levenson The Unavoidable Disappearance of Tom Durnin
Lauren Yee The Hatmaker's Wife





Broadway To Vegas is supported through advertising and donations. Priority consideration is given to interview suggestions, news, press releases, etc from paid supporters. However, no paid supporters control, alter, edit, or in any way manipulate the content of this site. Your donation is appreciated. We accept PAYPAL. Thank you for your interest.





ART AND ABOUT


THE YEARS OF LA DOLCE VITA

Brigitte Bardot by Marcello Geppetti (1933-1998) Brigitte Bardot in Spoleto, June 1961. MGMC & Solares Fondazione delle Arti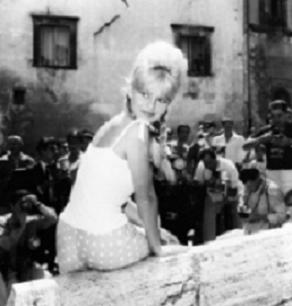 an exhibition which explores one of the most fertile periods in contemporary Italian cinema and the simultaneous explosion of celebrity culture.

The eighty photographs, on view from April 30 to June 29, 2014, at the Estorick Collection of Modern Italian Art in London, capture the dolce vita (literally 'sweet life') enjoyed by Italian movie stars and Hollywood 'royalty' working in Rome during the 1960s.

The 1950s and '60s were a golden era in Italian film when directors such as Michelangelo Antonioni, Pier Paolo Pasolini and Federico Fellini produced some of their most famous movies, including the latter's iconic La Dolce Vita (1960). Hollywood stars John Wayne, Charlton Heston, Lauren Bacall and Liz Taylor, to name but a few, frequented the capital as American filmmakers were lured to Rome by the comparative inexpensiveness of its Cinecittà studios, and it was here that such epic productions as Ben-Hur (1959) and Cleopatra (1963) were shot.

In the evenings, however, the focus of Rome's movie culture – as well as the lenses of its paparazzi – shifted to the bars and restaurants lining the city's exclusive Via Veneto and the popular haunts of glamorous celebrities such as Alain Delon, Kirk Douglas and Audrey Hepburn, transforming Rome's streets into 'an open-air film set'.

The exhibition juxtaposes images of this real-life dolce vita taken by Marcello Geppetti, one of its most skilful chroniclers, with behind-the-scenes shots from the set of the eponymous film by its cameraman, Arturo Zavattini. Together, these photographs vividly evoke an era of extraordinary glamour, creativity and decadence, yet also challenge us to consider our response to the media's obsession with celebrity, the invasive nature of the images, and the 'guilty pleasure' we take in them.

Revealing the public, professional and private lives of some of the movie industry's most celebrated actors and actresses, The Years of La Dolce Vita not only provides a candid and evocative snapshot of an era noted for its extraordinary vitality, but also presents a selection of images which, for better or worse, helped to change the face of photojournalism forever, as a number of photographs taken on the set of the film.

Candid and evocative, these images not only capture a period of remarkable creativity, but also changed the face of photojournalism forever.

April 30 to June 29, 2014 at the Estorick Collection of Modern Italian Art in London.

NO CLOTHES: THE NAKED TRUTH

Drew Barrymore by Ellen vonUnwerth. Photo: Paddle 8.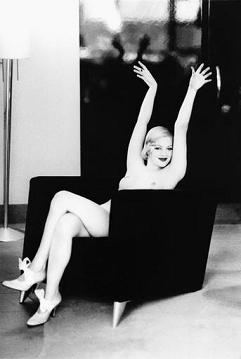 Vogue's legendary creative director Grace Coddington selects stripped-down works by the artists and photographers who have most inspired her.

"As an editor, the core of Grace's work is the clothes. In the works she selected for Paddle8, it is fascinating to see her curation of images of the human form laid bare, in a natural state before you'd apply, say, tens of thousands of dollars worth of couture. The nude is Grace's blank canvas, upon which she piles layers of elegance, empowerment, beauty and fantasy. And since so many of the works in Paddle8?s auction are photographed by her Vogue collaborators - from Steven Meisel to Ellen Von Unwerth, Mario Testino, David Sims, Craig McDean, Bruce Weber, and Annie Leibovitz - they represent an intimate look at her sense of beauty, as well as an enthusiasm for the stable of artists whose work she personally cherishes.

"The array of nudes in the auction speak to Grace's fascination with the human form as a foundation; her preoccupation is not with sexiness, but with the beauty of an internal story. "

Each photograph here - whether by icons like Henri Cartier-Bresson, Guy Bourdin, Annie Leibovitz, and Bruce Weber, or visionaries like Ryan McGinley, Gregory Crewdson, and Juergen Teller - contains a story, a moment of tension that suggests what might happen next, or what possibly occurred just before the shot was taken.

The collection in itself is an experience of Grace's rigorous selection process, guided by her remarkable visual precision. What catches her eye, what speaks—these mysterious combinations make her gaze wholly distinctive, be it turned to sartorial tableaux or other great bodies of work.

May 1-8 at Paddle 8.

OVER BY CHRISTMAS

Lithograph print by French artist Georges Scott in August 1914 of the French movement into Alsace and the symbolic and romantic reunion of the French soldier and the Alsatian girl. Note the knocked-down German border sign. Photo: World War I Museum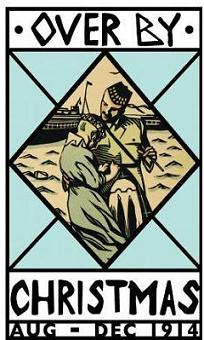 "We have no idea what war will be like. There are flags on all the houses in town, just as if we were having a festival." - Excerpt from the diary of Piete Kuhr, a 12-year old girl from East Prussian Province of Posen.

War was romantic. War was colorful flags, spiked helmets and flashing sabers. War was an adventure. As soldiers across Europe marched to war in the summer of 1914, most expected to be home in weeks, surely by Christmas. This special exhibition Over By Christmas: August-December 1914, examines these romantic notions colliding with the harsh realities of war and opens Saturday, May 3 at the National World War I Museum at Liberty Memorial. Pistol shots of an assassination in a Sarajevo street on June 28, 1914 ignited the match of the war. Quickly, the growing flames led to threats, armies mobilizing, war being declared and dreadnoughts steaming to sea. This highlights the first five months of the war through specific topics and case studies, including Germany Mobilizes, Germany's Rush to War, Invasion: Belgium and France and War in the East.

"Over By Christmas presents fascinating events that transpired during the initial period of World War I, "said National World War I Museum Senior Curator Doran Cart. "Most of these items have never been previously exhibited in a museum, so people will have the opportunity to see new objects, while learning about pivotal events during the early stages of the Great War."

One prominent case study featured in the exhibition stems from the early war in the Pacific with the S.M.S. Cormoran. Waves crashed against the hull of the Russian mail steamer, the S.S. Rjasan in the Straits of Tsushima north of Japan in a rough sea on Aug. 4, 1914. A lurking German raider, the S.M.S. Emden, spotted her as quarry. The Rjasan (originally built in Germany) was captured and soon brought to the German-controlled port of Tsingtao, China and renamed the S.M.S Cormoran. A brass and glass porthole, the lower end of a copper voice tube used to communicate between decks and an engine room steam gauge made by Schaffer & Budenberg in Magdeburg, Germany are among the exhibited items.

"Over By Christmas continues our efforts to learn lessons and derive meaning from the Great War by bringing to life incredible stories and events from those critical first few months of the war," said National World War I Museum President & CEO Matthew Naylor.

All objects and documents featured in Over By Christmas are from the extensive collection of the Museum. The majority of items have not been displayed before with several recently acquired for this special exhibition, giving new and repeat visitors a fresh viewpoint on the critical first months of the war.

The exhibition showcases objects that represent different aspects of the war including:

1914 Prussian flag

Bronze medallions honoring events or individuals from the war

Lithograph print by French artist George Scott

French colonial zouave infantry uniform

The Silver Bullet or The Road to Berlin game

Brass and glass porthole from the S.M.S. Cormoran

German cigar box for Christmas 1914 with portraits of Kaiser Wilhelm II and Emperor Franz Joseph

Belgian grenadier's dark blue wool coat

The exhibition runs through March 2015.


SWEET CHARITY


DANCE AGAINST CANCER An Evening to Benefit the American Cancer Society takes place Monday, May 5, 2014 at AXA Equitable Theater in New York City.

Cocktails are followed by the performance and a post-show reception.

.dacny.org. The evening's performance, produced by New York City Ballet's Daniel Ulbricht and Manhattan Youth Ballet's Erin Fogarty, will feature New York City Ballet's Jared Angle, Tyler Angle, Robert Fairchild, Chase Finlay, Lauren King, Maria Kowroski, Tiler Peck, Amar Ramasar, Taylor Stanley and Daniel Ulbricht; American Ballet Theatre's Isabella Boylston, Herman Cornejo, Gillian Murphy and James Whiteside; Alvin Ailey's Matthew Rushing, Boston Ballet's Misa Kuranaga, Miami City Ballet's Patricia Delgado; as well as Lar Lubovitch's Clifton Brown and Memphis Jookin' sensation, Charles "Lil Buck Riley." This year will also showcase young dancers from Jacques D'Amboise's National Dance Institute.

Work by choreographers George Balanchine, Christopher Wheeldon, Justin Peck, Lynne Taylor-Corbett, Brian Reeder, and others will be featured.

All proceeds from this event will benefit research initiatives as well as all patient and family services programs that American Cancer Society funds.

Since its inauguration in 2010, Dance Against Cancer has raised over $100,000 in support of the American Cancer Society.

THE LATIN GRAMMY RECORDING ACADEMY announced, as part of the 15th anniversary celebration of the Latin Grammy Awards, the launch of the Latin Grammy Cultural Foundation, which will be overseen by Vice President Manolo Diaz. The purpose of the Foundation is to further international awareness and appreciation of the significant contributions of Latin music and its creators through scholarships, fellowships, grants, and educational programs. The Foundation's primary charitable focus will be to provide scholarships, as well as offer fellowships and grants for the research and preservation of Latin music.


THE MUSIC GOES ROUND AND ROUND


SHIRLEY JONES & JACK CASSIDY: MARRIAGE TYPE LOVE an album recorded in 1959 but shelved has been released by Masterworks Broadway.

The cover art which is used on this CD was from a printer's proof sold at an auction in 2001. The catalog number indicates the album was to have come out around 1960.

Recorded at RCA Studios, NYC September 17-18. 1959, much speculation as to why the effort was suddenly buried has resulted in conflicting replies and gossip.

An extremely pleasant selection of non-related, easy listening love songs performed by Shirley Jones and Jack Cassidy.

Many have forgotten that Shirley Jones and Jack Cassidy delighted audiences with glorious voices. They were also the epitome of a beautiful couple. They looked like Greek statues brought to life while their voices would have pleased the angels.

This CD, which Masterworks Broadway should be complimented for finally releasing, is an offering which could bring back romantic dancing.

The official release states that this CD features "jazzy, brassy arrangements of a collection of songs that form what might be called a concept album built around the themes of love and marriage."

Beg to differ.

The issue has to do with classifying Marriage Type Love under jazzy. Nor are the arrangements brassy. On all numbers the horn section blows sweet and mellow, not hot. This CD isn't jazz. Jazz has many variations, but it does have a core and this isn't jazz. It's a dance album with orchestrations typical of 1950s-early 60s dance LPs.

This CD was musically orchestrated and conducted by Marty Gold. Officially: "Gold arranged, conducted, and recorded for RCA Victor light orchestral "mood music" pieces utilizing fully the possibilities of the newly developed Stereophonic sound, with whole sections of violins drifting between right and left speakers." It's the violin technique Gold also used in this living stereo recording.



With a sign on his forehead proclaiming Keep Skilin', Martin Gold performs with the Korn Kobblers. Photo: Hoosier Hot Shots Museum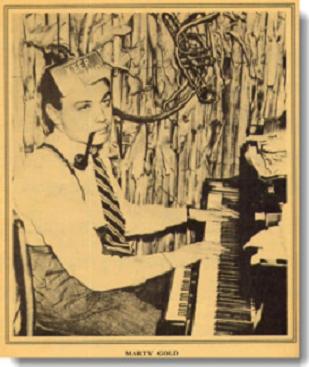 The composer, pianist and bandleader was also the pianist and arranger for the Korn Kobblers - so named because they played corny music. Some their instruments included jugs, washboards, automobile horns, tonettes, whistles, mouth harps and duck quackers.

The popular 1940s novelty group - part comedy act and part big band - was billed as America's most nonsensical dance band. The group earned as much as an 18-piece swing orchestra. Although Gold served as arranger, pianist, and treasurer for the Kobblers, playing with a sign on his forehead proclaiming Keep Smilin', he was best known as the composer of the song Tell Me Why, which was a hit for The Four Aces in 1951.

While Gold did arrange and conduct his orchestra for Skin Tight, a 1960 jazz percussion LP for RCA, Gold had little affiliation with true jazz, and neither does this CD.

The only semi-jazz arrangement - it's really swing (think Benny Goodman) - is for the opening selection Marriage Type Love from Me and Juliet. The rest are pure middle of the road, perfect for weekly dance parties, which were all the rage during the 50s.

If the kids had American Bandstand, their parents got their feet moving with The Arthur Murray Party, a weekly television show which ran from July 1950 until September 1960. Arthur and Kathryn Murray taught famous guest stars, along with the television audience, new dance steps. People at home practiced in front of the family's television set and soon discovered that inviting over friends and neighbors was a great way to inexpensively socialize and exercise. Sales of danceable LPs soared.

If enough people listen to Shirley Jones & Jack Cassidy: Marriage Type Love, dance parties could make a come back.

The album doesn't begin with songs relating to courtship and end with a couple married for 50 years. The songs don't address serious issues or the variety of emotions that married couples encounter. There is no storyline thread that ties the songs together. There is also no dialogue to explain the significance of any song to either of the singers.

At least one song - the first - has a personal relationship to Jones. She was appearing in the ensemble of Me and Juliet during the pre-Broadway tryout in Chicago when she was cast in Oklahoma!

Any personal relationship aside, this is really a selection of slow to moderate paced dance songs for the happily married - or those who desire that status.

Attendue during the 50s, this CD has standard, big band arrangements. This CD is a strong reminder of what easy listening music offered.

Marriage Type Love is an entertaining, in studio recording of songs written by some of the best composers, sung by two stars with magnificent vocal talent, backed by the excellent Marty Gold Orchestra. Odd, since it was never released, Gold referenced the record in his 1960s bios.

Jones and Cassidy each have one solo. Cassidy sings I Married An Angel by Richard Rodgers and Lorenz Hart, while Jones' singular spot is a slowed down version of It's So Nice To Have a Man Around the House. Her delivery is sexy-sultry, almost turning the Harold Spina and John Elliot number into a talk-song.

The opening number is a high octane swinging version of Marriage Type Love which spotlights a couple of interesting instrumental solos. That is followed by the romantic and mellow A Lovely Way To Spend an Evening, from Higher and Higher, which leaves no doubt that Jones and Cassidy really did love each other.

Most of the selections are from various Broadway shows, yet the album wasn't about love songs from Broadway. True to big band arrangements, the horn section is favored. Like most of the renderings of that era the musicians aren't listed, which is a pity.

Penthouse Serenade (When We're Alone) is also romantic and smooth, as is You'll Never Know. Perfect for slow dancing.

Love and Marriage is a bit more upbeat, with the clop clop of percussion providing horses' hooves and excellent brass and woodwind arrangements, which would have resulted in the 1960s housewife smiling as she listened to the stereo LP while doing the dishes.

Love is Here to Stay from Follies and An American in Paris is couple dancing friendly; middle of the road with a short vibrant sax solo arrangement.

My Darling, My Darling from Where's Charley? is soft and smooth with a romantic trumpet solo, followed by a perky Love is the Reason from A Tree Grows in Brooklyn.

I Married an Angel from the show by the same name is another cheek-to-cheek dancing number with sweet, not hot, solo horn arrangements.

I Love You from Mexican Hayride is a faster paced rendition affording dancing couples an opportunity to try out some fancy footwork and turns. The CD ends with Two Sleepy People, another hold her tight number.

Bring home Marriage Type Love and let yourself rediscover the amazing voices of Shirley Jones and Jack Cassidy while being soothed with easy listening romantic songs. You might even be tempted to slow dance with somebody you'd like to know better.








SPREADING THE WORD


COLUMBINUS a theatrical discussion, a meeting of fact and fiction, sparked by the 1999 massacre at Columbine High School.

Conceived by PJ Paparelli. Written by Stephen Karam and PJ Paparelli. Directed by Clay Hopper. Dramaturgy by Patricia Hersch.

Sparked by the 1999 massacre at Columbine High School, this meeting of fact and fiction illuminates the realities of adolescent culture by exploring the events surrounding the shootings, with text drawn from interviews, public records, and the shooters' private diaries.

Nestled amidst the Rocky Mountains, and a bastion of religious and political conservatism, Columbine, a district in Littleton Colorado, was by all accounts, the perfect community. The population was primarily white and upper-middle class. Columbine High School was well-known for its academic rigor; the student activities and programs were equally impressive.

There was, however, an underbelly to the beast that was noted amongst students of all social groups. Columbine High School was a typical school in terms of social hierarchy; jocks and cheerleaders stood at the top, outcasts at the bottom, leaving a majority of students that fell somewhere in between.

Just as this high school could be anywhere in America, so could the potential for a school shooting. In the days, weeks, and years following, the community, rocked by the shooting, sought an answer, a cause, something on which to blame the tragedy.

Presented by the United States Theatre Project May 2 - May 9 at the Boston University Theatre in Boston, MA.

I USED TO BE IN PICTURES Thirty years ago, English twin brothers Austin and Howard Mutti-Mewse began writing to their Hollywood screen icons. Friendships evolved and in the 1990s the twins visited some of these stars. Hear their stories of Bette Davis, Marlene Dietrich and Elizabeth Taylor among others.

Thursday, May 1 at the Fashon and Textile Museum in London.

THE ATLANTA JAZZ FESTIVAL will honor the vision of Mayor Maynard Jackson who established the Office of Cultural Affairs and presented the first Atlanta Jazz Festival in 1977 on Sunday, May 4.

Mayor Kasim Reed will celebrate 40 years of Arts and Culture and The Legacy of Mayor Maynard Jackson in an afternoon of jazz and Atlanta heritage, at the Historic Oakland Cemetery in Atlanta.

The Atlanta Jazz Festival takes place May 23-25 in Atlanta, Georgia.


OTHER PEOPLE'S MONEY


GRAMMY FOUNDATION GRANT PROGRAM has awarded $200,000 to 15 recipients for music research and sound preservation.

Research projects include a study on memory retention through music in patients with Alzheimer's disease; and the benefits of music training in strengthening the ear to prevent noise-induced hearing loss. Preservation and archiving initiatives include a project to preserve more than 650 rare interviews with country music performers and professionals spanning 1959–2000; and the preservation of more than 250 original transcription disks of the historic radio series The Goldbergs.

Grant recipients are:

Country Music Foundation, Inc., Nashville - Creative Music Foundation, Inc., Woodstock, N.Y. - New York Studio School of Drawing, Painting and Sculpture , New York - The Regents of the University of California, Los Angeles - Special Collections and Archives, Albertsons Library, Boise State University, Boise, Idaho - Wing Luke Museum of the Asian Pacific American Experience, Seattle - Corporacion de las Artes Musicales/Pablo Casals Museum, San Juan, Puerto Rico - Genesee Valley Council on the Arts, Mt. Morris, N.Y. - Jim Metzner, Kingston, N.Y. - Texas Folklife, Austin, Texas - Arizona State University Foundation, Tempe, Ariz. - University of California, Davis - University of California, San Francisco - University of Maryland, College Park, - and the University of Memphis and the University of Memphis Research Foundation, Memphis, Tenn.

RIOULT DANCE NY a leading American modern dance company with a classic sensibility, has been searching for a long-term home in an effort to better serve the community, grow their patronage and set up a companion school for the company. Recently, Hope Greenfield, chairwoman of Rioult's Board of Directors donated $500,000 through her family foundation, the Gordon and Harriet Greenfield Foundation, to support the company's search.



THE PAJAMA GAME music and lyrics by Richard Adler and Jerry Ross and a book by George Abbott and Richard Bissell.

Directed by Richard Eyre.

Starring: Joanna Riding (Babe Williams), Michael Xavier (Sid Sorokin), Peter Polycarpou/Gary Wilmot (Vernon Hines), Alexis Owen Hobbs (Gladys), Claire Machin (Mabel), Colin Stinton (Hasler/Pop), Eugene McCoy (Prez), Siôn Lloyd (Max), Jennie Dale (Mae), Sharon Wattis (Poopsie), Keisha Amponsa Banson (Brenda), Lauren Varnham (Charlene), Jo Morris (Rita), Nolan Frederick (Charley), Richard Jones (Frank), Dan Burton (Earl) and James O'Connell (Joe).

"In 1950s America, love is in the air at the Sleep-Tite Pajama Factory as handsome new Superintendent Sid Sorokin (Michael Xavier) falls head-over-heels for firebrand Union rep Babe Williams (Joanna Riding)," according to press notes. "Sparks fly when the employees are refused a seven-and-a-half cents raise, leaving Sid and Babe deliciously at odds as the temperature rises. . . Will love, eventually, conquer all?"

The musical will feature choreography byStephen Mear, designs by Tim Hatley, lighting design by Howard Harrison, sound design by Paul Groothuis, musical supervision and dance and vocal arrangements by Gareth Valentine, musical direction by Musical Director Michael England and casting by Pippa Ailion.

The Chichester Festival Theatre production of The Pajama Game will begin previews at the Shaftesbury Theatre in London on May 2 with an official opening May 13. Performances will continue through September 13, 2014.

A SONG AT TWILIGHT by Noël Coward.

Directed by Mark Lamos.

In his long career, Sir Hugo Latymer has achieved more than most writers even dream of-money, fame, and a reputation beyond reproach. But his carefully constructed ivory tower is imperiled when a long-ago love threatens to shed a very public light into the most scandalous corner of his private past, a revelation that could bring it all tumbling down. In this exquisite battle of wits, playwright Noël Coward explores the nature of passion, the cruelty of love, and the price of the secrets we keep.

A co-production with Hartford Stage April 29 – May 17, 2014 at the Westport Country Playhouse in Westport, CT.

THE TALES OF HOFFMAN by Jacuqes Offenbach.

General Director Speight Jenkins' last main stage opera presentation before he retires.

One of the most talked-about productions in Seattle Opera history returns to McCaw Hall for a glorious season finale. An endlessly inventive poet regales his drinking buddies with stories of romancing three fantastic women. A trio of colorful villains foils our hero at every turn. Three fabulous shows in one, Offenbach's sumptuous collage of whimsy, creativity, heartbreak, and artistic salvation enchants and delights with luminous music and compelling theater.

Tenor William Burden makes his role debut as the storyteller who is so unlucky in love, with Norah Amsellem as the Woman he can never have and Kate Lindsey as his best friend and inspiration.

Conducted by Yves Abel. The stage director is Chris Alexandrer. Costume designer Marie-Theresa Cramer. Set designer Robert Dahlstrom. Lighting designer Robert Wierzel. In French with English subtitles.

May 3- 17 by Seattle Opera in McCaw Hall. Seattle, Washington.

THE S.M. CABARET SLAVES OF SALLIE ME billed as "an evening of song, shimmy, and debauchery that will put a smart sexy spin on the student debt crisis. Naturally, a degree is included with every admission (interest-free). We could go on and on preaching about the downright criminal interest rates inflicted on American students and the astronomical rising cost of education, but it's so much more entertaining with parody, champagne, and a little burlesque."

The Cabaret features adaptations and impersonations of classic Broadway songs and stars, as well as original songs and dances. There will be solo and ensemble works written and performed by The Grace Period Blog members: Sydney Arndt, Sarah Lucie, Gabriela Moreno, Laura Marie Mooney, and Katy Telfer.

According to the organization: "Without giving too much of the show away, I will say that the job market value of an $80,000 art degree is the beast in the room that we are prodding at. If arts and humanities students are coming out of college programs jobless, it makes you wonder why the degrees are so unaffordable in the first place. Shouldn't it be relative? Blaming art students for choosing a degree that they supposedly "knew they could never turn into a profitable career" should no longer be acceptable. The finger needs to be pointed towards the greater underlying business model for higher education."

A performer exclaims, "The Department of Education's estimated profits generated from student borrowers over the last five fiscal years was $101.8 billion."

The Grace Period Blog is committed to "redefining the length of the student loan repayment grace period by continuing to build creative careers in writing and performance past the 6-month time allotment. They also encourage others to live the creative lives they planned on living despite their debt burdens."

Performances May 2nd and 9th at The Duplex, NYC.


WHO'S WHERE


JUAN GABRIEL has resumed his tour following being rushed to Southern Hills Hospital in Las Vegas after a three-hour concert at Mandalay Bay Resort. He was suffering from pneumonia and discharged Friday, April 18, 2014. He'll be appearing May 1 at the Nokia Theatre in Los Angeles.

RENEE FLEMING One of the most beloved and celebrated musical ambassadors of our time, in her first-ever public performance in Las Vegas soprano Renée Fleming will sing beloved songs and arias ranging from grand opera favorites to Broadway and The Great American Songbook. Thursday, May 1, 2014, Reynolds Hall at The smith Center.

MICHAEL BOLTON continues his German tour this week with a stop Monday, April 28, at the Circus Krone Bau in Munich. On Friday he'll be performing his hits at the Philharmonie is Essen. Next Sunday, May 4, he's on stage at the Gewandhaus in Leipzig.

CHELSEA HANDLER on stage Friday, May 2, at the Starlight Theatre in Kansas City. Saturday's performance is at the Fox Theatre in Detroit, MI.

ROD STEWART has shows at The Colosseum at Caesars Palace in Las Vegas on Wednesday, April 30, Friday, May 2 and Saturday, May 3.

STEVE TYRELL performs Thursday, May 1, at Ramshead in Annapolis, MD. Saturday's gig is at the North Shore Music Theater in Beverly, MA.


FINAL OVATION


MARK SHAND

Mark Shand and his sister Camilla, Duchess of Cornwell at the charity event in 2010 Photo: Getty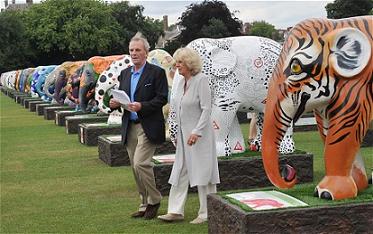 chairman of wildlife foundation Elephant Family, as well as a travel writer and conservationist, and brother of Camilla, the Duchess of Cornwall, died in the early morning hours of Wednesday April 23, 2014. He was 62.

He was in New York to host the Faberge Big Egg Hunt auction at Sothebys on Tuesday night, which raised $1.6 million for charities, including The Elephant Family. The event was attended by Prince Andrew's daughter Princess Eugenie who is working at auction house Paddle 8 in New York,

The New York Police Department said Shand had arrived at the Gramercy Park Hotel's Rose Bar just before 1 a.m. Wednesday accompanied by a relative (believed to have been his nephew Ben Elliot). Shand went out to smoke a cigarette around 2:30 a.m. and fell backward as he triedside to re-enter through a revolving door, according to the police report.

He was taken to Bellevue Hospital by ambulance, where he was pronounced dead at 11:25 a.m., police stated.

The New York Post wrote that Shand took blood pressure medication that sometimes gave him dizzy spells.

The Medical Examiner ruled Shand's death was an accident, caused by blunt impact head trauma with skull fracture and bleeding in the brain.

As a BBC conservationist and travel writer, he authored a book and the corresponding BBC documentary, Queen of the Elephants, based on the life of the first female mahout in recent times - Parbati Barua of Kaziranga. The book went on to win the 1996 Thomas Cook Travel Book Award and the Prix Litteraire d'Amis, providing publicity simultaneously to the profession of mahouts, and to Kaziranga.

Shand was actively involved in the conservation of the Asian elephant and co-founded a charity called Elephant Family. He also wrote a book about his adventure with "Tara," his elephant in India.

On Wednesday, April 23, Clarence House issued the following statement: "It is with deep sadness that we have to confirm that The Duchess of Cornwall's brother, Mark Shand, has today passed away in New York.

"Mr. Shand died in hospital as a result of a serious head injury which he sustained during a fall last night.

The Duchess, The Prince of Wales and all her family members are utterly devastated by this sudden and tragic loss. Mark Shand was a man of extraordinary vitality, a tireless campaigner and conservationist whose incredible work through The Elephant Family and beyond remained his focus right up until his death."

A statement from Mark Shand's friends at Elephant Family reads:

"Today we have lost the head of our family. Mark Shand was a true force for conservation. He was both a legend and inspiration and above all our great friend. We ask at this time that people's thoughts are with his loved ones. We will miss him always."

His nephew Ben Elliot, the son of his sister Annabel Elliot, paid tribute on Twitter. "RIP my hero and uncle Mark Shand. We loved him so much. What a life. Mark did so much for the plight of the Asian elephant. Elephants never forget. Nor will we."

In 1990, he married Clio Goldsmith, a French former actress and a daughter of Edward Goldsmithh; they had a daughter, Ayesha. The couple divorced in 2009. In addition to his daughter and the Duchness of Cornwall, he is survived by another sister, Annabel Elliott, plus nieces and nephews.

EMILIO MUSCELLI

Emilio and Elvis Presley.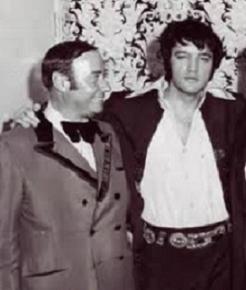 legendary Las Vegas maitre d' died April 15, 2014 of pneumonia at a Las Vegas hospital. He was 91.

Born in the Italian village of Ascoli Piceno, Muscelli served in the Italian Army during World War II and attended the University of Rome where he studied economics. With $20 in his pocket, he immigrated to America in 1948.

He settled in Manhattan, washing dishes in a coffee shop. Soon he was the captain of waiters at Jack Entratter's famed Copacabana night club. In 1952 he came to Las Vegas to train waiters and busboys at Entratter's new Sands Hotel Copa Room.

Known to everyone in Vegas as simply Emilio, he worked Las Vegas when the mob - or as he preferred to call them "the boys" - ran the place. He spent 27 years as lead maitre d' at what was then the five major Las Vegas resorts - the Sands (1952-58), El Rancho Vegas (1958-60), Flamingo (1960-67). International/Hilton (1969-79), and Dunes.

While at the Flamingo during the 1960s he was expected to also chauffeur Maier Suchowljansky - aka infamous mod boss Meyer Lansky during Lansky's Las Vegas visits.

He became personal friends with the rich and famous and was Dean Martin's golf buddy. He called Perry Como his favorite. Barbra Streisand used to bring him homemade spaghetti sauce. He was best buddies with Bobby Darin and Howard Hughes. He double dated with Cary Grant.

At age 90, he still drove his car and played golf on a daily basis at the Las Vegas Country Club where he was a charter member.

Emilio Muscelli married the daughter of the San Souci's owner and they had one son. They divorced in 1975 and from there on Muscelli was never specific on how many other times he'd taken a stab at marriage. He's been quoted as saying "three or four more times." He was single at the time of his death.

He is survived by a son Perry who is an FAA certified Las Vegas based pilot and real estate businessman, daughter-in-law Kathy, adopted daughter Gina Muscelli, and two grandsons, Spencer and Blake Muscelli, all of Las Vegas; and a sister in Italy.

Services are scheduled for May 3 at Palm Mortuary-Eastern in Las Vegas.















Next Column: May 4, 2014
Copyright: April 27, 2014 All Rights Reserved. Reviews, Interviews, Commentary, Photographs or Graphics from any Broadway To Vegas (TM) columns may not be published, broadcast, rewritten, utilized as leads, or used in any manner without permission, compensation and/or credit.
Link to Main Page
---
Laura Deni



For the snail mail address, please E-mail your request.
CLICK HERE FOR COMMENT SECTION