! >
Broadway To Vegas
  SHOW REVIEWS CELEBRITY INTERVIEWS GOSSIP NEWS

| | |
| --- | --- |
| | |
CHIPPENDALES TAKE IT OFF - - A STOOP ON ORCHARD STREET STEPS UP - - JON VOIGHT'S CAREER BEGAN ON BROADWAY - - TRIBECA FILM FESTIVAL DRAWS STARS - - THAT LUSTY MONTH OF MAY - - MONACO CELEBRATES NEW YORK - - COMEDY TONIGHT STARS ROSIE O'DONNELL - - JOHNNY CARSON HOME ON E-BAY - - DONATE . . . Scroll Down


TRIBECA FILM FESTIVAL FEATURES STAR PANELS
New York State Governor George Pataki, Festival Founder Jane Rosenthal, director Francis Ford Coppola, and President Bill Clinton at the 2002 TFF Opening Ceremonies. Photo credit: Ted Hardin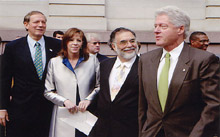 The Tribeca Film Institute launched last year by Jane Rosenthal and Robert De Niro, returns this year featuring several interesting panel discussions.

Nathan Lane, along with South Park creators Trey Parker and Matt Stone, will debate comedy in film.

The Actors on Acting: Theater and Film seminar will be moderated by Variety Editor-In-Chief Peter Bart. Panelists include Helen Hunt, Paul Rudd, Edie Falco and John Tuturro.

Sam Rockwell, Patricia Clarkson and Kenneth Lonergan are on a panel discussing indie films. Oscar-winning screenwriters Akiva Goldsman for A Beautiful Mind and Stephen Gaghan for Traffic will speak on adapting real stories for the screen. Barry Pepper of Saving Private Ryan and Black Hawk Down and author Mark Bowden will lead a discussion on war on film.

The Tribeca Film Festival runs May 6-11. In addition, the Tribeca Family Festival will take place May 3-4 and continue May 10-11.

Unspooling on May 8, will be the winning film of an online poll conducted through the Tribeca Film Festival website for the most romantic film set in New York City.

Diner, the classic buddy film set in 1959 Baltimore starring Kevin Bacon and Mickey Rourke, screens May 9. The series will wind up on May 10 with a sing-along for Grease.

Some events are free and tickets for panel discussions, screenings and other events go on sale today, April 27.

Last year's event was attended by more than 150,000 people, generated more than $10.4 million in revenues for local Tribeca merchants, and featured several up-and-coming filmmakers The festival included juried narrative, documentary and short film competitions; a Restored Classics series; a Best of New York series curated by Martin Scorsese.


25 YEARS OF STAYING POWER
"Good morning. Remember me? I'm the man you slept on last night." Clark Gable as Peter Warne in It Happened One Night.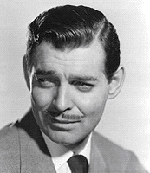 Those take it off guys, the Chippendales, are celebrating 25th years in show business. It's not the original cast.

Blame it all on Clark Gable. One of the oft-told tales from the Tinseltown press machine is that underwear sales dropped 75 percent when Gable took off his shirt in It Happened One Night to reveal his T-shirt-less torso.



Burt Reynolds was the first centerfold for Cosmo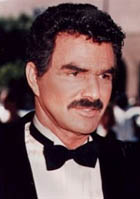 Then there was Burt Reynolds. The April 1973 issued of Cosmopolitan Magazine Featured a centerfold of the nude star. Sales soared.

In June 1973 the first issue of Playgirl was published. In September, 1975 male stripping became the rage in Germany after the liberalization of pornography laws. In October, 1975 male stripping crossed the channel from Germany to England. In 1978 male stripping sailed across the Atlantic and landed in Los Angeles where Chippendales was established, began rehearsals went into previews and opened.

In 1983 Chippendales traveled from Los Angeles to New York. Today, April 27, they celebrated 25 years of staying power.

Promoters have discovered that beautiful men are good business.



The Chippendales celebrating their silver anniversary.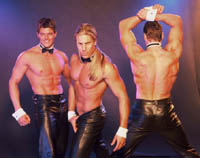 At the moment there are three National Tours, permanent companies at Boston's Roxy Theater and Las Vegas' Rio Hotel & Casino and an 18-city, nine-week European 2003 Collar & Cuffs tour, which opened in Friedrichshafen, Germany and this week begins a nationwide United Kingdom turn at Watford Colosseum on Wednesday April 30.

Over 10,000,000 women have been satisfied with the show which has played in over 2,000 cities in over 30 countries.

Produced by Louis J. Pearlman ( N Sync, Backstreet Boys, O-Town), directed and choreographed by Glenn Packard, designed by Robert Guy (costumes), Richard Wagner (lights), R.H. factor (musical direction), Beyond Imagination (special effects) and Vincent Gianni (video design). The show is billed as "the longest running and most successful live show in all of show business. The ultimate girls' night out!"


THE MUSIC GOES ROUND AND ROUND


REBECCA SPENCER WIDE AWAKE AND DREAMING Broadway To Vegas first became aware of Rebecca when she was making her Broadway debut, performing as Emma Crow, in Jekyll and Hyde, which starred Robert Cuccioli. (See Broadway To Vegas column of June 8, 1998)

As Frank Wildhorn mentions in the jacket notes for the Grammy nominated CD, Rebecca was an active collaborator for the first staged production which premiered to great success at the Alley Theatre in 1990, and in which she created the role of Lisa Carew, the fiancee of Dr. Jekyll, who would later become Emma Carew on Broadway.

Impressed with both her voice and performance it's nice to learn that the soprano has a new CD titled Rebecca Spencer Wide Awake and Dreaming, which is a marvelous showcase for her vocal ability.

The CD is billed as "a hypnotic and sensual recording offering fresh interpretations of sophisticated songs driven by the strength of the lyric."

Spencer lives up to her billing.

It's a platter filled with interesting song selections. From the dramatic Where I Want to Be, her powerful delivery of Against The Tide, the upbeat and hopeful Anything Can Happen, the beguiling I've Got You Under My Skin, or - tap dance around the kitchen floor to Home Sweet Heaven. One of the selections is An Affair to Remember, a song which belongs to Vic Damone. While many male singers do an adequate enough delivery, the Damone rendition is the gold standard. Consequently, interest was peaked as to what Spencer might do to the composition. Her lilting tones could please the angels. She doesn't sing the words, but vocalizes to the melody. When she is finished the immediate reaction is - beautiful.

For those not immediately familiar with Spencer, she has starred in productions at the St. Louis and Trinity Repertory Companies, Cincinnati Playhouse, Theatre Under the Stars, Paper Mill Playhouse, and the Pittsburgh Civic Light Opera. In New York she has been featured at Lyrics and Lyricists. She has been a part of four ENCORES! concerts at the City Center, as well as the Ira Gershwin Centennial at Carnegie Hall, recorded for PBS. Rebecca's recent television credits include Third Watch and Law and Order:

She has toured twice nationally in Man of La Mancha as Antonia, starring first with John Cullum and later Hal Linden. She co-stared as Shirley in the Goodspeed Opera's Lady Be Good, which also toured nationally. Rebecca has performed principal roles with the Lyric Opera of Kansas City and the Minnesota, Omaha and Connecticut Opera companies, as well as the composers forum at the New York City Opera in Michael John LaChiusa's Lovers & Friends. She's been a guest soloist with the Syracuse and Detroit Symphonies, and the Florida Orchestra, and with the Indianapolis and Naples Symphonies conducted by Keith Lockhart of the Boston Pops. She has also toured nationally as the guest soloist for composer Marvin Hamlisch.

Rebecca Spencer Wide Awake and Dreaming on LML Music has arrangements by Philip Fortenberry with Spencer. Recorded, engineered, mixed and mastered by Manfred Koop.



Broadway To Vegas is supported through advertising and donations. Priority consideration is given to interview suggestions, news, press releases, etc from paid supporters. However, no paid supporters control, alter, edit, or in any way manipulate the content of this site. Your donation is appreciated. We accept PAYPAL. Thank you for your interest. Laura Deni P.O. Box 60538 Las Vegas, NV 89160


SPREADING THE WORD


LOUIS BEGLEY

Louis Begley reading from Schmidt Delivered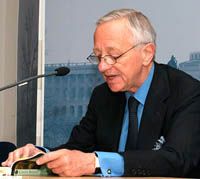 the acclaimed author of About Schmidt, has successfully combined two careers: one as a distinguished attorney at Debevoise & Plimpton and the other as a prolific award-winning novelist. In addition to About Schmidt (1996), his many publications include Wartime Lies (1991), The Man Who Was Late (1993), As Max Saw It (1994), Mistler's Exit (1998), and Schmidt Delivered (2000). His next novel, Shipwreck, is scheduled for publication this fall by Alfred A. Knopf. He will speak Monday, May 5 as part of the Distinguished Speakers Series at The New York Historical Society.

Sponsored by the Bernard and Irene Schwartz Foundation. For generations America's most acclaimed authors and historians have appeared on the Historical Society's intimate stage. Each program is followed by a book signing and reception.

BROADWAY CLOSE UP Richard Rodgers: Giving Back celebrates an evening of songs and the stories behind some of these award-winning productions. Guest artists include James Valcq, Jeanine Tesori and Brian Crawley, Douglas J. Cohen, Brad Ross and Robert Lindsey Nassif––with a performance by Michael McElroy; hosted by Liz Callaway. Merkin Concert Hall at Kaufman Center in NYC. Monday, April 28.

EVERYTHING OLD IS NEW AGAIN radio show hosted by David Kenney, features an in studio visit on April 27 with Karen Akers, currently performing thru May 24th at The Oak Room at The Algonquin Hotel. On May 4 his in studio guest will be Keely Smith during her engagement at Feinstein's at the Regency.

ELIZABETH ASHLEY starring in Enchanted April guests Friday May 2 on Theater Talk co-hosted by Michael Riedel of the New York Post and series' producer Susan Haskins. The program airs weekly on PBS affiliates in New York City, Boston, Hartford and Washington, D.C.


QUEEN OF THE MAY
Richard Burton and Julie Andrews in Camelot sang about the lusty month of May.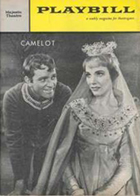 The musical Camelot celebrated "that lusty month of May" in song. The downside of May Day is that so many women got pregnant. While jumping naked through a fire never really caught on with the masses, dancing around a May Pole does have a certain charm.

The celebration of May Day on May lst is an ancient Druidic holiday popular before the Vikings. Dancing maidens dancing around a May Pole, creating garlands and bowers of flowers, the playing of bagpipes and drums to traditional Morris dances, and general celebration of the beginning of summer is a tradition from the Baltic to the Balkans, from Asia to the Appalachians.

Beltaine or La Baal Tinne, as the Irish call it, starts at sundown on April 28 and lasts for three days. At sundown Druid priests light fires on the top of the nearest beacon hill to mark the beginning of the celebrations. Revelers jump naked through the fires, which confer healing properties and protection

May Day also signifies the rite of passage into adulthood. Young men and women stay out in the forest to greet the May sunrise, making flower garlands to carry back and decorate the village. Because many young women returned home pregnant, this custom was outlawed in 1644 by the Puritans.

Still an excuse to celebrate in European, Americans don't carry on like they used to. Blame it on those pregnancies.

But those who hanker to go a mayin' can find a few festivals.



1914 University of Missouri May Queen and her entourage (University Archives, Savitar)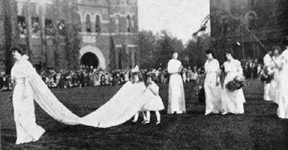 Memphis in May is a month long treat for thousands year after year - with a different nation feted every year. The Netherlands takes a turn this year.

Long before our current high school prom king and queen, villages elected a young, attractive couple to represent the King and Queen of the May. Interestingly, today's beauty pageants may have originated from the coronation of the May Queen. That tradition originated when May Day was still an agricultural holiday. At that time, the queen was selected from among the single women of the village and was said to, "rule the crops until harvest."

May Day is Lei Day in Hawaii - is a song, a custom and a festival. In Hawaii on the first of May, everyone wears flowers, schools stage pageants and give prizes, contests are held for the most beautiful lei or garland, a Queen is crowned, competitions in both ancient and m modern hula are held.

The origin of the festival is credited to a poet and artist named Don Blanding who in 1928 noticed that most of the flower lei were being distributed at the Aloha Tower pier where boatloads of tourists were arriving on what they called Boat Day.

Although the custom of Hawaiians wearing flower garlands was first recorded by a member of Captain Cook's crew in 1779, Blanding voiced a common belief that the islanders were forgetting to adorn themselves while showering flowers on the visitors. On May Day, he suggested, they ought to place the garlands around their own necks, on their own foreheads and in their own hatbands, as their ancestors did.

May Day is also sacred to Robin Hood and Maid Marian, as Robin Hood was said to have died on that day. Archery contests, perhaps in his memory, are often a part of May Day celebrations. In Seattle the coming of spring is saluted on May Day with a Maypole dance at Gas Works Park, sponsored by the Fremont Arts Council. Morris dancers, drummers and pipers set the festive tone; then the Maypole dancers step to the music, twining gaily colored ribbons into an elaborate braid around the towering pole. This ancient rite of Spring may be followed by a Handfast ceremony - trial marriage lasting a year and a day - and always ends with much feasting and merrymaking.

Since ancient times, May 1 has been a day for outdoor festivals. The English have observed May Day since medieval times. All classes of people used to rise at dawn to go "a-maying." They would return laden with flowers and branches of trees to decorate their homes. A May Queen was crowned to reign over the games, dancing, and festivities. Flowers, fruits and other sweets, and a May pole with streamers were featured. Even Alfred Lord Tennyson referred to the custom.

May Day is known as the happiest day of the year in Italy.

All over the country on May 1, ribbons and lemons are tied around flowering branches. Male and female trees are brought to the piazzas to be "married." The festivities and rituals vary by region.

In Teramo, Abruzzo, the specialty food is le sette virtu' - the seven virtues - which is a soup made to celebrate the meeting of the seasons. Leftovers from the pantry, such as seven types of leftover dried pasta, seven types of dried beans, combined with seven kinds of fresh vegetables and the same number of fresh herbs - sage, parsley, thyme, basil, mint, marjoram and amarella. The number seven is used because it is the number of the cardinal virtues, and it glorifies the thriftiness of the housewives who waste nothing.

In Switzerland, a May pine tree is often placed under a girl's window. German boys often secretly plant May trees in front of the windows of their sweethearts. At night, boys in Czechoslovakia place maypoles before their sweethearts' windows.



Women dancing around the Maypole at the University of Missouri (University Archives)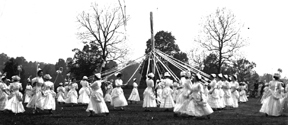 English festivals reached their height in England during the Middle Ages. On the first day of May, English villagers awakened at daybreak to roam the countryside gathering blossoming flowers and branches. A towering maypole was set up on the village green. This pole, usually made of the trunk of a tall birch tree, was decorated with bright field flowers. The villagers then danced and sang around the maypole, accompanied by a piper. Usually the Morris dance was performed by dancers wearing bells on their colorful costumes. Maypoles were usually set up for the day in small towns, but in London and the larger towns they were erected permanently.

Today in London children go from house to house bringing flowers in return for pennies. After the pennies are collected, they are thrown into a wishing well. Special wishes are made with hopes they will be granted. The pennies are later collected and given to different charitable organizations.

In the United States on college campuses May Day and the crowning of May Queen was a major event. Dances were performed around a maypole. Children gathered spring flowers, place them in handmade paper May baskets and hang them on the doorknobs of relatives and friends - they ring the doorbells and run away, leaving their flowers as a surprise.


SWEET CHARITY


THE ACTORS' FUND OF AMERICA on Thursday announced that on Monday, September 22 their eagerly-awaited 3rd Annual Benefit Concert, will be Chess starring Josh Groban, Lara Fabian, Adam Pascal - and many more since the cast is still in formation.

This incredible one-night-only benefit will be held at the historic New Amsterdam Theatre in New York City, with single tickets available from $75 to $2,500.

The Actors' Fund of America, a nonprofit organization founded in 1882, provides for the social welfare of all entertainment professionals. Its headquarters and The Aurora Residence are located in New York City, and its nursing home and assisted living care facility are in Englewood, New Jersey.

MONACO TAKES NEW YORK

Les Ballets de Monte-Carlo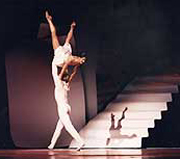 is a week-long celebration of Monaco taking place in New York City. Let romance and passion sweep you away from Tuesday, April 29 through Saturday, May 3.

Highlights includes the Les Ballets de Monte-Carlo at the Brooklyn Academy of Music while a guest chef prepares Monegasque lunches at Le Cirque 2000. Outdoor car exhibit, charity gala, shopping discounts, & all-inclusive packages at the NY Palace Hotel.

The legendary Les Ballets de Monte-Carlo captures hearts and souls with its inspiring modern rendition of Prokofiev's Cinderella at the Brooklyn Academy of Music (BAM). Led by Director Jean-Christophe Maillot, one of today's most acclaimed and talented young choreographers. The opening night performance of Cinderella by Les Ballets de Monte-Carlo at the Brooklyn Academy of Music (BAM). Cinderella will be followed by a lavish gala evening in the presence of TT.RR.HH. The Prince and The Princess of Hanover - she is known to Americans as the former Grace Kelly's daughter, Princess Caroline - and the entire Les Ballets de Monte-Carlo company. Guests will have the opportunity to bid on numerous live and silent auction items ranging from deluxe international vacations, designer jewelry, and priceless events. Proceeds to benefit Les Ballets de Monte-Carlo and the Brooklyn Academy of Music.

There will also be a public exhibit of F1 racecars representative of the long history of the Monaco Grand Prix on display in the courtyard of the New York Palace Hotel.

A Monaco Scenes & Spring Flowers exhibit by artist Joan Liebowitz will take place at Richart's midtown location. Monegasque lunches prepared by visiting chef Sylvain Etievant of Monaco's Hotel de Paris at New York's Le Cirque 2000 is sponsored by Gourmet magazine.

COMEDY TONIGHT A FUNNY MONDAY IN MAY will be hosted by Rosie O'Donnell. The benefit, to support the programs of the 92nd Street Y in Manhattan, will feature stand comedy by Joy Behar, Richard Belzer, Sandra Bernhard, Mario Cantone, Gilbert Gottfried, Judy Gold, Kevin Meaney, Colin Quinn, Freddie Roman and Sarah Silverman.

Songs will be performed by Barbra Streisand protege Lauren Frost. Additional Material by Robert Smigel of Saturday Night Life and Late Night With Conan O'Brien.

In a show of thanks to American troops serving around the world, the 92nd Street Y has arranged for Comedy Tonight to be broadcast live on tape to 177 countries and to US Navy ships around the world by the Armed Forces Radio and Television Service in cooperation with the U.S Department of Defense.

The festive attired audience will have cocktails followed by dinner, the show and a dessert reception. Ticket prices begin at $500. May 19.

KITTY CARLISLE HART, ANNE KAUFMAN SCHNEIDER AND STARS OF BROADWAY HEADLINE TALES & TUNES a Gala Benefit For the Lost Musicals Charitable Trust. Kitty Carlisle Hart, the wife of playwright Moss Hart, and an acclaimed stage, television and film actress, and Anne Kaufman Schneider, daughter of playwright/director George S. Kaufman, will introduce some lesser-known songs by Broadway's finest writers. The pair will also tell stories and anecdotes about themselves and the people associated with the songs. The songs will be performed by three of Broadway's leading ladies. The Florence Gould Hall in the French Institute Alliance Francaise, NYC. Monday, April 28.



A STOOP ON ORCHARD STREET which had its world premiere in Nashville last November starring Jack Carter ( See Broadway To Vegas column of November 24, 2002 ) steps up. Author Jay Kholos told Broadway To Vegas "we are opening Off-Broadway July 8 at the Mazer Theatre on the Lower East Side of New York. We have a promotional partnership with the Lower East Side Tenement Museum and because of their membership in the National Park Service, will also be doing co-promotions with the Ellis Island and Statue of Liberty Foundations."

"As this is a non-equity production, our production will not have a "name" but because of our tie-in with the Museum, Ellis Island, etc., and the traffic they produce on a daily basis, we are performing 12 shows per week - Tuesday through Saturday, 2PM and 8PM," continued Kholas. "We are re-casting in New York, and because of the volume of shows, we will employ two casts for the engagement which is open-ended."

ENCHANTED APRIL is a new play by Mathew Barber based upon the 1921 novel of the same name by Elizabeth von Arnim. Set in 1922 Italy and England. The play is about four unhappy British women on an Italian coastal holiday. Michael Wilson directs a cast that includes Jayne Atkinson, Molly Ringwald, Elizabeth Ashley, Michael Cumpsty, Patricia Connoly, Dagmara Dominczyk, Daniel Gerroll and Michael Hayden. Setting: Tony Straiges. Costumes: Jess Goldstein; Lighting: Rui Rita; Sound: John Gromada. Jeffrey Richards, Richard Gross, Ellen Berman, Irv Welzer and Fred Vogel produce. Officially opens at the Belasco Theatre on April 29. Our review of this play will appear next week.

THE LADIES OF THE CORRIDOR by Dorothy Parker and Arnaud d'Usseau will be staged by The Peccadillo Theater Company, artistic director Dan Wackerman, at the Bank Street Theatre, NYC May 2-25.

Ladies takes place during a year in the Hotel Marlowe on the East Sixties in New York City. The hotel is popular with "women of a certain age" who haven't fared terribly well in matters familial and romantic. Among the residents: Lulu Ames, a widow carrying on with a much younger man; Mildred Tynan, who flees an abusive husband only to partner with an alcoholic; and Grace Nichols, who intends to keep her son close at all costs.

The cast includes Kelly AuCoin, Ron Badgen, Hal Blankenship, Patrick Boyd, Peggy Cowles, Jo Ann Cunningham, Dawn Evans, Libby George, Astrit Ibroci, Susan Jeffries, Patricia Randell, Andy Phelan, Carolyn Seiff and Susan Varon.

Seldom production, although one of Parker's favorite works, there was a 2000 staging at the Tamarind Theater in Los Angeles, which starred a wheel chair bound Diana Bellamy (1943-2001), best known for her starring role as head nurse Maggie Poole in the NBC series 13 East.

The original Broadway production opened October 21, 1953 at the Longacre Theatre and closed November 28, 1953 for a run of 45 performances. The original cast directed by Harold Clurman included Vera Allen, Edna Best, Betty Field, Frances Starr, Lonny Chapman and Walter Matthau.

HELLO JERRY Performance Plus The ASCAP Foundation bring you this musical cabaret featuring the music and lyrics of Jerry Herman. The concert will feature Herman hits including Hello, Dolly!, Mame, Mack & Mabel, and La Cage Aux Folles.

Starring: Broadway composer and lyricist Jerry Herman, Emmy Award-winning singer and actress, Karen Morrow, Jason Graee, and the voice of Disney's animated heroine, Belle, in Beauty and the Beast, Las Vegas resident Paige O'Hara. Musical Direction by award-winning conductor Don Pippin.

Post-performance discussion with cast to follow. May 1, Terrace Theater Kennedy Center in Washington, DC.

BICOASTAL WOMAN by Gary Socol is having its world premiere at the Pasadena Playhouse.

In this play about opposites attracting, Glenda Mortimer is in her late forties, newly divorced and optimistic about the future. Paul Strickland is a younger man who sees in her truths that he admires and a woman he can love. Joy Lucchesi has been Glenda's best friend for years and years. She knows Glenda better than anyone. Some "truths" are meant to be hidden. How long can joy last when there is a history of defeat? Success and failure. Love and hate. In sickness and in health.

Socol's play, The Shadow of Greatness, had its world premiere at the Berkshire Theatre Festival in 2000 in a production that starred Richard Chamberlain. Many of his one-act plays, including The Bar off Melrose, have been produced in Los Angeles.

Through June 1 at the Pasadena Playhouse in Pasadena, California.

FUNNY, YOU DON'T LOOK LIKE A GRANDMOTHER based on Lois Wyse's best seller continues at the Darby Dinner Playhouse in Clarksville, Indian through May 11.

Three grandmothers make the transition from granny glasses and Red Cross shoes to the world of laptops, cell phones and kick boxing. This musical comedy redefines the look of a grandmother.

MARY TODD

Mary Todd Lincoln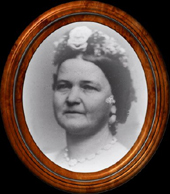 written and directed by Carl Wallnau starring Colleen Smith Wallnau as Mary Todd Lincoln, a very complex and misunderstood figure in American History.

"I would rather marry a man of mind.., with a hope and bright prospects ahead for position, fame and power, than to many all the houses of gold," proclaimed the genteel and aristocratic Mary Todd, shortly before her controversial marriage to the humble, but ambitious lawyer, Abraham Lincoln, in Springfield, Ill, in 1842. Now, more than 150 years later, the life of Mary Todd is the subject this play which premiered at the Centenary Stage Company.

The production explores the intriguing life of a woman who in her youth was said to be "the very creature of excitement." Mary Todd's life as the wife of Abraham Lincoln was destined to be mercurial. Born to an affluent family of Lexington, KY, Todd received an excellent education uncharacteristic of women in her day. She was outspoken and steadfast in her belief in her husband's abilities and potential, although their early years together brought financial struggles.

Todd's tenure in the white house as First Lady mingled misery with triumph. An extravagant entertainer, Todd set her guests at ease at opulent social gatherings in the White House, but it was in the White House that she also suffered the death of her favorite son, Willie, and then her husband's assassination as she sat in the box next to him at the Ford's theatre that fateful night in 1865.

Shattered by the death of loved ones, Todd hovered between depression and a tortured fear of poverty. In 1875, Todd's son Robert brought insanity proceedings against his mother, which led to a four-month residency in a private sanitarium. To this day the question of Mary Todd's "sanity" is the subject of speculation. In July of 1876, with the help of a political ally, Todd received a new hearing and another jury declared her "sane." Mary Todd died in 1882 in Springfield, Ill, in the same house from which she walked out as the spirited and hopeful bride of Abraham Lincoln, 40 years before.

Opened April 24 with performances through May 17 at the Samuel Beckett Theatre, NYC.


WHO'S WHERE


BOB DYLAN performing at the person venue, The Trap in Nashville on April 29.

THE EIGHTH ANNUAL BIG SUR JAZZ FESTIVAL will take place at various venues in and around Big Sur during the first weekend in May. Contemporary and traditional jazz sounds by national, local and regional artists. This year's festival features performances by Renee Marie Quartet, Quetzal, Bruce Forman's JazzMasters, the Big Sur Natives, and many more. Big Sur, California.

KEELY SMITH at Feinstein's at the Regency April 29-May17.

ELTON JOHN AND BILLY JOEL have canceled their April 28th engagement slated for Toronto at the Air Canada Centre. Blame SARS. On Wednesday the show is in Rosemont, Illinois at the Allstate Arena and on Friday the guys open a two nighter in the Palace of Auburn Hills in Auburn Hills, Michigan.

HOOTIE AND THE BLOWFISH in the spotlight at The Peace Center in Greenville, South Carolina on May 1.

PAUL ANKA one of our favorites, performs Friday at Casino Magic in Bay St Louis, Mississippi and next Sunday in Winston-Salem, North Carolina at the Reynolds Auditorium.

JOHN PRINE on stage Friday in Roanoke, Virginia at the Roanoke Civic Center. On Saturday he is performing at the War Memorial Auditorium in Greensboro, North Carolina.

TONY BENNETT in the spotlight at the Palace Theatre in Albany, New York on May lst. On Saturday he is centerstage in Atlanta, Georgia at the Music Midtown Festival.

ROD McKUEN who has recorded 249 albums, of which 73 went platinum, kicks off his cross county tour performing at Carnegie Hall on April 30th during which time he'll celebrate his 70th birthday on stage.

THE MANHATTAN TRANSFER on their 30th anniversary tour, stop at BB King's Blues Club in New York City May 1-4.

PETER CINCOTTI can be enjoyed in Raleigh, North Carolina at the Stewart Theatre on May 5. On May 6 Cincotti's repertoire of jazz standards and traditional ballads will provide the soundtrack for the black-tie gala at the Telfair Museum for the American Business Media convention in Savannah, Georgia.

ARLO GUTHRIE performing Saturday at the Hyde Cultural Center in Woodstock, Conn.

ELLEN DeGENERIS making people laugh tonight at the Benedum Center in Pittsburgh. On Monday she will be telling funny stories at the State Theatre in New Brunswick, NJ. On Thursday she begins a two nighter at the Beacon Theatre in New York.

TIM McGRAW performing April 29, Pepsi Center, in Denver.

CHICK COREA April 30-May 1 Cervantes in Denver.


PIFFLE AND PROFUNDITIES


JON VOIGHT currently starring in the movie Holes began his career on Broadway. He spent 10 months appearing as the telegraph boy in The Sound of Music at the Lunt-Fontaine Theatre. The production starred Mary Martin and Theodore Bikel.

CARSON HOME ON E-BAY Jim Pruett of Brandon, S.D., and Rick Runge of Sioux Falls, S.D. bought the Nebraska boyhood home of Johnny Carson for $150,000 in March. They have spent the last two months restoring it to the way it looked in the 1940s in hopes of turning it into a bread and breakfast or making a profit by aligning the purchase with a museum (See Broadway To Vegas column of April 13, 2003 ) Now they have decided to dump the place. They plan to list it tomorrow, April 28 on E-Bay.
















Next Column: May 4, 2003
Copyright: April 27, 2003. All Rights Reserved. Reviews, Interviews, Commentary, Original Photographs or graphics from any Broadway To Vegas (TM) columns may not be published, broadcast, rewritten, utilized as leads, or used in any manner without permission, compensation and/or credit.
Link to Main Page
---
Laura Deni


CLICK HERE FOR COMMENT SECTION