! >
Broadway To Vegas
  
  REVIEWS INTERVIEWS COMMENTARY NEWS

| | |
| --- | --- |
| | |
CIRCUS:UNDER THE BIG TOP - - A BRIDGE FOR ROBIN WILLIAMS - - DAMES AT SEA CD REVIEW - - JAMES AND THE GIANT PEACH BECOMES A PERMANENTLY FREE DOWNLOAD - - TONY AWARD NOMINATIONS - - A SPECIAL PERFORMANCE OF THE BULLY - - HERE'S TO THE GIRLS!: HOLLYWOOD'S LEADING LADIES - - VOICES OF HOPE AT NORTH SHORE MUSIC THEATRE - - DONATE . . . Scroll Down




Copyright: April 26, 2015
By: Laura Deni
CLICK HERE FOR COMMENT SECTION


ALL AT SEA? GRAB THIS DAME
Dames at Sea the original 1969 London cast recording of the musical, has been released by Masterworks Broadway, accompanied by new album pages. This is the first time that this original recording has been reissued.

Book and lyrics by George Haimsohn and Robin Miller. Music by Jim Wise.

Smart, clever, effervescent and funny!

The musical is a parody of large, flashy 1930s Busby Berkeley/Ruby Keeler/Dick Powell film-style movie musicals in which an understudy steps into a role on Broadway and becomes a star. The musical was originally a short sketch, lengthened to a 50-minute production. It first played Off-Off-Broadway in 1966 at the Caffe Cino, starring newcomer Bernadette Peters and then played Off-Broadway beginning in 1968 for a successful run. The show has enjoyed a London run, a television adaptation and a number of revivals.

On August 27, 1969 Dames at Sea, opened at London's Duchess Theatre, where it ran for 127 performances. This CD is original cast recording of that mounting.

An English cast in a lively but distinctive interpretation of the show, under original director/choreographer Neil Kenyon, with orchestral arrangements that differ from those created for the Off-Broadway cast recording.

The performers speak stage English and, thus, are easily and distinctly understood; rather than uttering the normal London clenched jaw, drop-a-vowel-and-consonant street speak.

The cast of six are extremely talented performers, with excellent voices and personalities, are perfect for this type of show.

Sheila White as Ruby, Joyce Blaire as Mona Kent, Rita Burton as Joan, Kevin Scott as Hennessey/The Captain, Blayne Barrington as Dick, William Ellis as Lucky.

While Dames At Sea is what gave Bernadette Peters her start, nineteen-year-old White wasn't a newcomer. She played Brigitta in The Sound of Music in London and, in 1969, had just appeared in the Oscar-winning film Oliver! as Nancy Sykes's best friend. White was lauded for offering a pixie quality to the optimistic showgirl Ruby.

From a trumpet, piano and drum calling all on board, there is no doubt that this is going to be an upbeat, frothy listen. Frequently, a song will start out with a few of bars of a well known piece - and the smoothly transition into the camp.

It's 20's jazz, upbeat ruckus, complete with the New York accent in Wall Street. The dancing taps are easily heard and serve as another musical instrument.

You don't need to have seen the show to enjoy this CD. The lyrics give a clear insight into the plot. This was constructed as a cabaret show, so don't expect a full orchestra with sweeping orchestrations. Limited musicians with enormous talent bring this score to life. While spoofing the large, lavish movie musicals, the cabaret version pulled it off with a cast of six, 2 pianos and percussion on a tiny stage. While the cast has stayed at six, the London version was augmented with a few other instruments. The only down side is that the few but mighty musicians aren't given any name credit.

That Mister Man of Mine is about the rich guy she loved who lost it all in the crash of '29. It's a spoof on The Man I Love.

The orchestrations by Bill Shepherd deliver not only listening pleasure but visualization of Busby Berkley showgirls walking down the staircase. It's campy, cute.

When they let loose with Good Times Are Here to Say you optimistically believe it.

The rollicking Dames At Sea has a line where they guys sing they need a skirt to boost their moral - something this CD does from first note to the last.

The Beguine performed by Joyce Blair as Mona, and Kevin Scott in his dual role as The Captain, is hilariously, over the top melodramatic.

In a change of tempo Sheila White as Ruby offers Raining in My Heart - with parody lyrics "I need that guy to keep me dry," delivers a dual musical message - managing to merge camp and tender. Ruby is brokenhearted.

The muted horn brings in There's Something About You sung by Dick and Ruby which demonstrates that - if you are going to write satire, camp and cute - you'd better know what you're doing. The song first has to be good and then you twist the lyrics to get the laughs, and then the orchestrations meld for the ambiance and musical pleasure. There isn't a weak song or performance in this production.

While Star Tar makes you wonder if Ruby can walk and chew gum at the same time, there is no doubt that her performance is top of the fleet. So is her dancing. The taps are so distinct that you can visualize the movement - although what is in your head may not be what choreographer Neal Kayton had in mind. Doesn't matter. This is a fun, perky, feel good listening pleasure. No important social statements. No serious subjects to keep you from getting to sleep. Nothing to opine about in the morning. Just fun. Many times that's what is needed.

Producer produced by Norman Newell. Engineer Peter Bown. Director Neal Kenyon. Music Director Ray Bishop.






Broadway To Vegas is supported through advertising and donations. Priority consideration is given to interview suggestions, news, press releases, etc from paid supporters. However, no paid supporters control, alter, edit, or in any way manipulate the content of this site. Your donation is appreciated. We accept PAYPAL. Thank you for your interest.






ART AND ABOUT


CIRCUS: UNDER THE BIG TOP a new exhibition featuring all the science behind "the greatest show on Earth!" opens Saturday, May 2, 2015 at the Reuben H. Fleet Science Center in San Diego, CA.

is unveiling an exciting new summer exhibition. CIRCUS: Science Under the Big Top is coming to San Diego, opening Saturday, May 2, 2015! ­Billed as "a family-friendly exhibition that features twenty multi-station interactive exhibits that delve into everything from clown makeup to the art of contortion to animal communication. Explore the science behind the spectacle while learning the tricks of the sword swallower, uncovering the illusion of the flea circus and discovering the psychology of common circus sounds."

Visitors can test how their center of gravity works on the Balance Bar. The Feats of Strength exhibit shows how leverage, compression and tension are used to do the seemingly impossible. Experiment with The Human Cannonball to learn how the angle and thrust of an explosion can dictate where an object lands. Visitors can experience the science and math involved in juggling and acrobatics, or just have fun clowning around.

The exhibition has something for everybody. Youngsters will enjoy pretending that they've joined the circus at the Circus Costume Station, where they can dress up like a ringmaster, a lion or a bear. Older kids will revel in the "daredevil" elements of the exhibition, such as Elastic Acrobatics and The High Wire. The Elastic Acrobatics exhibit will give visitors the chance to practice their best mid-air tricks from the safety of a harness. For the High Wire, adventurous visitors 46 inches or taller will strap into a harness six feet above the ground and test their balance by walking across the nine-foot long wire.

The Fleet is also adding a Sideshow Science performance to the current Don't Try This at Home live science show. Beginning May 2, the Fleet's team of science demonstrators will delve into the science behind many popular circus feats. Sideshow Science will be in addition to the current rotation of Don't Try This at Home shows: Too Loud, Too Messy and Too Shocking. CIRCUS: Science Under the Big Top was developed by the Ontario Science Centre in Toronto, Ontario, Canada. It will be featured at the Reuben H. Fleet Science Center through September 7, 2015.

LOUD

Miwa Yanagi Yuka 2000, printed 2007 from the series My grandmothers, type C photograph face-mounted onto Diasec, 160 × 160 cm, purchased with funds provided by Geoff Ainsworth AM 2014 © Miwa Yanagi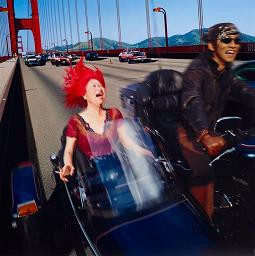 Photographs of women by women, from the Gallery's collection.

Commanding and demanding, this compelling group of works has both a humorous and a dark side. Most have been acquired recently and are being shown for the first time.

Artists include Miwa Yanagi, a Japanese photographic artist; Yvonne Todd who is known for her sensitive animal portraits; and Anne Zahalka, considered one of Australia's leading photomedia artists, among others.

The exhibition examines the importance of photography as a medium for the construction of personas and the tension between photographic truth and its willful manipulation.

Featuring works from Australia and overseas, Loud! also celebrates the 40th anniversary of International Women's Year, 1975.

April 25-July 5, 2015 at the Art Gallery, New South Wales in Sydney, Australia.





SWEET CHARITY


GOSPELL presented by Voices of Hope at North Shore Music Theatre. Proceeds from the show go to the Termeer Center for Targeted Therapies at the MGH Cancer Center.

Godspell was the first major musical theatre offering from 3-time Grammy and Academy Award winner Stephen Schwartz; and it took the world by storm. Led by the international hit, Day By Day, Godspell features a parade of beloved songs including Prepare Ye The Way Of The Lord, Learn Your Lessons Well, All For The Best, All Good Gifts, Turn Back, O Man and By My Side.

Pre-show silent auction, following by the show and a post show reception with the stars.

Saturday, May 2, 2015 at the North Shore Music Theatre in Beverly, MA.

RODGERS AND HAMMERSTEIN GALA: SOME ENCHANTED EVENING takes place Friday, May 1, at the Walnut Street Theatre in Philadelphia.

The King and I, South Pacific, The Sound of Music, Oklahoma, and more. Philly stars will sing your "Favorite Things" from the Rodgers and Hammerstein songbook. This celebration of classic musical theatre supports the Walnut's Arts in Education Programs, now serving over 155,000 students and families each year.

Every ticket includes a glass of wine served in a Walnut Street Theatre souvenir glass.

CABARET AND KARAOKE a celebration to benefit Zoetic Stage in Miami, Florida took place Friday, April 24 in the home of Frank and and Rubino. Hosted by CBS4's Cynthia Demos the evening included cabaret performances by some of South Florida's top performers - followed by the opportunity for the gusts to sing as well. There was an Open Bar - Food by Joanna's Marketplace - Misha's Cupcakes and a silent auction.

Proceeds support programming and education at Zoetic Stage.


JAMES AND THE GIANT PEACH BECOMES A PERMANENTLY FREE DOWNLOAD
A cast recording of the new musical based on the Roald Dah's classic James and the Giant Peach has been released as a permanently free download at jatop.com

Tony-nominated songwriters Justin Paul and Benj Pasek and playwright Timothy Allen McDonald are providing the free download.

"We wanted to get kids really excited about musical theater. We knew we had to write a really strong show, record the best album possible with Broadway's top performers and then give it all away for free," says Paul. "This incredible cast came on board because they shared our vision that we could use this music to draw young people to the thrill of musical theater," adds Pasek.

"I am so happy that this show is available to any child young or old who wants to download it. It seems fitting that Roald Dahl's story is helping make the world a better place for musical theater everywhere," says McDonald.

The score includes songs in a wide range of musical styles, ranging from swing, vaudeville, gospel and scat.

Roald Dahl's James and the Giant Peach tells the story of a young orphaned child who finds a loving family in a most peculiar way. Sent by his mean, conniving aunts to chop down their old fruit tree, James discovers a magic potion that results in a tremendous peach occupied by some not-so-normal characters. From the center of the gigantic fruit, James and the unlikely crew launch a journey of enormous proportions. Together they discover that while we are all born into a family, we then go on to create a family of our own.

The album features performances by stars from the stage and screen: Megan Hilty as Ladybug ; Christian Borle as Grasshopper; Brian d'Arcy James as Centipede; Jackie Hoffman as Spiker; Mary Testa as Sponge; Luca Padovan as James, Marc Kudisch as Ladahlord; Daniel Breaker as Earthworm; and Sarah Stiles, as Spider, with bonus tracks by Skylar Astin and Megan Hilty.

The musical has been acquired for licensing in the Theatre for Young Audiences (TYA), student and community theater markets by Music Theatre International (MTI).

The Dahl family and the Dahl estate have been part of the show's transformation from the page to the stage. McDonald first collaborated with the Dahls when he and Leslie Bricusse were selected to adapt Charlie and the Chocolate Factory into a musical. The show premiered in 2004 at the Kennedy Center, enjoyed a two-year U.S. tour and was performed at the White House.

The Roald Dahl's James and the Giant Peach cast album is executive produced by Timothy Allen McDonald, and produced by Dan Rudin, with orchestrations by August Eriksmoen, vocal arrangements by Justin Paul, and incidental music by David Weinstein. The album was recorded and mixed by Dan Rudin.


SPREADING THE WORD


A SPECIAL PERFORMANCE OF THE BULLY takes place Saturday, May 2nd.

The Ivoryton Playhouse in Ivoryton, CT has received a substantial grant to produce, present and transport students to the Ivoryton Playhouse to see The Bully, a dynamic musical with a strong anti-bullying theme.

Lenny is the smartest kid at Wilson Middle School and Steve is the school bully. Lenny makes fun of Steve in math class and Steve bullies Lenny in gym class, on the bus, at lunch…well you get the idea! One day a bus mix-up leaves the two boys stranded at the Weltbottom School where they both get picked on for being the "new kids." Taunted by the terrifying "Mega," and her lackeys, the boys learn what life is really like for the other. They decide to work together and make a plan to get back to their own school. But before than can escape Meg catches them. The boys stand up to her and Meg realizes that she doesn't have any real friends at this school – just kids who are scared of her. She helps them get back to Wilson Middle School. Back in gym, Lenny faces the rope climb, and the kids tease him as usual. Will Steve and Meg stand up for their new friend or join in with the bullies?

The script for the one-hour play was written by David L. Williams, a graduate of the theatre department of Cornell University.

Music and lyrics by John Gregor, a composer and lyricist who also worked on Pinkalicious The Musical.

Working with schools in Middlesex County: The Bully was written specifically for grades 5 & 6 and is a valuable addition to literary and social development programs. The New York Times reviewed the original production noting that The Bully "like the best kind of teacher, nudges children toward the truth and then lets them discover it on their own."

THE ROAD OF PROMISE Music by Kurt Weill. Libretto by Franz Werfel. Adapted by Ed Harsh.

Conductor and Director by Tony Award winner Ted Sperling.

The Road of Promise is a new concert adaptation of Kurt Weill and Franz Werfel's epic 1937 stage spectacle, The Eternal Road, featuring a cast of world-renowned singers and a 200-voice chorus and symphony orchestra.

Like the original stage work, The Road of Promise combines a story about a synagogue under threat of persecution with defining stories from the Old Testament.

As the congregation awaits their fate, a 13-year old boy appears who knows nothing of his Jewish heritage or faith. The Rabbi enlightens him and gives the community strength by recounting the stories of Abraham, Jacob, Joseph, Miriam, Moses, Ruth, Isaiah, and more, all of which come alive through Weill's magnificent musical score. The young boy listens to the stories unfold and emerges as the new hope for his people.

The concert will feature Anthony Dean Griffey, Mark Delavan, Philip Cutlip, Lauren Michelle, Megan Marino, AJ Glueckert, Justin Hopkins, Ron Rifkin, and Eli Tokash.

The May 7 performance will include a special pre-concert talk presented in partnership with the Museum of Jewish Heritage. Artistic Director Ted Sperling chats with adapter Ed Harsh about the background, historical context, and glorious musical content of this piece.

Both performances will be recorded live at Carnegie Hall for release on the Navona Records label, distributed by Naxos Records. May 6-7 at Carnegie Hall in New York City.

Regarding the recording, Edward Barnes, Producing Director of the recording, provided Broadway To Vegas the following recording details:

Solo Singers: Anthony Dean Griffey, Mark Delavan, Philip Cutlip, Lauren Michelle, Megan Marino, AJ Glueckert, Justin Hopkins - Solo Actors: Ron Rifkin, Eli Tokash.

Carnegie Hall Recording Studio - recording the work live in the hall (Leszek Wojcik, Recording Studio Manager).

2nd Story Sound - edit and mix (Scott Lehrer, engineer.

Parma Recordings - mastering the recording; designing all graphics for CD jacket cover, liner notes; manufacturing the hard copies of the recording (CDs); marketing the recording; recording will be released on Parma's Navona label (Bob Lord, CEO; Sam Renshaw, Vice President A & R, Chris Robinson A & R rep.

Naxos Records - distributing the recording worldwide.

THE TALL BOY a free, staged reading by by Simon Bent. Based on The Lost by Kate Boyle. Directed by David Hammond.

Starring Tandy Cronyn.

A compelling tale of displaced children in the aftermath of WWII. Swept up by US Army units and outfitted as G.I. mascots, three boys are dumped at a Displaced Persons camp after their G.I. units are shipped back to the States. The American relief workers are tasked with repatriating the boys to their countries of origin, but the boys have come to see themselves as American soldiers and yearn to follow their buddies "home" to the USA.

Tuesday, May 5 at Guild Hall in East Hampton, NY.

FROM PAGE TO SCREEN TO STAGE 92Y presents an evening of conversation and musical performances from the cast and creative team of the new Broadway musical Doctor Zhivago, as they discuss bringing this timeless tale of romance and revolution to the Broadway stage. Stars Tam Mutu (Yurii Zhivago) and Kelli Barrett (Lara Guishar) perform songs from the new show; they also join two-time Grammy winner and Tony nominee, composer Lucy Simon and director rony Award winner Des McAnuff to discuss bringing Boris Pasternak's classic tale to the stage.

The conversation is moderated by Howard Sherman, U.S. correspondent for The Stage in London.

Based on the Nobel Prize-winning novel and the Academy Award,-winning classic, Doctor Zhivago is heartbreaking epic romance, revolving around the search for love during the final days of Czarist Russia. Raised as an aristocrat, Zhivago is a political idealist, physician, and poet whose life is tossed by the tides of history as he is torn between a life with his close childhood friend and wife, and the passionate and mysterious Lara. Zhivago, however, is not alone in his yearnings for Lara, and must compete with both revolutionaries and aristocracy alike to win the heart of the woman he cannot live without. Doctor Zhivago opened April 21 at the Broadway Theatre in New York City.

Sunday, May 3, at the 92Y in New York City.

GROUNDHOG DAY a new stage musical based on the 1993 film which starred Bill Murray, will have its world premiere at the Old Vic in London next year, helmed by Matthew Warchus who received the venues' artistic director mantle from retiring honcho Kevin Spacey. Serving 11 years as artistic director, Spacey saved the place.

On board for Groundhog Day are composer and lyricist Tim Minchin, choreographer Peter Darling, and designer Rob Howell - who will work with the film's co-writer Danny Rubin.

Minchin, who wrote the music and lyrics for West End hit Matilda, announced a year-and-a-half ago that he was working on turning the classic movie comedy into a musical. Also involved from the get-go - Rubin, who wrote the film script, and Warchus.

Minchin, who first disclosed the news in 2014 on his blog, said: "Our version of Groundhog Day is going to be both instantly recognizable, and utterly different."

It tells the story of grumpy TV weatherman Phil Connors who is sent to the small town of Punxsutawney, Pennsylvania, and gets stuck in a time loop, having to live the same day over and over again.

It will premiere at The Old Vic in June 2016, then transfers to Broadway.

92Y'S LYRICS & LYRICISTS presents All Dancing! All Singing! Irving Berlin in Hollywood. The First L&L Dance Revue.

Lyrics & Lyricists states: "We're reaching for the moon, putting all our eggs in one basket, dancing cheek to cheek and pouring our hearts into a song, because it's time to face the music and dance! All Dancing! All Singing! is the first Lyrics & Lyricists dance revue, celebrating Irving Berlin's contributions to Hollywood musicals.

Artistic director/choreographer Randy Skinner directs a cast of hand-picked young vocalists/dancers - Darien Crago, Danny Gardner, Drew Humphrey, Kristie Kerwin, Con O'Shea-Creal and Kristen Beth Williams - who are joined by veterans Sandy Duncan and Don Correia as special guests.

"Irving Berlin had a profound effect on how movie musicals were made, with his rhythmic, danceable songs created especially for film," notes Randy Skinner. "The groundbreaking work he did with Fred Astaire and Ginger Rogers led to some of the most famous dance numbers in film history - like Cheek To Cheek and Let's Face the Music and Dance - by marrying song and dance in a brand new way." The show focuses on the songs by Berlin that premiered in movies and follows his journey through the studios he worked for, such as RKO, Paramount and MGM. The dance numbers feature tap, ballroom, jazz and a couple of the dance crazes Berlin's music started.

Fred Lassen, Music Director. Barry Kleinbort, Writer. Rob Berman, Dance Arrangements. Mary Giattino, Associate Director and Associate Choreographer.

Performances are May 2, 3 and 4 at 92Y in New York City.

BRIDGE NAMING The California State Assembly has approved a bill that would rename the Rainbow aka Waldo Tunnel, the tunnel that connects the Golden Gate Bridge to Marin County after the late comedian Robin Williams, who used the tunnel on his frequent commutes and joked about it in his act.


OTHER PEOPLE'S MONEY


ACTORS' EQUITY ASSOCIATION has ruled that 99-seat theaters in Los Angeles must pay actors no less than minimum wage - currently $9 a hour, despite opposition from their own membership who voted 2,046 to 1,075 against their union's plan.

The ruling from the national council will exempt from the minimum wage rule "theaters with 50 seats or fewer, where the budget for the production does not exceed $20,000, for up to 16 performances."

FLOYD MAYWEATHER JR-MANNY PACQUIANO fight tickets - what handful there were that went on sale Thursday, April 23, sold out in less than two minutes.

Prices were $1,500 to $7,500. Only 500 of the 16,700 MGM Grand Garden Arena seats were available to the general public. The MGM Grand and the two fighters control the rest of the seats, which are expected to be filled by high rollers and A-listers from the worlds of celebrity and sports.

Charities will benefit from the $10 tickets sold for the official weigh-in. The receipts will be split 50-50 between the Susan G. Komen Foundatoin, which is Mayweather's charity of choice and the Cleveland Clinic Lou Ruvo Center for Brain Health, Pacquiao's choice.

Called The fight of the Century the title fight takes place May 2.



LAUREN WAINWRIGHT has been announced as the new Executive Director of the Tectonic Project based in New York City.

Wainwright iis currently the Managing Producer of The Foundry Theatre and will assume her full-time duties at Tectonic on May 6, 2015. Wainwright, a former corporate lawyer, received her MFA in theater management from Yale School of Drama where she served as Associate Managing Director of Yale Repertory Theatre, General Manager of the Yale Institute for Music Theatre, and Yale Fellow at Steppenwolf Theatre Company in Chicago. As an attorney she served as Vice President and Associate General Council at Goldman Sachs and, prior to that, as an Associate at Sullivan & Cromwell LLP. She earned a BA in Classics from Wesleyan University and a JD from Boston College Law School.

TONY NOMINATIONS for the American Theatre Wing's 2015 Tony Awards will be announced on Tuesday morning April 28, 2015.

Broadway To Vegas will post the nominations at that time.

For a complete list of the nominees click here


CURTAIN DOWN


THE HEIDI CHRONICLES the first Broadway revival of Wendy Wasserstein's Tony Award and Pulitzer Prize-winning play will shutter May 3, 2015. The production officially opened at the Music Box Theatre March 19 following previews that began February 23.

The production will have lost its entire capitalization, which was almost $4 million.

Upon closing, the production will have played 80 performances. The original Broadway mounting played 630 performances.



MAMIL (MIDDLE AGED MAN IN LYCRA) by Mark Hadlow.

Directed by Gregory Cooper.

In this one man show, Mark Hadlow plays Bryan Cook, a property developer who has accumulated a small fortune building leaky homes.

He's a stressed out, self- medicating, self-loathing arse, killing himself to increase his bank balance while decreasing his golf score. When his business and life fall apart thanks to the global financial crisis, he joins a men's cycling group to relieve stress and get healthy.

Ultimately faced with his own mortality, he makes a few startling discoveries in various cracks and crevices.

A show that knows no geographical boundaries (it is a universal truth that everyone has an opinion of the MAMIL) this is a sharply comical look at one of the most polarizing of species – the Middle Aged Man in Lycra.

May 2– 16, 2015 at the Fortune Theatre in Dunedin, New Zealand.

ABIGAIL/1702 by Roberto Aguirre-Sacasa.

Whatever happened to Abigail Williams? It's 1702, a decade after The Crucible's infamous seductress danced with the devil in Salem. Imagining the destiny of the immortal stage villain who cried "Witch!." "This thrilling next chapter finds Abigail living under an assumed name in a village far from Salem, trying to start afresh. But now her past is about to catch up with her."

Winner of the 2012 Edgerton Foundation New American Play Award.

The West Coast premiere takes place April 29-May 24, 2015 at the International City Theatre in Long Beach, CA.

OPERA: A CERTAIN QUIET libretto adapted by Rina W. Elisha from La Strana Quiete by Italian playwright Renato Mainardi. Composed by Haim Elisha who was artistic Director of Rockland Opera for 24 years.

Directed by Rina W. Elisha, a recipient of Artists' Fellowship Award in Playwriting/Screenwriting from the New York Foundation for the Arts.

This contemporary opera, commissioned by Theater for the New City and composed with support grants from the National Endowment for the Arts and the NY State Council on the Arts, is a work for eight singers and a chamber ensemble.

Its libretto centers on a love triangle clinging to a life of utopian isolationism. Olympia, Gaia and Dino are lovers under the same roof. Dino accepts them both while pursuing a physical relationship with a young nymphet. An unspoken attraction between Gaia and Olympia cements the peace. The calm is interrupted by the arrival of uninvited guests - Carla the impetuous young lover, and Raimondo, Olympia's former lover returning from abroad. Circumstances conspire to disrupt the peace as the various players congregate at a celebration for the New Year. Will the house break apart? Or will a certain quiet be restored?

April 30-May 17, 2015 at the Theater for the New City in New York City.

HIGH SOCIETY Music and lyrics by Cole Porter. Book by Arthur Kopit. Additional Lyrics by Susan Birkenhead. Based on the play The Philadelphia Story by Philip Barry.

Also based on the Turner Entertainment Company motion picture High Society.

Directed by Maria Friedman.

Featuring musician Joe Stilgoe performing music with the High Society Band.

Music director is Theo Jamieson.

The musical stars Kate Fleetwood as Tracy Lord, Barbara Flynn as Margaret Lord, Jamie Parker. as Mike Connor, Rupert Young as C. K. Dexter Haven, Annabel Scholey as Liz Imbrie, Ellie Bamber as Dinah, and Joe Stilgoe as Joe.

Long Island socialite Tracy Lord is planning her lavish summer wedding when her ex-husband appears to try and win her back. His unwelcome arrival threatens to disrupt proceedings. When tabloid reporter Mike Connor arrives to cover the nuptials, he too takes a shine to the bride-to-be. But which of these three suitors will she choose?

Tom Pye will design the production, which will feature lighting design by Peter Mumford, choreography by Nathan M Wright, orchestration and arrangements by Christopher Walker, Sound by Simon Baker, and casting by Maggie Lunn and Ensemble casting by Will Burton..

High Society runs at the Old Vic in London from April 30 to August 22. This is the final production performed as part of the venue's in-the-round season.

Special events include Dress to Impress nights! For performances of High Society on May 23 and June 13 "we're encouraging audience members to don their glad rags and join us in their best garb - accompanied by live piano music and flowing champagne it's sure to be a 'swellegant' evening! 'Dress to Impress' package tickets include a glass of champagne and a program."

I LOVE A PIANO Music and Lyrics by Irving Berlin. Conceived by Ray Roderick and Michael Berkeley.

This musical follows the journey of a piano as it moves in and out of American lives from the turn of the century to the present. Irving Berlin's classic songs include Blue Skies, There's No Business Like Show Business, Puttin' on the Ritz, How Deep is the Ocean, and, of course, I Love a Piano.

Called "Alternately heartbreaking and hilarious," I Love a Piano is a fitting tribute to the man Jerome Kern famously said had 'no place in American music – he is American music.'

April 28 – June 28 Independence Studio on 3. Walnut Street Theatre in Philadelphia.

A MAD WORLD MY MASTERS by Thomas Middleton.

Edited by Sean Foley and Phil Porter.

Music by Ben and Max Ringham.

"Set in the seedy surroundings of 1950s Soho, Richard Follywit turns con man to fool his rich uncle - variously becomes a lord, a high-class call girl and – God forbid – a poor actor. But beautiful Soho tart, Miss Truly Kidman, is also on the scam: a whore to some, a religious instructor to others, and a debutante in need of an eligible bachelor. In this mad, boisterous world, glamor rubs up against filth, and likes it; the posh mix with musicians, prostitutes and racketeers; and a dashing bachelor in need of quick cash is forced to live on his wits."

Featuring a live 1950s-style band.

Royal Shakespeare Company/English Touring Theatre at the Barbican in London April 29-May 30, 2015.

FAIRFIELD written by Eric Coble.

Directed by Laura Kepley.

"Peace. Love. Respect for all. So goes the motto of Fairfield Elementary, a public school located in a diverse, liberal district. But when a young teacher's misguided attempts at celebrating Black History Month take a hilariously dark turn, chaos erupts and it seems it may be impossible to safely reach the 'CelebrEthnic Potluck.'"

Fairfield is billed as a "a razor-sharp, insightful comedy from Cleveland playwright Eric Coble that examines how we each determine what's appropriate and inappropriate, and whether We Shall Overcome"

May 1-31 at the Cleveland Playhouse in Cleveland, Ohio.


WHO'S WHERE




JAY LENO returns to his roots of stand-up comedy, connecting with and charming fans all over the world with his "everyman" style and hilarious take on current events. He'll be making his Palace Theatre debut on Saturday, May 2, in Stamford, CT.

NEW KIDS ON THE BLOCK begin their tour with a stop Friday, May 1, at Mandalay Bay Events Center in Las Vegas. On Saturday the show is at the Honda Center in Anaheim, CA. Next Sunday they stop at the SAP Center in San Jose, CA.

PLYMOUTH PHILHARMONIC ORCHESTRA Spring Pops! The Reel Thing with Steven Karidoyanes, conductor. Celebrating Hollywood's great film music from Back to the Future, The Sound of Music, Titanic and more – plus a musical Tribute to John Williams. Lyndsey Jones will sing Adele's Academy Award winning song to the James Bond thriller, Skyfall. Saturday, May 2, 2015, Memorial Hall, Plymouth, MA.

SANDI PATTY a five time Grammy Award winner, will perform her Broadway Stories concert presentation on Sunday, May 3, at Kean University's Enlow Recital Hall at Kean University's in Hillside, NJ,

AN ACOUSTIC EVENING WITH LYLE LOVETT & JOHN HAITT takes place Friday, May 1, at the State Theatre of Ithaca, New York.


FINAL OVATION


SAWYER SWEETEN who appeared with his twin brother and older sister on the hit television series Everybody Loves Raymond, committed suicide on Thursday, April 23, 2015. He was 19.

He shot himself on the front porch of his family's home in Texas.

Sawyer and his siblings started on the show when it began in 1996. Sawyer and his twin were just 16 months old. The children remained with the program through its 2005 run.

Based on lead actor Ray Romano's stand-up routines, the show was primarily about his strained relationship with his parents and his brother.

Sawyer played Geoffrey Barone in the hit show, which also featured his twin brother Sullivan as Michael Barone and older sister Madylin as Ally Barone.

Romano, 57, said in a statement: "I'm shocked, and terribly saddened, by the news about Sawyer. "He was a wonderful and sweet kid to be around. Just a great energy whenever he was there. "My heart breaks for him, his family, and his friends during this very difficult time."

Patricia Heaton, who currently stars on the hit show In The Middle played Sweeten's mother on the Everyone Loves Raymond series. she paid tribute on Twitter, saying: "Sawyer Sweeten was a funny and exceptionally bright young man. He is gone from us far too soon. "The entire cast of Everybody Loves Raymond is in shock."

Doris Roberts, who played Sweeten's grandmother, posted on her Facebook page that Sweeten "was a very sweet young man who will be dearly missed."

















Next Column: May 3, 2015
Copyright: April 26, 2015 All Rights Reserved. Reviews, Interviews, Commentary, Photographs or Graphics from any Broadway To Vegas (TM) columns may not be published, broadcast, rewritten, utilized as leads, or used in any manner without permission, compensation and/or credit.
Link to Main Page
---
Laura Deni



For the snail mail address, please E-mail your request.
CLICK HERE FOR COMMENT SECTION