! >
Broadway To Vegas
  
 SHOW REVIEWS CELEBRITY INTERVIEWS GOSSIP NEWS



| | |
| --- | --- |
| | |
THE SEDUCTIVE POWER OF RELIGION - - MICHAEL JACKSON'S LIFE BECOMES A CIRQUE DU SOLEIL - - ROUND AND ROUND THE GARDEN - - SISTER ACT NUN RUN 2010 - - GIRLFRIEND EXTENDED - - 2010 LIFETIME ACHIEVEMENT TONY AWARDS - - THE ANNIE & ELI SECOND STAGE DEDICATION - - MARCUS ADAMS' ROYAL PHOTO COLLECTION ON DISPLAY - - DONATE . . . Scroll Down


THE SEDUCTIVE POWER OF RELIGION
South Park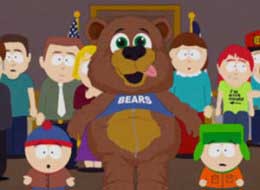 Women are blamed for earthquakes, artistic types are threatened, and a blue-eyed blond American goes on trial as a terrorist.

All in the name of religion.

Radial Muslin groups warned the Emmy-award winning South Park creators Trey Parker and Matt Stone that they could face violent retribution for depicting the prophet Muhammad in a bear suit.

"We have to warn Matt and Trey that what they are doing is stupid and they will probably wind up like Theo Van Gogh for airing this show," Al-Amrikee wrote. "This is not a threat, but a warning of the reality of what will likely happen to them."

Theo Van Gogh was a Dutch film producer famous for his controversial statements and movies. He was born in 1957 and was shot and stabbed to death by an extremist in 2004.

In the following South Park episode the bear suited Muhammad was set to appear again, but was replaced by Santa Claus in a bear suit and the word "CENSORED" plastered over parts of the episode. Every mention of Muhammad was bleeped out. Pundits speculated whether this was intended to protect the show's creators or if it was executed by them to mock the hoopla. The answer appears to be - both.



Trey Parker and Matt Stone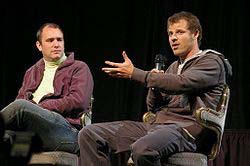 Parker and Stone are the same talented duo who have taken aim at the Mormon Church with a musical called The Book of Mormon, set to premiere on Broadway in March 2011.

The Book of Mormon centers on two young Mormon missionaries sent to Uganda to spread the gospel of the church, which is formally known as the Church of Jesus Christ of Latter-day Saints. A subplot revolves around Joseph Smith Jr., the church founder.

Calling it "a dream come true for us," Parker and Stone said in a joint statement: "Growing up in Colorado, a lot of our friends were Mormons and we always thought their book would make a great musical."

The pair will team up with Robert Lopez, creator and composer of the Tony Award winning Broadway musical Avenue Q. The show is being produced by Scott Rudin and Anne Garefino, an executive producer of the South Park television series.

Last week Hojatoleslam Kazem Sedighi, a senior Iranian cleric was quoted as saying women who wear revealing clothing and behave promiscuously are responsible for earthquakes.

Iran is one of the world's most earthquake-prone countries, and the cleric's unusual explanation for why the earth shakes followed a prediction by the president, Mahmoud Ahmadinejad, that a quake is certain to hit Tehran and that many of its 12 million inhabitants should relocate.

"Many women who do not dress modestly … lead young men astray, corrupt their chastity and spread adultery in society, which increases earthquakes," Hojatoleslam Kazem Sedighi was quoted as saying by Iranian media.



Colleen LaRose aka Jihad Jane. Google free images.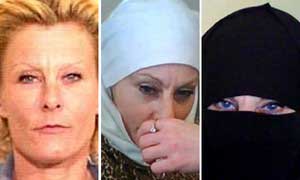 Next week a Michigan born, blue-eyed blonde goes on trial in America, charged with being a terrorist.

Colleen Renee LaRose, born June 5, 1963, in Michigan, is an American citizen who lived in the Philadelphia suburb of Pennsburg. She goes on trial May 3, charged with terrorist-related crimes. The 46-year-old is accused of conspiring to support Islamic extremists and plotting to assassinate Swedish artist Lars Vilks.

Federal authorities say LaRose who had previously converted to Islam and became a militant jihadist, flew to Europe on August 23, 2009 with the intent to live and train with Muslim jihadists in a plot to find and kill Vilks, whose 2007 portrait of the prophet Muhammad as a dog angered many Muslims.

If convicted, she faces a maximum penalty of life in prison, and a $1 million fine.

Jamie Paulin-Ramirez is charged as a co-defendant with LaRose. She's an American woman from Colorado whose parents say she was recruited by LaRose.

In this multi-faceted and multi-lingual world, political, religious, sexual and psychological issues are in the news daily. The lost and lonely join religious extremist groups in their search to belong.



Wendy Graf photo by Rich Schmitt Photography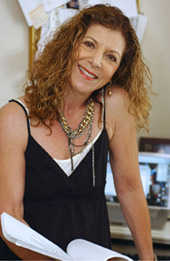 Award winning playwright Wendy Graf is the author of Behind the Gates. The title refers to the gates of Mea Shearim, the quarter in Jerusalem that is home to Israel's ultra-Orthodox haredi Jews.

In Graf's mystery, directed by David Gautreaux, 17-year old Bethany (Annika Marks) disappears while on a school trip to Israel. As her parents (Keliher Walsh and James Eckhouse) feverishly search throughout Jerusalem for their daughter, they find themselves lost in an alien world where ancient and modern collide, conflicting cultures and politics clash, and extreme orthodoxies and passionate feelings of nationalism try to coexist while growing more volatile with each passing day.

Back in the States, Bethany had turned to sex, drugs and ditching school to try to fill her longing for acceptance and identity, so she is ripe and suggestive when the zealous and charismatic Rabbi Meir (Oren Rehany) approaches her one afternoon in Jerusalem. To her parents' bewilderment and horror, Bethany becomes completely absorbed into the world of the haredim, changing her name, adopting a new identity, and ultimately disappearing. Her parents' search for her becomes a search for themselves.

Playwright Wendy Graff spoke with Broadway To Vegas.

"My play asks questions about orthodoxy, whether it be Muslim, Catholic, Evangelical or Jewish," Graf explained. "This is a story we're reading in the news everyday. Religious fundamentalism provides a sense of community and identity along with a relief of absolutes that can prove powerfully attractive to young people."

"You hear about Jesus Camps. You hear about kids who join the Taliban. They are given rules and they don't have to take responsibility for their own lives. They are told what to wear, what to eat, what to do and say. That is a relief for the kids who have the anxiety of being free. Of coming from parents who say - 'You choose' and 'How to you feel?'"

In early readings, Behind the Gates came under attack from members of the American Jewish community who feared it would stir anti-Semitism with its unvarnished portrayal of the ultra-Orthodox haredi culture.

"Yes, and I'm thrilled about it," responded Graf. "There are some people who feel that we should not say anything negative about Israel. We don't want to show Jews in a negative light."

"Have you heard of Women of the Wall," she asked about an organization in Israel, with members and supporters around the world, who have organized a series of women's prayer groups at the Kotel (Western Wall) each month on first day of every month in the Hebrew calendar. The groups have included women reading from the Torah and wearing tallit (prayer shawl), tefillin (a small set of leather boxes painted black, containing scrolls of parchment inscribed with verses from the Torah), and kippah (yarmulke). They have been met with violence and arrest.

"For a woman to pray at the wall is a felony," claimed Graf. "This is because the wall right now is run by the ultra-Orthodox, the same group that is in my play," said Graf as her voice took on a tone of outrage.

"It went to the Israeli Supreme Court which ruled for the women. Then they got so much flak and pressure from the ultra Orthodox community that they reversed the decision. It is a felony for a woman to wear a prayer shawl, to hold the Torah, to pray out loud, to sing in the presence of men. They have been arresting some of these women. There is a wonderful documentary called Pray in Her Own Voice. It's horrifying what happens to these women."



Women and men are separated at the kotel, as in most Orthodox synagogues, by a mechitza (highlighted).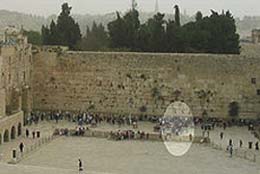 Since its founding in 1989, Women of the Wall has fought a legal battle asserting a right to conduct organized prayer at the Kotel and challenging government and private intervention in its efforts, which ultimately led to two Israeli Supreme Court decisions and to a series of debates in the Kneset. In its first decision, on May 22, 2002, the Supreme Court authorized Women of the Wall to hold prayer groups and read Torah in the women's section of the main Kotel plaza undisturbed.

According to the Jewish Virtual Library, "Four days later, haredi political parties introduced several bills to overturn the decision, including a bill that would have made it a criminal offense for women to pray in non-traditional ways at the western wall, punishable by up to seven years in prison."

Although the bill did not pass, the Israeli Supreme Court reconsidered its earlier decision. On April 6, 2003, the Court reversed itself and upheld, 5-4, the Israeli government's ban prohibiting the organization from reading Torah or wearing tallit or tefillin at the main public area at the Wall, on the grounds that such continued meetings represented a threat to public safety and order, as was reported in Findlaw, April 23, 2003.



Nofrat Frenkel (right) reading from the Torah. Photo: Women of the Wall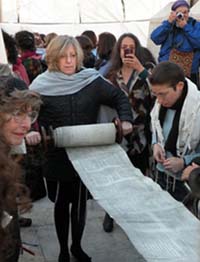 In November 2009, fifth year medical student Nofrat Frenkel was arrested for wearing a talit and carrying a Torah scroll during Women of the Wall's monthly gathering.

Frenkel wrote about her experience in an article published in The Jewish Daily Forward. "It was my first meeting with the Women of the Wall - Conservative, Reform and Orthodox women who have been meeting to pray together every Rosh Hodesh over the past 21 years. Some wear a tallit, tefillin or a yarmulke, some do not: each according to her religious outlook. I immediately felt that my place was with them," she wrote in her article that was translated into English from Hebrew.

"God stands in the congregation of God" (Psalms 82) but it appears that God is not alone in this holy place," she complained. "There is also hatred and contempt, arrogance and argument. At least that is what I experienced when I prayed in the women's section wearing my tallit."

In January 2010, leader Anat Hoffman was taken in and interrogated by the police over her involvement with Women of the Wall. In March 2010, haredi men threw chairs at the women before their prayer had even begun. This incident was caught on video by one of the participants.

Israel is home to the largest haredi population, a number which is rapidly increasing.

There has been a haredi presence in the U.S. since the start of the 20th century. Today the United States is home to the second largest haredi population. That is estimated at 468,000 as of 2006, according to a July 23, 2007 University of Manchester, England report titled Majority of Jews will be Ultra-Orthodox by 2050.

"There is a huge haredi group in Brooklyn," exclaimed Graf.

The same study asserted that "three out of every four British Jewish births are haredi," and concluded that, "Within the next three decades, the haredi community is predicted, (by the Board of Deputies) to be the largest Jewish group in the UK. In comparison with the (UK) national average of 2.4 children per family, haredi families have an average of 5.9 children."

"Oh, they have more than that," Graf quickly injected. "That's the danger of it. Then they have more say in the government. They don't even believe in the state of Israel. They burned the Israeli flag," Graf said referring to a flag burning incident last week. That was staged by Neturei Karta (Guardians of the City), a branch of haredi Judaism, which "rejects the Jewish state so totally that its members do not vote or use Israeli shekels. They woo Israel's fiercest critics, including the Iranian President, Mahmoud Ahmadinejad," according to an article published in the British paper The Independent.

That article stressed that the protests came "at a time when many Jewish Israelis are feeling sensitive about the path the country is taking. Israel's relations with its closest ally, the US, are at their lowest point in years over Jewish settlements in the West Bank and East Jerusalem."

The haredi community has adopted a policy of cultural dissociation, but at the same time, it has struggled to remain politically active, perceiving itself as the true protector of the country's Jewish nature.



Keliher Walsh, Annika Marks and James Eckhouse in Behind the Gates. Photo by Ed Krieger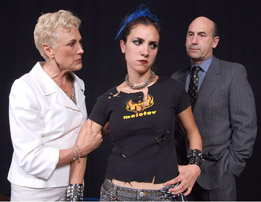 "There are lines from my play which sum it all up," Graf said. "The haredi rabbi in my play says; 'We haredi are the guardians of the faith. We alone shall preserve it. Only we can save it. Europe has tried to destroy us. The Arab world has tried the destroy us. The Romans, the Christians, the British, the entire secular society has tried to destroy us; it is now collapsing under the weight of its own stink and garbage. We produce many, many more children. Our numbers grow. Now, we are 25 percent of the population in this land. Our power grows in government, as well. We are the land of Israel. We are the only future of it.'"

As to the militant nature of the group, Graff responds:

"I don't think they actively recruit in their minds. I think they are looking for people to return to Judaism - what they consider Judaism. To find God, a way of life that they feel will be fulfilling for them. There is no malice. They think they are doing the right thing. They believe in their cause."

"It's one of the subjects that once you start to get into - every day new things happen. There have been stories on NPR in the last couple of weeks. One was about how it's so hard for a woman to get a divorce in Israel."

"When you go to Israel, ninety-five percent of the population - Palestinian, Israeli, Jew - just want to live in peace," stressed Graf who began writing Behind the Gates in 2008, following a trip to Israel.

"I will tell you, though, I don't think these haredi Jews are making the kind of threats that the South Park creators have received. They aren't terrorists."

"That's the other thing; this play is a metaphor," stressed the playwright. "There is nothing in the Koran about suicide bombers. There is nothing in the Torah about some of the things these haredi do. There is nothing in the Bible that says bomb abortion clinics. Everyone of these religions has these branches - extreme branches - that reinterprets and misinterprets their holy book to suit their purposes."

"I don't believe this arm of Judaism is evil. I just believe that they are a) twisting the teaching of the Torah for their own benefit, and b) believe they are following God's word. Every one of these people thinks he has a direct pipeline to God. That is why Jerusalem is so filled with voices - people praying and singing. But, they all think God is only talking to them. 'God's not talking to you, God is talking to me.' If my play can raise questions and make people think, go across the street, have a drink and argue it out, then I have done my job."



Dr, Steven Reuben. his latest book is There's an Easter Egg on Your Seder Plate: Surviving Your Child's Interfaith Marriage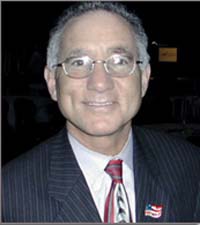 Behind the Gates has been developed and presented in staged readings at Theatre West, Theater 40, Ensemble Studio Theater-LA's Winterfest 2009, and Blank Theater Company, and the world premiere is being presented by Hatikvah Productions and The Group at Strasberg.

Rabbi Steven Carr Reuben of Reconstructionist Judaism Kehillat Israel Congregation in Pacific Palisades, CA notes, "The play asks questions, but isn't Jewish tradition based on questions? The beauty of Wendy's work is that she presents both sides, then asks the audience to open up a dialogue and think."

Behind the Gates begins previews May 12 at the Marilyn Monroe Theatre at the Lee Strasberg Creative Center in Los Angeles and runs through July 3.

The Levantine Cultural Center, whose mission is to promote a greater understanding of the Middle East and North Africa by presenting artistic and educational programs that bridge political and religious divides, will sponsor two discussions about the issues explored in Behind the Gates as part of its Identity Politics and the Middle East series. Immediately following the matinee on Sunday, May 23, a panel of scholars will discuss The Role of Women in Conservative Religion. When does a woman's choice of piety result in misogynistic oppression by others?

A second panel, on Sunday, June 6, will explore The Many Faces of Israel, the country of constant contradictions revealed in Behind the Gates: both old and new, orthodox and liberal, uncompromising and transcendent, a haven for some and occupation for others.



Broadway To Vegas is supported through advertising and donations. Priority consideration is given to interview suggestions, news, press releases, etc from paid supporters. However, no paid supporters control, alter, edit, or in any way manipulate the content of this site. Your donation is appreciated. We accept PAYPAL. Thank you for your interest.


ART AND ABOUT


MARCUS ADAMS: ROYAL PHOTOGRAPHER

Princess Elizabeth being held by her mother. The Queen Mother cherished this photo and kept it in a leather picture case. Marcus Adams/Royal Collection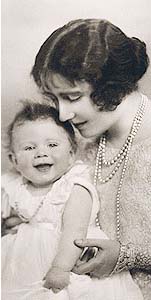 a new book and exhibition at Windsor Castle celebrates the work of the man who devoted 50 years to photographing children - particularly royal children.

The publication Marcus Adams: Royal Photographer features over 150 photographs, including vintage prints from almost all the royal sittings, many from the personal collection of Queen Elizabeth The Queen Mother.

Fifty-six of the silver gelatin prints are on display in the Castle's Drawings Gallery.

This unique photo collection was released last Wednesday to mark Queen Elizabeth's 84th birthday. Princess Elizabeth Alexandra Mary was born on April 21, 1926, the first child of the Duke and Duchess of York, at 17 Bruton Street, the Mayfair home of her mother's parents, the Earl and Countess of Strathmore.

Marcus Adams created a unique record of two generations of royal children between 1926 and 1956.

He presented a new, relaxed image of royalty, overturning the long tradition of formal royal portraiture.

Among the photographs are some of the best-known portraits of the young Princess Elizabeth - in one, at the age of two, she adopts a pose reminiscent of the putti in Raphael's Sistine Madonna.

Princess Elizabeth strikes a Rafael Sistine Madonna pose. Marcus Adams/Royal Collection
In another she is laughing out loud at something beyond the camera. She ruffles her hair with abandon, throws a ball at the cameraman and delights in helping Adams balance coins on his forehead and nose.

"People basically don't change. As a child, she's a happy, bubbly personality," says Lisa Heighway, curator of the Royal Collection's exhibition.

"I suppose people shouldn't say this about the Queen, but I imagine that at home, when she's off duty, she's still the same happy, easygoing person."

"The great thing about these photos is that the family's not actually fulfilling their royal role," Heighway says. "They're just an ordinary family having their photographs taken."

One photo drawing particular attention is one taken when she was 10. On Dec. 11, 1936, her father, George VI, unexpectedly became king following his brother's abdication. In a family photograph taken four days later, the girl who would one day become queen appears aware that her station in life has changed.



Princesses Elizabeth and Margaret. Marcus Adams/Royal Collection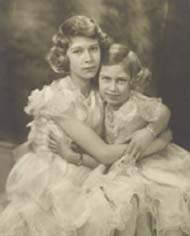 "It's such a pivotal moment in the family's life, and I think that it shows through in that photograph," Heighway says. "She's holding herself quite upright even though she's seated, and her expression is quite serious."

The Princesses Elizabeth and Margaret sat for Marcus Adams on a number of occasions. In February 1939, Adams captured a particularly beautiful image of the two sisters with their arms around each other, their last sitting before the outbreak of the Second World War.

Prince Charles and Princess Anne were also photographed by Marcus Adams. Of his long relationship with the Royal Family, Marcus Adams, who passed away in 1959 said, 'I have had more joy from that family than from any. They are full of fun.'

The exhibition Marcus Adams: Royal Photographer, opened April 24 and runs through February 6, 2011 at Windsor Castle, London.

PICASSO IN THE METROPOLITAN MUSEUM OF ART

Pablo Picasso (Spanish, 1881–1973). Seated Harlequin, 1901. Oil on canvas, lined and mounted to a sheet of pressed cork; 32 3/4 x 24 1/8 in. (83.2 x 61.3 cm). The Metropolitan Museum of Art. Purchase, Mr. and Mrs. John L. Loeb Gift, 1960 (60.87). © 2010 Estate of Pablo Picasso/Artists Rights Society (ARS), New York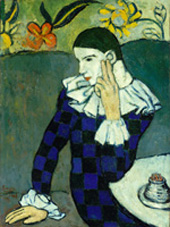 this landmark exhibition - the first to focus exclusively on works by Pablo Picasso - (Spanish, 1881–1973) in the Museum's collection. It features three hundred works, including the Museum's complete holdings of paintings, drawings, sculptures, and ceramics by Picasso - never before seen in their entirety - as well as a selection of the artist's prints. The Museum's collection reflects the full breadth of the artist's multi–sided genius as it asserted itself over the course of his long and influential career.

The exhibition encompasses the key subjects that sustained the artist's interest: the pensive harlequins of his Blue and Rose periods, the multifaceted figures and still lifes of his Cubist years, the monumental heads and classicizing bathers of the 1920s, the raging bulls and dreaming nudes of the 1930s, and the rakish musketeers of his final years.

Notable for its remarkable constellation of early figure paintings, which include the commanding At the Lapin Agile (1905) and the iconic Portrait of Gertrude Stein (1906), the Museum's collection also stands apart for its exceptional cache of drawings, which remain relatively little known, despite their importance and number.

The key subjects that variously sustained Picasso's interest - the pensive harlequins of his Blue and Rose periods, the faceted figures and tabletop still lifes of his cubist years, the monumental heads and classicizing bathers of the 1920s, the raging bulls and dreaming nudes of the 1930s, and the rakish cavaliers and musketeers of his final years - are amply represented by works ranging in date from a dashing self-portrait of 1900 Self-Portrait "Yo") to the fanciful Standing Nude and Seated Musketeer painted nearly seventy years later.

On April 28 the second of a three part lecture series on this exhibition, presented by Curator Gary Tinterow, will focus on Cubism and Classicism. The final lecture takes place May 6 and pertains to The Late Years.

The exhibit continues through August 1, 2010 at the Metropolitan Museum of Art in New York City.

Auction houses Sotheby's and Christie's will offer two rare Picassos not seen on the market in decades.

Christie's Nude, Green Leaves and Bust is estimated to bring $70 million to $90 million May 4. Sotheby's Femme au Chapeau, Buste that belonged to a sister of President John Kennedy will be gaveled down May 5. It's estimated to sell for $8 million to $12 million.

THE WOMAN WITH THE VEIL

The Woman With The Veil by Raphael.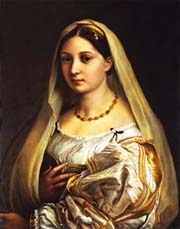 by Raphael. One of the most celebrated paintings of the Italian Renaissance, is on view at the Milwaukee Art Museum through June 6, 2010.

This one work exhibition brings one of the most important and celebrated paintings of the Italian Renaissance, Raphael: The Woman with the Veil (La Donna Velata), to Milwaukee for the first time. Rarely lent from the Pitti Palace in Florence, this irresistibly beautiful portrait was once considered the most famous painting in the world. Completed around 1516, four years before Raphael died at age 37, the painting has had a profound influence on artists and writers over the centuries. As the final stop - and the only venue in the Midwest or eastern part of the United States to feature this exceptional exhibition - the Milwaukee Art Museum offers the last opportunity for visitors to see this invaluable piece of art before it returns to Italy.

"We understand that The Woman with the Veil will not leave Florence again for many years because of its artistic and cultural significance," said Laurie Winters, Director of Exhibitions for the Milwaukee Art Museum. "We're thrilled to share this once-in-a-lifetime opportunity to see one of the greatest paintings of the Italian Renaissance right here in the Midwest."

Responding to Leonardo da Vinci's Mona Lisa, Raphael developed in this portrait his own idea of female beauty and deportment. The veil indicates that the woman is married. Art historians have variously identified this beautiful woman as a patron's bride and as the artist's lover and muse; she appears as a model in many of Raphael's most important works.

This exhibition is organized by the Portland Art Museum.





MICHAEL JACKSON'S LIFE BECOMES A CIRCUS - DU SOLEIL STYLE
Michael Jackson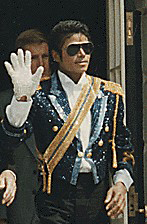 Perfect casting - the three ring circus of Michael Jackson's career and personal life artistically interpreted by Cirque Du Soleil - complete with holograms and 3-D effects.

Last Tuesday it was announced that the Montreal based group had made a deal with Michael's estate, to create a touring show followed by a Las Vegas production.

Michael's mom is happy. His father is not.

Katherine Jackson is jubilant about the planned production, which will see Michael's estate receive 50 per cent of the profits.

She said: "Our family is thrilled that Cirque du Soleil will pay tribute to my son in such an important way."

Joe Jackson - whose pop legend son died from acute Propofol intoxication - is puzzled as to why the Canadian performance troupe Cirque du Soleil wants to turn his son's life into a circus.

"That's something else, isn't it? I won't see it," the elder Jackson told the press.

Cirque President Danuiel Lamarre hopes customers will not only think otherwise, but leave the performance feeling that Michael's presence was in the room with them.

"Technology is evolving at a very rapid pace. We hope that between now and 2012, when we open the show, technology will be even more sophisticated, that people will have the feeling Michael is onstage," said Cirque President Daniel Lamarre.

"We've been talking a lot ... about the fact that Michael Jackson was always ahead of his time. It's important with this show that we're going to be ahead of our time," Lamarre said. "We are talking to a lot of people that can bring new technologies to the table."

The show will first tour North America for a year enabling Cirque technicians to ready the technologically complex permanent installation. Once the Vegas show opens, the touring version would permanently move overseas.

"Michael is so popular outside the United States we think there is a potential for us to tour many years around the world with that show," the Jackson estate and Cirque du Soleil said in a statement. The announcement didn't specify which hotel, but Mandalay Bay is the buzz. That venue currently houses Disney's The Lion King.

Lamarre did say the new show would not replace any existing Las Vegas Cirque show.

Other Cirque shows in Las Vegas include - Criss Angel: Believe, Zumanity, Ka, Mystere, O, Beatles Love and Viva Elvis

Kamarre insisted that the location will be determined by which venue has the best technology adding they'll "have to do some major changes wherever we end up."

The two sides will share the cost and each own 50 percent of the projects, which include the development of a Jackson-themed nightclub in Las Vegas.

Unreleased Jackson recordings may become part of the shows' musical numbers, and his biggest hits will reportedly be remixed and mashed up so fans will hear his music in a new way, Branca said.

There are no plans for other Jackson family members to be part of the show.

The other co-executor, John McClain, a Jackson friend and music producer, discovered more than 60 songs that Jackson recorded but never released. They formed the backbone of a deal with Sony Music Entertainment worth up to $250 million, in which 10 albums will be released over the next seven years. A new album from the recordings is set for release in November.

Jackson, who died at age 50 on June 25, was the top-selling U.S. artist of 2009, with more than 8.3 million albums purchased, according to Nielsen SoundScan.

Jackson's personal physician, Dr. Conrad Murray, has pleaded not guilty to a charge of involuntary manslaughter. He is expected to go to trial this summer.

THE VILLAGE VOICE OBIE AWARDS announced that the hit Broadway musical FELA! will perform at the 55th Annual Village Voice OBIE Awards on Monday, May 17, 2010, at Webster Hall in NYC.

FELA! - which is produced by Shawn "Jay-Z" Carter and Will & Jada Pinkett Smith, among others - is a musical based on the life and music of the iconic African composer and performer Fela Anikulapo-Kuti.

In full costume, members of the vibrant cast - including 2009 OBIE winner Sahr Ngaujah in the title role of Fela - will perform two numbers: Everything Scatter, the show's opening, and Yellow Fever. The Fela! band is made up of members of Antibalas, a Brooklyn-based Afrobeat music collective that has won national acclaim.

FELA!, which began life Off-Broadway in 2008, is currently enjoying a critically acclaimed run at Broadway's Eugene O'Neill Theatre on Broadway. Ngaujah, who plays the title role, won the 2009 OBIE Award for his performance. Featuring a book by Jim Lewis and Bill T. Jones, music and lyrics by Fela Anikulapo Kuti, the show is choreographed and directed by Bill T. Jones, a 2008 Obie Award winner for his work on Spring Awakening. When it transferred to Broadway, FELA received more acclaim than any other musical this season.

FELA! features an international cast led by Sahr Ngaujah (recipient of an OBIE Award for his performance in the title role Off-Broadway) and Kevin Mambo (MTC's Ruined), alternating in the role of Fela Anikulapo-Kuti. OBIE and Tony Award-winner Lillias White plays Funmilayo Anikulapo-Kuti (Fela's mother), and Saycon Sengbloh (Hair) plays Sandra, Kuti's love interest. The company also includes Corey Baker, Hettie Vyrine Barnhill, Lauren DeVeaux, Nicole Chantal DeWeever, Elasea Douglas, Rujeko Dumbutshena, Catherine Foster, Rasaan-Elijah "Talu" Green, Shaneeka Harrell, Chanon Judson, Abena Koomson, Ismael Kouyate, Gelan Lambert, Farai Malianga, Shakira Marshall, Afi McClendon, Adesola Osakalumi, Jeffrey Page, Daniel Soto, Jill M. Vallery, J.L. Williams, Iris Wilson, and Aimee Graham Wodobode. Scenic and costume design is by Marina Draghici, lighting design is by Rob Wierzel, sound design is by Rob Kaplowitz, and projection design is by Peter Nigrini. Musical arrangements and additional music by Aaron Johnson and Jordan McLean. Jim Lewis provided additional lyrics.

"We are thrilled to welcome the cast and music of Fela! to the 2010 Village Voice OBIE Awards," said Rosemary Raposo, Village Voice Event Director. "Having won an OBIE in the past during its Off-Broadway run, this special performance—featuring two rare dance performances—will add to the wonderful, celebratory evening honoring Off-Broadway."

The OBIES will be co-hosted by Anika Noni Rose and Michael Cerveris. The awards and the entertainment will be presented by J. Smith Cameron, Viola Davis, Marin Ireland, Linda Lavin, Sam Rockwell, Michael Shannon, Kerry Washington, Lillias White and Jennifer Westfeldt. The evening will culminate with a celebratory after-party featuring live music, art, and complimentary beverages, all to celebrate this year's honorees.

Official sponsors confirmed for the 2010 OBIE Awards include Stella Artois. This year's charitable partner of the OBIE Awards is Broadway Cares/Equity Fights AIDS. Broadway Cares/Equity Fights AIDS is one of the nation's leading industry-based, nonprofit AIDS fundraising and grant-making organizations. By drawing upon the talents, resources, and generosity of the American theater community, since 1988 BC/EFA has raised over $175 million for essential services for people with AIDS and other critical illnesses across the United States. A portion of proceeds from the 2010 OBIES will be donated to Broadway Cares/Equity Fights AIDS.

2010 LIFETIME ACHIEVEMENT TONY AWARDS will be presented to playwright and director Sir Alan Ayckbourn, and Tony Award-winning actress Marian Seldes.

The recipient of the Isabelle Stevenson Award will be Tony Award winner David Hyde Pierce. The Isabelle Stevenson Award recognizes an individual from the theatre community "who has made a substantial contribution of volunteered time and effort on behalf of one or more humanitarian, social service or charitable organizations, regardless of whether such organizations relate to the theatre." Pierce will receive the award in honor of his humanitarian work connected to Alzheimer's disease.

The Tony Honors for Excellence in the Theatre were established in 1990 and are awarded annually to institutions, individuals and/or organizations that have "demonstrated extraordinary achievement in theatre, but are not eligible in any of the established Tony Award categories."

This year's Tony Honors will be presented to The Alliance of Resident Theatres New York, stage-combat specialist B.H. Barry and Broadway Cares/Equity Fights AIDS executive director Tom Viola.

The awards will be presented during the Tony ceremony at Radio City Music Hall on June 13.

OUTER CRITICS CIRCLE AWARDS are presented annually for theatrical achievements both on and Off-Broadway and were begun during the 1949-1950 theater season. The awards are decided upon by theater critics who review for out-of-town newspapers, national publications, and other media outlets outside of New York City.

Simon Saltzman, a long-time member of the OCC executive committee and theatre reviewer, serves as president. This year's nominations will be announced Monday, April 26, at the Algonquin Hotel with Broadway siblings Sutton and Hunter Foster announcing the nominees. ( See 2010 Outer Critics Circle Nominations )


SWEET CHARITY


THE ANNIE & ELI SECOND STAGE DEDICATION takes place Saturday, May 1st, at the Bay Street Theatre in Sag Harbor, New York.

The theatre will host a star-studded evening to dedicate the Anne Jackson and Eli Wallach Second Stage - affectionately known as The Annie & Eli - Bay Street's New 99-Seat Second Stage.

The dedication with feature appearances and video taped tributes from their friends and colleagues including legendary artists such as Lauren Bacall, Zoe Caldwell, Barbara Cook, Harvey Keitel, Brian Murray, Patricia Neal, Mike Nichols, Joe Pintauro, Peter Reigert, Betsy Von Furstenberg and Kate Winslet.

The evening will kick-off with a cocktail reception followed by a special performance and dinner with the stars at The American Hotel in Sag Harbor, NY.

The Annie & Eli 2nd Stage will further the variety and vitality of Bay Street's artistic mission by developing and presenting new and exciting work at a lower ticket price.

SPEAK TRUTH TO POWER: VOICES FROM BEYOND THE DARK adapted by playwright Ariel Dorfman from the book by Kerry Kennedy. David Esbjornson will direct the benefit performance, at the Public Theater in New York City on Monday, May 3

Elias Koteas, Alfred Molina, Julianne Moore, Viggo Mortensen, Aidan Quinn, Gloria Reuben, Meryl Streep, Stanley Tucci, and Debra Winger will participate in this reading.

Speak Truth to Power: Voices from Beyond the Dark celebrates Human Rights Defenders from around the globe by detailing their uniquely profound true-stories of heroic people withstanding horrific human rights abuses across the globe.

The reading is presented by Dorfman, Kennedy, the Robert F. Kennedy Center for Justice and Human Rights, and The Public.

Proceeds from the reading will benefit the relief efforts of Habitat for Humanity in Chile. All ticket holders will be invited to an exclusive post-show reception featuring the cast and creative team.

SISTER ACT

Hot footin' it in Nun Run 2009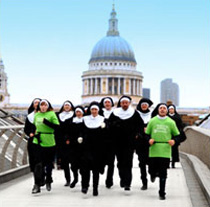 currently on stage at the London Palladium, is once again joining forces with Barnardo's to bring you Nun Run 2010. On Sunday May 2nd join the crowds of nuns who will pound the streets of London - as they did last year - to raise money for Barnardo's.

The run will start on Potters Fields on the South Bank and will pass historic landmarks such as Tower Bridge, The Tower of London and St. Pauls before crossing the river and returning past Millennium Bridge and Tate Modern.

When the team from Sister Act The Musical and Barnardo's got together to launch London's first ever Nun Run last year, few could have imagined what a success it would be and indeed what the sight of a thousand nuns would look like as they pounded the streets of the capital. The run raised over £30,000, which was donated to Barnardo's and was the start of an annual gathering of sisters - in running shoes!

Considered one of the leading charities of Great Britain, Martin Narey serves as Chief Executive and HRH Duchess of Cornwall - that's Camilla - is the President. From the beginnings of Thomas Barnardo's work in 1867 to the present day is the belief that the lives of all children and young people should be free from poverty, abuse and discrimination. By the time Thomas Barnardo died in 1905, the charity he founded ran 96 homes caring for more than 8,500 children. Following his death his work continued and now Barnardo's helps more than 100,000 children, young people and their families every year.




SPREADING THE WORD


RAE ARMANTROT who was awarded the Pulitzer Prize last week for her poetry celebrated by going to her local Starbucks as she does each morning. Armantrout, who has taught at UCSD since 1981, isn't being bumped to the head of the line or given a double shot of anything. In fact, according to The San Diego Union Tribune: " . . .Rae Armantrout dropped into her local Starbucks. The barista - the one who has scrawled "Ray" on her cups for years - gave the Normal Heights resident one of those hey-wait-a-sec looks"

"Was it possible? Had the news turned Armantrout into the talk of the coffee shop?"

"Then the barista spoke: 'What's your name again?'"

JOIN THE STUDENT SIT-INS Audiences can take part in a training session at the historic lunch counter from the F. W. Woolworth store in Greensboro, N.C. Visitors will meet Samuel P. Leonard, a civil rights activist in 1960, just after the Greensboro sit-in began. This 20-minute program is based on an actual 1960s training manual.

Fridays, Saturdays, Sundays, and Mondays; Second Floor, East Wing at National Museum of American History in Washington, DC.

AN EVENING WITH THE MIDDLE in person: Patricia Heaton, "Frankie"; Neil Flynn, "Mike"; Eden Sher, "Sue"; Charlie McDermott, "Axl"; Atticus Shaffer, Brick"; Chris Kattan, "Bob" and executive producers DeAnn Heline and Eileen Heisler.

This first-year ABC sitcom stars Patricia Heaton as the matriarch of a quirky, middle-class, Middle-American family striving to cope with everything life throws her way, from putting dinner on the table (thank heavens for takeout burgers and fries) to balancing work at an auto dealership with parenting three - shall we say idiosyncratic? - kids, including the youngest, Brick, who is so socially dysfunctional that his best friend is his backpack. Join Heaton and the talented ensemble cast and creative team for a preview screening of an upcoming episode and a look behind-the-scenes.

Wednesday, May 5 at The Paley Center for Media in Los Angeles.

THIS IS YOUR LIFE: PETE HAMILL AND DOMINIC CHIANESE What can a census record or archival photograph tell you about your family's history? Join Brian Andersson, Commissioner, New York City Department of Records, as he delves into the family histories of two quintessential New Yorkers: award-winning author Pete Hamill and The Sopranos actor Dominic Chianese. Commissioner Andersson will mine the resources of the New York City Municipal Archives and the National Archives to reveal the evidence of the personal genealogies of Hamill and Chianese, who will also share their families' stories, bringing the documents to life. Following the program, the Commissioner will answer questions about how you can discover your own family's genealogy. Thursday, April 29 at the Museum of the City of New York.






ROUND AND ROUND THE GARDEN the last of The Norman Conquests trilogy by Alan Ayckbourn, Directed by Tony Award winning John Rando.

The small scale of this insatiably frisky British sex farce is typical of Ayckbourn. There are only six characters, namely Norman, his wife Ruth, her brother Reg and his wife Sarah, Ruth's sister Annie, and Tom, Annie's next-door-neighbor.

Librarian Norman channels Casanova in his fervent attempts to seduce his two sisters-in-law as well as his estranged wife during a weekend family gathering. (Larry King take note).

In Round and Round the Garden, Ayckbourn applies his rollicking wit and charmed affection to a cast of disastrously imperfect characters who expose the tensions and desires that simmer beneath the surface.

San Francisco actors Dan Hiatt, Delia MacDougall, and Marcia Pizzo join A.C.T. core acting company members René Augesen, Manoel Felciano, and Anthony Fusco in the cast. Set in an overrun garden in the British countryside realized by Tony-nominated scenic designer Ralph Funicello, Round and Round the Garden features the design talents of lighting designer Alexander V. Nichols, costume designer Lydia Tanji, and sound designer Jake Rodriguez.

Round and Round the Garden plays April 29–May 23, 2010, at the American Conservatory Theater, San Francisco. Opening night is Wednesday, May 5.

Most recently, the Broadway production of The Norman Conquests in 2009 received seven Tony Award nominations and won for Best Revival of a Play. Over the course of his career, which spans more than 50 years, he has written 74 plays and won numerous Olivier, Tony, and Molière awards. His contributions to the theater were recognized with a Special Laurence Olivier Award for Lifetime Achievement in 2009.

Audience Prologue Featuring Director John Rando takes place Tuesday, May 4. On Friday, May 7, Theater on the Couch offers the opportunity to join members of the San Francisco Center for Psychoanalysis for an exciting post-performance discussion that explores the psychological aspects of the show and addresses audience questions.

A DOLL'S HOUSE Gordon Edelstein's adaptation of the Henrik Ibsen classic.

After years of facing financial challenges a suburban family is finally on its feet again. Dad has an important new job at an investment bank, the kids are doing well and Mom, at last, is able to make a home befitting her dreams. Unfortunately their financial resurrection is built on an illusion. Dad's rise, unbeknownst to him, has been in large part illegally engineered by his wife and the chickens are about to come home to roost. This world premiere adaptation casts Ibsen's beloved, visceral play in a contemporary light.

Broadway performer Adam Trese will play the role of Torvald. The cast also includes Ana Reeder (Nora), Mark Nelson (Krogstad), Tim Hopper (Rank), and Linda Powell (Christine). The show will run April 28 through May 23 at the Long Wharf Theatre in New Haven, CT.

GIRLFRIEND book by Todd Almond. Music and lyrics by Matthew Sweet. Choreographed by Joe Goode. Directed by Les Waters.

The world premiere opened to rave reviews at Berkeley Rep and has been extended through May 16.

Romance unfolds in a new musical wound around the tender love songs of Matthew Sweet's landmark album, Girlfriend. Meeting in homeroom. Cruising through town. Holding hands. Cheering from the stands. That awkward first kiss.

In the world premiere of Girlfriend at Berkeley Rep, boy meets boy. It's an eternal story turned upside down, a dual-Romeo duet.

Starring Ryder Bach and Jason Hite with Tyler Costin as the understudy for both.

Scenic and costume design by David Zinn. Lighting design by Japhy Weideman. Sound design by Jake Rodriguez. The music director is Julie Wolf. The musicians are: Julie Wolf on Rhythm Guitar/Keyboards/Backing Vocals. Shelley Doty, Lead Guitar/Backing Vocals. Jean DuSabion, bass and ieela Grant on drums.

Berkeley Repertory Theatre in Berkeley, CA.

CHICAGO has welcomed Matthew Settle of The CW's Gossip Girl and HBO's Band of Brothers as the smooth-talking attorney, Billy Flynn, He began his run on April 19th and is only performing for 8 weeks, at the Ambassador Theatre, NYC.





WHO'S WHERE


SPECIAL EDITION JAMIE deROY & FRIENDS songs from Tony Award-Winning musicals with special guest, 2-Time Tony Award winner Sheldon Harnick. Also featuring Loni Ackerman, Anita Gillette, Christopher Fitzgerald, Pamela Myers, Christiane Noll and Kevin Spirtas. Award-winning director Barry Kleinbort will direct and Paul Greenwood will serve as musical director. Saturday, May 1st at Primary Stages, NYC.

AN EVENING WITH SUTTON FOSTER a special event of the popular DouglasPlus series at the Kirk Douglas Theatre, will feature many of the hit songs the Tony-Award winner created in her memorable Broadway career as well as her favorite tunes from the classic, pop and Broadway songbooks and selections from her new CD Wish. She will be joined by music director, Michael Rafter. April 29-30 at the Kirk Douglas Theatre, Los Angeles.

ALAN CUMMING will make his New York cabaret debut with two series of performances at Feinstein's at Loews Regency, running April 27 - May 1 and June 22 - 26. Lance Horne will serve as musical director and pianist. San Francisco based Yair Evnine will be featured on the cello. In the concerts, Cumming will share tales of being a Scotsman abroad and favorite songs, including selections from his CD I Bought a Blue Car Today and some original compositions. His latest film is Boogie Woogie, set in the contemporary London art world, released by IFC Films on April 23rd and this fall he'll be seen in both The Tempest, opposite Helen Mirren, and Burlesque starring Cher and Christina Aguilera.

ANN HAMPTON CALLAWAY AND SISTER LIZ CALLAWAY open a 6 night gig at The Rrazz Room at Hotel Nikko in San Francisco beginning Tuesday, April 27.

PETULA CLARK performs May 1 at the Hilton Hotel in Las Vegas.

WEDNESDAY AT THE IGUANA hosted by Dana Lorge and Richard Skipper. Bill Zeffiro on keyboard & Saadi Zain on bass. Wednesday's guests include: Hector Coris, Kechia Craigg, Gretchen Reinhagen and Frank Stern. April 28 at the Iguana VIP Lounge in NYC.

PINK MARTINI at Jones Hall for the Performing Arts in Houston, for a three night stand beginning Friday, April 30.

BERNADETTE PETERS brings her enormous talent to the stage of the Art Ham Concert Hall in Las Vegas for a show Saturday, May 1.

DEE DEE BRIDGEWATER performs at the New Orleans Jazz & Heritage Festival on Thursday, April 29.

CELTIC WOMAN open a two night stand Monday, April 26 at the Orpheum Theatre in Memphis. On Wednesday the show is at the Robinson Center Music Hall in Little Rock. Friday finds the group on stage at the Toyota Center in Houston. The tour stops Saturday at the Nokia Theatre in Grand Prairie, TX.

ANDRE RIEU continues the South Africa tour with a stop Wednesday, April 28 at the Indoor Arena in Durban. On Saturday the show is at the Grand West's Arena in Cape Town.

BLACK EYED PEAS begin a two nighter Saturday at the O2 in Dublin, Ireland.



Next Column: May 2, 2010
Copyright: April 25, 2010. All Rights Reserved. Reviews, Interviews, Commentary, Photographs or Graphics from any Broadway To Vegas (TM) columns may not be published, broadcast, rewritten, utilized as leads, or used in any manner without permission, compensation and/or credit.
Link to Main Page
---
Laura Deni



U.S. Postal Address: Post Office Box 60831, Las Vegas, NV 89160
CLICK HERE FOR COMMENT SECTION