! >
Broadway To Vegas
 
  SHOW REVIEWS CELEBRITY INTERVIEWS GOSSIP NEWS

| | |
| --- | --- |
| | |
BEALE STREET FESTIVAL - - WORKING IN THE THEATRE SEMINARS - - PARTRIDGE FAMILY RETURNS TO TV - - GEFFEN THEATER AWARD TO KARL MALDEN - - WORLD SERIES OF POKER - - ASSASSINS ON BROADWAY - - THOMAS WOLFE HOME RE-OPENS - - DRAMA LEAGUE AWARDS - - DONATE . . . Scroll Down


THE BEALE STREET MUSIC FESTIVAL
Beale Street in Memphis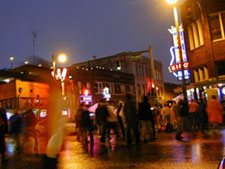 If Beale Street could talk, the buzz on the corner would still be about the time a major talent got into a fight with his old lady in the dressing trailer before the show. Then he got up on stage and played a number. Suddenly he remembered he was still mad. He left the stage, went and fought with her some more and then came back on stage to finish the show.

No doubt about it. The Beale Street Festival in Memphis is one outrageous party. This year the fun is even more intense, thanks to the 50th Anniversary of Rock and Roll.

Diane Hampton executive vice president of Memphis in May spoke with Broadway To Vegas about the world class event which takes places April 29-May 2 on four big stages on thirty-three acres.

"There are 62 different acts on three outdoor stages. And, the Blues Tent is a massive indoor stage. We're expecting probably about 160,000."

"Memphis In May is a non profit organization that also funds a pretty extensive international educational program and an international cultural program," she explained. "So, the Beale Street Music Festival really assists in funding those activities. We hope for continued expansion - perhaps going to another week-end or expanding another day. Or, expanding to another inside venue. Right now we take it year by year."

Festivals are big business and artists can be a demanding lot. Picky, picky diva demands don't rate a salute. What is on the short list is the feeding trough.

"We have food for the artists," Hampton continued. "We are a Memphis based festival. An outdoor festival is a little bit different, so we provide them good Southern hospitality. We give them things like Bar-B-Que and fried chicken. So, a lot of it is our choice."

"The talent budget is right about a million dollars and then to produce the events is all total about five- and-a-half million.We do try to make a surplus. We've been very very fortunate but sometimes the rain can kill you"



ZZ Top - hot licks brought rain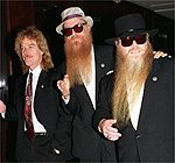 "The biggest problem is when it rains, which it does every year," she laughed and then qualified the statistics. "In 1999 it didn't rain a drop. We had no clue what to do with ourselves! 2000 just enough of a shower to cool things down a little bit. 2001 was fine. 2002 was a soaker, but everybody had a good time. In 2003 it didn't rain a drop until the last. ZZ Top was finishing up on one of the main stages. Literally, they lit the last lick on the guitar and the skies opened."

How does the rain and electric amplification merge?

"The stages are covered. So, there is no immediate danger on the stage. We have the city's emergency management agency as well as EMTs from the fire department. No performer has ever needed medical assistance."

"Memphis is the birth place of the blues and home of rock and roll," stated Hampton. about the locale that was the home to famous blues musicians such as W.C. Handy who wrote the first blues song there in 1909.

"Our Beadle Street Music Festival celebrates that. So, how appropriate that the best of the best is honored," she said referring to the W.C. Handy Awards taking place the night before the festival and the participation of the Handy nominees in the Beale Street Festival.

The 25th W.C. Handy Blues Awards will be presented on Thursday, April 29.

"Those who come to town for The Handy Awards get to go down to the park the next day and see the nominees perform."

Handy nominees scheduled to perform - so far - include Renee Austin; Eric Bib; Roy Block; Michael Burkes; Jimmy Burns; Henry Butler; Mickey Champion; Deborah Coleman; Nick Currant and the Nightlife's; Ronnie Earl; Andrea Faye; Sac Harmon and the Mid South Revue; Ellis Hooks; Fruteland Jackson; EG Kight; Bettye LaVette; Mark Lemhouse; Joe Maher; Nick Moss and the Flip Tops; Maria Muldaur; Charlie Musselwhite; Calvin Owens; Pinetop Perkins; Sonny Rhodes; Eddie Shaw; E.C. Scott; Otis Taylor; and Kim Wilson.

"We have a lot of Handy nominees, a lot of Blues acts such as Little Milton, Buddy Guy and Bernard Allison, but there's also Saliva, the Wailers, Journey, the Foo Fighters, Bela Fleck, Indio Girls, George Clinton & Parliament/Funkadelic, Charlie Daniels Band, Steve Miller Band, Jerry Lee Lewis, and Chaka Chan something for every musical taste and every generation," Hampton stressed.

"We've been doing it for now for 27 years and so the logistics are pretty much down pat. It's a big venue. It's a 33 acre outdoor municipal festival," Hampton reiterated referring to Tom Lee Park, located at the corner of Beale Street and the Mississippi River.

Now, about that rain.

"It's too early to tell this year. Sometimes a weather forecast is not as accurate as we'd like it," said the optimist who quickly emphasized, "it's going to be blue skies and sun shine and everybody is going to have fun."


THOMAS WOLFE BOYHOOD HOME RE-OPENS
Thomas Wolfe home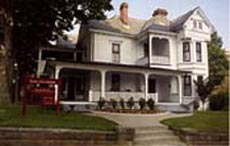 Considered a National Historical Landmark, the Asheville, N.C. boyhood home of Thomas Wolfe, burned by an arsonist on July 24, 1998, reopens to the public this weekend. The 121-year-old 29-room, rambling 6,000-square-foot Queen Anne house, known as Old Kentucky Home, has been restored after two years of extensive work.

Wolfe, born in Asheville in 1900, became one of America's most famous writers with the 1929 publication of his autobiographical novel, Look Homeward, Angel, a thinly veiled depiction of Asheville and its residents. A classic of American literature, Look Homeward, Angel has never gone out of print since its publication in 1929. His reminiscences were so frank and realistic that Look Homeward, Angel was banned from Asheville's public library for over seven years.



Thomas Wolfe and his mother on porch of their home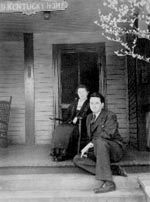 Wolfe's mother, Julia, a former teacher with an obsession for real estate, bought the boarding house - named the Old Kentucky Home - in 1906 and in 1916 enlarged and modernized the house, adding electricity, additional indoor plumbing, and 11 rooms. In Look Homeward Angel Wolfe referred to the place as Dixieland.

Notoriously tight, called a "driver of hard bargains" behind her back, she often reused building materials and settled for cheap materials and even cheaper laborers to work on the 6,000-square-foot, 29-room house.

Restoration required the recreation of plain woodwork and sometimes skipping a final coat of plaster to make the home authentic. Artifacts which were damaged in the fire were repaired and restored.

"We wanted people to feel like they're walking on the same floorboards as Thomas Wolfe walked on," said Steve Hill, the site manager.

It has been renovated to its condition in 1916, the year Wolfe (1900-1938) left to study at the University of North Carolina at Chapel Hill. Thomas Wolfe died in the prime of his life of tubercular meningitis on September 15, 1938, only 18 days short of his 38th birthday.

Wolfe's mother lived in the house until her death on December 7, 1945. Four years later her surviving sons and daughters sold the house to a private organization, the Thomas Wolfe Memorial Association, and it first opened to the public as a house museum on July 19, 1949. The association continued to operate the memorial until 1958, when its operation was taken over by the City of Asheville. On January 16, 1976, the North Carolina Department of Cultural Resources acquired the property.


TRIBECA FILM FESTIVAL UNSPOOLS


Raising Helen, a romantic comedy starring Kate Hudson, John Corbett and Joan Cusack, will be the opening picture of the TriBeCa Film Festival on May 1.

Hudson stars as Helen who is living the life she always dreamed of when her carefree lifestyle comes to a screeching halt. She finds herself responsible for her sister's children aged 15, 10 and 5 years old.

The film, directed by Garry Marshall, will have its premiere at the TriBeCa Performing Arts Center.

The annual festival, which was begun in 2002 by Robert De Niro, Jane Rosenthal and Craig Hatkoff, will include more than 150 films and run through May 9.



Broadway To Vegas is supported through advertising and donations. Priority consideration is given to interview suggestions, news, press releases, etc from paid supporters. However, no paid supporters control, alter, edit, or in any way manipulate the content of this site. Your donation is appreciated. We accept PAYPAL. Thank you for your interest.



KARL MALDEN

Karl Malden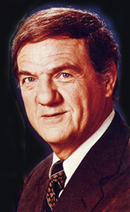 received the first Geffen Playhouse Distinction in Theater award at the third annual Backstage at the Geffen fundraising gala. Tom Hanks presented Malden with the award at the star-studded event co-chaired by West Wing director Tommy Schoolmate and Emmy-award winning actress Christine Lahti. Stars performing includes; Annette Bening, Jason Alexander, the Smothers Brothers, Amy Pietz, Debbie Allen, Beau Bridges, James Farentino, Sharon Lawrence, Peter Bonerz and Jim Burrows.

The Oscar and Emmy award winning actor began his career in the 1930's. Only able to put $300 toward the $900 tuition at Chicago's Goodman Theatre, the director encouraged him to attend for three months and, if he didn't belong, he'd be told. He proved himself and earned a full scholarship for three years.

Malden won the supporting-actor Oscar for 1951's A Streetcar Named Desire, in which he opposite Marlon Brando as Blanche DuBois' suitor. He also won the New York Drama Critics Circle award for playing the role on Broadway. He received an Emmy in 1985 for the miniseries Fatal Vision.

Some of his most memorable movie roles include On the Waterfront with Brando, Birdman of Alcatraz opposite Burt Lancaster; I Confess with Montgomery Clift; How the West Was Won; and The Cincinnati Kid.

He co-starred with Michael Douglas in the 1970s detective series The Streets of San Francisco, and earned a new legend of fans with his clever American Express traveler's check commercials in which he cautioned viewers, "Don't leave home without them."

Proceeds from the evening benefit Geffen Playhouse's Annual Fund as well as the Educational Outreach programs which include a wide-range of free theatrical workshops and performances for children and their families; student matinee performances of Geffen productions and a touring production for Los Angeles area students; the CREATE program designed to build non-traditional theatrical audiences; and Geffen Playhouse Symposiums, which feature spirited discussions on subjects relating to issues that come to light in Geffen productions.

40th ANNIVERSARY DANCE MAGAZINE AWARDS will be presented to Jos' Manuel Carre¤o, Chuck Davis, Anna Halprin and Chita Rivera in ceremonies Monday at Merkin Concert Hall in New York City.

FILM SOCIETY OF LINCOLN CENTER honors Michael Caine at its annual gala tribute, on April 26, in Avery Fisher Hall. Highlights from his film career will be shown, and actors and directors with whom he has worked will appear onstage. Sir Michael won Oscars for best supporting actor in 1965 for Hannah and Her Sisters and in 1999 for Cider House Rules.

Among previous Film Society honorees are Susan Sarandon, Francis Ford Coppola, Al Pacino, Mike Nichols, Martin Scorsese, Sean Connery and Clint Eastwood.

BOB HOPE

Bob Hope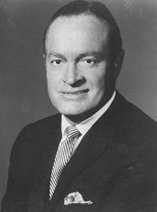 is being honored this week-end by March Air Reserve Base (MARB) who paid tribute to entertainment legend during AirFest 2004, its first air show since 2000. The event was designated "A Tribute to Bob Hope." March Air Field, the site of Hope's very first show for the troops, had an audience of 2,000 and took place on May 6, 1941 seven months before Pearl Harbor. The show, Air Corpsmen, aired on NBC's The Pepsodent Show, was hosted by Hope and sponsored by Pepsodent toothpaste.

Beginning with the show at March Field, Hope went on to entertain troops all over the world for the next 60 years. In his career he met and entertained all 11 presidents that occupied the White House between 1940 and 2000. One of the most honored entertainers in the world, Hope received an honorary knighthood from Britain's Queen Elizabeth and this nation's highest civilian award, the Congressional Gold Medal, presented by President Kennedy.

In 1997, Congress named Hope an honorary U.S. veteran, citing his decades of entertaining troops around the world. He was the first person to receive that extremely rare distinction. When informed of the honor, Hope was uncharacteristically serious. "I've been given many awards in my lifetime," he said, "but to be numbered among the men and women I admire the most is the greatest honor I have ever received."

A part of the air show's ceremonies included two Missing Man formations. The first formation was dedicated to those military members who have given their lives for the country. The second Missing Man formation, flown by five WWII Fighter Warbirds, was dedicated to Bob Hope as a farewell from March Field.

Saturday's event concluded with a USO show, produced by the Bob Hope Hollywood USO Chapter at LAX.

THE 70th ANNUAL DRAMA LEAGUE AWARDS will take place Friday, May 16th at the Grand Hyatt in New York City. Kristin Chenoweth will serve as Master of Ceremonies with Hugh Jackson as presenter. Joanna Gleason, Ray Liotta, Audra McDonald, Denis O'Hare, Daphne Rubin-Vega and Douglas Sills serving as honorary co-chairs of the event. The organization is the oldest theatrical institution to give awards and is dedicated to building theater audiences and supporting artists. CLICK FOR LIST ON NOMINEES


SPREADING THE WORD


WORKING IN THE THEATRE SEMINARS The American Theatre Wing continues to provide a unique, enlightening, behind-the-scenes theatrical experience with the ATW Working in the Theatre Seminars. Star-studded panels comprised of Broadway and Off-Broadway's major theatre personalities will once again provide some of the most entertaining and informative discussions on theatre today.

The Seminars, created by the late Isabelle Stevenson, are moderated by working professionals. Developed as a resource for the theatre community. Attendance at the seminars is offered free to theatre students, members of theatrical unions & guilds, and casts of Broadway and Off-Broadway shows.

Thursday, April 29, 11am-1pm: Performance Seminar followed by Producing New Plays for Broadway Seminar from 2:30-4:30 p.m. The Graduate Center of the City University of New York, in Manhattan.


SWEET CHARITY


COSTUME INSTITUTE annual gala la at the Metropolitan Museum of Art takes place April 26. Broadway showman Hugh Jackman will entertain earlier at the event and Pharrell Williams will perform after dinner, which is being co-chaired by Ren'e Zellweger, Jude Law and Vogue's Anna Wintour.

ROUNDABOUT THEATRE'S ANNUAL SPRING GALA takes place April 26 at the Mandarin Oriental in The Big Apple.

Roundabout will honor John Kander and Fred Ebb with its prestigious Jason Robards Award for Excellence in Theatre. The evening will include special entertainment by artists including Richard Gere, Liza Minnelli, Alan Cumming, Bebe Neuwirth, Chita Rivera, Jason Alexander, Victor Garber, Natasha Richardson, Marin Mazzie, Debra Monk and Karen Ziemba.


OTHER PEOPLE'S MONEY


SERENA WILLIAMS the 5-foot-10-inch tennis champ who had added acting to her resume, spotted shopping at the Las Vegas Gucci store located at the Caesars Palace Forum Shops. Williams was in Sin City last Tuesday for a Marie Claire magazine photo shoot and interview at Mandalay Bay Hotel.

BINION'S WORLD SERIES OF POKER

began last Friday, April 22, at Binion's Horseshoe Hotel in Las Vegas hotel with 900 players - double the number signed up for play last year - thanks to the popularity of televised poker tournaments.

Each round lasts 12-16 hours with players demonstrating patience, discipline and mental gymnastics during the tournament which lasts five weeks.

On May 28th the grand prize winner will cash in the chips for a check worth $4 million and be enshrined on the Horseshoe's Gallery of Champions, joining such titans of the game as Johnny Moss, Johnny Chan, Puggy Pearson, Stu Ungar, Sailor Roberts, Doyle Brunson and Bobby Baldwin.



42ND STREET

Shirley Jones and son open on Broadway and The Partridge Family returns to television

welcomes Shirley Jones to the cast as diva Dorothy Brock. Jones opens May 7th along with her son Patrick Cassidy who is also performing in the show as the character Julian Marsh. They are on board through August lst.

While on tour in London, David Cassidy announced that The Partridge Family will stage a TV comeback. Cassidy, 53, a former Las Vegas resident who did a turn as star of the EFX production show said: "The Partridge Family are coming back and, yes, I'll be in it."

Cassidy promises to "put a spin on it for a new generation who haven't seen it or been a part of it."

The question becomes whether Shirley Jones, his real life step-mother who played his mother on the television series, will be part of the deal.

Patrick was not part of the television series.

The other original Partridge Family stars, including Danny Bonadue and Susan Dey, are mulling over whether to take part in the new show.

Cassidy will produce the show and help cast it.

First broadcast in 1970, the show featured a family pop group who toured America in their psychedelic bus.

It ran for four years and turned David Cassidy into a pop idol.

MY OLD LADY by Israel Horovitz. The author has called this play his "Valentine to Paris." My Old Lady is set in Paris, where an American confronts the very French, very determined 90+ year-old Mathilde living in the apartment he has inherited. Inspired by a real-life incident, the American - determined to finance a new lifestyle with the profit from its sale - must first negotiate a culture he does not fully understand. Directed by Brian Russell. Through May 16 at Apple Tree Theatre, in Chicago.

OLD VIC THEATRE has Kevin Spacey as artistic director. In announcing his theater's new season Spacey took a witty high road regarding that awkward situation in a London park.

Spacey first told police he had been mugged while walking his dog in a London park and then recanted, saying he was victim of a con from a young man who stole his cell phone. The double Oscar winning actor probably wishes he could replay that entire scene. At a press conference to announce the 2004-05 season for The Old Vic the personable actor quipped, "It's not true that David Beckham paid 100,000 pounds to the Old Vic if I took him off the front pages. It's not true and I will text him myself if someone will lend me their mobile phone."

Spacey's inaugural season at the Old Vic will feature four productions. Spacey will star in two and direct one. First on board is Cloaca which means sewer in Latin. Written by Dutch playwright Maria Goos, the plotline involves the middle-age reunion of a group of student friends. Spacey will direct and Hugh Bonneville, Neil Pearson and Stephen Tompkinson will star.

The Christmas show is a new version of Aladdin with Sir Ian McKellen as Widow Twankey. National Anthems by Dennis McIntyre, had a premiere in Connecticut in 1988. Spacey was in the show and bought the production rights. He will stage the play and reprise his role. David Grindley will direct.

The season will end with Philip Barry's The Philadelphia Story, with Spacey in the role of Dexter Haven. Serious rumors predict Spacey brings in a Hollywood marquee name for the role of Tracy Lord.

Spacey is currently in post-production on Beyond the Sea, a film about the life of legendary American singer Bobby Darin. Spacey produced, directed and stars in the film, his dream project for more than 10 years. It will be released in the autumn.

DINAH WAS By Oliver Goldstick. Starring Yvette Freeman, who reprises her Obie-Award winning role as Dinah Washington. Joining Freeman in this musical biography of the legendary singer are Paul Avedisian, Darryl Alan Reed, Peter Van Norden and Sybyl Walker.

Dinah Washington was the self-described Queen of the Blues. Dinah Was explodes with the rhythms, tough breaks and tender notes of What a Difference a Day Makes, I Wanna Be Loved and Come Rain or Come Shine, spanning 20 years along the rocky path of fame of the brilliant performer. Washington.

In the Long Beach Performing Arts Center. Previews begin April 27 with the official opening on April 30th. Performances through May 23. Long Beach, California.

ASSASSINS Music and Lyrics by Stephen Sondheim. Book by John Weidman. Directed by Joe Mantello.

Nobody does dark like Sondheim. Assassins is unnerving, disconcerting and - fascinating. It's not for everybody. A certainly is that you'll leave the theater discussing the show.

With only seven songs in the production this could almost be called a play with music - a drama about nine people who attempted or succeeded in assassinating an American president.

Besides being talented, Sondheim is persistent. It's taken him 13 years to get this mounted on Broadway. It premiered in 1991 at Playwrights Horizons where it was a hot ticket that received cold reviews. The Gulf War didn't help, either. Just when it was going to open on Broadway - 9/11 happened and the production was postponed, primarily because Nixon's would-be assassin, Samuel Byck, dressed in a Santa suit, plans to do the deed by crashing his plane into the White House.

Sondheim's score is haunting - the lyrics powerful and provocative. Lighting Design by Peggy Eisenhauer and Jules Fisher deserve special mention.

Weidman was given a difficult task - that of verbally interweaving the creepy misfits into surreal, emotional interaction.

Set in an amusement arcade's shooting gallery, Mantello expertly directs the superb cast; Becky Ann Baker as Sara Jane Moore. James Barbour as Leon Czolgosz. Mario Cantone as Samuel Byck. Michael Cerveris as John Wilkes Booth. Mary Catherine Garrison as Lynette "Squeaky" Fromme. Alexander Gemignani as John Hinkley. Neil Patrick Harris as the balladeer and Lee Harvey Oswald. Marc Kudisch as the proprietor. Jeffrey Kuhn as Guiseppe Zangara. Denis O'Hare as Charles Guiteau.

Musical Staging by Jonathan Butterell. Set Design by Robert Brill. Costume Design by Susan Hilferty. Sound Design by Dan Moses Schreier. Certain to be a Tony Award contender, this show is not for children or individuals who are easily upset. Loud gunshots permeate and punctuate. At Roundabout Theatre's Studio 54 in New York City.


CURTAIN DOWN


SIXTEEN WOUNDED by Eliam Kraiem. Directed by Garry Hynes and starring Judd Hirsch, Omar Metwally and Martha Plimpton, centering on the friendship of a Holocaust survivor and a Palestinian militant, to close today, Sunday, having played 27 previews and 12 performances at the Walter Kerr Theater.

KATHY BRIER who stars as Tracy Turnblad in the Broadway production of Hairspray will leave the hit musical on May 2nd, along with her co-star Harvey Fierstein. Brier, who recently received a Daytime Emmy Nomination for her role on ABC-TV's One Life To Live will continue on the show as well as appear as a recurring character on Playhouse Disney's Jo Jo's Circus, in which she is the voice of Babalulu.



WHO'S WHERE


BARBARA COOK

Barbara Cook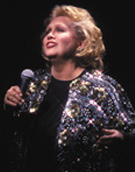 brings her Broadway show to the Gieglud Theatre in London for 18 performances only, from May 11-29.

The Tony Award winning singer is accompanied on piano by Wally Harper, her longstanding musical director and arranger.

In between songs, Cook reminisces about Broadway, including delightful anecdotes on such stars as Gary Cooper, Elaine Stritch and Leonard Bernstein.

A live recording of the show in Broadway is due to be released this summer and Cook returns to New York for another 23 performances in June.

TONY BENNETT on stage Friday at Grand Casino in Biloxi, Mississippi. On Saturday he's down the road at Grand Casino Tunica in Robinsonville, MS.

STING continues his European tour. On Wednesday the show is at the Hartwall Arena in Helsinki, Finland. Friday finds the singer at Stockholm Globe Arena in Stockholm. On Saturday he can be enjoyed at the Oslo Specktrum in Oslo, Norway and next Sunday, May 2, the performance is at the Forum in Copenhagen, Denmark.

ERIC CLAPTON is across the pond with a show Monday at the S.E.C.C. in Glasgow. On Tuesday he's on stage at Telewest Arena in Newcastle. Thursday the show is at the Manchester Evening News Arena in Manchester and on Friday he's in the spotlight at the NEC Arena in Birmingham, England.

PAULA POUNDSTONE telling funny stories Friday at The Birchmere in Alexandria, Virginia. Saturday the laughs will come from the Inter-Media Arts Center in Huntington, N.Y. Next Sunday she is at the Montage Grille in Rochester, N.Y.

MICHAEL FEINSTEIN entertaining Friday at the Strand-Capitol Theatre in York, PA. On Saturday he's on stage at the Veterans Memorial Auditorium in Providence, R.I.

BLOOD, SWEAT & TEARS May lst at the Newberry Opera House in Newberry, South Carolina.

RAY STEVENS entertaining Saturday at the Alabama Theatre in Myrtle Beach, S.C.

PETER CINCOTTI on stage Saturday at Christopher Newport University at Newport News, VA.

JOHN PRINE in the spotlight Friday at Rose State College in Oklahoma City, OK. On Saturday he perform at the Orpheum Theater in Wichita, Kansas.

DAVID BOWIE entertains this evening, April 25 at the Budweiser Events Center in Loveland, Colorado. On Tuesday the ageless performer is at The Backyard in Austin, Texas. Thursday finds him in the spotlight at the C.W. Mitchell Pavilion in The Woodlands, Texas and on Friday he'll be delighting the crowds at the Saenger Theatre in New Orleans.

SEAL opens a two nighter , Monday, at the House of Blues in West Hollywood, CA. On Wednesday he's on stage at the Viegas Dreamcatcher Showroom in Alpine, CA. Friday the singer stars at The Grove of Anaheim in Anaheim, CA. He closes out the week, Saturday, at the Dodge Theatre in Phoenix, AZ.


PIFFLE AND PROFUNDITIES


ROZ ABRAMS intelligent news veteran we always watch during New York visits, was a delightful, lovely looking presence on WABC/Ch 7. She left the station, returning to the airwaves on WCBS-2 with a really glam make-over. All Broadway To Vegas has to say is - You go, girl!
















Next Column: May 2, 2004
Copyright: April 25, 2004. All Rights Reserved. Reviews, Interviews, Commentary, Photographs or Graphics from any Broadway To Vegas (TM) columns may not be published, broadcast, rewritten, utilized as leads, or used in any manner without permission, compensation and/or credit.
Link to Main Page
---
Laura Deni


CLICK HERE FOR COMMENT SECTION