! >
Broadway To Vegas
  
 SHOW REVIEWS CELEBRITY INTERVIEWS GOSSIP NEWS

| | |
| --- | --- |
| | |
PRINCESS GRACE AWARDS EXPAND - - ELECTRICIDAD - - DEAD END - - CHICAGO ANTIQUES FAIR - - REVLON RUN/WALK FOR WOMEN - - LA CAGE HAS ACTORS' FUND BENEFIT SHOW - - STREET NAMED AFTER DEAN MARTIN - - CHITTY CHITTY BANG BANG STARTING ITS ENGINE - - DONATE . . . Scroll Down


PRINCESS GRACE AWARDS GO FORWARD DESPITE MONACO IN MOURNING


With the death of Prince Rainier of Monaco, the small principality with the romantic allure, is officially in a three month mourning period. That will be followed by the investiture of Prince Albert. Since they were born people have followed the lives of the three Grace Kelly children - Caroline, Albert and Stephanie - and were devastated at her untimely death. It was a tragedy from which Prince Rainier never fully recovered.

Princess Grace Foundation Awards, bestowed in New York City, have become an important force in the artistic community - making possible such hits as Sponge Bob Square Pants.

Prince Rainier presided over many of the celebrations at which the Princess Grace Awards are announced, including the inaugural Gala at the White House, chaired by President and Mrs. Ronald Reagan in 1984.



Prince Rainier dances with first lady Nancy Reagan at the Princess Grace-USA inaugural Gala in 1984. Photo Courtesy: Princess Grace Foundation-USA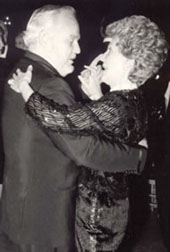 Over the years, members of the Princely Family have made the Princess Grace Foundation-USA a priority. Prince Albert helps to oversee the Foundation with a dedicated and expert staff led by executive director Toby E. Boshak. Headquartered in Manhattan the organization relies on an advisory board of renowned professionals in the arts.

With Rainier's death signaling the end of an era for the tiny Mediterranean principality Broadway To Vegas was curious as to whether the transition would also impact the Princess Grace Foundation and whether Prince Albert - who as a youngster witnessed Nureyev and Fonteyn dancing Sleeping Beauty in the Palace - would continue being involved.

The artistic community need not worry.

"The Princess Grace Foundation-USA is deeply saddened by the death of HSH Prince Rainier of Monaco. It was Prince Rainier, Himself, who established the Foundation, following the death of in his beloved wife, Princess Grace of Monaco, in 1982. Prince Rainier personally chose the founding members of the Board and sanctioned them to help define and achieve the Foundation's mission, which is to support young, emerging theater, dance, and film artists in America. It was the Prince who mobilized the founding members of the board and empowered them to achieve this mission." Boshak told Broadway To Vegas.

"Today, the Foundation serves as a living legacy to the ideals for which she cared so strongly: to support and encourage young, emerging artists pursuing careers in theater, dance, and film. Over the years, members of the Princely Family have made the Princess Grace Foundation-USA a priority, one that they have maintained with constancy, generosity and continued presence."



Prince Albert and Sharon Stone at the 2004 Prince Grace Foundation Awards. Photo Courtesy: Princess Grace Foundation-USA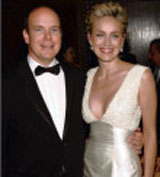 Special awards were created by close friends of the Foundation to honor Princess Grace of Monaco's legacy. These include the Robert and Gloria Hausman Theatre Award, the Fabergé Theatre Award, the Pierre Cardin Theatre Award, the Grace Le Vine Theatre Award, the Cary Grant Film Award, the John H. Johnson Film Award, and the Chris Hellman Dance Award.

"Over the next few months, the Foundation's panels will convene to decide the 2005 Princess Grace Award winners, and announcements will be made in July," continued Boshak. "The winners will be honored at the annual Awards Gala, which will take place in New York City on Wednesday, October 26, at Cipriani 42nd Street. We are most pleased about the Board's decision to expand the Dance category to include the new Choreography Fellowship, and we look forward to announcing the inaugural winner this year."

The Choreography Fellowship mentioned by Boshak is for choreographer and production fees associated with creating a new work at a non-profit dance company. Application postmark deadline is April 30, 2005 for the 2005 Grant period: September 1, 2005 - August 31, 2006.

There are also two types of Dance Awards. "Dance Scholarships for tuition assistance only (we do not support living expenses) at an accredited non-profit school located in the United States. Dance Fellowships for salary assistance at a non-profit dance company for an apprentice or new member of a company."

Since the first grant for excellence in dance, theater and film were awarded in 1984, the Princess Grace Foundation has awarded over four million dollars to more than 400 young artists at more than 100 institutions nationwide.

Award winners on stage within the next month include: From May 23-July 16 the American Ballet Theatre season at the Metropolitan Opera House will feature Princess Grace Award-winning dancers: Amanda McKerrow, Gillian Murphy, Ethan Stiefel, David Hallberg, Michele Wiles, and Angela Snow.

May 26 - June 26, Prince Grace Award winner Michael Wilson directs Cat on a Hot Tin Roof at Hartford Stage in Conn.

Through May 8 the San Francisco Ballet features Prince Grace Award-winning dancers Tina Le-Blanc, Kristin Long, Gonzalo Garcia and Chidozie Nzerem.



Broadway To Vegas is supported through advertising and donations. Priority consideration is given to interview suggestions, news, press releases, etc from paid supporters. However, no paid supporters control, alter, edit, or in any way manipulate the content of this site. Your donation is appreciated. We accept PAYPAL. Thank you for your interest.


SPREADING THE WORD


THE PLAY'S THE THING will air God's Man in Texas by David Rambo, starring Morgan Sheppard, Robert Pescovitz and Andy Taylor.

Charismatic pastor Jerry Mears auditions for the top job at the biggest Baptist church in the nation. But when the church's aging leader clings to his own dynasty - and his coveted 10 a.m. television broadcast - the stage is set for a powerful clash of wit and wills. A divine study of religion as big business.

The broadcast includes an interview with playwright David Rambo. Saturday, April 30. Produced by L.A. Theatre Works, the broadcasts can be heard in California, Boston; Seattle, Florida; as well as on many other public radio stations nationwide and XM Satellite Radio. Selected programs from LATW are also heard internationally over Voice of America, BBC World Service, Canadian Broadcasting, Australian Broadcasting, RTE (Ireland), Radio Hong Kong, and Radio New Zealand, and are distributed by satellite to over 30 college and community radio stations in the U.S.


OTHER PEOPLE'S MONEY


LAS VEGAS MAYOR OSCAR GOODMAN HAS INDIGESTION over scalpers taking advantage of a free Red Hot Chili Pepper's concert.

The self-proclaimed "happiest mayor in the world," was grim faced when he called the scalpers "bums" and "sleazy."

The July 2nd free concert, which will be held in a parking lot adjacent to the Las Vegas Convention Center, is part of the 100th anniversary of Las Vegas. Weezer will open the show.

Approximately 35,000 tickets were given away on Monday, April 18. Almost immediately a thousand were being sold on E-bay ranging from single tickets to ticket blocks - with prices going for $25 up to several hundred dollars.

An additional 5,000 will be released on May 15 and another 10,000 are set aside for event sponsors and local resorts.


SWEET CHARITY


REVLON RUN/WALK FOR WOMEN Saturday, April 30 in New York City. Join Actors' Fund Team #23 & help support The Fund's Phyllis Newman Women's Health Initiative. It's an incredible day - live music, celebrities, including event hosts Joe Torre, Mariska Hargitay and Julianne Moore, plenty of food and drink, and fabulous goodies - including a special Actors' Fund T-shirt and hat! - all for an amazing cause.

LA CAGE AUX FOLLES This is one musical that has it all: a knockout Jerry Herman score that's filled with such hits as I Am What I Am, With You On My Arm, and The Best of Times; a hilarious Tony Award-winning book by none other than Harvey Fierstein; a gorgeous, glamorous company of tap-dancing Cagelles; and inspired direction by four-time Tony Award winner Jerry Zaks. A fierce and funny dazzler from start to finish, family values and outrageous comedy take center stage as the legendary musical returns to Broadway. Robert Goulet, Gary Beach, Gavin Creel & the entire company will give their Special Performance for The Actors' Fund. Sunday, May 1, in New York City.


ART AND ABOUT


CHICAGO ANTIQUES FAIR which is open to the public, takes place April 29-May 2 at the Merchandise Mart in Chicago.

The eighth annual Chicago Antiques Fair is an antique and fine art lover's paradise.

Featuring 100 of the world's top dealers, including 20 dealers from the United Kingdom, the fair will showcase antiques and fine art from a wide range of categories, periods and locales.

A preview party on Thursday, April 28, will benefit the Rehabilitation Institute of Chicago.



Lady Henrietta Spencer-Churchill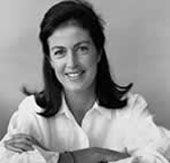 World-renowned designer, lecturer and author Lady Henrietta Spencer-Churchill will open the 2005 Chicago Antiques Fair.

She will deliver an illustrative presentation on how to effectively create classic design in today's home.

Through expert tips and examples of her work, she will show how the elements of classic decorating styles can be adapted and used within many styles of homes.

A book signing of Lady Spencer-Churchill's latest book will follow her presentation.



ELECTRICIDAD By Luis Alfaro. Based on Sophocles' Electra. This West Coast Premiere is directed by Lisa Peterson.

With (alphabetically): Denise Blasor, Elisa Bocanegra, Wilma Bonet, Bertila Damas, Justin Huen, Alma Martinez, Catalina Maynard, Zilah Mendoza, Winston Rocha.

In a Los Angeles barrio, the hum of a live wire is heard, electricity pulsing through a transformer box. The same power runs through the body of Electricidad, driven by the all-consuming passions of loyalty and vengeance. High tension and electrical spark and hiss are ever-present in this mesmerizing transformation of Sophocles' Greek classic, Electra, as it takes a contemporary look at the power and consequences of revenge and its effects on family and community. Electricidad crackles with intensity and sly humor, as it transforms a 2400-year-old text into a vibrant, vital and thoroughly unforgettable myth for the modern age.

Set Design: Rachel Hauck. Costume Design: Christopher Acebo. Lighting Design: Geoff Korf. Original Music and Sound Design: Paul James Prendergast.

CHITTY CHITTY BANG BANG complete with that flying car, opens Thursday, April 28 at the Hilton Theatre in New York City, following by an invitation only black tie party.

Open Forums (post-play discussions) Every Tuesday evening beginning April 26. Performances run to May 15 at the Mark Taper Forum in Los Angeles.

THE CAPE PLAYHOUSE America's longest running professional summer theatre, will celebrate its 79th Anniversary Season starting June 20th by featuring six main-stage productions with performances slated through September 10th. Under the artistic direction of Evans Haile, the summer season will kick off with the new musical Ambassador Satch - The Life and Music of Louis Armstrong, a musical valentine to the incomparable Satchmo.

With performances set to begin on June 20th, Ambassador Satch will star three-time Tony Nominee Andre De Shields and will be choreographed by Mercedes Ellington with stage direction by Lawrence Maslon, creator of the hit PBS series, Broadway on Broadway. Written by James Mirrione and De Shields, Ambassador Satch tells Armstrong's story from backwater Jazz clubs to Hollywood soundstages. His singular gravely voice and legendary trumpet artistry helped send songs like Mack the Knife, What a Wonderful World, Baby Its Cold Outside and Hello Dolly to the top of the charts. Performances are through July 2nd.

NEUROTICA Written and performed by Sam Brown Directed and developed by Jon Shear.

In Neurotica, when Sam Brown forces himself to spend an hour in an isolation tank, the truth of his life comes bubbling up. How did such a nice Jewish boy end up hallucinating on Thanksgiving, living in a Mental Hospital, having his perfectly healthy appendix taken out, falling in love with a woman who smashed all the windows in his house with a hammer and getting engaged to a shiksa who screwed half of the Manhattan White pages behind his back? These are just a smattering of the issues floating around the mind of this hysterical young man. Will he sink or swim?

Previews on Wednesday, April 27th and Thursday April 28th. Opens Friday, April 29th and continue through Saturday, May 28th at the Hudson Guild Theatre in Hollywood.

BUTTERFLIES ARE FREE by Leonard Gershe, was first performed in New York's Booth Theater on October 21, 1969. It featured Keir Dullea, Blythe Danner, Eileen Heckart, and Michael Glaser.

This new staging will be directed by Jim R. Warner who, in 1961, directed the first national touring company of The Fantasticks, which ended its run in San Francisco. Today the 71-year-old director, now retired in Palm Springs, continues to practice his craft by directing community theater.

Warner's production of Butterflies Are Free will be staged at a new theater run by Metropolitan Community Church of the Coachella Valley in Cathedral City (adjacent to Palm Springs). Warner said he's "wanted to direct this play ever since I saw it in 1969 in New York." It opens in May, only 36 years later. Warner earned a master's in Theatre from Occidental College in Los Angeles. While an employee of Disney Studios he created the Disney Players, a community theater group for studio employees - earning praise from Walt Disney.

Warner also created The Three Crowns Theatre in St. Thomas, Virgin Islands. There he was producer and director for four years served on the board of directors of the Ballet Theater of the Virgin Islands.

Butterflies Are Free opens May 20 at Metropolitan Community Theatre in Cathedral City, CA.

A CASE OF MURDER Dostoevsky's classic novel Crime and Punishment gets a 21st Century makeover as La MaMa Experimental Theatre presents Robert Montgomery's musical thriller A Case of Murder, which transplants the classic 19th Century Russian tale to New York's East Village in the present day. Where Dostoevsky's work tells the story from the perspective of the killer, A Case of Murder relates the tale from the point of view of the detective.

Montgomery is the author of eight young adult novels and has been teaching Playwriting and Creative Writing at Columbia University and The New School since the mid-eighties.

With words and music by Montgomery and directed by Benno Haenel, the body count begins May 5th at La MaMa's First Floor Theatre, NYC.

THE BLONDE IN THE THUNDERBIRD A ONE WOMAN MUSICAL Suzanne Somers stars in the world premiere of her new show at the Princess of Wales Theatre for 13 performances only. Presented in Toronto by Alan Hamel and Ben Sprecher in association with David and Ed Mirvish, before heading to Broadway in July.

June 16 - 26 The Princess of Wales Theatre in Toronto.

DEAD END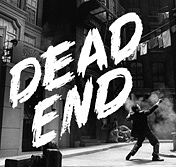 by Sidney Kingsley. Directed by Nicholas Martin.

Against a brilliant New York skyline, a gathering of tenements and a magnificent luxury apartment building stand side by side along the East River overlooking the Queensboro Bridge. Today the area is Sutton Place. But in the early '30s it was home to the Dead End Kids, a group of scruffy teenage boys whose lives were the streets -- playing cards on the stoop, roasting potatoes in a can, and swimming in the river. When wealth is flaunted in the face of poverty, the worlds of the haves and the have-nots explosively collide.

Sidney Kingsley's stirring drama, a popular hit on Broadway in 1935, returns triumphantly to the stage in this stunning production featuring over 40 actors, one of the largest sets every created for the Ahmanson, plus the orchestra pit filled with 10,000 gallons of water to simulate New York's East River.

August 28 – October 16 at the Ahmanson Theatre in Los Angeles.



WHO'S WHERE


STING returns to his rock roots on The Broken Music Tour, which will find him backed by just two guitarists and a drummer. With Phantom Planet. Wednesday, April 27, at the Patriot Center of George Mason University in Washington, D.C.

BRUCE SPRINGSTEEN has begun a tour to promote his 19th album, Devils & Dust, featuring 12 new Springsteen songs - to be released by Columbia Records on April 26. His live performance can be enjoyed Monday, April 25 at the Fox Theatre in Detroit. On Thursday he's in the spotlight at the Nokia Theatre in Grand Prairie, Texas and on Saturday he's on stage at the Glendale Arena in Glendale, Arizona.

DEBBIE REYNOLDS stars at the Sun Coast Hotel in Las Vegas April 29 through May 1.

U2 stages a duo of two nighters this week. Tonight, Sunday April 24, the first two night stand begins at the Key Arena at the Seattle Center in Seattle. On Thursday the guys open a two night gig at General Motors Place in Vancouver, BC.

NEWSBOYS perform Saturday, April 30,k at lst Mariner Arena in Baltimore, MD.

ALICIA KEYS on stage tonight, April 24 at Prudential Hall on Newark, N.J. On Wednesday the show is at the Agganis Arena in Boston and on Saturday she's center stage at Chastain Park Amphitheatre in Atlanta.

ANDREA ANDERSON French Impressionist pianist, in a unique program combining art and music, performs April 29 at the Cumberland County Playhouse in Crossville, TN.


PIFFLE AND PROFUNDITIES


NOW WE NEED SAMMY declared Clark County Commissioner Myrna Williams - sister of the late crooner Mel Torme - after the commissioners voted unanimously to change the name of Industrial Road to Dean Martin Drive, which is located across from Frank Sinatra Drive.
















Next Column: May 1, 2005
Copyright: April 24, 2005. All Rights Reserved. Reviews, Interviews, Commentary, Photographs or Graphics from any Broadway To Vegas (TM) columns may not be published, broadcast, rewritten, utilized as leads, or used in any manner without permission, compensation and/or credit.
Link to Main Page
---
Laura Deni



U.S. Postal Address: Post Office Box 60538, Las Vegas, NV 89160
CLICK HERE FOR COMMENT SECTION