! >
Broadway To Vegas
  
SHOW REVIEWS     CELEBRITY INTERVIEWS     GOSSIP     NEWS 
PRINCE ALBERT AN ALL NIGHT PARTY GUY
Prince Albert of Monaco partied the night away with Stacey Shea, Marla Goes, Vanessa O'Brien and Andrea Guevera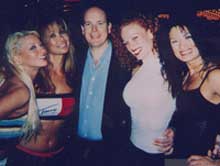 Prince Albert of Monaco was reigning in Las Vegas when he stayed up all night to party hearty with the girls who star in Crazy Girls at the Riviera Hotel.

First the son of the late Grace Kelly attended their performance, then invited four of the performers - Stacey Shea, Marla Gomes, Vanessa O'Brien and Andrea Guevara to join him for a night on the town.

"He came to get us in a limousine and that's when the party began," reported Gomes.



This is what turned on Prince Albert of Monaco to a night of Las Vegas merriment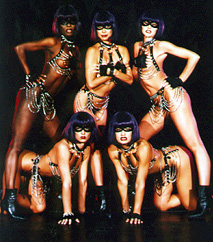 They went to Drai's nightclub where, according to Shea, "we danced, had cocktails and lots of fun. We had a great time and were there until about four in the morning. We turned lots of heads because we were local celebrities. He invited the Crazy Girls to go to Monaco and he would host us there. He loved the Crazy Girls show. He had a really nice time. He's very down-to-earth. You wouldn't think he was the Prince of Monaco. We drank Greyhounds."

"We danced the night away into the wee hours of the morning," added O'Brien referring to the 42 year old bachelor who reportedly has been required to submit to more than one paternity test. "I don't think there was a minute that we weren't dancing. Afterwards we were invited back to his villa at the hotel but we all declined. He had an entourage."

Apparently one of the girls is going to take up Albert's invitation to visit Monaco. "My plan is to go to Monaco on our Christmas break in December and visit him," said Gomes. "He was very humble for a prince. I couldn't believe he was so nice. It was a fantastic night for all of us."
THIEF UPSETS DON JOHNSON

Don Johnson is one maniacal individual - and who could blame him. You'd be just as infuriated your Mercedes was stolen and demolished. It's a strange saga that might as well be turned into a Nash Bridges script treatment



DON JOHNSON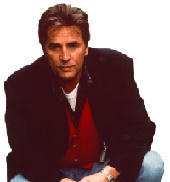 Johnson has been in Las Vegas filming scenes for Nash Bridges 100th episode, a two-part season ender. The actor gets a kick out of chasing the bad guy in that action adventure weekly. The star wasn't amused when his own Mercedes was stolen from the location site at the Desert Inn Hotel, and wrecked in a scene that could top anything ever written for Nash Bridges. All the writers have to do is copy the police report and a new script is almost ready.

On Tuesday Johnson's black Mercedes was parked at the hotel getting "detailed," which means you pay a lot of money to have somebody else do what used to be called spending a Saturday morning washing your car on the driveway.

Robert Lee Gibson, 31, has been charged with two counts of felony evading police and two counts of possession of a stolen motor vehicle, one count of battery with a deadly weapon and one count of extortion. Don Johnson whose Mercedes retails for about $80,000 needs a new car.

Gibson is accused of stealing the car, entering into a chase with a police officer, ramming the Mercedes into Police Sgt. Victor Vigna's patrol car, ditching the auto, and escaping on foot - until he scampered back to reclaim the wrecked Mercedes. It didn't matter that the car was smashed up, Gibson wanted to tool around in Johnson's car.

According to the police report, the following night - Wednesday - Vigna again spotted Gibson driving Johnson's stolen black Mercedes S500. A high speed chase - in excess of 90 mph - ensued. That came to a halt when Gibson tried to make the Mercedes take a curve in the road too fast and spun over the curb into a planter. The Mercedes uprooted a tree and slid about 75 feet before rolling and coming to a stop on the driver's side against a sign for a strip mall

Johnson was so upset over his demolished car that he skipped some scenes. He got out of town as fast as possible, returning to his own restaurant, the Ana Mandara in San Francisco, where Don and Kelley will be celebrating their first wedding anniversary on April 29



Broadway To Vegas is supported through advertising and donations. Priority consideration is given to interview suggestions, news, press releases, etc from paid supporters. However, no paid supporters control, alter, edit, or in any way manipulate the content of this site. Your donation is appreciated. We accept PAYPAL. Thank you for your interest.


GRAPES AND BREAD POOR SUBSTITUTE FOR DRUGS AND BROADS
TED BINION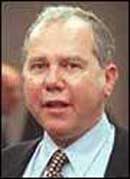 Ted Binion is dead. That's just about the only thing people agree on. His death is as colorful as his upbringing.

He was the son of gaming pioneer Benny Binion - a guy who was from the "old school." If you caught a dealer cheating you simply took him into the back room and cut off some fingers. The elder Binion became world famous with his Horseshoe Club, home of the World Series of Poker, which evolved in 1951 from the Eldorado Club in the "Glitter Gulch" section of Vegas. At that time it was the first downtown club to have carpeting.

If the old man's tastes ran to gambling his son was bedeviled by drugs and broads. A trial is currently taking place to determine how the colorful character met his demise. To attempt to help the lawyers get the facts psychics decided to hold a seance in hopes of contacting the courtroom subject.

A table full of psychics, candles lit, Tarot cards on the table, were attempting to conjure up the spirit of Benny Binion, whose girl friend Sandy Murphy and her one-time significant other, Rick Tabish, are on trial for his murder when the Inside Edition crew told the psychics to stay seated and the onlookers to move back so they could get a wide shot.

No spirit is going to go for that. They didn't even use a key light and while alive Binion didn't play by the script, so what made them think he'd do what they wanted now? The psychics set out green grapes and bread in attempt to lure Binion's spirit. Binion, who bit the dust from an overdose of heroin and the prescription sedative Xanax in September 1998, was always lured by drugs and broads - so this ploy didn't work, either.

This hocus pocus get together was sponsored by the Psychic Eye and publicized by Jackie Gladfelter, who works with the criminal defense team ad man Tom Letizia. Gladfelter also participated as one of the psychics.

Psychic Eye owner Robert Leysem was not deterred that Binion's spirit was a no-show. He said he'll conduct another seance without the media and seal the results until after the trial is finished.

The psychics did take their own poll and declared 8-3 that Murphy and Tabish will not be convicted, even though they may actually be guilty.

Sounds like a TV script in the making.


SAVION GLOVER: HEAVY FOOT, SOFT HEART

Dancer-choreographer Savion (his mother's version of Saviour) Glover is a rat-a-tat tapping across the country on tour with Savion The Concert which has most recently been in southern California receiving rave reviews at the Wilshire Theatre in Los Angeles and at the California Center for the Arts this past weekend.



SAVION GLOVER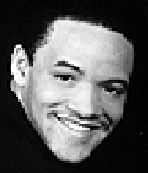 Glover, who won a Tony Award for his Broadway smash Bring In Da Noise, Bring in Da Funk built up a legend of young fans when he toured in Jelly's Last Jam, the hit Broadway musical about the legendary Jelly Roll Morton, starring Gregory Hines.

In that 1995 tour Glover developed a habit of giving tap lessons to youngsters who wanted to learn by watching the dancer at work. In fact, he taught classes in all 65 cities he visited during his road tour of Jelly's Last Jam. He'd teach a group class for 90 minutes, usually dressed in a baggy sweater, blue jeans and those black heavy duty tap shoes. He's got his own style, thanks to his mother not being able to afford real tap shoes. His first pair were make shift - with his mother putting him in a pair of old cowboy boots with a hard bottom "so I could get some sound out." Hitting hard and making sound is what shaped his career.

"I dance heavy. Loud. And, I just want to be heard all over the place," he said.

Glover got his start in a cemetery - one that was located behind his grandmother's house in New Jersey. When he was seven his cousin taught him how, with a running start, he could use a gravestone for leverage, turn a backflip and land on his feet.

With the exception of the time he was sentenced to 50 hours of community service after pleading guilty to disorderly conduct - a lesser charge stemming from an impaired driving and possession of marijuana arrest - he's been landing on his feet ever since.

"My style of dancing is not about the body or the hands or the big finish. It's about the rhythms. It's all natural. A lot of dance schools are caught up into just counting out things - slap, slap, slap, slap, shuffle, slap, shuffle, slap, slap.

"Instead of all that, I break down the rhythm, skickita goo goo blaa blas - to demonstrate the sound.

"Tap is like a drum solo. I believe you can get so many tones out of using your foot. Your heel is like your bass drum. The ball of your foot is the snare. The side is like a rim shot. A regular tap dancer knows ball and heel. He don't know about the side of your arch - the side of your foot. We get sounds from the pinkie toe to all sides of the foot, back to the heel," explained the dance phenom who received a 1992 National Endowment for the Arts grant in choreography, and so became the youngest recipient in N.E.A. history.

After Glover gives his tap lessons he answers questions and signs autographs.

In addition to promoting tap, Glove is building his following into the next generation. The kids today are the ticket buyers of tomorrow.

"These classes are practice for me,"continued Glover. "I get to teach. I definitely want to keep the art form alive. Maybe some of these kids might remember the combinations they learned, teach it, pass it on. That's what it's all about."


DESERT INN HOTEL IN LAS VEGAS CELEBRATES GOLDEN ANNIVERSARY


The Desert Inn Hotel in Las Vegas is throwing itself a Golden Anniversary Party tomorrow night. On April 24, 1950, the Desert Inn became the 5th major resort to open on the Las Vegas Strip.

The Desert Inn is the place that VEGA$, the ABC television series called home - as did Howard Hughes who took over the 9th floor, where the eccentric and elusive billionaire demanded and received ice cream every hour. Frank Sinatra played there as have most of the important stars.

When it opened the 300 room hotel's trademark was a painted desert scene highlighted by a large Joshua tree. That stood as a symbol for the warmth and hospitality the hotel came to exemplify. It was put on the map by some crafty publicity.



Edgar Bergen, the nation's foremost ventriloquist and his woodenheaded dummy Charlie McCarthy opened the Desert Inn and in white tie and tails would enjoy gambling up and down the Strip.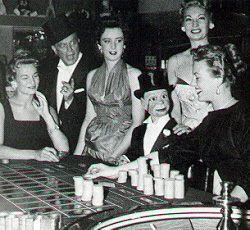 Hank Greenspun, who later was the hands on head of the Greenspun Publishing Empire, was the hotel's pr person. He orchestrated an advertising and media blitz that gave the hotel overnight identity.

Opening night entertainment included Edgar Bergen and Charlie McCarthy, Vivian Blaine, Pat Patrick, the Donn Arden Dancers and the Desert Inn Orchestra conducted by Ray Noble.

The hotel set the standard for the Vegas that would follow: Wilbur Clark's Desert Inn was the first to: offer tennis facilities; to set up accommodations for children within a hotel; to have its own 18 hole championship golf course and to recognize the far reaching benefits derived from hosting a major sporting event - the Tournament of Champions beginning in 1953.

Now, Steve Wynn wants to buy the place.


OTHER PEOPLE'S MONEY

LONDON CLUBS INTERNATIONAL, PIC now owns 40 percent of the new Aladdin Hotel in Las Vegas, due to open August 17. The added buy-in also gives them majority control of the Board of Directors. London Clubs will now receive the first $30 million in profits produced by the Aladdin each year. The Aladdin is a $1.4 billion Arabian Nights themed resort that includes the 90% leased $250,000 Desert Passage a 300,000 sq. ft. upscale mall with 180 shops and 14 restaurants

UCLA'S DEPARTMENT OF MUSIC has been awarded $1.75 million from the Maxwell H. Gluck Foundation to expand its music outreach, performance and education programs. Part of the grant will fund a new opera outreach program.

RICARDO MONTALBAN THEATRE

RICARDO MONTALBAN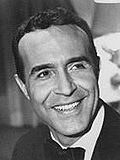 The Los Angeles City Council has approved a plan to convert the 1,021-seat Doolittle Theatre in Hollywood into a Latin-oriented performance center.

That center will be renamed the Ricardo Montalban Theater.

The Mexican born movie and TV star founded the Montalban-Nosotros Foundation three decades ago to promote Latinos in show business.

It is expected that the Montalban-Nosotros Foundation will be contracted to renovate and run the theater.


APPLAUSE APPLAUSE

THE DRAMATISTS GUILD FUND OF AMERICA

DAME EDNA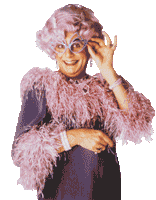 stages a Broadway To Be! Gala Dinner and Awards Ceremony tomorrow night, April 24 at the Hudson Theatre. Chaired by Cathy Graham, the dinner will be followed by the Award Ceremony which will have Dame Edna, the fabulous toast of Broadway, presenting six of the Dramatists Guilds' best-known composers, who will be accompanying six of their favorite stars, as each performs for the first time a number from a future show.

James Lapine will direct as Stephen Sondheim with Bernadette Peters sings a selection from Wise Guys. John Kander with Chita Rivera doing a song with lyrics by Fred Ebb from The Visit, Stephen Flaherty with Brian Stokes Mitchell deliver a tune with lyrics by Lynn Ahrens from The Glorious Ones. William Finn with Elaine Stritch stage a ditty from Royal Family of Broadway. Charles Strouse with Marin Mazzie offer a composition with lyrics by Susan Birkenhead from The Night They Raided Minsky's and Marvin Hamlisch with Brian D'Arcy offer up a selection from Sweet Smell of Success. After dinner, Lauren Bacall will present the awards including a Lifetime Achievement Award to Arthur Miller. Betty Comden and Adolph Green will perform an Ode to the Dramatists Guild.
MUSIC GOES ROUND AND ROUND


MARIANNE FAITHFUL has her first release in five years Vagabond Ways which is also her first album of pop songs since her 1983 A Child's Adventure album. Serious, introspective, Vagabond Ways examines in song a druggie who sleeps around, gets pregnant and then died; a pitiful creature who clings to an abusive boyfriend, does drugs and watches as welfare takes away her child; a third woman goes into a reunion, realizes she has slept with almost every guy in the room and is overwhelmed with regret. Not your toe tapping, hum along CD, but thought provoking songs - which is exactly what Faithful intended.

MATHIS ON BROADWAY a must for anybody who enjoys good music.

AUDRA McDONALD the three time Tony winner has a crowd pleaser in Audra McDonald How Glory Goes which features songs by Harold Arlen, Jerome Kern, Adam Guettel.


NATIONAL DANCE WEEK


Debbie Allen national spokesperson for National Dance Week is urging people to kick up their heels and dance up a storm.

Sponsored by the United Dance Merchants of American, the week long celebration attempts to heighten the awareness of Dance and its contributions to our culture Dance is good for the mind, body and spirit. New York City kicks off its celebration tomorrow April 24 at noon.


JUMPING ON THE PRINCE CHARLES BANDWAGON
Prince Charles speaking in behalf of his trust foundation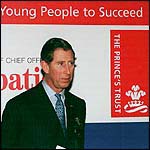 The Prince of Wales, better known as Prince Charles has what is called The Prince's Trust which initiates a variety of charitable endeavors. The trust conducted a research project which concluded that community music projects play a valuable role in motivating young people who have not succeeded at school.

With that the future king of England started a music program. Recently Prince Charles attended a luncheon which officially launched The Prince's Trust Hidden Talents Music Network. This new endeavor is a partnership between the Prince's Trust and the BBC Music Live to link community music projects across the United Kingdom. Young people aged 14 to 25 will have access to training, recording and live performance opportunities.

The BBC will showcase some of the bands taking part in the Network during its UK-wide celebration of live music in May. In addition to Prince Charles, attending the luncheon were Sir Christopher Bland, chairman of the BBC and members of the group Dust 21 which performed. They recounted how four of the five members participated in a Prince's Trust music course and were given grants to purchase instruments.



ABIE'S ISLAND ROSE

Carla Woods and Heather MacRae star in Abie's Island Rose Photo By: Carol Rosegg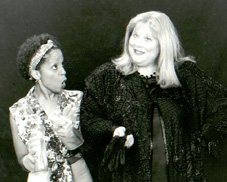 a new off Broadway musical has its world premiere at the Jewish Repertory Theatre in New York City. Abie's Island Rose is a four-character musical comedy which tells the story of the romance between Abie, a young New York Jewish medical student and Rose, an Afro-Caribbean nurse. The show takes place in two mythical islands:Tornados in the Caribbean and Manhattan on the Hudson.

The cast features: Heather MacRae daughter of Sheila MacRae and the late Gordon MacRae. Her show business upbringing wasn't lost on the singer/actress who was a 1999 MAC Award winner and whose Broadway credits range from Hair to Falsettos.

Co-starring with Heather are Keith Lee Grant who recently appeared in the Lincoln Center production of Marie Christine, Steven Rosen and Carla Woods.

The director is Doug Katsaros, who is also the show's composer. Katsaros is currently musical director and conductor of the Broadway musical Footloose.

THE LION KING opening October 19 at the Pantages Theatre in Los Angeles will begin ticket sales on May 3. To whet the ticket buying appetite members of the Broadway and London productions will do free performances of musical numbers from the show at three locations - on a special stage erected outside the Pantages Theatre, at the downtown California Plaza and at Orange Country's South Coast Plaza.

PIONEER THEATRE COMPANY in Salt Lake City, Utah - Charles Morey Artistic Director - will stage the professional premiere of Utah playwright Tim Slover's Joyful Noise, which tells the story of George Frederick Handel's creation of The Messiah.(See Broadway To Vegas column of Feb. 6, 2000) The company will also stage the regional premiere of Art and the world premiere of Morey's latest original script, Laughing Stock a comedy based on his own experiences in directing summer stock theatre in New England.

THE RIO HOTEL in Las Vegas has opened its formal feel, traditional look, three level 1470-seat theatre, with the hopes of bringing in more Broadway shows. The stage has retractable proscenium walls, and a traditional orchestra pit Currently on stage is Tap Dogs followed by Footloose opening May 19. Also slated to open at the Rio is De la Guarde an Argentinian production in which aerialists perform over rain, wind and other effects of nature. The Rio is expected to build a special area for this production.

RENT the award winning Broadway musical comes to the Orpheum Theatre, Omaha, NE April 25-30.

GODSPELL an extraordinary musical which celebrates the Gospel as told by St. Matthew. Updated for a new millennium Godspell still draws its power from Stephen Schwartz' memorable songs like Day By Day, Prepare Ye and By My Side. Ed Cabell Theatre, Gainesville College Performing Arts Center. Thru April 30.

COTTON PATCH GOSPEL

GARY SANDY

puts Jesus in Georgia. The Ryman Auditorium in Nashville is producing the late songwriter Harry Chapin's musical retelling of the Gospel of Matthew. In Cotton Patch Gospel Jesus is born in a trailer park in Gainesville, Ga.

Herod and Pontius Pilate are governors of Georgia, with much of the action taking place in Atlanta. When the Wise Men arrive to great the child, who has been born in an apple crate, they bring an American Express Gold Card, peach scented candles and a bottle of Jade East. The production stars Gary Sandy, best known as the station manager Andy Travis on the sitcom WKRP in Cincinnati. Sandy plays almost all of the parts. Sandy has appeared in several Broadway productions including The Pirates of Penzance, and is in the film The Insider. Curt Wollan directs. The production includes a four-person onstage Bluegrass band and a 10-voice gospel choir. Sandy has stated that this show basically asks a question: If Jesus came back in modern-day Georgia, what would that be like?


WHO'S WHERE


EDWARD ALBEE who is directing his newest play The Play About the Baby at the Alley Theatre in Houston is in familiar territory. The famed playwright teaches play writing at the University of Houston - something that's he done for over 10 years. The Play About the Baby stars Marian Seldes and Earle Hyman

DONNA HANOVER wife of New York City Mayor Rudi Giuliani becomes the newest cast member of The Vagina Monlogues.

LORRIE MORGAN AND SAMMY KERSHAW set to play Branson, Mo. Morgan will perform three dates during this summer's three major holiday weekends; May 28, July 1, and September 2. Kershaw will be making his Branson debut performing May 20 at The Grand Palace.

FRANKIE LAINE like ol' man river just keeps rolling along. He's starring in the Palm Spring Follies through May 28. Historic Plaza Theatre, Palm Springs, Ca.

ROY CLARK who was responsible for country music crossing over to pop, stars at the Orleans Hotel in Las Vegas April 27-30. Performers can thank Roy for Branson, Mo. He's the guy who started the Vegas type venues in Branson, which now proclaims that they are the live music capital of the world boasting more seats than Broadway.




MARILU HENNER will star in Annie making her debut in Dallas in July. She's signed on for a six-month road tour.

JAYMIE MEYER opens Wednesday at Arci's Place in NYC. The opening coincides with the release of her debut solo CD What You Call A Dream.


THIS AND THAT

BLUE MAN GROUP


at the Luxor Hotel in Las Vegas is a loud, noisy show. There are a lot of shows where one wonders if the sound engineer perhaps is deaf. At Blue Man Group they have taken a step to ensure that the customers retain their hearing. At the box office there is a sign notifying patrons that ear protection is available. Upon request you are given a pair of individually wrapped disposable earplugs, which are complimentary. More shows should offer this courtesy.


FINAL OVATION

LILA KEDROVA who won an Oscar, a Tony and a Drama Desk Award for her portrayal of Madame Hortense in the film and stage version of Zorba the Greek died Feb. 16 in Sault Ste. Marie, Ontario, The Leningrad born actor was in her 80s.



Mention BROADWAY TO VEGAS for Special Consideration
Call (800) 942-9027









Next Column: April 30, 2000
Copyright: April 23, 2000. All Rights Reserved. Reviews, Interviews, Commentary, Graphics, Photographs from any Broadway To Vegas (TM) columns may not be published, broadcast, rewritten, utilized as leads, or used in any manner without permission, compensation and/or credit.
Link to Main Page
---
Laura Deni


CLICK HERE FOR COMMENT SECTION