! >
Broadway To Vegas
  
  REVIEWS INTERVIEWS COMMENTARY NEWS

| | |
| --- | --- |
| | |
REVIEW OF BROADWAY REVIVAL MY FAIR LADY - - REVIEW OF BROADWAY REIVIVAL OF CAROUSEL - - THE 18TH MEET IN BEIJING ARTS FESTIVAL SALUTES ITALY - - A KALEIDOSCOPE OF COLOR: THE COSTUME DESIGNS OF MILES WHITE - - BEYONCE MASS AND RELIGIOUS STUDIES - - RAPPER KENDRICK LAMAR WINS PULITZER FOR MUSIC - - HELLO AGAIN CD REVIEWED - - REVIEW OF BROADWAY REVIVAL OF CHILDREN OF A LESSER GOD - - DONATE . . . Scroll Down





Copyright: April 22, 2018
By: Laura Deni
CLICK HERE FOR COMMENT SECTION


BROADWAY'S MY FAIR LADY IS THE FAIREST OF THEM ALL
Lauren Ambrose in My Fair Lady. Photo by Joan Marcus.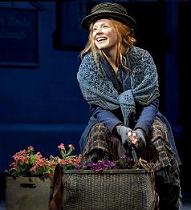 My Fair Lady Alan Jay Lerner and Frederick Loewe's 1956 musical, based on George Bernard Shaw's Pygmalion, is a type of Cinderella story, and the current revival on Lincoln Center's Vivian Beaumont stage is the fairest of them all.

Winning combinations are a rare commodity. The pairing of Lincoln Center with director Bartlett Sher who gave us the astounding The King and I as well as winning the Tony for South Pacific are responsible for this splendorous production.

Expect My Fair Lady to receive a lot of award nominations.

Appropriate is the use of any and all superlatives. Pick your favorite and consider it an understatement.

Starring two-time Emmy Award nominee Lauren Ambrose (as Eliza Doolittle), Harry Hadden-Paton (making his NY stage debut as Henry Higgins), two-time Tony Award winner Norbert Leo Butz (as Alfred P. Doolittle), Tony Award winner Dame Diana Rigg (as Mrs. Higgins), Allan Corduner (as Colonel Pickering), and Jordan Donica (as Freddy Eynsford-Hill).



Harry Hadden-Paton sd Prof. Henry Higgins attempts to teach Lauren Ambrose as Eliza Doolittle how to properly speak. Photo by Joan Marcus.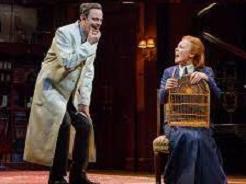 Although Eliza Doolittle sells flowers, she's no wallflower, displaying the spunk and sass of a survivalist. Harry Hadden-Paton as Henry Higgins may be intellectually wiser than Eliza, but is not old enough to be her father - as is the case in other productions.

Higgins is a professor who boasts that he can turn a flower seller into somebody he could pass off as a duchess. You sense that while he doesn't display empathy, he not a mean bully - he just behaves the way he feels a professor is expected to behave. After all, he is a man. He's trying to be helpful, improve the girl - a girl he can't help but love.

His renditions of I'm An Ordinary Man and Hymn To Him (Why Can't A Women) are high points of Hadden-Patton's performance. He uses more of his voice than Tony and Oscar winning Rex Harrison who memorably talked the songs.

Diana Rigg in grande dame grandeur is Henry Higgins mother who is totally annoyed at her son, suggesting a subconscious admiration for Eliza's stubborn streak. It's apparent that she doesn't suffer fools lightly, and there are times when she thinks her son is one. There is even a suffragist march in one of the ensemble scenes.



Two time Tony Award winner Norbert Leo Butz steals the show as Eliza's father. Photo by Joan Marcus.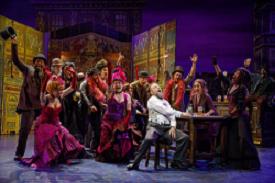 Two time Tony award winner Norbert Leo Butz is over the top as Eliza's sauced father who would happily sell her for five pounds and later parties with scarlet clad dance hall floozies, and a cross dressing bride-and-groom, and is hilariously carried off to his own wedding. His Get Me to the Church on Time, is show stopping and demonstrates Christopher Gattelli's energetic and clever choreography.

Mchael Yeargan's scenic designs - sometimes using a turntable set - are loverly, from an Edwardian English townhouse, flower market, street scene, bar, or ball.

One of the funniest scenes in any musical is My Fair Lady's opening day as Ascot races. To mess around with that scene is one way to destroy the show. The scene is perfect! Zuber's use of silver and hues in the lavender range are stunning and royally aloof.

In a gold gown, Eliza descending the staircase at the Embassy ballroom is elegance at its best.

On the Street Where You Live belongs to Jordan Donica as the besotted Freddy, played as a total twerp.

Allan Corduner as Pickering, Higgens' friend and confident hints of an emotional and intelligent texture which is hidden underneath a buttoned up English suit in other productions.



Lauren Ambrose as Eliza Doolittle and Dame Diana Rigg as Henry's mother have a bonding moment. Photo by Joan Marcus.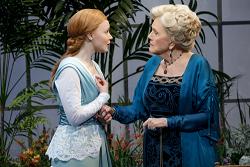 This is a musical about class and gender - making the characters are complex. Sher has permitted their complexity to show. The nod towards equality is there, but it's gentle, rather than shocking changes which can, at least temporarily, distract the audience from enjoying a production as they comprehend what they have just seen or heard.

This production marks the first Broadway revival in 25 years. Sher demonstrate that you can be current, relevant and stay true to the period classic without alienating or making controversy the name above the title.

This is a musical and the 29-piece orchestra is phenomenal. Their playing makes numbers like I Could Have Danced All Night; The Rain in Spain; Wouldn't It Be Loverly; I've Grown Accustomed to Her Face, and On the Street Where You Live. a joy to hear and reminds the audience that the backbone of a musical is always - the music.

Costumes by Catherine Zuber are sumptuous. Exquisite lighting by Donald Holder and sounds balanced to perfection by Marc Salzberg.

Henry Higgins opining I've Grown Accustomed To Her Face is his recognition that he's changed too little, too late.

What Shear has done is return the ending to the one Shaw wrote, rather than the one Lerner and Lowe created - which heart-on-your-sleeve romantics won't like. The Shaw ending is not a definitive one. Audience members are left to to draw their own conclusions as to the final relationship between Eliza and Henry. In an unusual but effective ending, despite tenderly touching Henry's cheek, Eliza leaves, in a dramatic exit - walking up an aisle through the audience.

In addition to the above mentioned stars the musical features: Linda Mugleston, Manu Narayan, Cameron Adams, Shereen Ahmed, Kerstin Anderson, Heather Botts, John Treacy Egan, Rebecca Eichenberger, SuEllen Estey, Christopher Faison, Steven Trumon Gray, Adam Grupper, Michael Halling, Joe Hart, Sasha Hutchings, Kate Marilley, Liz McCartney, Justin Lee Miller, Rommel Pierre O'Choa, Keven Quillon, JoAnna Rhinehart, Tony Roach, Lance Roberts, Blair Ross, Christine Cornish Smith, Paul Slade Smith, Samantha Sturm, Matt Wall, Michael Williams, Minami Yusui and Lee Zarret

The fabulous orchestra: Musical Coordinator: David Lai; Conducted by Ted Sperling; Associate Conductor: Paul Staroba; Concert Master: Belinda Whitney; Violin: Bryan Hernandez-Luch, Karl Kawahara, Elizabeth Nielsen, Victoria Paterson, Elizabeth Lim-Dutton, Sebu Sirinian, Robert Shaw and Amy Hamilton-Soto; Viola: David Blinn and Will Curry; Cello: Peter Sachon and Mairi Dorman-Phaneuf; Bass: Lisa Stokes; Flute/Piccolo: Elizabeth Mann; Clarinet: Todd Palmer and Shari Hoffman; Oboe/English Horn: Keisuke Ikuma; Bassoon: Damian Primis; French Horn: Zohar Schondorf and Judy Lee; Trumpet: Dylan Schwab, Wayne duMaine and Joey Pero; Trombone: Mark Patterson and Mike Boschen; Tuba/Bass: Marcus Rojas; Harp: Grace Paradise; Drums/Percussion: Kory Grossman; Music Copying: Emily Grishman Music Preparation, Emily Grishman and Adriana Grace.






Broadway To Vegas is supported through advertising and donations. Priority consideration is given to interview suggestions, news, press releases, etc from paid supporters. However, no paid supporters control, alter, edit, or in any way manipulate the content of this site. Your donation is appreciated. We accept PAYPAL. Thank you for your interest.



E-Book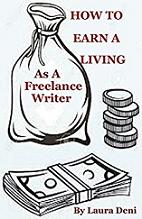 Soft back Book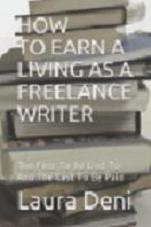 This is not your typical, totally boring textbook.

In the pages of How To Earn A Living As A Freelance Writer (the first to be lied to and the last to be paid) you'll find sex, celebrities, violence, threats, unethical editors, scummy managers and lawyers, treacherous press agents, sex discrimination; as well as a how-to for earning money by writing down words.





MUSIC AND ACTING ELEVATE DATED AND UNCOMFORTABLE SCRIPTS IN BROADWAY PRODUCTIONS CAROUSEL AND CHILDREN OF A LESSER GOD
CHILDREN OF A LESSER GOD
Lauren Ridloff and Joshua Jackson. Photos by Matthew Murphy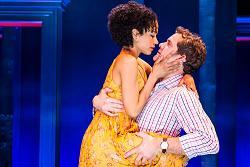 which, when first staged in 1980 won a Tony award and then released as a movie resulting in a best-actress Oscar for Marlee Matlin in the 1986 film adaptation, was ground breaking, depicting the professional and personal challenges faced by the deaf community. Today this Broadway revival of Mark Medoff's Tony Award-winning drama is - fortunately - dated, even though there still exists a rivalry among the deaf community as to whether to use American Sign Language or attempt to speak.

The revival at Studio 54 may have a script trapped within the cobwebs of social and medical process, but the acting is impressive The play stars Joshua Jackson as James Leeds and the thirty-nine-year-old deaf actress Lauren Ridloff as Sarah Norman. Also in the cast are Julee Cerda as Edna Klein, a lawyer who acts on behalf of the students; Treshelle Edmond as Lydia a student with some hearing who adds comic relief, Kecia Lewis in a powerful performance as Sarah's mother; Anthony Edwards as Mr. Franklin and John McGinty as deaf student Orin Dennis who strongly feels that all deaf students must stick together. His performance is particularly outstanding.

With the exception of Lewis and Edmond, all of the actors are making their Broadway debut.

Directed by Kenny Leon, Jackson plays speech therapist James Leeds, who fall in love with Ridloff's character of Sarah Norman who earns money working as a janitor. Leeds is tutoring her even though she has an aversion to speaking and wants to sign; Ridloff does say a few words in the play. In her private life, Ridloff prefers to sign.

Taking his role seriously Jackson learned American Sign Language, so that audience members who know ASL wouldn't see that the lead actor was faking with false hand gestures. .

For those in the audience who don't hear supertitles of the dialogue and descriptions of the music are projected above the stage.

A former Miss Deaf America, Ridloff is exquisite - both in appearance and performance. Because she signs her part, one is constantly looking at her fingers, which are stunningly long and graceful. The type of fingers usually associated with a concert pianist. In this production Ridloff plays her fingers like a musical instrument.

Costumer Dede Ayite makes the most of Ridloff's slim and agile body dressing her in era appropriate outfits ranging from almost defiant stance jeans to effervescent dresses.

Other creatives are: director of sign language, Alexandria Wailes; sets, Derek McLane; lighting, Mike Baldassari; sound, Jill BC De Boff; original music, Branford Marsalis; production stage manager, Cambra Overend.

CAROUSEL

Jessica Mueller and Joshua Henry in Carousel. Photo by Julieta Cervantes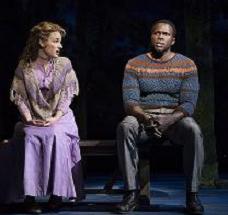 that iconic musical by Rodgers & Hammerstein has a score which I could listen to all day. The Carousel Waltz, June Is Bustin' Out All Over; If I Loved You; This Was a Real Nice Clambake; Blow High, Blow Low and - of course - You'll Never Walk Alone. One reason to see this revival at the Imperial Theatre is to hear none other than Renée Fleming, in her Broadway debut as Julie' cousin Nettie Fowler, stop the show with her enthralling and memorable rendition.

Carousel is a period piece; the second musical by the team of Richard Rodgers (music) and Oscar Hammerstein II (book and lyrics). The 1945 work was adapted from Ferenc Molnár's 1909 play Liliom, transplanting its Budapest setting to the Maine coastline.

The story revolves around carousel barker Billy Bigelow, whose romance with millworker Julie Jordan comes at the price of both their jobs. He participates in a robbery to provide for Julie and their unborn child; after it goes tragically wrong, he is given a chance to make things right. A secondary plot line deals with millworker Carrie Pipperidge and her romance with ambitious fisherman, the odoriferous Enoch Snow. Pipperidge adores him so much that she learns to love the smell of fish.

The elephant in the room always has been the physical violence Billy Bigelow (Joshua Henry) - though unseen - displays towards his wife Julie Jordan and her enabling reaction of thinking-up-excuses-for-him.

In this revised revival directed by three time Tony Award winner Jack O'Brien those starring roles are sung splendidly by Joshua Henry and Jessie Mueller.

It is Henry who performs the lengthy, important and dramatic Soliloquy, and Henry has the voice to carry it off.



Lindsay Mendez as Carrie Pipperidge and Alexander Gemignani as Enoch Snow. Photo by Julieta Cervantes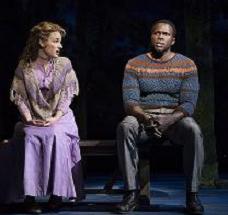 The supporting cast is important and impressive. Lindsay Mendez as Carrie Pipperidge who sings (When) I Marry Mr. Snow and Alexander Gemignani as Enoch Snow After they marry and fruitfully multiply - and multiply nonstop - they sing When the Children Are Asleep.

In a non singing role the versatile, veteran actor Margaret Colin is cast as seen-it-all, possessive carnival owner Mrs. Mullin who also has eyes for Billy - and won' take rejection for an answer.

Evil doer Jigger Craigin is played by ballet dancer Amar Ramasar who is making his noteworthy Broadway debut. The Starkeeper who permits Billy to return to earth for one day is played by famed Shakespearean actor John Douglas Thompson. Brittany Pollack, in her Broadway debut, portrays Louise the daughter of Billy and Julie who was born after Billy died.



Carousel boasts wonderful dancing and choreography. Photo by Julieta Cervantes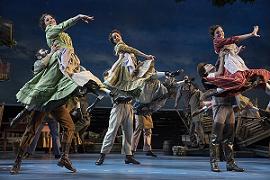 Justin Peck's choreography is powerful, interesting and spellbinding. Dancers turn into carousel horses. The ballet dancers become a boat and the sea waves. It all seamlessly flows together.

The dancers/chorus are robust, earnest and appear to be having a good time when they kick up their heels in a show stopping Blow High, Blow Low and let their vocal chords show off during This Was a Real Nice Clambake and June is Bustin' Out All Over.

To sum up the show by taking liberties with a song's lyric: it was a real nice clambake and you will be mighty glad you came.

Associate Director: Benjamin Endsley Klein; Associate Choreographer: Zoe Zien Scenic Design by Santo Loquasto; Costume Design by Ann Roth; Lighting Design by Brian MacDevitt; Sound Design by Scott Lehrer; Hair and Wig Design by Campbell Young Associates; Makeup Design by Campbell Young Associates; Associate Scenic Design: Evan Adamson; Associate Costume Design: Matthew Pachtman; Associate Lighting Design: Joel Silver and Benjamin C. Travis; Associate Sound Design: Alex Neumann.

Casting: Telsey + Company; Dialect Coach: Kate Wilson; Fight direction by Steve Rankin; Fight Captain: Sam Strasfeld; Dance Captain: Craig Salstein and Corey John Snide.

In addition to the above mentioned cast, the production includes: Colin Anderson, Yesenia Ayala, Nicholas Belton, Colin Bradbury, Andrei Chagas, Leigh-Ann Esty, Laura Feig, David Michael Garry, Garett Hawe, Rosena M. Hill Jackson, Amy Justman, Jess LeProtto, Skye Mattox, Kelly McCormick, Anna Noble, Adriana Pierce, Rebecca Pitcher, David Prottas, Craig Salstein, Ahmad Simmons, Antoine L. Smith, Corey John Snide, Erica Spyres, Ryan Steele, Sam Strasfeld, Halli Toland, Ricky Ubeda, Scarlett Walker, Jacob Keith Watson and William Youmans.

Music orchestrated by Jonathan Tunick; Vocal arrangements by Andy Einhorn; Dance arrangements by David Chase; Musical Director: Andy Einhorn. Associate Musical Coord: Kimberlee Wertz. Music Copyist: Katharine Edmonds and Emily Grishman Music Preparation.

The orchestra: Musical Coordinator: Seymour Red Press; Associate Conductor: Charles duChateau; Concertmistress: Cenovia Cummins; Violin: Martin Agee, Kristina Musser, Robert Zubrycki, Rachel Handman and Ming Yeh; Viola: Carla Fabiana and Chris Cardona; Cello: Alon Bisk and Charles duChateau; Clarinet/Flute: James Ercole; Clarinet/Eb Clarinet: Mark Lopeman; Oboe/English Horn: Keve Wilson; Flute: John Romeri; Bassoon/Bass Clarinet: Ron Jannelli; Trumpet: Tim Schadt and John Dent; Trombone: Jason Jackson; Bass Trombone/Tuba: Chris Olness; French Horn: Lawrence DiBello Jr. and David Byrd-Marrow; Harp: Kathryn Andrews; Bass: Ray Kilday; Accordion: William Schimmel; Drums/Percussion: Paul Pizzuti.

Of the numerous producers one listed is Candy Spelling, widow of Aaron Spelling and mother of Tori.



E-Book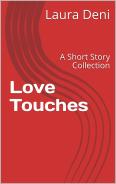 Soft back Book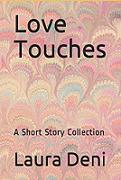 ART AND ABOUT


A KALEIDOSCOPE OF COLOR: THE COSTUME DESIGNS OF MILES WHITE

Miles White, Gena Lipowska & Charles Moroski Liberty Act, 1951. Tibbals Circus Collection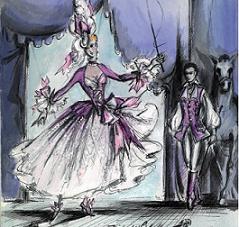 Elephants transformed into swans, beautiful girls turned into birthday cakes, and clowns became kings.

These whimsical visions are captured in the drawings of the two-time Tony Award winning costume designer Miles White (1914-2000). Paired with original costumes and contemporary photographs, White's spectacular drawings evoke the adventurous era of design that emerged in mid-century American performance.

This exhibition includes original sketches, watercolors, swatchbooks, and their production documents. Some drawings are paired with actual wardrobe pieces and historic photographs.

In 1941 Miles White joined a team tasked with re-conceptualizing the Ringling Bros. and Barnum & Bailey circus and updating it for the modern age. Under the leadership of industrial designer Norman Bel Geddes, the vision was to unify the entire circus day experience, including the presentation under the big top by thoughtfully coordinating the design elements of color, light and visual rhythm. The twenty-seven-year-old White brought to the team a modern sensibility for costume design, characterized by vivid colors, airy fabrics and a balanced concern for both function and style.

White's sketches are captivating not only for their unique content, but also for the artist's exuberant use of color as well as his beautiful, gestural renderings of the proposed costumes. To explore White's artistic accomplishments, the exhibition is organized around two central themes: transformations and productions.

The whimsical quality of White's circus designs is most evident in his clever ideas to mask the body, human or animal, and allow viewers to perceive the familiar as something totally different. White's talent for orchestrating color, texture and movement to create unforgettable productions for the circus are also explored through designs prepared for the 1952 circus spectacular entitled The Good Old Days. In White's imagination, a circus clown transformed into Queen Elizabeth I and Hannibal's elephants become the Alps.

The exhibition is drawn from more than 600 original sketches by Miles White that are part of the Tibbals Circus Collection housed in the Museum's Archives.

White also spent over 25 years designing for Broadway. He is known in the entertainment industry for his well rendered, prolific, imaginative and witty designs. White designed costumes for Rodgers and Hammerstein's first two Broadway hits, Oklahoma! and Carousel. He won Tony Awards for Hazel Flagg (1953) and Bless You All (1951) and was nominated for Tricks (1973), Milk and Honey (l962), Take Me Along (1960), Jamaica (1958), Time Remembered (1958), and · Oh, Captain! (1958).

White designed for five movies, and he received Oscar nominations for three of them - The Greatest Show on Earth, There's No Business Like Show Business, and Mike Todd's Around the World in 80 Days.

White also made contributions to such films as Gentlemen Prefer Blondes (1953), Bye Bye Birdie (1963), and The Unsinkable Molly Brown (1964). His costumes were worn by the likes of Carol Channing, Tallulah Bankhead, Bette Davis, and Lena Horne.

White died on February 17, 2000. Famed costume designer William Ivey Long referred to Miles White as "his hero," in a recording made of the March 20, 2000, memorial service at the York Theater. In this audio recording, he also cited White's "exquisite drawings," works of art in themselves, in addition to their role as working design sketches.

A Kaleidoscope of Color: The Costume Designs of Miles White opens today, April 22, 2018 and is on display through August 5, 2018 at The Ringling in Sarasota, Florida.





SWEET CHARITY


QUEEN ELIZABETH celebrated her 92nd birthday last night, Saturday, April 21, by attending a birthday concert at Royal Albert Hall. The Birthday Girl still holds down a full time job and looks decades younger than her real age.

Attending the concert with her were Prince Charles and Duchess Camilla, Prince William sans Kate who was home awaiting the any day now birth of her third child, Prince Harry and soon to be wife Meghan Markle, Prince Edward and Countess Sophie and their daughter Lady Louise, Anne, the Princess Royal and her husband Vice Admiral Sir Timothy Lawrence, Prince Andrew and his daughters Princesses Beatrice and Eugenie and a host of other senior royals.

Her husband Prince Philip, 96, couldn't attend since he recently spent 10 days in the hospital having successful hip replacement surgery and was recovering at home.

Sir Tom Jones kicked off the concert with It's Not Unusual. Other performers at the pop concert included: Ed Balls, Frank Skinner, Kylie Minogue surrounded by dancing cowboys, Harry Hill, Sting and Shaggy performing together, Shawn Mendes, Craig David, the group Ladysmith Black Mambazo, Anne-Marie, Donel Mangena and 40 members of the George Formby Society. Part of the program included singers performing songs from famous musicals, including Luke Evans singing songs from from Oklahoma! resulting in Queen Elizabeth enthusiastically clapping. She has said Oklahoma! is one of her favorite musicals. She has also singled out People Will Say We're in Love as a favorite of the royal couple. Songs from the 1930s to the present were performed in honor of the Queen's long life and video segments of some of her most important speeches were shown.

Queen Elizabeth joined her son Prince Charles on stage and Prince Harry gave a tribute to his grandmother.

The concert, which raised funds for a new youth charity, the Queen's Commonwealth Trust, will be headed by Prince Harry.

"Tonight we are celebrating The Queen's Birthday but Your Majesty, if you do not mind me saying, you are not someone who is easy to buy gifts for. But I think we have the perfect present," Prince Harry told the crowd, referring to the Queen's Commonwealth Trust.

"This organization, in your name, will provide a platform for those working to make a difference in their communities across 53 countries. Happy Birthday Your Majesty."

THE NEW YORK POPS 35th BIRTHDAY GALA takes place April 30, 2018 in New York City.

The New York Pops honors Oscar and Tony Award-winning composer Alan Menken with a star-studded gala concert of his music.

Guest artists include: Michael Arden, Roger Bart, Jodi Benson, Kerry Butler, Ashley Brown, Corey Cott, Nick Cordero, Susan Egan, Harvey Fierstein, Cheryl Freeman, James Monroe Iglehart, Adam Jacobs, Judy Kuhn, Patina Miller, Roz Ryan, Vaneese Thomas, and Lillias White.

Honorary co-chairs for the event include Ashley Brown, Whoopi Goldberg, Jeremy Jordan, Audra McDonald, Sir Tim Rice, and Bernard Telsey.

The concert takes place at Carnegie Hall followed by a Dinner Dance at the Mandarin Oriental.

Proceeds from The New York Pops 35th Birthday Gala support the orchestra and its PopsEd programs.




E-Book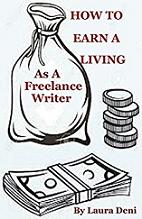 Soft back Book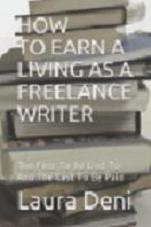 This is not your typical, totally boring textbook.

In the pages of How To Earn A Living As A Freelance Writer (the first to be lied to and the last to be paid) you'll find sex, celebrities, violence, threats, unethical editors, scummy managers and lawyers, treacherous press agents, sex discrimination; as well as a how-to for earning money by writing down words.





RELIGION ACCORDING TO THE BEYONCE MASS
Beyoncé is being used in religion.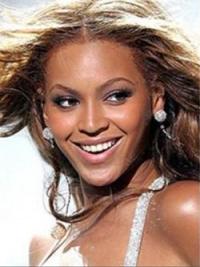 Has Beyoncé become too much of an idol worship? Or, is her music leading people to worship?

A Beyoncé Mass will take place at San Francisco's Grace Cathedral, an Episcopalian congregation that regularly hosts concerts, art exhibitions and an annual animal blessing. The religious hierarchy has announced that it will host a special mass devoted to Beyonce's music and accomplishments on Wednesday, April 25.

Hosted by the Vine, a weekly contemporary worship service espousing progressive theology, Grace Cathedral preached: "Come to The Vine SF to sing your Beyoncé favorites and discover how her art opens a window into the lives of the marginalized and forgotten - particularly black females. We'll be hearing an incredible message from Rev. Yolanda Norton, Assistant Professor of Old Testament at San Francisco Theological Seminary, who also teaches a class called Beyoncé and the Bible."

According to Grace Cathedral, "this special service was created in partnership with the Bible class at SFTS."

Rev. Jude Harmon, founding pastor of the Vine and director of innovative ministry for Grace Cathedral, has stated that plans for the service were made long before Beyoncé's Coachella show, referring to the Grammy-winning singer's Internet-breaking performance the first weekend of the Coachella Valley Music & Arts Festival.

Ever since her Lemonade album, people have been religiously reading between the lyrical lines.

Beyoncé's Lemonade and Black Christian were explored in a June 2016 issue of Religion & Politics. Referring to Lemonade: "The visual album centers on the experiences of Black women in America and journeys through the destruction of betrayal towards salvation and redemption."

Several publications have noted the religious undertones of Lemonade.

Christianity Today insisted that "God and women's freedom are tied up together in Beyoncé's Lemonade, wrote Alissa Wilkinson. "Lemonade also boasts a deep religious sense. Its images of water and fire seem torn from a book of prophecy, a personal apocalypse. It relies on the narrative of baptism and redemption . . . Lemonade as a modern-day book of Psalms, which fan across the spectrum from angry shouting to songs of deliverance. We're meant to understand that this is a personal narrative - likely for Beyoncé, but for many other women, and in particular, black women . . . some of it (is) overtly religious: Intuition, Denial, Anger, Apathy, Emptiness, Accountability, Reformation, Forgiveness," continued the publication.

Raised a devout Methodist, Beyoncé has stated she considers herself more "spiritual" than religious.

For those in the religion business, if Beyoncé can bring in the church going customers, then using her isn't beneath the clergy.

"I know there are people who will say using Beyoncé is just a cheap way of trying to get people in the church," admitted Harmon.. "But Jesus used very provocative images in the stories he would tell to incite people to ask hard questions about their own religious assumptions. He regularly provoked. We're following in the way of Jesus,"


HELLO AGAIN FILM SOUNDTRACK IS AN INTRIGUING TIME SPANNING EXPERIENCE


Intriguing, mysterious, sometimes eerie and always interestingly composed, arranged, and performed.

Broadway Records has released a soundtrack album for the film adaptation of the musical Hello Again. The album features the songs from the movie performed by cast members including Martha Plimpton, T.R. Knight, Rumer Willis, Cheyenne Jackson, Jenna Ushkowitz, Tyler Blackburn, Sam Underwood, Nolan Gerard Funk and Al Calderon.

A bonus track, Beyond the Moon, orchestrated by Enrico de Trizio features Audra McDonald.

Hello Again the movie is based on the Off-Broadway musical by Michael John LaChiusa, which was inspired by Arthur Schnitzler's 1896 play, La Ronde (Der Reigen).

The songs don't relate to each other - rather each song reflects a character who appears in two successive scenes - each of which takes place in a different decade. Each song reflects that decade.

"Hello Again chases 10 lost souls across 10 periods in New York City history, in a daisy-chained exploration of love's bittersweet embrace. The pursued becomes the pursuer as they slip in and out of one another's arms, spinning through 10 music-fueled vignettes, which come together in 1 soulful circle."

Considering current headlines the most intriguing tract on this 12 track CD is Tract 10 - 1989 - A Lie/ Mistress of the Senator. The beat is intense. The image of the elected official - referred to as a president - is important. "I'll be anything for you," sings the woman who indicates she needs a career. The aggressive women sings of the White House, and "I'll be anything for you."

If you haven't seen the movie or stage version, you aren't going to understand the storyline of the vignettes. Just enjoy the variety of musical styles and expert singing.

You can even play 'guess the singer' since somebody decided to keep that information a secret.

A dark, mysterious booklet evoking both Gothic and a mind playing fantasy games is design by Robbie Rozzelle. Unusual is that the booklet contains basically photos. There are no lyrics, or information about the subject matter. No liner notes or commentary. Like the score, the booklet requires your imagination to engage in the musical experience.

MEMO to those who thought it was a good idea not to indicate who is singing which Tract. Why? Aren't you harming the performers? Unless one just happens to know, by accident, who performed which segment - and thus gives them credit - it's a guess who? Few, if any, have either the time or inclination to play a parlor game guessing who is singing a song. Why deny a singer their proper credit?

It's also irritating for anyone trying to properly review a product.

When a movie or stage musical is being viewed, it's easy to identify the singer. When you put something out as a recording you can't see who is singing. Identify the singers - otherwise sales will be focused towards only those who have seen the movie.

When one does listen what is first heard is a sexy, female voice saying: "I've been looking for someone. ("Haven't we all," interrupts a male voice) "But, I don't know how to get to there. I don't know where I'm at." That statement is the entirety of Tract I.

Track 2 termed 1901 is a combination of female singing and, occasionally, a male voice injecting a word or two, which seems to have sexual implications. The music is Tract 3 labeled as 1944 begins with a drum beat followed by interesting scatting jazz. I Gotta Little Time/ We Kiss is upbeat and fun. You can practically see the boogie-woogie dancing. It ends slower, with the arrangement featuring the horns. Then the band swings. Tract 3 is a knockout.

Tract 4 is mysterious. Listed as representing 1967 In Some Other Life is dramatic blues progressing to wailing. As are all sections, the vocals are incredible. All of the artists on this CD have the chops to not only sing the notes, but put meaning into the lyrics. Tract 5 Story of My Life reverts back to 1929 with the robust musical style of a West Side Story type of theatrical arrangement.

Tract 6 - 1956 begins with an Elvis type musical beat and a male voice sounding like that legend singing Hello Again. Still on the same tract, The Greatest of Adventures/Tom begins. Performed rapturously by Rumer Willis, who has build up a loyal cabaret show following. Her voice is clear, pure, and flexible in conveying a variety of emotions. She deserves to have a long, successful singing career.

Strings have the ability to sound mysterious and that leads into the lengthy (as compared to the others) Tract 7 - 1912, which suddenly turns into something airy and then longing, questioning, to flippant with lyrics which appear to refer to a gentleman who has had too much wine - suddenly becoming angry and dramatic.

Tract 8 - 1976 - The One I Love/Safe - also a lengthy tract - sung by Cheyenne Jackson and Tyler Blackburn sounds like it's about an actor who wants to direct - himself - as the star. The musical resembles something you'd hear in an outer space adventure. The beat is repetitive and then builds in intensity. The lyrics convey the message that the man doesn't know where he'd been, doesn't know how to get to where he'd going, but just needs some place to stay. Morphing into Safe the music shifts to soft and gentle. The voices of Jackson and Blackburn intertwine beautifully.

Tract 9 - 2002 Beyond the Moon is outer space rock which is punctuated with the sound of a kiss before a more mysterious down to earth beat takes control. Tract 11 - Now - The Bed Was Not My Own and indeed none of the individuals portrayed on this CD are presented as monogamous. The character on this Tract is looking for somebody lying next to her who knowns her name as well as her body.

Tract 12 is the bonus offering featuring Audra McDonald.

Motion picture soundtracks are always interesting because the music is not necessarily one easily understood song after another. Composing for the big screen is an art unto itself. This score is surreal, piercing through perceived musical boundaries evolving into an eclectic soundtrack.

Musicians: Timothy Mason - Jeremy Chatzky - Carey Clayton - Jeanann Dara - Dezron Douglas - Eric Halvorson - Clara Kennedy - Laura Lutzke - Christopher McBride - Thomas McEvoy - Rich Mercurio - Jessie Montgomery - Eleonore Oppenheim - Brett Parnell - Jon Spurney - David Tedeschi and Jennifer Turner.

Orchestrations/arrangements: Todd Almond and Daniel Kluger. Music director: Brad Simmons. Music Editors: Tim Sandusky and Corey Krueckberg. Music Supervisors: Todd Almond and Daniel Kluger. Associate Music Director: Sinai Tabak.

Recording Studios: John Kilgore Sound and Recording/ Mirrortone. Recording Engineers: John Kilgore, Roman Molino Dunn and Jay Rothman. Music Mixing Studio: Studio Ballistico. Vocal Producer: Tim Sandusky. Additional Music and Editing and Arrangements: Edward Anderson.


THE 18TH MEET IN BEIJING ARTS FESTIVAL SALUTES ITALY
In this unique project, Roberto Prosseda, challenges a robot-pianist, TeoTronico. They will play the same pieces and the audience will notice how different they can sound, depending on the interpretation. The robot literally follows the indications in the score, without adding anything to it, while Prosseda adds what "interpretation". Prosseda and TeoTronico will also discuss and debate their own performances, commenting and criticizing each other, in order to stimulate a better perception of the music from the audience.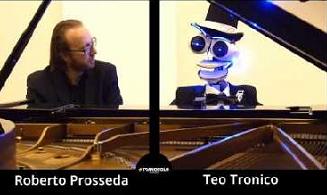 Meet in Beijing is an annual arts festival sponsored by the Ministry of Culture and Tourism, State Administration of Radio and Television and the Beijing municipal government. It's organized by China Arts and Entertainment Group and Beijing Municipal Bureau of Culture. This year, Meet in Beijing will attract nearly 800 Chinese and foreign artists from 19 countries and regions with 130 performances and three art exhibitions.

Taking place from April 27 to May 31, this year Meet In Beijing Arts Festival will spotlight Italy with .Italian art - ranging from opera, concerts to exhibitions - as the centerpiece of the month-long festival in Beijing.

Italian composer and conductor Andrea Molino will lead the opening concert with his Chinese counterpart Tan Lihua. Chinese and Italian musicians will perform classical pieces of the two countries.

During the festival, Italian pianist Roberto Prosseda will play a duet with a robot pianist.

An exhibition will feature the cultural life of the Italian Renaissance. Besides the Italian art, the festival will bring in dramas, puppet shows, circuits, dances and other performances by arts from Poland, France, Britain, Greece, Hungary, and Cambodia.

Royal Ballet of Cambodia will take center stage during the festival at the Tianqiao Performing Arts Center on April 28.

Háry János, a Hungarian puppet show, will be performed at the Beijing Tianqiao Art Center from April 30 to May 1. The story involves army veteran Háry, who likes to sit in the village inn and tell fantastic tales of his heroism.

The main character is Háry János, who claims to be a folk hero. He's a veteran hussar of the Austrian army during the first half of the 19th century who sits in the village inn regaling his listeners with fantastic tales of heroism. His supposed exploits include winning the heart of the Empress Marie Louise, the wife of Napoleon, and then single-handedly defeating Napoleon and his armies. Nevertheless, he finally renounces all his riches to go back to his village with his sweetheart. The stories conjured up in his imagination are an inextricable mixture of realism and naivety, of comic humor and pathos. Though superficially he appears to be merely a braggart, essentially he is a natural visionary and poet.

Budapest Puppet Theater, one of the largest puppet theaters central Europe, was founded on Oct 8, 1949. It aims to show the diversity of puppet play and to prove that puppet shows are not only for children, but a dramatic style suitable for people of all ages. Budapest Puppet Theater has been invited to perform more than 70 times in places around the world, winning numerous awards and gaining huge success. Háry János has been performed in 11 countries on14 tours and has been highly praised by audiences.

A special performance of Háry János for autistic children and their parents will be held on May 1.

The closing show will be the Chinese dance drama Confucius by China National Opera and Dance Theater. The drama won wide recognition when it was staged at the John F. Kennedy Center for the Performing Arts in Washington and the Lincoln Center in New York.


SPREADING THE WORD


TONY AWARD WINNER LILLIAS WHITE spent last Thursday and Friday, April 2-21, working with students attending University of Central Oklahoma, and performing with OKC's Ambassadors' Concert Choir in UCO Broadway Tonight visit.

In addition, White taught a master class last Thursday at the UCO School of Music. That class was open to the public.

THE AMERICAN THEATRE WING has announced that theyl celebrate the iconic composer, producer, and ardent philanthropist Andrew Lloyd Webber at its annual Gala, which will be held on Monday, September 24, 2018 at Cipriani 42nd Street in New York City.

The funds raised at the Gala will provide vital support for the Wing's programs.

In 2016, Lord Lloyd Webber gave the American Theatre Wing a $1.3 million, three-year grant to support theatre education opportunities for diverse and underserved young people and public schools across the U.S. Since then, the Andrew Lloyd Webber Initiative has provided more than $1 million in grants and scholarships for schools wishing to enhance their theater programs and students wishing to further their theater training, reaching over twenty-two thousand students nationwide.

A CONVERSATION WITH JOHN LITHGOW the Tony and Emmy Award-winning actor, author, and musician discusses his distinguished career and the importance of the arts. Sunday, April 29, at the JFK Library in Boston, MA.

A CONVERSATION WITH LINDA RONSTADT is called "a spectacular, big-screen, multi-media journey through the life of Linda Ronstadt, featuring the iconic singer's personal recounting of her four-decade career, assisted by videos, rare personal photos and music, including a look at some of the behind-the-scenes events that shaped her uniquely eclectic musical style. After the conversation, she will answer audience questions. Thursday, April 26, at Scottadale Arts in Scottsdale, Arizona.

THE SEAFARER starring Matthew Broderick has been extended by New York's The Irish Rep with performances now through May 24. 2018.

RADIOHEAD began their latest world tour on April 11 in Santiago, Chile. last In addition to what you'd expect them to bring along - clean underwear, passports, instruments - the group travels with a chiropractor. Not just any old bone pusher, but Shannon McEwen - who is called the "chiropractor to the stars."

She not only hits the road with Radiohead, as she's done for over a decade, but can legitimately say - I'm part of the crew - when it comes to . Avril Lavigne, Robert Plant, Lorde and Atoms for Peace.

She'll have Radiohead's muscles relaxed and bones in proper position when they take to the stage for a show tonight, Sunday, April 22, at the Allianz Parque in São Paulo, Brazil and on Wednesday, April 25 at the Parque Deportivo in Bogota, Colombia.

HOT DOCS INTERNATIONAL DOCUMENTARY FESTIVAL North America's largest documentary festival, conference and market with a selection of more than 150 cutting-edge documentaries from Canada and around the globe. April 26 to May 6, 2018 in Toronto, Canada.






E-Book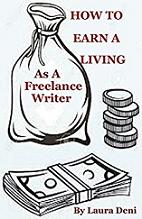 Soft back Book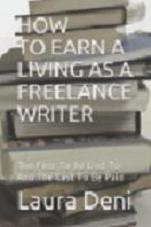 This is not your typical, totally boring textbook.

In the pages of How To Earn A Living As A Freelance Writer (the first to be lied to and the last to be paid) you'll find sex, celebrities, violence, threats, unethical editors, scummy managers and lawyers, treacherous press agents, sex discrimination; as well as a how-to for earning money by writing down words.





OTHER PEOPLE'S MONEY


THE KING AND I set to open June 21 in London has extended its engagement for a final three weeks to Saturday, September 29 at London's iconic Palladium. The Tony Award winning musical stars Kelli O'Hara, (Anna), Tony and Oscar nominee Ken Watanabe (The King), and reprising her Tony Award-winning performance, Ruthie Ann Miles (Lady Thiang). Joining the cast are West End star of Aladdin, Dean John-Wilson and Na-Young Jeon as the young lovers, Lun Tha and Tuptim.

Five extra matinees on Thursdays August 30, and September 6, 13, 20 and 27 have also been added to the London Palladium performance schedule. This follows continued unprecedented demand for tickets.

Ruthie Ann is still hospitalized, recovering from the tragic automobile accident which took the life of her 4-year-old daughter Abigail and left her seriously injured. Seven months pregnant when the event took place on March 4, 2018, it was announced that Ruthie Ann would remain hospitalized. until the baby is born. Then the family will travel to London for The King and I.


GOOD THOUGHTS SENT TO . . .


GAYLE STAHLHUTH Artistic Director of the East Lynne Theater Company in Cape May, New Jersey and her husband Lee O'Connor whose home was recently totally destroyed by a fire. The gorgeous two story home also was used to house visiting actors who were appearing in an East Lynne Theater production.

The husband and wife team had started working for the Equity professional East Lynne Theater Company soon after it was founded in 1980, in Secaucus, NJ: she as a performer and playwright, and he as a stage manager. They were introduced to Cape May when the company began producing there in 1987. After three years of looking at various properties, they settled on a home, the oldest part of which was built between 1840-1860. As Lee was fond of telling people, "You can tell the age by looking at the nails in the floor."

Fortunately, no one was home when the fire broke out.

In a news release, the East Lynne Theater Company announced it will continue with its 2018 season, which includes 11 productions beginning in May and a student summer workshop in June.



KENDRICK LAMAR who has won the Pulitzer Prize for music for his studio album DAMN. Raised in Compton, California the 30-year-old rapper is the first non-classical or jazz artist to win the award.

The Pulitzer Prize committee described DAMN as "a virtuosic song collection unified by its vernacular authenticity and rhythmic dynamism that offers affecting vignettes capturing the complexity of modern African-American life."

DAMN was critically acclaimed upon its release, and was nominated for multiple Grammy Awards, including Album of the Year and Best Rap Album ,which it won, bringing the total to 11 Grammy Awards which Lamar has taken home.



CHESS Lyrics by Sir Tim Rice, with music by ABBA songwriters Benny Andersson and Björn Ulvaeus.

Directed by Laurence Connor.

Choreography by Stephen Mear.

Chess is set around a chess tournament between two grandmasters, one American, the other a Soviet. Between them, apart from a chess board, is a woman who manages one of the men, and who falls in love with the other.

Chess is returning to London for its first major revival in the capital for over 30 years.

Thursday, April 26, 2018 To Saturday, June 2, 2018 at the Coliseum in London.

TWELFTH NIGHT by William Shakespeare.

New songs for the dark comedy by Tim Finn.

Directed by Sam Strong.

A shipwreck sets in motion a wild and whimsical tale of mistaken identities, separated twins, rebellious servants, unrequited love and a pair of ridiculous yellow stockings. After the twelfth night, the land of Illyria will never be the same.

Washed ashore and separated from her twin brother, the plucky Viola must learn to survive alone in an exotic foreign country. Disguising herself as a man, she quickly becomes entangled in a web of amorous pursuits gone awry. As Cupid's arrows send dukes and countesses running in disastrous directions, a wacky entourage of servants and drunken freeloaders watch on in amusement. All the while, Viola must fight to ensure nothing blows her cover.

Cast Includes Liz Buchanan, Sandro Colarelli, Jason Klarwein, Kathryn McIntyre, Christen O'Leary, Kurt Phelan, Bryan Probets, Colin Smith, Kevin Spink, Jessica Tovey.

Designer Tracy Grant Lord. Lighting Designer Ben Hughes.

April 28-May 19, 2018 at the Queensland Theatre In association with Queensland Performing Arts Centre in South Brisbane, Australia.

THE NERD a farce by Larry Shue.

Dircted by Kevin Cahoon.

Starring Colin Hanlon Ann Harada Jonathan Kite Kate Reinders Zach Shaffer Stephen Wallem and Hayden Bercy.

Willum's birthday party gets a jolt of hilarious excitement when Rick Steadman (Jonathan Kite), an unexpected visitor, stops by for a visit. When he realizes that Rick is socially inept and will overstay his welcome with a vengeance, Willum must put together an outrageous plan to rid himself of this wacky man who came to dinner. "A rollicking farce from the author of the award-winning comedy The Foreigner.

April 24 - May 20, 2018 at George Street Playhouse in New Brunswick, New Jersey.


WHO'S WHERE




MEL BROOKS takes to the stage at Wynn Las Vegas for a two nighter April 27-28. The EGOT will be telling stories, augmented by clips from his famous movies.

BRAD PAISLEY brings his tour to the Pinnacle Bank Arena, Lincoln, NE, on Thursday, April 26. Friday's stop is at the Denny Sanford Premier Center, Sioux Falls, SD. Saturday's gig is at the The Sanford Center, Bemidji, MN.

THE TEXAS TENORS bring their tour to the Rudder Auditorium in College Station, Texas for a show Sunday, April 29.

JUSTIN TIMBERLAKE opens a two nighter April 28 at the Forum in Inglewood, California.

KENNY CHESNEY entertains Saturday, April 28, in Milwaukee, WI at Miller Park.

FOREIGNER on stage Saturday April, 28, 2018 at the Choctaw Grand Theater, Durant, OK.

THE FULL SLIM AN BAND with, in addition to award winning jaz vocalist Slim Man, you'll find Chase Huna on sax, Nathaniel Scott II on drums (and vocals!), and Tateng Katindig on piano. Wednesday, April 25, at Vicky's of Santa Fe in Indian Wells CA.

ANDRE RIEU brings his magnificent how to the Lanxess Arena, Cologne, Germany on Friday, April 27. Saturday's performance is at the Gerry Weber Stadion in Halle, Germany.


FINAL OVATION


HARRY ANDERSON magician, actor, writer and director died April 16, 2018 at his home in Asheville, North Carolina. He was 65.

Anderson gained fame as the quirky Judge Harry Stone who like Anderson with an obsession over jazz singer Mel Tormé in NBC's Night Court.. Tormé even appeared on the sitcom six times as himself. Anderson was among those who delivered eulogies at the singer's funeral in 1999.

Night Court was a mainstay of NBC from 1984 to 1992. Anderson earned three consecutive Emmy nominations for his work on the show from 1985-1987.

Anderson began his career as a San Francisco street magician. Along with his first wife Leslie he developed a nightclub comedic magic act which played Las Vegas on a regular basis. Their act required his wife to be tied to a chair which would be tipped over and engage in a number of prat falls. When she became pregnant the nightclub act was retired and Anderson turned to television.

Never really a part of the Hollywood scene, the affable. and now divorced Anderson moved to New Orleans in 2000 where he met his second wife, Elizabeth. They opened the nightclub Oswald's Speakeasy, where he performed a mix of comedy and magic, and operated a magic and curio shop dubbed Sideshow. His home and business were wiped out by Hurricane Katrina, resulting in the move to a North Carolina home they found doing an internet search. See Broadway To Vegas interview with Elizabeth in the column of August 27,2006.

In addition to his wife he is survived by two children.

YVONNE STAPLES background singer and manager of the R&B family group the Staple Singers, died Tuesday, April 10, 2018 in her Chicago home. She was 80.

The group was inducted into the Rock and Roll Hall of Fame in 1999, with all the group members present at the ceremony to accept the honor. The Staple Singers were also presented with the Grammy Lifetime Achievement Award in 2005, following "Pops" Staples death in 2000. Cleotha Staples died in 2013.

Yvonne Staples is survived by her brother and sister, Pervis and Mavis, the last living members of the group.

Neil Portnow President/CEO of the Recording Academy issued the following statement: "As manager and member of the Staple Singers, five-time Grammy nominee Yvonne Staples helped her family's hit-making gospel group achieve success in the 1970s. During her tenure with the group, Yvonne contributed to several hit recordings, including Respect Yourself, I'll Take You There, and Be What You Are, all of which received Grammy nominations in the Best R&B Vocal Performance By A Group category. The Staple Singers were also honored with the Recording Academy's Lifetime Achievement Award in 2005. Yvonne will be deeply missed, but remembered for helping her family blend gospel, soul, and pop into one signature sound. Our thoughts go out to her loved ones during this difficult time."

RANDY SCRUGGS music producer, songwriter and guitarist died Tuesday, April 17, 2018, after a short illness. He was 64.

He had his first recording at the age of 13. He won four Grammy Awards and was twice named "Musician of the Year" at the Country Music Association Awards.

Scruggs is survived by his wife Sandy, his daughter, Lindsey, and his brother, Gary.

Neil Portnow President/CEO of the Recording Academy issued the following statement: "Four-time Grammy winner Randy Scruggs was a celebrated musician, producer, and songwriter. Throughout his extensive career, he collaborated with an impressive roster of fellow country and bluegrass artists, including Johnny Cash, Vince Gill, Alison Krauss, and Dolly Parton, among many others. He earned his first Grammy in the Best Country Instrumental Performance category for Amazing Grace at the 32nd Grammy Awards and went on to win three additional Grammys in the same category for A Soldier's Joy, Foggy Mountain Breakdown, and Earl's Breakdown. As the son of bluegrass pioneer and Recording Academy Lifetime Achievement Award recipient Earl Scruggs, Randy continued his family's musical legacy and was one of Nashville's most esteemed producers and session players, leaving a lasting mark on Music City. Our thoughts go out to his family, friends, and collaborators during this difficult time."

GLENN LONEY educator and veteran theatre critic died Monday, April 16, 2017 having spent the last year suffering from lung and brain cancer. Born on Christmas Eve 1928, he was 89.

Dr. Loney earned his PhD in Theatre-History & Dramatic Literature at Stanford University, before serving in the US Army 1953-55.

He was an active member of the Outer Critics Circle and the American Theatre Critics Association.

He leaves no survivors.

GERARD BALDWIN Emmy Award winning animator died Wednesday, April 17, 2018 in Houston, Texas. He was 87.

In a career spanning 70 years he worked on a number of cartoon characters including Mr. Magoo, the Grinch and Bullwinkle. He wrote a a book titled From Mr. Magoo To Papa Smurf.

He worked at Hanna-Barbera, from 1979 through 1985, where he produced and directed the Smurfs, the highest rated children's television series on television. He animated the first Cap'n Crunch commercial. He did several Sesame Street shorts.

Divorced with two children, in 1989 he moved with his second wife, Frances, to Houston.

AVICI DJ and music producer, considered one of the biggest artists behind the breakout of the EDM genre and allowed countless up-and-coming DJs to pursue the art and attempt to follow in his footsteps, was found dead on Friday, April 20, 2018 in Muscat, Oman. He was 28.

He worked as one of the biggest touring DJs in the world, including regular gigs in Las Vegas. He retired from performing in 2016, citing health reasons. He reportedly suffered from acute pancreatitis partly from excessive drinking. In a documentary about his life released in September 2017, the artist felt that touring was distressing for the DJ, rather than fun.

Avici received countless awards including the 2013 Billboard Music Award for Top Dance/Electronic Song and the iHeartReadio Music Award for Dance Song of the Year, among others.

The Stockholm native was nominated for two Grammys for Best Dance Recording for Sunshine in 2012 and Levels in 2013. The year that both those tracks were released, Avicii was named the sixth highest paid DJ by Forbes, estimated to be raking in $20 million. He was the youngest DJ on the list at just 23.

WILLOW Queen Elizabeth's last Corgi died on Sunday, April 15, 2018. Willow had suffered from a cancer-related illness. Willow was 14.

Willow had a barking and running part in the 2012 James Bond Olympics sketch, in scenes shot at Buckingham Palace. Willow's mistress Queen Elizabeth co-starred with James Craig as a Bond Girl.

Willow was the last descendant of Susan, the Queen's first corgi, which she received on her 18th birthday. Willow is survived by Queen Elizabeth II who was reported to have "been hit extremely hard" by her death.






E-Book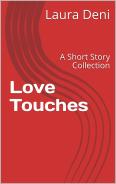 Soft back Book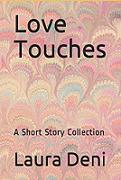 Next Column: April 29, 2018
Copyright: April 22, 2018 All Rights Reserved. Reviews, Interviews, Commentary, Photographs or Graphics from any Broadway To Vegas (TM) columns may not be published, broadcast, rewritten, utilized as leads, or used in any manner without permission, compensation and/or credit.
Link to Main Page
---
Laura Deni



For the snail mail address, please E-mail your request.
CLICK HERE FOR COMMENT SECTION