! >
Broadway To Vegas
  
  REVIEWS INTERVIEWS COMMENTARY NEWS

| | |
| --- | --- |
| | |
SUNDANCE IN LONDON - - LIZA AT THE WINTER GARDEN CD REVIEW - - MUSEUM OF FINE ARTS IN HOUSTON TEACHES MEDICAL STUDENTS - - 2012 NEW ORLEANS JAZZ FEST - - RICHARD CHAMBERLAIN IN THE HEIRESS - - CALIFORNIA TO VOTE ON TAXING STAGE PERFORMANCES - - CABARET GOURMET 2012 - - GEORGE CLOONEY TO HOST DINNER FOR PRESIDENT OBAMA - - DONATE . . . Scroll Down


Copyright: April 22, 2012
By: Laura Deni
CLICK HERE FOR COMMENT SECTION

THE INAUGURAL SUNDANCE LONDON FILM AND MUSIC FESTIVAL

Robert Redford has given the London paparazzi something to write about besides Pippa, William & Kate, Queen Elizabeth's Jubilee and the Olympics - independent films.

Even Prince Charles has a flick in the mix.

Founded in 1978 by Robert Redford, The Sundance Film Festival is the world's largest showcase for independent film. Over the years, the festival has grown from a small informal fest for small-budget films into an enormous market place. While the festival continues to champion small films by unknown filmmakers, Sundance has recently become know for its cross-over hits, including the 2006 mega hit Little Miss Sunshine and Jennifer Aniston starring in Nicole Holofcener's Friends With Money.

In Redford's biggest cross-over yet, Sundance has crossed the pond to London.

In March 2011, Robert Redford announced that the Sundance Film Festival would be held at The O2, in London from April 26-29, 2012, the first time it has traveled outside the United States.

Speaking to the press, Redford said, "We are excited to partner with AEG Europe to bring a particular slice of American culture to life in the inspired setting of The O2, and in this city of such rich cultural history. . . . It is our mutual goal to bring to the UK, the very best in current American independent cinema, to introduce the artists responsible for it, and in essence help build a picture of our country that is broadly reflective of the diversity of voices not always seen in our cultural exports."


Rufus and Martha Wainwright sing Kate McGarrigle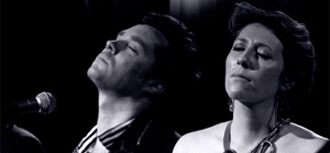 The Opening Night event is An Evening With Robert Redford And T Bone Burnett. Placebo will perform a rare intimate concert and Tricky and Martina Topley-Bird perform Maxinquaye.

Redford who has been ahead of the curve on environmentalism, will introduce a film about the environmental work of another guy who has been an ahead of the curve environmentalist, HRH The Prince of Wales - that's Prince Charles to us on this side of the pond.

Sundance Channel in Europe and Asia plans to air new programs created by young aspiring producers. The channel, airing across the two continents, will also roll out television premieres of recently acquired titles from the 2012 Sundance Film Festival. Those selected are:

California Solo from U.S. writer/director Marshall Lewy and starring Robert Carlyle; Brazil's Father's Chair (A Cadeira do Pai), directed by Luciano Moura and Greece's L directed by Babis Makridis.

Airing May 5 and 6 this year, the network's exclusive coverage of Sundance London will come as a first-of-its-kind collaboration between Sundance Channel and Robert Redford's Sundance Institute, and the young producers program set up by Elisabeth Murdoch's Shine Group and youth agency Livity.

A program of Special Events and panels will take place. These were programmed by Sundance Institute, which annually hosts the Sundance Film Festival in Park City, Utah.

Among the Special Events announced are: 'Rufus and Martha Wainwright sing Kate McGarrigle,' an intimate performance by Rufus and Martha Wainwright following the world premiere of Sing Me The Songs That Say I Love You ~ A Concert for Kate McGarrigle, Lian Lunson's film about the music of their mother, folk singer Kate McGarrigle.

This documentary is part concert, and partly an intimate look at a family coming to terms with the loss of a loved one. The world premiere screening will be followed by an intimate performance of their mother's work by Rufus and Martha Wainwright.

There is the debut theatrical screening of Coming Up For Air, a documentary about Placebo, which will be followed by an extended Q&A with the band and filmmaker Charlie Targett-Adams.



Robert Redford will introduce a screening of Harmony.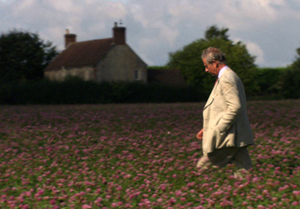 Robert Redford will introduce a screening of Harmony, a documentary about the three decades of work by HRH The Prince of Wales to combat climate change and the global environmental crisis. Harmony is narrated by Prince Charles and produced and directed by a team of filmmakers with Academy Award and Directors Guild nominations to their credit. This screening will be followed by an extended Q&A with the filmmakers and Tony Juniper and Ian Skelly, authors of the book that inspired the film. They will discuss the making of the film and the environmental issues it addresses.

The 25th anniversary screening of River's Edge, which first premiered at the 1987 Sundance Film Festival, will be followed by Q&A with actor Crispin Glover.

Some of the panels on the creative process of independent filmmaking, reflecting the year-round work of Sundance Institute include: Film Music From the Composer's Point of View: An Afternoon with Harry Gregson-Williams. Peter Golub, Director of the Sundance Institute Film Music Program, will lead a journey exploring the creative evolution of one of the most successful and prolific film composers working today. Join world renowned composer Harry Gregson-Williams (the Shrek series, The Chronicles of Narnia, Kingdom of Heaven, Man on Fire, Spy Games, Team America, Life in a Day and so many others) as he shares his process from that first spark of musical conception through to its culmination in the final delivery of a film score.



Shut Up and Play the Hits premiered at the 2012 Sundance Film Festival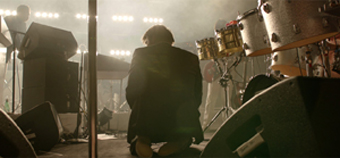 Shut Up and Play the Hits premiered at the 2012 Sundance Film Festival in the Park City at Midnight category. With the release of their debut album in 2005, New York City's LCD Soundsystem changed the face of dance music, combining equal parts punk, soul, and disco. Their devoted fan base steadily grew, bolstered by Grammy nominations and recognition as one of the best live bands in the world.

In early 2011, touring to support their first Billboard Top 10 debut, LCD Soundsystem announced its largest gig to date – Madison Square Garden – and that the concert would be their last ever.

With fly-on-the-wall access, Dylan Southern and Will Lovelace's concert film captures the final 48 hours of a band in complete control of its destiny. Packed with high-energy farewell performances, narrated by a frank conversation on success and rock stardom between bandleader James Murphy and writer Chuck Klosterman, Shut Up and Play the Hits proves that if you're hearing about LCD Soundsystem just now, you've already missed the party.

Sponsored by BAFTA is Thinking Independently - UK versus UK. Independent film has become synonymous with original storytelling and a breed of cinema that comes from courage and personal vision. In this panel attendees will hear from filmmakers from both sides of the pond as US filmmakers face off with counterparts from the UK. How are we alike and how are we different?

John Cooper Director, Sundance Film Festival and Clare Stewart BFI Head of Exhibition and Festival Director BFI London Film Festival will be team captains. Representing the US will be visiting filmmakers Josh Radnor (Liberal Arts), So Young Kim (For Ellen) and Ry Russo-Young (Nobody Walks) and from the UK will be local indie heroes James Marsh (Shadow Dancer, Project Nim, Man on Wire), Gurinder Chada (Bend it Like Beckham, Bride & Prejudice)

John Cooper, Director of the Sundance Film Festival, said, "In programming the Special Events and panels for the first-ever Sundance London, we were afforded total creative freedom, and what resulted are a number of unique events that we hope will broaden the experience of attending the festival for all to enjoy. The common element highlighted throughout the festival is a celebration of those who think creatively and independently about something in their lives."

Sundance London runs April 26 through 29, 2012 at the sprawling O2 leisure complex and will play host to 14 movies and a series of concerts and discussions with musicians and filmmakers alike.





Broadway To Vegas is supported through advertising and donations. Priority consideration is given to interview suggestions, news, press releases, etc from paid supporters. However, no paid supporters control, alter, edit, or in any way manipulate the content of this site. Your donation is appreciated. We accept PAYPAL. Thank you for your interest.



ART AND ABOUT


THE ART OF OBSERVATION The next time a medical professional asks you to take off your clothes, they may be viewing you from an artistic perspective.

The Art of Observation: Programs for Medical & Nursing School Students is a specially designed program from the Museum of Fine Art in Houston.

"Observation is an important component of both art and medicine, and it is at this crux where the MFAH connects to medical and nursing education in the Houston area," stated the institution.

Aiming to teach students how to effectively observe patients, the MFAH offers courses that use works of art to enhance students´ observations skills.

Participants learn how to look closely, gather visual evidence, remain open to possible interpretations, and effectively communicate their observations to others.

"By examining works of art along with medical photographs of patients, students learn how to make more informed observations and improve their ability to articulate their findings," states the MFAH.

Participating institutions include the University of Texas Medical School at Houston, Baylor College of Medicine, and the nursing program of Lone Star College System.


SWEET CHARITY


THE OJAI PLAYWRIGHTS CONFERENCE launches its 15th season with its annual Benefit Gala themed Body and Soul: An OPC Cabaret – A Musical and Theatrical Celebration of the Mystery, Magnificence and Madness of Living. Scheduled for Saturday, April 28, 2012 in Ojai, CA.

The Benefit begins at Matilija Auditorium with a special show created especially for this evening by OPC Artistic Director/Producer Robert Egan. The all-star cast includes Patrick J. Adams, Marcia Gay Harden, Megan Mullally, Nick Offerman, Zachary Quinto, Steven Weber, Noah Wyle.

Following the show, the festivities continue at St. Thomas Aquinas Hall with music, martinis, a gourmet dinner prepared by celebrity chef Michael Hollingsworth, a live auction and the 2012 OPC Awards, honoring award-winning playwright Bill Cain and award-winning actress and OPC Board Member Dana Delany.

Bill Cain has developed several plays at the Ojai Playwrights Conference, including How To Write a New Book for the Bible, Equivocation (Geffen Playhouse, Manhattan Theater Club, and Oregon Shakespeare Festival) and 9 Circles (Marin Theatre Company).

Dana Delany is now starring in the ABC series Body Of Proof. She is also known for her portrayal of Katherine Mayfair on the hit TV series Desperate Housewives, and for her Emmy Award winning role as Colleen McMurphy on the classic TV series China Beach.

Proceeds from the Benefit will benefit the Ojai Playwrights Conference. The 15th Annual OPC Summer New Works Festival will take place August 7-12, 2012.

CABARET GOURMET 2012 the 9th annual presented by Off-Broadway's The Play Company will feature a cornucopia of food prepared by some of NYC's top chefs. Monday, April 30th at the American Airlines Theatre Penthouse, NYC.

Lauren Worsham will perform and Emmy and Golden Globe Award-winner Peter Dinklage will serve as emcee for the event.

Tickets are $150 and $275.

Cabaret Gourmet 2012 offers theatergoers and gourmet-food aficionados alike the opportunity to mingle and taste epicurean dishes prepared by well-known chefs from around the city. Participating chefs in Cabaret Gourmet 2012 come from such notable restaurants as Alison 18, Gramercy Tavern, Mehtaphor, Four & Twenty Blackbirds, Tacombi and Salumè, and the evening also features delicacies by Valrhona Chocolate and Guss' Pickles.

Victoria Reese and Greg Kennedy are Gala Chairs with the Gala Committee comprised of Eric Case, Trip Cullman, Warren Fraser, Phillip Guttmann, Christine McNamara, Marianne Mills, Samira Nanda and Lela Rose.

The Play Company is an Off-Broadway company dedicated to advancing an international view of contemporary playwriting.

The Play Company is under the guidance of Kate Loewald, Founding Producer, and Lauren Weigel, Executive Producer.

The Play Company's Board of Directors includes Carmine Boccuzzi, Trip Cullman, Michael Dweck, Ruth Hendel, Lawrence Kaplen, Kate Loewald, Victoria Reese, George Sheanshang, Jeffrey Sine and Christian Yegen.

BAY STREET'S FIRST ANNUAL ALL STAR HONORS BENEFIT is Bay Street Theatre's way of saying thank you to Bay Street Theatre Board of Trustees: Joy Behar, Adrianne Cohen and John Downing with a very special performance by Liza Minnelli.

Presenters include Susie Essman and Richard Kind.

The evening also includes cocktails, hors d'oeuvres and light buffet.

Monday, April 30, at the Manhattan Penthouse in New York City.


CALIFORNIA TO VOTE ON TAXING STAGE PERFORMANCES
Assemblyman Mike Gatto on stage in the California legislature.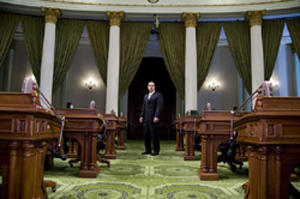 Not everyone likes live theatre. Finger pointing is in the direction of California Assemblyman Mike Gatto. Maybe when he was in elementary school he didn't get a good part in the class play and has been bitter ever since. While the handsome dude has, in the past, written and directed some worthwhile Assembly productions, this effort needs - if not the hook - at least a re-write.

On Monday, April 23, 2012, Assembly Bill 2540, imposing a 7.5% sales tax on each ticket sold by live theatre productions, will be heard in front of the Committee on Revenue and Taxation of the California State Assembly.

Introduced by Assemblyman Mike Gatto (D-43), the legislation exempts a sales tax on other forms of entertainment, including opera, concerts or sporting events. It just singles out live theatre productions.

The proposal was hidden from the public until last Friday when the California Arts Advocates and Sheldon Epps, Artistic Director of the Pasadena Playhouse heard about it and hit the roof.

"Speaking on behalf of the State Theatre of California and as a non-profit arts organization leader, it is distressing news to hear of this bill which would greatly impact the finances of our institution as well as many other non-profit theatres across the state," wrote Epps.



Sheldon Epps, Artistic Director of the Pasadena Playhouse would like a closing notice on the proposed bill.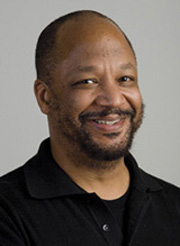 "In a time when regional theatres - or any live theatre venue for that matter - are facing challenges to maintain and build their audiences. the addition of a sales tax could very well be a deterrent to a subscriber or a new patron to attend a live performance," Epps declared.

The California Arts Advocates indicated that passage of this bill "would impact the business of nonprofit performing arts organizations. If passed, the bill would further limit California families' access to arts and cultural experiences and make it more difficult for nonprofit theatres to expand and diversify their audiences."

"The economic budget poses challenges for businesses and organizations all throughout the state. However, taxing theatre productions would inevitably bring forth a hurdle amidst the growth of our creative economy. The bill would further reduce consumer spending towards many nonprofit arts organizations and thus, adversely impact.

If the bill passes, "Access to live theater productions through the purchase of a ticket or membership fees or dues," would been taxed.

Other services which would be taxed include, but not limited to:

Astrology, tarot, and palm reading

Personal shopping

Party planning services not provided by the facility where the party occurs

Spa services provided to pets

Elective cosmetic surgery which includes, but is not limited to, the following:
Hair transplants
Cosmetic injections
Cosmetic soft tissue fillers
Dermabrasion and chemical peel
Laser hair removal
Laser skin resurfacing
Laser treatment of leg veins
Clerotherapy
Cosmetic dentistry.

Membership fees to private country clubs

Marina services

Limousine rental

Nonmedical massage

Pet grooming where the buyer is charged fifty dollars ($50) or more for the grooming.

Nonmedical personal fitness training.

Access to the facilities of a ski resort through the imposition of a charge.

Furniture repair.

Watch repair.

Access to the facilities of a billiard parlor through the imposition of a charge.

Access to private, telephonic chat lines through the imposition of a charge to callers.

The organizations with the most clout in attempting to defeat this bill are the lobby groups for physicians and dentists. Those supporting the arts aren't taken seriously.


THE MUSIC GOES ROUND AND ROUND


LIZA AT THE WINTER GARDEN It's been said that Liza Minnelli was made for Broadway. She was also made for Las Vegas. At the age of 11, Liza made her Las Vegas stage debut when her mother Judy Garland had little Liza join her on stage at the Flamingo Hotel.

Liza's live stage appearances during the 1970s were Liza at her peak. Fortunately, those performances were captured.

Liza Minnelli's triumphal return to Broadway in early 1974 after Flora the Red Menace - where she snagged her first Tony Award at the age of 19 - also followed her Oscar-winning performance in the film Cabaret.

Between the two Broadway shows she became a star in Las Vegas. Her first billed stage appearance in Sin City was immediately after Flora, when she opened the show for Buddy Hackett at the Sahara Hotel.

The LP Liza with a Z was smash hit, followed by Columbia Records' LP Liza at the Winter Garden, which was "withdrawn because of contractual conflicts over Minnelli's performance of songs from the Cabaret score, infringing on the then-current soundtrack album."

Liza at the Winter Garden has been out of circulation until this long-awaited reissue by Masterworks Broadway, derived from the original master with the addition of three live bonus tracks. Liza at the Winter Garden recorded in January, 1974, will be released by Masterworks Broadway on May 8, 2012.

The era of the 1970s was a fascinating decade for the recording of live performances. The 1970s was a musical transition. From the 1960s era of protest and reform to the 1980s where success was measured by how much money a person made. Music was a stage for change from the 1960s folk music to the 1970s groups playing hard rock and punk music. Classical rock' was a term that gained status during the 70s

The era was frenetic, with one of Liza's favorite hangouts Studio 54 having its heyday from 1977 to 1981.

Liza at the Winter Garden is a gourmet musical stew with Minnelli at the top of her performance career. Her over-the-top but focused energy is captured. Listen closely and you can hear the beginning of breathy patter and traces of nervous tics that defined her mother, Judy Garland.

Those associated with this CD are the best. The choice of material was carefully thought out and the complex arrangements, which were de rigueur during that decade, are played to perfection by a hand picked group of musicians.

Liza has her act together and demonstrates a wide range of musical emotion. From Charles Azanvour songs And I In My Chair (Et Moi Dans Mon Coin) and There Is A Time (Le Temps) to the powerful If You Could Read My Mind/Come Back To Me.

Kander and Ebb could channel Liza, no doubt able to write for her with their eyes closed. While nothing will top their Liza With a Z number - a few bars are included in this CD's overture - a segment written specifically for this show, Exactly Like Me is an amusing ditty, describing the star's humorous encounters with fans who think they look "exactly like" her.

And Edith Piaf's The Circle with lyrics by Ebb shows Liza's fragile side.

The recently discovered live bonus tracks that were recorded but not included on the original LP, are Stevie Wonder's You and I and standards It Had To Be You, and My Shining Hour.

Musicians

Rhythm: Arthur Azenzer, Frank Bruno, Norman Jeffries, Don De Marco, Jack Cavari

Brass: Al Di Risi, John Frosk, Lew Gluckin, Ronald Keller, Vincent Fanuele, Wayne Andre, Fred Zito

Woodwinds: Al Ragni, Dennis Anderson, Lewis Del Gatto, Walter Kane

Strings: Max Cahn, Tobias Bloom, Joseph Goodman, Marie Hence, Elmar Ollveira, Ian Wint, Sandra Robbins, Nina Simon, Maurice Brown, Bernard Fennell

Percussion: Eric Cohen, Charles Roeder

Orchestra personnel manager: Earl Shendell

Side one
Overture: Liza With A 'Z / Ring Them Bells / I Can See Clearly Now / Maybe This Time / Cabaret
If You Could Read My Mind / Come Back To Me
Shine On Harvest Moon
Exactly Like Me
The Circle
More Than You Know
I'm One Of The Smart Ones

Side two
Natural Man
I Can See Clearly Now
And I In My Chair
There Is A Time
Quiet Thing
Anywhere You Are
Cabaret
Curtain bows (Cabaret)

Produced by: Gary Klein
Arranged by: Ralph Burns, Billy Eyers, Jack French, Jonathan Tunick, Billy Reddy, Peter Matz & Fred Werner
Remote Engineer: Phil Ramone
Remix & Editing Engineer: Don Puluse

Location recorders at remote recording facilities: Aaron Baron, Larry Dahlstrom
Recordists: Hank Altman, Tom Dwyer
Cover illustration: Joe Eula
Back cover photos: Arthur Maillot, Robert Deutsch
Back cover design: Karen Lee Grant


2012 NEW ORLEANS JAZZ FEST FOCUSES ON CULTURAL EXCHANGE
Bruce Springsteen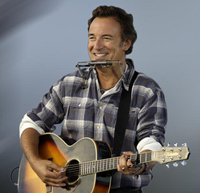 Hurricane Katrina changed many things - including the New Orleans Jazz Festival. Prior to the wind howling and the water rising, Jazz Fest included an international cultural trade exchange approximately every other year. However, this year, festival organizers, led by executive director Don Marshall, decided to make the cultural exchange an annual event.

For 2012, they will focus on a unique aspect of New Orleans' own culture.

One of America's most beloved annual cultural celebrations, the world-famous New Orleans Jazz Fest and Heritage Festival becomes the heart of New Orleans for seven days - including two unforgettable weekends - every spring.

Jazz Fest features 11 stages, consisting of jazz, blues, rock, R&B, gospel, Cajun, zydeco, several craft fairs and an acclaimed food fair of Louisiana cuisine.

Just a few of the performers participating in this year's feat include: Bruce Springsteen and the E Street Band, Eagles, Tom Petty and the Heartbreakers, Foo Fighters, The Beach Boys 50th Anniversary Reunion, Eddie Vedder, Zac Brown Band, The Neville Brothers, Al Green, and Herbie Hancock and his Band.

Cee Lo Green, the Grammy Award-winning artist and star of The Voice, will appear at Jazz Fest on Saturday, April 28. Jill Scott, previously scheduled to perform that day, will not appear.

The 2012 Jazz Fest, held at the Fair Grounds Race Course and Slots, is scheduled for April 27 - May 6.

The 14th Annual Jazz & Heritage Foundation Gala takes place Thursday, April 26, at the Hilton Riverside Hotel in New Orleans.

New Orleans native and Grammy nominee Troy "Trombone Shorty" Andrews and his band Orleans Avenue will rock the Gala. Joining the young superstar will be fellow Heritage School grad Sammie Williams with his band, Big Sam's Funky Nation

This star-studded soiree is the foundation's annual fundraiser that kicks off the Jazz Fest season.

Proceeds from the Gala benefit the Don Jamison Heritage School of Music, the Foundation's signature education program.

As they dance the night away, Gala patrons will feast on a sumptuous supper prepared by some of New Orleans' finest chefs.


SPREADING THE WORD


MELODRAMA RECLAIMED: BRANDEN JACOBS-JENKINS AND MARK RAVENHILL REIMAGINE DION BOUCICAULT'S THE OCTOROON Two of theater's fiercest intellects - the Brooklyn-based provocateur Branden Jacobs-Jenkins (Neighbors) and English groundbreaker Mark Ravenhill (Shopping and F*ing, Ten Plagues) - take a crack at the 1859 melodrama The Octoroon, considered by many one of the first American plays.

Using the play as a jumping off point, Jenkins and Ravenhill discuss the playwright Dion Boucicault's historical legacy, as well as dramatic depictions of America's race problem both here and abroad; the role of the press in the theatre; and the trials of adaptation, authorship and controversy.

Presented in association with the workshop of An Octoroon in the Soho Rep Studio Series. Thursday, April 26, 2012 at the Martin E. Segal Theatre Center at the Graduate Center, CUNY in New York City.

SCREENING OF IMMORTAL BELOVED HOSTED BY ALEC BALDWIN with a talkback to follow with Alec Baldwin and Bob Balaban.

Filmmaker Bernard Rose brings the viewer into the mind of Beethoven with his masterful portrait of the deaf composer. Featuring an unforgettable performance by recent Academy Award nominee Gary Oldman, the musical direction of George Solti conducting the London Symphony Orchestra with soloists Yo-Yo Ma and Murray Perahia, the film plums the mystery of who was the "Immortal Beloved" that Beethoven addressed a letter to just prior to his death.

Saturday, April 28, at Guild Hall in East Hampton, NY.

THE BEST MAN: JAMES EARL JONES, JOHN LARROQUETTE, MICHAEL MCKEAN, JEFFERSON MAYS & DIRECTOR MICHAEL WILSON the amazing cast of Gore Vidal's The Best Man the play about dirty politics, sex scandals and idealism during a political convention, take part in a discussion with critic Caryn James regarding why Vidal's present take on political compromise is more relevant than ever in this election year.

Vidal wrote in an era when the impact of television and public discussion of politicians' sex lives had yet to be felt. Find out how the impressive cast was assembled, how they think the play relates to this election year and whether The Best Man has affected their own views of the American political process.

Monday, April 30 at the 92nd Street Y in New York City.

TIMES SQUARE HONORS DICK CLARK inviting people to share their memories "and pay your respects to Dick Clark on a piece of official New Year's Eve confetti."

To participate, "come to the Times Square Visitor Center and Museum to honor the legacy of entertainment legend Dick Clark. The Times Square Alliance has designated an area on its New Year's Eve Confetti Wishing Wall where fans can share their memories and pay their respects to Dick Clark. These messages will be added to the one ton of confetti that will fall on Times Square at midnight on New Year's Eve in 2013."

The longtime host of American Bandstand and the New Year's Eve ball-drop ceremony died Wednesday, April 18, 2012.


OTHER PEOPLE'S MONEY


THE KING'S SPEECH which was a financially successful, Oscar-winning film, has become a staged version monetary failure.

A West End stage production is to close early due to poor ticket sales.

The world premiere production of the play by David Seidler took place in February at Guildford's Yvonne Arnaud Theatre and it transferred to the West End last month.

Originally booking until July 21, it will now close at London's Wyndham's Theatre on May 12. The production stars Charles Edwards as King George VI and Jonathan Hyde as speech therapist Lionel Logue.

Producers of the show said in a statement: "Two years ago, originating producer Michael Alden was ready to put the play on and the film came along and blocked its path.

"At the start of this year, we believed that enough time had passed between the film and our opening. This clearly was not the case.

"We are extremely proud of what we have accomplished. It is a production of genuine quality that has been critically and publicly acclaimed across the board."

GEORGE CLOONEY will be hosting a fundraising dinner with President Obama in his Los Angeles home on May 10.

The chow down is limited to 150 people, 149 of whom will have paid $40,000 to attend. The object is to raise $6 million for the President Obama re-election campaign. As for that one person who doesn't have to pay - The Dinner with Barack campaign sent out e-mails inviting Obama fans to enter a contest to win a seat at the table by donating as little as $3 dollars.

No word yet on the menu.






THE 2012 PULITZER PRIZE FOR DRAMA has been awarded to Water by the Spoonful by Quiara Alegría Hudes.

The Pulitzer Committee described the work as "an imaginative play about the search for meaning by a returning Iraq war veteran working in a sandwich shop in his hometown of Philadelphia."

Other finalists in this category were Other Desert Cities, by Jon Robin Baitz and Sons of the Prophet by Stephen Karam.

The award in drama, which includes a $10,000 prize, is "for a distinguished play by an American author, preferably original in its source and dealing with American life," according to the official guidelines. "Productions opening in the United States between Jan. 1, 2011 and Dec. 31, 2011 are eligible."

Water By the Spoonful premiered at Hartford Stage Company in 2011.

For the first time in 35 years the Pulitzer Prize board was unable to choose a winner in the fiction category.

CLARENCE COO who has been chosen by playwright John Guare as the winner of the 2012 Yale Drama Series for his play Beautiful Province.

Selected from over 1100 plays submitted from 24 countries, Beautiful Province, will be published by Yale University Press. On Tuesday, September 18 Coo will be honored at a reception at Lincoln Center Theater where he will receive the David C. Horn prize of $10,000 which will be immediately followed by a staged reading of Beautiful Province.

Runner-ups for the 2012 Yale Drama Series were Saviana Stanescu, for her play Useless, and Jesse Weaver, for his play We Shall Catch Larks.

Beautiful Province is the story of a road trip across Canada taken by a fifteen year old boy and his French high school teacher.

"The DC HORN Foundation/Yale Drama Series prize for an emerging playwright, received over a thousand entries this year," said playwright Guare. "My readers and I found Beautiful Province by Clarence Coo to be the most successfully realized play. I admired it for its bold theatricality, its daring, its ambitious theme, its consistent tone, its heightened language. The contest searches for a brave new voice in the English-speaking world. We found this year's winner in Clarence Coo's Beautiful Province."

Clarence Coo developed Beautiful Province (Belle Province) at the Inkwell's Inkubator Series and the Bay Area Playwrights Festival. He received his MFA in Playwriting at Columbia University where he studied under Charles Mee, and is currently the program administrator of the Graduate Writing Program at Columbia's School of the Arts.

THE OUTER CRITICS CIRCLE the official organization of writers on the New York Theatre for out-of-town newspapers, national publications, and other media beyond Broadway will announce their 62nd Annual Outer Critics Circle 2011-12 Nominations on April 23rd at the Friar's Club in New York City.

Lily Rabe and Richard Thomas will announce award nominations in 24 categories and are the first major Broadway/Off-Broadway award nominees of the New York theater season.

In addition, the OCC will present an honorary award to The Public Theater on its 50th Anniversary presenting free theater at the Delacorte Theater in Central Park. As a special treat, Jerry Stiller and Anne Meara alumni of Shakespeare in the Park and Public Theater productions will present on this day (which also happens to be Shakespeare's birthday) the special award to The Public's Artistic Director Oskar Eustis and Executive Director Patrick Willingham.
( List of the 2011-2012 nominations )


GET WELL SOON TO . . . .


ROBIN GIBB who was given just days to live last week, is reported to be responding to his family singing to him in a bedside vigil. ( See Broadway To Vegas column of April 15, 2012 )

Gibb's wife Dwina gave an exclusive interview to her local newspaper The Impartial Reporter, based in Enniskillen, Northern Ireland.

In that article, printed on April 19, the story indicated that Gibb was still in a coma, and did not state that he was responding to the music that was being played to him.

However, on April 21 spokesman Doug Wright told the BBC that Gibb was able to nod and communicate with his family who have held a constant vigil at his beside in a central London hospital.

The 62-year-old fell into a coma after contracting pneumonia in his battle against colon and liver cancer.

Dwina also told the paper that his children Robin John, Spencer and Melissa have been playing him music to "try and bring him back to us".

"His brother Barry, his wife Linda and son Stephen came over from America. Barry was singing to him. Thousands of people are saying prayers every day," she told the paper.

She added that she is "very grateful" for "the good wishes, blessings and prayers" from her family and friends.

The BBC reported that Dwina stated that Gibb "cried when she played him Roy Orbison's 1962 song Crying."

However, the exclusive The Impartial Reporter article has no such statement. Rather, there is a long discussion regarding Gibb having co-written Don't Cry Alone with his son. ( See Broadway To Vegas column of April 1, 2012 )

The article states:

"Mr. Gibb's latest work was with son RJ on the Titanic Requiem commemorating the tragedy.

"Don't Cry Alone was composed especially for the occasion and was played by record since Robin was unable to attend. It was written and inspired by, a husband is taken by the sea, and with all the power of his soul he calls out to his wife not to cry alone. He reassures her that his spirit will always guide her and their children, and begs that she never doubt him. He is only a whisper away. She only has to think of him and he will be there. She need never cry alone again," explained Mrs. Gibb, who has taken some inspiration from the music.

"Mrs. Gibb was joined at the premiere of the Requiem at Central Hall Westminster by her brother Raymond, sister Thelma and their families. She says she is very appreciative of the continued support from her family."

ADDED Dr. Andrew Thillainayagam, Robin's private physician has confirmed that Gibb miraculously awoke from a 12 day coma, and issued the following statement.

"The prognosis was very grave... only three days ago, I warned Robin's wife, Dwina, son, Robin John and brother, Barry, that I feared the worst.

"We felt it was very likely that Robin would succumb to what seemed to be insurmountable obstacles to any form of meaningful recovery.

"As a team, we were all concerned that we might be approaching the realms of futility.It is testament to Robin's extraordinary courage, iron will and deep reserves of physical strength that he has overcome quite incredible odds to get where he is now.

"Robin is fully conscious, lucid and able to speak to his loved ones. He is breathing on his own, with an oxygen mask.

"He is on intravenous feeding and antibiotics. He is of course, exhausted, extremely weak and malnourished.

"Our immediate goals are to ensure that Robin's swallowing mechanism is safe enough to allow him to eat and drink, and that he recovers enough strength to breathe effectively, without needing high levels of oxygen by mask.

"When this happens, we will be able to begin the process of nutritional and physical rehabilitation and may be able to move him from the intensive care unit to the ward."



THE HEIRESS by Ruth and Augustus Goetz, suggested by the Henry James novel Washington Square. Directed by Dámaso Rodriguez.

The production will star Richard Chamberlain in the role of Dr. Austin Sloper, Heather Tom as his daughter Catherine Sloper and Julia Duffy as Dr. Sloper's sister Lavinia Penniman.

The cast also includes Gigi Bermingham as Elizabeth Almond, Steve Coombs as Morris Townsend, Chris Reinacher as Arthur Townsend, Elizabeth Tobias as Maria, Anneiliese van der Pol as Marian Almond and Jill Van Velzer as Mrs. Montgomery.

The Heiress is a spellbinding drama and the 1995 Tony Award-winner for Best Revival of a Play. Catherine Sloper, who stands to inherit a fortune from her ailing physician father, is a plain-looking young woman living under his malevolent scrutiny, as well as his well-meaning but cold-hearted demeanor. Dr. Sloper disapproves of Catherine's passionate suitor Morris Townsend, certain that the penniless young man has proposed marriage to win Catherine's inheritance. Catherine's too much in love to consider this potential betrayal, and when circumstances lead her to misinterpret Morris's intentions, The Heiress reaches an unforgettable conclusion that brilliantly supports the richly psychological nuance brought to the preceding romance. A masterpiece of love, deception and betrayal, The Heiress remains a shining example of a true theatrical achievement.

In addition to direction by Rodriguez, the creative team includes: scenic design by John Iacovelli, costume design by Leah Piehl, lighting design by Brian Gale and sound design by Doug Newell.

The Heiress will play at The Pasadena Playhouse in Pasadena, CA from April 24 – May 20, 2012.

The by invitation press opening is April 29 with a post-show reception following in the Engemann Family Courtyard.

MEDEA/MACBETH/CINDERELLA co-adapted and co-directed by Oregon Shakespeare Festival's Bill Rauch and Tracy Young, this musical theatrical tour de force features full productions of the plays by Euripides, Shakespeare and Rodgers & Hammerstein and has been a passion project for both Rauch and Young for more than a decade.

The piece was first created by Rauch as a college student, then mounted professionally in 1998 by Cornerstone Theater Company and The Actors' Gang, when Young joined the ride. It was then remounted in 2002 at Yale Repertory Theatre. More recently it was workshopped in OSF's Black Swan Lab for New Work the past two seasons, and there was a nine-day workshop with the cast in December 2011 on the fully-built set.

M/M/C represents the weaving together of three title-character studies in ambition. Referred to by Rauch as a "long bridge through Western culture," these classics of populist (and popular) theater are performed on one stage simultaneously, revealing surprising moments of synchronicity. This is among the largest-scale projects that OSF has ever mounted in the Angus Bowmer Theatre.

"This is a singular piece of theater," said Young, "epic in scale and containing multitudes. I am always excited by the unexpectedness of the shared themes of the three stories—the title characters are all on a journey and at the beginning, middle or end of a relationship, someone in each play covets the throne; and there is magic and transformation in each play."

Rauch adds, "The tones of each play affect the other two. You've got this fluffy sweet musical and two tragedies, and the way the tragedy of Lady Macbeth's story affects Cinderella, and the way Cinderella's optimism affects Medea's story is palpable and very moving. So it is sometimes surprisingly funny and often haunting. It's unlike anything I've ever been a part of and is the reason we are now producing its fourth iteration. The piece has also been an audience favorite with every production, so I'm thrilled to stage it for OSF audiences."

Music is at the center of this piece and features not only the score of Rodgers & Hammerstein's Cinderella, but also Greek choral odes in Medea, with music and lyrics by Shishir Kurup (and arranged with additional music by David Markowitz), and music and soundscape for Macbeth designed by Darron L. West.

Other creative team members are choreographer Sabrina Peck, music director Matt Aument, scenic designer Rachel Hauck, costume designer Deborah M. Dryden, lighting designer Christopher Akerlind, mask director Jared Sakren, associate music director (and conductor and on the piano) Darcy Danielson, co-orchestrator and arranger Andy Einhorn, voice and text director David Carey, dramaturg Lydia G. Garcia and assistant director Nelson Eusebio III.

The cast of 26 features an all-female Medea cast, all-male Macbeth cast, and mixed Cinderella cast.

Actors are Miriam A. Laube as Medea and Medea ensemble players are Dee Maaske, Kate Mulligan, Lisa Wolpe, Robynn Rodriguez, Gahl Falkner, Jada Rae Perry.

In the cast of Macbeth, Jeffrey King is in the title role, Christopher Liam Moore is Lady Macbeth, Al Espinosa is Macduff, Ted Deasy is Banquo, with Tasso Feldman as Fleance, Armando Durán as Duncan, Daniel José Molina as Malcolm and Daniel T. Parker, U. Jonathan Toppo and Eddie Lopez as the Witches.

The Cinderella cast features Laura Griffith as Cinderella, K.T. Vogt as Godmother, Robin Goodrin Nordli as Stepmother, Nell Geisslinger as Portia, Kate Hurster as Joy, Robert Vincent Frank as The King, Vilma Silva as The Queen and Jeremy Peter Johnson as The Prince. Mark Bedard is the Usher.

In addition to Danielson, other musicians are Lori Calhoun, Bruce McKern, Michal Palzewicz, Jacob Phelps-Ransom, and Arlene Tayloe.

M/M/C runs through November 3 on the Angus Bowmer Theatre at The Oregon Shakespeare Festival in Ashland, Oregon.

THE FIX Book and Lyrics by John Dempsey. Music by Dana P. Rowe. Directed by Randy Brenner. Musical Direction by Darryl Archibald.

The West Coast premiere of a hard-boiled, darkly comic rock musical about the American political machine. A popular presidential candidate is dead, and his widow thrusts their son into the political spotlight. Her maniacal scheming is matched by that of her crippled brother-in-law, who will stop at nothing to see the boy elected. Together, the three of them make up one of the most dysfunctional almost-first families this side of real life Washington politics. Nominated for London's 1998 Olivier Award for Best New Musical.

Starring Jay Donnell, Melanie Fernandez, Stephanie Hayslip, Alix Korey, David Michael Laffey, William T. Lewis, Sal Mistretta, Adam Simmons, Carrie St. Louis.

Choreography by Heather Castillo.

Performances through May 20 at the International City Theatre at the Long Beach Performing Arts Center in Long Beach, CA.

CYRANO

Troy Kotsur and Paul Raci. Photo by Ed Kreiger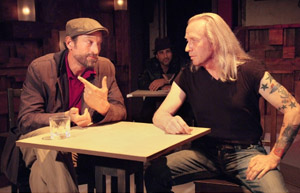 The world premiere of a modern day re-imagined signed/spoken version of the classic Cyrano de Bergerac, written by Stephen Sachs. Inspired by the play Cyrano de Bergerac by Edmond Rostand. Directed by Simon Levy.

Cyrano is a brilliant deaf poet hopelessly in love with Roxy, a beautiful hearing woman. But she doesn't understand sign language and instead loves Chris, his hearing brother. Can Cyrano express his love to Roxy with his hands? Or must he teach Chris to woo her, to "speak his words" for him? ASL (American Sign Language) becomes the language of love in this new spin on a classic love story.

Starring Erinn Anova, James Babbin, Al Bernstein, Eddie Buck, Maleni Chaitoo, Martica De Cardenas, Daniel Durant, James Royce Edwards, Bob Hiltermann, Troy Kotsur, Ipek D. Mehlum, Paul Raci, Victor Warren. ASL Masters Tyrone Giordano and Shoshanna Stern.

In Sachs' new adaptation, Cyrano is a brilliant deaf poet hopelessly in love with Roxy, a beautiful hearing woman. But she doesn't understand sign language and instead loves Chris, his hearing brother. Can Cyrano express his love to Roxy with his hands? Or must he teach Chris to woo her, to "speak his words" for him? ASL (American Sign Language) becomes the language of love in this new spin on a classic love story.

"In the original classic, Cyrano feels self-conscious and over-glorifies his enormous nose, but in this modern deaf version, it's his hands that are the focus," explains Sachs. "Cyrano's deafness is channeled through his hands, which swirl and soar to express the most complex human concepts, his inner-most thoughts and feelings, through the beauty of sign language."

"It's a mythic story about our hunger for love, the pangs for it," says Levy. "But the deeper theme is how we communicate with one another. Stephen has written a beautiful adaptation that's contemporary and fresh, set in a modern city where people communicate via text, Facebook and Twitter. It's a world of iPhones, Blackberries and tablets. The production marries three forms of communication: ASL, English, and e-language."

Set designer Jeff McLaughlin. Lighting designer Jeremy Pivnick. Sound designer Peter Bayne. Video designer Jeff Teeter. Multimedia tech by Media Fabricators, Inc. Costume designer Naila Aladdin Sanders. Prop designer Misty Carlisle. Fight choreography Brian Danner. Production stage manager Sue Karutz. Assistant stage manager Terri Roberts.

Presented by The Fountain Theatre and Deaf West Theatre April 28-June 10 at The Fountain Theatre in Los Angeles.


WHO'S WHERE


BRUCE SPRINGSTEEN AND THE E STREET BAND take to the stage Tuesday, April 24, at the HP Pavilion in San Jose, CA. On Thursday they begin a two night stand at the Sports Arena in Los Angeles. On Saturday, April 29, at take part in the New Orleans Jazz & Heritage Festival in New Orleans, LA.

VAN HALEN perform Wednesday, April 25, at the Time Warner Cable Arena in Charlotte, NC. On Friday the show is at the Bridgestone Arena in Nashville. Next Sunday, they take to the stage at the Scottrade Center in St. Louis, MO.

NICKELBACK takes to the stage Tuesday, April 24, at the Wells Fargo Center in Philadelphia. On Wednesday the show is at the Consol Energy Center in Pittsburgh. Friday finds the group at the XL Center in Hartford, CT. On Saturday they perform at the DCU Center in Worcester, MA.

STRAIGHT NO CHASER entertain Tuesday, April 24, at the Clay Center for the Arts & Sciences in Charleston, WV. On Wednesday they take to the stage of the Creative Arts Center in Morgantown, WV. Friday's performance is at the Sovereign Center in Reading, PA. On Saturday they're in the spotlight at Prudential Hall in Newark, NJ and next Sunday, April 29, the show is at the Tower Theatre in Upper Darby, PA.

ESPERANZA SPALDING is in the spotlight Tuesday, April 24, at the Paramount Theatre in Seattle. On Wednesday the show is at the McMenamins Crystal Ballroom in Portland, OR. On Friday she's on stage at The Fonda in Los Angeles. Saturday's gig is at the Sage Court Amphitheater in Phoenix.

ELVIS COSTELLO has a busy week with a show Monday, April 23, at the King Center for Performing Arts in Melbourne, FL. On Tuesday he stops at Ruth Eckerd Hall in Clearwater, FL. Wednesday's performance is at the Seminole Hard Rock Live in Hollywood, FL On Saturday he'll be delighting his fans at the Durham PAC in Durham, NC.

DENNIS MILLER offering insightful views in a laugh filled way April 27-28 at The Orleans in Las Vegas.

ROSLYN KIND IN CONCERT concludes the Brooklyn Center for the Performing Arts' 2011-2012 Solo Sensations series with Roslyn Kind in concert on Saturday, April 28, 2012. The dynamic, multi-talented entertainer also happens to be a native Brooklynite.

The Brooklyn Center for the Performing Arts is located in - Brooklyn.

MARILYN MAYE stars in her The Happiest Sound in Town performance April 24 to May 5 at Feinstein's in New York City.

NEASHA BRUEGGERGOSMAN the Canadian opera star, celebrity judge on CityTV's Canada's Got Talent, and Juno award-winning, Grammy-nominated singer released a unique contemporary album on April 17th on Ottawa's own Kelp Records. She is celebrating with a 13-date Eastern Canadian tour, including a stop at Ottawa's Bronson Centre on April 27.

LYNDA CARTER performs April 27-28 in The Allen Room of Lincoln Center in New York City.

THE SLIM MAN BAND romantic lyrics, sophisticated delivery and compelling instrumentals. Slim Man on guitar, George Hazelrigg on keys, John E Coale on drums, Bongo Bobby on...bongos. Part of the Spring Jazz Series, April 25-26 at the Suede Lounge in Wichita, Kansas.


FINAL OVATION


LEVON HELM drummer for The Band died April 19, 2012 from throat cancer at Memorial Sloan-Kettering Cancer Center in New York. He was 71.

On April 17, 2012, his wife and daughter announced on Helm's website that he was "in the final stages of his battle with cancer."

"Dear Friends, Levon is in the final stages of his battle with cancer. Please send your prayers and love to him as he makes his way through this part of his journey.
Thank you fans and music lovers who have made his life so filled with joy and celebration... he has loved nothing more than to play, to fill the room up with music, lay down the back beat, and make the people dance! He did it every time he took the stage...
We appreciate all the love and support and concern.
From his daughter Amy, and wife Sandy"

At the April 14th Rock and Roll Hall of Fame induction ceremony in Cleveland, Robbie Robertson told the audience that "We all need to send out love and prayers to my Band mate Levon Helm."

A few days before Helm's death, Robertson had a long visit with him at the hospital.

Neil Portnow President/CEO of The Recording Academy issued the following statement:

"Three-time Grammy winner and Recording Academy Lifetime Achievement Award recipient Levon Helm was an Americana and folk/rock music pioneer. As a member of what would become the Band, he was an instrumental part of Bob Dylan's shift to rock music. He was one of rock's earliest singing drummers, and his unique voice helped bring the group's well-crafted songs to life. His dynamic career spanned more than five decades and included solo releases and acting credits, such as playing Loretta Lynn's father in Coal Miner's Daughter. His passion for performing led him into the recording studio, where he opened Levon Helm Studios and produced many notable works. The music community has lost a gifted and treasured icon, and our deepest condolences go out to his family, friends, and fans everywhere."

JONATHAN FRID who played the vampire Barnabas Collins on the original Dark Shadows television vampire soap opera died April 14, 2012 of natural causes at Jurvavinski Hospital in Hamilton, Ontario, Canada. He was 87.

Frid makes a cameo appearance in the new Tim Burton film of Dark Shadows, which stars Johnny Depp and premieres May 11.

"It's a sad day," Burton said of Frid's death. "I'm glad I had the opportunity to meet Jonathan on the set this past Spring. He left an indelible impression. Barnabas lives on!" Launched in 1966 with few expectations Dark Shadows became a cult fave, peaking at close to 20 million viewers during its five-year run.

Almost a half century later, Dark Shadows regularly charts on the lists of top cult TV shows.

The youngest of three sons, Frid served in the Royal Canadian Navy during the Second World War. After graduating from Hamilton's McMaster University, he got a degree in directing at the Yale School of Drama and studied at the Royal Academy of Dramatic Arts in London.

As a student at Yale, Frid starred in the premiere of William Snyder's play A True And Special Friend. Classically trained, Frid spent thirty years in live theater, starring in the first productions at the Williamstown Theater and stage productions in Canada, England and the United States. He also starred in the Broadway revival and national tour of Arsenic and Old Lace in the '80s.

He returned to Canada in 1994 and continued to do one-man shows for charities in both Canada and the United States. In 2000, he co-starred in Mass Appeal which enjoyed a successful, limited run in Hamilton and at the Stirling Theater Festival in Canada.

Frid never married. He is survived by a nephew, Donald Frid.

GREG HAM a multi-instrumentalist, known best for his work in Australian pop band Men at Work, was found dean in his home near Melbourne, Australia on April 19th. He was 58. The cause of death was not immediately disclosed.

"There are a number of unexplained aspects to it which has caused our attendance here today, and we're assisting the local detectives to determine what has occurred," Detective Senior Sergeant Shane O'Connell told reporters.

Ham was best known for playing the flute solo on Down Under. As an actor, Ham was a regular cast member on the long running Australian television series While You're Down There. In recent years he enjoyed teaching guitar at Carlton North Primary School in Melbourne.

Neil Portnow President/CEO of The Recording Academy issued the following statement:

"Grammy-winning artist and Men at Work group member Greg Ham was a multi-talented musician and songwriter who played many instruments including flute, saxophone, piano and organ. His playing style made a distinctive mark on the group's hits, helping them to become one of the success stories of the new wave era and Best New Artist Grammy Award recipients in 1982. Our deepest sympathies extend to his family, friends, and fans worldwide, who will continue to enjoy his work as part of musical history."

BERT WEEDON an Influential guitarist best known for creating the popular tutorial manual Play in a Day, died April 20, 2012 at his home in Beaconsfield, England. He was 91.

Eric Clapton, Paul McCartney and Brian May are among the stars who learned to play guitar from his books. Born in east London, May 10, 1920, he was awarded an OBE in 2001 for his services to music.

Queen guitarist Brian May said: "He will be so sadly missed by all his friends because he is one of the most generous and giving people I have ever met in my life.

"He was always teaching people, privately and publicly. You know, he didn't have any secrets from anyone and he was so supportive to us all."

He added: "There's not a guitarist in Britain from my generation who doesn't owe him a great debt of gratitude."

McCartney commented: "George and I went through the Bert Weedon books and learned D and A together." According to Clapton, "I wouldn't have felt the urge to press on without the tips and encouragement Bert's book gives you. I've never met a player of any consequence that doesn't say the same thing."

The guitarist and composer, whose style of guitar playing was popular and influential during the 1950s and 1960s. In 1959 he became the first British guitarist to have a hit record on the UK Singles Chart.

He worked as a session musician on many early British rock artists such as Adam Faith, Billy Fury and Tommy Steele and worked as an accompanist to visiting American singers such as Frank Sinatra, Judy Garland, Rosemary Clooney, Tony Bennett and Nat King Cole.

He was cited as an influence by many stars, including George Harrison, Pete Townshend, Keith Richards, Sting, Hank Marvin, Robert Smith, Mike Oldfield, Mark Knopgler, Jimmy Page and John Lennon who had admitted the he began playing the guitar using Play in a Day.

He is survived by his wife Maggie Weedon, two sons, Lionel and Geoffrey, nine grandchildren, and a great-grandson.

,






Next Column: April 29, 2012
Copyright: April 22, 2012. All Rights Reserved. Reviews, Interviews, Commentary, Photographs or Graphics from any Broadway To Vegas (TM) columns may not be published, broadcast, rewritten, utilized as leads, or used in any manner without permission, compensation and/or credit.
Link to Main Page
---
Laura Deni



For the snail mail address, please E-mail your request.
CLICK HERE FOR COMMENT SECTION