! >
Broadway To Vegas
  SHOW REVIEWS     CELEBRITY INTERVIEWS     GOSSIP     NEWS 
| | |
| --- | --- |
| | |
Copyright: April 22, 2001
By: Laura Deni
CLICK HERE FOR COMMENT SECTION

THE PRODUCERS
If you can only see one musical comedy in your lifetime - make it The Producers. There aren't enough superlatives to adequately describe this production. This show became a hit before it ever opened. If Broadway critics can close a show, word of mouth on the preview road to the Great White Way also has bite. That favorable jabber resulted in $13 million worth of advanced tickets being sold.

To call Mel Brooks a creative genius seems trite. You can't explain him. You can't compare him to anyone else. Just relax and enjoy his ability to accomplish.

Mel Brooks has adapted his 1967 classic movie by the same name. It's something he'd had rolling around in his brain for years. It would have been easy to botch it up. Comparisons would be made to the movie, which starred the greats - Zero Mostel as Max Bialystock and Gen Wilder as Leo Bloom. The Producers, is about has-been producer Bialystock and a meek, blanket sucking nerd accountant, Bloom, who discover they can make money by producing a flop. They find the most offensive script, Springtime for Hitler the worst director, over sell interest in the show to unsuspecting old ladies and wait for the show to fold on opening night. Instead, it's a hit.

When Brooks finally got serious about transferring his movie to the stage he took the property to composer Jerry Herman and asked Jerry to write the words and music. It would have been easy for a composer to smell a runaway hit, and jump on board. To Herman's credit he watched the movie, studied what Brooks had written, handed the property back to Brooks and told him he was perfectly capable of writing it himself.

So Mel did.


NATHAN LANE AND MATTHEW BRODERICK star in The Producers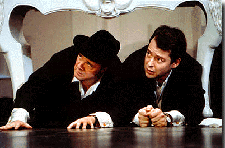 The Producers, is sure to sweep the Tony Awards. The only bad part about the production is that it can pit Nathan Lane and Matthew Broderick against each other for various theatrical organizational awards. Tis a pity. They are perfectly cast. People who may not like one or the other - and there may be that odd man out who only has seen Lane in the TV flop Encore, Encore or just doesn't care for Broderick - those people will swan dive into their fans clubs.

Even in the first half of the show at the 1623 seat St. James Theatre, you know Susan Stroman is also going to need more space to hold her awards - the director/choreographer stages a number using walkers as dance props for the elderly women being wooed and fleeced by Max Bialystock. And, then in the second half there is that little show stopper - Springtime for Hitler.

Brooks is an equal opportunity politically incorrect perfectionist. He artfully skewers everyone and he's so brilliant at it that you relish the jabs. The living room scene involving a gay director is a masterpiece and costume designer William Ivey Long and set designer Robin Wagner have outdone themselves.

Roger Bart as Carmen Ghia and Gary Beach as Roger DeBris are incredible. Cady Huffman as Ulla the over endowed Swedish receptionist is darling. Though not Swedish she kept in the spirit of her character, even going down to the IKEA store to buy opening night presents for her cast members.

In a production with a large cast it isn't often when they all deserve a mention, but in the case of The Producers every single person involved in this show warrant a hand:
NATHAN LANE as Max Bialystock
MATTHEW BRODERICK as Leo Bloom
ROGER BART as Carmen Ghia
GARY BEACH as Roger DeBris
CADY HUFFMAN as Ulla
BRAD OSCAR as Franz Liebkind
MADELINE DOHERTY as Hold-me Touch-me
KATHY FITZGERALD as Shirley, Kiss-me Feel-me, Foreman of Jury
ERIC GUNHUS Lead Tenor
PETER MARINOS as Bryan, Jack Lepidus, Judge
JENNIFER SMITH as Usherette, and Lick-me Bite-me
RAY WILLS as Mr. Marks, Kevin, Jason Green
JIM BORSTELMANN, ANDRIENNE GIBBONS, JAMIE LaVERDIERE Swing
JEFFRY DENMAN as Scott, Donald Dinsmore, and Guard
BRYN DOWLING Usherette
ROBERT H. FOWLER as O'Houllihan
IDA GILLIAMS, KIMBERLY HESTER, NAOMI KAKUK Ensemble
MATT LOEHR as O'Riley
BRAD MUSGROVE, MARIE CHRISTINA Dance Captain, Swing
ANGIE L. SCHWORER, TRACY TERSTRIEP Ensemble
ABE SYLVIA as O'Rourke, Bailiff
Book by Mel Brooks/Tom Meehan, Music and Lyrics by Mel Brooks. Production Credits Susan Stroman (Director/Choreographer) Robin Wagner (Sets) William Ivey Long (Costumes) Peter Kaczorowski (Lighting) Steve Kennedy (Sound) Glen Kelly (Musical Arrangements/Supervision) Patrick Brady (Musical Direction/Vocal Arrangements) Doug Besterman (Orchestrations)


GEORGE GERSHWIN ALONE
HERSHEY FELDER Photo By: Laura Deni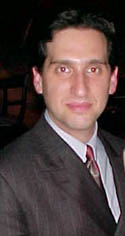 George Gershwin Alone ran for seven sold out months in Los Angeles and four equally sold out months in Florida. Written by Hershey Felder, directed by Joel Zwick the productions began previews April 17 at the Helen Hays Theatre in New York City, with the official opening slated for April 30th. Unfortunately, the show is slated for a limited engagement, closing July 22.

We sat in on a dress rehearsal.

George Gershwin Alone is an important undertaking - it's a one man show that breaths a personal, interesting depth to one of our greatest composers.

This play with music, marks the first time in theatrical history that the Gershwin heirs have granted the rights to create the role of America's musical icon, George Gershwin, on the stage. George Gershwin Alone is about the life of Gershwin, a man who died at age 38 before knowing how successful he would become. Gershwin was maligned by the right-wing anti-Semitics led by Henry Ford, and hammered by the critics - always being compared to Irving Berlin



Scenic designer Yael Pardess and lighting designer James F. Ingalls have created an effective set. Photo By: Laura Deni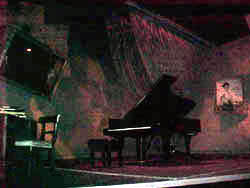 The incredible one man show, a running commentary play entwined with the fabulous Gershwin music, launches its journey with Swanee, and includes such works as Embraceable You, Someone To Watch Over Me, Bess, You Is My Woman, Now from Porgy and Bess, An American in Paris and Rhapsody in Blue.

Felder as George tells us his story through these works of the 1920s and 1930s, - a life of triumph, failure, loss and hope - the story of how a Russian Jewish immigrant, who "made and honest woman out of jazz" became the musical voice of America.

Scenic designer Yael Pardess and lighting designer James F. Ingalls created Gershwin's living room with an effective use of sepia hues and lighting that provide Felder with a supportive but not overbearing backdrop. It's creative and effective.

Felder, 32, has done a remarkable job of capturing the soul of Gershwin - of weaving his life into a musical tapestry with hues and dynamics that chronicles the life of Gershwin into an interesting, informative and fascinating production.



GEORGE GERSHWIN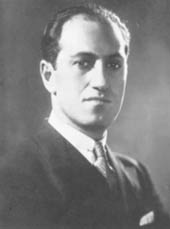 "I'm tired," Felder told me. You'd never know it from either looking at him or watching the show - but he has a right to be tuckered out.

The accomplishment of this feat began with five years of comprehensive study of all available information about the man and his music. Full access was granted to the Gershwin collection at the Library of Congress as well as the Gershwin family's private collection. Felder interviewed Gershwin friends and colleagues, studied his playing style from surviving recordings and piano rolls as well as the analysis of all of his compositions. Research was capped off by travel to most known locations where Gershwin performed or composed.

Felder spent approximately five years researching the composer/songwriter before developing his "play with music." Its first workshop was held at the Steinway Hall in New York City on June 30, 1999. Gershwin family trustees - including Marc George Gershwin, son of George's brother Arthur, Leopold Godowsky III, son of George's sister, Frankie; and Robert Kimball, artistic advisor to the Ira and Leonore Gershwin estate - were present at the workshop and later granted HTG Productions Inc. and Felder permission to develop the role. This is the first time since Gershwin's death that the trustees have granted such permission.

It's permission well granted.

Felder knows a bit about music. He began performing on the concert stage at the age of eleven. At age twenty-three he was invited to become a Baldwin Artist and in 1884 a Steinway Concert Artist. In 1988, at age 19, Canadian born Felder made his concerto debut in Great Britain with Gershwin's A Rhapsody in Blue. He teases the audience with that song throughout George Gershwin Alone and then seriously plays the composition as the closer. Even the crew who has heard the rendition numerous times stops to listen.

Schools should bus students to study the production. Next year will make the 65th anniversary of the passing of George Gershwin. One would presume there will be some retrospectives. This production belongs in posterity. It should be taped - perhaps part of a Gershwin Library, or a PBS special.



Broadway To Vegas is supported through advertising and donations. Priority consideration is given to interview suggestions, news, press releases, etc from paid supporters. However, no paid supporters control, alter, edit, or in any way manipulate the content of this site. Your donation is appreciated. We accept PAYPAL. Thank you for your interest.


CLOUDS OVER STORM


Storm is the latest production show to open in Las Vegas. It's suppose to be a Latin themed musical incorporating the forces of nature. It's executive producer Peewee Perez and creative director Jamie King who are associated in various ways with Ricky Martin, Britney Spears and Goria Estefan, confused turning Martin and Spears into teeny bopper false idols with producing a Vegas show. 20 minutes into Storm people started walking out.

A first impression was that if this was outside with a Polynesian buffet and the price was $19.95 Storm would make excellent entertainment for a luau. At $55. and $65. per ticket plus taxes - save your money.

Housed inside the Mandalay Bay resort the before show reception and post show party were excellent. Mandalay Bay is a class hotel and their white glove service takes second place to no one.

Robin Leach arrived with a gorgeous blonde - a head taller than he - and headed straight to the bar where he stayed until show time. He may have been the smartest one in the room.

Ricky Martin made an obligatory appearance but left early and raced to fly to Australia.

Gloria Estefan looked gorgeous and was gracious.



ROBIN LEACH headed for the bar and stayed there until showtime Photo By: Laura Deni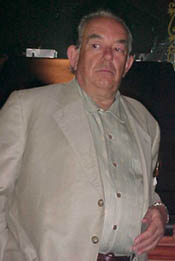 Then there was the show. The sound has one level - unbearable. It looks like the intent was to imitate the Cirque productions with people rolling on stage and doing trapeze acrobatics above the audience, but came up inadequate. There is no drama, intrigue, emotional impact or cohesiveness.

It is also sad. The individuals behind this production are not amateurs. They may be out of their element trying to create a new production in an enclosed, Las Vegas venue. Substantial money and time have been put into this - perhaps making it an effort more to be pitied than criticized.



GLORIA ESTEFAN looked gorgeous and was gracious Photo By:Laura Deni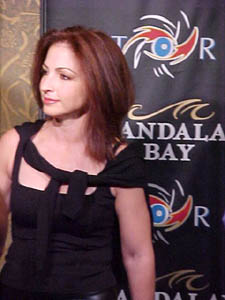 Twenty-five years ago the Lido de Paris show at the Stardust Hotel did a better job of staging a weather related segment with their Fire and Water scene that had an earthquake, fire and a volcano. Those props are probably in some basement. Maybe the paint has peeled but a couple of squirts of 1040 oil, those gears would still crank. Too bad the producers of Storm didn't use them. Years later a updated version of Lido de Paris used a Russian flying aerialist to perform while hanging over the audience. A motorcycle accident cut short his career, but at the time Vlad was a big name. There are no big or even has been names in this production to bolster ticket sales.

Not everything is awful. Most of the cast have talent. The lighting design by Peter Moore is excellent.There is some interesting choreography by Carla Kama and Melissa Williams, especially their use of the walls. The live musicians are excellent, but Las Vegas has always had some of the best live musicians. The graphics on the advertisements are interesting.
The producers have thrown a lot of money into this hodgepodge - but - until this storm blows over - stay home and read a book.


OUTER CRITICS CIRCLE NOMINATIONS


Outer Critics Circle, the organization of writers on the New York Theatre for out-of-town newspapers, national publications and other media beyond Broadway, has announced its nominees for the 2000-01 season in 22 categories The awards will be presented May 24 at Sardi's.

2000-2001 OUTER CRITICS CIRCLE NOMINATIONS
Outstanding Broadway Play


Judgment at Nuremberg
Proof
Stones in His Pockets
The Invention of Love
Outstanding Off-Broadway Play
Comic Potential
Jitney
Lobby Hero
Ten Unknowns
Outstanding Revival of a Play
Gore Vidal's The Best Man
Juno and the Paycock
One Flew Over the Cuckoo's Nest
The Man Who Came to Dinner
Outstanding Actor in a Play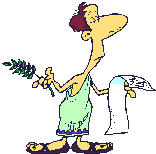 Richard Easton (The Invention of Love)
George Grizzard (Judgment at Nuremberg)
Brian Stokes Mitchell (King Hedley II)
Donald Sutherland (Ten Unknowns)
Outstanding Actress in a Play
Eileen Atkins (The Unexpected Man)
Juliette Binoche (Betrayal)
Mary-Louise Parker (Proof)
Marian Seldes (The Play About the Baby)
Outstanding Featured Actor in a Play
Larry Bryggman (Proof)
Charles Durning (Gore Vidal's The Best Man)
Justin Kirk (Ten Unknowns)
Robert Sean Leonard (The Invention of Love)
Outstanding Featured Actress in a Play
Viola Davis (King Hedley II)
Marthe Keller (Judgment at Nuremberg)
Michael Learned (Gore Vidal's The Best Man)
Leslie Uggams (King Hedley II)
Outstanding Director of a Play


Ian McElhinney (Stones in His Pockets)
Jack O'Brien (The Invention of Love)
Daniel Sullivan (Proof)
John Tillinger (Judgment at Nuremberg)
Outstanding Broadway Musical:
A Class Act
Jane Eyre
The Full Monty
The Producers
Outstanding Off-Broadway Musical
Bat Boy The Musical
newyorkers
Pete N' Keely
Suburb
Outstanding Revival of a Musical
Bells Are Ringing
Follies
42nd Street
The Rocky Horror Show Outstanding Actor in a Musical
Matthew Broderick (The Producers)
Michael Cumpsty (42nd Street)
Nathan Lane (The Producers)
Patrick Wilson (The Full Monty)
Outstanding Actress in a Musical
Christine Ebersole (42nd Street)
Randy Graff (A Class Act)
Faith Prince (Bells Are Ringing)
Marla Schaffel (Jane Eyre)
Outstanding Featured Actor in a Musical
Gary Beach (The Producers)
Andre De Shields (The Full Monty)
David Elder (42nd Street)
John Ellison Conlee (The Full Monty)
Outstanding Featured Actress in a Musical
Kathleen Freeman (The Full Monty)
Cady Huffman (The Producers)
Kate Levering (42nd Street)
Mary Testa (42nd Street)
Outstanding Director of a Musical
Christopher Ashley (The Rocky Horror Show)
Mark Bramble (42nd Street)
Jack O'Brien (The Full Monty)
Susan Stroman (The Producers)
Outstanding Choreography
Kathleen Marshall (Follies)
Jerry Mitchell (The Full Monty)
Randy Skinner (42nd Street)
Susan Stroman (The Producers)
Outstanding Scenic Design
Bob Crowley (The Invention of Love)
Heidi Ettinger (The Adventures of Tom Sawyer)
Douglas W. Schmidt (42nd Street)
Robin Wagner (The Producers)
Outstanding Costume Design
Theoni V. Aldredge (Follies)
Roger Kirk (42nd Street)
William Ivey Long (The Producers)
Andreane Neofitou (Jane Eyre)
Outstanding Lighting Design
Paul Gallo (42nd Street)
Peter Kaczorowski (The Producers)
Brian MacDevitt (The Invention of Love)
Kenneth Posner (The Adventures of Tom Sawyer)
Outstanding Solo Performance
Tovah Feldshuh (Tallulah Hallelujah!)
Pamela Gien (The Syringa Tree)
Bill Irwin (Texts for Nothing)
Brian d'Arcy James (The Good Thief)
John Gassner Playwriting Award
David Auburn (Proof)
Pamela Gien (The Syringa Tree)
Rebecca Gilman (Boy Gets Girl)
Kenneth Lonergan (Lobby Hero)
Special Achievement Award Recipients
Sean Campion and Conleth Hill of Stones in His Pockets
Reba McEntire of Annie Get Your Gun
The ensemble cast of The Dinner Party (Henry Winkler, John Ritter, Len Cariou, Penny Fuller, Veanne Cox, and Jan Maxwell)

SWEET CHARITY

MY FAVORITE THINGS a concert to benefit The Juilliard School of Music, NYC is Tuesday. Guests include Christine Baranski, Barbara Cook, Marvin Hamlisch, Marilyn Horne, Kevin Kline, Patti LuPone and Wynton Marsalis.

MARY STOUT of Jane Eyre fame will debut her new cabaret act at Studio 54, NYC on April 23. and April 24. Her new show, a mixture of comedy and music, titled Lighter Than Eyre and will benefit The Marcia Shew Fund for Pediatric AIDS.Mary will be accompanied by Musical Director Christopher Marlowe on piano and Leo Grinhauz on cello. Lee Tannen is Producer and Director of Lighter Than Eyre with Will Campbell as Associate Producer.

AMERICAN MUSICALS PROJECT BENEFIT at the New York Historical Society use the great American musicals as teaching tools for seventh and eighth grade social studies and English classes in 15 NYC schools. This year's salute to Irving Berlin, hosted by Peter Stone, will feature performances by Tony Award winner Karen Ziemba as well as other Broadway entertainers. April 23 at The NY Historical Society.


OTHER PEOPLE's MONEY SHOW


THE PRODUCERS increased top ticket prices to $100.00 making it the most expensive show on Broadway. Customers aren't complaining about the high price as much as they are about the inability to get good orchestra seats.

ELECTRIC SUR CHARGE several Las Vegas hotels have tacked on an electrical sur charge of as much as $3.00 per night per hotel room to off-set the dramatic increase in the cost of electricity.



LOVE ME, LOVE ME NOT a new musical comedy based on Shakespeare's Love's Labour's Lost, was showcased at the John Houseman Studio Theatre, NYC last Wednesday through yesterday.

The cast was made up of students from the Department of Theatre and Dance at Ball State University, where the show's composer Raphael Crystal teaches musical theatre. The project is sponsored by the Virginia B. Ball Center for Creative Inquiry, which underwrote this unique experiment in which students collaborated with theatre professionals in the creation of a new musical.

The book is a collaborative effort by the entire company, which includes: Leanne Boarman, Nicholas Brenner, Chris Bryant, Robb Coles, Bradford Coolidge, Elizabeth Davito, Natalie Ellis, David Bryan Geary, Kellie Harrison, Carey Kayser, Lisa Liaromatis, Tiiu Rebane, Kathleen Shawger, Adam Tilford, and Jason Whicker. Music is by award-winning composer Raphael Crystal (Kuni-Leml) and lyrics are by critically acclaimed playwright Deloss Brown (Heart Of A Dog), who is also the director.

CABARET opened April 17 at the Pantages Theatre in Toronto for a run thru April 29.

TOM SAWYER The Adventures of Tom Sawyer, with music and lyrics by Schlitz and a book by Ken Ludwig - playwright of Lend Me a Tenor and Moon Over Buffalo, opens on Broadway on April 26 at the Minskoff Theatre. The parallels between the two production histories are eerie, including the fact that Heidi Ettinger (then Heidi Landesman), who won a Tony for her set design for Big River, has created the set for Tom Sawyer.


WHO'S WHERE


REBA McENTIRE returned to her starring role in Annie Get Your Gun last Thursday. The performer took a 10 day break from her run on Broadway as Annie Oakley to fly to LA to shoot the pilot for a possible WB sitcom. What she also did was to sign on to star and co-produce a television version of Annie Get Your Gun which will probably air next February.

RITA RUDNER the delightful and talented comedian began headlining the cabaret theatre at New York-New York in Las Vegas last Friday. The engagement is indefinite. She is one of our favorites. We hope she stays forever.

JASON ROBERT BROWN winner of the 1999 Tony Award for his musical Parade presents an evening with various Broadway performers, including an advance look at his forthcoming musical, The Last Five Years. April 28 at The Cooper Union for the Advancement of Science and Art, NYC

BARBARA COOK April 21 in Palm Desert, CA

BIG BAD VOODOO DADDY April 28 in Scottsdale, AZ at the Scottsdale Center For the Arts

MICHAEL FEINSTEIN and ROSEMARY CLOONEY April 27-28 in Cerritos, CA at the Cerritos Center

JOHNNY MATHIS April 27-28 in Atlantic City, NJ at Caesars Atlantic City

FRANKIE AVALON and BOBBY RYDELL perform at The Orleans Hotel, Las Vegas April 26-29

ELTON JOHN AND BILLY JOEL performed Saturday night at Gaylord Entertainment Center, Nashville. Tickets were $45-$175. The event was sold out.


THIS AND THAT

ROBERT STACK host of Unsolved Mysteries has been signed to do another five years of shows.

ROBERT REDFORD'S latest movie, a prison flick being shot at the Tennessee State Prison, issued a casting call for extras with the caveat: Wanted: Black and Hispanic men, body builders, guys with prominent tattoos.



Mention BROADWAY TO VEGAS for Special Consideration
Call (800) 942-9027









Next Column: April 29, 2001
Copyright: April 22, 2001. All Rights Reserved. Reviews, Interviews, Commentary, Original Photographs from any Broadway To Vegas (TM) columns may not be published, broadcast, rewritten, utilized as leads, or used in any manner without permission, compensation and/or credit.
Link to Main Page
---
Laura Deni


CLICK HERE FOR COMMENT SECTION