! >
Broadway To Vegas
  
  REVIEWS INTERVIEWS COMMENTARY NEWS

| | |
| --- | --- |
| | |
RODGERS & HAMMERSTEIN AT THE MOVIES: THE JOHN WILSON ORCHESTRA CD REVIEW - - SUNDANCE LONDON - - AMERICAN FEMALE CONDUCTOR SELECTED AS A BRITISH FIRST - - LATIN GRAMMY IN THE SCHOOLS PROGRAM - - AN ALL ASIAN HELLO DOLLY - - OUTER CRITICS CIRCLE ANNOUNCE NOMINATIONS - - MISS JULIE - - RAUL COLON: TALL TALES AND HUGH HEARTS - - DONATE . . . Scroll Down




Copyright: April 21, 2013
By: Laura Deni
CLICK HERE FOR COMMENT SECTION


WHEN IT COMES TO RECORDINGS, PACKAGING MATTERS


A wonderfully lush new CD released by EMI Broadway is Rodgers & Hammerstein At The Movies: The John Wilson Orchestra, which belongs in everyone's musical collection.

In 2010 at the BBC Proms, The John Wilson Orchestra performed a program of Broadway hits penned by the great creative partnership of Richard Rodgers and Oscar Hammerstein to outstanding critical and public acclaim. EMI Classics has released the studio recording of this elegant BBC Proms concert.

The cover of the booklet says: "Featuring hit songs and music from The Sound of Music, Oklahoma!, The King and I, Carousel and South Pacific."

I thought 'songs' meant just that and 'music' referred to incidental or background music from the hit musicals. There is no mention of singing. I assumed it was an instrumental.

Don't judge a CD by its cover.

The first selection the Overture/Main Title from Oklahoma! is an instrumental. What an instrumental! If The John Wilson Orchestra isn't a household name, it should be.

The second selection was a startling, but most pleasant surprise - Julian Ovenden performing a dynamic rendition of Oh, What a Beautiful Morning. Nobody could sing the song better, not even the late, great Gordon MacRae who starred in the movie.

Ovenden is the man who originated the role of J.M. Barrie in the musical version of the film Finding Neverland, produced by Harvey Weinstein and premiered at the Curve in London in 2012.

Hearing a solo voice on this CD peaked curiosity. As usual in most CDs, the composers and arrangers are listed. Unusual - and appreciated - in this gold standard for a musician's CD, is a complete listing of the musicians and what specific instrument they played. The lead player is even designated within each musical instrument division.

The puzzlement is the lack of attention paid to the singers.



Partial view of The John Wilson Orchestra at the recording session.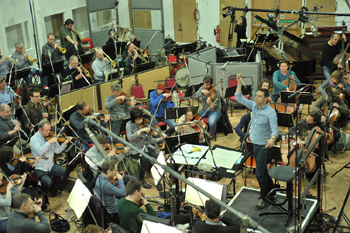 The original or reconstructed motion picture orchestrations are played to perfection by some of the best musicians in the world. Whoever decided on the specific songs knows how to create a masterpiece. The combination of the production, the specific songs from those productions, the musicianship, the sound quality and the singers makes this one of the most beautifully elegant CDs ever released.

Singers?

There is nothing on the cover - and precious little inside the booklet - that says anything about singers. What singers? Those almost anonymous ones who bear the names of Sierra Boggess, Julian Ovenden, Anna-Jane Casey, Joyce DiDonato, David Pittsinger and Maria Ewing. Some of the best voices around singing the cream of the Rodgers & Hammerstein songbook.

I contacted Andrew Ousley Director of Publicity EMI / Virgin Classics and questioned:
"On the listing of each number there is specific information about the production - who not only wrote the song, but who arranged it orchestrated and edited the number, which is all well and good. On a few of the songs a name in bold face does appear in the song explanation. A name, nothing more. Then, if you get a magnifying glass and carefully go over the booklet, there is a line at the bottom of page 5 than lists the names of 6 people, who I know happen to be singers. There is no mention that they are singers . . . important soloists, whose contribution to this CD is enormous and shouldn't be treated lightly, in my opinion. It appears that they are viewed as an afterthought. When their name is mentioned by a specific song, there is no mention of their vocal range - tenor, alto, etc. My question is - Why are the singers given second rate importance?"

His reply:
"I agree it could've been more clearly presented in the packaging that these are the guest singers (and their vocal ranges would've been good as well), but please note that it in no way was intended to diminish their role in the project - all of the marketing and publicity efforts specifically call them out and we've done extensive work with each of them around promoting the project and their individual performances on it. I guess the thinking of the packaging designers was they many of them are well known enough to make it clear to people that they are the singers on the album, and given that John and his Orchestra are really the driving force behind everything they wanted to keep them front and center..."



John Wilson conducting as the orchestra plays fabulous original or reconstructed motion picture orchestrations.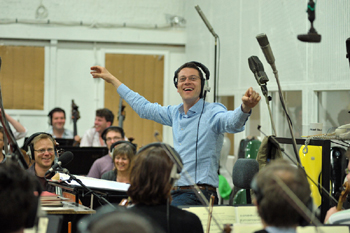 For the listener, what will remain front and center are - the vocals. Without the singers this CD would be another instrumental recording - a great one - but another instrumental. What sets this CD apart is the perfect merging of selections, instrument performance and the vocal quality.

Oklahoma! is the first movie showcased. People Will Say We're in Love is sung by Julian Ovenden and Sierra Boggess.

Boggess, a soprano who can sing to a high E starred as Christine Daae in Andrew Lloyd Webber's Phantom - The Las Vegas Spectacular in Las Vegas. A year later she left Las Vegas to make her Broadway debut, originating the role of Ariel in the 2007 musical adaptation of the 1989 film The Little Mermaid.

The Carousel section has Grammy-award winner Joyce DiDonato getting everyone in a good mood with June Is Bustin' Out All Over, and then breaking your heart with the three-hanky You'll Never Walk Alone. Julian Ovenden delivers the powerful Soliloquy.

DiDonato is an operatic mezzo-soprano particularly admired for her interpretations of the works of Handel, Mozart, and Rossini. In 2012 won a Grammy Award for Best Classical Vocal Solo.

South Pacific suds up with I'm Gonna Wash That Man Right Out of My Hair with Anna-Jane Casey. Maria Ewing sings Bali Ha'l, while The Twin Soliloquies feature Anna-Jane Casey and David Pittsinger.

Casey has a page long list of theatrical credits. She is currently appearing as The Lady Of The Lake in Spamalot, at the Playhouse Theatre in London. From May 13, 2013 she is set to play Mrs Wilkinson in Billy Elliot the Musical at the Victoria Palace Theatre in London.

Michigan born Maria Ewing is an opera singer who made her debut at the Metropolitan Opera in 1976 in Mozart's The Marriage of Figaro.

American bass-baritone David Pittsinger is right at home on this CD. He earned a Helen Hayes Award-nomination for his performance as Emile de Becque in Rodgers & Hammerstein's South Pacific, at the Kennedy Center.

This CD's The Sound of Music section has Sarah Boggess in the Julie Andrews role while Joyce DiDonato is the Mother Superior. She closes the CD with the inspiring Climb Ev're Mountain.

Composer, arranger and conductor John Wilson is one of the world's leading experts on the music of Hollywood and Broadway's Golden Age. In addition to his touring with his own orchestra, he has worked closely with Sir Paul McCartney, and also arranged and conducted the music for the Kevin Spacey film Beyond the Sea.

Musicians on Rodgers & Hammerstein At The Movies: The John Wilson Orchestra:
Violin: Andrew Haverson - Leader. Francesica Barritt, Hannah Dawson, Laura Dixon, Shlomy Dobrinsky, Matthew Gardiner, Eugeny Grach, Charis Jenson, Magnus Johnston, Cerys Jones, Michkel Kerem, Jenny King, Ciaran McCabe, John Mills, Katherina Mitchell, Marije Ploemacher, Joanne Quigley, Sarah Quinn, Ruth Rogers, Rhys Watkins, Steven Wilkie, Helena Wood and Warren Zielinski.

Viola: Vicci Wardman - section principal. James Boys, Rebecca Chambers, Carol Ella, Francis Kefford, Matthew Quenby, James Stater and Andriy Viytovyeh.

Cello: David Cohen - section principal. Jonathan Asagaard, Ben Chappell, Caroline Dearnley, Joely Koos, Emma Pritchard, Ben Rogerson and Louisa Tuck.

Double Bass: Graham Mitchell - section principal. Anthony Allcock, Christian Geldsetzer, Tim Gibbs, Thomas Goodman and Simon Oliver.

Flute/Piccolo: Cormac Henry - section principal. Anthony Robb, Clare Robson, Sharon Williams. Oboe/Coranglais: John Anderson - section principal. Thomas Davey and Michael O'Donnell.

Clarinet/Bass clarinet/ contrabass clarinet: Chris Richards - section principal. Luke Annesley, James Burke, Jay Craig, Mark Crooks, Dave Fuest, Katherine Lacey, Howard McGill, Chi Yu Mo and Colin Skinner.

Alto Saxophone: Howard McGill - section principal. Colin Skinner. Tenor Saxophone: Luke Annesley- section principal. Mark Crooks. Baritone Saxophone: Jay Craig. Bassoon/Contra bassoon - Daniel Jemison section principal. Joost Bosdijk, Paul Boyes, David Chatterton, Fraser Gordon, Helen Simons.

French Horn: Chris Parkes section principal. Tim Ball, Pip Eastop, Richard Watkins. Trumpet: Michael Lovatt, section principal. Andrew Gathercole, James Lynch, Patrick White. Trombone/Bass Trombone: Gordon Campbell, section principal. Liam Kirkman, Mark Nightingdale, Jonathan Stokes, Andy Wood. Tuba: Owen Slade.

Timpani: Jeremy Cornes. Percussion: Sam Walton, section principal. Stephen Henderson, David Jackson, Alexander Neal, Neil Percy, Adrian Spillett. Drums: Matthew Skelton.

Accordion: Ian Watson. Banjo: Adam Goldsmith. Harp: Hugh Webb, section principal. Sally Pryce. Piano/Celesta: Ian Buckle, section principal. Matthew Regan.

Guitar: Colin Oxley. Rhythm bass: Jeremy Brown.







Broadway To Vegas is supported through advertising and donations. Priority consideration is given to interview suggestions, news, press releases, etc from paid supporters. However, no paid supporters control, alter, edit, or in any way manipulate the content of this site. Your donation is appreciated. We accept PAYPAL. Thank you for your interest.




ART AND ABOUT


RAUL COLON: TALL TALES AND HUGH HEARTS

Sugar Cane: A Caribbean Rapunzel, © Raul Colon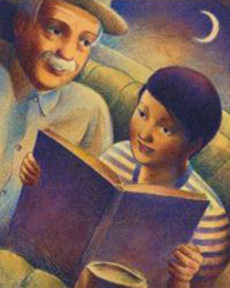 An award-winning illustrator of over thirty books for children, Raúl Colón was chosen to illustrate Dr. Jill Biden's recently published Don't Forget, God Bless Our Troops as well as Frank McCourt's bestselling Angela and the Baby Jesus.

Colón himself explained his technique for the illustrations in Angela and the Baby Jesus. "I began with textured watercolor paper. I added a wash of golden undertone watercolor. On top of that I drew the image - sketched it - and then added the middle tones. There are about 5 to 8 washes on top of each other. I then used colored pencils to make the texture of the paper come out. I also use a scratchboard instrument appropriately called a "scratcher" to draw down through the layers."

The industry has recognized Colón with a Golden Kite Award, a Pura Belpré Award, and both a gold and silver medal in The Original Art show.

Colón uses very unique techniques in his artwork to create texture and rich, deep colors. The illustrations are done on watercolor paper and combine watercolor washes, etching, and the use of colored pencils and litho pencils.

Tall Tales and Hugh Hearts opens April 27, 2013 at the Joslyn Art Museum in Omaha, Nebraska and is on display through July 28, 2013.

ORANGE NIGHTS: QUEEN'S NIGHT AT THE DE YOUNG presented in partnership with the Consulate General of the Netherlands, San Francisco.

From April 26 through May 31 the de Young is partnering with the Consulate General of the Netherlands in celebration of Girl with a Pearl Earring: Dutch Paintings from the Mauritshuis and Rembrandt's Century. Each night is themed to highlight Dutch culture and innovation.

Queen's Night takes place April 26, 2013. What does it mean to be Queen? Find out in a celebration of Queen's Day, a Dutch national holiday in honor of the Queen's birthday, the night before San Francisco's own outdoor celebration near the Murphy Windmill in Golden Gate Park. The evening includes a Dutch DJ dance party and a lecture on the Dutch royal family by the chair of UC Berkeley's Dutch Studies program.

Everyone is encouraged to come dressed in their best orange attire, and children can don their prince and princess outfits in celebration of Queen Beatrix's birthday.

REMEMBERING THE BATTLE OF GETTYSBURG: THE CIVIL WAR ART OF MORT KUNSTLER

Mort Künstler, Pickett's Charge: Gettysburg, July 3, 1863, oil on canvas, 20 x 40 inches, ©2012 Mort Künstler, Inc.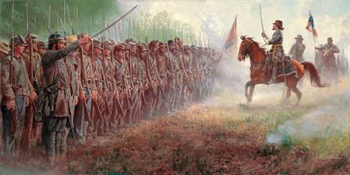 In honor of the 150th Anniversary of the Battle of Gettysburg and the Gettysburg Address, which is being observed in 2013, the Reading Public Museum will exhibit nearly 30 paintings, etchings, and sketches by renowned historical artist Mort Künstler.

When Künstler began his current emphasis on Civil War art in the early 1980s, he had already accomplished more than a half-dozen artists could hope to accomplish in a collective lifetime. From portraits of prehistoric American life to the odyssey of the space shuttle, Künstler had painted America's story - and was already renowned as "the premier historical artist in America."

When he turned his focus to Civil War art, the artist quickly established himself as the country's most-collected Civil War artist, and earned unprecedented acclaim within that genre. Probably no other artist has recorded so many events in American history and certainly no one has painted them with the extraordinary authenticity and drama as Mort Künstler.

This will be the first venue to display his newest work, Pickett's Charge: Gettysburg, July 3, 1863.

(shown above) Opening Reception Friday, April 26. Wine and light hors d'oeuvres, meet and greet the artist Mort Künstler. A book signing and lecture. On display April 26 – July 28, 2013 at The Reading Public Museum in Reading, PA.


SWEET CHARITY


AN ALL ASIAN HELLO DOLLY!

Christine Toy Johnson. Photo by Bruce Johnson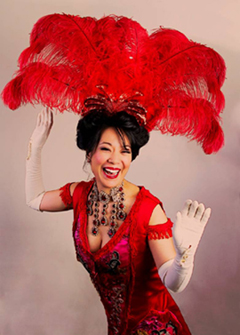 a fully-staged, fully-costumed presentation is directed by Tony Award winner Lee Roy Reams, who is no stranger to the production. He directed and choreographed the 1995 Broadway revival which starred the original 'Dolly,' Carol Channing.

Staged as a benefit for the National Asian Artist Project (NAAP) on two Monday evenings, April 29 and May 6 at the Irine Diamond Stage at the Pershing Square Signature Center in NYC.

With a book, music and lyrics by Jerry Herman, based on The Matchmaker by Thornton Wilder, the performances will have choreography by Randy Slovacek with Kevin Farrell serving as music director.

Christine Toy Johnson as Dolly Gallagher Levi leads a cast of twenty which include: The cast features: Raul Aranas as Horace Vandergelder, Karl Josef Co as Cornelius Hackl, Sam Tanabe as Barnaby, Jaygee Macapugay as Irene Molloy, Alex Chester as Minnie Fay, Rebecca Lee Lerman as Ermengarde, Austin Ku as Ambrose Kemper, David Shih as Rudolph, and Carla Ogden as Ernestina.

The ensemble features Andrew Cristi, Robyn DeGuzman, Daniel J. Edwards, Katie Lee Hill, Aaron Komo, JP Moraga, Gillian Munsayac, Rommel Pierre O'Choa, Anna-Lee Wright, and Jessica Wu.

Founded by theatre artists Baayork Lee, Steven Eng, and Nina Zoie Lam, National Asian Artists Project (NAAP) exists to be a leader in educating, cultivating, and stimulating audiences and artists - current and future - through showcasing exceptional work by vibrant artists of Asian descent. Art constantly evolves, and NAAP strives to command a place at the fore with a uniquely compelling American voice.

Previously the NAAP, through their Rediscover Series, presented Oklahoma! and Carousel.

WILLIE NELSON will turn his scheduled April 28th concert in Austin, which was to have celebrated his 80th birthday, into a fundraiser to help the West Fire Department who were first responders at the recent explosion at the fertilizer plant in West, Texas. Only one member of their fire department survived. The country music legend was born and raised in Abbott, about six miles from the blast site.

BAY STREET THEATRE'S 2nd ANNUAL HONORS BENEFIT takes place Saturday, April 27, at East Hampton Point, New York.

Honorees are Hampton's Hometown Heroes: David Bray, Ana R. Daniel, Michael Grim and James Osburn. All four of the honorees support Bay Street as well as many other local businesses & non-profits in the Hampton's Community.

Cocktails, hors d'oeuvres and buffet followed by the presentation of awards, which will be kicked off by Joy Behar.

Proceeds support the theatre's year round educational programming.

THE 23rd ANNUAL HOLLYWOOD CHARITY HORSE SHOW hosted by William Shatner will take place on Saturday, April 27, 2013, at the Los Angeles Equestrian Center.

Star Trek's own Captain Kirk, William Shatner, founded The Hollywood Charity Horse Show, an annual event which features celebrities - including Shatner - in an effort to raise money for handicapped children's charities such as Futures For Children and Ahead with Horses.

Shatner founded the show along with actor Patrick Duffy, and has been hosting this every year since 1990.

After the horse show, there is a Western dinner/dance/auction held for charity. Tickets are $300.

SHIRLEY JONES- JUBILEE CONCERT GALA featuring Audrey Landers.

A tribute to the late Larry Hagman. Landers opens the show with Jones performing the classics we all love.

The Gala Theme is: Classic Hollywood. Thus, dress in "Vintage or Modern Cocktail/Black Tie, or pay true homage to the Golden era, by dressing up as your favorite Legendary Star."

Seated dinner and VIP Tickets include a reception with Shirley and Audrey.

Proceeds go to: Dallas Area Rape Crisis Center (DARCC) and Women's Center of Tarrant County-Rape Crisis/Victims Services.

Friday, April 26, the Fairmont Hotel in Dallas, TX.

THE COLLEGIATE CHORALE'S 2013 SPRING BENEFIT honoring the Verbier Festival takes place April 30, 2013 at Carnegie Hall in New York City.

The Collegiate Chorale cherishes a rich collaboration with the Verbier Festival since its first appearance at the festival under James Levine in 2005.

The event will begin with cocktails and hors d'oeuvres in Carnegie Hall's Rose Museum, followed by Robert Wright and George Forrest's Song of Norway in the Stern Auditorium. The seated dinner and live auction will follow in the Rohatyn Room.

Proceed will support The Chorale's artistic and education programs.

The festive attired event will be co-chaired by Susan Baker and Michael Lynch, Lois Conway, Antonia and George Grumbach, James Peterson and Ann Folliet-Peterson, Adèle and John Talty, and Elizabeth Tunick.

Benefit guests will have the opportunity to sponsor high school and college students from our unique Side-by-Side program to travel with The Chorale to the Verbier Festival this summer. Approximately 200 guests from New York's social and philanthropic community attend the Benefit every spring.

Martin T:son Engstroem, founder of the Verbier Festival, will be present to accept the honor for the Verbier Festival. He has been artistic and executive director of the festival since its foundation in 1994. Engstroem was first an agent for international opera singers and musicians in his native Sweden before moving to Switzerland in 1987. He worked at EMI France, the Ludwigsburger Schlossfestspiele and the Paris Opera, and was Vice President of Artists & Repertoire at Deutsche Grammophon where he was directly responsible for the recording projects of many major artists such as Anne-Sophie Mutter, Pierre Boulez, Claudio Abbado, and Maurizio Pollini.


AMERICAN FEMALE CONDUCTOR SELECTED AS A BRITISH FIRST
Marin Alsop. Photo by Grant Leighton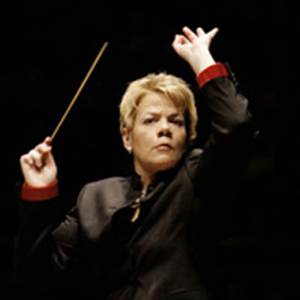 For the first time in its 118-year history, BBC's The Last Night of The Proms will be led by a female conductor.

American Marin Alsop said she was "thrilled" to conduct the BBC Symphony Orchestra and violinist Nigel Kennedy. The festival, which begins on July 12, includes 92 concerts at the Royal Albert Hall and four other locations across the UK.

"I think the fact that I'm an American woman, conducting the last night of the Proms is really a statement," Alsop told the BBC. "I'm extraordinarily proud to be the first woman, but I'm also sad that it's 2013 and there still can be firsts for women," she added. Alsop will be joined by mezzo-soprano Joyce DiDonato and Kennedy, who is performing at the closing night for the first time.

Alsop is accustomed to making firsts.

Hailed as one of the world's leading conductors for her artistic vision and commitment to accessibility in classical music, Marin Alsop made history with her appointment as the 12th music director of the Baltimore Symphony Orchestra. With her inaugural concerts in September 2007, she became the first woman to head a major American orchestra.

In 2005, Marin Alsop was named a MacArthur Fellow, the first and only conductor ever to receive this most prestigious award. In the same year, the New York City raised Alsop won the Classical Brit Award for Best Female Artist. She was also the first artist to win Gramophone's "Artist of the Year" award and the Royal Philharmonic Society's Conductor's Award in the same year (2003).

In 2007, she was honored with a European Women of Achievement Award, presented to individuals whose vision, courage and determination have made a major impact on increasing the influence of women on European affairs.

The following year Alsop was inducted as a fellow into the American Academy of Arts and Sciences. In November 2010, she was inducted into the Classical Music Hall of Fame. In February 2011, Marin Alsop was named the music director of the Orquestra Sinfônica do estado de São Paulo (OSESP), or the São Paulo Symphony Orchestra, effective in the 2012-13 season.

The BBC Proms runs from July 12 to 7 September 7.


SUNDANCE LONDON


Four days of films, music, panels and special events - Sundance London - takes place April 25-28 at the O2.

Join members of the Eagles for an extended Q&A following the Thursday, April 25, screening of History of the Eagles - Part One.

A panel discussion on April 28 The Art of the Score promises to be a lively afternoon lively afternoon celebrating creativity and collaboration. David Arnold (Casino Royale, Tomorrow Never Dies, Independence Day, Stargate, Godzilla, the 2012 Olympic and Paralympic Games Musical Director) and guests offer a first-hand look at the composing process – through conversation, clips and various demonstrations.

Senses of Humor - The Art of Comedy panel discussion takes place April 27. The program explanation: "As the wisest among us have often observed, humor is a serious thing. A strangely elusive form (E.B. White once likened it to dissecting a frog; you can do it, but the thing dies in the process) comedy may be dispensed with sugar-coated smoothness, but it's a uniquely powerful, sophisticated way of looking at the foibles of human nature and the contradictions of our lives and societies. From family dysfunction to global politics, comedians might argue that laughing at the world is simply the most sensible way of making sense of it. In a battle to establish who is funnier and why, our group of UK and U.S. actors, comedians and filmmakers unpeel the layers and explore what's behind American and British "brands" of humor." With comedian, author and filmmaker Mike Birbiglia (Sleepwalk With Me) and other panelists. Co-presented with BFI.

Screenwriting Flash Lab is also on April 27. "It takes years of screenwriting to have an overnight success. It also takes talent, willpower, determination, grit and more than anything – it requires failure. And yet the fear of failure can stymy creativity. What is a writer to do? Join UK and American screenwriters for a lively, honest and irreverent discussion on the creative lessons learned from their biggest "cock-ups". A not-to-be-missed opportunity to meet fellow writers, as well as Sundance Institute's Feature Film Program Founding Director, Michelle Satter, and International Director, Paul Federbush." Co-presented with BAFTA.




SPREADING THE WORD


MUSIC, MONEY AND MIDTOWN: COMMERCE AND CREATION IN THE BRILL BUILDING The Joe McGinty Seven with members of The Losers Lounge perform selections from the Music Division's historic Brill Building lead sheet collection, with commentary by division chief George Boziwick.

New York's famed Brill Building on West 49th Street and Broadway was the epi-center for some of the greatest pop songs of the 1950s and 1960s.

Major songwriting teams of that era such as Gerry Goffin and Carole King, Barry Mann and Cynthia Weil, Doc Pomus and Mort Shuman, Jerry Leiber and Mike Stoller, turned out songs by the hundreds, often working for $50 per week.

The Music Division's collection of over 400 lead sheets provides a glimpse into the offices from which hits like Calendar Girl by Neil Sedaka, Poison Ivy by Leiber and Stoller and Some Kind of Wonderful by Carole King were written, recorded, and published.

This program is part of a new series, Rhapsodic City: Music of New York devoted to exploring some of the unique musical stories of the 20th century.

Saturday, April 27 at the New York Public Library for the Performing Arts, Dorothy and Lewis B. Cullman Center, Bruno Walter Auditorium, NYC.

DAVID SEDARIS the best selling master of satire takes to the stage Thursday, April 25 at the ASU Gammage Theater in Tempe, Arizona. He'll read some of his latest works and answers questions from the audience, followed by a book signing.

ADMIRABLE BASHVILLE a script-in-hand performance staged by the Gingold Theatrical Group's Project Shaw. Monday, April 29, at The Players in New York City.

Produced, adapted and directed by David Staller. Shaw's utterly madcap boxing comedy featuring Heidi Armbruster, Jeremy Bobb, Jim Brochu, Arnie Burton, Sean Dugan, Annie Golden, Warrne Kelly, Howard McGillin, Charlotte Moore, Bruch Reed, Kevin Rennard with guest host Rob Weinert-Kendt of American Theatre Magazine.

Admirable Bashville is based upon Shaw's own highly unsuccessful novel, Cashel Byron's Profession, which follows a world champion prizefighter who tries to woo wealthy aristocrat Lydia Carew without revealing his illegal profession. Meanwhile, she also has a secret admirer in her formidable footman, Bashville. He is handsome, smart, efficient and ever-watchful. The novelty of this particular play is that Shaw wrote it as a parody of Shakespeare. The entire play is, in fact, written in blank verse.

As the characters are all 'contemporary' this makes for unique comic lunacy in Shaw's canon.

THE JOHN F. KENNEDY CENTER FOR THE PERFORMING ARTS in Washington, DC has announced that they will produce the world premiere of the musical Little Dancer which has a book and lyrics by Tony Award winner Lynn Ahrens and music by Tony Award winner Stephen Flaherty. The production will be directed and choreographed by Susan Stroman.

According to the Kennedy Center, Little Dancer is "Part fact, part fiction, and set in the harsh backstage world of the Paris Opera Ballet is "inspired by the young ballerina who posed for Edgar Degas and became, inadvertently, the most famous dancer in the world. Torn by her family's poverty, her debt to the artist and the lure of wealthy men, Marie struggles to keep her place in the ballet corps - a girl on the verge of womanhood, caught between the conflicting demands of life and art."

Performances will begin in October 2014 in the Kennedy Center Eisenhower Theater.

HER ROYAL HIGHNESS PRINCESS NORODOM BUPPHA DEVI Cambodia's esteemed prima ballerina of the 1960s and a genuine pioneer in the revival and preservation of Cambodian classical court dance talks candidly about her art form, its mercilessly demanding training, and its war-torn history with path-breaking theater and opera director Peter Sellars on Tuesday, April 30, at the New York Public Library for the Performing Arts, Dorothy and Lewis B. Cullman Center, Bruno Walter Auditorium in New York City.

There will also be screenings of excerpts of the Library's archival videotapes of the Royal Ballet of Cambodia and preview excerpts from the Khmer Dance Project, a program created by Anne H. Bass in conjunction with the Center for Khmer Studies and the Jerome Robbins Dance Division at the New York Public Library for the Performing Arts Dorothy and Lewis B. Cullman Center.

Season of Cambodia is co-chaired by Anne H. Bass, John Burt, and Darren Walker.

This program is presented in conjunction with Season of Cambodia, an initiative of Cambodian Living Arts and the Brooklyn Academy of Music.

LATIN GRAMMY WINNER CARLOS VIVES more than 400 high school students, and Univision personality and founder of Art for Peace (an organization that promotes music and arts in the schools), will participate in the Latin Grammy In the Schools Program, which takes place April 30 at the Escuela Libre de Música Ernesto Ramos Antonini in Hato Rey, Puerto Rico. Giselle Blondet will serve as moderator.

Latin Grammy In The Schools offers students a unique opportunity to hear first-hand from one of the most talented musicians in Latin music. This educational program, hosted by The Latin Recording Academy, will offer young people insight into the music industry as well as share personal influences and goals directly from the artist's perspective. The program will be followed by a question and answer session and performance.

To encourage careers in the music business, as well as the importance of staying in school, Latin Grammy in the Schools provides middle and high school students an opportunity to interact directly with artists and music industry professionals in an educational setting around the country. The program presents an insider's perspective on working in the music and recording industries, and sheds light on the realities of the music business as well as the broad range of available career opportunities.

NICE GUY NEIL DIAMOND flew to Boston on his own dime and then called the Boston Red Socks to ask permission to lead the singing of his hit song Sweet Caroline at Saturday's game.

"Thank you, Boston!" Diamond said as he took the field ahead of the bottom of the eighth. "What an honor it is for me to be here today. I bring love from the whole country."

The Red Sox beat the Kansas City Royals 4-3, although the real winner was everybody, as Diamond helped cement solidarity. Several baseball clubs have been performing the song , which Diamond wrote, to stand with Boston as they recover from the horrific events surrounding the Boston Marathon.



SALLY OSMAN who has served as director of corporate communications at Sony Europe since 2011, has been appointed the communication secretary for Prince Charles and his wife Camilla, the Duchess of Cornwall. Osman assumes her new position in June.

Prior to going over to Sony, Osman worked at the BBC for eight years under chairman Gavyn Davies and then Mark Thompson. She handled the resignations of Davies and director general Greg Dyke. She previously ran PR at BSkyB.

She will have day-to-day responsibility for press matters for Prince Charles and the Duchess of Cornwall and strategic oversight of the PR strategies for Prince William and the Duchess of Cambridge and Prince Harry, who share their own press secretary, Ed Perkins.

RECIPE BY MICHAEL GENE SULLIVAN

Michael Gene Sullivan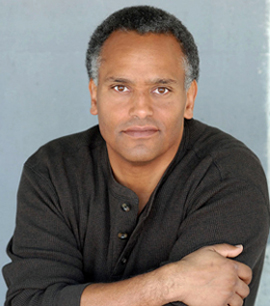 has been announced as the winner of the 4th Annual "Izzy" Award presented by Will Geer's Theatricum Botanicum Seedlings, the development series for playwrights.

The Izzy is named for Theatricum's late dramaturg, Israel Baran, who passed away in 2007. To honor Israel's keen mind, sharp tongue, and ear for language (despite the fact that he was frustratingly deaf), the Izzy was established to recognize the Seedlings play that "speaks to us the loudest."

The winning play was first presented as part of last year's spring play readings. Sullivan's comedy is about members of a vigilantly progressive baking circle who raise funds for revolutionary causes.

After its June play reading, directed by Jen Bloom and featuring company actors including Ellen Geer, Recipe was performed at Theatricum as a celebrity benefit.

The August, 2012 staged reading was directed by Geer and starred Cloris Leachman, Amy Madigan, Wendie Malick, Jean Smart and Lisa Bonet.

Since its inception in 2002, Botanicum Seedlings has established itself as a vital resource for writers across the country. The series has been instrumental in the development of over 100 new plays, at least 25 of which have gone on to be published, win awards and receive major productions.

CRAIG FERGUSON has been named recipient of the prestigious Air Peter Ustinov Comedy Award which will be presented to him at the Banff World Media Festival, which takes place June 9 to 12 in Banff, Alta, Canada.

The award recognizes "outstanding comedic contribution to the media industry." Past winners include Ricky Gervais, Martin Short and Kelsey Grammer.

Others expected at the fest include Arrested Development star Will Arnett, Veep star Julia Louis-Dreyfus and The Good Wife actress Christine Baranski, who will receive a lifetime achievement award.

THE OUTER CRITICS CIRCLE announced their nominations at the Friar's Club on Monday, April 22, 2013. Nominations were read by Laila Robins and Robert Cuccioli. The winners of the following categories will be announced on Monday, May 13th and the annual awards ceremony will be held on Thursday, May 23rd at the legendary Sardi's Restaurant.

The Nominees are:

OUTSTANDING NEW BROADWAY PLAY: Grace, Lucky Guy, The Nance, The Testament of Mary, and Vanya and Sonia and Masha and Spike. WINNER

OUTSTANDING NEW BROADWAY MUSICAL: Chaplin: The Musical, A Christmas Story, Hands on a Hardbody, Kinky Boots, WINNER and Matilda the Musical.

OUTSTANDING NEW OFF BROADWAY PLAY: Bad Jews, Cock, My Name is Asher Lev WINNER, Really Really, and The Whale.

OUTSTANDING NEW OFF BROADWAY MUSICAL
February House, Dogfight, Giant, Here Lies Love WINNER , and Murder Ballad.

OUTSTANDING BOOK OF A MUSICAL (BROADWAY OR OFF BROADWAY): Cinderella, Chaplin: The Musical, Dogfight, Kinky Boots, and Matilda the Musical.WINNER

OUTSTANDING NEW SCORE (BROADWAY OR OFF BROADWAY): Chaplin: The Musical, Dogfight, Hands on a Hardbody, Here Lies Love, and Kinky Boots. WINNER

OUTSTANDING REVIVAL OF A PLAY: Golden Boy, Orphans, The Piano Lesson, The Trip to Bountiful, and Who's Afraid of Virginia Woolf? WINNER OUTSTANDING REVIVAL OF A MUSICAL: Annie, Cinderella, The Mystery of Edwin Drood, Passion, and Pippin.WINNER

OUTSTANDING DIRECTOR OF A PLAY: Pam MacKinnon Who's Afraid of Virginia Woolf? - Nicholas Martin Vanya and Sonia and Masha and Spike - Jack O'Brien The Nance WINNER - Bartlett Sher Golden Boy and Michael Wilson The Trip to Bountiful.

OUTSTANDING DIRECTOR OF A MUSICAL Warren Carlyle Chaplin: The Musical - Scott Ellis The Mystery of Edwin Drood - Jerry Mitchell Kinky Boots - Diane Paulus Pippin WINNER - Alex Timbers Here Lies Love.

OUTSTANDING CHOREOGRAPHY: Warren Carlyle Chaplin: The Musical - Peter Darling Matilda the Musical - Jerry Mitchell Kinky Boots - Josh Rhodes Cinderella - Chet Walker Pippin WINNER .

OUTSTANDING SET DESIGN (PLAY OR MUSICAL): John Lee Beatty The Nance - Rob Howell Matilda the Musical WINNER - David Korins Here Lies Love - Scott Pask Pippin - Michael Yeargan Golden Boy.

OUTSTANDING COSTUME DESIGN (PLAY OR MUSICAL): Amy Clark & Martin Pakledinaz Chaplin: The Musical - Gregg Barnes Kinky Boots - Dominique Lemieux Pippin - William Ivey Long Cinderella WINNER - William Ivey Long The Mystery of Edwin Drood.

OUTSTANDING LIGHTING DESIGN (PLAY OR MUSICAL): Ken Billington Chaplin: The Musical - Paul Gallo Dogfight - Donald Holder Golden Boy - Kenneth Posner Cinderella - Kenneth Posner Pippin WINNER.

OUTSTANDING ACTOR IN A PLAY: Tom Hanks Lucky Guy - Shuler Hensley The Whale - Nathan Lane The Nance WINNER - Tracy Letts Who's Afraid of Virginia Woolf? - David Hyde Pierce Vanya and Sonia and Masha and Spike.

OUTSTANDING ACTRESS IN A PLAY: Tracee Chimo Bad Jews - Amy Morton Who's Afraid of Virginia Woolf? - Vanessa Redgrave The Revisionist - Joely Richardson Ivanov - Cicely Tyson The Trip to Bountiful.WINNER

OUTSTANDING ACTOR IN A MUSICAL: Bertie Carvel Matilda the Musical - Santino Fontana Cinderella - Rob McClure Chaplin: The Musical - Billy Porter Kinky Boots WINNER - Matthew James Thomas Pippin.

OUTSTANDING ACTRESS IN A MUSICAL: Lilla Crawford Annie - Valisia LeKae Motown: The Musical - Lindsay Mendez Dogfight - Patina Miller Pippin WINNER - Laura Osnes Cinderella.

OUTSTANDING FEATURED ACTOR IN A PLAY: Danny Burstein Golden Boy - Richard Kind The Big Knife - Jonny Orsini The Nance - Tony Shalhoub Golden Boy - Tom Sturridge Orphans.WINNER

OUTSTANDING FEATURED ACTRESS IN A PLAY: Cady Huffman The Nance - Judith Ivey The Heiress - Judith Light The Assembled Parties - Kristine Nielsen Vanya and Sonia and Masha and Spike WINNER - Vanessa Williams The Trip to Bountiful.

OUTSTANDING FEATURED ACTOR IN A MUSICAL: Will Chase The Mystery of Edwin Drood - Dan Lauria A Christmas Story - Raymond Luke Motown: The Musical - Terrence Mann Pippin WINNER - Daniel Stewart Sherman Kinky Boots.

OUTSTANDING FEATURED ACTRESS IN A MUSICAL: Annaleigh Ashford Kinky Boots - Victoria Clark Cinderella - Charlotte d'Amboise Pippin - Andrea Martin Pippin WINNER - Keala Settle Hands on a Hardbody.

OUTSTANDING SOLO PERFORMANCE Bette Midler I'll Eat You Last - Martin Moran All the Rage - Fiona Shaw The Testament of Mary - Holland Taylor Ann WINNER - Michael Urie Buyer & Cellar.

JOHN GASSNER AWARD (PRESENTED FOR AN AMERICAN PLAY, PREFERABLY BY A NEW PLAYWRIGHT): Ayad Akhtar Disgraced - Paul Downs Colaizzo Really Really - Joshua Harmon Bad Jews - Samuel D. Hunter The Whale - Aaron Posner My Name is Asher Lev.WINNER

SPECIAL ACHIEVEMENT AWARD: Irish Repertory Theatre Charlotte Moore, Artistic Director and Ciarán O'Reilly, Producing Director in recognition of 25 years of producing outstanding theatre

Celebrating its 63rd season of bestowing awards of excellence in the field of theatre, the Outer Critics Circle's members are affiliated with more than 90 newspapers, magazines, radio and television stations, Internet and theatre publications in America and abroad.



MISS JULIE written by August Strindberg. Adapted by Tony nominee Neil LaBute.

Directed by Jo Bonney.

Featuring Laura Heisler as Kristine Logan Marshall-Green as John Tony nominee Lily Rabe as Julie.

LaBute has set August Strindberg's classic about greed, sex and manipulation on Long Island just before the 1929 stock market crash. LaBute said, "I wanted this setting to be my own while still dealing faithfully with the themes and mores of the lives of these characters as they were first written. A cloud of desperation and despair will soon hang over the United States but tonight - in this kitchen that Strindberg conjured up 150 years ago - the lives of the three characters in Miss Julie will never be the same."

Featuring one of theatre's most commanding female characters, Strindberg's scandalous turn-of-the-century play, banned in Britain for nearly 50 years after its publication, chronicles the night-long flirtation and seduction between the wealthy lady of the house and one of her father's household employees.

A world premiere of a new adaptation of a controversial classic. April 23 - June 2, 2013 at the Audrey Skirball Kenis Theater at the Geffen Playhouse in Los Angeles.

MERRILY WE ROLL ALONG music and lyrics by Stephen Sondheim. Book by George Furth.

Triple Olivier award-winning singer Maria Friedman, who has appeared in many Sondheim productions, makes her directorial debut.

Set over three decades in the entertainment business Merrily We Roll Along charts the turbulent relationship between three friends Franklin, Charley and Mary.

Starting in 1980 and travelling backwards in time, this powerful and moving story features some of Sondheim's most beautiful songs including Good Thing Going, Not a Day Goes By and Old Friends.

Starring Mark Umbers as Franklin Shepard, Damian Humbley as Charley Kringas and Jenna Russell as Mary Flynn.

Previews begin April 23 at the Harold Pinter Theatre, London.

IN A YEAR WITH 13 MOONS Film and Screenplay by Rainer Werner Fassbinder. Adapted for the Stage by Bill Camp and Robert Woodruff. Directed by Robert Woodruff.

The world premiere of this new adaptation of Rainer Werner Fassbinder's melodramatic, darkly comic, and unsettling New German Cinema masterpiece features Bill Camp.

When the object of his affection off-handedly commented, "too bad you're not a girl," Erwin disappeared to Casablanca and returned as Elvira. Now, adrift and alone, Elvira revisits the people and places of the past, desperately searching for the identity and love she's never known.

Contains strong language, sexual situations, nudity, and violence.

April 26-May 18, 2013 Yale Repertory Theatre, New Haven, CT.

OTHER DESERT CITIES by Pulitzer Prize nominee Jon Robin Baitz.

Helen Hayes Award winner and former Arena Stage Associate Artistic Director Kyle Donnelly directs the D.C. area premiere.

The cast features Tony Award nominee and two-time Helen Hayes Award winner Helen Carey and two-time Daytime Emmy Award winner Larry Bryggman. Rounding out the cast are Emily Donahoe, Scott Drummond and Martha Hackett.

After a six-year absence, Brooke Wyeth returns to her Reaganite parents' Palm Springs enclave for the holidays. But the warm desert air turns chilly when news of her upcoming memoir threatens to revive the most painful chapter of the family's history. Perception and reality grapple with love and mercy as old family wounds are opened, childhood memories are tested, and the Wyeth clan learns that some secrets cannot stay buried forever. Full of surprisingly touching moments; a dysfunctional family drama is brought to new heights in this witty, deeply enjoyable work.

April 26 - May 26, 2013 at Arena Stage in Washington, DC.

BIG MAMA! The Willie Mae Thornton Story. Conceived and written by Audrei-Kairen. Starring Jackie Richardson.

Before Elvis sang Hound Dog and Janis Joplin belted out Ball 'n' Chain, Willie Mae Thornton had already been there and done that.

Her powerful voice, sexy songs, and larger-than-life stage presence made her a blues legend.

In this musical, written for and starring Jackie Richardson - who is known as "Canada's first lady of jazz" - you'll be a part of the scene at a '70s club in Los Angeles, where Big Mama tells her story and sings the blues.

April 24-May 11 at the National Arts Centre in Ottawa, Canada.

THE TRIP TO BOUNTIFUL by Horton Foote.

Directed by Michael Wilson.

Starring Emmy Award-winning actress Cicely Tyson, Academy Award winner Cuba Gooding Jr., Emmy Award nominee Vanessa Williams, Tony Award nominee Condola Rashad and Tony Award nominee Tom Wopat.

Also featuring Devon Abner, Curtis Billings, Pat Bowie, Leon Addison Brown, Arthur French, Susan Heyward, Bill Kux, Linda Powell and Charles Turner.

The Trip to Bountiful tells the story of Carrie Watts (Cicely Tyson), who is trapped in a cramped Houston apartment with her soft-spoken son (Cuba Gooding Jr) and out-spoken daughter-in-law (Vanessa Williams), dreaming of a return to her home in the small Gulf Coast town of Bountiful, where she grew up and raised her family. Fearing that she's an imposition and chafing under her daughter-in-law's watchful eye, she steals away with her latest pension check and heads home in the journey of a lifetime. The result is an unforgettable play about the idea of home and its power to sustain us.

The Trip To Bountiful's award winning creative team has interpreted a number of plays and films by Horton Foote: Jeff Cowie (scenery), Van Broughton Ramsey (costumes), Rui Rita (lighting), and John Gromada (original music and sound design).

Officially opens at the Stephen Sondheim Theatre in New York City on Tuesday, April 23, 2013.

A STREETCAR NAMED DESIRE Tennessee Williams' Pulitzer Prize-winning classic. Directed by Christopher Liam Moore.

The cast features Danforth Comins as Stanley, Nell Geisslinger as Stella, Kate Mulligan as Blanche, Jeffrey King as Harold Mitchell, Gina Daniels as Eunice Hubbell, U. Jonathan Toppo as Steve Hubbell, Wilma Bonet as Neighbor, Mexican Woman and Nurse, Al Espinosa as Pablo Gonzales and Man, and Daniel José Molina as Young Collector, Blanche's Husband and Doctor.

The creative team members are scenic designer Christopher Acebo, costume designer Alex Jaeger, lighting designer Robert Wierzel, composer and sound designer Andre J. Pluess, voice and text director Rebecca Clark Carey, dramaturg Lydia G. Garcia and assistant director Bill Geisslinger.

Presented by The Oregon Shakespeare Festival in Ashland, Oregon. Officially opened Saturday, April 20, in the Angus Bowmer Theatre. Runs in rep through November 2, 2013.

DON QUIXOTE BALLET presented by the Sofia Ballet company from Bulgaria.

This enchanting tale starts off in Barcelona when a knight is struck by a woman's beauty and is forced to go on the adventure of his life rescuing the lady of his dreams!

Featuring thirty two dancers in what is billed as "two and a half hours of pure elegance and grace."

Sofia Ballet, the first private Bulgarian ballet company was born by the union of the soloists of Sofia National Ballet and created specially to allow the realization of tours abroad.

Costumes and scenery are those of the Bulgarian theaters or specially created.

Through April 26 at the Madinat Theatre at Souk Madinat in Dubai, UAE.

THE TOWN THAT FOUGHT HATE by the Catskill Puppet Theater, based upon Dr. Janice Cohn's award-winning book The Christmas Memorahs: How a Town Fought Hate.

Both the book and the play recount the true story of how people of all faiths and races came together in the town of Billings, Montana to successfully fight a group of haters threatening the town's tiny Jewish population and other minorities during the Hanukkah / Christmas season of 1993.

It features original music, almost life-size puppets and shadow puppets, and more than a few theatrical surprises.

While The Town That Fought Hate is first and foremost great entertainment for young and old, it also gently imparts some timeless life lessons including the importance of standing up to bullies and haters, the power of community and the power of each of us - including children - to make a difference.

The play is a creation of Catskill Puppet Theater and was co-produced by Young Audience of New Jersey. April 27 at the John F. Kennedy Presidential Library and Museum in Boston.


WHO'S WHERE




TAYLOR SWIFT is on stage at the Quicken Loans Arena in Cleveland, OH on Thursday, April 25. On Friday she's in the spotlight at the Bankers Life Fieldhouse in Indianapolis, IN. Saturday she can be enjoyed at the Rupp Arena in Lexington, KY.

FLEETWOOD MAC is in the spotlight Tuesday, April 23, at Scotiabank Place in Ottawa, Ontario. Wednesday's show is at the Prudential Center in Newark, NJ. On Friday they are on stage at the Consol Energy Center in Pittsburgh. Next Sunday, April 28, the group will be at the Xcel Energy Center in Saint Paul, MN.

CHRIS BOTTI entertains Wednesday, April 24, at the Van Wezel Performing Arts Hall in Sarasota, FL. On Friday he'll be delighting the crowds at the Sunrise Theatre in Fort Pierce, FL.

JON BON JOVI is in the spotlight Tuesday, April 23, at the Jobing.com Arena in Glendale, AZ. On Thursday he's on stage at the HP Pavilion in San Jose, CA.

PINK ends her two night at the LG Arena in Birmingham, UK on Monday, April 22. On Wednesday she opens a split four performance stand at the 02 in London. She's on stage, Wednesday, Thursday, Saturday and Sunday.

PAUL WILLIAMS performs at the Cafe Carlyle in New York City. April 23 - May 4.

PLYMOUTH PHILHARMONIC ORCHESTRA POPS CONCERT conducted by Steven Karidoyanes presents An Evening with Rockapella, capping off the orchestra's 97th season. Primarily known for singing without instrumental accompaniment, Rockapella also joins forces with the orchestra at this concert, performing popular standards created especially for them. Saturday, April 27, 2013 at Memorial Hall in Plymouth, MA.


FINAL OVATION


CHI CHENG of the Deftones died April 14. 2013, five years after a car crash left him in a coma, his mother announced. He was 42.

Deftones have released seven albums to date, with three Platinum and one Gold certification.

Cheng also sponsored a community service group based out of the band's hometown of Sacramento, California . The group aids homeless citizens in developing their musical talents.

Neil Portnow President/CEO of The Recording Academy issued the following statement: "Grammy winner Chi Cheng of the Deftones was a powerful bassist who was larger than life on stage. Playing on the group's first five albums, he and his bandmates received a Grammy in the Best Metal Performance category at the 43rd Grammy Awards in Feb. 2001. Although the group's early years were more heavy metal-based, they were one of the first bands to incorporate a more alternative and ethereal sound into their thunderous and visceral music, blazing a trail that newer bands continue to follow today. The music industry has lost a proud and passionate performer all too soon, and our sincerest condolences go out to his family, his bandmates, and his fans worldwide who are mourning his untimely and unfortunate passing."

SIR COLIN DAVIS The London Symphony Orchestra's longest-serving principal conductor and president, died April 14, 2013. He was 85.

In 1970, Sir David Webster, who ran the Royal Opera and the Royal Ballet companies at Covent Garden, invited Sir Colin to succeed Sir George Soltii as principal conductor of the opera. At about the same time, the Boston Symphony Orchestra invited him to become its musical director, but Sir Colin felt that if Covent Garden needed him, it was his duty to take on the post. Webster's vision was that Sir Colin and the stage director Sir Peter Hall, formerly of the Royal Shakespeare Company, would work in equal partnership as musical director and director of productions.

In 1995, Sir Colin was appointed principal conductor of the London Symphony Orchestra.

In 1949, Sir Colin married the soprano April Cantelo. They had two children, Suzanne and Christopher. Their marriage ended in 1964, and in that same year, Davis married Ashraf Naini, known as Shamsi who died in 2010.. They had five children. One of their children is the conductor Joseph Wolfe.

Neil Portnow President/CEO of The Recording Academy issued the following statement: "Ten-time Grammy winner Sir Colin Davis was a brilliant musician who conducted orchestras around the world including the Boston Symphony Orchestra, Munich's Bavarian Radio Symphony Orchestra and the New York Philharmonic. Serving as the longest principal conductor for the London Symphony Orchestra, he was internationally renowned for his interpretations of Mozart, Sibelius and Berlioz. He was a passionate orchestra leader whose stellar career lasted more than half a century and inspired numerous fellow musicians. We mourn his loss along with his family, friends and those that had the pleasure and privilege of working with him, and we celebrate the legacy he has left behind."

As part of the BBC Proms, a special concert dedicated to Sir Colin Davis will be held on August 20 - when he was due to lead the London Symphony Orchestra with tenor Ian Bostridge.

GEORGE BEVERLY SHEA famed booming baritone soloist who toured with the Billy Graham Crusades died April 16, 2013 in Asheville, NC after a brief illness. He was 104.

He performed live before an estimated 200 million at crusades over the years and recorded more than 70 albums.

Neil Portnow President/CEO of The Recording Academy issued the following statement: " Grammy winner and Recording Academy Lifetime Achievement Award recipient George Beverly Shea was one of the most beloved and revered gospel music singers and composers. He began his nearly 70-year-long career singing in the church choir and became prominent in the Youth for Christ movement of the '40s and '50s. Subsequently, he began touring with the Billy Graham Crusades and became best known for his rendition of How Great Thou Art and for composing the popular hymn The Wonder Of It All. His impact on gospel music was immense, and his legacy will continue to inspire future generations of Christian artists. Our thoughts and prayers are with his family, friends and the millions around the world he reached through song and worship.

Shea is survived by his wife, Karlene, and his children from his first marriage, Ronald and Elaine. He was preceded in death by his first wife, Erma, who died in 1976.

STORM THORGERSON the famed artwork album designer died April 18, 2013. He was 69.

In 2003, Thorgerson suffered a stroke, from which he recovered. He was later diagnosed with an undisclosed form of cancer, which he battled for several years, but which eventually led to his death .

The inventive graphic designer was best known for his work for rock bands such as Pink Floyd, Led Zeppelin, Black Sabbath, Scorpions, Genesis, Europe, Catherine Wheel, Bruce Dickinson, Dream Theater, The Cranberries, Yourcodenameis:milo, The Mars Volta, Muse and Biffy Clyro.

Thorgerson's design for The Dark Side of the Moon has been called one of the greatest album covers of all time.







Next Column: April 28, 2013
Copyright: April 21, 2013. All Rights Reserved. Reviews, Interviews, Commentary, Photographs or Graphics from any Broadway To Vegas (TM) columns may not be published, broadcast, rewritten, utilized as leads, or used in any manner without permission, compensation and/or credit.
Link to Main Page
---
Laura Deni



For the snail mail address, please E-mail your request.
CLICK HERE FOR COMMENT SECTION