! >
Broadway To Vegas
  
  REVIEWS INTERVIEWS COMMENTARY NEWS

| | |
| --- | --- |
| | |
THE LAST CONFESSION - - LAWYERS USE MUSIC FOR MENTAL HEALTH - - STEVE MARTIN AND EDIE BRICKELL TO DEBUT NEW MUSICAL AT THE OLD GLOBE - - A TRIBUTE TO ELLA FITZGERALD - - WILLIAM, KATE AND GEORGE CHARM AUSTRALIA - - NOT A GENUINE BLACK MAN - - GILDED NEW YORK AND ANDREA SULZER:THROUGHOUTSIDEWAYS - - THEATER MASTERS EIGHTH ANNUAL TAKE 10 - - DONATE . . . Scroll Down




Copyright: April 20, 2014
By: Laura Deni
CLICK HERE FOR COMMENT SECTION


LAWYERS STRIVING FOR MENTAL HEALTH USE MUSIC AND HUMOR
All that adversarial wrangling, where lawyers get paid big bucks to mess up the lives of others, is taking its toll on the mouthpieces. Depression and Anxiety.

The double whammy D&A.

While some might secretly smirk at the thought of a lawyer being depressed, ask yourself - would you want somebody suffering from depression and anxiety representing you? The one making decisions about your life really wishing he/she was home in bed with the covers pulled over their head. Its' enough to give a client D&A.

Funny people forming the sketch comedy group BottledSnail opine: "Did you know that lawyers suffer from the highest levels of depression and anxiety of any profession? We don't think that's funny at all, so proceeds from this show will be donated to the Tristan Jepson Memorial Foundation, which works to decrease distress, disability and anxiety in the legal industry."

'This show' - The Law Revue 2013 - debuted at the Melbourne Comedy Festival as "a fast-paced, topical sketch comedy show that mixes the smart, satirical and sharp-witted with the outright hilarious and downright absurd."

According to BottledSnail, "last year featured smoking monkey puppets, the most inspiring office banter ever proclaimed, a bureaucratic plot to outlaw the sun and a very particular director of an adult film. This year anything could happen, but we can promise contractually compliant levels of humour, or we'll return you to your pre-contract position. Maybe."

Law Revue 2014 took place as part of the Melbourne International Comedy Festival April 1-4, 2014 and won verdicts of "hilarious and don't miss."

Over the years, Melbourne Uni Law Revues have produced dozens of Australia's finest comedians. In fact, 2012 was the 30th anniversary of the Revue. Revue graduates include comedic legends such as Stephen Fry, Hugh Laurie, Rowan Atkinson and Monty Python.

While BottledSnail Productions was set up by lawyers, don't be fooled by the name Law Revue, which is in no way limited to insider legal jokes and law students. The 2013 Law Revue was directed by part time Arts students Sam Garlepp and Tim McDonald, "who in all likelihood will never amass the marks nor necessary commitment and focus to study Law," declared BottledSnail.

However, the Revues do have jokesters who are law students and lawyers. In 2013 second year JD students Brigitte Wise and Patrick Sloyan "selflessly give up their time and any hope of completing assignments on time to produce the show," confessed the organization.

They played to over 1,650 people.

As one paper raved, "Construction lawyer Kathryn Sutherland closed the show on a high with a superbly sung tune about her burning desires to become the wife of a future Prime Minister."

A graduate of the University of Melbourne, Sutherland is an executive committee member at BottledSnail Productions, Inc and a lawyer at Maddocks' Construction.

"Whilst causing side-splitting laughter and pants-wetting hilarity is definitely on our to-do list, another important aspect of the Law Revue is that the proceeds go directly to charity, so as our performers raise your eyebrows and put a smile on your dial, so do we raise awareness and funds for a worthy cause."

The mission of BottledSnail "is to encourage, foster and support creativity in the legal industry. With the rigors of modern practice in mind, we believe that taking time to exercise creativity is crucial to mental health and well being. We are inspired to create first-class productions that are attractive, entertaining, and satisfying for our audiences. At the same time, we are committed to promoting creative opportunities that don't require a huge time commitment.

"We remain open and inclusive to all the disparate members of the broad legal community who share our passion for theatre, the arts, and every kind of creative endeavor."



(Back row, L-R) Alister McNab (clarinet), barrister at Victorian Bar; Kier Svendsen (clarinet), lawyer at Norton Rose Fulbright; Pieta Hextal (bassoon), guest musician; Emma Bland (bassoon), guest musician; (Front row, L-R) Stephen Warne (flute), barrister at Victorian Bar; Melanie Smith (flute), lawyer at Herbert Smith Freehills; Annette Au Yeung (oboe), principal lawyer at Western Suburbs Legal Service. Facebook Photos by Shaan R. Ali. whose "overriding passion is to produce images that will help contribute to a better world." His photographic journey has taken him to Penang, Kuala Lumpur, Kota Kinabalu and Mabul.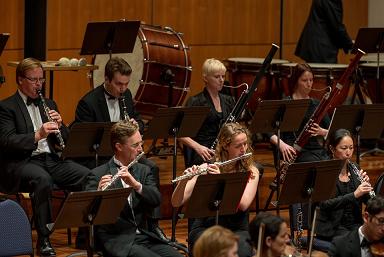 This year BottledSnail supported the inaugural performance of an orchestra whose musicians have day jobs in the legal profession.

Attorney Aimee Nguyen, with the Australian firm of Clayton Utz, is also a violinist who realized that her law career had pushed music to the back burner. She became determined to remedy that situation.

According to Lawyer Weekly, Nguyen decided to organize a symphony orchestra composed of members of the legal profession.

She held an auditions where 120 of the legal eagle community flocked to the musical cattle call. Most were given the expected, 'thank you, don't call us, we'll call you,' while 45 made the cut.

The 45-piece symphony Melbourne Lawyers' Orchestra (MLO) was created "to flex their creative muscles and promote positive mental health," Nguyen is quoted as explaining to Lawyers Weekly."

The MLO made its debut at the James Tatoulis Auditorium, Methodist Ladies' College in Kew, just outside Melbourne on March 22, hitting all of the right notes.

Around 300 people attended the program which featured Runitanian Dances by the Hon. George Palmer AM QC, former Justice of the Supreme Court of New South Wales, and "the great composers" Mendelssohn's Hebrides Overture, Schubert's Symphony No. 8 unfinished work by Mendelssohn, and lawyer turned musician Tchaikovsky's Romeo and Juliet Fantasy Overture,

The not-for-profit symphony orchestra is a mix of partners, solicitors, barristers, judge's associates and law students. The orchestra has a conductor, Robert Dora, but no judge.

Proceeds also went to the Tristan Jepson Memorial Foundation (TJMF).

Nguyen commented to Lawyers Weekly "that the nature of legal work, which is adversarial and involves long working hours, is contributing to the high rate of depression among lawyers.

"Nguyen added that the benefits of engaging in creative pursuits can be seen at MLO rehearsals where lawyers "let go of [the adversarial] side of themselves".





Broadway To Vegas is supported through advertising and donations. Priority consideration is given to interview suggestions, news, press releases, etc from paid supporters. However, no paid supporters control, alter, edit, or in any way manipulate the content of this site. Your donation is appreciated. We accept PAYPAL. Thank you for your interest.





ART AND ABOUT


GILDED NEW YORK Inaugurating the Museum's Tiffany & Co. Foundation Gallery, Gilded New York explores the city's visual culture at the end of the 19th century, when its elite class flaunted their money as never before.



Dress by Maison Worth, 1883. Worn by Mrs. Cornelius Vanderbilt II to the Vanderbilt Ball. Gift of Countess Laszlo Szechenyi to the MCNY.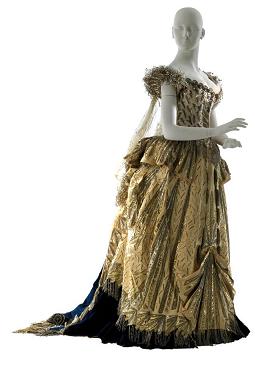 In New York, this era was marked by the sudden rise of industrial and corporate wealth, amassed by such titans as Cornelius Vanderbilt and Jay Gould, who expressed their high status through extravagant fashions, architecture, and interior design.

The exhibition presents a lavish display of some 100 works, including costumes, jewelry, portraits, and decorative objects, all created between the mid-1870s and the early 20th century.

The dazzling works in the exhibition will illuminate an era when members of the new American aristocracy often displayed their wealth in storied balls in Fifth Avenue mansions and hotels.

It was a time when New York became the nation's corporate headquarters and a popular Ladies' Mile of luxury retail establishments and cultural institutions helped launch the city to global prominence.

Curated by Donald Albrecht, Jeannine Falino and Phyllis Magidson.

Gilded New York runs through November 2014 at the Museum of the City of New York.

CIRCA: ANDREA SULZER: THROUGHOUT SIDEWAYS Part of the PMA's Circa series of exhibitions showcasing contemporary art, this monographic exhibition will feature newly created work by the Brunswick artist Andrea Sulzer.

Sulzer earned her undergraduate degree in French, with a minor in physics, and she has master's degrees in ecology and education. After an early career working in plant sciences and botanical illustration, Sulzer has earned critical acclaim for a body of drawings and prints that investigate the material and conceptual concerns of graphic art.

This exhibition will present a diverse range of Sulzer's recent creations, including large, colored-pencil drawings that plumb the relationship between the material marks and paper support, and representation and abstraction, as well as woodblock prints that create complex surface topographies through multiple layers of ink.

Sulzer's innovations continue with works that push the boundaries of two-dimensional drawings into three-dimensional, sculptural forms. Circa is a series of exhibitions featuring the work of living artists from Maine and beyond.

April 26 - August 24, 2014 at the Portland Musum of Art in Portland, Maine.


THREE SISTERS, A POSSUM CLOAK AND FRED THE BOWING RAM
Prince William and Duchess Kate backed by The Three Sisters. Photo: Getty/Clarence House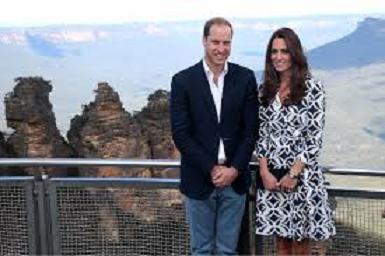 The stunning views from one of Australia's most visited beauty spots left The Duke and Duchess of Cambridge that would be Prince William and Kate - impressed.

Reports from Clarence House shed some interesting light on storybook lore and fascinating traditions.

Prince William described the breathtaking Three Sisters viewing point across the Blue Mountains as "a great place for a picnic" while his wife, looking lovely in a navy and white Diane von Furstenberg wrap and wedge heels, said they would come back.

Their Royal Highnesses arrived at Echo Point, Katoomba, to see the famous Three Sisters rock formation which attracts more than three million visitors every year.

Anthea Hammon, joint managing director of Scenic World, which runs the visitor centre at the beauty spot, acted as The Duchess's guide while The Duke spoke to Randall Walker, chief executive of Blue Mountains Lithgow and Oberon Tourism.

The Blue Mountains, which start around 30 miles outside Sydney, are so called because of a blue haze that hangs over them, caused by light refracting off eucalyptus oil in the air.

From Echo Point visitors can see the Three Sisters and get a panoramic view of the mountains.



Adorable Prince George smiled as he grabbed the soft furry giant Wombat presented to him by Governor-General Peter Cosgrove at Admiralty House in Sydney, Australia. Mother Kate looked perky in a vivid yellow wool crepe dress by Roksanda Ilincic, although she was wildly quoted in the press as having told a lady in the crowd that, 'William said I look like a banana.' Photo: Getty/Clarence House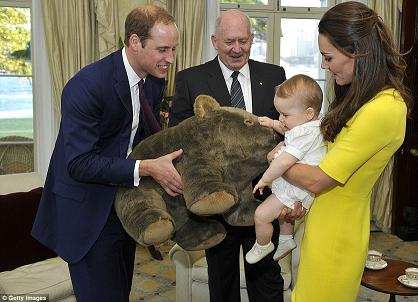 According to Aboriginal legend, three sisters called Meehni, Wimlah and Gunnedoo fell in love with three brothers from a rival tribe. Unable to marry because of tribal law, the brothers decided to go into battle against the sisters' tribe to capture them by force.

A witch doctor is said to have turned the sisters to stone to save them from being harmed in the battle, but he was killed in the fighting before he could reverse the spell.

With the iconic Blue Mountains in the background William and Kate were greeted by Aboriginal elders representing the indigenous landowners of Echo Point.

The trio presented them with a possum skin cloak for their baby son Prince George and the couple received a kangaroo coat for themselves.

The Duke said: "That's fantastic thank you very much, he'll love that - very warm."

Elder Aunty Sharon Brown, chairwoman of the Gundungurra Tribal Council, explained that traditionally a baby would be given a possum cloak and for every significant milestones during its life, another pelt would be added to the garment.

On Good Friday the couple visited the Royal Easter Show at Sydney Olympic Park. One of Australia's largest events, founded in 1823 by the Royal Agricultural Society of NSW (RAS), to celebrate Australian culture. Around 900,000 people attend over the course of two weeks. More than 10,000 items of produce are on display and there are stands for those who want to get up close to the exhibits - like chuck (shoe) washing, pig patting and cow milking.



As Prince William looks on, Duchess Kate pats the head of Fred who had been taught out to bow before the royal couple. Owner Jim Murray said that sheet are easy to train and that Fred had learned the trick in less than a fortnight. Photo: Getty/Clarence House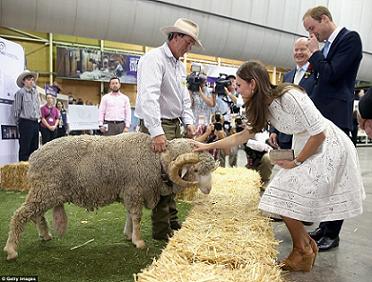 As William and Kate entered the Cox Pavillion where a sheep shearing display was under way, a ram with impeccable manners made them smile when he welcomed them with a bow. The couple marveled at the formal greeting from Fred, a six-year-old merino ram. The well-trained sheep went down on one knee after being cued by his owner, sheep farmer Jim Murray.

Murray said: "He's very intelligent; sheep are highly trainable if they're treated right. I only found out they wanted him to do this a fortnight ago."

The Duke and Duchess stroked Fred and fed him some of his favorite treats, pieces of apple.

The royals watched a shearing demonstration, and Kate, wearing a white floral eyelet dress by Australian designer Zimmermann and Stuart Weitzman platforms, did something only a wife could do - made some teasing remarks about her husband's bald spot. Lyn Crejan, a farmer from Glenn Innes in New South Wales, was showing the couple a tuft of alpaca wool that happened to be a similar shade to William's hair. "The Prince was interested in the alpaca and as I showed it to them the Princess said he should put it on his head," Crejan told reporters. "She said, 'You need it more than me,' and pointed to his head and he laughed."

All Broadway To Vegas can say is that if she is telling him he needs a toupee and he is saying a dress makes her look like a banana - they are definitely married!!

While admiring selections off root vegetables in the South East Queensland display, George's mother told preserve maker Diana Lisle that her son particularly enjoys sweet potatoes.

As for Prince George, he has received a boat load of gifts, including a custom-made miniature boat presented as a gift to him during the family's visit to Auckland. George's parents have the flight home to ponder where to put it. Kensington Palace has neither a lake nor a swimming pool. However, the back yard of Buckingham Palace is adjacent to a nice little pond. Maybe Granny - aka Queen Elizabeth - will permit the boat to be docked there.

Today, Sunday, April 20, the royal couple attended Easter services at St Andrew's Cathedral in Sydney. Kate looked stunning in an Alexander McQueen coat and a Jane Taylor Hat. Some things are the same everywhere. The service ended with the passing of collection plates. The congregation was told that "God loves a cheerful giver."








SPREADING THE WORD


A TRIBUTE TO ELLA FITZGERALD featuring vocalist Deloris King Williams, presented by the The Smithsonian Jazz Masterworks Orchestra on Sunday, April 27, 2014 at the Brooklyn Center for the Performing Arts.

This special Tribute to Ella Fitzgerald program will present many of Ella's original big band arrangements, made available to Manchester Craftsmen's Guild (MCG) by the Smithsonian Institution's Jazz Program with the assistance of the Ella Fitzgerald Charitable Foundation.

The Smithsonian Jazz Masterworks Orchestra (SJMO) will come together with regional musicians and will feature vocalist Deloris King Williams, paying tribute to Ella with her elegant style and vocal expertise. The repertoire centers on a special moment in American history by pulling original arrangements from the Smithsonian and Ella Fitzgerald Charitable Foundation archives, some of which have not been heard by live audiences in over 40 years.

Superstar arrangers such as Billy May, Count Basie, Van Alexander, Billy Strayhorn and Benny Carter make up the majority of the selections.

Additionally, the Smithsonian Jazz Masterworks Orchestra commissioned new arrangements for the band that keep in the spirit of the body of work represented from Ella's songbook, adding a sense of contemporariness to round out this unique show.

THE OLD GLOBE IN SAN DIEGO has announced its 2014-15 season which includes the World Premiere of Bright Star, a new American musical by Edie Brickell and Steve Martin to be directed by Walter Bobbie. There will also be the Southern California premiere of The White Snake, written and directed by Mary Zimmerman, who will be making her San Diego directing debut. Also on the slate: the West Coast premiere of The Twenty-Seventh Man joined by The Royale, Murder for Two and Arms and the Man. Dr. Seuss' How the Grinch Stole Christmas! will return for its 17th consecutive year.

STEWART COPELAND whose innovative grooves have driven the music of seminal rock band The Police to the top of the charts for the better part of two decades has another side. The percussionist is also an accomplished composer. He has written for films - including Francis Ford Coppola's Rumble?sh and Oliver Stone's Wall Street, operas including The Tell Tale Heart for London's Royal Opera House, concerts, and ballets. Last night, an Easter weekend World Premiere performance, co-commissioned by Virginia Arts Festival, took place.

Copeland's new score is a 90-minute edited version of the 1925 MGM silent epic Ben-Hur: A Tale of the Christ, and was performed live with Virginia Arts Festival Orchestra conducted by Richard Kaufman.

Copeland also participated in a pre-concert conversation before the performance at Chrysler Hall in Norfolk, VA.


OTHER PEOPLE'S MONEY


THE NATIONAL ENDOWMENT FOR THE ARTS (NEA) on April 16, 2014 announced plans to award $74.85 million in 971 grants to nonprofit organizations nationwide as part of the second half of its fiscal year 2014 funding. In addition to direct grants through the Art Works category, this round of funding also supports the state arts agencies and regional arts organizations – the NEA's partners in bringing the arts to all parts of the nation – as well as grants for research projects that build evidence on the value and impact of the arts.

Among the major recipients of the 111 grants in the Theater and Musical Theater division are:

Two received $80,000 grants: The Oregon Shakespeare Festival (OSF) has been awarded an $80,000 to support the 2014 production of The Two Gentlemen of Verona. The grant will help fund 38 performances as well as surrounding education and audience engagement events for William Shakespeare's comedy of young male bonding and betrayal, which OSF will present with an all-female cast.

The Two Gentlemen of Verona is directed by Sarah Rasmussen and presented in the outdoor Allen Elizabethan Theatre, OSF's oldest and largest venue, from June 5 through October 12, 2014.

New York Shakespeare Festival (aka The Public Theater) to support performances of Shakespeare in the Park also was awarded $80,000.

The project will include admission, free, fully staged productions of Shakespeare's works and other classic works of literature. Performances will take place outdoors at Central Park's Delacorte Theater, bringing together a diverse audience with renowned classical performers and young, emerging actors of all backgrounds and experience.

Theatre Development Fund, Inc. (aka TDF) $60,000 New York, NY to support National Theatre Accessibility Programs. The National Open Captioning Initiative will train presenters and regional theaters in how to implement open caption services for audience members who are deaf or hard of hearing. The National Autism Theatre Initiative will advise theaters on how to implement performances for children with autism and their families.

Theatre for a New Audience, Inc. $60,000 New York, NY to support the second year of World Theatre Ever Changing Forms. The initiative will feature the premiere of new productions conceived and staged by international directors. The project will include production of The Valley of Astonishment, written and directed by Peter Brook and Marie Helene Estienne, and coproduced with C.I.C.T./Theatre des Bouffes du Nord; and Christopher Marlowe's Tamburlaine, Parts I and II directed by Michael Boyd.

L.A. Theatre Works in California received $55,000 to support The Play's the Thing. The live audio theater performance series will feature renowned actors performing classic and contemporary plays with scripts in hand at microphones before live audiences. Performances are recorded and post produced into master recordings for preservation and dissemination.

$50,000 grants went to the following:

5th Avenue Theatre Association (aka The 5th Avenue Theatre) Seattle, WA To support the production of Paint Your Wagon. Playwright Jon Marans will create a new book for the 1951 Alan Jay Lerner and Frederick Loewe Broadway musical.

Center Theatre Group of Los Angeles (aka Center Theatre Group) to support a community based participatory production of Popol Vuh: Heart of Heaven. The outdoor spectacle of music, puppetry, and pageantry will explore the Mayan creation story. Center Theatre Group and El Teatro Campesino will work in conjunction with the community of Boyle Heights in Los Angeles to engage neighborhood residents in making music, masks, and puppets, and as performers in the final production.

Chicago Shakespeare Theater in support of Chicago Shakespeare in Urban Communities. The year round series of education and civic engagement initiatives will present widespread access to professional Shakespearean productions for multigenerational audiences.

Drama League of New York, Inc. (aka The Drama League) to support the Directors Project. The initiative is a comprehensive national career development program for emerging theater directors. The program includes six different areas of focus that will address the varying needs of emerging directors.

LAByrinth, Inc. (aka Labyrinth Theater Company) New York, NY to support the creation and production of This is Reading. Conceived by LAByrinth ensemble member and 2009 Pulitzer Prize winning playwright Lynn Nottage, the play will examine adversity through the stories of marginalized people.

Pillsbury United Communities (aka Pillsbury House Theatre) Minneapolis, MN to support the Chicago Avenue Project, an arts education and mentorship program. The program will feature acting, theater, and writing classes, and will provide professional mentorship to youth. Participants also will create two fully staged showcase productions of original work.

University of North Carolina at Chapel Hill to support productions of Shakespeare's A Midsummer Night's Dream and Stephen Sondheim and James Lapine's Into the Woods. The productions will be produced in a rotating repertory and will be accompanied by a series of outreach events.



THE OUTER CRITICS CIRCLE the organization of writers covering New York theatre for out-of-town newspapers, national publications and other media beyond Broadway, is proud to report that multi-award-winning stars Cicely Tyson and Vanessa Williams will announce the nominees for the 2013-14 season on Tuesday morning April 22nd at The Friars Club in New York City.

Outer Critics Circle will post award nominations in 24 categories and are the first major Broadway/Off-Broadway award nominees of the New York theater season.

Celebrating its 64th season of bestowing awards of excellence in the field of theater, the Outer Critics Circle is an association with members affiliated with more than ninety newspapers, magazines, radio and television stations, Internet, and theatre publications in America and abroad.

THE PULITZER PRIZE in fiction was awarded to Donna Tartt for her third novel The Goldfinch. Annie Baker's play The Flick won the Pulitzer for drama while Vijay Seshadri won the poetry prize for 3 Sections. Other arts winners included Dan Fagin's book Toms River: A Story of Science and Salvation in the non-fiction category, while composer John Luther Adams was awarded the music prize for Become Ocean.

The biography prize was awarded to Megan Marshall's Margaret Fuller: A New American Life, about the 19th-Century intellectual and transcendentalist. Colonial historian Alan Taylor earned his second Pulitzer for The Internal Enemy: Slavery and War In Virginia.

THE OLIVIER AWARDS were presented April 13 at a ceremony held at London's Royal Opera House, hosted by Gemma Arterton and Stephen Mangan. The winners are:

BEST ACTOR
Rory Kinnear for Othello at the National Theatre, Olivier

BEST ACTRESS
Lesley Manville for Ghosts at the Almeida Theatre & Trafalgar Studios

BEST ACTOR IN A SUPPORTING ROLE
Jack Lowden for Ghosts at the Almeida Theatre & Trafalgar Studios

BEST ACTRESS IN A SUPPORTING ROLE
Sharon D Clarke for The Amen Corner at the National Theatre, Olivier

AMERICAN AIRLINES BEST NEW PLAY
Chimerica at the Almeida Theatre & Harold Pinter Theatre

BEST NEW COMEDY
Jeeves & Wooster In Perfect Nonsense at the Duke of York's Theatre

BEST DIRECTOR
Lyndsey Turner for Chimerica at the Almeida Theatre & Harold Pinter Theatre

BEST ACTOR IN A MUSICAL
Gavin Creel for The Book Of Mormon at the Prince of Wales Theatre

BEST ACTRESS IN A MUSICAL
Zrinka Cviteši for Once at the Phoenix Theatre

BEST PERFORMANCE IN A SUPPORTING ROLE IN A MUSICAL
Stephen Ashfield for The Book Of Mormon at the Prince of Wales Theatre

MASTERCARD BEST NEW MUSICAL
The Book Of Mormon at the Prince of Wales Theatre

BEST REVIVAL
Ghosts at the Almeida Theatre & Trafalgar Studios

BEST MUSICAL REVIVAL
Merrily We Roll Along at the Harold Pinter Theatre

BEST THEATRE CHOREOGRAPHER
Casey Nicholaw for The Book Of Mormon at the Prince of Wales Theatre

BEST ENTERTAINMENT AND FAMILY
The Wind In The Willows at the Duchess Theatre

AUTOGRAPH SOUND AWARD FOR OUTSTANDING ACHIEVEMENT IN MUSIC
Once – Martin Lowe for composition & arrangements, Glen Hansard & Markéta Irglová for music & lyrics

WHITE LIGHT AWARD FOR BEST LIGHTING DESIGN
Tim Lutkin & Finn Ross for Chimerica at the Almeida Theatre & Harold Pinter Theatre and Paul Pyant for Charlie And The Chocolate Factory at the Theatre Royal Drury Lane - a tie.

BEST SOUND DESIGN
Carolyn Downing for Chimerica at the Almeida Theatre & Harold Pinter Theatre and Gareth Owen for Merrily We Roll Along at the Harold Pinter Theatre - a tie.

BEST COSTUME DESIGN
Mark Thompson for Charlie And The Chocolate Factory at the Theatre Royal Drury Lane

XL VIDEO AWARD FOR BEST SET DESIGN
Es Devlin for Chimerica at the Almeida Theatre & Harold Pinter Theatre

OUTSTANDING ACHIEVEMENT IN AN AFFILIATE THEATRE
Handbagged at the Tricycle Theatre

BEST NEW DANCE PRODUCTION
Eastman - Sidi Larbi Cherkaoui & Sadler's Wells for Puzzle at Sadler's Wells

OUTSTANDING ACHIEVEMENT IN DANCE
Michael Hulls for his body of lighting work including Ballet Boyz – The Talent at Sadler's Wells

BEST NEW OPERA PRODUCTION
Les Vepres Siciliennes at the Royal Opera House

OUTSTANDING ACHIEVEMENT IN OPERA
English Touring Opera for its brave and challenging touring productions at the Linbury Studio Theatre, Royal Opera House

BBC RADIO 2 AUDIENCE AWARD
Les Misérables at the Queen's Theatre



THE LAST CONFESSION by Roger Crane.

Directed by Chichester Festival artistic director Jonathan Church.

Set in the Vatican, the mystery thriller stars David Suchet as crusading Cardinal Giovanni Benelli and Richard O'Callaghan as Pope John Paul I with David Bannerman, Nigel Bennett, Ezra Bix, Pier Carthew, Kevin Colson, Philip Craig, Donald Douglas, Sheila Ferris, David Ferry, Mark Hammersley, Peter Harding, Marvin Ishmael, Roy Lewis, Bernard Lloyd, Stuart Milligan, John O'May, Sam Parks and George Spartels.

Billed as: "An unflinching and searing drama recounting the mystery shrouding the events as told by their ultimate witness: Cardinal Benelli, who engineered John Paul I's ascent. This provocative thriller explores the machinations of power amid crises of faith and the struggle to conceal the truth at any cost.

It's 1978, and a little-known country priest is crowned Pope John Paul I in an uneasy compromise. Just 33 days later, before he can set his liberal reforms into place, "the Smiling Pope" is found dead: one day after he threatened to remove three prominent Cardinals from their posts. No investigation or autopsy is performed, and a Vatican press release about the cause of his death is later proven to be, in large part, false."

Set by William Dudley, lighting by Peter Mumford and costumes by Fotini Dimou. Music is composed by Dominic Muldowney with sound design by Chris Cronin.

The world tour began April 19 at the Royal Alexandra Theatre in Toronto, with performances through June 1. Following the Canadian launch, the production will tour to Los Angeles, Perth, Brisbane, Adelaide, Melbourne and Sydney, Australia.

THEATER MASTERS EIGHTH ANNUAL TAKE 10 an evening of eight 10-minute plays from award-winning MFA graduate playwriting students from across the country as part of its National MFA Playwrights Competition takes place April 22nd – 26th at Off-Broadway's The American Theater of Actors in NYC.

Broadway actor and Artistic Director Robert Lupone will serve as guest judicator for the presentations. Award winning playwright Theresa Rebeck and Andrew Leynse, Artistic Director at Primary Stages, will serve as Artistic Advisors. Directed by Stephen Cedars, Daisy Walker, and Joseph Ward, the evening will feature 8 plays by MFA playwriting students at Carnegie Mellon, Columbia, Northwestern, NYU, University of Iowa, University of Texas at Austin, and Yale.

The 10-Minute Plays are:

Dar a Luz by Raquel Almazan (Columbia): The wall that is built to keep out immigrants comes crashing down when a border patrol officer's wife finds her past in the desert roadside.

The Logic by Will Arbery (Northwestern): Two young men reconnect online. One writes from a New York apartment, the other from a Texas jail.

Came Tumbling After by Nathan Cann (NYU): Jack and Jill struggle to confront the aftermath of a horrific attack. When Jill presents what she decides is the only way they can move on, their marriage and humanity are put to the test.

Celebration of Life by Julie Jigour (Carnegie Mellon): Hiding out in the bathroom after her boyfriend's funeral, Melanie attempts to answer questions about their relationship through an unwilling friend and an uninhibited stranger.

Clown Room by Brian Kettler (University of Texas, Austin): Jessie, a courageous young girl, battles her evil stepmother in the terrifying clown room.

Dogs in the Debris by Ryan Oliveira (University of Iowa): A mother and her estranged daughter struggle to reconcile after a tornado destroys the mother's home and takes away her only comfort - the family dog.

Nona Who Swallowed a Bird by Eva Suter (University of Texas, Austin): Nona's mother told her lots of things: Don't sleep with your mouth open, avoid men with axes, don't give your heart away like a song. Nona was never very good about listening to her mother.

The House That Blows Down by Emily Zemba (Yale): Three brothers struggle to leave home and start lives of their own, but ultimately realize they can never escape the oppressive convenience of a life in their mother's house.

Based in Aspen, Colorado, Theater Masters is dedicated to nurturing, developing, and producing or causing to be produced the work of the next generation of American playwrights.

NOT A GENUINE BLACK MAN Written and performed by Brian Copeland. Developed by Brian Copeland and David Ford.

Directed by David Ford.

In 1972, The National Committee Against Discrimination in Housing called San Leandro, California a 'racist bastion of white supremacy.' Fair Housing advocates considered it one of the most racist suburbs in America. The U.S. Commission in Civil Rights conducted hearings. And then, we moved to town."

So begins Brian Copeland in Not a Genuine Black Man, the longest-running one-man show in San Francisco history - back for its 10th anniversary at Berkeley Rep.

In a monologue that's both entertaining and poignant, Brian explores how surroundings make us who we are.

Not a Genuine Black Man plays April 23-May 31,2014 in Berkeley Rep's new Osher Studio, a black box theatre which seats 200. Located in the Arts Passage. Berkeley, CA.

THE GERSHWIN'S PORGY AND BESS By George Gershwin, DuBose and Dorothy Heyward, and Ira Gershwin. Book Adapted by Pulitzer Prize-winner Suzan-Lori Parks. Musical Score adapted by two-time Obie Award winner Diedre L. Murray.

Directed by Tony Award winner Diane Paulus. Choreography by Ronald K. Brown.

Accompanied by a 23-piece orchestra under the direction of Dale Rieling.

Starring Nathaniel Stampley as Porgy and Alicia Hall Moran as Bess, Alvin Crawford as Crown, Kingsley Leggs as Sporting Life, Sumayya Ali as Clara, Denisha Ballew as Serena, Danielle Lee Greaves as Mariah and David Hughey as Jake.

The cast also includes Dan Barnhill, Vanjah Boikai, Adrianna M. Cleveland, Roosevelt André Credit, Cicily Dainels, Dwelvan David, Nkrumah Gatling, Tamar Greene, Nicole Adell Johnson, James Earl Jones II, Quentin Oliver Lee, Cheryse McLeod Lewis, Sarita Rachelle Lilly, Kent Overshown, Chauncey Packer, Lindsay Roberts, Fred Rose and Soara-Joye Ross.

Set Design by Riccardo Hernandez. Costume Design by Esosa. Lighting Design by Christopher Akerlind. Music supervisor Constantine Kitsopoulous. Sound Design by Acme Sound Partners.

After a five night stand in Las Vegas the production opens April 22 - June 1, 2014 at the Ahmanson Theatre in Los Angeles.

A WRINKLE IN TIME based on the book by Madeleine L'Engle and adapted and directed by Tracy Young.

This production celebrates the 52nd anniversary of the book's publication. A huge and enduring success and winner of the 1963 Newbery Medal, A Wrinkle in Time is the story Meg Murry, her brother Charles Wallace and their friend Calvin, and their journey to save Meg and Charles's father from the evil that threatens the universe.

Meg Murry is the quintessential square peg: a middle-school math whiz with glasses and a short temper. But when she and her strangely gifted little brother set off to find their missing father, they're catapulted across time and space to a world where being different isn't just an annoyance—it can cost you your life. Even with the help of curious otherworldly beings, Meg will have to conjure every power she can find, and then some, to put her family back together. OSF presents a new adaptation of this mind-expanding science fiction story that's still a favorite with the young and young at heart.

The cast features Alejandra Escalante as Meg Murry, Sara Bruner as Charles Wallace Murry, Joe Wegner as Calvin O'Keefe, Kate Hurster as Mrs. Murry, Dan Donohue as Mr. Murry, Mark Bedard as Dennys Murry, Jeremy Thompson as Sandy Murry, U. Jonathan Toppo as Fortinbras, Judith-Marie Bergan as Mrs. Whatsit, Michele Mais as Mrs. Who, Kate Mulligan as The Happy Medium, Daniel T. Parker as Aunt Beast and Jade Rae Perry as Science Girl.

Scenic design is by Christopher Acebo, costumes by Alex Jaeger, lighting by Rick Martin, video design by Shawn Sagady, composition and sound by Paul James Prendergast and puppet design by Lynn Jeffries. Dramaturg is Lue Morgan Douthit; voice and text director is David Carey and fight director is U. Jonathan Toppo. Kjerstine Rose Anderson and Sarah Lozoff are movement directors. Jill Rendall is stage manager, and Mandy Younger is assisting.

Officially opens April 20 and runs through November 1, 2014 at the in the Angus Bowmer Theatre, Oregon Shakespeare Festival in Ashland, Oregon.


WHO'S WHERE


LADY ANTEBELLUM perform Friday, April 25, at the Walnut Creek Amphitheatre in Raleigh, NC. On Saturday they are in the spotlight at the PNC Music Pavilion in Charlotte, NC. Next Sunday, April 27, they sing at the Thompson-Boling Arena in Knoxville, TN.

MICHAEL BOLTON performs in Germany this week. on Wedneday, April 23, the show is at the Friedrichstad in Berlin. Friday's performance is at the Stadthalle in Rostock. Next Saturday he can he enjoyed at the Heinrich-Lades-Halle in Erlangen.

ELVIS COSTELLO on stage Monday, April 21, at the Bluesfest in Byron Bay, New South Wales, Australia. On Wednesday the show is at the State Theatre in Sydney, New South Wales, Australia. Friday's gig is at the Queenstown Blues & Roots Festival in Queenstown, New Zealand. Next Sunday, April 2,7 the tour stops at the Civic in Auckland, New Zealand.

STEVE TYRELL opens a two nighter April 21 at the Dakota Jazz Club in Minneapolis. On Thursday he's at The Ark in Ann Arbor, MI. Friday finds him performing at Mayne Stage in Chicago.

SLIM MAN does a gig Wednesday, April 23, at Woody's in Palm Springs, California. Slim Man will be backed by Greg Vail on sax, Patrick Ready on drums and Tateng Katindig on keys.


FINAL OVATION


PHYLLIS FRELICH a Tony Award winning deaf actress died April 10, 2014 at home in Temple City, Calif, . She was 70. The cause of death was progressive supranuclear palsy, a rare degenerative neurological disease for which there are no treatments.

Frelich was the inspiration for and originated the leading female role in the Broadway production of Children of a Lesser God, for which she won the 1980 Best Actress Tony Award. Frelich was also nominated for an Emmy Award for her performance in the 1985 television movie Love is Never Silent.. She also appeared in many episodes o Santa Barbara as Sister Sarah.

She also performed the ASL interpretation of Jewel's rendition of the national anthem at Super Bowl XXXII.

She is survived by her husband Robert Steinberg and their two children.

PHILLIP HAYES DEAN award winning Broadway playwright, director and actor died on Monday, April 14, 2014 from a heart condition. He was 83.

He was best known for his Broadway play Paul Robeson, performed by James Earl Jones in 1978, and in Avery Brooks' revivals in 1988 and 1995, and now in Los Angeles by Ebony Repertory Theatre's production with Keith David, which Dean directed. His play continues performances and will close on April 27, 2014.

Dean received his initial theater opportunity apprenticing at the Will-O-Way Playhouse in Bloomfield Hills, Michigan. His first assignment was pulling the curtain for the play Life with Mother. He subsequently appeared in their production of Heaven Can Wait.

He later moved to New York City, where he appeared on Broadway in Wisteria Trees starring Helen Hayes and an all Black version of Waiting for Godot.

A prolific playwright he began writing plays in the 1960's. The Sty of the Blind Pig won the Hull-Warriner Award and the Drama Desk Award, and was named one of the season's ten best plays by Time magazine the year it was produced.

His play, Paul Robeson, has had three Broadway productions, a London production, and has toured across the United States and Europe.

Dean had worked extensively as a director and taught acting and playwriting at the University of Michigan. He makes his Los Angeles directing debut with this production.

Phillip Hayes Dean is survived by his wife Patricia Dean, his daughters Wendy and Karen, four grandchildren, and his brother Howard Dean.

CHEO FELICIANO famed Puerto Rican composer and singer of salsa and bolero music died in an auto accident in San Juan on April 18, 2014. He was 78.

In June 2013, Feliciano confirmed that he was suffering from liver cancer r and was already undergoing chemotherapy treatment.
,br> Feliciano lost control of the Jaguar he was driving and crashed into a light pole, police said. He died at the scene. He was alone in the car. His wife told police her husband didn't like to wear a seat belt.

The governor of Puerto Rico declared three days of mourning and, many motorists drove with their headlights on in tribute.

Puerto Rico Gov. Alejandro Garcia Padilla said in a statement: "Today, Puerto Rico lost one of its greatest voices."

Gabriel Abaroa Jr., President/CEO of The Latin Recording Academy issued the following statement: "Latin Recording Academy Trustees Award recipient Cheo Feliciano was a multitalented musician, composer and singer. A national treasure of Puerto Rico and New York, he was not only an iconic solo artist but a member of the Joe Cuba Sextet and the legendary Fania All-Stars. His warm and soulful voice, exhibited through his love of bolero and his passion for salsa music, graced recordings and stages through a career spanning six decades. The re-emergence of his career with his first solo album, Cheo, released in 1971, broke records in the Latin music market and included his hits Anacaona and Mi Triste Problema. He will forever be remembered as one of the great architects of the salsa movement and his work will live on to inspire and touch lovers of the genre. Our thoughts are with his family, friends, colleagues and to the people of his beloved Puerto Rico who have lost a cherished and respected artist; and in the meantime, there will be no gentleman giving out roses to the ladies."

He is survived by his wife Coco, and their four children.















Next Column: April 27, 2014
Copyright:April 20, 2014 All Rights Reserved. Reviews, Interviews, Commentary, Photographs or Graphics from any Broadway To Vegas (TM) columns may not be published, broadcast, rewritten, utilized as leads, or used in any manner without permission, compensation and/or credit.
Link to Main Page
---
Laura Deni



For the snail mail address, please E-mail your request.
CLICK HERE FOR COMMENT SECTION