! >
Broadway To Vegas
  
 SHOW REVIEWS CELEBRITY INTERVIEWS GOSSIP NEWS

| | |
| --- | --- |
| | |
TIMOTHY ANGLIN BURGARD CURATING FOR THE NORMAL PERSON - - BLOOMINGDALES HONORS SOUTH PACIFIC - - TRIBUTE TO THE LATE KITTY CARLISLE HART - - GONE WITH THE WIND ON STAGE - - OBIE AWARDS GEAR UP - - OUTER CRITICS CIRCLE ANNOUNCES NOMINATIONS - - CENSORSHIP AS A CREATIVE FORCE - - 2008 SEATTLE OPERA GALA - - DONATE . . . Scroll Down


Copyright: April 20, 2008
By: Laura Deni

CLICK HERE FOR COMMENT SECTION
CURATING FOR THE NORMAL PERSON
Timothy Anglin Burgard
A curator. Somebody who processes cured ham. Or, maybe a person trying to find a cure for the common cold.

It's an odd profession. Easily misunderstood. Not on a short list of growth professions.

Timothy Anglin Burgard has such a job. He was Harvard's first full-time Americanist art historian and currently serves as Curator-in-Charge of the American Art Department for the Fine Arts Museums of San Francisco, where he designed and supervised the reinstallation of the new de Young Museum's permanent collection of American art.

A delightful conversationalist, Burgard spoke with Broadway To Vegas about his unusual profession and the upcoming Dale Chihuly exhibit at the de Young.

Burgard isn't the only Timothy Burgard running around. The other one is a Los Angeles based storyboard artist in the movie and television industry, with such credits as Son of Mask; Stargate; Mighty Joe Young and The Simpsons.

Not wanting to confuse the postal system isn't why curator Burgard also uses his middle name.

"Honestly, I did it because it was my grandmother's maiden name," replied Burgard as to why he includes the name Anglin. "I promised her that I would. She lived out here in a retirement home in San Francisco and I came out to visit her. Actually my namesake Timothy Anglin, who was her grandfather, came over during the potato famine from Ireland on Easter Sunday in 1849. He became a newspaper publisher and then, amazingly for someone who was Catholic at that time, became a speaker of the House of Parliament in Canada."



Timothy Warren Anglin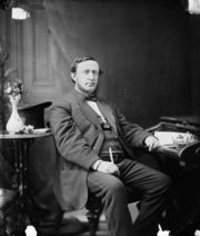 Born into quite an affluent family in Clonakilty, Ireland in 1822, Timothy Warren Anglin (August 21,1822-May 4, 1896) saw the family fortune devastated by the great potato famine and at age 26 Anglin joined the flood of Irish immigrants to Canada. Shortly after arriving in New Brunswick, he witnessed a scene that reminded him of home. An Orange parade along the main street of Saint John degenerated into a full-scale riot between members of the Orange Order and the Catholics. Anglin appealed for moderation and unity.

This led him to take up the editorship of a new newspaper, the Freeman, which made him an influential voice in the colony.

New Brunswick entered Confederation as a province in 1867 and Anglin won a seat in the new Canadian House of Commons as a Liberal Member of Parliament.

When the Liberals came to power in the 1874 election, the new Prime Minister of Canada, Alexander Mackenzie, nominated Anglin as Speaker of the Canadian House of Commons.

Anglin's controversial period as Speaker ended with the defeat of the Liberal government. He remained in the House of Commons until he lost his seat in the 1882 election. Following his defeat, Anglin moved to Toronto and became editor of the Toronto Tribune.

Three of Anglin's nine children were notably successful; Francis Alexander Anglin was Chief Justice of the Supreme Court of Canada from 1924 to 1933, Arthur Whyte Anglin was a successful private practice lawyer, and Mary Margaret Anglin became the first internationally-renowned Canadian stage actress.

Burgard's parents Cecily and Ralph Burgard are notable in their own right - making it a genetic given that Timothy Anglin Burgard was destined for his own importance.

"I was born in Saint Paul because my father was running the Arts Council there. My mom whose maiden name was Cecily Ward, was an artist - actually a fashion illustrator - that's how she supported herself in the 50's, in the days when newspapers actually had advertising that were real drawings, which were reproduced weekly in the paper."

"I still have some of them and they are really quite wonderful. She loved art and got her fine arts degree - she often incorporated art's historical references. She actually appropriated directly from a French painting a lute player and put that in, playing for these very beautiful, glamorous Grace Kelly like models in their evening gowns."

"Or, she did just very witty things. She has another drawing which is my favorite. High heel bedroom slippers with feathers. The mules are soft. She wanted to convey in the print ads how soft they were - that was part of the appeal - so she did pussy willows. It was very Japanese, a spray of pussy willows behind them, but if you look closely you realize that every other bud or so is a little tiny kitten clinging to the branch."

"My dad ran the first art's council in the county, which was in Winston Salem, North Carolina. He had a classic depression era dad who tried to force him into engineering, which he loathed with a passion. He practically flunked out in college. The classic; 'You've got to get a good, solid career, son.' He was just a deeply concerned, depression era parent. My father rebelled and switched to philosophy, but he always loved art and music. He got out of college in 1949 and about a year later, he went to Winston Salem, North Carolina. R. Philip Hanes of the Hanes Corporation put up the money for the very first community based arts council. Then my father moved to Saint Paul and ran the Arts Council there and then took over as director of the Arts Councils of America, which is the national umbrella group and that was in New York. That is really where I grew up."

Ralph Burgard is still heading up arty things.

In February 2006, Cambodian Living Arts (CLA) - a project of World Education - hosted a two-day Arts Roundtable Meeting with representatives from ten Cambodian arts organizations in Kep, on Cambodia's unspoiled south coast. Facilitated by Ralph Burgard, founder of the American Council on the Arts, participants brainstormed strategies for addressing shared challenges and developed four small-scale collaborative projects to address these challenges. A second roundtable, to report on progress, happened in late March 2006, and the group is developing strategies to continue meeting and collaboration throughout the year.

Curator Burgard gives his parents a lot of credit for his own happiness and professional success.

"Because of my dad's experience, and because my mom pursued what she loved - which was art - they all said - the only reason to do anything in terms of your career is to do what you love It shouldn't be any other motivation. That was really great advice. They never pushed."

"Clearly, just being around them, the value of culture and art would come across. So I think it was more by example rather than by lecturing."

Burgard picked up his undergraduate degree from Dartmouth.

"I think there were 12 art history majors out of a class of a 1,000. There were 300 pre law and 300 business Dartmouth is Dartmouth and it has always been that way," he laughed. "But, on the other hand, unlike a big university that might have graduate students in art history, and Dartmouth did not have a graduate program in art history - that meant that you got a lot of attention. You got to actually install exhibitions and write catalogues that undergraduates would never have an opportunity to do at a big university."

Next stop was obtaining Master of Arts and Master of Philosophy degrees from Columbia University.

"New York is the ideal place to be if you are going to study art," he observed. "There is an incredible profusion of museums, cultural events and galleries. In a sense I think those museums become your real classroom. - to matter how good your professors are, it is hard to compete with Rembrandt."

Burgard's first full-time museum position was Assistant Curator of Paintings, Drawings, and Sculpture at The New-York Historical Society, where he developed his interest in the curatorial synthesis of American historical and cultural studies and co-authored the exhibition catalogue Mr. Luman Reed's Picture Gallery: A Pioneer Collection of American Art (1990).

Entering the perceived elitist world of the curator, he quickly learned that the occupation wasn't what it was 50 years ago, or even a decade ago. The money isn't that great, either. Salaries in the non-profit world aren't a fast track to the billionaire club.

"We're all doing this for reasons other than making a lot of money," he admitted.

"You really have to multi-tast and have a diverse range of skills," he admitted about the job description for a curator. "I would say far more than used to be the case. What might have been acceptable ten years ago or 50 years ago has been totally transformed. I always joke that when people walk into a museum it often appears as if nobody is actually there. I refer to it as the Virgin Birth Phenomenon - people just think that somehow these things spontaneously arise from the floor and the gallery walls."

Whether it is a new acquisition of an important painting or whether it is a special exhibition, they don't realize the extraordinary number of people who are involved. The registrar, curator, lighting designer, graphics design that goes in for the text panels and the labels, the graphics on the signs out in front of the building, the editors who edit the catalogue. Today curators have to have a wider range of skills."

"When you think back 20-30 years ago or more, it was perceived as a gentleman's or gentlewoman's profession. Now, that is simply not possible, especially in the big, public museums. You have to embrace your community. You have to reach out to your audiences. You have to grow those audiences. You have to provide quality exhibitions and quality publications. But, they also have to be accessible, legible and comprehensible."

It's not a case of the art world dumbing down, as much as getting real.

"You can't write or speak or publish in sort of art speak that you might find in university where they are - in my point of view- overly concerned with theory and theoretical issues including that sort of art speak or theory vocabulary," Burgard elaborated. "They are preaching to a very select group of people in a university environment - in a sense preaching to the converted."

Burgard is a populist curator.

"Having to confess to being alive in the 60's and still embracing a lot of ideals about it - at least the good ones - among which the number the museums should be a common ground and it should serve as a cultural and community center. It should be not culture from the top down but culture opening its arms wide to the biggest possible audience and without any sense of condensation or lecturing. Not disperse the word from the top down because the general populace is ignorant and doesn't know anything. I completely reject that assumption which, again, depending upon which museum we're talking about, a few years ago was more the norm."

"I look at any museum as being a cultural center for encounters with objects and history. You want to foster a dialogue. It should be common ground where people from all walks of life can participate at a nominal cost. It's $10 to get into the Fine Arts Museum which is very reasonable."

"The Academy Sciences across the way from us will re-open in September and the ticket is going to be $24.95.

"We have a free day every month," Burgard continued. "School groups come in free. We get tens of thousands of schools. Every 5th grade class comes here as part of their curriculum. Then there are special group tours for elders."

"We have Museum Ambassadors which is really a great program. They bring in high school students, often who have had very little encounter in their life with museums at all. Some had never been to a museum. They are taught to teach to their peers. It becomes peer to peer teaching. They have training classes. They learn to how think, talk and write about art. Then they let them loose on their friends. You have 16-year-olds teaching other 16-year-olds who come from the same background, which by average American standards is culturally less than literate. Many times just because of lack of economic opportunity."

Established in 1982, this program recently won an award from the President's Committee on the Arts for making a remarkable difference in the lives of youth and children. Museum Ambassadors make introductory presentations to year-round elementary school classes, latchkey and day care programs, residential teen and homeless facilities, and senior centers at their sites. Within a week after each presentation, the Ambassadors take the group on a tour of the special exhibition. The current focus is on the Dale Chihuly Exhibition.

For Burgard a perk of the curator's job is being able to get up close with the unattainable.

"I have to say that it would be a rare curator who doesn't love objects," he confessed. "The ability to work hands on - literally - with great works of art. To be alone in a room with works by famous artists. To actually help hang them on the walls, or install them in a gallery, that really is one of the great pleasures of the job. Very few people in the world have that kind of an experience. Statistically, how many people have actually held a work of art in their hand?" he questioned.

With the deYoung located in earthquake territory, there is a possibility that a great shake could lower the inventory.



deYoung Museum. The Fine Arts Museums of San Francisco (FAMSF) is the city's largest public arts institution. Comprising the de Young Museum and the Legion of Honor, FAMSF is also the city's most successful public/private partnership. Although a designated city department, most of the Museums' operational funding and all funding for art acquisitions and exhibitions are raised privately.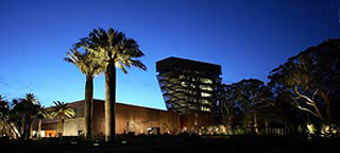 "We are very aware that we live in earthquake country and that's why we built the new deYoung Museum. The old one had 2-inch cracks in its foundation and was being held up by steel I-beams. This new building is built to withstand a 1906 earthquake The entire building is on shock absorbers. It can move 6-feet in any direction. safely without cracking. It might actually be the safest place in San Francisco."

"It is also true that because we live in earthquake country we go much farther than most museums to make sure that objects are waxed down, tied down with monofilament. You're always aware of what is around the work of art. If something were to topple - really hyper aware of it. Most museums don't have this, but we have object conservators in paintings, objects, textiles and paper. Compared to other museums in California we've had only one statue suffer and that was a broken nose. Having one crack out of 130,000 objects - we're okay with that."

For any curator the museum becomes a blank slate. Then, what do you do with it?

"I always put the visual first, because that is your first experience," he reasoned. "If you don't read the labels or don't want to read the text panels. If you don't listen to the audio tour; if you don't have friends with you who know a lot about art; you haven't studied art - you walk into the room and you are still a thinking, perceiving , seeing person. You're going to have an impression then an opinion."

Before the visitor enjoyment comes unpacking and setting up.

"It's amazing, we have a full time person who makes crates for the museum," Burgard bragged.

"Having taken our paintings to other museums around the world on courier trips the range of quality of crates that you find around the world is extraordinary. You might take an Georgia O'Keeffe painting on loan to another museum and you'll be there as they are setting up the exhibition. Let's say some country in Europe. There are all these crates with Georgia O'Keeffe paintings arriving that are being lent to the exhibition. Some of the crates are the cheapest, sort of re-cycled plywood. Dinged, banged up, cracked, no handles on the crates. I didn't realize until I started to do all of these courier trips as a curator that people look at our crates and go - 'Their beautiful! What a great craftsman you've got in your shop.'"

"It's funny. But, it's also a real issue, especially with the rising insurance costs and rising value for arts. An Andy Warhol sells for $65 million and if you do a Warhol show, all of a sudden you've got some serious insurance concerns."

"A loading dock - if you've ever seen an airport cargo area - the way they zip around with those fork lifts, it's like demolition derby. I've seen it. In the corner next to the art is a pile of lobsters. The guy driving the fork lift doesn't care. To them it is just another crate or another box."

"Every curator lives in fear that some person driving their fork lift overly fast will jab the crate - not knowing that in that crate is a $20 million painting."

To even get into a crate certain borrowing criteria must be in place.

"We have three major ones. The first one is; what is the exhibition and is it serious?

Impression, Sunrise, by Monet. 1872, oil on canvas, Musee Marmottan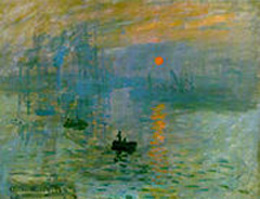 We all love to look at impression paintings," he said of the 19th-century art movement that began as a loose association of Paris-based artists exhibiting their art publicly in the 1860s.

The name of the movement is derived from the title of a Claude Monet work, Impression, Sunrise, which provoked the critic Louis Leroy in writing a scathing review, to coin the term published in Le Charivari.

"It is also true that there are so many impressionist exhibitions out there both in Europe and here because they are popular and successful," cautioned Burgard. "So who are the artists? Monet, Cezanne, Cassatt, Pissarro - are sure fire winners. You're going to have great attendance."

"What you want to see is a show that actually contributes something to our understanding of an artist or a group of artists. Ideally, there would be a scholarly catalogue that contributes something to literature and has an after-life after the show is gone. Shows are great, but most of us don't get to see all of them. The catalogue becomes an important commemoration and artifact of the exhibition."

"Another thing is with the museum facility. Does it have the proper temperature, humidity and security controls so you feel the work is safe? You don't want to put one of your masterpieces at risk."

"The last criteria - is the object itself in danger of being damaged in being moved? If you have a 16th century panel painting that is painted on wood from Florence or Amsterdam, you have to take into consideration that the painting itself may be just too fragile."

"Pastel drawing, for instance. Did the artist fixed them? Now we would use spray fixative. But they used other things in those days. If they fixed the pastel to the surface of the paper - really bonded it to the paper strongly, then they can be quite stable and safe to travel. But if the artist didn't fix them to the paper then it can be like flaking paint. They might have pressed harder in one spot and not in another. The hard spot is totally bonded but the other place isn't. Maybe the paper was a very shiny surface and it never bonded well. Then you add in that it is several hundred years old and you really run into problems."

The borrower pays for the packing, shipping and insurance.

"They might have to pay to have a crate made," said Burgard. "If it is a very high value painting, they have to pay for a courier. If you have a $20 million painting going some where - or even a $5 million one that is truly irreplaceable at any price - you want to make sure there is someone standing on that loading dock making sure that fork lift driver doesn't run into the crate."

Then there is the additional problem of post 9/11 airport security. You also don't want a priceless treasure detained by a security guard whose idea of art is a beer can label.

"Generally you have a broker who helps you," Burgard explained. "The broker actually arranges for the shipping. That's all they do. They are specialists. One of the advantages that comes with doing that is that no matter what museum you work for or how long you've been a curator, the bottom line is, you walk into that airport and they don't know who you are."

"If you are a shipping specialists, there every single day, you know all of the personnel. You have a better security clearance. You can go onto the cargo loading dock. That is really one of the services they are providing. The inside knowledge, expertise and connections."



Dale Chihuly at the deYoung. Photo by Teresa Nouri Rishel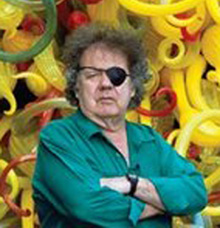 Upcoming for the deYoung is the biggest Dale Chihuly exhibition that has ever been mounted. Is Chihuly over exposed? His work can be found in permanent collections of over 225 museum around the world. There is even a massive Chihuly ceiling fixture in the lobby of the Bellagio.

"He is very prolific. He does a lot of exhibitions," Burgard conceded. "The two questions most often asked about his work concern how prolific he is how many exhibitions he does and how much glass he's produced. I had to think about those issues before taking on this exhibition."

The decision was that Chihuly was a good bet.

"Dale is clear up front is that one of the reasons he loves to do exhibitions is that people who have never been in a museum will come to see his exhibition. I think he takes a very populist view. As an artist who matured in the 60's, he is very interested in public art."

"On a fundamental level, he is really an installation artist. Even a conceptual artist. He does these grand public art projects. He has said that he admit enormously Christo," Burgard said referring to the Bulgarian-born American environmental artist who is controversial while Chihuly is not.

"One of the other people Chihuly admires is Andy Warhol," continued Burgard. "Warhol was charged with the same criticisms that are thrown at Chihuly. The prolific issue. He just turns out those Campbell soup cans and those silk screens and sometimes he even has someone else make them for him."

"Chihuly taught at the Rhode Island School of Design and founded the glass department there. Andy Warhol had a big exhibition there called Raid the Icebox I and pulled out all these incredibly disparate things. The curator tried to point him towards the best of everything - the best costume from the costume collection - and he totally ignored all of that. "

"Warhol influenced Chihuly regarding working with a total concept within an installation, which is what he does. He doesn't think of himself as an object maker. He thinks of himself as an installation artist who also uses objects in his installation."



Chihuly and team in the boathouse hotshop in Seattle, Washington. Photo by Russell Johnson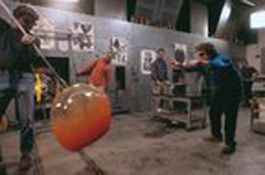 "The second criticism of Chihuly is that most of his glass if made by his team. It is not physically made by him. He employed over a hundred people in his studio. It is huge operation," Burgard emphasized. "He blew his first glass bubble in 1965 in the basement of his mother's house and used a piece of plumbing pipe that was lying in the basement. He was a weaving major in college. The professor said - incorporate a material into your weaving that is the most unlike fiber. He thought - glass. It's hard instead of soft. You can see through it, instead of opaque. So he was weaving little pits of stained glass squares into ball hangings - his weavings."

"One year later he was already working with his first partner. Starting ten years before he lost his eye in '76 in an auto accident, he was working with partners. You lose some of your dept perception when you lose an eye."

The criticism that every ball or flower is not personally blown by Chihuly comes from the mouths who fight to get a reservation in a restaurant attached to boldface foodie names. A great chef who owns several restaurants is not in the kitchen doing the cooking. They are over seeing the quality.

"Chihuly is a huge film fan so he uses the metaphor of being a director who is on the set," said Burgard defending Chihuly. "While no one wants to lose an eye, the irony is he says he understands his own work better now because can stand back from it. Even if you have multiple camera angles, each cameraman is only seeing one angle, not getting the total picture. He is up there seeing all of the angles. He loves that, being able to direct all of the action. And, one of his great talents is the ability to be able to bring people together."

"Chisholm is a performer He is a movie and stage director," Burgard reiterated. "That is why the public is so important for him. Every performer needs an audience. In his case, he wants the most populist audience."

"We have a lot of art work in this museum that is not physically handmade by the artist. There is an assumption with the starving artist theory that only one person should be making it. A new concept of the "artist creator who is almost like God. In the studio, alone late at night, starving. The idea that artists create alone. and that's not true - not with a Rodan bronze or Michael Angelo. Rembrandt had a studio. Rubin had a studio. All famous artists had studios."

"Chihuly sees continuity and tradition, but it is European tradition which is foreign to some Americans. "He puts together huge theatrical performances. The museum is the stage, the flat backdrop."

After graduation from RISD, Chihuly received a Fulbright Fellowship to study glassmaking techniques on the island of Murano near Venice.

"Dale talks about how Murano, the famous island with all of the Venice glass studios, was founded in the late 13th Century. They put the artists on the island because glass blowing, like being a stone mason, was such a rare and precious skill, They wanted to isolate them so that no other city would steal them away. He said that any glass blower who tried to escape and was caught, was killed. And, if they succeed in escaping and going to another city or country and thereby, of course, diminishing the value of Venetian glass, because they took their secrets with them - then their family was killed."

"Dale's life was transformed after seeing the windows in Gothic Cathedrals. He thinks of what he does on a fundamental level, as a missionary for glass. He occasionally does blow glass, it isn't as though he never does it. But you lose depth perception when you lose one eye."

"Ordinarily, exhibitions in most major museums are planned three and four years out. Indeed, we do have exhibitions scheduled not to go up until 2010 and 2011. This one happened amazingly quickly because we talked to Dale last summer. So, this exhibition happened within a year, which is very, very fast. One of the reasons that was possible is because everything is coming from Dale."

"The reason most shows take three or four years is you have to write the letters requesting the loans. There are probably 40 different collections or museums in Europe, Japan and American involved. Little groups of paintings have to come on a separate airplane, with a separate courier, with separate insurance, so the logistics of organizing are extraordinary."

"We're a city museum so we have access to an attorney who works for the city who helps us with our projects. So she reviews all of the contracts. the contracts are generally very basic boiler plate because the responsibilities are the same every time."

"Dale, of course, is running a studio not a museum, but with over 100 employees he has the capabilities. In addition to being a single lender exhibition, which is how we refer to such a thing, he's done this before. They have a whole packing facility that does nothing but pack his glass. They have the boxes and the packing peanuts, shrink wrap.

"In the courtyard of the Legion of Honor, the Sun is a 14-foot diameter, fiery glass ball with tendrils. That piece alone has l,100 pieces of glass in it. All of that has to be packed, not touching each other and not breaking. "

"Dale is sending 10 semi-trucks. He laughed and said that's how he knows this is the biggest exhibition he's ever done because it's taking up the most space to ship it."



Chiluly boat in gallery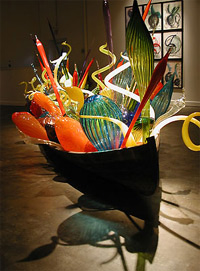 "It's his biggest exhibition ever," Burgard confirmed. "There are five works that are already here and then a 12,000 square foot exhibition that will be downstairs. The exhibition is divided into 11 galleries."

"For example, in one room there are two full sized, antique rowboats. He's filled with them glass. It's an incredible profusion of those round Niijima fishing float forms, so you get the water metaphor. But, there are flowers and tendrils. And, these are honest to God, 20 foot, real rowboats."

"They have to count them when they ship them, and that is probably 800 pieces of glass right there in one room."

Chihuly first filled boats with glass in Nuutajärvi, Finland, during the 1995 Chihuly Over Venice project. After several days of glassblowing, Chihuly and the team made temporary installations along the Nuutajoki, the river nearby. He often tossed glass into the river, letting it float downstream. Local kids in small wooden rowboats gathered them, and it was probably then that Chihuly saw the opportunity for a new type of installation.

When the team found a partially submerged wooden rowboat, which was hauled out and emptied of mud and debris, Chihuly filled it to overflowing with glass. He has continued to revisit the Boat idea ever since.

"There is another room that has five chandeliers in it."

"There are things in this show that have absolutely never been seen."

You may have seen Chihuly, but you haven't seen this Chihuly collection.

"I asked him if he would consider re-creating one of his very early neon pieces," disclosed Burgard. "In the late 60's and early 70's he did a lot of installation work. He did giant blocks of ice with neon tubing in them at the Rhode Island School of Design. Then he let the ice melt slowly, which took about five days. He did site specific installations. He was interested in the use of unconventional materials early on and neon was one of them."



Glass Forest 1971-72 by Dale Chihuly and James Carpenter. Museum Bellerive, Zurich, Switzerland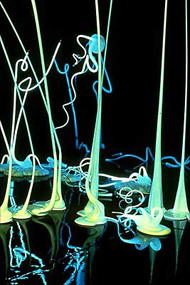 "He recreated something called The Glass Forest. This is Glass Forest Number 3 because there were two earlier versions. The early one that survived is in Museum Bellerive in Zurich, Switzerland and most people have never seen it. It went there is 1971 and has never returned because it is part of their permanent collection. And, it's too fragile to move."

"The Glass Forest Number 3 is a collaborative piece with James Carpenter who is a well known architect/designer who works in New York. Chihuly has made a series of collaborative works with Carpenter which they have both signed. He basically takes milky white opaque glass and goes to the top of a tall 14-foot step ladder and then blows the glass down and lets it slowly drip to the floor, like taffy. Then a puddle is on the floor in a blob and there is this long glass 2-3 inches in diameter. There about a hundred of those and there is neon in them. They are installed in an all black Plexiglas environment. Really amazing. No one has seen this work."

"The other one exhibit is a recreation of the Indian Room in his Seattle studio, which is called The Boat House. In the Indian Room he has not only his hand blown and folded-while-still-molten, glass baskets from his Indian Basket series, but he has actual Native American golden fiber historic baskets from 100 years ago. They are lined on shelves mixed together. Then he has a very famous collection of Pendleton blankets. He has thousands. These are all beautifully folded on dowels along the walls. Maybe 5-6 rows high. He said he wanted to collect Navajo blankets but even in 1970 they were already too expensive for a young artist to collect. He said nobody wanted the Pendleton's then. They were just functional. They weren't considered beautiful. But, they were designed and inspired by and marketed to - Native Americans, who bought these blankets. They weren't as valuable as the Navajo blankets. If he traded, the Navajo would give you one Navajo blanket which was hand woven, but you might have to give him 2 or 3 Pendleton's. It was so interesting."

"In the middle of the room, it is 20-foot long table from a 700-year-old tree, a single slab table. On that table are over 100 of these folded glass baskets in a sort of tobacco color. Also in this room is an Indian motorcycle from 1915. He loves old cars and motorcycles. So, the whole Indian Room has been recreated here. Very few people get to walk through his studio in Seattle. It is usually curators or collectors. So, this is a first."

Enjoy the Dale Chihuly collection at the deYoung Museum in San Francisco June 14, 2008 - September 28, 2008.


SPREADING THE WORD


RICHARD LEWIS WITH KEITH OLBERMANN At the age of 44, comedian Richard Lewis found himself on a gurney in an emergency room, toxic with alcohol and hallucinating from excessive cocaine use. Find out what led him to that point, how he got on the road to recovery and how he stays sober. Lewis currently appears in the sixth season of Curb Your Enthusiasm and travels nationwide on his Misery Loves Company Stand-up Tour. He is the author of a newly updated memoir, The Other Great Depression. Keith Olbermann is the host of MSNBC's Countdown with Keith Olbermann and co-host of NBC's Football Night in America with Bob Costas. Sunday, April 27, at the Kaufmann Concert Hall in NYC.

CENSORSHIP AS A CREATIVE FORCE Andrzej Wajda, Istvan Szabo & Jiri Menzel - three of the most important and influential European filmmakers of our times meet in a Barbican ScreenTalk.

The three are united by the common theme of censorship, having operated under the restrictions of Communist censorship in Poland, Hungary and the former Czechoslovakia.

Together, they will discuss their work, struggles and adventures under these regimes – and how, against all odds, their art was empowered by its worst enemy.

April 25 at the Barbican in London.

DILLINGER a reading of this new musical takes place April 24 as part of the York Theatre Company's Developmental Reading Series. music and lyrics by Paul Aleman and a book by Joel Gross.

Starring Aaron Lazar as the late gangster John Dillinger. With Fred Berman as Jimmy Morgan and Tricia Paoluccio as Anna Sage.

Jimmy Morgan, a young reporter in Depression-era Chicago, goes undercover with John Dillinger, the iconic gangster, and succumbs to his corrupting influence. Attracted and repelled by Dillinger, Jimmy finds himself lost between two worlds, moral bearings unglued, ambition leading him into fatal compromise. Worse, Jimmy falls in love with Dillinger's girl, Polly, never realizing that it is Dillinger himself who is pulling the strings of their love triangle; all part of the gangster's plan to use Jimmy's life as a ticket to freedom.

This developmental reading is free to the public at The Theatre at Saint Peter's, NYC.



Broadway To Vegas is supported through advertising and donations. Priority consideration is given to interview suggestions, news, press releases, etc from paid supporters. However, no paid supporters control, alter, edit, or in any way manipulate the content of this site. Your donation is appreciated. We accept PAYPAL. Thank you for your interest.


SWEET CHARITY


2008 SEATTLE OPERA GALA celebrating 10 years of The Young Artists Program. Saturday, April 27 at the Marion Oliver McCaw Hall in Seattle. Champagne Reception, dinner and dancing - with special performances by former Young Artists including; Lawrence Brownlee, Jennifer Hines, Brandon Jovanovich, David Korn, Anya Matanovic and Morgan Smith.

TRIBUTE TO THE LATE KITTY CARLISLE HART will be present April 21 at Feinstein's at Loews Regency in Manhattan, hosted by Michael Feinstein.

The evening will feature onstage tributes by Mario and Matilda Cuomo and Anne Kaufman as well as performances by Jane Powell, Dina Merrill, George S. Irving, Christine Andreas, KT Sullivan and Anna Bergman.

David Lewis, Hart's longtime musical director, will be the musical director for the upcoming tribute which will benefit the Dramatists Guild of America, a cause that Hart championed throughout her life.

THE 53RD ANNUAL VILLAGE VOICE OBIE AWARDS celebrating the 2007-2008 Off-Broadway and Off-Off Broadway seasons — will be held May 19 at Webster Hall in Manhattan. Among those presenting awards at the 8 PM ceremony will be Bill Camp, Neil Patrick Harris, S. Epatha Merkerson, Elizabeth Marvel, Julie White and Bradley Whitford. The evening will also feature a performance from the cast of the new Broadway musical Passing Strange. For the first time in Obie history, the awards will be webcast live online via iClips.net on www.villagevoice.com/obies.

The Obies are the freewheeling wild child of New York theater's awards world established in 1955 by then Village Voice theater editor Jerry Tallmer. The winners are chosen by a committee of critics and working theater artists, currently chaired by the Voice's chief theater critic, Michael Feingold. Outside of annual awards for Lifetime Achievement and for Best New American Play, the Obies have no fixed categories and no listed nominations. Artists receive Obies on their own merit and not in competition with others. The Obie awards cover an astounding artistic range. Past recipients have included everyone from now-established superstars like Meryl Streep, Dustin Hoffman, Al Pacino, and Denzel Washington to incredibly talented people best known inside the special world of New York's Off-Broadway theater.

The Village Voice also provides grant money to theatre groups and individuals; this year $10,000 in grant money will be awarded as well as $1,000 for a Best New American Play or emerging playwright, and $2,000 to the recipient of the Ross Wetzsteon Award, which "honors an institution that fosters the development of new theatrical voices."

OUTER CRITICS CIRCLE will disclose their nominations of the 2007-2008 season on Monday, July 21, at the Algonquin Hotel.

Doing the honors will be Broadway stars Sandy Duncan and Karen Ziemba. They will annoyance award nominations in 23 categories. The Outer Critics Circle Awards are the first major Broadway/Off-Broadway award nominees of the New York theater season.

Celebrating its 58th season of bestowing awards of excellence in the field of theater, the Outer Critics Circle is an association with members affiliated with more than ninety newspapers, magazines, radio and television stations, and theatre publications in America and abroad.

Winners of the 2007-2008 Outer Critics Circle Awards will be announced the morning of May 12. Winners will be honored at the awards dinner May 22 at Sardi's Restaurant. ( For a list of the nominees click here )



GONE WITH THE WIND

Jill Paice as Scarlett O'Hara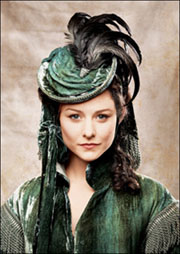 Darius Danesh and Rhett Butler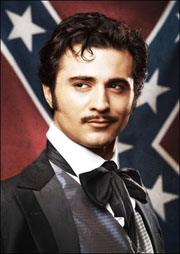 The show has music and lyrics by Margaret Martin. Based on the Margaret Mitchell novel, which has been a bestseller for seven decades.

Directed by Trevor Nunn.

Starring Jill Paice as Scarlett O'Hara. It won't be the first time Paice had set foot on a London stage. She was last in the West End as Laura Fairlie in Andrew Lloyd Webber's The Woman in White and reprised that role when the mounting transferred to Broadway. Paice has also called Las Vegas home. She was the original Sophie in the Las Vegas production of Mamma Mia!.

Paice is joined by Darius Danesh - a platinum-selling recording artist - in the iconic role of Rhett Butler, Darius Danesh Edward Baker-Duly as Ashley Wilkes and Madeleine Worrall as his wife Melanie.

Designs are by John Napier, costumes designs are by Andreane Neofitou, with lighting design by Neil Austin and sound by Paul Groothius. Musical supervisor and arranger is Gareth Valentine and movement director is David Bolger. In development for over three years, the stage version officially opens in London at the New London Theatre on April 22.

THE GERSHWINS' AMERICAN IN PARIS will feature the music of the greatest American song-writing team, George Gershwin and Ira Gershwin. This new production presents an all-new book created by Ken Ludwig. The Gershwins' An American in Paris will feature some of the best-loved songs ever written by George Gershwin and Ira Gershwin including: S Wonderful, They All Laughed, and Stairway to Paradise woven into an all-new story which takes us on a behind-the-scenes look at the making of the legendary movie-musical. It tells the story of Michel Gerard, the greatest music hall singer in Paris. When Michel fails to turn up at the studio for the filming of a new musical, Studio Chief LB sends his practical no-nonsense secretary, Rebecca Klemm, to find the missing star – and when the legendary Parisian crosses swords with the indomitable American, nothing short of fireworks ensue.

Twenty-five actors are in this show which stars three-time Tony nominee Harry Groener who will be making his Alley Theatre debut as Michel Gerard, a Parisian music hall star. He will be joined by Tony nominated Erin Dilly who returns to the Alley Theatre playing Rebecca Klemm,a Hollywood secretary. Also cast in this production and making their Alley Theatre debut are Broadway veterans Felicia Finely as Hermia Chase, a tough, glamorous Hollywood starlet from Brooklyn, and Jeffry Denman as Preston, a young Hollywood movie executive. Other principals include: Meredith Patterson as Yvette, Stephen DeRosa as Hamish and Alix Korey as Hilda.

The award winning design team includes set designer Douglas Schmidt, Choreographer Randy Skinner, Costume Designer Carrie F. Robbins and Lighting Designer Paul Gallo. Rob Berman serves as Music Director with orchestrations by Doug Besterman. The Gershwins' An American in Paris begins previews on Saturday April 26, opens on Sunday, May 18 and runs through Sunday, June 1. Alley Theatre in Houston, Texas.

THE MERRY WIDOW a new production from Jude Kelly, award-winning director of more than 40 productions for screen and stage, returns to the English National Opera Company with this new version of one of the world's best-loved operettas, Lehár's engrossing tale of the recently widowed and very glamorous Hanna Glawari is given a fresh reading by the skilled comic writers Sandi Toksvig and Dillie Keane.

Making her debut in the title role is soprano Amanda Roocroft, while the leading young tenor Alfie Boe sings Camille de Rosillon and Roy Hudd appears as Njegus. The cast also includes Hanna Glawari, Amanda Roocroft; Camille de Rosillon Alfie Boe and Njegus Roy Hudd.

Oliver von Dohnanyi conducts the ENO Orchestra and Chorus.

Designer Michael Vale; Lighting Designer Howard Harrison

Sign-language interpreted performance: Apr 29 Pre-performance talk by Edward Seckerson: Apr 26. Pre-performance talk by Andrew Lamb: May 20. Performances April 14-May 30, London.

HAIRSPRAY at the Neil Simon Theatre on Broadway will welcome Jenifer Lewis to the role of Motormouth Maybelle on April 22, She last performed onstage in New York in the 2006 Shakespeare in the Park's production of Mother Courage and Her Children with Meryl Streep.

JOHN LITHGOW: STORIES BY HEART a one-man show starring Tony Award winner Lithgow and directed by Jack O'Brien.

Stories By Heart is billed as a "touching and funny meditation on the art and essence of storytelling. Invoking memories of his grandmother and father before him, Lithgow traces his own history as an actor and storyteller, a history spanning three generations, culminating in a tour-de-force performance of the P.G. Wodehouse story Uncle Fred Flits By in which the actor performs a bravura, forty-minute comic monologue, spouting Wodehouse's dazzling language – portraying nine distinct, outrageous characters with zany abandon."

Performances at Lincoln Center Theater's Mitzi E. Newhouse Theater Sunday and Monday evenings April 20-June 2 with an official opening May 12. Lithgow's show coincides with Paul Rudnick's The New Century, which is also mounted on the Newhouse stage.

EMERGENCY West Coast Premiere. Written by Daniel Beaty. Performed by Daniel Beaty. Directed by Charles Randolph Wright.

Award-winning artist Daniel Beaty portrays a cast of 40 characters who all respond to a stunning phenomenon. A slave ship rises out of the Hudson River in front of the Statue of Liberty sending the nation into a whirlwind of emotion and exploration in this solo tour de force featuring slam poetry, multi-character transformation and song. In his critically acclaimed one-man show,

Beaty takes us on our own 400-year journey in order to see a clear picture of where we stand now. Through the character's various testimonies on identity and personal freedom, Emergency weaves a stirring commentary on modern black life.

Officially opens Wednesday, April 23, with performances through May 25 at the Geffen Playhouse in Los Angeles.

AND HER HAIR WENT WITH HER Written by Zina Camblin. Directed by Diane Rodriguez. Assistant Director Ben Bradley

Starring Tony Award-winner Tonya Pinkins and Tracie Thoms in this comic tour de force as two friends who run a beauty salon. The fun comes in when Pinkins and Thoms don various roles (and wigs) to also portray all of the salon's customers, exploring the diversity of African American women and comically exposing stereotypes along the way. Get ready for a wild range of women, personalities, hairstyles and trends.

Set and Costume Design by Sandra Burns. Lighting Design by Tony Mulanix. Sound Design by Adam Phalen.

Previews begin April 25 with the official opening set for May 9 at The Fountain Theatre in Los Angeles.

JERSEY BOYS on Broadway celebrated its 1,000th performance on April 17. Cast members Sebastian Arcelus, Christian Hoff and Michael Longoria attended the National Italian American Foundation Gala dinner honoring Frankie Valli, Isabella Rossellini, Yogi Berra, Danny Aiello, Susan Lucci, Alexis Christoforous, Tony LoBianco and Marc Corea last Monday, April 14.

Jersey Boys Vegas - the exclusive West Coast engagement of Jersey Boys has opened at the Palazzo Resort in Las Vegas.

Jersey Boys London opened to rave reviews a month ago and three new cities has been announced for the American tour - at The Auditorium Theatre in Rochester, NY; at the TPAC in Nashville and in Fort Lauderdale, FL at the Broward Center.

THE COUNTRY GIRL which tells the story of a down-on-his luck alcoholic actor and his unhappy wife, whose fortunes look to change when he is offered a role by a hot-shot director.

Morgan Freeman as Frank Elgin, Frances McDormand as Georgie, Peter Gallagher as Bernie Dodd and also starring Chip Zien, Remy Auberjonois, Anna Camp and Lucas Caleb Rooney.

Officially opens on April 27 at the Bernard B. Jacobs theatre in NYC.

CRY-BABY When a good girl falls for a bad boy, teenage rebellion and hilarity ensue in this raucous musical based on the cult film by John Waters

Starring James Snyder as Cry-Baby, Elizabeth Stanley as Allison, Harriet Harris as Mrs. Vernon-Williams, Chester Gregory as Dupree, Christopher J. Hanke as Baldwin, Carly Jibson as Pepper, Alli Mauzey as Lenora and Richard Poe as Judge Stone.

Officially opens on April 24 at the Marquis Theatre in NYC.

GOD'S EAR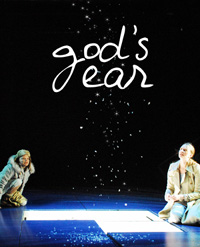 by Jenny Schwartz. Directed by Anne Kauffman.

Mel and Ted have lost their young son. Now, wherever Ted goes, he meets people with dead sons. Whatever Mel touches falls apart. Mel and Ted try to continue their way through the world, guided by their young daughter Lanie, the Tooth Fairy and G.I. Joe.

Starring Gibson Frazier, Judith Greentree, Christina Kirk, Raymond McAnally, Matthew Montelongo, Monique Vukovic and Rebecca Wisocky

The design team includes scenic design by Kris Stone; costume design by Olivera Gajic; Tyler Micoleau's lighting and sound by Leah Gelpe.

Initially developed at The Vineyard and first seen at New Georges. Officially opened April 17 at the Vineyard Theatre in NYC. The run is slated through May 18.




| | | |
| --- | --- | --- |
| | | |
WHO'S WHERE


WESLA WHITFIELD performs a selection of celebrated songs from the Great American Songbook, accompanied by the Mike Greensill Trio and more than 20 members of the Peninsula Symphony for an exciting musical evening at the Fox Theater in downtown Redwood City on Saturday, April 26.

The evening will include songs by Gershwin, Ellington, and Rogers and Hammerstein, with new arrangements by Mike Greensill. The Peninsula Symphony string orchestra, led by Maestro Mitchell Sardou Klein, the Peninsula Symphony French Horn Quartet - led by William Klingelhoffer - and the Mike Greensill Trio will accompany Wesla.

ORCHESTRE NATIONAL DE FRANCE Kurt Masur, music director with David Fray at the piano performing Beethoven's Piano Concerto No. 2 and Bruckner's Symphony No. 7. Monday, April 28 at the Kennedy Center Concert Hall in Washington, DC.

CELTIC WOMAN on stage Tuesday, April 22, at the Taco Bell Arena in Boise, ID. Wednesday they perform at the Sun Dome in Yakima, WA. Thursday the show is at the Veterans Memorial Arena in Spokane, WA. Saturday they can be enjoyed at Kingsbury Hall in Salt Lake City.

WAYNE SHORTER the saxophonist and composer returns with his stellar acoustic quartet of Danilo Perez, John Patitucci and Brian Blade.

SWEET HONEY IN THE ROCK on stage Tuesday, April 22, at the Cerritos Center for the Performing Arts in Cerritos, CA.

FOREIGNER perform Thursday, April 24, at the Inn of the Mountain Gods in Mescalero, NM. On Friday they open a two nighter at the Aquarius Casino in Laughlin, NV.

Opening the evening are Curios, a trio led by pianist and composer Tom Cawley. April 25 at The Barbican in London.

BON JOVI on stage Tuesday, April 22, at the Spring Center in Kansas City, MO. On Thursday the show is at the Sommet Center in Nashville. Saturday finds them at the Bank Atlantic Center in Sunrise, FL. Next Sunday the performance is at the St. Pete Times Forum in Tampa, FL.

JUDY COLLINS on stage Friday, April 25, at the Birchmere in Alexandria, VA.

JOY BEHAR one of the trailblazers who established that female comedians can be intelligent, clean and funny will be getting laughs Saturday, April 26, at the Berklee Performance Center in Boston.




PIFFLE AND PROFUNDITIES


SIX BLOOMINGDALES WINDOWS in New York City are devoted to Rodgers & Hammerstein's South Pacific - the not to be missed revival at Lincoln Center.

One of the windows is a tribute to Catherine Zuber's designs, featuring her original costume sketches.

The window tribute can be enjoyed through Sunday, April 27.

Next Column: April 27, 2008
Copyright: April 20, 2008. All Rights Reserved. Reviews, Interviews, Commentary, Photographs or Graphics from any Broadway To Vegas (TM) columns may not be published, broadcast, rewritten, utilized as leads, or used in any manner without permission, compensation/credit.
Link to Main Page
---
Laura Deni


CLICK HERE FOR COMMENT SECTION