! >
Broadway To Vegas
  SHOW REVIEWS CELEBRITY INTERVIEWS GOSSIP NEWS

| | |
| --- | --- |
| | |
KENNEDY CENTER 11th ANNUAL GALA IS THE PLACE TO BE - - RAMONA FESTIVAL TURNS 80 - - VAREKAI - - THE LAST EMPRESS - - MELISSA ETHERIDGE & THE WORLD CUP FINAL - - MAKING THEATRE DURING WARTIME SEMINAR SERIES - - PLAYBOY OFFERS FINDER FEE - - WOODY ALLEN'S THEATRICAL DIRECTING DEBUT - - DONATE . . . Scroll Down


RAMONA FESTIVAL CELEBRATES 80 YEARS


As the Official California State Outdoor Play, the Ramona Outdoor Play is one of Southern California's great traditions. On April 26 Ramona, will unfold in lush pageantry, bringing romance, adventure, dancing and history to a panoramic amphitheater, just as it has for 80 years.

Ramona historian Phil Brigandi discussed the Ramona Outdoor Play with Broadway To Vegas.

"This year is our 80th Anniversary; we are the oldest outdoor play in America. We are emphasizing the term "outdoor play" over "pageant" these days - too many people here pageant and wonder where the beauty queens are!"

A journey back into early California history, this grand outdoor drama, set in late 1800s California, tells the story of the star-crossed lovers, Ramona and Alessandro. In 1959 Raquel Welch, known then as Raquel Tejada, starred as Ramona. A decade later , in 1969, Anne Archer had the role. Longtime character actor Victor Jory was associated with the show for more than 40 years.

As to whether Welch has ever returned Brigandi answered, "I do not believe Raquel has ever been back. She played Ramona in 1959, billed as Raquel Tejada. All in all, a pretty small pebble in our pond."

A big pond, it is.

"Celebrities and politicians have attended many times over the years," continued Brigandi . And we just this year are adding a "box seating" area that among other things can be used for VIPs. A number of California's governors have attended over the years, State Senators, Assemblymen, etc. And many Hollywood stars have also come to see the show."

Featuring a cast of more than 400 actors, singers, dancers and horsemen, the play is based on Helen Hunt Jackson's classic 1884 novel, Ramona, which was written in an attempt to change public opinion towards the American Indian. The harsh treatment of the Indians portrayed in the novel was based on actual events taking place in Southern California at the end of the 19th century.

Helen Hunt Jackson (1830-1885), one of the most popular woman writers of her day, came west to investigate the conditions and needs of Southern California's Indians. What she found shocked her. The few surviving villages were scraping out a meager existence in isolated areas, living in constant fear that any day the white men might drive them from their homes.

Jackson wrote an official report that was sent to Washington, describing what she had seen, but it was largely ignored. She realized that she needed to find another way to get her message to the American people. Then it came to her: "I am going to try to write a novel, in which will be set forth some Indian experiences in a way to move people's hearts", she explained. "People will read a novel when they will not read serious books."

Thus Ramona was born. First published in 1884, Jackson's novel has never gone out of print.

As early as 1906, plans were proposed to produce a stage version of Ramona in the valley. But it wasn't until 1922 that the Hemet Valley Chamber of Commerce took hold of the idea and decided to try staging an outdoor Ramona Outdoor Play as a way to bring tourism to the valley.

Tourists flocked to the Rancho Camulos in Ventura County, which was dubbed The Home of Ramona or to Casa de Estudillo in Old Town San Diego for Ramona's Marriage Place.



Garnet Holme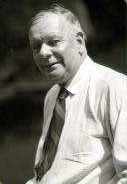 Preparing for the first season was a major job, but the Chamber was able to secure the services of Garnet Holme (1873-1929), California's greatest outdoor dramatist, to write and direct the show. It was Holme who suggested staging the show in a natural amphitheatre, leading to the location of what is now the Ramona Bowl. It was Holme who stressed the need for relying on the talents of local volunteers. And most importantly, it was Holme who wrote the script for the Ramona Outdoor Play--the only truly successful dramatization of Ramona ever written. Holme transformed Jackson's lengthy novel into a fast-paced drama spread out across an entire mountainside. On April 13, 1923 the Ramona Outdoor Play premiered to rave reviews.

in 1927 the non-profit Ramona Pageant Association was incorporated to oversee the production on behalf of the people of Hemet and San Jacinto.



Built in 1936 the adobe hacienda replica is used in act one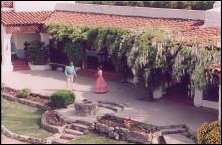 Construction at the Ramona Bowl began in 1925. The first seats were built in 1926; the last block of seats were added in 1965 bringing the total to 6,600. A permanent ranch house set was built in 1936, and is still in use. A full-size replica of an adobe hacienda, built in 1936, serves as the backdrop for the first act. In 1941 an Administration Building was built. More office space was added in 1961 and 1972, and the original building now serves as the museum and gift shop.

Since 1923 there have only been five years when the Ramona Outdoor Play was not produced; first in 1933 at the depths of the Depression, and again from 1942-45 during World War II.

Today, the Ramona Outdoor Play is the oldest continuing outdoor drama in the United States. In 1993, it was named the official California State Outdoor Play. More than 800 volunteers take part in the production each spring; some families have been involved with the show for generations, many for over 50 years.

The show's artistic director is Dennis Anderson. The Ramona Pageant Association maintains both a Museum and a Research Library, which is open to scholars, students, and anyone interested in the history of the Ramona story.

"The Ramona Bowl Museum features exhibits on the history of the play, the background of the story, and local Indian artifacts. We also have a research library documenting the history of the show," continued Brigandi who indicated that "several thousand people a year visit the Museum."

"Each year since 1964, we have done a special free dress rehearsal performance for local 4th Grade students, which is the year they study California history. These days, we get around 4,000 students each year," explained Brigandi.

"The Museum is open only in the spring, opening about the same time as the ticket office, and closes after the run of the show in May. But even when the Museum is closed, people come up all year 'round the visit the Ramona Bowl and see the setting for the play," Brigandi added.

Gates open at noon on showdays, with Mercado festivities at 1 p.m. Visitors can stroll through the marketplace, a courtyard filled with folk music, Spanish and Indian dancing, historical talks, and artisans displaying their crafts.

Opens April 26. Tickets are priced from $16 to $28.Mother's Day package, including a buffet lunch and "comforts of home" care package - seat cushion, water, sunscreen, sun hat and souvenir booklet - is $40. Ramona Bowl in Hemet, California.


IT'S JAZZ, BABY


DENTON ARTS & JAZZ FESTIVAL April 25, 26, & 27, in Denton, Texas.

Denton's annual big spring shindig will feature performances by more than 1,300 musicians. Branford Marsalis headlines April 25. Double Trouble and Brave Combo will play April 26. Trout Fishing in America plays April 27.

The Denton Arts & Jazz Festival is a free 2 1/2 day event held in the Center Park. Over 1,300 performers on six stages, 140 juried artists, children's art tent, food and games, and three hundred festival members volunteer their time each year for this annual event on the last, full weekend in April. Proceeds from concession booths benefit the arts in a community where officials are proud that arts and music are "nurtured at every level, every day."

V ARGENTINE FESTIVAL IN MIAMI billed as the "Largest Argentine Festival In The World" features Vicentico (Los Fabulosos Cadillacs), Soledad, Leon Gieco, Los Autenticos Decadentes, and Adriana Varela. April 27 at Bay Front Park Amphitheatre, Miami, Florida.

CHELTENHAM INTERNATIONAL JAZZ FESTIVAL ranks among the top British festivals of its kind. Since 1996 the Festival has brought some of the biggest names in jazz to the town, as well as providing a platform for the stars of the future, now raking it as a major player on the national and international scene.

Featuring stars such as Esbjorn Svensson, Chris Barber, Michael Brecker, Otis Grand, James Taylor and Gilles Peterson, this year's program demonstrates that jazz is more wide-ranging, vital and exciting than ever.

Pianist Uri Caine is the Festival's first ever Artist-in-Residence, presenting four of his major projects. Also new for this year is an expansion of the Festival into the Daffodil restaurant, plus a rare UK appearance by the New Orleans Nightcrawlers, who will be appearing around the town as well as in their very own breakfast show.

The Jerwood Rising Stars series, featuring young jazz musicians, with major commissions from Denys Baptiste and Richard Fairhurst, new collaborations, and performances by the stars of tomorrow.

The Jazz Fringe both complements and offers an escape from the Festival - with a healthy mix of big names and local talent, the Fringe is a laid-back program of jazz-related events in bars, clubs and restaurants in and around town. Many of the events are free. April 30 - May 5.


THE MUSIC GOES ROUND AND ROUND


VAREKAI Are your stressed out? Maybe depressed? Both? You've got those meditation tapes memorized and they didn't work. You're sick of tapes with never ending wind chimes, waterfalls or birds chirping. Try listening to Varekai the RCA Victor CD based upon the latest avant guarde Cirque du Soleil show.

As inventive as you'd expect from those creative Cirque folk - this CD is either relaxing or invigorating depending upon the track. Listen to it or use it as background Varekai, is an interesting compilation of musical notes, instruments and voices both spoken and sung, which transports the listener to the next level of thought.

Varekai is based on the theme of Icarus, the mythical Greek hero who flew too close to the sun on wings of wax & feathers. Varekai, with more than 50 performers, is the 14th live production of the Cirque du Soleil and its first since 1999

If you've seen the show you probably either have already purchased the CD or wish you had. If you listen before you see the production you'll be inspired to see the show, which is coming to New York April 24 through June 15 at the Grand Chapiteau at Randall's Island which will be transformed into a magical forest. Then the show moves to Chicago July 17 through August 17 at the United Center Parking Lot K and Southern California starting Sept 12 under the blue-and-yellow Grand Chapiteau at Staples Center, parking lot No. 2. It then transfers to Pomona for a very limited engagement at Fairplex, Dec. 4-28, followed by a visit to Costa Mesa on Jan. 16, 2004, at the Orange County Fair & Exposition Center.

Cirque describes Varekai - which means "wherever' in the Romany language of the gypsies - as being about a young man who parachutes into a magical forest populated by fantastical creatures. Pushing the boundaries of artistic exprestion and sound. it's the same fantastic acrobatics and spectacle for which the French-Canadian troupe is famous - yet the visual show has been effectively translated to the CD. Violaine Corradi is renowned for melding the cultural barriers between East and West, between classicism and popularity, and between clubland and world music. By successfully combining the ambient beats of African, Gypsy and Middle Eastern influences, he has taken the original compositions from Varekai and created an auditory experience that parallels the extraordinary experience of the live show.

In addition to instruments, such as the violins and guitars, every track features Steve Shehan on the floor tom, ocean drum and tambors, brushes or conga.

Written By Violaine Corradi, Nitin Sawhney,Taraf De Haidouks. Lyrics By; Tina Grace, Nina Rocha Miranda. Spoken voice parts written by Terry Callier, Nitin Sawhney, Tina Grace, Helene Dorion, Mathieu Lavoie, Polly Thomson-Storey.

Vocals; Tina Grace,Tara Harrison, Natacha Atlas, Mathieu Lavoie, Zara Tellander, Nina Rocha Miranda, Marcial Heredia Fernandez, Olayo Alvarez Gimenez, Rakif Samman, Wayne Hankin, Bridgette Poudrier.

Musicians Steve Shehan, Carmen Piculeata, Didier Malherbe, Igor Outkine, Violaine Corradi, Chandru, Cristinel Turturica, Ion Tanase, Constantin Lautaru, Marcial Heredia Fernandez, Wayne Hankin, Ionel Manole.

London Voices directed by Terry Edwards; Sarah Edwards, Sarah Eyden, Rosalind Waters, Gerard O'Beirne, James Edwards, Deryn Edwards, Susan Marrs, Mark Williams, Terry Edwards.

Members of the English Chamber Orchestra; Benjamin Buckton, Susie Candalin, Rona Murray, Jake Rea, Alison Dods, Fiona McNaught, Duncan Ferguson, Martin Humbey, Clare Finnimore, Josephine Knight, Lionel Handy, Stephen Williams.



MELISSA ETHERIDGE

Melissa Etheridge and Tammy Lynn Michaels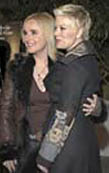 the two-time Grammy Award winner, singer/songwriter, 41 and actress Tammy Lynn Michaels (Popular), 28 issued a statement stating they are "pleased to announce their engagement. They are planning a 2003 Holiday wedding. This is the first wedding for both of them. Etheridge has two children from a previous relationship. They plan to continue residing in Los Angeles after the wedding."

Etheridge and Michaels have been dating for about two years.

The rocker shares custody of a daughter and a son with former partner Julie Cypher. The two made news in 2000 when they revealed that musician David Crosby was the sperm donor for their children, who were delivered by Cypher.

DUCHESS one of 10 Atlantic bottlenose dolphins at Siegfried & Roy's Secret Garden and Dolphin Habitat at The Mirage in Las Vegas, gave birth to a male calf at 10:09 p.m. Feb. 27. The calf weighs approximately 30 pounds and is about three feet long. This is the fourth birth at The Mirage for Duchess, a Dolphin Habitat resident since it opened in October 1990. Her three other offspring - Squirt, Pablo and Huf N Puf - continue to make the Dolphin Habitat their home. Banjo, the calf's proud father, also is an original resident and now has five offspring that were born and still reside at The Mirage.

A contest to name the new calf ended April 18. The soon-to-be-christened cutie was born following a 12-month gestation. Mother and baby are living in a maternity pod (the name for a dolphin group) with other females and a nursing calf. Calves nurse every 15 to 20 minutes, 24 hours a day, until the calf is about two years old. Fish are introduced into their diet in four to six months.

KEITH LOCKHART the 43-year-old conductor of The Boston Pops and his wife, violinist Lucia Lin, are expecting a baby sometime in late summer. Lockhart and Lin were married in September 1996. Lockhart is also the conductor for the Utah Symphony and made the announcement this past week-end, April 18-19, while in Salt Lake City conducting Celtic Festival with Keith Lockhart and Cherish the Ladies! program.

Lockhart became conductor of the Boston Pops in 1995 after serving as associate conductor of the Cincinnati Symphony Orchestra and the Cincinnati Pops. In 1995 Keith Lockhart was named 20th Conductor of the Boston Pops. With this appointment, Lockhart succeeded John Williams, Hollywood's premier film composer, who held that position from 1980 to 1993. Named Boston Pops Conductor at age 35, Lockhart is only the 3rd conductor to lead the orchestra since 1929, when Arthur Fiedler began his unprecedented 50 years as conductor of the orchestra.

Lin joined the Boston Symphony Orchestra in 1985 after graduating from Rice University. She became one of the BSO's first violins after serving as assistant concertmaster.

Lockhart opens his ninth season as Boston Pops Conductor on Wednesday, May 7, at Symphony Hall, leading the Boston Pops Orchestra in an Opening Night at Pops program featuring vocalist Patti Austin and trumpet virtuoso Byron Stripling.

OUTER CRITICS CIRCLE nominations for Broadway and off-Broadway productions have been announced by OCC President Marjorie Gunner. An organization of over 75 out-of-town critics and writers from over ten states, the OCC annual Award nominations unofficially kick off New York's theatrical awards season. Winners of the theatrical prizes will be announced Monday, May 5, and the 53rd annual Gala Awards Party at Sardi's is scheduled for Thursday, May 29. CLICK FOR NOMINATIONS
AMERICAN THEATRE WING WORKING IN THE THEATRE SEMINARS


Now in their 31st year, the popular Working in the Theatre Seminars are held every Fall and Spring. This dynamic program brings together the theatre's top performers, producers, playwrights, directors, choreographers and designers to discuss the realities of working in the theatre.

Created by Wing Chairman Isabelle Stevenson, this season's series begins Tuesday, April 23, with a Playwright/Director/Choreographer seminar. Those scheduled to participate include Richard Greenberg and Luis Perez; Lloyd Richards will moderate. The April 30 Production Seminar features Urban Cowboy's Chase Mishkin, Leonard Soloway, Lonny Price, Aaron Latham, Jason Robert Brown and Pete Sanders, and the Design Seminar in the morning of May 1 will include Hairspray's David Rockwell with Jeffrey Eric Jenkins as moderator. The series ends with the May lst afternoon Performance Seminar, which will feature the talents of Sutton Foster, Claire Higgins, Brian Stokes Mitchell and John Turturro. Pia Lindstrom will moderate.

The Working in the Theatre seminars are held at the Graduate Center of the City University of New York. The seminars are broadcast six times a week on the CUNY TV Channel in the New York City area and regularly on Los Angeles Channel 36. The seminars are also shown on Public Broadcasting Channels throughout the country.

Attendance to the seminars is free but seating is limited. Theatre students, members of theatrical unions and guilds and casts of Broadway and Off-Broadway shows are admitted first.


MAKING THEATRE DURING WARTIME


River Arts Repertory and Fordham University will host the Eastern European Seminar Series, third program, on Making Theatre During Wartime, April 25 and 26, at Fordham University in New York.



Danielle Skraastad and Emma Bowers in Family Stories by Biljana Srbljanovic when it was produced at the Market Theater,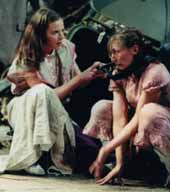 On Friday a reading of the play Family Stories: Belgrade by Serbian playwright Biljana Srbljanovic, a 2002 Fulbright Scholar, takes place. The event will be directed by Annie Dorsen who was Artistic Director of the Yale Cabaret for the 1998-99. She has worked at Manhattan Theater Club, the Signature Theater Company, Rattlestick Theater Company, The Guthrie, Yale Repertory, McCarter Theater and Long Wharf, among others. Dorsen is a recipient of the Boris Sagal Fellowship at Williamstown, the Sir John Gielgud Fellowship for Classical Directors from the Stage Directors and Choreographers Foundation, and a Charles and Eva Fox Fellowship.

In the play four adult actors play children playing house in a violently dysfunctional family. Using elements of vaudeville, Punch and Judy slapstick, and absurdism, Srbljanovic creates a highly theatrical, farcical world to explore the intergenerational impact of political violence in her native Belgrade.



Eve Ensler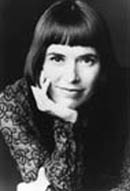 On Saturday Eve Ensler will read a new text on the war and Priya Ayar and Daniel Carlton will read excerpts from the play Children of War on the Sarajevo Children's Theatre.

Ensler's new work is Necessary Targets, a groundbreaking play about women and war - about the violence of dark memories and the enduring resilience of the human spirit. Based on stories of women Ensler met in Bosnia it has been read in New York by Meryl Streep, Angelica Huston, and Calista Flockhart and was performed in Sarajevo with Glenn Close and Melissa Tomei.

The Making Theatre During Wartime readings will be followed by a panel discussion on Making Theatre During Wartime. Panelists will share their past experiences, as well as discuss the current situation in America and the artist's role.



Broadway To Vegas is supported through advertising and donations. Priority consideration is given to interview suggestions, news, press releases, etc from paid supporters. However, no paid supporters control, alter, edit, or in any way manipulate the content of this site. Your donation is appreciated. We accept PAYPAL. Thank you for your interest. Laura Deni P.O. Box 60538 Las Vegas, NV 89160

Las Vegas, NV 89160


SWEET CHARITY


THE ACTORS' FUND TEAM in New York City: On Saturday, May 3rd, over 50,000 men, women and children make their way from Times Square to Central Park in an amazing display of support for women battling cancer. Team #23 is The Actors' Fund Team. Everyone is encouraged to walk or run with Team #23 which needs at least 150 walkers and runners to sign up and pay the registration fee ($20) in order to continue to be designated as a beneficiary. Last year The Fund received almost $80,000 in critical funding for their Phyllis Newman Women's Health Initiative. The event includes live music, plenty of food and drink, and fabulous goodies - including a special Actors' Fund hat and shirt!. Team leader Joanie can be reached at 212.221.7300 x 134.

THE KENNEDY CENTER 11th ANNUAL GALA FASCINATIN' RHYTHM a tribute to George Gershwin is the place to be on Sunday, April 27. The star-studded lineup includes; Michael Feinstein, Patti LuPone, Leonard Slatkin, Megan Mullally, Tommy Tune, The Manhattan Rhythm Kings, The Morgan State University Choir, The National Symphony Orchestra, Nilas Martins and Miranda Weese of the New York City Ballet

For over a decade now, the Kennedy Center Annual Gala has helped to raise vital funds to provide the necessary resources that enable the performing arts to remain in our Nation's capital. The event's proceeds assist the Kennedy Center in reaching nearly six million young people and their families each year through the Center's performances, community outreach and national education programs.

Gala Chairs Connie and David Girard-diCarlo are planning a festive weekend of events, featuring a VIP reception on Saturday evening and the gala dinner and performance in the Concert Hall on Sunday. Also, newly added to this year's events, there will be a Martini and Dancing Party where you can dance to the swingin' sounds of Big Ray and the Kool Kats, following the performance.

PARKINSON'S UNITY WALK takes place Saturday, April 26, with Michael J. Fox, Kim Cattrall, Heather Graham, Brian McKnight, Ricki Lake, Willie Nelson and James Taylor leading the Central Park procession. Proceeds will be split among the Michael J. Fox Foundation for Parkinson's Research, the American Parkinson's Disease Association, and other major Parkinson's foundations.

2003 SPOTLIGHT SPECTACULAR! a benefit for the Huntington Theatre Company in Boston at The Westin Copley Place on. April 28.

Andrea Martin, Victor Garber and Ron Rifkin appear. The proceeds of the event go to support the company's youth, education, and community outreach programs.

Cocktail reception and silent auction followed by dinner, entertainment, and a live auction. Andrea Martin will serve as Mistress of Ceremonies.


1200 POUNDS OF STYLE, GRACE AND POISE
Tons of good looking horse flesh trotted into Las Vegas this past week for The World Cup Final, held at the Thomas and Mack Center. This is an annual showdown among the top show jumping riders in the world, all competing for the prestigious title of World Cup Champion and a $450,000 purse. This is the fifth World Cup Final held in the United States. Previous Finals were held in Baltimore (1980), Tampa (1989), Del Mar (1992) and Las Vegas (2000).

Forty-two riders including 12 women from 16 countries qualified to compete. The United States has 11 riders, including six women.

Three-time Show Jumping World Cup champion Rodrigo Pessoa of Brazil became the first World Cup rider ever to "three-peat" when he won the FEI Show Jumping World Cup Final for the third consecutive year at the Budweiser World Cup 2000 in Las Vegas. He had previously won the title in 1998 in Helsinki, Finland and in 1999 in Gothenburg, Sweden.

Robert Smith is Great Britain's sole representative. He is riding Di and Pennie Cornish's 9-year-old Dutch bred stallion, Marius Claudius.

American show jumper Peter Wylde, individual Bronze Medallist in the Show Jumping World Championships at the 2002 World Equestrian Games (WEG), was granted a Wild Card spot to compete. When he competed at WEG in Jerez de la Frontera, Spain last September, Wylde became the first U.S. show jumping rider to qualify for the Final Four since 1990.

In addition to Wylde, the U.S. has 13 other riders competing the top eight riders from the East Coast League and the top four from the West Coast plus Robert Chelberg, an American living in Prague who qualified from the Central European League.

Female Leslie Howard, 5 feet, 5 inches, 120 pounds, won the 1986 World Cup show jumping championship and was on two medal-winning teams for the U.S. in the Olympics. She is among 41 riders competing this week. Her mount, Priobert de Kalvarie, is a 10-year-old brown gelding - 6 feet high at the shoulders and 1,200 pounds.

It hasn't all be jump and trot. Last night Melissa Etheridge headlined the Equestrian AIDS Foundation fund-raiser at The Joint in the Hard Rock Hotel. She performed three songs at a benefit for The Ride For Hope, sponsored by the Equestrian Aids Foundation and Herman Wolfson Partners. Jamie Krauss, daughter of Joan Lunden, helped organize the event, along with Ashley Herman and Heath Wolfson

Famed New York disc jockey Todd Malice helmed the event.

Those attending included Joan Lunden, Steven Spielberg and wife Kate Capshaw Spielberg, along with Susan and Georgina Bloomberg, the former wife and daughter of New York City Mayor Michael Bloomberg.

The Foundation was created to anonymously embrace those afflicted with HIV or AIDS in need of assistance. The organization stresses, "it doesn't matter if you're an announcer, an official, a judge, a farrier, a veterinarian, a trainer. It doesn't matter if you take care of horses or ride on the A circuit or in a backyard. It doesn't matter if the horses are English, Western, race, drive, are appaloosa or Arab."



WRITER'S BLOCK two one-act plays written and directed by Woody Allen. The plays are entitled Riverside Drive takes place on Manhattan's Upper West Side, while the second, Old Saybrook is set in Connecticut.

The cast includes Tony award winner Bebe Neuwirth, Paul Reiser, Kate Blumberg, Annabelle Gurwitch, Clea Lewis, Richard Portnow, Grant Shaud, Skipp Sudduth, Jay Thomas and Christopher Evan Welch.

This world premiere, off Broadway at the Atlantic Theater Company, also marks Allen's theatrical directing debut.

Scenic Design is by Santo Loquasto. Lighting by Jim Ingalls Costumes by Laura Bauer

Previews begin Wednesday, April 23 with opening night slated for May 15.

BOUNCE formerly titled Gold!, - which was called Wise Guys! in an earlier workshop - the new musical by composer/lyricist Stephen Sondheim and John Weidman with director Harold Prince opens at the Kennedy Center in Washington, D.C. as part of their theatre series. Tickets priced at $25-$90 go on sale August 11. The work is based on the life of brothers Wilson and Addison Mizner, whose schemes and exploits stretch from the Alaska gold rush of the 1800s to the Florida land boom of the 1920s.

The world premiere takes place at the Goodman Theatre in Chicago, officially opening June 30. Howard McGillin, is leaving his starring role in the Broadway production of Phantom of the Opera to star in Bounce. Also in stars slots are Richard Kind and Michele Pawk replacing Faith Prince who dropped out last month.

THE LAST EMPRESS the epic musical spectacular with music by Hee Gap Kim, written by Mun Yol Yi, and directed by Ho Jin Yun. The musical, which is sung in Korean with English super-titles, was the first musical from Asia to be presented on Broad way in 1977.

Tae Won Yi, a Juilliard trained coloratura mezzo-soprano, stars as Queen Min. With over 600 lavish costumes and a cast of 40, The Last Empress tells the story of the empress who tried to open Korea to world trade until her assassination by Japanese samurais at the turn of the 20th century.

The Last Empress opened April 18th with performances through May 4 at The Kodak Theatre in Hollywood.

AN AMERICAN DAUGHTER by Pulitzer Prize-winning playwright Wendy Wasserstein who crafted this political comedy about a scandal that jeopardizes a woman's nomination as Surgeon General. Arena Artistic Director Molly Smith directs. Presented on the 816-seat theater-in-the-round Fichandler Stage.

Robert Prosky and Laurie Kennedy star in this revised staging. The cast also includes David Fendig, Gail Grate, J. Fred Shiffman, Holly Twyford, Alex Webb, Damon Gupton, Tyee Thilghman, and Tuyet Thi Pham.

The Arena Stage, Washington, D.C. April 25-June 1.

Arena Stages was the first regional theater to send a production to Broadway - The Great White Hope.

Now under the leadership of Molly Smith, Arena produces eight plays a year, sponsors new play development programs and hosts visiting productions in the Old Vat Room. Arena's mission, says Smith, is to stage "plays of all that is passionate, exuberant, deep and dangerous in the American spirit."


WHO'S WHERE


BEYOND CATEGORY: T.S. MONK The world-class musician and bandleader is son of the legendary Thelonius. To celebrate what would have been the elder Monk's 85th year, T.S. presents newly discovered compositions by his father. The John F. Kennedy Center for the Performing Arts in Washington, D.C. on April 25.

DON RICKLES opens Friday at the Tropicana Hotel in Atlantic City for a three night stand. Rickles returns to the Stardust Hotel in Las Vegas on May 29. During his last Stardust gig Rickles was visited by Nathan Lane, who made his first trip to Las Vegas specifically to see Rickles perform. Lane called Rickles his idol. After the show the two had an opportunity to eat dinner and talk.

ITZAK PERLMAN the violinist who inspires, affection and admiration brings his talent and delightful personality to the stage of the Paramount Arts Center in Aurora, Illinois on April 24.

PETER CINCOTTI still shy of his 20th birthday, the popular and talented baritone/piano player performs as part of the Wolf Trap's Cabaret series. April 25 at the Wolf Trap Barn in Vienna, Virginia.

TONY BENNETT on stage Saturday at Caesars Tahoe Resort.

BOB NEWHART telling funny stories Friday in Dover, Delaware at the Schwartz Center for the Arts and on Saturday in Greensburg, Pennsylvania at the Palace Theatre.

TIM CONWAY AND HARVEY KORMAN in their Together Again Tour on stage Friday at the Riverside Theatre in Milwaukee and on Saturday at the Paramount Arts Center in Aurora, Illinois.

LORRIE MORGAN in the spotlight Friday in Lancaster, Pennsylvania at the American Music Theatre.

LEON RUSSELL AND JOE COCKER perform Monday, April 21, in Oklahoma City, at the Coca Cola Bricktown Event Center.

ELLEN DeGENERIS getting laughs Monday, April 21, at Ruth Eckerd Hall in Clearwater, Florida. On Wednesday she will be on stage at the Raymond Kravis Center, Dreyloos Hall in West Palm Beach, Florida. On Thursday the show shifts to the Landmark Theatre in Syracuse, New York and Ellen ends the week, Saturday, at Massey Hall in Toronto, Ontario.

GEORGE WINSTON entertaining Monday in River Fall, Wisconsin at the University of Wisconsin. On Wednesday he is in the spotlight at the Reif Art Center in Grand Rapids, Minnesota and on Friday the performance is at the Mayo Civic Center in Rochester, Minnesota.

WILLIE NELSON opens a two nighter this evening at Neptune's of Boston in Fort Myers, Florida. On Tuesday he'll be singing his hits and telling stories at The Palace in Gainesville, Florida. On Wednesday he can be enjoyed at The Moon in Tallahassee, Florida. Saturday finds him in the spotlight in Helotes, Texas at the Floores Country Store.

BLIND BOYS OF ALABAMA perform Saturday at the Festival Concert Hall in Fargo, North Dakota.

YANNI on stage Friday in Houston, Texas at the Compaq Center. Saturday finds him in Bossier City, Louisiana at the Century Tel Center and next Sunday in Austin, Texas and the Frank Erwin Center.

DIANE SCHUUR the legendary pianist & vocalist performs April 22 - 27 at the BB King Blues Club in New York City.

KEELY SMITH performing at Feinstein's at the Regency from April 27 to May 19. She will be singing selections from her latest CD, Keely Swings Basie-Style, plus some old Vegas favorites.


PIFFLE AND PROFUNDITIES


PLAYBOY'S 50TH ANNIVERSARY PLAYMATE SEARCH is coming to Las Vegas this week tempting the young and beautiful with "picture yourself surrounded by potential Playboy playmates and capturing it all with stand-ups and live shots."

Through July 17, Playboy is training their lenses on 20 cities across the U.S. and Canada to conduct Playmate tests on location.

If this isn't for you, but you know someone who fits the bill, you could win a $5000 finder's fee for bringing the actual winner Playboy.

Playboy will interview and photograph prospective Playmates at Jillian's Las Vegas on Wednesday and Thursday, followed by parties and fashion shows. The VIP party Friday is by invite only.

Auditions also take place April 23-24 at Le Meridien in Dallas, Texas.
















Next Column: April 27, 2003
Copyright: April 20, 2003. All Rights Reserved. Reviews, Interviews, Commentary, Original Photographs or graphics from any Broadway To Vegas (TM) columns may not be published, broadcast, rewritten, utilized as leads, or used in any manner without permission, compensation and/or credit.
Link to Main Page
---
Laura Deni


CLICK HERE FOR COMMENT SECTION