Broadway To Vegas
  
 SHOW REVIEWS CELEBRITY INTERVIEWS GOSSIP NEWS

| | |
| --- | --- |
| | |
CELEBRATING SAMUEL BECKETT'S 100th BIRTHDAY - - INSTANT GRATIFICATION - - SHELTON HARNICK AT LYRICS & LYRICISTS - - KANSAS CITY GALA WITH LYNN REDGRAVE - - GRACELAND BECOMES NATIONAL MONUMENT - - DRESSED TO KILT HAS SEAN CONNERY - - PIXAR'S 20 YEARS OF ANIMATION - - FLORENCE HENDERSON HOSTS THE 30TH ANNUAL CARBONELL AWARDS - - DONATE . . . Scroll Down


THE 100th ANNIVERSARY OF THE BIRTH OF SAMUEL BECKETT
Samuel Beckett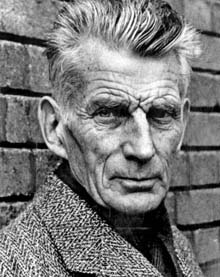 Nobel laureate and one of the great artists of the twentieth century, Samuel Beckett, is being celebrated as the anniversary of his 100th birthday approaches.

Emory University and Atlanta are celebrating the centennial of the Irish writer's birth with a yearlong collaborative festival of films, workshops lectures and theater productions of most of Beckett's dramatic canon.

Emory has joined with Atlanta area theaters that have been producing Beckett's plays for nearly 50 years since Waiting for Godot and Endgame had their debut at the Academy Theater in 1960. The 1987 festival, Beckett/Atlanta, brought together Atlanta theaters to produce Beckett's plays in the common space of The Performance Gallery.

Now, with a new generation of artists working along side those who have produced Beckett for years, productions of Beckett plays and related works are running through May, and September through November, with artists sharing spaces and audiences sharing views.

Events are planned for cities around the world, but Atlanta's Year of Beckett 2006 celebrates its longstanding connection to the writer. Since 1990, the project to edit The Letters of Samuel Beckett has been based in Emory's Graduate School of Arts and Sciences. Edited by Martha Dow Fehsenfeld and Lois More Overbeck, the four-volume edition will be published by Cambridge University Press in 2007.

In New York City the 82nd Street Y Poets' Theatre in Association with Nine Circles Chamber Theater presents

Robert Scanlan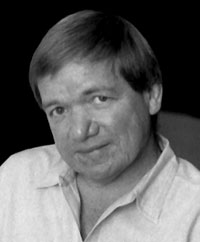 Beckett at 100, the world premiere of new versions of three little-known plays by Beckett originally written and produced for BBC radio and television: Cascando and Words and Music both commissioned by the BBC as radio plays, and both address Beckett's fascination with the interplay of language and music. ...but the clouds... was written for television in 1976. The performance runs one night only, on Monday, April 3.

The three plays are helmed by veteran director and Harvard theater professor Robert Scanlan, who worked closely with Beckett on several productions during the last nine years of the playwright's life. These new versions of the plays feature new music co-commissioned by Nine Circles Chamber Theater and the 92nd Street Y, and composed by Martin Pearlman, founder and musical director of Boston Baroque. The production stars actors Bill Camp and Mickey Solis and violinist Gil Morgenstern, co-artistic director of Nine Circles Chamber Theater. Beckett at 100 was originally presented in a workshop format at An Appalachian Summer Festival last summer.

In Europe, The Beckett Centenary Symposium is considered a major international occasion taking place at Trinity College April 5-9 in the Samuel Beckett Centre.

Participants include eminent scholars and artists worldwide as speakers and panelists. It will also feature an academic conference of the Beckett Working Group of the International Federation for Theatre Research. The Symposium is associated with the other Samuel Beckett Centenary Festival events, including a Beckett Festival at the Gate Theatre, screenings of the Beckett films at the Irish Film Institute, and exhibitions at the Trinity Library, the National Gallery, the Irish Museum of Modern Art, the Royal Hibernian Academy, the Douglas Hyde Gallery, and elsewhere.

In 1991 the Gate Theatre held the first Beckett Festival, producing all 19 of Samuel Beckett's stage plays. It then toured to Lincoln Center in New York City in 1996 and subsequently invited to the Barbican Centre in London in 1999. This April, the Gate will play a major role in Ireland's celebrations to mark the centenary of Samuel Beckett's birth, producing a selection of Beckett's stage plays in Dublin and will join forces once again with the Barbican to present these plays simultaneously in London. Beckett on Stage includes Ohio Impromtu, directed by Nick Dunning and Rockaby, directed by Loveday Ingram starring Siân Phillips has preview performances on April 5 and officially opens April 6th.



A reprise of the acclaimed production of Krapp's Last Tape, starring John Hurt has 7 performances only April 18-22 at The Gate Theatre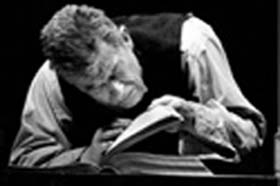 Endgame, directed by Charles Sturridge goes into previews on April 11 and opens April 13 at The Gate Theatre in Dublin.

Beckett was born on Good Friday, April 13, 1906 in a suburb of Dublin. From a Protestant and Anglo-Irish background, at the age of 14 he was packed off to the Portora Royal School, in what became Northern Ireland, a school that catered to the Anglo-Irish middle classes.

Beckett graduated with a degree in Modern Languages from Trinity College Dublin in 1927. He accepted an honorary doctorate from Trinity in 1959, and in 1986 agreed to naming the new drama department as The Samuel Beckett Centre, in honor of his 80th birthday.

On graduating from Trinity, Beckett obtained a two-year exchange post as a lecturer in Paris at the Ecole Normale Supérieure. There he met the self-exiled Irish writer James Joyce, the author of the controversial and seminally modern novel Ulysses, and joined his circle. Beckett wrote a study of Proust which concluded that habit and routine were the "cancer of time." He returned to Ireland in 1930 to take up a post as lecturer in French at Trinity College, but after only four terms he resigned, in December 1931, and embarked upon a period of restless travel in London, France, Germany, and Italy.

Back in Paris Joyce's eyesight had deteriorated. Beckett became his amanuensis as Joyce dictated what was to become Finnegan's Wake.

However, there is much debate as to whether Beckett actually became Joyce's secretary.

Beckett began his own writings with his first poem, Whoroscope, winning a literary prize.

Reports have Beckett mirroring Joyce - drinking the wine Joyce drank, holding his cigarette in the same affected way and even - with great discomfort - wearing shoes that were too narrow for him in order to ape Joyce's dandy movements.

Then Joyce's mad daughter Lucia - who would eventually undergo a lobotomy and die in an asylum - fell madly in love with Beckett who spurred her advances. That caused a falling out with Joyce that lasted for years. Instead of wooing Lucia, Beckett took as his lover Peggy Guggenheim, the modern art collector and American heiress, whose nickname for him was Oblomov, a Russian literary byword for inertia.

Beckett remained a troubled soul. His father's death, from a heart attack in 1933, deepened Beckett's agony. He journeyed to London for two years of psychotherapy. His therapist took him to hear Jung lecture at the Tavistock about our memories of the womb.

Then in 1938 Beckett was stabbed in the chest by a Parisian pimp, improbably named Monsieur Prudent. He nearly died. It was Joyce who arranged for him to have a private room at the hospital and the pair resumed their friendship.

After a falling-out with his manic-depressive mother, Beckett moved permanently to Paris. War had broken out, but his Irish citizenship allowed him to stay in German-occupied Paris. He joined the French Resistance as a volunteer for the Irish Red Cross and served in France as an interpreter in a military hospital in Saint-Lô, Normandy. His main task was to translate details of German troop movements into English for transmission to London.

But in 1942 his cell was infiltrated by a German agent. Most of its members were arrested by the Nazis. Beckett and his French-born partner for 52-years, Suzanne Descheveaux-Dumesnil who was to become Mme Beckett, (in a secret civic ceremony on September 17, 1961) fled their apartment just before the Gestapo arrived.

Later he said that his most famous work, Waiting for Godot, was based on conversations between Suzanne and himself in Roussillon, a bickering couple acting out rituals of dependency and disconnection.

During the war Joyce died, in exile in Zurich. Although literary opposites Beckett inherited the mantle of Greatest Living Irishman.

Beckett had abandoned the language of Joyce for that of his adopted land. His English was too poetic and he wanted greater clarity and greater economy.

It was in French that Beckett then produced his greatest works: It was not until 1951, however, that these works saw the light of day. After many refusals, Suzanne Deschevaux-Dumesnil succeeded in finding a publisher Editions de Minuit for Molloy. When this book not only proved a modest commercial success but also was received with enthusiasm by the French critics, the same publisher and producer Roger Blin, brought out the two other novels and Waiting for Godot. It was the rave reviews a production of Godot - the play, in which, famously, "nothing happens, twice" - received at the small Théâtre de Babylone in Paris, in January 1953, that Beckett's rise to world fame began. Plays for the stage and radio and a number of prose works occupied much of his attention.



1961 handwritten Samuel Beckett letter, written in French, in which Beckett talks about the beautiful country of Ireland and the Irish bureaucracy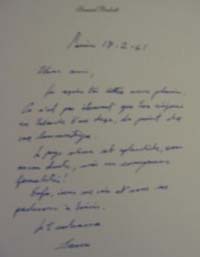 Beckett's work drew on the pain of his personal experience - the impulses behind Endgame are said to be from the agonizing months Beckett spent at the bedside of his dying brother, Frank, in 1954.

In 1969 he was awarded the Nobel Prize. Beckett's dedication to his art extended to his complete avoidance of all personal publicity, of appearances on radio or television, and of all journalistic interviews. When, in 1969, he received the Nobel Prize for Literature, he accepted the award but declined the trip to Stockholm to avoid the public speech at the ceremonies.

Nevertheless, congratulations poured in. A Monsieur Georges Godot (his real name) even wrote from Paris, saying how sorry he was to have kept Beckett waiting.

Even when his 80th birthday was celebrated all around the world. Beckett remained behind closed doors of his I Rue St Jacques apartment only sometimes joining a few close friends for espresso and cigarettes in the neighborhood café.

Emphysema forced him into a nursing home where he spent the last years of his life. Suzanne died in July 1989. Beckett died on December 22 that same year and is buried in the Cimetière du Montparnasse in Paris.


ART AND ABOUT


PIXAR: 20 YEARS OF ANIMATION Ever wondered where Buzz Lightyear and Woody really came from, or how a whole family with superhero powers was imagined? Pixar has been making innovative movies such as Toy Story and The Incredibles for 20 years. Now you can be among the first in the UK to see hundreds of artworks, models and digital paintings from their studios, as well as two amazing audiovisual experiences unique to this exhibition. From rough sketches to finished films, Pixar: 20 Years of Animation takes you behind the scenes to discover the science and magic that created some of the most popular films ever made.

In celebration of the Pixar: 20 Years of Animation exhibition, the Science Museum is staging Talk Animation - a series of speaker presentations by industry insiders, ranging from visual effects experts to animation character developers, giving visitors a deeper understanding of the creativity and technology involved in all aspects of animation.
This week will find Loren Carpenter, Senior Scientist at Pixar Studios, on Monday, April 3, speaking about his Academy Award winning work in creating new technology that has enabled Pixar productions to be so fantastical, yet believable. Loren will also be talking about his work on the jaw-dropping 21st Century Zoetrope, one of the main features of the Pixar: 20 Years of Animation exhibition.

Wednesday, April 5 spotlights Animator Dan Mason who will reveal the creative process at Pixar studios. Dan has been an animator at Pixar Animation Studios since November of 1996 and has worked on all of the feature films including A Bugs Life, Toy Story 2, Monsters Inc., Finding Nemo, The Incredibles and most recently Cars. Dan will also be available to talk about the show-stopping Toy Story Zoetrope, one of the many highlights of the Pixar: 20 Years of Animation exhibition.

On Thursday, April 6, Tia Kratter will talk about her experiences as a digital painter and art director at Pixar. Tia joined Pixar Animation Studios in 1993 as a Digital Painter during production of the studio's first feature film, Toy Story. She has subsequently held the Shader Art Director role on four other films, including the upcoming Disney presentation of a Pixar film Cars.

The exhibit opened April 1 and continues to June 10 at The Science Museum in London.


HOME SWEET LANDMARK
Graceland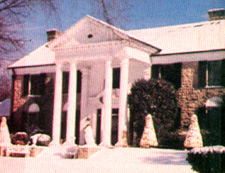 Elvis Presley's world-famous Graceland home in Memphis, Tennessee will become a national monument, in recognition of its iconic status.

The 21-room Colonial Revival-style mansion in Memphis that was Presley's home from 1957 until he died there at age 42 in 1977, was designated a National Historic Landmark last Monday.

Joined by Presley's former wife, Priscilla Presley, Interior Secretary Gale Norton made the announcement on the 13.8-acre grounds of the home Presley bought for $103,000 with proceeds from his first hit, Heartbreak Hotel. The National Historic Landmark designation, given to more than 2,000 sites, is the highest recognition accorded by the United States to historic properties. They are deemed places where significant historical events occurred, or where prominent Americans worked or lived, and represent ideas that shaped the country. "American culture and music changed irreversibly because of Elvis," Norton said.

"Graceland is so famous it is arguable that on a worldwide basis, it is the second most famous home in America," Elvis Presley Enterprises chief executive Jack Soden stated. "You go to the far corners of the Earth, and they don't really know what Mount Vernon or Monticello or Hearst Castle are, but they know what Graceland is. It is kind of in a class of its own."

An inauguration ceremony will take place at Graceland in the near future. It currently attracts over 500,000 tourists a year.



THE 30TH ANNUAL CARBONELL AWARDS

takes place Monday, April 10th at The Broward Center for the Performing Arts, hosted by Florence Henderson.

The Carbonell Awards presentation is a benefit to raise funds for college scholarships for South Florida arts and journalism students. Created By Internationally Renowned Sculptor Manuel Carbonell, The Carbonell Awards' solid bronze statuette on a marble base is a rare work of art among regional awards, designed to recognize special achievement in all artistic disciplines throughout South Florida, including the finest of approximately 150 annual regional and touring theater productions, their creators, performers and designers.

Henderson will be joined by a parade of top local and national entertainers in this special anniversary edition that traces the development of South Florida's theater community back to its beginnings.

Uber event planner and restaurant impresario Barton G. Weiss has offered the garden of his award-winning Miami Beach restaurant to host the Carbonell Awards' annual Nominee & Sponsor Reception on Monday, April 3. This invitation-only event is the setting for the Carbonell Awards' unique and distinctive tradition recognizing each of its nominated artists, as well as program sponsors and participating theaters, in a classy and congenial atmosphere with its own cachet. Produced, directed and choreographed by Jean Ann Ryan. Music provided by The Peter Graves Orchestra conducted by Peter Graves who serves as Musical Director for the event.

The annual award ceremony and related events are also benefits for the Carbonell Award Scholarship Fund, which has distributed over $100,000 to local arts students over the program's history, including $7,500 in 2005.



Broadway To Vegas is supported through advertising and donations. Priority consideration is given to interview suggestions, news, press releases, etc from paid supporters. However, no paid supporters control, alter, edit, or in any way manipulate the content of this site. Your donation is appreciated. We accept PAYPAL. Thank you for your interest.


SWEET CHARITY


KANSAS CITY REP'S GALA WITH LYNN REDGRAVE

Lynn Redgrave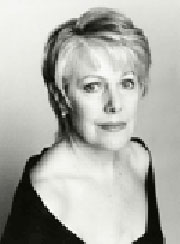 Nightingale, the one-woman play written by Ms. Redgrave was inspired by memories of her maternal grandmother and is a tribute to family and friendship.

This Monday, April 10, benefit for the Rep is a rare opportunity to see Ms. Redgrave perform her play.

The event will be held at the Folly Theater and will begin with a reception.

The Rep's fundraising gala raises critically needed funds to further Kansas City Repertory Theatre's education and community outreach programs as well as supporting artistic excellence at the Rep.

Monday, April 10, Kansas City, MO.

100 YEARS OF THE JUILLIARD SCHOOL - A GALA CELEBRATION A Benefit Concert and Dinner-Dance at The Juilliard School takes place Monday, April 3. This gala black-tie Centennial Celebration is chaired by Cynthia and Dan Lufkin and will begin with a cocktail reception, followed a 90- minute Live From Lincoln Center telecast, featuring performances of dance, drama and music by renowned Juilliard alumni, including actors Laura Linney and Bradley Whitford, sopranos Renée Fleming and Leontyne Price, pianist Emanuel Ax, jazz artist Wynton Marsalis, violinist Itzhak Perlman, conductor John Williams, and choreographer Adam Hougland, as well as the Juilliard String Quartet and student ensembles. The evening ends with a dinner dance.

Lincoln Center in New York City.

DRESSED TO KILT 2006 is an annual evening of fashion and fun which benefits Friends of Scotland, a national charity dedicated to advancing contemporary Scottish interests and meeting contemporary Scottish needs in the United States. Sir Sean Connery, Tatum O'Neal, Anne Hathaway, Stone Phillips will join in celebrating Scottish fashion and fun as well as be there to honor Vivienne Westwood for her contribution to Tartan and Scottish design.

The evening will include a VIP reception, live music, dancing, celebrity models and judges as well as surprise celebrity guests. Wear something Scottish to this event at the Synod Hall, the Divine Cathedral Garden, in Manhattan.

COMEDY CARES III a showcase featuring some of the finest talent in comedy; hosted by Jim David of Comedy Central Presents and Tough Crowd with Colin Quinn. This years' event will include the hilarious, live comedic talents of Susie Essman, John Pinette, Judy Gold, Larry Amoros and Bob Smith. The performance benefits Broadway Cares.Equity Fights AIDS.

April 3 at Caroline's on Broadway, NYC.


OTHER PEOPLE'S MONEY


BRISTOL RIVERSIDE THEATRE is venturing into the world of eBay! We have listed three of our favorite specialty items from the 2005-2006 Season for auction, which next Tuesday, April 4.

One of the main reasons the Bristol, PA venue is selling off set pieces, props, costumes and furniture is that they "have a severely limited amount of storage space to keep specialty items after a show closes. Our Production Staff may spend days and weeks building these items and it breaks our hearts to have to dismantle and dispose of our labors of love. Some items, however, are so specific to a production that it is unlikely we will ever use them again, and to keep them would just consume valuable space needed for more generic items."


SPREADING THE WORD


INSTANT GRATIFICATION The Golden Age of Polaroid Advertising. Recognize that banter? We bet you do, because for nearly a decade James Garner and Mariette Hartley - the most famous celebrity nonmarriage in advertising history (many thought they really were married) - waged their genial battle of the sexes in our living rooms with dialogue just like it, all on behalf of Polaroid's OneStep cameras.

From the fifties through the mideighties - Polaroid's golden age - the company was the Apple of its time, creating cutting-edge cameras and film and teaming with the fearless agency Doyle Dane Bernbach to market those products with groundbreaking ads that drew on humor, sophistication, emotion, and an impressive array of celebrity endorsers.

On Tuesday, April 11th in person: Alan Alda, Mariette Hartley, Phyllis Robinson, Original Copy Chief, DDB, Ted Voss, Fmr. Grp. VP, Worldwide Marketing, Polaroid Corp and Peter C. Wensberg, Fmr. Sr. VP, Polaroid Corp. Moderator: John Bernbach, President and COO, NTM, Inc. The panel will discuss the golden age of Polaroid and its storied advertising history.

Instant Gratification - The Golden Age of Polaroid Advertising is a Museum-produced compilation (running time: 75 minutes) comprises Polaroid's most celebrated television and print ads of the time and interviews with the people who conceived and produced them:

* Jack Paar pitching Land cameras
* A then-unknown Ali MacGraw cavorting on a beach to one of advertising's catchiest jingles, "Meet the Swinger"
* The classic James Garner/Mariette Hartley duets for the OneStep
* Lord Laurence Olivier touting the revolutionary SX-70 camera
* Alan Alda—still in his Hawkeye Pierce days—hawking the Pronto!

Screenings will take place April 7 to July 9 at The Museum of Television and Radio in NYC.

LYRICS & LYRICISTS concert at the 92nd Street. Y. Award-winning lyricist Harnick - of She Loves Me and Fiddler on the Roof fame - will host the April 8-10 concerts, which will feature musical direction by Rob Fisher. Performers for the weekend of five concerts are set to include Judy Kuhn, Emily Skinner, Lewis Cleale and John Ellison Conlee.

Other People's Lyrics will explore some of the lyrics - and lyricists - that influenced Harnick and won his admiration. Concertgoers can expect to hear songs by Gilbert and Sullivan, Burt Bacharach and Hal David, Stephen Sondheim and Kander and Ebb as well as tunes from City of Angels and Rent.

April 8-10 at The 92nd Street Y in NYC.

HIP HOP UNBOUND NYU Skirball Center presents a festival of music, theater, dance, video, fashion, politics and ideas celebrating and re-examining thirty years of hip-hop as a cultural force.

Kicking off the April 3-15 festival on Monday, April 3 is a discussion with the creative team behind Planet Rock - a classic hip-hop recording by Afrika Bambaataa and the Soul Sonic Force.

For the first time in a live setting, "The Making of 'Planet Rock'" will bring together the original creative team behind the classic Afrika Bambaataa and the Soul Sonic Force recording. Artists, producers, engineers, record company executives and special guests reflect on the making of the record, more than 20 years after its release.

On April 4 go behind the scenes with beatbox movement pioneer Kid Lucky and NU VOICES, a 14-piece human beatbox orchestra. From vocal scratching to scatting to Tuvan throat singing, the all-star vocal band will demonstrate mouth-watering original improvisations, combined with urban dance remixes.

A two-part evening celebrating women and hip-hop dance from New York City featuring Decadancetheatre and Full Circle Productions takes place April 6-7. All events are at the Jack H. Skirball Center for the Performing Arts New York University, NYC.



THE FORCE OF CHANGE

John Montana and Peggy Goss. Photo by Ed Krieger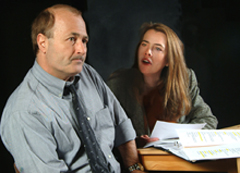 American Premiere. Written by Gary Mitchell. Directed by John Swanbeck.

A taut, political thriller and an unflinchingly honest chronicle of life within the Protestant community of Northern Ireland. Set in a Belfast police station where the threat of violence is always present, a woman detective struggles to overcome her colleagues' resistance to her investigation of criminal activity within the UDA (Ulster Defence Association), uncovering a hidden world of sexism, betrayal, and entrenched corruption. Originally staged at London's Royal Court, Force earned playwright Gary Mitchell the Evening Standard's "Most Promising Playwright" Award.

Ironically, playwright Mitchell and his family have been in hiding since last November, when threats from the UDA forced them to leave their home in Belfast.

Featuring Rick Crawford, Peggy Goss, Brandan Halpin, Kevin Kearns, Barry Lynch and John Montana.

Set and Lighting Design by Russ Borski.

Continues through May 7 at the McCadden Place Theatre in Hollywood CA

HAIRSPRAY which currently stars Harvey Fierstein and Dick Latessa in the Las Vegas production at the Luxor Hotel will welcome to the cast on May lst Paul Vogt as Edna Turnblad and Eddie Mekka plays husband Wilbur. Harvey Fierstein and Dick Latessa, Tony Award winners for Broadway's Hairspray only agreed to perform the first 12 weeks of the Vegas production, which began Feb. 6.

PHANTOM OF THE OPERA the Las Vegas version dubbed "The Las Vegas Spectacular" has double cast leads. Donning the famous phantom mask will be Tony Award winner Anthony Crivello and Broadway veteran Brent Barnett. Ingénue "Christine" will be played by Sierra Boggess and Elizabeth Loyacano. Musical Diva "Carlotta" will be played by Elena Jeanne Batman and Geena Jeffries.

Tickets go on sale April 9. The 95-minute production, which will include every song from the original Broadway version, opens in previews June 4 in a new, $40 million theater at The Venetian Hotel.

MALACHY McCOURT America's great Irish actor and storyteller performing First Confession by Frank O'Connor. with performances by Candy Brown performing Enough by Alice McDermott, Kathleen Brady performing Christ in the House of Martha and Maryby A.S. Byatt, Randy Moore performing Dead Men Don't Need Safe Sex by Stephen Dobyns. April 9 at the Stage Theatre Denver Center for the Performing Arts Denver, Colorado.

ABOUT TIME Faced with the reality of aging, a long-married couple grapple with love and life throughout the course of one day, from breakfast through a late night snack. As they bicker over meal preparation, their grown children and their sex life, they reveal a love that is both complex and extraordinary.

Starring Theodore Bikel, who has twice been nominated for Tony Awards.

April 4-9 at the Parker Playhouse in Ft. Lauderdale, FL.

THE EMPRESS AND HER NEW CLOTHES book & lyrics by Lori Marshall and Joseph Leo Bwarie. Music by Rachael Lawrence. Directed by Joseph Leo Bwarie.

In honor of Fashion Week, the Falcon Theatre is proud to announce the long-awaited return of its children's series with the World Premiere musical, The Empress and Her New Clothes.

Break out your berets! This colorful clothing caper takes us to Paris, France and the "Passion for Fashion" competition for teenage clothing designers. Ooh la la! Empress Genevieve goes undercover, only to find that a pushy girl from Malibu has a sneaky trick up her sleeve.

Things start to unravel when her clothing designs are stolen and 'invisible' outfits dance down the runway in this fashionable new musical. Sacr bleu!

April 8 - May 28 at the Falcon Theatre in Burbank, CA.



WHO'S WHERE


NATIONAL SYMPHONY ORCHESTRA Leonard Slatkin, conductor. Emanuel Ax, pianist. As the orchestra of the U.S. capital, the National Symphony regularly performs at events of national and international importance, including state occasions and presidential functions. Now in its 75th season, under the direction of Maestro Slatkin, the National is acknowledged as one of the world's finest orchestras. Tuesday, April 4, at the State Theatre in New Brunswick, N.J.

BILLY JOEL headlines the American West Arena in Phoenix, AZ on Monday, April 3. On Wednesday he's in the spotlight at the Staples Center and on Saturday he'll be delighting crowd at the MGM Grand Garden Arena in Las Vegas.

GENE PITNEY continues his European tour this week with a stop Tuesday, April 4 in Cardiff, UK at St. David's Hall. On Wednesday this performance will be in Bristol, UK at Colston Hall. On Friday the show is in Liverpool, UK at Philharmonic Hall. Saturday he'll be on stage in Glasgow, UK at the Royal Concert Hall. Next Sunday he can be enjoyed in Edinburgh, UK at Usher Hall.

WAYNE SHORTER performs Tuesday, April 4 at Finney Chapel in Oberlin, Ohio. On Thursday the show is at the Detroit Orchestra Hall in Detroit.

BIG BAD VOODOO DADDY performs Thursday, April 6 at B.B. King's Blues Club in NYC. On Friday they open a two night stand at the Mohegan Sun Casino in Uncasville, CT.

MAYNARD FERGUSON AND THE BIG BOP NOUVEAU on stage Tuesday, April 4 at Waseca High School in Waseca, MN. Friday finds them at Woodhaven High School in Brownstown, MI. Next Sunday they are in the spotlight at Goshen Middle school in Goshen NY.

LEANN FINES appearing with Country Thunder at Country Thunder USA in Florence, AZ on Wednesday, April 5. On Thursday she is at the San Manuel Indian Bingo & Casino in Highland, CA. Friday's performance is at the Casablanca Resort in Mesquite, NV and next Sunday she is on stage at the Robinson Rancheria Casino in Nice, CA.

JEFF BECK performs this evening Sunday, April 2, at The House of Blues in Las Vegas. Then he's on stage Tuesday at the Weekly Warfield in San Francisco. Friday the show is at the House of Blues in West Hollywood and Thursday he can be enjoyed at 4th & B in San Diego.

MICHAEL BUBLE entertaining the fans Tuesday, April 4 at Merrill Auditorium in Portland, ME. On Wednesday he's in the spotlight at Dunkin Donuts Civic Center in Providence, RI. Friday finds the show at the Palace Theatre in Albany, NY. On Saturday he'll get getting standing ovations at Turning Stone Casino in Verona, NY. Next Sunday he's on stage at the Hippodrome Theatre in Baltimore, MD.

BILL CHARLAP had a two night gig Thursday and Friday at Colgate University in Hamilton, NY.

COLDPLAY performs Monday, April 4 at the Verizon Wireless Arena in Manchester, NH. ON Tuesday the show is at the Mohegan Sun Casino in Uncasville, CT and on Thursday they are on stage at the Wachovia Center in Philadelphia.

PRESERVATION HALL JAZZ BANDOAK RIDGE BOYS singing their hits Saturday at the Weill Center in Sheboygan, WI.

GEORGE JONES in a two night stand Friday and Saturday at the Renfro Valley Entertainment Center in Renfro Valley, KY.

B. B. KING and his guitar, Lucille, tonight are on stage at the International Centre in Bournemouth, UK. On Tuesday the performance is at the Wembley Arena in London.

LOU CHRISTIE putting the crowd in a good mood Saturday at the Grand Opera House in Wilmington, DE. Next Sunday he's in the spotlight at the Bergen Performing Arts Center in Englewood, N.J.

CHRIS BOTTI tonight wraps up his Orleans Hotel engagement in Las Vegas. On Wednesday he opens a five night engagement at Dimitriou's Jazz Alley in Seattle.

LARRY GATLIN AND THE GATLIN BROTHERS opens a three night gig at the Lied Center in Lincoln, Nebraska on Friday, April 7.

JOHN PIZZARELLI brings his talents to the Lobero Theatre in Santa Barbara, CA on Thursday, April; 6. On Friday he's on stage at the Sunset Center in Carmel, CA. Saturday finds him at the Herbst Theatre in San Francisco.

LILY TOMLIN getting laughs Friday, April 7, at the Overture Center for the Arts in Madison, WI. On Sunday, April 8, she'll be telling funny stories at the Lincoln Theatre in Yountville, CA.

THE IRISH ROVERS opens a two night stand Thursday at Sanderson Centre in Brantford, ON. On Saturday they'll get toes tapping at the Kiwanis Theatre in Chatham, ON.

GWEN McCRAE for over three decades Gwen has won worldwide acclaim for her sensuous, classy brand of modern soul music. She was a pioneering figure in Miami's growth as a center of R&B music in the 70's at the influential TK Records and became an international star in 1975 with the chart-topping, million-selling success of the Grammy-nominated Rockin' Chair. McCrae is currently touring the UK. She can be enjoyed at The Jazz Cafe in London on Saturday, April 8.

IN THE MOOD for the popular music and songs of the late 1930's and 1940's?

Come catch the swinging rhythms of the 1940's musical revue In The Mood.

Experience the sounds of time-honored classics such as Boogie Woogie Bugle Boy, Chattanooga Choo Choo and I'll Be Seeing You as performers bring to life one of America's most celebrated generations.

With singing, dancing, costumes and a big band orchestra.

April 6 at Klein Memorial Auditorium in Bridgeport, CT.


PIFFLE AND PROFUNDITIES


CHER has a party house in Las Vegas - although it is reported that she only visits the digs about twice a year. Located in an exclusive Del Webb property, there is a movie screening room with 16 posh seats plus a bar and an old fashioned popcorn machine, an adjoining room full of video game machines and a pool table room.

KIRK DOUGLAS attended the Palm Springs Follies last week with his wife, Ann, and his son and daughter-in-law, Joel and JoAnn Douglas.
















Next Column: April 9, 2006
Copyright: April 2, 2006. All Rights Reserved. Reviews, Interviews, Commentary, Photographs or Graphics from any Broadway To Vegas (TM) columns may not be published, broadcast, rewritten, utilized as leads, or used in any manner without permission, compensation and/or credit.
Link to Main Page
---
Laura Deni


CLICK HERE FOR COMMENT SECTION