! >
Broadway To Vegas
  SHOW REVIEWS     CELEBRITY INTERVIEWS     GOSSIP     NEWS 
LAWSUITS AND RAT STICKPINS

The Rat Pack Is Back the show co-conceived by David Cassidy as a tribute to Frank Sinatra, Dean Martin, Sammy Davis, Jr., Peter Lawford and Joey Bishop has reopened at the Sahara Hotel in Las Vegas, after pending litigation got the curtain dropped on the show at the Desert Inn.



LOUELLA PARSON, who was Hollywood's longest reigning gossip columnist interviewing FRANK SINATRA before he made his debut at the Sands hotel, Las Vegas in 1953.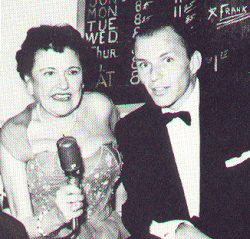 The production is determined not to go away. Also not bowing out is the lawsuit that the estates of Sinatra, Martin and Davis have filed - charging copyright and trademark infringement over the unauthorized marketing of the Sinatra name while the production was at the Desert Inn. Among the items in contention - the room - called The Rat Pack Bar where one could purchase cocktails and drinks named Ol Blue Eyes and Chairman of the Board.

Even as people are being hauled in for depositions, Cassidy's hang tough attitude would have been respected by Sinatra.

The Rat Pack Is Back is a swinging show that gets the audience caught up in the feel of the men and the era that defined Las Vegas entertainment.

How the Rat Pack came about is as much as legend as it is about fact. Judy Garland's daughter Lorna Luft just wrapped up a successful engagement at the Desert Inn. She remembers Sinatra, who was her Godfather, as a family friend, not as a superstar. "Frank Sinatra wasn't a star to me. He was my mother's friend. He was over at the house all the time. I thought he went to everybody's house."



LORNA LUFT remembers how The Rat Pack got their name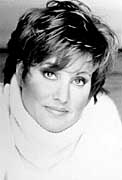 It was the weekly poker playing sessions in the Garland living room that resulted in the labeling of The Rat Pack. "All of the stories you here about how the Rat Pack got started aren't true," said Lorna. "The original Rat Pack was composed of Sinatra, my mother, Humphrey Bogart who lived next door to us and flamboyant agent Swifty Lazaar. The four of them would play poker every week in our living room. The way the Rat Pack got started in my mother's living room because of a lady Hollywood gossip columnist. She tried in the worst way to get invited to the poker parties. She never got invited. So, in one of her columns she wrote: - That lousy Rat Pack had another poker party. - She meant it in a derogatory way.



TONY ORLANDO celebrates birthday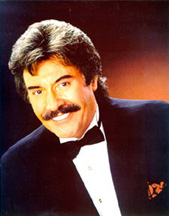 "Swifty came over with the newspaper saying - Hey, did you see what she called us. - To commemorate being called The Rat Pack in print Swifty went out and bought everybody stick pins with a rat on top. I'm looking for my mother's pin. I asked Tina Sinatra if she ever found her father's Rat Pack pin and she said she is still looking for it. Joey Bishop was never part of The Rat Pack. That didn't come until much later."

Also still on the legal playing field are Wayne Newton and Tony Orlando. Their lawsuit stems from a Branson, Mo. theatre that they once shared. Orlando celebrates his 58th birthday Monday, April 3rd, while performing at the Riviera Hotel. Newton won't be at the cake cutting. The Midnight Idol, who now calls The Wayne Newton Showroom at the Stardust Hotel his home, is on vacation. Orlando returns to Branson for limited engagements at the Osmond Theatre. His first stop there this year is May19-20. Newton returns to the Stardust Hotel on April 17.


FOREVER PLAID HEADING TOWARDS TEN

This hilarious musical opened at Steve McGraw's in New York on May 20, 1990, and was written, directed and choreographed by Stuart Ross with musical continuity and arrangements by James Raitt. We fell in love with it then and a decade later are equally enchanted by the production in Las Vegas at the Flamingo Hilton Hotel.


FOREVER PLAID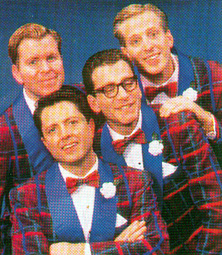 As the saying goes - if it ain't broke don't fix it.

Forever Plaid is the story of four unlikely heros whose dreams of musical glory come true when they miraculously return to earth. This endearing harmony group was "snuffed out mid coda" in a collision with a school bus of eager teens who were on their way to see the Beatles' debut on the Ed Sullivan Show in 1964. Now, through a hole in the ozone layer and some "astro technical stuff" these nerdy creatures with angelic voices come back to do the show they never got to do in life.

This is a wonderfully simple, offbeat and quirky show that makes new memories and rekindles old reminiscences. Touring productions have performed in over 50 cities worldwide and are also utilized by corporations for conventions. When an opportunity comes your way to see this show - don't miss it. We hope it's around for many more decades.


FROM MAID TO LEGEND

Once down on her knees scrubbing floors and later earning a living as a school bus driver, rhythm and blues legend - Tony Award Winner, member of the Rock and Roll Hall of Fame - Ruth Brown - is the subject of a Lake Tahoe, Nevada exhibit by celebrity photographer Charles Adams. The exhibit runs through April 24.



RUTH BROWN

Carson City officials declared a Ruth Brown Day. "This is quite an honor," said the 79-year-old singer, who quipped. "At my age I'll take any honor I can get."

The undisputed Queen of Rhythm and Blues recently performed at The Blue Note in New York, her first stage engagement in over a year. The dynamic artist was recuperating from three major operations since her previous gig.

Last Friday the Las Vegas resident starred in the annual Joe Williams Music Scholarship Fund Raiser Concert at the Clark County Community College in Las Vegas.

Ruth starred in the original Paris production of Black and Blue received the 1989 Tony Award and Outer Critics Circle Award for Best Actress in a Broadway musical. The production also headlined Linda Hopkins and Carrie Smith.

When Ruth knocked out the priceless Hill-Razaf double entendre lyrics to If I Can't Sell It, I'll Keep Sittin On It - about an antique chair - the audiences got up from their chairs and applauded.

To make it to the short list of rhythm and blues legends, Brown rose from incredible adversity to stardom.

Born Ruth Weston in Portsmouth, Virginia, the oldest of seven children whose father was the local church's choir director. She was raised singing gospel, but felt the excitement of what her dock worker father called the devil's music when an uncle brought her some Billie Holiday records. But it was her rendition of The Lord's Prayer, during the Big Band popularity of World War II, that earned her a job at the local USO.

"I got out of the house by saying I was going to choir rehearsal," recalled Brown who was then 15. A year later she had eloped with Jimmy Brown, a Navy midshipman and trumpet player."I found out he was already married. I laugh now, but it wasn't funny then," said Ruth about her first marriage which was annulled. Son Ronnie was born during her second marriage to saxophonist Willie Jackson, and Earl was fathered by her third, saxophonist Earl Swanson. In 1963 Brown married policeman Bill Blunt. That marriage ended in 1972 and Brown remembers him as "the best thing in my life, because he gave Ruth Brown the singer dignity, and he instilled self pride into my sons. I tired to become the suburban housewife, but I couldn't do it. Show business was too much in my blood."

Shortly after her first marriage the teenager was befriended by Blanche Calloway, sister of Cab, who hired her to sing at the Crystal Caverns, a club in Washington. D.C. "Blanche became my second mother. I used to not know how to dress. I'd wear all kinds of feathers in my hair, and gloves and bracelets and then more bracelets over the gloves. Blanche really got to me about too much jewelry. She told me to wear just one little strand of pearls."

If Blanche Calloway got Ruth to change her dress, it was Billie Holliday who gave Brown orders to get her own style. Brown had been a Holiday imitator until one night the singer known as Lady Day strutted into the club and stormed backstage telling Brown "if you copy me, nobody will ever copy you."

Brown took the warning and immediately developed her own style. Just when customers and critics were discovering her, a tragic auto accident left the singer bedridden with crushed knees. It was 1948 and Brown had been on route to New York for her first engagement at the Apollo Theater. "I was in a hospital near Chester, Pa, for more than 10 months. My legs still bother me. I've had to have a lot of surgery, to replace by crushed knees. Twice, I've had to learn how to walk all over again."

Even though hospitalized, Duke Ellington had recommended her to Herb Abramson and Ahmet Ertegun, were then in the process of forming Atlantic Records. They signed Ruth to a contract, which she signed from her hospital bed, on her 21st birthday. That contract was suppose to pay her a five percent royalty on all records sold.



RUTH BROWN being inducted into the Rock and Roll Hall of Fame by Bonnie Raitt
"I was on crutches the first time I ever walked into a recording studio. It was 1949. I recorded So Long, which was a hit. It was a blues ballad and I did it with the Eddie Condon Band."

It was the first of many hits she was to record for Atlantic. She became the top selling black female recording artist from 1951-54 and kept producing hits for Atlantic until 1961 when - despite record sales of more than 3 million, she was broke. Her paychecks weren't substantial enough to build a retirement fund. In keeping with the custom of that era, recording and touring costs were deducted from her earnings. After years of grueling one-night stands Brown discovered that she was in debt to Atlantic Records.

"A lot of us were really naive. Then the divorce court said that I was qualified to earn a living and only gave me alimony of $5 per week. My mother started caring for my son, so I could go back on the road. One day I tried to pick up my son and he didn't know me. He screamed like I was some sort of an animal. That's when I quit, to spend time with my boys."

"I got a job as a maid. I had to work to survive to support my kids. I guess I've always been on my knees working. Being told I owed the record company money. You did the one night stands, worked like a dog and they threw you the scraps. At least with scrubbing floors I knew what I was being paid. I've always worked hard. I wanted my boys to know that I was their mother, so I quit singing for I could raise them."



REDD FOXX the late comedian put Brown on his TV series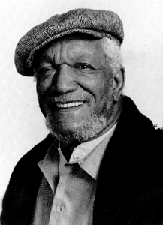 "I understand single mothers. I know how unfair the divorce courts can be. I've been there. But I took any job I could get. All I wanted to do was feed by kids and keep the lights on. There isn't such a thing as a menial job. That's what I tell women. I never begged. I'm too proud for that, but I wasn't too proud to take a job. I was proud that I had a job. I did all kinds of domestic work. I drove a school bus. I had pride and I wanted to give my boys a good image. You don't have to run around telling the world your problems. Keep your dignity, in case you get to move back on up. I'm so proud of my sons. They are both college graduates."

The 70s were a tough decade for her.
"In the early 70s I did performances where I hardly made any money. In 78 I started to make a move again. It was a struggle because I had almost disappeared. I had to prove that I was still qualified."



GUYS AND DOLLS at the Aladdin Hotel in Las Vegas featured Ruth Brown. Hair stylist Izzy Marion who is credited with Wigs and Hairstyles for the production was an ex-husband of singer Connie Francis.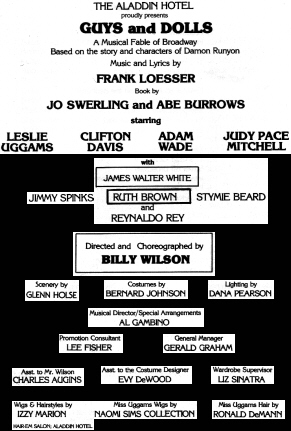 Her old friend, the late comedian Redd Foxx, invited her to appear on his television series Sandford and Son. Other TV and club dates followed included a starring role in an all-black Las Vegas production of Guys and Dolls at the Aladdin Hotel.

All of the time Ruth was fighting with Atlantic Records for her back royalties. Finally in 1983 a client of Washington lawyer Howell Begle asked him to look into the case of Ruth Brown, who was then 53, and had spent 20 years trying to get Atlantic to ante up her royalty payments.

Stories about successful black acts falling on hard times were music legend. But even Begle was astonished at what he discovered.

He eventually looked into the cases of some 30 Atlantic acts, including Big Joe Turner and Sam and Dave, all pro bono.

In May, 1987, Atlantic Records announced it would recalculate royalties back to 1970, not a complete victory, but better than Brown being on her knees scrubbing floors.

In the spring of 1988 Ruth received a payment of $20,000 - her first royalties check in more than 25 years.



Broadway To Vegas is supported through advertising and donations. Priority consideration is given to interview suggestions, news, press releases, etc from paid supporters. However, no paid supporters control, alter, edit, or in any way manipulate the content of this site. Your donation is appreciated. We accept PAYPAL. Thank you for your interest. Laura Deni P.O. Box 60538 Las Vegas, NV 89160


ROUND AND ROUND

SHEBA The Musical has an original cast recording which has just been released.
Sheba was produced Off-Broadway at the 91st Street Playhouse in 1996. The musical tale of the Queen of Sheba meeting King Solomon had book and lyrics by Sharleen Cooper Cohen and music by award winning composer Gary William Friedman. The production was held over and became one of the most successful shows in the theatre's 23-year history.

UTE LEMPER the striking performer who did a turn in Las Vegas as star of Chicago and is currently on tour, has a new album Punishing Kiss. That's due in stores on April 4.

KISS currently on their farewell tour with stops April 4 in Oklahoma City, April 5 in North Little Rock and April 6 in Pensacola, Fla., releasing their fourth live album Kiss Alive IV on April 18. It was recorded in Vancouver on New Year's Eve.


WORDS, WORDS, WORDS

HELEN GURLEY BROWN at Henry Bendel's in New York City autographing copies of her new memoir while hosting a shopping party in the up-scale store.

DAVID CROSBY of Crosby, Stills, Nash and Young fame - not to mention sperm donor - has penned Stand and Be Counted, a history of the times he lived through. This is not a Hollywood tell-all about booze, broads and drugs. Rather, this is a thought out, well-researched tomb that addresses the last 50 years of this country and such issues as the Vietnam War and the civil rights movement.

BUDDY EBSEN isn't resting on laurels of The Beverly Hillbillies. The performer who turns 92 years old this week has just completed a novel Kelly's Quest. "It's about a girl looking for Mr. Right in today's world - starting in Hollywood." He's gotten his background information from spending over 60 years in the business. "After all, you can only write what you know about." Not letting anybody get ahead of him, he's even got a website - www.buddyebsen.com


SWEET CHARITY

RESPECT the 10th annual Rainforest Foundation Benefit Concert. Produced by Trudie Styler. Featuring: The Impressions, Elton John, Billy Joel, Tom Jones, Gladys Knight, Martha Reeves, Percy Sledge, Sting, James Taylor and many more. Musical director Narada Michael Walden. April 13 at Carnegie Hall. Tickets $125 to $350.

ANGELA BASSETT, LAURENCE FISHBURNE AND SAVION GLOVER will be on hand for Jitney the first play by August Wilson. The special performance benefits the African Grove Institute for the Arts. April 8 at the Second Stage Theater, NYC.


OTHER PEOPLE'S MONEY

FREE ROOM AND BOARD President Clinton is once again in Las Vegas and once again staying at the home of Sun newspaper editor Brian Greenspun. This makes the eighth time Clinton has visited Las Vegas as president and if the Greenspuns provide bed and board just one more time, we think they should be licensed as a Bed and Breakfast or rename their abode White House West. The foray into the Silver State in an unabashed fund raiser. The one tonight in the Greenspun home is expected to raise $300,000 for the Democratic National Committee. Tomorrow night William Jefferson trots over to the house of former mayor Jan Jones, who is now vice president of communications for Harrah's Entertainment, Inc. That get together is expected to generate $100,000.


APPLAUSE, APPLAUSE

JONI MITCHELL is the subject of an all-star salute to be taped April 6 at the Hammerstein Ballroom NYC for airing April 16 on TNT.

Those saluting the folk legend include; Shawn Colvin, Elton John, Wyonna Judd, Chake Kahn, Diana Krall, k.d. lang, Richard Thompson and Cassandra Wilson.

Mitchell, who is a four-time Grammy winner and member of the Rock and Roll Hall of Fame, will also perform.



THE MUSIC MAN begins previews April 5 at the Neil Simon Theatre, NYC. The Meredith Willson musical is directed and choreographed by Susan Stroman. The production stars Craig Bierko as Harold Hill and Rebecca Luker as Marian the Librarian. The cast also stars Max Casella as Marcellus Washburn, Paul Benedict as Mayor Shinn and Ruth Williamson as Eulalie MacKechnie Shinn.

FOSSE The national Touring company kicks up their heels April 4-9 in the Broadway Series at the Gleason Theater, Miami, FL.

ANNIE GET YOUR GUN stars Lacy J. Dalton. The country singer/songwriter first appeared on the charts 20 years ago, with 16th Avenue, Takin It Easy, Hard Times, and Hillybilly Girls With The Blues. A five year battle with her record company almost ended her career. She bounced back with The Heart a song Kris Kristofferson wrote about his father. Annie Get Your Gun is at Piper's Opera House in Virginia City, Nevada April 7-8.

SHOWBOAT at The Music Hall, Kansas City April 4-9.

THE MAN WHO HAD ALL THE LUCK Arthur Miller's first Broadway play, will have its first American revival in 55 years at Ivy Substation in Culver City, CA. Previews begin April 7. The play is about a young man who has the unlucky fortune of getting everything his heart desires. Dan Fields former resident director of the Broadway musical The Lion King directs. When The Man Who Has All The Luck first opened on Broadway it wasn't so lucky - closing after only four performances. It's presumed this revival will do better.

70s SOUL JAM starring the Stylistis, the Delfonics, the Chi-Lites and Harold Melvin's Blue Notes - all leading exponents of a silky-smooth style of harmony - sing their line up of million sellers at the Stardust Hotel, Las Vegas April 6-8.



Low Cost Printing Nationwide



25 YEARS OF #1 HITS ARISTA gathers all of the label greats onto the Shrine Auditorium Stage in Los Angeles - we assume the Oscar telecast has ended - for what is billed as " a concert event of a lifetime." Among those slated to appear are: Brooks & Dunn, Toni Braxton, Deborah Cox, Puff Daddy, Aretha Franklin, Kenny G, Whitney Houston, Alan Jackson, Annie Lennox, LFO, Barry Manilow, Sarah McLachlan, Monica, Santana, Patti Smith and Dionne Warwick. April 10.


WHO'S WHERE

ROBERT CUCCIOLI

ROBERT CUCCIOLI Photo By: Laura Deni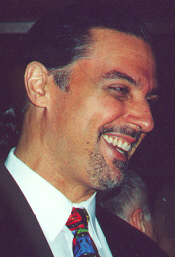 was last seen on Broadway as the star of the hit musical Jekyll & Hyde. Nightly he brought the audience to their feet singing the stirring anthem This Is The Moment. On April 4 he'll have his moment when he makes his solo nightclub debut at Arci's Place in New York City.

He received a Tony nomination and both the Drama Desk and Outer Critics Circle Awards for his portrayal of the two-faced role.

On Broadway he has also been seen as Javert in the long running hit musical Les Miserables.

For his work in the Off Broadway Kander and Ebb revue And The World Goes Round he received his first Outer Critics Circle Award. Earlier this season he garnered rave reviews for his performance in the N.J. Shakespeare Festival production of Enter the Guardsman, and appeared in the San Jose Repertory Theatre production of a new comedy Sons of Don Juan.

Cuccioli will be starring at Arci's Place through April 29.

KATHLEEN TURNER taking her clothes off for her role in the new British play The Graduate. Producers of the West End production gleefully reported that ticket sales have doubled since word got out that Turner is in the all-together.

THE SCARLET PIMPERNEL starring Douglas Sills, William Paul Michals and Amy Bodnar open April 5th at the Orpheum Theater, San Francisco with performances through April 16.

TINA TURNER AND LIONEL RICHIE He opens what is billed as the legendary Turner's last tour. April 12 Philips Arena in Atlanta, GA.

ETTA JAMES AND DR JOHN Redondo Beach Performing Arts Center, CA April 9.

UTE LEMPER AND HER BAND sings songs by Cave, Costello, Glass, Waits and Weill, April 7 at UCLA's Royce Hall.

TIM CONWAY is part of the cast of Ellen DeGeneres' pilot for CBS. That tapes next month. Meanwhile, Conway is on tour with Harvey Korman. At ages 66 and 73, they refer to themselves as "aged hams." They star at the Las Vegas Hilton April 7-8.

ED McMAHON on a 40-city bus tour scouting for talent. First stop was Las Vegas.

BOB ANDERSON the singing impressionist others imitate has the best bargain in Las Vegas. Bob does them all - Frank, Sammy, Dean, Tom Jones, Andy Williams and a zillion others - in The Desert Inn Hotel's Lounge. Like Las Vegas lounges used to be: NO COVER NO MINIMUM One of the few bargain left in Glitzville.

ROBERT KLEIN honing another HBO special by improvising every Wednesday at the Gotham Club in NYC.

MICHAEL FEINSTEIN in the last of a series of three Weill Recital Hall concerts. Carnegie Hall, April 6.


THIS AND THAT
Serving those special clothing needs nationwide



BROOKE SHIELDS who did a turn in Grease on Broadway has a desire to return to The Great White Way. She's looking for a musical.

CHANTILLY: THE BLACK LACE it's the peekaboo textile that inspired the Big Bopper's rock-and-roll paean to 1950's femininity. Shawls, parasols, veils and fans. April 5-Sept 10. Baltimore Museum of Art.


FINAL OVATION

FRED KELLY a three-time Tony Award winner and younger brother of Gene Kelly, died of cancer in Tucson, Arizona. He was 83. In addition to teaching Gene how to dance, he also did the same for Queen Elizabeth and was the man responsible for teaching John Travolta how to strut.

RAY KATZ personal manager/ theatrical and television producer died in Los Angeles. He was 83. With his cousin Sandy Gallin they formed a company that from 1970-1985 was one of the most powerful management and production companies in Hollywood. In the 80s Katz also produced several Broadway shows including Monday After The Miracle.

REX EVERHART veteran Broadway stage actor who appeared in 26 Broadway plays. He made his 1955 Broadway debut in No Time for Sergeants, and portrayed Ben Franklin in I776. He also appeared in 16 feature films and was the voice of Maurice in the Disney movie Beauty and the Beast. He was 79 and passed away in Connecticut.





Mention BROADWAY TO VEGAS for Special Consideration
Call (800) 942-9027









Next Column: April 9, 2000
Copyright: April 2, 2000. All Rights Reserved. Reviews, Interviews, Commentary, Photographs from any Broadway To Vegas (TM) columns may not be published, broadcast, rewritten, utilized as leads, or used in any manner without permission, compensation and/or credit.
Link to Main Page
---
Laura Deni


CLICK HERE FOR COMMENT SECTION