! >
Broadway To Vegas
  
  REVIEWS INTERVIEWS COMMENTARY NEWS

| | |
| --- | --- |
| | |
THE WILLIAM INGE FESTIVAL - - WALLACE FOUNDATION'S BUILDING AUDIENCES FOR SUSTAINABILITY - - ON THE TWENTIETH CENTURY REVIEW - - WANTED 200 CHIHUAHUAS IN FULL COSTUME - - PATTI LuPONE AND BOBBY CANNAVALE IN THE ROSE TATTOO - - THE STUTTERING ASSOCIATION FOR THE YOUNG - - FANCY ANIMAL CARNIVAL - - OUTER CRITICS CIRCLE 2015 AWARDS NOMINATIONS - - DONATE . . . Scroll Down




Copyright: April 19, 2015
By: Laura Deni
CLICK HERE FOR COMMENT SECTION


THE HEIGHT OF THE 2014-15 BROADWAY SEASON HAS MUCH TO OFFER


Whether you prefer musicals or drama - or both - Broadway has something for you. Beginning this week and for the next few weeks, Broadway To Vegas will spotlight one Broadway production which Broadway To Vegas saw this theatrical season and particularly enjoyed.

This week's selection is: ON THE TWENTIETH CENTURY

Kristin Chenoweth as Lily Garland and the cast of On the Twentieth Century. Photo: Joan Marcus.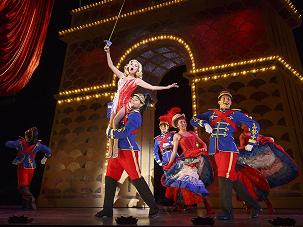 book and lyrics by Betty Comden and Adolph Green. Music by Cy Coleman; based on plays by Ben Hecht, Charles MacArthur and Bruce Millholland.

Original Broadway production directed by Harold Prince. Directed by Scott Ellis.

Choreography by Warren Carlyle.

The sad thing is that Betty Comden, Adolph Green and Cy Coleman aren't alive to see this magical revival. Starring Tony Award nominee Peter Gallagher and Emmy and Tony Award winner Kristin Chenoweth who knocks her performance out of the park. Scott Ellis who showed depth in his direction of The Elephant Man, sparkles in his helming of this musical.

The 'Twentieth Century' is the name of a luxury train. The story involves the behind-the-scenes relationship between glam movie star, the temperamental Lily Garland - the former Mildred Plotka - (Chenoweth) who is on her way to star in Babette, a Broadway show by Somerset Maugham, and her former lover Oscar (Gallagher), a flamboyant bankrupt theatre producer who owes a cast and crew money, after his show suddenly shuttered in Chicago.

Traveling on the Twentieth Century, from Chicago to New York Oscar tries to cajole the glamorous Hollywood star into playing the lead in his new, but not-yet-written drama, and perhaps to rekindle their romance - although Lily now despises him. Luck, love and mischief collide - is the train ride long enough to reignite the spark between these former lovers, create a play from scratch, and find the money to get it all the way to Broadway?



Peter Gallagher as Oscar Jaffee, Michael McGrath as Owen O'Malley, Kristin Chenoweth as Lily Garland, Mark Linn-Baker as Oliver Webb & Andy Karl as Bruce Granit. Photo: Joan Marcus.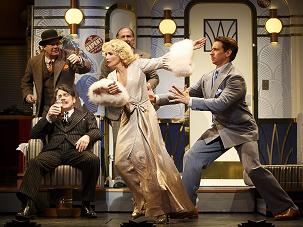 Oscar orders Owen O'Malley (Tony Award winner Michael McGrath) and Oliver Webb (Mark Linn-Baker), his press agent and business manager, to meet him on the train and to get tickets for Drawing Room "A." That particular Drawing Room is important because it is next to Drawing Room "B" where Lilly will be staying along with her boy toy.

This production doesn't have a 'baby on board' but there is a lunatic religious fanatic on board the train, a part played to nut house perfection by Mary Louise Wilson.

Peter Gallagher as Oscar Jaffee, and Andy Karl as Lily's boy toy Bruce Granit are perfect with Chenoweth, who knows how to deliver satire and steal a scene - presumably under the guise of the director.

Chenoweth is a stand out, making it difficult to single out a specific song or section as her best. However, the fantasy segment Babette is a number which allows the pint-size powerhouse to flawlessly demonstrate the many facets to her performance ability. She makes it look easy.

A glorious, screwball, frothy farce/opera with perfect art deco sets by David Rockwell. There are deliciously sexy, flowing, period costumes by William Ivey Long, who recently received The National Arts Club Medal of Honor For Achievement In Fashion. Clothes of the 20s and 30s covered the body but were some of the sexiest ever created, especially when cut on the bias. Long, who has a collection of Tony Awards, is a master at the craft.



Kristin Chenoweth and the cast of On the Twentieth Century. Photo: Joan Marcus.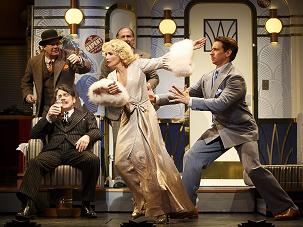 Another multiple Tony Award winner, Donald Holder knows his lighting and how to create dimensions, and work with the story line to communicate. The inside train lights add to the ambiance, rather than emanating any type of light that distracts.

Chenoweth is in her forte with the operetta-style score. In fact, On The Twentieth Century is Chenoweth's personal three-ring circus.

The song The Legacy in which Oscar sings about the importance of Lily in his life was rewritten from the original score, becoming Because of Her, using Coleman's original music. The new lyrics, about Oscar's acknowledgement of Lily's importance in his life, are more serious than the original. Amanda Green, the daughter of Adolph Green, did the revision.

Music direction by Kevin Stites; sound by Jon Weston; orchestrations by Tony and Emmy Award winner Larry Hochman; dance arrangements and incidental music by David Krane; music coordinator, John Miller - all of whom are experts. They work their magic with only 24 musicians - a drastic cut from the musicians specified in the original production.

There are countless genius aspects to this revival. The four dancing and opining railway porters Rick Faugno, Richard Riaz Yoder, Phillip Attmore and Drew King fall into that category.

The cast also includes: Justin Bowen, Preston Truman Boyd, Paula Leggett Chase, Ben Crawford, Jennifer Foote, Bahiyah Hibah, Analisa Leaming, Kevin Ligon, Erica Mansfield, James Moye, Linda Mugleston, Mamie Parris, Andy Taylor, and Jim Walton.

The danger of a farce is that it can fall into a slap happy, too silly production. An opera has the possibility of becoming too serious while missing the mark. On The Twentieth Century captures the best of farce and opera creating a light souffle that is a pleasure to experience. When recalled, the memories are smile inducing joyous.

A Roundabout Theater Company production at the American Airlines Theater in New York City through July 5, 2015.






Broadway To Vegas is supported through advertising and donations. Priority consideration is given to interview suggestions, news, press releases, etc from paid supporters. However, no paid supporters control, alter, edit, or in any way manipulate the content of this site. Your donation is appreciated. We accept PAYPAL. Thank you for your interest.






ART AND ABOUT


FANCY ANIMAL CARNIVAL

Artist Hung Yi with some of his creations. Photo: David Perry and Associates.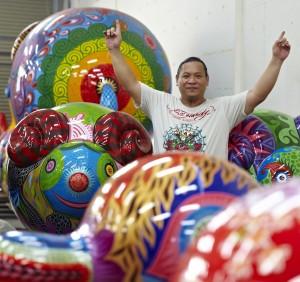 large scale whimsical sculptures by Taiwam contemporary artist Hung Yi is a temporary art installation at San Francisco's Civic Center Place, which opened last Friday, April 17, and is on display to May 2, 2015.

Curator and project manager for the San Francisco installation is Cathy Hsu. The exhibit of 19 large-scale, vividly colored animals, is free and open to the public, spread across the Joseph L. Alioto Performing Arts Piazza on the eastern front of San Francisco City Hall. The exhibition is timed to take place during the Second Annual LPGA Swinging Skirts Golf Tournament in San Francisco April 20 - 26.

"We are thrilled to host this exceptional artwork exhibit in the heart of our City where it can be enjoyed by residents and visitors alike," said San Francisco Mayor Ed Lee. "Meaningful cultural exchanges of artwork from around the world keep San Francisco at the cutting edge of innovation and artistic expression, and we are proud to be the temporary home of the Fancy Animal Carnival."

"These playfully contorted animals are imbued with Taiwanese cultural elements," said Ou Hsien Cheng, Director of Taipai's InSian Gallery. . "Hung Yi's sculpture is enthusiastic and bold, and replete with the dynamism of Taiwanese culture. As innovation continues in the Taiwanese art world, Hung's stunning creations are worthy of applause and continue to highlight classical elegance."

Born in 1970, Taichung, Taiwan, Hung Yi was once an owner of nine restaurants. However, at the age of 30, he decided to live his life fully as an artist following attention for his work during the "Stock 20 in Taichung Railway Station" exhibit in 2002. Since then, his work continues to be inspired by his surroundings and life experiences.

Typical of a Hung Yi creation are bright primary colors and bold, lively constructions. Hung Yi has also gained notoriety for the paradoxical dichotomy of his work that employs traditional motifs juxtaposed with hints of the spectacle of modern visual culture - re anthropomorphized interpretations of fauna based on the conventional semiotics of good luck and fortune. "

Founded in 1987, InSian Gallery has pursued a mission of promoting Taiwanese art by quietly cultivating both the Taiwanese art and business worlds. The gallery disseminates works to create and encourage sustainable developments in the arts.

THE LOS ANGELES COUNTY MUSEUM OF ART the largest art museum in the west, celebrated its 50th anniversary last night, Saturday, April 18, with a star studded gala.

The sold out event took place in the Lynda and Stewart Resnick Exhibition Pavilion on LACMA's campus. Co-­chaired by LACMA trustees Ann Colgin, Jane Nathanson, and Lynda Resnick, proceeds from this fundraising event will benefit the museum's programming and acquisitions initiatives.

On the occasion of LACMA's 50th anniversary, Jane Nathanson and Lynda Resnick are leading a campaign to acquire major gifts of art for the museum and are encouraging others to gift artworks. The two trustees, along with over 25 generous donors, have committed important works of art to the museum's collection by artists ranging from the 15th century to the present, including François Boucher, Damien Hirst, Jean-Auguste-Dominique Ingres, and Andy Warhol as well as art from Africa and decorative arts.

Those at the gala had an opportunity to preview LACMA's new gifts of art in the exhibition 50 for 50: Gifts on the Occasion of LACMA's Anniversary, which will be on view to the public beginning April 26 and continuing through September 7, 2015.

STOLEN ART Two paintings valued at $400,000 were pilfered from the Malibu, California home of the late Sam Simon, a former producer of The Simpsons who died March 8 of cancer. The stolen art includes a piece by Roy Lichtenstein.

Los Angeles police detectives are investigating the who-done-it to the paintings. Detectives believe the artworks, the property of the Sam Simon Foundation, were taken on April 9, 2015.





AUCTION HOUSE BOWS TO PRESSURE: CALLS OFF SALE OF INTERNMENT CAMP ART


During World War II there were 10 forced relocation camps scattered across the United States. People living in the United States of Asian ancestry - specifically Japanese - were forced to relocate to one of those camps.

Of the more than 120,000 Japanese relocated, 77,000 were U.S. citizens. Japanese Americans were forced to spend years locked up behind barbed wire.

During their forced stay some engaged in painting, crafts and took photographs. Many of the auction house lot items reflected the horror and depression of their forced relocation.

On Friday, April 17, the New Jersey based auction house Rago Arts and Auction Center was slated to gavel down 15 lots of 450 Japanese internment camp items. The official auction house description:

"750 lots of Asian, porcelain and china, bronze and marble sculpture, paintings, portraits, advertising posters and works on paper, silver, traditional furnishings, lighting, mirrors, clocks, rugs, Native American, glass, weaponry and ephemera. Art, crafts and photography from the U.S. Japanese Internment Camps (1942-1946) collected by Allen Hendershott Eaton."

Thanks to the outrage exhibited by survivors and their relatives - as well as the threat of a lawsuit - on April 15 the auction house pulled the sale.

"There is an essential discussion to be had about the sale of historical items that are a legacy of man's inhumanity to man," said Miriam Tucker, managing partner of Rago Arts and Auction Center, in a statement released Wednesday evening. "It extends beyond what is legal. It is something auction houses, galleries and dealers are faced with regularly. We hope this controversy will be the beginning of a discourse on this issue."

The collection belonged to the late Allen H. Eaton, a former Oregon state legislator and anti-war activist who became famous as a crusader of folk art. After World War II ended, Eaton traveled to five incarceration camps to study the handicrafts made there. In 1952, Eaton published a book, Beauty Behind Barbed Wire: The Arts of the Japanese in Our War Relocation Camps, which included a forward by Eleanor Roosevelt.

Yoshinori "Toso" Himel a retired civil rights lawyer for the U.S. Department of Justice and his wife Barbara Takei, became members of Florin JACL, an outspoken branch of the national Japanese American Citizens League, which engaged in a a major effort to stop the auction. In a scathing letter to auction house executives, Florin JACL Co-President Andy Noguchi wrote, "I am disgusted by this planned auction's exploitation of the suffering of 120,000 innocent people in America's WWII concentration camps."

Opponents of the auction want the artifacts protected - donated to museums, libraries and community centers.

"They should widely tell this important story of false imprisonment so that this violation of civil and human rights will never be repeated," Noguchi told the press.

"It's like auctioning things taken from victims of the Holocaust or slave auctions or Native American burial grounds," Takei was quoted as commenting. She has personal knowledge of the convoluted mind set of those who thought gathering up Japanese Americans was a good idea. Her mother was sent to the Tule Lake relocation camp, while her father was serving in an American Army all-Japanese infantry battalion that liberated Dachau Concentration Camp.


SWEET CHARITY


PATTI LuPONE AND BOBBY CANNAVALE head the cast of Tennessee Williams' Tony Award winning play The Rose Tattoo one night only, Monday, April 27, at Broadway's Samuel J. Friedman Theatre.

Directed by Doug Hughes, this is a benefit performance for The Acting Company.

Benefit Tickets includes dinner with the stars.

"The Rose Tattoo is the story of Serafina, a Louisiana widow who withdraws from the world after her husband's death and expects her daughter to do the same," noted Margot Harley, Producer of The Acting Company. "One day, a man resembling her late husband comes into her life and unlocks her fiery passion, wit, anger and pride."

JOSEPH V. MELILLO BAM EXECUTIVE PRODUCTION has announced that "BAM President Karen Brooks Hopkins - who has devoted herself to BAM for over 36 years and been my professional partner for nearly that long - is stepping down in June. As a leader and visionary she has no equal, and will be greatly missed."

On April 28, 2015 a celebration will take place at the BAM Howard Gilman Opera House to celebrate Hopkins.

Musicians slated to perform include Mavis Staples, Rufus Wainwright, Steve Reich, Laurie Anderson, and the Institutional Radio Choir, to name a few - in addition to appearances by a host of very special guests."

All proceeds will benefit The Brooklyn Academy of Music (BAM).

THE STUTTERING ASSOCIATION FOR THE YOUNG will host its 13th annual Benefit Gala, on Monday, April 27, 2015, to celebrate the courage and achievements of more than 70 million people who stutter – including 5% of all children.

The event will recognize individuals who inspire young people who stutter, including Gala Honorees Kelli O'Hara and The Naughton Family, James, Greg, Keira, and the late Pamela, George Springer, celebrated Houston Astros Outfielder & SAY Spokesperson, and Marc Vetri, chef/founder of Philadelphia's critically acclaimed Vetri Family of Restaurants.

Gala Chairs are avid SAY supporters, The Hadar Family, Eric, Allison, Anna & Ivan.

The evening will begin with a performance featuring outstanding artists and celebrities. Those scheduled to appear include Prince Amukamara, Mario Batali, Leslie Bibb, Michael Cerveris, Rachel Dratch, Victor Garber, Taylor Hackford, Mariska Hargitay, Ethan Hawke, Richard Kind, Jesse L. Martin, Michael McKean, Helen Mirren, Matthew Morrison, Nykhor Paul, Ron Rifkin, Sam Rockwell, Daphne Rubin-Vega, Amy Ryan, Fisher Stevens, Phil Sullivan, and more, along with the incredible children participating in SAY programs. The evening's Musical Director is Everett Bradley, Music Director for The Meredith Vieira Show and E Street Band member.

Taro Alexander, SAY Founder & President noted "This gala will help SAY award more than $400,000 in financial aid, so children from families-in-need have access to our comprehensive and innovative programs. No child has been turned away from SAY programs due to a family's inability to pay and this gala helps us continue this important legacy."

Marc Vetri added "When I was growing up I wished there had been an organization like SAY. The work SAY does is so critical and valuable." Cocktails, dinner and a live auction will complete this exciting evening, hosted at the Skirball Center for the Performing Arts & Rosenthal Pavilion at New York University, in New York City.


IF AN EMBRYO IS AN ICE CUBE WHO OWNS IT?
Sofia Vergara
Modern Family star Sofia Vergara, 42, and her ex-finance Nick Loeb, 39, are involved in a lawsuit over who controls two female frozen embryos the former couple created in 2012.

Vergara dated businessman Nick Loeb on and off beginning in 2010, became engaged in 2012 and split in the spring of 2014. Vergara is now engaged to actor Joe Manganiello.

Loeb charged that Vergara wants to destroy the embryos while he wants custody of them and wants to preserve them. Successful live births from frozen embryos is not guaranteed.

This isn't the first time legal battles have erupted over who owns in vitro fertilized embroys after a couple ends their relationship.

However, it is one of the most high profile cases.

"(The case) delves into areas of 'When does life begin? What is conception? Is an embryo a living creature? Or is it property?'" attorney Vance Owen told CNN.

Vergara, a Columbian-American had been called "a devout Catholic." The Roman Catholic faith, while not condoning in vitro fertilization, doesn't believe in abortion. Destroying the frozen embroys would be against the Roman Catholic doctrine.

While coming with a price tag, simply keeping the embryos frozen wouldn't violate any legal or church rules.

Vergara's attorney Fred Siberberg issued a strong statement, first published by People, which adamantly denies Loeb's allegations.

"The statements made against Sofia Vergara by Nick Loeb are uncredible and hold no merit," Silberberg's statement begins. "Vergara has never wanted to destroy her embryos."

As is customary the agreement signed by Vergara and Loeb in November 2013 indicates what approval is needed to remove the embroys from their frozen state. The Vergara/Loeb contract states that "no unilateral action can be taken with regard to the embryos unless both parties consent."

Furthermore, "Vergara has never suggested that she wished to have the embryos destroyed," the statement continues. "She has always maintained that they be kept frozen, a fact of which Loeb and his counsel have always been aware, despite Loeb's statements to the contrary."

The statement concludes, "Vergara, who has happily moved on with her life, is content to leave the embryos frozen indefinitely as she has no desire to have children with her ex, which should be understandable given the circumstances."

Vergara was married to her high-school sweetheart Joe Gonzalez from 1991–93. They have one son.


SPREADING THE WORD


WANTED 200 CHIHUAHUAS IN FULL COSTUME to help set a Guinness World Record as part of Chihuahua De Mayo in Daytona Beach, Florida.

This fun-filled, family event will take place at the Oceanfront Bandshell May 2. Chihuahua owners need to bring a copy of the pedigree registration or a birth certificate to verify that their dog(s) are pure breed, so they can take part in this record attempt.

The record division is Most Chihuahuas In Costumed Attire.

Costumes requirements: minimum 2 piece costume.

Bandshell to Boardwalk Parade follows after the record attempt. Prizes for: King & Queen Chihuahua Winners, Best Costume, Best Temperament, Best Hat, Best Duo, and Best Trio.

$5 Admission Fee - a portion of the proceeds will go to benefit the Halifax & Flagler Humane Societies and the Arnie Foundation.

THE WILLIAM INGE FESTIVAL has been taking place this week-end in Independence, Kansas with Donald Margulies receiving the Distinguished Achievement in American Theater Award during the Gala Award Dinner, which takes place tonight, April 19.

Margulies now joins a select roster of world-renowned playwrights who have traveled to the Inge Festival to receive the William Inge Distinguished Achievement in the American Theater Award. This select company includes Arthur Miller, Stephen Sondheim, Edward Albee, Wendy Wasserstein, David Henry Hwang, Tina Howe, August Wilson, and Neil Simon, to name only a few.

"Donald Margulies has delivered a consistently excellent body of work, with humor and punch, in one of the most distinctive voices of the American theater." said Karen Carpenter, Interim Artistic Director of the Inge Center. "Margulies' ability to excavate both comedy and pathos, in writing about the struggle to belong, to sustain relationships, to find one's purpose in life, has made a lasting impact," Carpenter said, "and shown us that the heartbreak life gives us can be transforming."

Also on Sunday, April 19, Margulies sits down for a one-on-one candid, taped interview, which is recorded for the Inge Archives.

While at the Inge Festival, Margulies also presented a Master Class in Playwrighting.

The film of his screenplay, The End of the Tour, will premiere at Sundance Film Festival in 2015. Additional Margulies projects include the book of a new musical of Father of the Bride, for Disney Theatricals.

BASSEM YOUSSEF dubbed the Jon Stewart of the Arab World and former host of the popular TV show Al-Bernameg, discusses the power of satire and humor to influence politics and social taboos with WBUR's Here and Now host, Robin Young.

Tuesday, April 26, at the JFK Presidential Library and Museum in Boston.


OTHER PEOPLE'S MONEY


26 ARTS ORGANIZATIONS FROM AROUND THE COUNTRY have been selected for the New York-based Wallace Foundation's Building Audiences for Sustainability effort – a new, six-year, $52-million initiative aimed at developing practical insights into how exemplary performing arts organizations can successfully expand their audiences.

Among the recipients is The Pasadena Playhouse which will receive $460,000 for the first cycle of work plus additional support from the Wallace Foundation for preliminary audience research. As part of the Wallace initiative, The Pasadena Playhouse seeks to develop stronger ties to Asian Americans and Pacific Islanders of the Southern California region through the production of main stage performances that resonate with these communities, and through the cultivation of meaningful relationships within each community.

Each organization selected will design and implement programs to attract new audiences while retaining current ones, measuring whether and how this contributes to their overall financial sustainability. In addition to theater, the organizations represent a spectrum of artistic disciplines, from dance and opera companies to orchestras, and multidisciplinary arts institutions.

In addition to the Pasadena Playhouse, the other recipients are:

Alvin Ailey American Dance Theater, New York - ASU Gammage, Tempe - Ballet Austin
Baltimore Symphony Orchestra - Cal Performances, Berkeley - Contemporary Arts Center, New Orleans - Denver Center Theatre Company - Goodman Theatre, Chicago - La Jolla Playhouse - Los Angeles Philharmonic - Lyric Opera of Chicago - New York Philharmonic - Oakland East Bay Symphony - Opera Philadelphia - Opera Theatre of St. Louis - Pacific Northwest Ballet, Seattle - Portland Center Stage, Oregon - San Francisco Performances - Seattle Opera - Seattle Symphony Orchestra - Steppenwolf Theatre Company, Chicago - University Musical Society, Ann Arbor - Victory Gardens Theater, Chicago - Woolly Mammoth Theatre Company, Washington, D.C. - World Music/CRASHarts, Boston.

THE AUDIENCE the Broadway play starring Helen Mirren as Queen Elizabeth has recouped its $3.4 million investment.

Peter Morgan's play highlights meetings with eight prime ministers, with Mirren switching from age 25 with Winston Churchill to today's Prime Minister, David Cameron.


GET WELL SOON TO . . .


RITA WILSON who has taken a leave from the Broadway play Fish in the Dark to recover from a double mastectomy along with reconstructive surgery, after being diagnosed with breast cancer.

She is expected to return to the Broadway production next month.

"Everyone at Fish in the Dark wishes Rita a speedy and healthy recovery, and looks forward to having her back on stage at the Cort on May 5," reads the show's official statement.



FORD FOUNDATION HAS ANNOUNCED 13 FELLOWSHIPS to engage in exploration of the power of culture, emphasizing the roles art and culture play in illuminating and addressing urgent issues of equity, opportunity, and justice in the U.S. and around the globe. The yearlong exploration, The Art of Change, reaffirms the central importance of creativity and cultural expression to healthy societies at a time when they are increasingly under threat.

The Art of Change initiative is intended to help determine how the Ford Foundation can most effectively advance the arts - and by, extension, drive social change - in an increasingly diverse and evolving world. To help prompt and inform fresh thinking, the foundation is awarding a series of fellowships to exemplary artists and cultural leaders, each distinguished in their field, whose work touches on issues of equity and justice. The fellowships seek to inspire innovation and encourage civic dialogue, giving fellows the opportunity to study issues that intersect with the foundation's work and reflect the cultural richness of diverse communities around the world.

Each of the 13 Fellows will study a thought-provoking issue or question during the course of the fellowship, ranging from the role of artists and artwork to challenge rising extremism, to literature's ability to elucidate the impact of climate change, to the importance of increasing diversity in leadership roles in the cultural institutions.

Those awarded the Visiting Fellowships are:

Bill Rauch, Oregon Shakespeare Festival Artistic Director who will use his fellowship to explore issues related to diversity and inclusion in American theater, among them enabling more young directors of color to work with the classics, diversifying audiences for regional theater and fostering innovations in gender-blind casting.

"This fellowship is an extraordinary honor," Rauch said. "The Ford Foundation is an international leader in fostering positive social change through the arts. I look forward to learning from this program, including the giants who have also been appointed visiting fellows."

Robert Battle, artistic director, Alvin Ailey American Dance Theater
Amitav Ghosh, author
Thelma Golden, director and chief curator, Studio Museum in Harlem
David Henry Hwang, dramatist
Deeyah Khan, music producer and filmmaker
Arnold Lehman, director, Brooklyn Museum
Joy Mboya, executive director, GoDown Arts Centre
Laura Poitras, filmmaker
Toshi Reagon, composer and musician
Pedro Reyes, visual artist
Albie Sachs, activist, jurist and author
Carrie Mae Weems, visual artist

THE OUTER CRITICS CIRCLE the official organization of writers on the New York theatre for out-of-town newspapers, national publications, and other media beyond Broadway will announced their 2014-2015 Nominations for their annual awards on Monday, April 20, 2015. The nominees will be announced by Raúl Esparza and Katie Finneran at the Friar's Club in New York City.

The winners of the 65th annual Outer Critics Circle Awards will be presented at Sardi's Restaurant on Thursday, Mary 21, 2015.

Broadway To Vegas will post the nominations after they are announced.

For a complete list of the nominees click here



MATCHBOX THEATRE by Michael Frayn.

Directed by Hamish McColl.

Published last autumn, multi-award winning Michael Frayn's latest book, Matchbox Theatre inventively blurred the boundaries between his work for page and for stage. 'Are these mini-plays or short stories?' asked readers and critics alike.

One of the few authors to have had huge success both as a playwright (Noises Off, Copenhagen, Democracy) and a novelist (Headlong, Spies, Skios), Michael Frayn has combined the best of both in Matchbox Theatre, a brilliantly quirky study of the human being in the everyday world; in Frayn's words, 'a model of what we all do'.

Originally written for the smallest theatre in the world - the imagination - Frayn's Matchbox Theatre is now brought to stage life. Enjoy a kaleidoscopic range of new mini plays – or short stories – which are both hilariously entertaining and absurdly familiar.

Featuring Tim Downie, Felicity Montagu, Nina Wadia, Mark Hadfield, Esther Coles, and Chris Larner.

Designer: Polly Sullivan - Lighting: David Howe - Sound: John Leonard - Composer: Chris Larner - Casting: Suzanne Crowley and Gilly Poole.

Runs on the Main Stage of the Hamstead in London April 25-June 6, 2015.

THE LAST ROMANCE by Joe DiPietro.

Directed by: Maggie McGlone-Jennings.

A crush can make anyone feel young again – even an 80 year old widower.

Joe DiPietro's bittersweet romantic comedy The Last Romance, centers on widower Ralph who once had ambitions to be an opera singer but got married instead. He lives with his slightly younger sister Rose - a possessive, relentless, bitter nag who is determined not to let him out of her sight. When Ralph spots the attractive, white-haired Carol at the local dog park, Ralph flirts, plays teasing games with Carol, and works hard to establish a relationship. Impressed with his love of opera, she invites him to accompany her on a trip to Italy and the fabled La Scala opera house. Needless to say, Rose is not pleased with this plan.

This heartwarming comedy about the trans-formative power of love mixes heartbreak with humor and opera with laughter.

Stage Manager: James J. Clark. Set Designer: William Russell Stark. Lighting and Sound Designer: Tate Burmeister. Costume Designer: Vickie Blake.

Opens April 24, at the Ivoryton Playhouse in Ivoryton, CT.

THE AUDIENCE a new and updated version of Peter Morgan's play.

Directed by Stepehen Daldry.

Starring Kristen Scott Thomas as The Queen. Joining her are David Calder as Winston Churchill, Mark Dexter as David Cameron, Michael Gould as John Major, Gordon Kennedy as Gordon Brown, Sylvestra Le Touzel as Margaret Thatcher, David Robb as Anthony Eden and Nicholas Woodeson as Harold Wilson. David Peart plays the Equerry, Charlotte Moore will play Bobo MacDonald and Private Secretary, Marnie Brighton, Madeleine Jackson-Smith and Izzy Meikle-Small will alternate in the role of Young Elizabeth and Matt Plumb and Harry Feltham will play the footmen.

Bob Crowley Designer; Rick Fisher Lighting Designer; Paul Arditti Sound Designer; Paul Englishby Composer; Ivana Primorac Hair and Make-Up Designer; Robert Sterne Casting Director; Jessica Ronane Children's Casting; Justin Martin is Associate Director. Oonagh Murphy is the Resident Director.

The Audience plays at the Apollo Theatre in London.

DELUGE by Fiona Doyle.

Directed by Anna Ledwich.

Starring Elaine Cassidy (The Paradise, BBC), Gary Lilburn, Edward MacLiam and Charlotte Randle.

There's an uncanny presence on Joe and Kitty's farm. Precious feed is mysteriously disappearing from the hay-shed. Prized livestock is being slaughtered at night whilst sinister shadows lurk in the darkness.

With fodder running out and no money left, Joe and Kitty, like their desperate neighbors, will stop at nothing to protect themselves and their cherished land. But at what cost?

Fiona Doyle presents a deeply provocative thriller set in a blighted landscape, where nature is fiercely taking its course and it's becoming a question of survival of the fittest. Running downstairs at The Hampstead in London through May 16, 2015.


WHO'S WHERE




IMAGINE DRAGONS open a two nighter Monday, April 20, at Simon Bolivar Park in Bogota, Colombia. On Thursday the tour stops at Coliseo de Puerto Rico in San Juan, PR. Saturday show is at Parque Acero Fundidora in Monterrey, Mexico.

BARRY MAILOW performs his hits Monday, April 20, at Maverik Center in Salt Lake City.

BOB DYLAN entertains Tuesday, April 21 at the Broward Center in Fort Lauderdale, FL. Wednesday's stop is at Ruth Eckerd Hall in Clearwater, FL> Friday's performance is at the Fox Theatre in Atlanta, Ga. On Saturday he's in the spotlight at the Performing Arts Center in Durham, NC. Next Sunday, April 26, the show is at the Peace Center in Greenville, SC.

DUNCAN SHEIK has a two nighter in the Cabaret Room of The Smith Center in Las Vegas April 24-25.

DIANE SCHUUR brings her unique style to Ronnie Scott's Jazz Club in Soho London for a two night gig April 20-21.


FINAL OVATION


GUNTER GRASS the German novelist, social critic and Nobel Prize winner whom many called his country's moral conscience but who stunned the world when he disclosed in 2006 that he had been a member of the Waffen-SS during World War II, died on Monday, April 13, 2015 at a hospital in Luebeck, Germany. He was 87.

Grass won the Nobel Prize for The Tin Drum.

His publisher, Steidl, announced the death,

















Next Column: April 26, 2015
Copyright: April 19, 2015 All Rights Reserved. Reviews, Interviews, Commentary, Photographs or Graphics from any Broadway To Vegas (TM) columns may not be published, broadcast, rewritten, utilized as leads, or used in any manner without permission, compensation and/or credit.
Link to Main Page
---
Laura Deni



For the snail mail address, please E-mail your request.
CLICK HERE FOR COMMENT SECTION