! >
Broadway To Vegas
 
  SHOW REVIEWS CELEBRITY INTERVIEWS GOSSIP NEWS

| | |
| --- | --- |
| | |
BARBARA BUSH AT THE LEARNING ANNEX - - NATIONAL ASSOCIATION OF BROADCASTERS HONORS OPRAH WINFREY - - NEW ORLEANS JAZZ FESTIVAL - - STING'S RAINFOREST BENEFIT - -ASSASSINS OPENS - - CAROLINE, OR CHANGE TRANSFERS TO BROADWAY - - YANKEE DOODLE WORLD PREMIERE - - MORT SAHL RETURNS TO GREENWICH VILLAGE - - DONATE . . . Scroll Down


NATIONAL ASSOCIATION OF BROADCASTERS MULL STATE OF THE AIRWAVES
Oprah Winfrey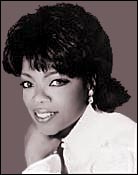 Expect a lot of chit-chat about Howard Stern's language, the wardrobe malfunction of Janet Jackson and whether Oprah Winfrey's show violates standards of decency.

Monday kicks off the National Association of Broadcasters Convention at the Las Vegas Convention Center. The event, one of the city's largest conventions, is expected to draw some 90,000 people.

While Stern is charging that Winfrey's talker is just as vile as his, Oprah Winfrey will receive the 2004 Distinguished Service Award from the National Association of Broadcasters during the All-Industry Opening on April 19. Each year the award recognizes broadcasters who have made significant and lasting contributions to the broadcasting industry.

Past recipients of the Distinguished Service Award include Cokie Roberts, Edward R. Murrow, Bob Hope and Walter Cronkite.

Roger King, CEO, CBS Enterprises and King World Productions, Inc., will be the 2004 television inductee into the NAB Hall of Fame at a luncheon on April 19.

King has brought such personalities as Oprah Winfrey, Dr. Phil, Alex Trebek, Pat Sajak and Vanna White to national attention, and, under his guidance, King World has become the pre-eminent distributor of first-run, syndicated programming, altering public viewing habits beyond network prime time. He has spearheaded the launch, sales and marketing efforts of such landmark programs as Wheel of Fortune, Jeopardy!, The Oprah Winfrey Show, Dr. Phil and Inside Edition.

King, whose previous careers have included newspaper sales representative, radio station manager, television series host and television station sales manager, was named chairman of the board of King World in 1977. The company was founded in 1964 by his father, the late Charles King.



Carly Fiorina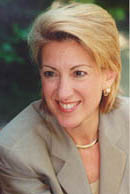 Carly Fiorina, chairman and chief executive officer of Hewlett-Packard Company, will deliver the All-Industry Opening keynote address on April 19. That afternoon, Shane Robison, HP's chief strategy and technology officer, will address attendees at the super session, New Media Visions for the Future.

On April 19, six members of the 108th Congress will be featured panelists at the Congressional Breakfast held at the Las Vegas Hilton. Sen. Conrad Burns (R-MT), House Commerce Chairman Joe Barton (R-TX), House Judiciary Chairman Jim Sensenbrenner (R-WI), House Telecommunications Subcommittee Chairman Fred Upton (R-WI), and Reps. Michael Bilirakis (R-FL) and Greg Walden (R-WA) will participate in the annual breakfast discussion including wide ranging policy topics such as free airtime legislation, broadcast ownership, satellite radio, Internet streaming and the transition to digital television. The event will be moderated by Phil Lombardo, founder and CEO, Citadel Communications Co., and chairman of the NAB Joint Board of Directors.

On April 18, Senate Commerce Committee Chairman John McCain (R-AZ) will be the featured speaker at the Broadcast Leadership Dinner at the Bellagio Hotel.

ABC News anchor and radio host Sam Donaldson will interview FCC Chairman Michael K. Powell in a one-on-one setting for the FCC Chairman's Breakfast, on Tuesday April 20. The FCC Chairman's Breakfast is part of the 12th annual NAB Business, Law & Regulation Conference.

The National Association of Broadcasters Convention continues through April 22 with the exhibits opening on April 19. It is the world's largest electronic media show covering the development, delivery and management of professional video and audio content across all media


NEW ORLEANS JAZZ FEST


The New Orleans Jazz & Heritage Festival, a/k/a Jazz Fest, is a 10-day cultural feast in which thousands of musicians, cooks and craftspeople welcome 500,000 visitors each year.

Lenny Kravitz, Harry Connick Jr., Smokey Robinson, Ray Charles, B.B. King, Etta James, Branford Marsalis and Bonnie Raitt are among hundreds of artists slated to perform. Other highlights include Shaggy, the Neville Brothers, the Steve Miller Band, Macy Gray, the Gap Band and the Blind Boys of Alabama.



Bonnie Raitt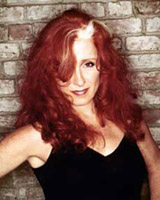 On the eve of Jazz Fest's opening day, blues-rock legend Bonnie Raitt, Irma Thomas, Clarence "Frogman" Henry, Tremé Brass Band, Nine Times and Popular Ladies SAPCs, and the Creole Wild West Mardi Gras Indians will electrify patrons when the New Orleans Jazz & Heritage Foundation presents its Gala 2004 fundraiser on Thursday, April 22 at the Fairmont Hotel in the Imperial Ballroom.

A special dinner will be served, featuring food specially selected from the Festival's world-renowned menu, including Pheasant, Quail and Andouille Gumbo, Crawfish Pie, Crabmeat Stuffed Mushrooms, Crawfish Monica®, and much more. Gala tickets are $500 per person, and the proceeds will benefit the charitable and educational purposes of the New Orleans Jazz & Heritage Foundation, Inc.

Lenny Kravitz will open the 35th Anniversary 2004 New Orleans Jazz & Heritage Festival Evening Concert Series with his award-winning rock on Friday, April 23. Johnny Clegg, from South Africa, also will perform.

Two legends. One night. B.B. King and Etta James – the king and queen of the blues – will take the stage on Saturday, April 24 at the Mahalia Jackson Theatre of Performing Arts. The Dave Brubeck Quartet will perform on Friday, April 30 accompanied by the Louisiana Philharmonic Orchestra and the Loyola University Chorus.

There are two main components: the Louisiana Heritage Fair and the Evening Concert Series. The Louisiana Heritage Fair is the signature feature of the Festival, showcasing unforgettable music on 12 stages, delicious Louisiana cuisine in two large food areas, and crafts artisans from the region and around the world demonstrating and selling their work. The Louisiana Heritage Fair is held at the Fair Grounds Race Course over the course of 2 weekends - Friday April 23 - Sunday, April 25 and Thursday April 29 - Sunday, May 2. The Evening concerts are held at different locations during the 10-day Festival.



Broadway To Vegas is supported through advertising and donations. Priority consideration is given to interview suggestions, news, press releases, etc from paid supporters. However, no paid supporters control, alter, edit, or in any way manipulate the content of this site. Your donation is appreciated. We accept PAYPAL. Thank you for your interest.

BEAUTY AND THE BEAST celebrates it's 10th anniversary on Broadway today, April 18, with its 4,095th performance. The marvelous Disney musical, which opened at the Palace Theatre on April 18, 1994, moved to the Lunt-Fontanne Theatre, where the production is currently delighting crowds of all ages.

OUTER CRITICS CIRCLE announces nominations on April 19th. The awards will be presented May 27 at Sardi's in New York. The Outer Critics Circle is an organization of over 75 out-of-town critics and writers who cover Broadway and off-Broadway. Their annual Award nominations unofficially kick off New York's theatrical awards season. For a complete list of the nominees click here.


SPREADING THE WORD


BARBARA BUSH

Barbara Bush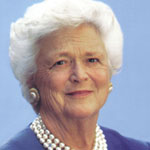 in a very special Learning Annex New York presentation.

Not since Abigail Adams, has one woman been both the wife and mother to a president. Barbara Bush's prominent place in American history is matched by her extraordinary popularity: Republicans and Democrats alike appreciate her wit, her compassion, and her devotion to her family.

Dignified, loyal and unpretentious, Barbara Bush is one of the most admired first ladies in history; she remains a beloved public figure today. In this very special Learning Annex presentation, Barbara Bush will share her thoughts on: The inauguration of her son, President George W. Bush, in January 2001. Her life with husband President George H.W. Bush, including the White House years. Her experiences on the campaign trail with her sons, and her continuing interactions with VIPs from around the world.

Barbara Bush was born in Rye, New York, and married George H. W. Bush in 1945. She was First Lady of the United States from 1989 to 1993. She has five children, including President George W. Bush and Florida Governor Jeb Bush, and is the founder of The Barbara Bush Foundation for Family Literacy.

April 23 at The Learning Annex in Manhattan.


SWEET CHARITY


STAND-UP FOR MADELINE

Madeline Kahn
in honor of Madeline Kahn, the talented performer whose life was ended way too early in 1999 by ovarian cancer.

Laugh out loud and support Ovarian Cancer Research Fund April 26 at Carolines on Broadway. It's all to raise money for the Ovarian Cancer Research Fund.

The infamous Caroline's on Broadway is home to the third annual tribute to Madeline Kahn. Laughter is guaranteed from host Joy Behar and the allstar line-up of performances by Susie Essman, Robert Klein, Peter Boyle, Judy Gold, and Mario Cantone.

Monday, April 26 at Caroline's in New York City.

RAINFOREST FOUNDATION 12th CARNEGIE HALL BENEFIT CONCERT will star mainstays Elton John, James Taylor and Sting plus Antonio Banderas, Billy Joel, Bette Midler and more. Ellen Barkin, Ronald O. Perelman and Revlon will sponsor what the Guinness Book of World Records, Millennium Edition, has deemed "The Biggest Environmental Fundraising Event" in the world.

The theme is "Singin' in the Rain 'Forest': Great Songs from the Movies." According to Rainforest Foundation Co-founder and Concert Producer Trudie Styler: "The combination of some of the greatest performers of today and classic songs from the silver screen is going to result in a truly unforgettable evening for a cause that must never be forgotten."

The Rainforest Foundation was founded in 1989 by Trudie Styler and her husband, Sting. Over the past 15 years, the Foundation has been working with Indigenous peoples to help them assert their rights and make their voices heard. To date, the foundation has projects in rainforest countries in three continents and has raised over 19 million dollars to support its mission.

The concert will be the culmination of various awareness-building and fundraising events in New York known as "Rainforest Awareness Week. Concert-only tickets range from $150 to $600 each, as well as some "super" seats for $2,500 that include admittance to the post-show gala and dinner. April 21 at Carnegie Hall in New York City.

THE AMERICAN THEATRE WING the founder of the Tony Awards, will be celebrating the late Isabelle Stevenson, at The Annual Spring Luncheon. The benefit will be held Monday, April 19, at The Pierre Hotel Ballroom.

Alec Baldwin will be the emcee for the entertainment. Some of the participants are Nathan Lane, Tovah Feldshuh, Kevin Kline and Elaine Stritch.

The Honors Luncheon will benefit the American Theater Wing's Educational Program. The Honorary Chairs are: Clear Channel Entertainment; Walt Disney Theatrical Productions, Inc.; Jujamcyn Theaters, James M. Nederlander and The Shubert Organization. Vice Chairs are Bettina Burda, CUNY-TV/Robert Isaacson, Sir Howard Stringer/Sony Corporation and Peter Schneider. The Co-Chairs are Donald Brooks, Susan Brown, Sondra Gilman Gonzalez-Falla, Jay Harris, Anita Jaffe, Stewart Lane, Douglas Leeds, Pia Lindstrom, Jo Sullivan Loesser, Andrew Marks, Laura Maslon, Francine Pascal, Francine Ringold, Howard Sherman Ticket prices are $200, $500 and $1,000 with Tables available at $2,000, $5,000, $10,000 and $25,000.

THE ANNUAL KENNEDY CENTER GALA considered one of Washington's premier benefit engagements, takes place April 25th. This year's 12th Annual Gala Ellington, etc. will celebrate the remarkable Washingtonian, Duke Ellington, and his extraordinary contributions to music. Liza Minnelli, Regina Taylor, Dianne Reeves, Deborah Voight, Nancy Wilson, Alvin Ailey American Dance and the Clayton-Hamilton Jazz Orchestra will be saluting the great who stands as one of twentieth century's greatest and most prolific composers. His musical artistry, using his orchestra as his medium, created harmonies, tonal colorings, and rhythms that were startling in their originality, and uniquely American. Join the Kennedy Center in paying tribute to Duke Ellington and the music of his era.

Gala Chairs Mrs. Clay Johnson and Mr. Cappy McGarr for the sold out event are planning a celebratory weekend of events, featuring a special reception on Saturday evening for $5,000 sponsors and above and the gala dinner and performance in the Concert Hall on Sunday- for all Gala ticket buyers. Immediately following the performance, the enchantment continues with a cocktail and dancing party.


OTHER PEOPLE'S MONEY


DON'T PUT ALL YOUR EGGS IN ONE BASKET or hook backup power and primary cables to the same ductwork is the Easter lesson learned by the Bellagio Hotel in Las Vegas. About 2 a.m. Easter morning the hotel suddenly went dark and stayed that way for three days. The backup power kicked in but had to be shut down because the primary and backup power cables are contained in the same ductwork, which prevented engineers from repairing the main system while operating the backup. Estimated loss for each day of closure - at least $3 million.

However, if you were a gambler betting when the lights went black, you got your money back - immediately if your wager was $100 or less. If you were a really big spender you had to come back and fill out forms.

If customers were in the dark the paintings were lit and safe. Those Monet paintings, on loan from the Boston Museum of Fine Art, remained pampered. Works of art need to be in both a temperature and humidity controlled environment and The Bellagio Gallery of Fine Art has their own power backup with air circulating through their own emergency power generators.

Nor did the gorgeous plants and flowers in the magnificent conservatory get their lives dried out - they were hand watered by employees.

Once power was restored the resort initiated the slow process reopening. The resort had to prove its power restoration and safety systems were up to snuff to county building, fire and health inspectors. Gaming Control Board agents were required to be on site to supervise the reopening of the casino. The hotel also had to receive fresh supplies, such as food. The Bellagio is once again delivering five star service.



ASSASSINS Book by John Weidman. Music & Lyrics by Stephen Sondheim. The show that gives new meaning to the phrase "killer musical" as the production looks at those throughout history who have attempted to assassinate the president.

The show stars; Becky Ann Baker, James Barbour, Mario Cantone, Michael Cerveris, Mary Catherine Garrison, Alexander Gemignani, Neil Patrick Harris, Marc Kudisch, Jeffrey Kuhn and Denis O'Hare.

In a dazzling new production this strikingly provocative work looks at the lives, loves and lunacy of nine American assassins, including John Wilkes Booth, John Hinckley, Lee Harvey Oswald and Lynette "Squeaky" Fromme, exploring the history of presidential assassination in America.

Assassins climaxes in a surreal sequence where the assassins convince Lee Harvey Oswald that his act is the only way he will connect - with them, with history, and with the world.

The song Something Just Broke was added for the London productions, and has been included in all subsequent productions.

Assassins stars Becky Ann Baker (Sara Jane Moore), James Barbour (Leon Czolgosz), Mario Cantone (Samuel Byck), Michael Cerveris (John Wilkes Booth), Mary Catherine Garrison (Lynette "Squeaky" Fromme), Alexander Gemignani (John Hinckley), Neil Patrick Harris (Balladeer/Lee Harvey Oswald), Marc Kudisch (Proprietor), Jeffrey Kuhn (Giuseppe Zangara) and Denis O'Hare (Charles Guiteau).

The cast will also include: James Clow, Merwin Foard, Eamon Foley, Kendra Kassebaum, Ken Krugman, Anne L. Nathan, Chris Peluso, Brandon Wardell and Sally Wilfert.

The creative team is led by Joe Mantello, with musical staging by Jonathan Butterell and music direction by 2001 Tony Award Winner for Lifetime Achievement Paul Gemignani. The original production debuted at Playwrights Horizons in 1990. This production officially opens on April 22 at the Roundabout's new musical home Studio 54.

FROZEN which those in the know say is a certainly to receive a Tony nomination - with the same opinion for star Swoosie Kurtz, moves from off-Broadway to Broadway May 4 beating the Tony deadline by hours.

Written by Bryony Lavery the play stars Swoosie Kurtz, Brian F. O'Byrne and Laila Robins. The plotline centers around the murder of a child and its repercussions. Previews begin April 28 at Circle in the Square with the official opening on May 4.

TASTING MEMORIES a compilation of reveries about food told in poetry, song and prose will feature a revolving cast including two-time Tony winner Tammy Grimes, Kitty Carlisle Hart, Rosemary Harris, Philip Bosco, Alvin Epstein, Joy Franz and Kathleen Noone, as well as Mel Cobb, Michael Fischetti and Emily Mitchell. Don Amendolia will direct the production at The Neighborhood Playhouse in Manhattan. May 19-June 13.

Opening night, Friday, May 21 will be a benefit for The Colleagues Theatre Company with $100 tickets for the show and post-performance reception. Tasting Memories, a compilation created by Michael Fischetti and Emily Mitchell, has Musical Direction by Michael Smith, set design by Drew Donovan; lights by Marcia Madeira; sound design by John Peifer, with Karen Beatty as Costume Coordinator and Dyanne Court as Production Stage Manager.

The Colleagues Theatre Company was founded in 1996 by Catherine Wolf to identify and develop performance opportunities for the mature and seasoned actor.

CAROLINE, OR CHANGE

Tonya Pinkins as Caroline Thibodeaux and Adriane Lenox as The Moon. Photo by Michal Daniel.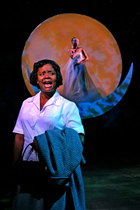 a new musical by Tony Kushner and Jeanne Tesori, directed by George C. Wolfe and starring Tony Award winner Tonya Pinkins officially opens on Broadway at the Eugene O'Neill Theatre on May 2nd.

It's Louisiana in 1963, just before President Kennedy's assassination and during the Civic Rights movement.

Caroline, a black maid of a Southern Jewish family, composed of a father, his new wife and the man's young son, Noah. The son's birth mother has recently died, and the stepmother is trying to establish a relationship with the child, who already has a close connection with Caroline.

The title has a double meaning, referring to the myriad social changes swirling around the family and a family argument surrounding the spare change perpetually found in the boy's pants pockets.

The cast features Tonya Pinkins and Reathel Bean, Harrison Chad, Tracy Nicole Chapman, David Costabile, Veanne Cox, Aisha de Haas, Marcus Carl Franklin, Marva Hicks, Capathia Jenkins, Larry Keith, Ramona Keller, Alice Playten, Anika Noni Rose, Leon Thomas III, Chandra Wilson. and Chuck Cooper.

The credits include; Riccardo Hernandez set design, Paul Tazewell costume design, Jules Fisher and Peggy Eisenhauer lighting design, Jon Weston sound design, Jeffrey Frank hair design, Rick Bassett, Joseph Joubert, Buryl Red orchestrators, Kimberly Grisgby music supervisor, John Miller music coordinator, Linda Twine music director and conductor and Hope Clarke choreographer.

Eugene O'Neill Theatre in New York City, officially opening May 2nd.

YANKEE DOODLE the man who owned Broadway. A world premiere with book by David Armstrong. Music and Lyrics by George M. Cohan. New Music and Lyrics by Albert Evans. Directed by David Armstrong and Jamie Rocco.

The life and times of legendary showman George M. Cohan explode onstage in this sensational world premiere production. Set against the colorful backdrop of "Old Broadway," it's the show-biz saga of the brash, colorful, cocky, charismatic and uncompromising character who almost single-handedly invented the Broadway musical. From the hard-knock days of his family's adventures on the vaudeville circuit to his reign as the star-spangled "King of Broadway," Cohan's life was a roller coaster ride of professional highs and lows and personal triumphs and heartbreak. This new show presents a fresh, contemporary view of a celebrated musical theater icon.

Songs include; Give My Regards to Broadway, Over There, You re a Grand Old Flag, Harrigan, Mary is a Grand Old Name and Yankee Doodle Dandy.

The cast includes Sean Martin Hingston as the young George M. Cohan, Richard Sanders as the elder George, and Judy Blazer in duel roles: Ethel, Cohan's first wife, and Georgette, Cohan's daughter Seán Griffin plays Old Lou the Doorman, Jason Schuchman plays George's best friend and business partner Sam Harris, Dirk Lumbard and Cynthia Ferrer play Cohan's parents Jerry and Nellie, and Danette Holden plays Cohan's sister Josie. Rounding out the ensemble are: Greg Michael Allen, Kathryn Arnett, Alan Boswell, Adam Brozowski, Kari Lee Cartwright, Tony Curry, Taryn Darr, Marc dela Cruz, David Drummond, Brigitte Graf, Brittany Jamieson, Joey Matta, Jayme McDaniel, Amanda Paulson, John Scott, Jesse Stoddard, Pamela Turpen and Kathryn Van Meter.

Richard Gray is the musical director, Ian Eisendrath is the associate musical director and Bruce Monroe is the conductor. Tom Sturge is the lighting designer, Kurt Fischer is the sound designer, James Wolk is the set designer, Greg Poplyk is the costume designer, and Mary Pyanowski is the hair/make-up designer. Cherese Campo is the production stage manager and Michael Burke is the stage manager.

Immediately after the Seattle world premiere, the show travels to Atlanta and Dallas. April 24-May 16 at The 5th Ave. Theatre in Seattle, Washington. The 5th Avenue Theatre is home to The 5th Avenue Musical Theatre Company, a resident non-profit company.

COOKIN AT THE COOKERY The Music and Times of Alberta Hunter by Marion J. Caffey.

An inspiring tale of triumph over incredible odds. Blues singer Alberta Hunter had a gift for making people "feel good all over" that made her a Chicago institution in the '20's. She performed with the likes of Louis Armstrong and Paul Robeson and her songs gave Bessie Smith some of her biggest hits. Eventually, Ms. Hunter abandoned public life to become a nurse, but was coaxed out of retirement by music industry insiders and began her second, incredibly successful performing career at the age of 82. Ms. Hunter's music and indomitable spirit lives on in this brand new, hugely popular bioplay. At the Cleveland Playhouse's Drury Theatre April 27-May 30.The Cleveland Play House is America's first permanently established professional theatre company.

THE FABULOUS PALM SPRINGS FOLLIES WITH GUEST STAR BILL HAYES who is most widely known for having created the role of Doug Williams on NBC's long-running daytime-drama, Days of Our Lives a character he originated in 1970 and now has played in over 1900 episodes before being murdered by Marlena.

Hayes has also appeared in over 100 musicals and recorded the 1955 #1 hit The Ballad of Davy Crockett. He is guest starring in The Fabulous Palm Springs Follies through May 30 in Palm Springs, CA.

NOISES OFF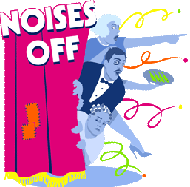 Book by Michael Frayn. This frantically funny farce within a farce takes you behind the scenes of a third rate acting troupe's latest play. The "show" performed by the actors is hilarious enough, but wait until you see what's going on backstage! You'll commiserate with the cast as actors stampede in and out of doors, voices rise and trousers fall. This show is a joyous reminder that the theatre really does go on--even when the show falls apart. This show provides comic delirium that rocks the house; the whole audience will be reduced to helpless hysteria. Pure fun. Opened at the Omaha Community Playhouse on April 16 with a run through May 9th. The Omaha Community Playhouse is the largest community theatre in the nation with a 600 seat mainstage theatre.


| | | |
| --- | --- | --- |
| | | |
WHO'S WHERE


MORT SAHL has returned to New York. Sahl, who first took an irreverent stand on the cutting edge of American social and political humor with his legendary appearances at San Francisco's famed "hungry i" in the early 1950s, is still ruffling the feathers of the powerful and affluent and shaking a finger at their deeds. "Liberals feel unworthy of their possessions. Conservatives feel they deserve everything they've stolen."

The first humorist on the cover of Time magazine and the first non-musician to win a Grammy Award, Sahl's comments today are as incisive as ever.

The last time he was set to unleash his opinions about the state of the union and the world in The Big Apple he received a frosty reception - a 14 inch blizzard. Sahl expects a warmer welcome for his gig at the Village Theater, in Greenwich Village, April 21 through May 2.

BOB NEWHART telling funny stories Thursday at Four Rivers Center in Paducah, KY. On Saturday the laughs will be at the McCarter Theatre in Princeton, N.J. and next Sunday Bob will be bring his perfect comedy timing to the American Music Theatre in Lancaster, PA.

MICHAEL BUBLE winds up his tour of Australia this week with shows Monday at the Melbourne Concert Hall in Melbourne. On Wednesday he begins a three night engagement at the Sydney Opera House in Sydney. He then heads to New Zealand.

JOHNNY MATHIS in a two night stand Friday and Saturday at Caesars Atlantic City.

DAVID CASSIDY has gone across the pond to entertain. Saturday he is at the at Clyde Auditorium in Glasgow, Scotland and next Sunday starring at the Opera House in Blackpool, England.

GEORGE WINSTON in the spotlight tonight at the Community Arts Theatre in Jasper, Indiana. On Friday he is centerstage at North Iowa Community College in Mason City, Iowa and next Sunday the show is at the University of Northern Iowa in Cedar Falls, Iowa.

STEVE TYRELL performs Friday at the Keswick Theatre in Glenside, Penn. On Saturday he is on stage at the Grand Opera House in Wilmington, Delaware and next Sunday, April 25, he entertains at The Birchmere in Alexandria, Virginia.

MINDI ABAIR performs in Las Vegas on Saturday April 24 as part of the City of Lights Jazz Festival.

TONY BENNETT sings Thursday at Mystic Lake Casino in Prior Lake, Minn.

ROD STEWART performs at the Reish Center in Green Bay, Wisconsin on April 18th. On Friday he can be enjoyed at the Gaylord Entertainment Center in Nashville.

JOSH GROBAN has a busy week. He's on stage this evening at the Maxwell C. King Center in Melbourne, Florida. On Tuesday the show is at the Fox Theatre in Atlanta, Georgia. Wednesday finds the singer at the Grand Ole Opry House in Nashville. Friday he's in the spotlight at the Raymond F. Kravis Center in West Palm Beach, Florida and he closes out the week, Saturday, at the Jackie Gleason Theatre in Miami Beach, Florida.

PAULA POUNDSTONE making people laugh Friday at the Rich Forum in Stamford, Conn. She has a two nighter, Saturday and Sunday at the Stoneham Theatre in Stoneham, Mass.

ERIC CLAPTON who will begin a two month North American tour in June, continues to perform in Europe. On Friday he's on stage at The Point in Dublin and on Saturday the performance is at the odyssey Arena in Belfast.

THE MANHATTAN TRANSFER open a four night engagement Thursday at the Orleans Hotel in Las Vegas.

IMPROV OLYMPIC owned by Charna Halpern expects to take her Windy City project to The Big Apple. The intent is to offer shows and classes this summer in the Laugh Factory, the new 14,000-square-foot venue that recently opened. ( See Broadway To Vegas column of April 4, 2004 ) ImprovOlympic also has a Los Angeles branch on Hollywood Blvd.

RAY STEVENS performs Friday at the American Music Theatre in Lancaster, PA. On Saturday the entertainer in on stage at Little Nashville Opry in Nashville.

PETER CINCOTTI has a full schedule. Tonight the show is at the Carolina Theatre in Greensboro, North Carolina. On Monday he can be enjoyed at Pennsylvania State University in University Park, PA. Wednesday finds the singer in the spotlight at The Birchmere in Alexandra, Virginia. Friday he'll be tuneful at the University of Michigan in Ann Arbor and he closes out the week, Saturday, at Kalamazoo State Theatre in Kalamazoo, Michigan.

JIMMY BUFFET getting people happy Thursday at St. Pete Times Forum in Tampa, Florida. On Saturday the party is at the Charlotte Colisum in Charlotte, N.C.

JOHN PRINE on stage tonight at Bass Performance Hall in Fort Worth, Texas. On Friday he's on stage at the Civic Center of Greater Des Moines in Des Moines, Iowa and on Saturday the show is at the Orpheum Theatre in Sioux City, Iowa.
















Next Column: April 25, 2004
Copyright: April 18, 2004. All Rights Reserved. Reviews, Interviews, Commentary, Photographs or Graphics from any Broadway To Vegas (TM) columns may not be published, broadcast, rewritten, utilized as leads, or used in any manner without permission, compensation and/or credit.
Link to Main Page
---
Laura Deni


CLICK HERE FOR COMMENT SECTION