Broadway To Vegas
  
 SHOW REVIEWS CELEBRITY INTERVIEWS GOSSIP NEWS

| | |
| --- | --- |
| | |
BARD TO THE BONE - SHAKESPEARE'S BIRTHDAY - - STUFF HAPPENS IS BRILLIANT - - AMERICAN COLLEGE THEATER FESTIVAL - - PATTI LuPONE THE LADY WITH THE TORCH CD - - BLACK PANTHER RANK AND FILE - - DIAHANN CARROLL AT FEINSTEIN'S - - AMERICAN THEATER WING SEMINAR - - A TRIBUTE TO NINA SIMONE - - DONATE . . . Scroll Down


WARRIORS AND QUEENS - ROMAN STYLE


The Bard is having a birthday and London's Shakespeare Globe Theatre, founded by the pioneering American actor/director Sam Wanamaker, knows how to throw a party.

On the deceased guy's natal day, April 23, it's a day of Warriors and Queens - Roman style. Shakespeare's Globe will once again throw open their doors welcome everyone to a very special free birthday celebration.

To launch the day Cleopatra will sail down the River Thames to the Globe, re-enacting the famous description from Antony and Cleopatra.

'The barge she sat in, like a burnished throne,
Burned on the water. The poop was beaten gold;
Purple the sails, and so perfumed that
The winds were lovesick with them.'

She will be met by twenty Roman soldiers and a band of musicians to herald the start of the festivities.

Throughout the day family entertainment will include: gladiatorial fighting, a 'best theatrical death' competition, lessons in how to wear a toga, the opportunity to try on Cleopatra's costume, and the chance to take to the world-famous Globe stage and deliver a line or two yourself.

There will also be the opportunity to take part in workshops on dance, voice and movement with seasoned Globe professionals.

This day is organized as part of the Mayor of London's celebrations for St George's Day 2006. Shakespeare's Birthday is also St George's Day - London's Patron Saint, who was himself a Roman soldier.

Across the pond - in The Big Apple - on Sunday, April 23, The Shakespeare Society presents the first ever Shakespeare Birthday Marathon. This free community event, staged at Peter Norton Symphony Space, will commemorate Shakespeare's 442nd birthday with stage and screen actors reading the Bard's plays and poetry - as well as music and song from the city's finest singers and musicians - in a four-hour celebration.

The first event of its kind, the Marathon will be a gift to the City of New York.

Director Isaiah Sheffer and Scholars Krisin Linklater and Marjorie Garber will host sections of the marathon.



John Tuturro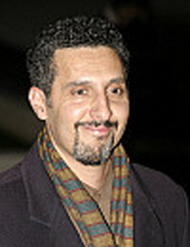 Marcia Gay Harden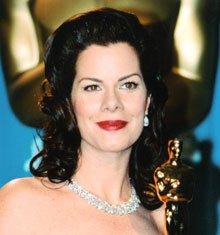 Participants include; Liev Schreiber, John Turturro, Ruben Santiago Hudson, Kathleen Chalfant, Marcia Gay Harden, Maggie Gyllenhaal, F. Murray Abraham, Phillip Bosco, Robert Sean Leonard, Estelle Parsons, Denis O'Hare, Fritz Weaver, Marian Seldes, Maria Tucci, Michael Cumpsty, Elizabeth Marvel, Kate Forbes, John Rothman, Joe Plummer, David Townsend, Kristin Linklater, Isaiah Sheffer, Florenzia Lozano, and Marjorie Garber.

Students from The Shakespeare Society's Adopt-a-School educational outreach program will also perform scenes and monologues from Macbeth, Romeo & Juliet and Hamlet. The Adopt-A-School program serves more than 1,800 New York City public school students from low-income families every year.

Down the street at the Steinhardt Building it's Bard to the Bone. Since Shakespeare's birthday comes but once a year the Makor plans to commemorate the occasion with high-octane readings of his monologues and sonnets - crowd participation will be encouraged - songs inspired by the Bard's works and a costume contest with awards given for Best Villain, Best West Side Story look-alike and Bodice Most Likely to be Ripped.

Sunday, April 23 at the Steinhardt Building in NYC.


AMERICAN COLLEGE THEATER FESTIVAL


The national showcase of the 38th annual Kennedy Center American College Theater Festival will take place at the Kennedy Center April 18-23.

Earlier this year, selected participants from the eight regional festivals at colleges and universities around the country were invited to showcase their talents and be considered for scholarships and awards and to participate in master classes with some of the best artists in their field.

The festival's national showcase is comprised of the presentation of four invited productions, the Short Play Festival and the presentation of scholarships and awards for acting, design, playwriting and dramatic criticism.

Developed by Roger L. Stevens, Kennedy Center Founding Chairman, the KCACTF is dedicated to encouraging, recognizing and celebrating the finest and most diverse work produced in college and university theater programs. The eight regional festivals and national festival are an opportunity for college and university theater departments to present their work, especially new or student-written work, and to receive outside assessment.

( For a list of participants click here )


THE MUSIC GOES ROUND AND ROUND


PATTI LuPONE: THE LADY WITH THE TORCH String together 45 minutes of crying in your beer torch songs is risking disaster. A little lonely goes a long way. Too much and you've got a listener who either shuts down or OD's on something - from Twinkies and ice cream to booze and pills.

There is the musical genius Scott Whitman who originally conceived Patti LuPone's The Lady With The Torch concert upon which this CD is based. He knows it's all in the tempo and this CD is the gold standard for the importance of how a beat conveys emotion.

This isn't just a one play CD - where after an initial listen the plastic is put on a shelf. This is a repeat play disc. LuPone performs the way composers dreamed their creations would be sung.

The Tony and Olivier Award winner, who is currently starring as Mrs. Lovett in the acclaimed revival of Sweeney Todd, recorded the CD last December 11-13 at Sear Sound Studio, New York City. It's her first studio CD in seven years and was developed through her engagements at New York's Feinstein's at the Regency, Los Angeles' Cinegrill and San Francisco's Plush Room, before performing the show as her third sold-out solo concert at Carnegie Hall last March.

There is no intro - just LuPone's gorgeous voice with an in your face The Man I Love. It's plaintiff but the end of the tune the arrangement becomes soaring and hopeful. Guess I'll Hang My Teardrop Out To Dry is upbeat. Not to sound cliché but Something Cool has a cool arrangement. A Cottage for Sale featured LuPone's pure voice backing by only a tinkling piano. Ill Wind is sultry while It's a celebratory I Want To Be Around, which the liner notes call The Sicilian National Anthem. By the time LuPone delivers Don't Like Goodbyes she had used her incredible voice in a myriad of styles, backed my musicians who know how to make their instruments talk. Patti LuPone; The Lady With The Torch is a must have for anyone who wants the best in a CD - a stellar voice delivering lyrics that can be understood, perfect arrangements executed by musicians who know what they are doing.

Orchestrations by Jonathan Tunick and musical direction by Chris Fenwick. For the recording Fenwick directed a ten-piece band performing Tunick's orchestrations of an eclectic collection of torch songs by such composers and lyricists as Jule Styne, Sammy Cahn, Harold Arlen, Billy Barnes, Johnny Mercer, Jessie Mae Robinson, Cole Porter and George and Ira Gershwin.

John Campos (bass clarinet); Andrew Sterman (alto saxophone); Lawrence Feldman (tenor saxophone); Glenn Drewes (trumpet); Robert Milikan (flugelhorn); John Gale (trombone); Chris Fenwick (piano); John Beal (bass instrument); Paul Pizzuti (drums); Erik Charlston (vibraslap).

Track Listing:

The Man I Love (George Gershwin/Ira Gershwin)
I Guess I'll Hang My Tears Out to Dry (Jule Styne/Sammy Cahn)
Something Cool (Billy Barnes)
A Cottage for Sale (Willard Robinson/Larry Conley)
Ill Wind (Harold Arlen/Ted Koehler)
I Wanna Be Around (Johnny Mercer/Sadie Zimmerstedt)
The Other Woman (Jessie Mae Robinson)
Do It Again (George Gershwin/B.G. DeSylva)
Early Autumn (Ralph Burns, Woody Herman, Johnny Mercer)
I'm Through with Love (Gus Kahn/Matt Malneck/Tom Adair)
So in Love (Cole Porter)
My Buddy (Walter Donaldson, Gus Kahn)
Body and Soul (John W. Green/Edward Heyman/Robert Sour/Frank Eyton)
Don't Like Goodbyes (Harold Arlen, Truman Capote)
Ghostlight Records, a division of Sh-K-Boom Records, will release Patti LuPone's The Lady With The Torch, on April 24, Light up you collection and get a copy.


ART AND ABOUT


DISHING IT OUT: CAREER WAITRESSES ACROSS THE USA

Can you recall the waitress who served you last week? Was she young, old or timeless? Was she full of humorous small talk or did she just slam down your food and drop the check?

Through interviews and photographs, writer and visual artist, Candacy Taylor, has documented waitresses across the U.S. to reveal their careers and bring awareness to their importance as workers within their communities. It is time we recognize one of America's most prized icons: women who race to our tables, quarrel with the cooks and bring humor and culture to the roadside dining experience!

April 28 – September 11 at The Copia, The Center for Wine Food of the Arts in Napa, CA.

THE PSYCHEDELIC SIXTIES: SELECTIONS FROM THE BILL GRAHAM ARCHIVE Renowned concert promoter Bill Graham passionately collected objects from the rock and roll generation of the 1960's in San Francisco.

Posters, album covers, programs and other memorabilia that defined this culture will provide a historical tour of the folk art of the rock and roll generation.

April 20-June 18 at the Museum of Craft and Folk Art in San Francisco.



Broadway To Vegas is supported through advertising and donations. Priority consideration is given to interview suggestions, news, press releases, etc from paid supporters. However, no paid supporters control, alter, edit, or in any way manipulate the content of this site. Your donation is appreciated. We accept PAYPAL. Thank you for your interest.


SWEET CHARITY


2ND ANNUAL CUBS ROOFTOP FRIENDS FOR STEVEN BENEFIT takes place Tuesday, April 25 at Beyond The Ivy in Chicago. Arguably the most luxurious of the rooftop venues that overlook Wrigleyville. We're talking incredible rooftop views, food and beverage package, and delightful late April weather - fingers crossed - to watch the ball game. A raffle includes flying lessons, airline tickets, and gift certificates to local restaurants. This year the Cubbies take on the Marlins, and it's anybody's game.

Friends for Steven is a non-profit, volunteer organization raising money and awareness in the battle against the pediatric cancer known as neuroblastoma.

The group was formed in 1997, in honor of their namesake, Steven Newkirk, who succumbed to neuroblastoma after being diagnosed at age 5. Friends For Steven supports research to help all children and their families struggling against this terrible disease.

PRINCE CHARLES AND THE DUCHESS OF CORNWALL

The Prince of Wales and The Duchess celebrate their first wedding anniversary. Photo by Mario Testino.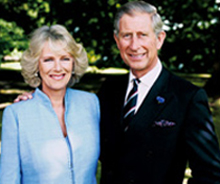 who celebrated their wedding anniversary on April 9 - and will host an 80th birthday party for his mother, Queen Elizabeth, on Friday - came back from spending their first anniversary privately at Birkhall, Scotland, where they spent their honeymoon last year, to preside over Opera Australia's 50th anniversary celebration April 11 at Buckingham Palace.

Six Australian opera stars performed - sopranos Lisa Gasteen, Cheryl Barker and Yvonne Kenny, baritones Teddy Tahu Rhodes and Peter Coleman-Wright and tenor Glenn Winslade, accompanied by David Harper as well as the London Chamber Orchestra, conducted by Christopher Warren-Green.

Adrian Collette, Chief Executive of Opera Australia, said, "The first fifty years of Australia's national opera company have been enriched by a vital and enduring association with the leading opera practitioners of the United Kingdom. Richard Hickox, one of the world's foremost conductors, recently moved with his family to Australia from England to spend six months of every year fulfilling his new post as Music Director of Opera Australia. We look forward to continuing this long and rewarding collaboration over the next fifty years."

This fundraising recital and dinner was attended by more than 200 distinguished guests and Opera Australia supporters including Australia's most famous opera singer, Dame Joan Sutherland. The evening helped raise funds for the Opera Australia Capital Fund, a trust fund established to build capital reserves to secure the future of Australia's national opera company.


SPREADING THE WORD


BLACK PANTHER RANK AND FILE

Pirkle Jones, Women, Free Huey Rally, Oakland, 1968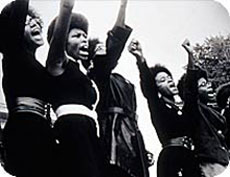 is the second of the monthly SFArts "top 10" parties! Meet, mingle, eat, drink, enjoy while learning why SF Arts is "all about the arts." Every month, another venue and another "10 things about the arts" you didn't know before. Featured this month: Yerba Buena Center for the Arts, and its exhibit Black Panther Rank and File.

What has the Revolutionary community learned from their experience in the 60's? What is their vision for the future? Who are the new generation of contemporary revolutionaries from America's trenches and what is the current state of political affairs for Diasporic people world wide?

Wednesday, April 26 at the Yerba Buena Center for the Arts, San Francisco.

JUDITH MILLER: HANDBAGS Judith Miller, internationally acclaimed antiques and collectables expert, has been collecting since the 1960s and has written well over 80 books on the subject. In 1979 she was a co-founder of the Miller's Antiques Price Guide, of which she was publisher until 1990. She has recently launched a new series of Pocket Collectors Guides which includes one on handbags. It is this publication that will be the focus of her illustrated talk; fascinating for enthusiasts and collectors alike.

The talk will be followed by a wine reception and book signing.

Monday April 24 at the Victoria and Albert Museum in London.

NEW WORKING IN THE THEATRE seminar sponsored by the American Theatre Wing will take place Friday, April 21. This topic of this seminar will be The Drowsy Chaperone.

Originally created as a skit for a bachelor party, The Drowsy Chaperone has traveled from Toronto to Los Angeles to Broadway, growing in size along the way without sacrificing its skewed view of classic musicals. The ATW Working in the Theatre seminar will explore Chaperone's journey from one-off entertainment into that rarest of musicals – one not based on a book, play or movie.

The 90 minute seminar, moderated by Howard Sherman, will include the creative team of The Drowsy Chaperone: Edward Hibbert - Actor. Lisa Lambert - Music and Lyrics. Beth Leavel - Actor. Bob Martin - Book and Actor. Kevin McCollum - Producer. Don McKellar - Book. Roy Miller - Producer. Greg Morrison - Music and Lyrics. Casey Nicholaw - Director and Choreographer.

All seminars are held at Elebash Hall in the CUNY Graduate Center, NYC.


CURTAIN DOWN
BAREFOOT IN THE PARK the revival of Neil Simon's 1963 comedy, at the Cort Theatre, starring Amanda Peet and Patrick Wilson will close on May 21, after 108 performances and 27 previews.



STUFF HAPPENS David Hare's new play first mounted at the National Theater in London in 2004 is an intelligent, thought provoking, awesome production with insightful direction by Daniel Sullivan - all the stuff for a hit.

Stuff happens… and it's untidy, and freedom's untidy, and free people are free to make mistakes and commit crimes and do bad things.

When Secretary of Defense Donald H. Rumsfeld uttered those famous words - stuff happens - in response to a April 11, 2003 press query about looting in newly liberated Baghdad, ears of playwrights perked. This was a phase begging for a play. What could have been an irreverent comedy, a bad farce or a cliché ridden drama was flawlessly penned by Hare, specially written for London's Olivier Theatre, about the extraordinary process leading up to the invasion of Iraq. This New York mounting deserves to be an award winner.

Seen in previews, this is a rendition that is carried by the words and the actors who bring them to life. The stage is almost bare flanked on two sides by the audience. The incredible cast provides impeccable portrayals of their real-life characters, including Jeffrey De Munn as Rumsfeld, Zach Grenier as Dick Cheney, Peter Francis James as Colin Powell, Gloria Reuben as Condolezza Rice, Robert Sella as Dominique De Villepin, France's foreign minister, Glenn Fleshler as George Tenet, Byron Jennings as Prime Minister Tony Blair and Jay O. Sanders as President George Bush.

Stuff Happens is based upon transcripts of press conferences, United Nations assemblies and television interviews. Literary license and intelligent speculation play a role in crafting the closed door conferences. The plotline is the weaving of staff meetings at the White House and at No. 10 Downing Street, closed-door conferences, public addresses, and backdoor diplomacy and betrayals that led to the American-spearheaded invasion of Iraq.

How does the world settle its differences, now there is only one superpower? What happens to leaders risking their credibility with skeptical publics? From events which have dominated international headlines for the last two years David Hare has fashioned both a historical narrative and a human drama about the frustrations of power and the limits of diplomacy.

Sets by Riccardo Hernández; costumes by Jess Goldstein; lighting by Pat Collins; composition and sound by Dan Moses Schreier; production stage manager, James Latus; stage manager, Buzz Cohen.

Presented by the Public Theater at the Newman Theatre, in the East Village of NYC. Performances through May 28.

THE IMPORTANCE OF BEING ERNEST By Oscar Wilde. Directed by Sir Peter Hall.

What's in a name, anyway? Plenty, it turns out, especially if you're Ernest, the scandalous—and fictitious - brother/alibi of Jack Worthing, a strait-laced dandy in Victorian England just itching to have a bit of fun in London while away from his country estate. It's a time when style trumped substance and - this being Wilde at his most incisive - Jack's games soon spin hilariously out of control. The Importance Of Being Earnest is a delirious contradiction in terms.

Lynn Redgrave stars as the domineering Lady Bracknell, a font of outlandish quips in a work rife with witticisms, who is determined to have her daughter Gwendolen marry well. Her cunning and pompous pronouncements propel a plot as delightfully convoluted as it is ingenious. Identities are contrived and mistaken. Women fall in and, just as effortlessly, out of love. Egos are (slightly) wounded. And ostentation ultimately gives way to redemption.

The cast includes Miriam Margolyes, Terence Rigby, Bianco Amato, Charlotte Parry, Robert Petkoff, James Waterston, Geddeth Smith, James Stephens, Greg Felden, Margaret Daly and Diane Landers.

Production design by Kevin and Trish Rigdon. Sound design by Rob Milburn and Michael Bodeen.

Opens April 18 at the Brooklyn Academy of Music.

RUSSIAN COSSACK STATE DANCE COMPANY in their American Debut Tour.

Direct from Moscow. Russia's premier Cossack dance troupe's superhuman acrobatic feats, artistic skill, and splendid costumes. The momentous history of the Cossacks, legendary horsemen and warriors, springs to life when these 30 world-class dancers, musicians and singers storm the stage.

Their folkloric tales of battle and glory, love and loss are expressed as only a mighty band of Cossacks can--through an unforgettable show of energy and passion, bursting with freedom! April 21-22 at the State Theatre in New Brunswick, NJ.

CHICAGO welcomes the newest Billy Flynn to the Broadway production. Obba Babatunde returns to the Ambassador Theatre on April 17th; succeeding John O'Hurley. Obba plays Flynn through June 11.

LAST EASTER By Bryony Lavery. Directed by Richard Stein.

June has a secret. When her best friends, Heather, Joy and Gash unravel the mystery, they embark on a whirlwind journey, whisking her from her home in London all the way to Lourdes, France - where she is thoroughly dunked in the reputedly holy water.

The four showbiz friends' lunatic pilgrimage is filled with laughing, singing, drag acts, a ghostly stagehand, and of course, many bottles of good, red wine. Upon their return, they commit an unspeakable act of love. This Easter, they remember. A provocative, funny and moving new play about friendship, its obligations and its unforeseen consequences.

The cast will feature: Kirsten Chandler as Joy. Yosefa Forma will play Leah and Kelly Mantle will play Gash. Helen Wassell portrays June. The role of Howie will be played by Jay Skovec.

The Set Design is by Narelle Sissons. The Lighting Design is by Tom Ruzika. Costume Design is by Dwight Richard Odle while Sound Design is by Laguna Playhouse resident Sound Designer David Edwards.

Previews begin April 18 at the Laguna Playhouse in Laguna Beach, CA.

SCOURGE the Washington, D.C. Area Premiere. Spoken word artist Marc Bamuthi Joseph takes a one-man show to extraordinary heights with Scourge, a politically provocative work that tells the tragic history of Haiti in the post-colonial world through Afro-Caribbean jazz, hip-hop, and theater.

Scourge is co-presented and co-commissioned by National Performance Network, Dance Place, and George Mason University Center for the Arts; and is also co-commissioned by the Bates Dance Festival.

April 22-23 at the Dance Place in Washington, D.C.

DIVA FEST new work by women playwrights - a festival dedicated to a theatrical collage of the female creative.

This year's 5th annual DIVAfest includes premieres of three new commissioned plays, a DIVA cabaret, a poetry reading and an art installation.

The plays are; Beauty and the Breast by Liebe Wetzel. Guns and Ammunition by Sarah McKereghan. Waiting for FEMA by Karen Ripley and Annie Larson.

DIVA Cabaret will be hosted by Sean Owens. The poetry reading is Revolutionary Letters by Diane di Prima.

April 20 through May 6, at the EXIT Theatreplex stages and in the cabaret room at San Francisco's historic Original Joe's Restaurant.

FAITH HEALER by Brian Friel, arguably Ireland's greatest living playwright. Jonathan Kent directs Oscar nominee Ralph Fiennes who portrays Frank Hardy, Tony winner Cherry Jones cast as Grace and Ian McDiarmid who plays Teddy.

This deeply moving play tells of an Irish faith healer Frank Hardy (Fiennes), his long-time lover Grace (Jones) and his devoted manager Teddy (McDiarmid).

Told through a series of long monologues - two spoken by Frank, one spoken by Grace, and one spoken by Teddy, creating a mosaic that is both astonishing and riveting.

Faith Healer tells of their touring and fateful return to Ireland after traveling around England, Scotland and Wales in a caravan, offering to heal the sick. At the heart of the story are two tragedies - one being the death of Frank and Grace's baby.

Previews begin April 18 at The Booth Theatre in NYC.

FENCES As part of the ongoing series of projects, The Actors Studio presents, for the first time in over a decade in Los Angeles, a workshop presentation of the award-winning play Fences, written by August Wilson, directed by the award-winning Jeffrey Hayden and starring Charlie Robinson, Elayn J. Taylor and Tjader France.

Fences is considered one of August Wilson's finest plays and was so honored by receiving the 1987 Tony Award for best drama, best actor, best actress, best play and The Pulitzer Prize for drama. Up to that point, Fences was the most awarded play in Broadway history. Set in Pittsburgh in the late 1950s, Fences is the story of gruff sanitation worker and former Negro League baseball player, Troy Maxson.

In this compelling drama, Troy must deal with his headstrong football-player son, who has a chance to go so much further than he did; and with his wife, who re-evaluates their marriage when Troy comes home with the baby he fathered with another woman. This story of a man's struggle to hold pride and family together in the face of unfulfilled dreams.

Fences will open on Friday, April 21 and run for four weeks through Sunday, May 14 at The Tiffany Theatre, in West Hollywood.

ALL'S WELL THAT ENDS WELL By William Shakespeare. Directed by Mark Rucker who stepped in after artistic director James Bundy underwent heart surgery on April 4. Kathleen Chalfant stars as Countess Rousillon. The production features choreography by John Carrafa.

Helena is the orphaned ward of the Countess of Rossillion, a widow with an open heart and a handsome son named Bertram. When this physician's daughter cures the languishing King of France, he grants her Bertram's hand in marriage. But the proud boy runs away to war to escape a match he deems so far beneath him. Humility and ambition collide on the battlefield and in the bedroom, as one of Shakespeare's most resourceful and resilient heroines embarks on a quest across Europe to win the heart of the man she loves.

The 21-member ensemble also includes Lisa Birnbaum, Michael Braun, Helmar Augustus Cooper, Nick Corley, John Cunningham, Erin Felgar, Julia Gibson, Christopher Grant, Dana Green, Nicholas Heck, Ayano Kataoka, Brian O'Neill, Gamal J. Palmer, Bryce Pinkham, Richard Robichaux, Tom E. Russell, Dale Soules, Elliot Villar, Amanda Warren, and Walton Wilson.

Original music and arrangements provided by Matthew Suttor. The design team includes Zane Pihlstrom (scenic), Mike Floyd (costume), Matthew Frey (lighting) and Andrew Nagel (sound). Fight direction is by Rick Sordelet, Beth McGuire serves as vocal coach and Erika Schroth is music director. Dramaturg is by Jeffrey Rogers and Sarah Bierenbaum is the stage manager.

April 21 to May 20 at the Yale Repertory Theatre in New Haven, CT. First Friday features a regular event - a pre-show conversation with members of the creative team with complimentary pizza.

ACIS AND GALALEA a pastoral opera based on Ovid's Metamorphoses, tells the story of two soul mates, whose love is troubled by the monstrous giant, Polyphemus. A jealous rage results in fatal consequences, yet the nymph Galatea uses her divine gifts to retain Acis's spirit for all eternity.

Music by George Frideric Handel. Libretto by John Gay and others.

Performing the virtuosic role of Galatea is Sarah Jane McMahon. Tenor Philippe Castagner is Acis. Damon is played by Nicholas Phan and Polyphemus by Jason Hardy.

Conducted by Ransom Wilson. Directed by Mark Lamos. Set Designer is Paul Steinberg.Costume Designer is Constance Hoffman. Lighting Design by Robert Wierzel. Choreographed by Seán Curran. Chorus Master is Gary Thor Wedow. Supertitles by Kelley Rourke.

Four performances only on Apr 16, Apr 18, Apr 20 and Apr 22. City Center Opera in New York City.

CHASING EMPIRE'S SOUL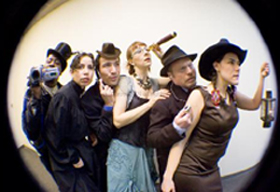 written and directed by Michael Rohd in collaboration with the ensemble cast commissioned by Artists Repertory Theatre.

How do Lewis and Clark live on in the minds of contemporary Americans?

As heroic explorers, as reckless adventure-seekers, or some gray area in between?

To commemorate the bicentennial of the Corps of Discovery and their journey that opened the American West, Artists Repertory Theatre has commissioned a unique performance piece examining the reverberations of Lewis and Clark's journey on Oregonians today.

April 17 at Baker High School in Baker City, Oregon. On April 19 the production is at The World Trade Center Theatre in Portland, Oregon.



WHO'S WHERE


SIMONE, LIVE AT TOWN HALL A Tribute To Nina Simone's Historic 1959 Town Hall Performance. On September 12, 1959, the incomparable Nina Simone - the High Priestess of Soul - graced New York's Town Hall stage, performing and recording a breakthrough concert celebrated ever since by audiences and critics alike. This April 21st her daughter, Simone, an award-winning Broadway star in her own right, will take the same stage to pay tribute to her mother and her legacy. The performance falls on the third anniversary of Nina Simone's death. Simone will collaborate with Al Schackman and the original Nina Simone Band to revisit her mother's historic performance in what promises to be a magical, unforgettable evening all its own. Simone, Live at Town Hall promises an electrifying evening of classical jazz and blues masterpieces as well as new arrangements. Simone will perform some of the same numbers her mother performed 46 years ago – classics like Black Is The Color Of My True Love's Hair, Summertime and Fine and Mellow – as well as songs from her own repertoire, all in her inimitable style. On Friday, April 21 at The Town Hall in NYC.

PETER CINCOTTI in the spotlight Saturday, April 22, at the Cerritos Center in Cerritos, CA.

MARLENA SHAW soul diva famed for her 1969 hit California Soul (as used on the latest KFC advert) and Woman Of The Ghetto (as sampled by Blueboy on Remember Me). Two night stand April 19-20 at The Jazz Cafe in London.

BROTHERS OF A FEATHER: AN ACOUSTIC EVENING WITH CHRIS AND RICH ROBINSON OF THE BLACK CROWES will be performing a collection of their catalogue and influential covers as well as new material. All shows will be in a very intimate setting and will be recorded for a possible acoustic release at some point in the future. Although The Black Crowes have performed a few acoustic numbers in their electric sets in the past, this will be the first time the brothers have ever performed full-length acoustic sets in their 16-year career. April 22 at Bimbo's Club in San Francisco.

RONAN TYNAN performs April 22 at the State Theater Performing Arts Center in Easton, PA.

ELVIS COSTELLO performs Tuesday, April 18 at Orchestra Hall in Chicago. On Thursday he's on stage at the Music Center in Strathmore Hall in North Bethesda, MD. On Friday he begins a two night gig at Meyerhoff Symphony Hall in Baltimore, MD.

JERRY SEINFELD making being laugh Thursday, April 20, at the Rialto Square Theatre in Joliet, IL. On Friday he'll be telling funny stories at the Fox Theatre in Detroit.

PETER FRAMPTON in the spotlight Saturday, April 22, at Caesars Palace in Las Vegas.

BELLA FLECK performs Tuesday, April 18 at the Kitty G. Hart Theatre in Albany, N.Y. On Wednesday the show is at Turning Stone Casino in Verona, NY. On Thursday she appears with the Jammy Awards in Madison Square Garden, Friday she appears with the Green Apple Music & Arts Festival at B.B. King's Blues Club in NYC and on Saturday the location is Irving Plaza in Manhattan.

CHICK COREA on stage Saturday, April 22, at the Palladium Theater in Saint Petersburg, FL.

MARIAN McPARTLAND entertains Saturday, April 22, at Luther College is Decorah, Iowa.

ARETHA FRANKLIN certain stage Tuesday, April 18, at the Peace Center in Greenville, SC. On Thursday she's on stage at Harrah's in Cherokee, NC. On Saturday she will appear as part of the 2 Rivers Music Festival in Columbia, SC.

CHRIS BOTTI stars at the Admiral Theatre in Bremerton, WA on Friday, April 21. On Saturday he opens a three night stand at Arlene Schnitzer Hall in Portland, OR.

AL STEWART opens a two nighter Friday, April 21, at the Glema Mahr Center for the Arts in Madisonville, KY.

SAN FRANCISCO SYMPHONY Michael Tilson Thomas, Music Director and Conductor. The Dessoff Symphonic Choir James Bagwell, Music Director, perform at Carnegie Hall on Thursday, April 20.

CELTIC WOMAN portrays the unique voices and styles of each of the singers as soloists along with fantastic ensemble numbers. Monday, April 17 at the Orpheum Theatre in Memphis.

AUDRA McDONALD This gloriously gifted Tony Award winning diva can do it all, show tunes, pop tunes, cabaret. Saturday, April 22 at the Louise M. Davies Symphony Hall in San Francisco.

DIAHANN CARROLL will star in The Life and Times of Diahann Carroll marking her first New York nightclub appearance in eons April 18 through 29 at Feinstein's at the Regency, NYC.
















Next Column: April 23, 2006
Copyright: April 16, 2006. All Rights Reserved. Reviews, Interviews, Commentary, Photographs or Graphics from any Broadway To Vegas (TM) columns may not be published, broadcast, rewritten, utilized as leads, or used in any manner without permission, compensation and/or credit.
Link to Main Page
---
Laura Deni


CLICK HERE FOR COMMENT SECTION