! >
Broadway To Vegas
  SHOW REVIEWS     CELEBRITY INTERVIEWS     GOSSIP     NEWS 
| | |
| --- | --- |
| | |
Copyright: April 14, 2002
By: Laura Deni
CLICK HERE FOR COMMENT SECTION

GOOBER FILM FESTIVAL


George Goober Lindsey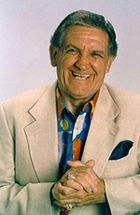 When the University of North Alabama announced the Dr. George S. Lindsey's annual film festival will take place April 18-20 - the Dr. George S. Lindsey they are talking about is non other than Goober of The Andy Griffin Show and Mayberry FRD.

A graduate of the University of North Alabama the former history teacher at Hazel Green high School near Huntsville, Alabama got his start on Broadway.

The television created stereotype of the goof - lovable but not necessarily the brightest bulb in the lamp, attests to the skills he honed when he studied acting with Helen Hayes at the American Theater Wing.

The guy who became loved on TV because of his down home southern twang, studied voice and diction, classics, body movement and ballet. He completed the program and got the lead role in the class graduation play.



George Lindsey and Florence Henderson in Wonderful Town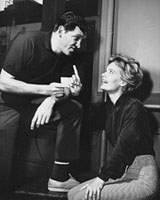 Following graduation, George hit the streets and began looking for work. He did bit parts in local productions and some work as a stand-up comedy in clubs and dinner theaters. His big break came a few months later when he was picked by director Joshua Logan for a major role in the play All American. The play ran for three months and after the close, George received another off-Broadway role in the play Wonderful Town.

George dreamed of becoming a silver screen movie star and headed to Hollywood in 1962 when Wonderful Town ended its run in San Francisco. Signed with the William Morris Agency George did have a part in the feature film Ensign Pulver, but his livelihood and fame were found through television with roles on The Rifleman, Twilight Zone,The Alfred Hitchcock Hour, and an unforgettable appearance on MASH in 1972 as Capt. Roy Dupree.



Andy Griffith and George Lindsey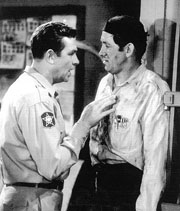 George's most famous role, however, was that of Goober in the popular TV series The Andy Griffith Show. George had initially read for the role of Gomer Pyle, but fellow Alabamian Jim Nabors was eventually chosen for that part. When Nabors was given his own show, the producers approached George about playing Goober, Gomer's cousin.

Thus began a fruitful five years on one of the most popular running series ever on television. Remembering working with then child actor Ron Howard, Lindsey quipped, "If I had known he was going to be so successful, I would've been nicer to him."

Following the cancellation of The Andy Griffith Show, most of the major actors reprised their roles in a spin-off series - Mayberry R.F.D.

George expanded his talents following Mayberry R.F.D. by recording a comedy album in Nashville called Goober Sings. It was in Nashville that he was approached to continue the character of Goober in the popular television variety show Hee Haw. It would prove to be a successful venture for George and he would work with Hee Haw for the next 20 years.

So what's he doing with a title in front of his name and a film festival?

The guy has spent decades as a quiet do-gooder - and his humanitarian achievements over the years have been notable.

He has raised more than 1 million dollars for the Special Olympics. For 17 years, he conducted the George Lindsay Celebrity Golf Tournament in Montgomery, Alabama which raised money for mentally retarded children. He also helped raise funds for an aquatic center for the Alabama State Hospital for the Mentally Retarded.



George Lindsey and Ron Howard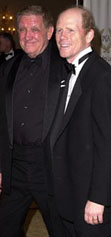 In 1992, UNA presented Lindsey with a honorary doctor of humane letters degree.

In 1998, he helped establish the George Lindsey/ University of North Alabama Television and Film Festival. It is an annual event that provides young filmmakers the opportunity to show their work and learn more about the filmmaking industry. There is even a division for 5-12 year olds.

Industry experts participating have included Seinfeld/NewsRadio director Tom Cherones, Academy Award winning actor Ernest Borgnine, Ladies Man/King of the Hill actor Stephen Root and singer/music video creator Ray Stevens.

This year Mike Curb, the chairman of Curb Records in Nashville, Tennessee, will be the featured speaker addressing the musical aspects of the film industry.

Curb will speak at the film luncheon at 11 a.m., Friday, April 19, in the University Center Banquet Hall.



Broadway To Vegas is supported through advertising and donations. Priority consideration is given to interview suggestions, news, press releases, etc from paid supporters. However, no paid supporters control, alter, edit, or in any way manipulate the content of this site. Your donation is appreciated. We accept PAYPAL. Thank you for your interest.


SWEET CHARITY


THE KENNEDY CENTER GALA

Leonard Slatkin conducting the National Symphony Orchestra

is a sparkling event which helps raise vital funds assisting the Kennedy Center in reaching nearly 5 million young people and their families each year through the Center's community outreach and national education programs.



Celeste Holm

The black-tie evening includes a reception on the Opera House Stage followed by an elegant dinner on the Roof Terrace level and gala performance in the Concert Hall.

This year, the Gala will pay tribute to the 100th birthday of legendary Broadway composer/lyricist Richard Rodgers.



Shirley Jones

Some of the brightest stars of the stage will perform including - Shirley Jones, John Raitt, Mitzie Gaynor, Joshua Bell, Celeste Holm, Howard Keel, Audra McDonald, Sylvia McNair, Rita Moreno, and Samuel Ramey

The Washington Chorus, and the National Symphony Orchestra will have Leonard Slatkin conducting.

SINBAD last night appeared at Detroit's Music Hall in a benefit for United Way Community Services. Co-sponsored by Comedy Central and Comcast, the event was part of the Comics Come Home series launched by Comedy Central three years ago, which presents comics on their home turf for charity. The 6-foot-5-inch actor/comedian is a Michigan native.

DOLLY PARTON

Dolly Parton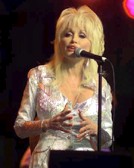 will be the center of attention May 17 at the Families of Freedom, Families of Promise Rally, to be held at the Hyatt Regency Hotel, in downtown Minneapolis.

The event is part of National Scholarship Month activities sponsored by Citizens' Scholarship Foundation of America (SM) (CSFA), the nation's largest private sector scholarship and educational support organization.

Parton, a seven-time Grammy Award winner and Country Music Hall of Fame member, backed by an acoustic band, will perform songs from her award-winning bluegrass albums Little Sparrow and The Grass is Blue, plus new songs from her forthcoming album. Parton, who has not toured regularly in the past decade, agreed to perform at the Rally due to her special interest in education.

Other musical guests include Grammy Award-winning Sounds of Blackness, the teen pop group Jump 5 and internationally known gospel singer Wintley Phipps.

The Minnesota Congressional Delegation and Minnesota Dollars for Scholars will host the event


OTHER PEOPLE'S MONEY


LAWSUIT DROPPED In the Las Vegas courtroom of District Judge Mark Gibbons a petition was filed requesting that the court dismiss a lawsuit Michael Crawford had filed against the MGM-Grand Hotel, on grounds that the parties were in settlement negotiations.

Crawford was the original star of the hotel's EFX production show and filed suit claiming he had suffered serious injuries. The hotel then terminated the former Phantom of the Opera star from his $150,000 a week contract, replacing him with David Cassidy.

HORSING AROUND The Omaha Community Playhouse is currently staging a production of Richard Rodgers and Oscar Hammerstein's Carousel. Directed by Susan Baer Collins, dancing the famous pas de deux in the show are Jonathon Fagan and Sara Mau, both veterans of the American Ballet Theater and the Royal Winnipeg Ballet.

In addition to bringing in some world class talent, Collins steered the production into a creative financial mode. The carousel horses are plastic horse molds that have been repainted to look like weathered wooden horses. Each horse had an individual $400 sponsor.

LEGALLY STEALING FROM THE BLIND Braille slot machines are being introduced in Las Vegas affording the visually impaired the same opportunity to lose as anyone else. Ray Charles has lent his name to the machines which boast a Braille button deck and audio cues.

WAYNE NEWTON AND HIS WIFE KATHLEEN are expecting a baby daughter, to be named Lauren, born via a surrogate mother in May. Newton and his attorney wife celebrated their 8th wedding anniversary last Tuesday. The new baby will be the couple's first child and Newton's second. He has a 25-year-old daughter, Erin. Newton will be singing lullabies at home and his hits on stage at the Stardust Hotel where he is performing thru April 25. He takes a night off and then returns for performances April 27-May1.

THE 2002 PULITZER PRIZE IN DRAMA was awarded April 8 to Suzan-Lori Parks' play Topdog/Underdog which opened the night before - to rave reviews - at the Ambassador Theatre NYC. Jeffrey Wright and Mos Def star.

THE COLLEGE OF FELLOWS OF THE AMERICAN THEATRE on Sunday, April 21, at the John F. Kennedy Center for the Performing Arts in Washington, D.C. will induct Harold R. Oaks, associate dean of the College of Fine Arts and Communications at Brigham Young University, and coordinator of BYU's Drama Theatre for Young People; Professor Ethel Pitts Walker of San Jose State University, San Jose, Calif., and Andrew Tsubaki, professor emeritus, of the University of Kansas.

Founded in 1965, the College of Fellows of the American Theatre recognizes life achievement and distinguished service to the American theater.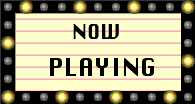 THE MAN WHO HAD ALL THE LUCK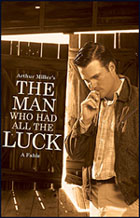 the first Broadway play written by master dramatist Arthur Miller explores the mystery of serendipity through the curious life of David Beeves. He's an ordinary Midwestern man blessed with extraordinary good fortune that seem to allude those around him. But as hardships increasingly plague his loved ones, Beeves turns frenetically fearful of the day his luck will run out. The play wrestles with the justice of fate - how one man failed and another - no more or less capable, achieved some glory in life.


In their much-anticipated Broadway debuts, Chris O'Donnell, and New York born Samantha Mathis star in this new production of an American masterpiece directed by Scott Ellis.

The show also stars Mason Adams, James Rebhorn and Sam Robards. who parents are Lauren Bacall and the late Jason Robards. The cast also includes Edward James Hyland, Dan Moran, Ryan Shively, David Wohl, and Mary Catherine Wright.

The design team is headed by Allen Moyer sets, Michael Krass costumes, Kenneth Posner lighting, Eileen Tague sound designer and Tom Kochan original music

MAGNA CARTA Premiere Performances begin April 19 at NYSTheater Institute, NY.

Book by Ed Lange, Music and Lyrics by George David Weiss and Will Severin. Set Design Victor A. Becker, Costume Design by Lloyd Waiwaiole. Lighting Design by Betsy Adams, Sound Design is Omni Tech of Albany, Inc. Music Director is Michael Musial, Production Stage Manager is Heather J. Hamelin. Choreographer Adrienne Posner. Directed by Patricia Di Benedetto Snyder.

It is a time of kings, knights, greed and betrayal. A time of oppression, brutality, courage, honor, tyranny and hope. At this time rose characters whose lives and personalities live on as unforgettable legends, and whose actions shook the world so completely that their story has survived nearly a thousand years. Courageous men and women who defied the power of kings and queens and who fought for justice and a future with limitless possibilities. Magna Carta is billed as an intimate epic of people and kings. The world-premier musical will be staged April 19 - May 1. Suggested for ages 11 and older.

THE STARLIGHT THEATRE in Kansas City has announced their lineup of summer musicals which will kick off with Las Vegas resident Tony Curtis ( See Broadway To Vegas column of September 14, 1998 ) starring in Some Like It Hot July 9-14; The Wizard of Oz, July 15-21; 42nd Street, Aug. 5-11; Joseph and the Amazing Technicolor Dreamcoat, Aug. 19-25; and Les Miserables, Sept. 17-22.

Starlight Theatre is Kansas City's largest and oldest performing arts organization and is the second largest theatre of its kind in the United States. It was founded in 1950 and is now in its 52nd season. Starlight Theatre has a 12,000 square foot fully enclosed and climate controlled stage. The theatre seats nearly 8,000 people, and is located on 14 acres in Swope Park next to the Kansas City Zoo

The Gala opening of the Tony Curtis - Some Like It Hot National Theatrical Tour will be at the Gala Opening of the TUTS Theater at the brand new Hobby Center in Houston Texas on June 6.

After three weeks in Houston the show embarks on a 50-city national tour, traveling to Atlanta, Dallas, Kansas City, and Ft. Lauderdale throughout the rest of the Summer. The Fall Tour will begin in Washington DC at the Wolf Trap Theater.

Tony Curtis, one of the film's stars, will play millionaire Osgood Fielding (the Joe E. Brown film role). Dan Siretta will direct and choreograph. Suzy Benzinger a recipient of Theater Development Funds Irene Sharoff Award is the costume designer. James Leonard Joy is a New York based Scenic Designer

THE MUSIC MAN opens Tuesday at the Fox Theatre in Detroit. The touring production, based on the 2000 Broadway revival choreographed and directed by Susan Stroman, stars Gerritt Vandermeier as Harold Hill with Carolann Sanita as Marian, the straight-laced but vulnerable librarian.

THE ELEPHANT MAN a Broadway revival of the drama which won the 1979 Tony for best play, stars New York born and Florida raised Billy Crudup, who attended the University of North Carolina at Chapel Hill, and then studied acting at New York University. Crudup uses his acting skills rather than any prosthetics in tracing the journey of John Merrick from an abused circus freak to a curiosity of Victorian London's high society.

Making his Broadway debut at age 27 in Tom Stoppard's Arcadia, Crudup won the Outer Circle Critics Award as outstanding newcomer.

The play by Bernard Pomerance, which was based on a true story, also stars Rupert Graves and Kate Burton, daughter of the late Richard Burton and Sybil Christopher, co-founder of the Bay Street Theater in Sag Harbor, L.I.

Burton and husband Michael Ritchie, who runs the Williamstown (Mass.) Theater Festival, have two children, Morgan, 13, and Charlotte, 3.

Opening tonight at the Royale Theatre on Broadway The Elephant Man is directed by Sean Mathias. The intermissionless production has original music by Philip Glass; Sets and costumes by Santo Loquasto; James Ingalls in charge of lighting and David Shapiro sound.

MORNING'S AT SEVEN by Paul Osborn, directed by Daniel Sullivan, now in previews, officially opens at the Lyceum Theatre, NYC on April 21.

The stellar cast includes Elizabeth Franz, Julie Hagerty, Buck Henry, Piper Laurie, Christopher Lloyd, William Biff McGuire, Estelle Parsons, Frances Sternhagen, and Stephen Tobolowsky.

Set in 1939 in a small Midwestern town, Morning's At Seven is an affectionate portrait of a tight-knit family, all of whom have spent their lives together, and whose existence becomes unsettled when they begin to question how they'll spend their remaining years.

Sets by John Lee Beatty, costumes by Jane Greenwood, lighting by Brian MacDevitt and sound by Scott Myers.

Morning's At Seven was originally produced in 1939 and was revived on Broadway in 1980.

INTO THE WOODS starring Vanessa Williams begins previews at the Broadhurst Theatre in New York City on April 13. Opening night of the revised Stephen Sondheim/Jams Lapine revival is April 25.

The cast includes John McMartin, Laura Benanti, Gregg Edelman, Dennis Kelly, Christopher Sieber, Melissa Dye, Kerry O'Malley, Stephen DeRosa, Adam Wylie, Mary Louise Burke, Molly V. Ephraim, Trent Armand Kendall, Pamela Myers, Tracy Nicole Chapman, Amanda Naughton, Jennifer Malenke, Kate Reinders, Stephen Berger, Linda Muggleston, Chad Kimball and Adam Brazier.

The production is directed by the musical's original director and bookwriter, Lapine. Paul Gemignani is the musical director, with John Carrafa choreographing. Designing the show are Brian MacDevitt (lighting), Susan Hilferty (costumes), Douglas W. Schmidt (set) and Dan Moses Schreier (sound).

THE EXONERATED Wrongly convicted, they sat on death row for years. Nothing can compare to being on death row when you shouldn't be. Extraordinary legal measures saved their lives. A new play confronts us with their nightmares.

Actors' Gang Theatre Hollywood, CA. Now playing thru June 2.

Jessica Blank and her boyfriend, Erik Jensen, traveled from New York to Minneapolis interviewing over 20 people who had spent time on death row before being exonerated and released. The Exonerated, a documentary drama opening for previews April 13 at the Actors Gang, weaves together six of those stories.

As might be expected the stories are dramatic and serious,but there is also hope and gratitude.

Blank double-majored in theater and philosophy at the University of Minnesota, gravitating early in her acting career to documentary theater Jensen, who earned a bachelor's in fine arts from Carnegie Mellon University in Pittsburgh, cites as an inspiration his friend Moises Kaufman, who conceived and directed The Laramie Project.

Charles Dutton is credited with bringing the script to Susan Sarandon and Tim Robbins. They signed up for a staged reading at the Culture Project at the 45 Bleecker Theater in November 2000.

The Exonerated gathered momentum. Richard Dreyfuss, Parker Posey, Blair Brown, Steve Buscemi, David Morse, Cherry Jones, Martha Plimpton, Debra Winger, Ossie Davis and Charles Dutton participated in four benefit performances, including one at the United Nations.

The play's dramatic potential was obvious to Robbins. "I think the thing that makes for interesting acting and interesting plays is high stakes. I don't think it gets much higher than what you find in The Exonerated.

Last winter, Robbins offered to stage The Exonerated at the Actors' Gang where he serves as artistic director.



Tim Robbins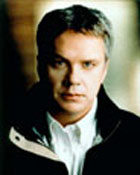 In 1981, Tim Robbins and a group of friends from UCLA formed a theater company called the Actors' Gang.

The Gang gained prominence in the years that followed, later becoming known for its original, often political work.

Since its founding the Actor's Gang has produced 68 plays and won over 100 awards, achieving acclaim for our innovative interpretations of Shakespeare, Brecht, Moliere, Aeschylus, Ibsen, and Chekov, while developing in workshop new plays that address the world today through a prism of satire, popular culture and imaginative stagecraft.


WHO'S WHERE


PAUL McCARTNEY performs April 16 in Philadelphia, PA at the First Union Center. On Wednesday the superstar is in East Rutherford, NJ at the Continental Airlines Arena. On Friday he'll be center stage in Boston, MA at the FleetCenter.

ALAN JACKSON entertaining April 18 in Knoxville, TN at the Thompson-Boling Arena. On Friday the singer is in Atlanta, GA at the HiFi Buys Amphitheatre. He closes out the week Saturday in Charlotte, NC at the Verizon Wireless Amp. Charlotte.

LINDA EDER,/font> April 18 at the North Shore Music Theatre in Beverly, MA.

JIMMY BUFFETT the Margaritaville man performs April 4 in Raleigh, NC at the Alltel Pavilion @ Walnut Creek.On Thursday the Parotheads gather in Charlotte, NC at the Verizon Wireless Amp. Charlotte and on Saturday they do it again in Greensboro, NC at the Greensboro Coliseum.

NATALIE COLE has a four night engagement in Las Vegas at the Paris Hotel April 18-21.

MICHAEL FEINSTEIN opens a five night stand April 17 in New Castle, PA at the Ancient Scottish Rite Cathedral.

BARBARA COOKBERNADETTE PETERS April 20 at Chase Park Plaza in St. Louis, MO.

TIM CONWAY AND HARVEY KORMAN appear April 18-20 in Reno, Nevada at the Silver Legacy Casino.

BOB NEWHART tell funny stories April 16 in Wilkes-Barre, PA at the F.M. Kirby Center. On Thursday he'll do it again in Ashland, KY at the Paramount Arts Center. On Saturday he'll be on stage in Myrtle Beach, SC at the Alabama Theatre.

JOHNNY MATHIS crooning Friday and Saturday at Caesars Atlantic City.

KENNY ROGERS center stage April 16 in Beverly, MA at the North Shore Music Theatre. On Wednesday he is in Trenton, NJ at the Sovereign Bank Arena. Friday and Saturday the show is in Mashantucket, CT at the Foxwoods Casino.

KEELY SMITH sings April 20 in El Cajon, CA at the E County Performing Arts Center.

GLEN CAMPBELL

Debbie Campbell with her father Glen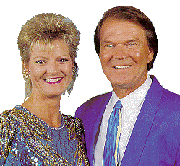 opens an extended engagement at Andy Williams' Moon Rivera Theatre in Branson, Mo. on Friday performing there through June 2. His is a real family show. Performing with him is his daughter Debby Campbell, who first performed with her father at the 1987 Arizona State Fair, and his younger sisters Sandy Campbell Brink and Barbara Campbell Frasier.

Campbell's old television series has been dusted off and is being rerun on cable. The Glen Campbell Goodtime Hour has returned on CMT: Country Music Television as of last Tuesday to welcome timeless performances by Johnny Cash, Ray Charles, Stevie Wonder, Cher, Willie Nelson, Linda Ronstadt, Merle Haggard, Neil Diamond and more. Hot country star Keith Urban, influenced by Campbell's music as a young boy growing up in Australia, will host the CMT weekly series.

"Hi, I'm Glen Campbell" became synonymous with entertainment in 1969-1972 as the country sensation and accomplished musician opened each installment of The Glen Campbell Goodtime Hour bringing musical greats from all genres into American homes. Campbell used his connections as an elite session guitar player on the West Coast to bring top talent to the show. As a player, Campbell has worked with the true icons in music Frank Sinatra, Elvis, Dean Martin, the Mamas and the Papas, and even had a tour of duty as part of the Beach Boys.

DAVID SANBORN AND JOE SAMPLE at the State Theatre, Playhouse Square, Cleveland. April 19.

ARLO GUTHRIE tonight in Jacksonville, FL at the Florida Theatre. On Friday he is entertaining in Keene, NH at the Colonial Theatre. Speaking of things Guthrie - This Land is Your Land: The Life and Legacy of Woody Guthrie courtesy of the Smithsonian Institute Travel Exhibition Services, is in Oklahoma City through May 4 at the Oklahoma Museum of History in the Wiley Post Building.

ENGELBERT HUMPERDINCK crooning April 17 in Lowell, MA at the Lowell Memorial Auditorium. On Friday and Saturday he is in Verona, NY at the Turning Stone Casino.

DIANA KRALL sings April 15 in Boston, MA at the Wang Center. On Tuesday she can be enjoyed in Rochester, NY at the Auditorium Center

DIANNE REEVES in the spotlight April 19 in Charlotte, NC at the Spirit Square Center. On Saturday she is in West Palm Beach, FL at the Raymond F. Kravis Center

WAYNE SHORTER center stage on April 19 in Los Angeles, CA at the Bovard Auditorium On Saturday the show is in Escondido, CA at the California Center

DAVID COPPERFIELD getting magical April 18 in Bloomington, IN at Indiana University.

PENN & TELLER showing how the hocus pocus is done at the Rio Hotel in Las Vegas. They are appearing and disappearing on stage through May 5.

LINCOLN CENTER JAZZ ORCHESTRA WITH WYNTON MARSALIS entertain April 16 in Washington, D.C. at the Kennedy Center. On Wednesday they'll be in Newark, NJ at the New Jersey Performing Arts Center. On Friday they jazz it up in Lewisburg, PA at Bucknell University and on Saturday the gang is in Baltimore, MD at Meyerhoff Symphony Hall.

GARRISON KEILLOR: A LIFE IN COMEDY April 15, 22, 29 He's made people laugh and listen. Every Saturday night he's welcomed huge numbers of fans into his home and they have welcomed him into theirs. Now the Grammy Award-winning writer, performer, and radio personality performs in person. reading from his wares and scrutinizes the life from which they were drawn. Three Unique Evenings of Stories! University Theatre, New Haven, Conn.

JARS OF CLAY perform tonight in Baltimore, MD at the Towson Center. On Tuesday the group is center stage in New York City at Irving Plaza. The guys can be enjoyed Thursday in Hershey, PA at the Hersheypark Arena. On Friday they appear in Cleveland, Ohio at the Allen Theatre. They close out the week Saturday in Eureka, MO at Six Flags St. Louis.

N SYNC in a two nighter Monday-Tuesday in Boston, MA at the Fleet Center. Then the group stars at the First Union Center in Philadelphia, PA on Thursday. The following night the place is Hartford, CT at the Hartford Civic Center.


PIFFLE AND PROFUNDITIES


THE COMMUNITY THEATRE ASSOCIATION OF MICHIGAN (CTAM) is a non-profit organization of non-professional theatres in the State of Michigan. The Spring convention is held every other year, sponsored by a Member Theatre, and is held in their community.

The next convention takes place at the MacMullen Conference Center April 26, 27, 28, sponsored by the Riverbend Players. The convention will feature workshops, banquets, and entertainment.

The purpose of the organization is To foster a closer relationship among members; To encourage high standards of theatrical productions; To stimulate interest in theatre in Michigan; and To provide a means for exchange of ideas and information about theatrical production, acting, playwriting and theater arts.













Next Column: April 21, 2002
Copyright: April 14, 2002. All Rights Reserved. Reviews, Interviews, Commentary, Photographs or Graphics from any Broadway To Vegas (TM) columns may not be published, broadcast, rewritten, utilized as leads, or used in any manner without permission, compensation and/or credit.
Link to Main Page
---
Laura Deni


CLICK HERE FOR COMMENT SECTION