! >
Broadway To Vegas
  
 SHOW REVIEWS CELEBRITY INTERVIEWS GOSSIP NEWS

| | |
| --- | --- |
| | |
NANCY LaMOTT A PREMATURE DEATH CAN'T SILENCE A GOLDEN VOICE - -BOEING-BOEING - - GUGGENHEIM HERMITAGE MUSEUM IN LAS VEGAS TO CLOSE - - TESTOSTERONE: HOW PROSTATE CANCER MADE A MAN OF ME - - LOS ANGELES OPERA 40th ANNIVERSARY GALA HONORS PLACIDO DOMINGO - - DAVE BRUBECK RECEIVES BENJAMIN FRANKLIN AWARD - - CHITA RIVIERA STARS IN KANSAS CITY REP GALA - - BRITISH PRIME MINISTER SUPPORTS GEORGE CLOONEY - - DONATE . . . Scroll Down


Copyright: April 13, 2008
By: Laura Deni

CLICK HERE FOR COMMENT SECTION
A PREMATURE DEATH CAN'T SILENCE A GOLDEN VOICE


Death becomes her. That's a compliment - for her talent continues to soar. Even artists of international stature have a predictable obit. After a swell of publicity and interest the homage gradually shifts to those who are still among us. New generations take their turn. As a rule of thumb - dead celebrity earning power is limited.

Sure, Forbes singles out the really-left-the-building Presley as raking in $49 million, but Sinatra isn't event on their Richest Deceased Celebrities List. John Lennon ranks second with earnings of $44 million and James Dean is at the bottom with raking in only $3.5 million.

Nancy LaMott had an abundance of friends who adored her - but she wasn't a household name. She also didn't have a big bank account. Her medical bills saw to that. Tis' a pity. She should have been both famous and wealthy. For reasons associated with talent her vocals live on - including making the current Billboard charts.

The latest Nancy LaMott CD Ask Me Again is a compilation of 20 songs not previously available on CD. They were specially chosen by the WQED disc jockey Jonathan Schwartz and taken from several sources including live radio performances, concerts and demos. Schwartz penned the liner notes for the CD and writes about braving a New York snow storm to hear her perform. He opined: "With the exception of Sinatra, singing anywhere, I had never heard music so remarkable moving."

Indeed. She was a rare chirper - club owners would love her. She not only looked classy, her voice was pure gold and she could mesmerize - and that meant paying customers. Patrons would not only stay all night, but turn into repeat customers. All they needed was to see her name on the marquee. Trekking through a snow storm would become effortless, if they knew her voice was at their destination.

Backed by her long-time arranger and musical director Christopher Marlowe on piano, or pianist Tony Monte, whose musical contributions are noteworthy, LaMott has a voice that captures the audience. She didn't need gimmicks. A female Tony Bennett. The type of vocalist all lyricists hope for, she had the most amazing ability to deliver what the composers intended their notes and words to communicate.

Clear, pure, insightful. From tender to tempestuous - and always terrific.

LaMott gave the 20 songs which are on this CD to Schwartz, who played them on the radio. From Van Morrison's Moondance, to standards such as I Only Have Eyes for You and You'll Never Know, to movie and stage fare such as The Music That Makes Me Dance from Funny Girl, La Mott sang with what critics raved about as "unparalleled honesty and vocal purity."

Cancer one-upped booking agents.

Just after her diagnosis, Nancy was in San Francisco doing an AIDS benefit when she was introduced to actor Pete Zapp. They quickly fell in love and began a bicoastal romance. Nancy kept performing and the cancer kept spreading.

Just a few days after her last performances, an appearance on Charles Grodin and her regular annual visit to WQEW's on-air Christmas Party, Nancy was rushed to the hospital and her shocked friends and family were told that she had just a couple of days to live.

Peter Zapp and her family and friends rushed to her side. That night, President and Mrs. Clinton phoned her in the hospital to wish her well. Nancy had sung at the White House twice, and became a favorite of the Clintons. Kathie Lee Gifford kept the country informed of her condition. Composer/conductor David Friedman promised her that the whole world would hear her sing. And in the last hour of her life, Father Stephen Harris performed a bedside wedding ceremony for Nancy and Peter.

Her rendition of I Didn't Know What Time It Was was recorded on Dec. 9, 1995. It was the last song she recorded before her death four days later. She was 43.

DISC 1:
1. You & I
2. Ask Me Again
3. Shadow Of Your Smile, The
4. Cheek To Cheek
5. Sophisticated Lady (with Jay Leonhart on the upright bass).
6. On My Way To You
7. Easy To Love
8. Killing Time
9. Call Me Irresponsible (with John Pizzarelli, Bucky Pizzarelli (guitar); Harry Allen (saxophone); Jay Leonhart (upright bass) and Linc Milliman (bass).
10. Right As The Rain
DISC 2:
1. Moondance
2. You're Getting To Be A Habit With Me (a duet with Michael Feinstein)
3. September In The Rain
4. I Only Have Eyes For You
5. Wind Beneath My Wings, The
6. You'll Never Know (with Jay Leonhart on the upright bass).
7. Music That Makes Me Dance, The
8. No One Is Alone/Not While I'm Around
9. I Didn't Know What Time It Was (the last song she sang before her death)
10. Have Yourself A Merry Little Christmas

Simultaneously released with the two disc CD is a DVD, entitled I'll Be Here with You, which chronicles LaMott's journey.

Born in Midland, Michigan - or, as she used to call it, a suburb of the Dow Chemical Company - she grew up singing in her father's band. Despite frequent hospitalizations due to Crohn's Disease - at the age of 19, she and her brother Brett, who was her drummer, headed out to San Francisco.

The DVD takes the viewer from her stint as a San Francisco club singer to New York cabaret star and includes footage from appearances at the Algonquin's Oak Room and on Live! With Regis & Kathie Lee.

Her rendition of Moon River was performed on the Charles Grodin Show just nine days before LaMott's untimely death. The DVD also includes a photo montage. The recordings were compiled and produced by composer David Friedman, who penned many of LaMott's signature tunes.

The CDs and DVD are distributed by LML Music via the Allegro Corporation. Do yourself a favor and add them to your collection.

Song list from I'll Be Here with You DVD
But the World Goes 'Round
Another Mr. Right
Some Other Time
Loud is Good
Time to Remember
You Must Have Been a Beautiful Baby
The Blues
I Love a Piano
It Ain't Necessarily So
The Darktown Strutters' Ball/Alexander's Ragtime Band
Alexander's Ragtime Band/The Darktown Strutters' Ball
Where Do You Start?
We Can Be Kind
Time After Time
Just in Time for Christmas
I'll Be Home for Christmas
The Best is Yet to Come
All the Things You Are/I'm Glad There is You
I'll Be Here with You
Help is On the Way
Out of This World/So In Love
Waters of March
Moon River
Listen to My Heart



DAVE BRUBECK RECEIVES BENJAMIN FRANKLIN AWARD

Dave Brubeck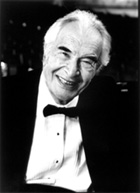 On April 8 at the U.S. Department of State, Secretary of State Condoleezza Rice honored the recipients of the inaugural Benjamin Franklin Awards for Public Diplomacy. The awardees were chosen for their outstanding leadership in advancing America's ideals through public diplomacy by offering a positive vision of hope and opportunity rooted in America's belief in freedom, justice, opportunity and respect for all.

The creation of the Benjamin Franklin Awards for Public Diplomacy was announced by Secretary of State Rice in January 2007 at the Private Sector Summit on Public Diplomacy to recognize that all sectors of American society - individuals, schools, foundations, associations, and corporations - actively contribute to advancing America's ideals through public diplomacy. The awards highlight that solutions to the challenges of the 21st century will come from these sectors working together to empower, educate, and inspire key audiences such as women, youth, and educators; and to engage with under-served communities and grassroots organizations both in the United States and abroad.

This new award program is the most prestigious honor that the Department of State can bestow on American citizens who are making outstanding contributions to public diplomacy. The awards were presented in four categories: individuals, corporations, academic institutions, and not-for-profit organizations.

Individual Category Award Winner: Dave Brubeck
As a pianist, composer, cultural emissary and educator, Dave Brubeck's life's work exemplifies the best of America's cultural diplomacy. Declared a "Living Legend" by the Library of Congress, his career has spanned seven decades, giving thousands of concerts and devoting countless hours to introducing the language of jazz to new generations around the world. In 2000, the University of the Pacific founded the Brubeck Institute to honor two of its most famous alumni, Dave and his wife Iola. The mission of the Institute is to build on Dave Brubeck's legacy and his lifelong dedication to music, creativity, education, and the advancement of important social issues including civil rights, environmental concerns, international relations, and social justice. This year marks the 50th anniversary of Dave Brubeck's first tour for the Department of State. We recognize Dave Brubeck for offering a positive vision of hope, opportunity and freedom through a musical language that is truly American.

Non-Profit Category Award Winner: Search for Common Ground.

Academic Category Award Winner: University of Southern California in Los Angeles

Corporate Category Award Winner: Johnson & Johnson, the world's largest provider of consumer and professional health care products.

THE PULITZER PRIZE named for Joseph Pulitzer, has 21 categories and is presented every Spring by Columbia University in New York City. ( For a list of the 2008 winners and finalists click here) )

THE CARBONELL AWARDS are South Florida's Theater & Arts Honors - in existence since 1976. Two time Tony Award-nominated Broadway star Christine Andreas hosted the 32nd Annual Carbonell Awards ceremony in the Amaturo Theater of the Broward Center for the Performing Arts on April 7.

Special Guest Stars included the Off-Broadway New York cast of Forbidden Broadway backed by The Peter Graves Orchestra.

Of the more than 100 shows that opened in 2007, 30 productions at 13 different companies were nominated for South Florida's "oldest and most prestigious arts honors, citing the best shows and performances in Miami-Dade, Broward and Palm Beach counties." ( For a list of the 2008 nominees and winners click here )



Broadway To Vegas is supported through advertising and donations. Priority consideration is given to interview suggestions, news, press releases, etc from paid supporters. However, no paid supporters control, alter, edit, or in any way manipulate the content of this site. Your donation is appreciated. We accept PAYPAL. Thank you for your interest.


SWEET CHARITY


LOS ANGELES OPERA 40th ANNIVERSARY GALA honoring Plácido Domingo takes place on Friday, April 18. Domingo was on tour with the New York City Opera when he first stood on stage at the Dorothy Chandler Pavilion, on Nov. 17, 1967, singing the title role in Alberto Ginastera's Don Rodrigo.

At that time, few in attendance had any idea what the name Plácido Domingo would come to mean to Los Angeles and to opera fans around the world.

Plácido Domingo would go on to change the face of opera as we know it, performing on the Dorothy Chandler Stage more than 120 times and raising LA Opera to its world-class status.

LA Opera Music Director James Conlon will conduct the LA Opera Orchestra in this Gala performance in which Plácido Domingo will touch on the vast breadth of repertory he has conquered in his unparalleled career. The program will feature some of the roles with which he is most closely associated, along with some newly minted gems and genuine surprises.

This historic Gala performance marks the first time that Plácido Domingo and James Conlon will perform together in Los Angeles. Joining Maestro Domingo on the program will be the internationally celebrated soprano Patricia Racette.

NEIL SIMON the Tony and Pulitzer Prize-winning playwright will receive the O'Neill Theater Center's Monte Cristo Award in a ceremony following a gala dinner fundraiser April 21 at the Rainbow Room in Manhattan.

Matthew Broderick and Nathan Lane serve as co-chairs. Honorary chairs include; Lucie Arnaz, Emanuel Azenberg, Penny Fuller, Marvin Hamlisch, Laurence Luckinbill, Dina Merrill and Ted Hartley, Ruth and Steve Hendel, Pat Daily and Tom Viertel, and Betsy and George C. White. Many of them are expected to be featured as Simon is honored.

A three time Tony Award winner, Simon is the only playwright to have four of his works running on Broadway simultaneously.

Previous Monte Cristo Award recipients include Jason Robards, Jr., Edward Albee, August Wilson, Zoe Caldwell, Brian Dennehy, Karl Malden, Arthur and Barbara Gelb and Wendy Wasserstein.

The O'Neill Theater Center is based in Waterford, CT.

KANSAS CITY REP GALA 2008 CHITA RIVIERA: THE SECRET OF LIFE In this intimate evening of music, two-time Tony Award winner Chita Rivera will sing songs from her most celebrated Broadway performances, including American from West Side Story; Where Am I Going? and Big Spender from Sweet Charity; All That Jazz and Nowadays from Chicago; Chief Cook and Bottle Washer from The Rink.

April 28 at the Spencer City in Kansas City, MO.

SIXTH ANNUAL OUR TIME BENEFIT GALA

Bill Withers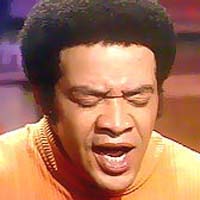 entitled, Lean on Me continuing its tradition of honoring a person who has been an inspiration to those that stutter. This year's Our Time Award will be presented to Bill Withers, the Grammy Award winning music legend responsible for such hits as Ain't No Sunshine, Lovely Day, and Lean on Me.

Our Time Theatre Company - Taro Alexander, Artistic Director, Everett Bradley, Musical Director - is a non-profit organization dedicated to providing an artistic home for young people who stutter.

This year's star-studded evening's Honorary Chairs are Ricki Lake and Paul Rudd. The benefit will take place on April 14 with an all-star cast at the Jack H. Skirball Center for the Performing Arts at NYU. Celebrities will perform original work written by and with the young people of Our Time Theatre Company.

Performing with the members of Our Time are Lauren Ambrose, Talia Balsam, Howard Bingham, Nadia Dajani, Ned Eisenberg, Kathryn Grody, Adriane Lenox, Tiffany McElroy, Kelli O'Hara, Jesse L. Martin, Cynthia Nixon, Mandy Patinkin, Rosie Perez, Ramon Rodriguez, Daphne Rubin-Vega, Ed Sherin, John Slattery, Callie Thorne, Mary Testa, Sam Waterston, 13 members of the cast of Spring Awakening, including Tony Award-winner John Gallagher, Jr. A special performance of the hit song Lean On Me will be performed by Bill Withers and Daryl Hall.

Our Time Theatre Company provides an environment free from ridicule where young people who stutter discover the joy of creating and performing original theatre and music. Based in New York City, Our Time consists of pre-teens and teenagers who study acting, singing, playwriting, drumming, and dance with professional artists. Exercising these skills, they create original plays and musicals that are performed in New York City and around the world. Our Time serves its members free of charge and there are no prerequisites to join. In August of 2008 Our Time will launch Camp Our Time, a sleep-away performing arts camp for young people who stutter and their siblings. Now in its sixth year, the Our Time Award is presented to one exceptional individual who has improved the quality of life and been an inspiration to people who stutter.


OTHER PEOPLE'S MONEY


GUGGENHEIM HERMITAGE MUSEUM branch at the Venetian Hotel in Las Vegas will close May 11. Until then the Museum will offer free admission.

The Guggenheim opened two Las Vegas museums in October 2001. both were designed by Rem Koolhaas. The Guggenheim Hermitage was a partnership between the Solomon R. Guggenheim Foundation and the State Hermitage Museum in St. Petersburg, Russia. The 63,700-square-foot Guggenheim Las Vegas closed its doors 15 months later because of lack of funds and low attendance. Its only show was The Art of the Motorcycle.

The larger Guggenheim Hermitage mounted 10 major exhibits including works by Lichtenstein, Johns, Oldenburg, Rauschenberg, Wesselmann, Beckmann, Degas, Picasso, Rubens, Miro, Chagall, Bonnard, Kandinsky, Modigliani and Klee.

Many art authorities thought that the Las Vegas branch was treated more as a step-child than as a member of the Guggenheim family - accusations which New York officials strongly deny.

During the 6 1/2 years in Las Vegas the Guggenheim Hermitage had over 1 million visitors and served over 26,000 children and adults through educational outreach.


SPREADING THE WORD


WPAS CONVERSATION WITH LEGENDS SONNY ROLLINS Known for his wide-ranging style and virtuosic technique, Sonny Rollins is one of the all-time great jazz tenor saxophonists. Now in his eighth decade, Rollins is playing with astonishing power and invention. On Thursday, April 17, he talks with veteran radio host and producer Dick Golden about his vibrant career. The following evening, Washington Performing Arts Society presents Rollins in a performance at the Kennedy Center Concert Hall.

JUNGLE JACK HANNA who is the Director Emeritus of the Columbus Zoo & Aquarium, has a stage presentation which features many of his favorite animal friends, as well as fascinating and humorous stories and footage from his adventures around the world. Presented by San Diego Theatres, the show takes place at the Balboa Theatre on April 20.

THE THEATRE MUSEUM PRESENTS: JEWISH CULTURE AND BROADWAY THEATRE

A free panel discussion exploring The Impact of Jewish Culture on Broadway Theatre from the beginnings of the Great White Way to the present, hosted by The Theatre Museum as part of Immigrant Heritage Week 2008.

The evening's panel includes Stewart F. Lane, Broadway producer, 4-Time Tony Winner, and author of Let's Put on a Show; Joe Franklin, television and radio personality, "King of Nostalgia," and former host of a 40-years-on-air talk show; Dr. Susan Horowitz, award-winning singer/songwriter/comedienne and author of Queens of Comedy, renowned composer Charles Strouse, famous for his work on such musicals as Annie, Bye Bye Birdie and Rags.

At the Times Square Information Center on Monday, April 14.



THURGOOD written by George Stevens Jr. and starring Tony winner and Academy Award nominee Laurence Fishburne as Supreme Court Justice Thurgood Marshall.

Directed by Leonard Foglia, Thurgood premiered in 2006 at the Westport Country Playhouse, starring James Earl Jones and directed by Foglia. The play is a biographical portrait of Marshall, which includes his childhood in Baltimore and his service as chief counsel of the NAACP, for which he argued the landmark Brown vs. Board of Education desegregation case in 1954.

Marshall became the first African-American member of the Supreme Court in 1967 and died in 1993.

Previews begin at the Booth Theatre in New York City on April 12, officially opening on April 30.

BOEING-BOEING Marc Camoletti's classic sixties comedy of errors. Directed by Matthew Warchus.

Gina Gershon will play Gabriella, the Italian flight attendant, and Mary McCormack will play Gretchen, the German flight attendant. Kathryn Hahn is cast as the flight attendant Gloria. The production also stars Christine Baranski, Mark Rylance and Bradley Whitford.

In Boeing-Boeing, an architect living in Paris (Whitford) has been successfully juggling three flight attendant fiancées (Gershon, Hahn and McCormack) with his housekeeper (Baranski) reluctantly playing romantic air-traffic controller as they fly in and out of his swank bachelor pad. But when Robert an old school pal (Rylance) visits, things get rather turbulent. Schedules change, flights are delayed and chaos ensues in this whirl of mayhem and matchmaking.

Rylance received an Olivier Award nomination for his performance as Robert in the London production.

Boeing-Boeing features a design by Rob Howell, lighting by Hugh Vanstone, original music by Claire Van Kampen, sound by Simon Baker, curtain call by Bruno Tonioli, translation by Beverley Cross and Francis Evans.

The show begins preview performances Saturday, April 19 and officially opens at the Longacre Theatre Sunday, May 4.

A NIGHT AT THE CHINESE OPERA a new production by Scottish composer Judith Weir. This is the first time Weir's exuberant opera has been staged in Scotland and the production will be directed by Lee Blakeley.

Fourteenth century China: a group of workers gather and act out a play, The Chao Family Orphan. The action of the play seems to parallel the life of the opera's protagonist, a civil engineer named Chao Lin, who misinterprets it and tries to use it to predict his own destiny. But Fate has a different end in store for Chao, and is not to be outwitted.

Involving a colorful range of characters, including canal workers, explorers, Emperors and even Marco Polo, A Night at the Chinese Opera is a tale within a tale with its tongue firmly in its cheek. In turns comic, melodramatic, farcical and tragic, A Night at the Chinese Opera combines catchy folk melodies with parodies of Chinese and Italian opera.

Sung in English. Performances at the Theatre Royal Glasgow April 19 and May 20 & 22.

ROCKET CITY By Mark Saltzman. A Southern Writers' Project World Premiere.

As the U.S. enters the Cold War, a brash Army major moves famed German rocket scientist Wernher Von Braun and his team to Huntsville, Alabama. Sparks fly when a young Jewish woman becomes aware of Von Braun's Nazi past and attempts to lead public outcry against the project. A Southern Writers' Project World Premiere inspired by true events.

Friday, April 18 to Sunday, May 18. Octagon Stage at the Alabama Shakespeare Festival in Montgomey, AL.

AINADAMAR by Osvaldo Golijov.

Fresh from collaborating with Francis Ford Coppola, Osvaldo Golijov brings his passionate tango and flamenco inspired opera about the life of Lorca to the Barbican in London.

Osvaldo Golijov's double Grammy Award-winning Ainadamar (The Fountain of Tears), revolves around Federico Garcia Lorca and his play Mariana Pineda. Pineda was martyred in 1831 Granada for refusing to reveal the names of revolutionary leaders. An actress, Margarita, passes on to her young student, Nuria, her memories of Lorca, murdered in 1936 Granada. As she dies, she tells Nuria that an actor's individual voice may be silenced, but the hope of a people will not die.

City of Birmingham Symphony Orchestra conducted by Robert Spano. Featuring Dawn Upshaw soprano, Jessica Rivera soprano, Kelley O'Connor mezzo-soprano, Jesús Montoya singer, Jeremy Flower sampler, Craig Ogden guitar, Adam del Monte guitar, Gonzalo Grau percussionist and the Women of the Atlanta Symphony Orchestra Chamber Chorus.

Concert performance Pre-concert will feature Osvaldo Golijov in conversation with Maria Delgado, Professor of Theatre and Screen Arts at Queen Mary, University of London. April 13 at Barbican Hall, London.

TESTOSTERONE: HOW PROSTATE CANCER MADE A MAN OF ME

Hal Ackerman and Lisa Robins in Testosterone. Photo by Ed Kreiger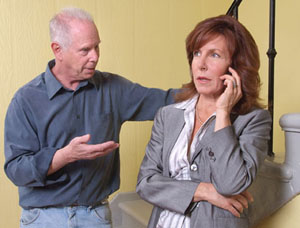 by Hal Ackerman. Directed by Michael Arabian.

Ackerman takes a frank look at his own mortality in his poignant and often humorous play, Testosterone: How Prostate Cancer Made a Man of Me. The playwright also takes center stage in his autobiographical work, joined by supporting cast members Dennis Lee Kelly and Lisa Robins.

Co-chair of the screenwriting program at the U.C.L.A. School of Theater, Film and Television where he has been on the faculty for the past 22 years, Ackerman completed his treatment for prostrate cancer in 2001.

"I underwent a non-traditional hormone treatment that turned me into a chemical eunuch," he laughs. "The play is about how we define masculinity when the very thing that defines manhood is taken away. I look at all the relationships that define maleness: father, son, husband, friend and lover. It opens with what I jokingly call a 'manologue.'"

Testosterone: How Prostate Cancer Made a Man of Me was originally written as a long prose piece that was published in AARP magazine. After adapting it into a play, Ackerman has presented it in part and in whole at numerous prostate cancer conventions around the country including, most recently, the IMPAcT convention sponsored by the U.S. Department of Defense and the Michael Milken Foundation.

Testosterone: How Prostate Cancer Made a Man of Me is presented by Lollywood Productions in association with The Powerhouse Theatre Company; Set Design is by John Iacovelli; Lighting Design is by Frank McKown; Sound Design is by Bob Blackburn; and Isabel Storey, Storey Productions produces.

April 18 through May 10 at The Powerhouse Theatre in Santa Monica, CA.


| | | |
| --- | --- | --- |
| | | |
WHO'S WHERE


BRYN TERFEL the Welsh bass-baritone performs in recital, backed by pianist Malcolm Martineau. Presented by the Los Angeles Opera on Sunday, April 20. One hour prior to the performance. Duff Murphy will lead the pre-performance lecture.

THE MUSIC AND LYRICS OF PAUL SIMON being celebrated at the Brooklyn Academy of Music stages their final program, American Tunes April 23-27. The program will cover a wide range of Simon songs and feature Mr. Simon, the Brooklyn indie band Grizzly Bear, the bluesman Olu Dara, the Roches and others.

CELTIC WOMAN in the spotlight at the Rose Garden Arena in Portland, OR on Wednesday, April 16. On Thursday they open a four night engagement at the Paramount Theatre in Seattle.

THE KINGSTON TRIO on stage at the Sunrise Theater April 17 in Southern Pines, NC.

BON JOVI takes to the American Airlines Center stage in Dallas on Monday, April 14. On Tuesday the show is at the Ford Center in Oklahoma City. Thursday finds them at the Sprint Center in Kansas City. Saturday the performance is at the Fargodome in Fargo, ND. Next Sunday they can be enjoyed at the Wells Fargo Arena in Des Moines, IA.

BIG BAD VOODOO DADDY entertaining April 17 at the Bell Auditorium in Augusta, GA.

GEORGE CARLIN brings his famous seven words and the rest of the dictionary to the stage at The Orleans in Las Vegas April 17-20

TONY BENNETT will be delighting the crowds April 18-19 at The Hilton Hotel in Las Vegas.

HOWIE MANDELL said deal to the Mirage Hotel in Las Vegas and will be telling funny stories April 18-19.




PIFFLE AND PROFUNDITIES


BRITISH PRIME MINSTER SUPPORTS GEORGE CLOONEY

George Clooney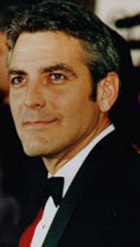 Gordon Brown has called for swifter progress on Darfur following a meeting with actor and activist George Clooney in Downing Street.

In a statement issued April 8, the PM said the world "must take note and act" following further violence and the displacement of 58,000 people in the last few months.

The PM said:

"The situation in Darfur is unacceptable. In February and March alone, fighting displaced 58,000 people. Humanitarian access is limited and UNAMID deployment is still too slow. The rebels and government continue to openly flout UNSC resolutions through attacks on civilians.

"I am grateful for the leadership George Clooney has shown in drawing attention to this crisis - this is a humanitarian tragedy of colossal proportions and the world must take note and act. The UK is working with the international community and others to pressure all sides to agree a ceasefire, start peace talks, and facilitate the rapid deployment of UNAMID."

Clooney, who took a "messenger of peace" advocacy role with the UN earlier this year, later told journalists of an idea to supply more helicopters to the war-torn region of Sudan and "create some security".

Next Column: April 20, 2008
Copyright: April 13, 2008. All Rights Reserved. Reviews, Interviews, Commentary, Photographs or Graphics from any Broadway To Vegas (TM) columns may not be published, broadcast, rewritten, utilized as leads, or used in any manner without permission, compensation/credit.
Link to Main Page
---
Laura Deni


CLICK HERE FOR COMMENT SECTION