! >
Broadway To Vegas
  SHOW REVIEWS CELEBRITY INTERVIEWS GOSSIP NEWS

| | |
| --- | --- |
| | |
ANTONIO BANDERAS SCORES A 10 IN NINE - - JESUS CHRIST SUPERSTAR ON CD - - JOHNNY CARSON'S BOYHOOD HOME & MUSEUM - - A SEXY ZUMANITY - - DUVALL'S LOVE AFFAIR WTH THE TANGO - - TIGER WOODS JAMS IN VEGAS - - DES McANUFF DIRECTS WORLD PREMIERE - - TONY RANDALL CAUSES JACK KLUGMAN TO CRY - - DONATE . . . Scroll Down


ANTONIO BANDERAS SCORES IN NINE - NEW BROADWAY SUPERSTAR


The Roundabout Theatre's revival of Nine, the musical inspired by Federico Fellini's film classic 8 1/2, opened last Thursday at the Eugene O'Neill Theatre.

Seen in previews, this is a wonderful production which stars Antonio Banderas in his Broadway debut. Banderes turns Nine into his own personal "10". Certain to be a hit, Banderas firmly establishes himself as a Broadway superstar. Also delivering blue ribbon performances are Laura Benanti, Jane Krakowski, Mary Stuart Masterson and Chita Rivera.

Every person associated with this production should be permitted to select their own adjective to describe their contribution. Set designer Scott Pask, lighting by Brian MacDevitt and Vicki Mortimer costumes deserve their names above the title.

Sexy and introspective, the plot line has never been simple minded. Just let the wonder of Banderas and the cast engulf you into enjoyment.

In 1984 Nine won five 1982 Tony Awards, including Best Musical. Expect this revival to sweep up a multitude of honors during the upcoming award season. Every plaudit will be deserved.

Nine revolves around one central character Guido Contini, a film director in the Fellini mold. He is contracted to write and direct a film, but is unable to come up with a suitable plot. After recent box office failures, he finds himself drifting towards a nervous breakdown. Guido finds himself examining his past flawed relationships with the many women who have come through his life and the struggle to act his mature age of 40 as opposed to nine.



Jane Krakowski stops the show with her sensational performance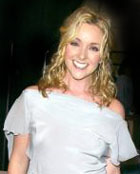 Antonio Banderas, the only man in the production, plays Guido Contini with Laura Benanti as Claudia, Jane Krakowski as Carla, Mary Stuart Masterson as Luisa and Chita Rivera as Liliane La Fleur. Additional cast members include: Nell Campbell as Lina Darling, Saundra Santiago as Stephanie Necrophorus and Deidre Goodwin as The Lady of the Spa. The ensemble includes: Linda Mugleston, Elena Shaddow, Kristin Marks, Sara Gettelfinger and Kathy Voytko.



Melanie Griffith and Antonion Banderas. Griffith will also make her Broadway debut as Roxie in Chicago.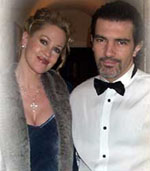 Banderas has reportedly sent roses to every lady in the cast - with the blessing of his wife Melanie Griffith, who has been spending much of her time backstage or in the audience applauding.

In the near future Griffith is going to be spending much of her time across the street listening to people applaud her. While Nine, which was originally scheduled through June 29, has extended to August 10, Griffith makes her Broadway debut this summer in the Tony-winning revival of Kander and Ebb's Chicago at the Ambassador Theatre, directly across the street from the Eugene O'Neill Theatre. She begins playing Roxie Hart July 11, signing on through September 28.

Nine has a book by Arthur Kopit; music and lyrics by Maury Yeston; adaptation from the Italian by Mario Fratti; music direction by Kevin Stites; choreographed by Jonathan Butterell; directed by David Leveaux. Magnificent sets by Scott Pask; wonderful costumes by Vicki Mortimer; incredible lighting by Brian MacDevitt; sound by Jon Weston; special effects by Gregory Meeh; orchestrations by Jonathan Tunick; music coordinator, John Miller; dialect coach, Kate Wilson; hair design by David Brian Brown; makeup design by Naomi Donne; production stage manager, Arthur Gaffin; technical supervisor, Steve Beers; general manager, Sydney Davolos; associate artistic director, Scott Ellis; Presented by the Roundabout Theater Company, at the Eugene O'Neill Theater, NYC.


EXPLORING THE DANCE PROP WORLD OF FALLOPIAN TUBES AND VAGINAS
Girl on the Swing by Jean-Honore Fragonard.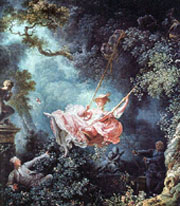 In the 1998 movie Patch Adams, the unconventional doctor, played by Robin Williams, stages a seminar in which the arriving gynecologists walked through a door made to look like a vagina.

Then there is the awarding winning Contact, the Susan Stroman creation that featured an erotic Girl on a Swing scene - based upon the Fragonard painting, which became famous for both technical excellence and the scandal behind it. The nobleman not only gets an interesting view up the lady's skirt, but she is being pushed into this position by her priest-lover, shown in the rear. In the Stroman version the swing becomes the bawdy seat of acrobatic encounters.

There are also those take apart plastic models of the female nether regions found in doctors' offices.

Expand and modify all three concepts, coat in elegance and the result may be something called Zumanity. That is not to be confused with Sarmoti, which is the Siegfried and Roy website or Spumoni, which is a wonderful Italian ice cream - although with a little luck and a lot of creative imagination Zumanity may turn out to be a magical confection.

Unlike the Celine Dion show, which one comedian described as - Daddy, buy me a circus - Zumanity, the latest hot gossip out of Vegas, has prospects of being a zum goody piece of work, which may or may not have acrobatic dancers gyrating with day-glow fallopian tubes. At first blush the effort has all the necessary rumors and dropped hints associated with a high art, class act winner.

ZUMANITY [zu'manite] n. Neologism dating from 2003, contraction of the words "zoo" and "humanity." 1. A human zoo. 2. A new form of eroticism which blends dance movement, acrobatics and beautiful bodies with the sensual caress of the human voice and the pulse of exotic rhythms. 3. An exploration that awakens the most primal urges in human beings.

Zumanity is buzzing the pipelines with tease, officially referring to itself as "a provocative exhibition of human sensuality, arousal and eroticism, opens July 31st, only at the New York-New York Hotel & Casino in Las Vegas.

"Zumanity is an intense visit to a world where human inhibitions are both unveiled and discarded, where style and intense sensual passion share an uncommon stage.Where's the limit between reality and fiction? This question is on many of the artists' lips as they create their characters for Zumanity. How much of their own personality will they put into the show?"

New York-New York touts it as "a more intimate expression of Cirque du Soleil."

After romancing the family in the RV crowd, Vegas has returned to the Sin City image that made it famous. For Zumanity, leave the kids at home. We can't wait to see what the souvenir shop has for sale.


JOHNNY CARSON HOME TO BECOME A TOURIST DRAW; POSSIBLE TIE-IN WITH CARSON MUSEUM EXHIBIT
Entrance to Carson museum exhibit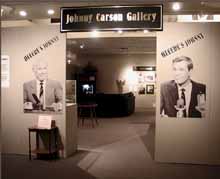 The Norfork, Nebraska home of former television talk show host Johnny Carson has been purchased by Jim Pruett, 40, a computer service technician from Brandon, S.D. and his partner, Rick Runge of Sioux Falls, S.D.

According to documents, the pair bought the home on March 28 for $150,000, approximately $60,000 over the market value.

Purchased as an investment, they immediately set about restoring the house to the way it looked in the 1940's when Carson called the place home. Plans being discussed include turning it into a bed and breakfast or attempting a tie in with the Elkhorn Valley Museum in Norfolk.



Replica of Tonight Show set with Carson mannequin delivering a monologue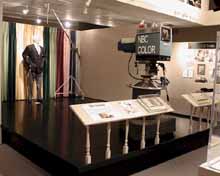 Last September that museum, which is produced in part by a grant from the Nebraska Division of Travel and Tourism, opened a permanent exhibit of Carson memorabilia.

The Carson Exhibit offers an extensive collection - from his high school yearbook and personal furniture to his Kennedy Center Honor and Emmy Awards. The numerous sections include the early years of the Tonight Show and a section on his philanthropy. A replication of the Tonight Show stage features a Carson mannequin delivering a monologue.

Admission is free to museum members. There is a nominal charge for non-members.


BROADWAY SHOW INSPIRED ROBERT DUVALL


Robert Duvall, the 72-year-old actor, is one sexy dance dude. He became an aficionado of the Tango, that Argentine dance form, after seeing Tango Argentino, the Broadway hit showcase of the dance. Duvall very quietly began taking Tango lessons both in the U. S. and in Buenos Aires, Argentina. He's spend years practicing every day. His mother would be both proud and surprised.

Growing up in a Navy family - his father rose to the rank of Admiral - his mother ran a dance cotillion in Annapolis, Md. and always needed extra males. She arm twisted her son, who attended hundreds of dances - giving his mother grief at every downbeat. He now admits that secretly he always liked social dancing.

Having fallen in love with the Tango, the writer-director even used the sexy dance as a pivot for his latest film Assassination Tango, called a valentine to Argentina, its national dance and its practitioners. In the flick Duvall plays a New York hit man, hired to kill off a retired Argentine general, who finds himself drawn to the mystery and elegance of tango while awaiting the green light for the murder.

Co-starring is Duvall's real life love, equestrian and tango expert, Luciana Pedraza. Together since 1996, in the movie Pedraza plays Manuela, a beautiful dancer who becomes his teacher and guide into Argentina's sensual world of the tango.

Duvall appeared Off-Broadway in Horton Foote's one-act play The Midnight Caller (1958), the first of his many associations with Foote. He also acted in an acclaimed Off-Broadway revival of Arthur Miller's A View From the Bridge (1965), and in the original Broadway production of Wait Until Dark (1966).


THE MUSIC GOES ROUND AND ROUND


JESUS CHRIST SUPERSTAR has received headlines recently with the national touring company firing Jesus Christ. The former Skid Row rocker Sebastian Bach didn't think that was a Christian thing to do to him, but the producers felt the betrayal was in his performance. While that might have brought the production to the minds of some, the Decca Broadway re-issue of the original cast version should bring the soundtrack into the homes of many. This CD belongs in the Easter basket.

Jesus Christ Superstar, which has been translated into 11 languages and staged in over 22 countries, retells the story of the last seven days of Christ. When it originally opened on Broadway in 1971, Andrew Lloyd Webber's score, combining rock & roll, contemporary pop and traditional Broadway rhythms, became an instant sensation.

Writers Andrew Lloyd Webber was 17 and Tim Rice 20, when they began collaborating on musicals in 1965. What were you doing at that age?

That ought to bring on depression. Perhaps listening to this CD will help you come out of that blue funk. Some of the numbers in Jesus Christ Superstar are quite the toe tappers. After all, this was the first show to successfully put rock music in a theatrical context. Purists explain that Hair doesn't count, because it was a pop show, not really rock. Split all of those hairs you want, Jesus Christ Superstar was dynamite when it opened on Broadway with Mayor John Lindsey in the opening night crowd at the Mark Hellinger Theatre on October 12, 1971.

The audience already knew the music. One of the unique aspects of the show was that the pre-stage studio version recording had topped the US music charts upon release. What surprised the crowd was that there is no spoken dialogue, technically making the effort an operetta. An attention getter was that somebody had actually written a show about Jesus Christ from the point of view of Judas. Then there was the staging. Herod wore elevated shoes, rouge and lipstick. Pilate donned a silver jockstrap, and those carrying the cross wore football helmets.

If anybody thought Webber and Rice were annoying the church, they remained too slackjawed to speak. It was the church that learned not to annoy Webber and Rice. The composers sued a group of nuns who had recorded their own version. A court order slapped the nuns with a cease and desist order.

This re-release is the Original Broadway Cast Recording from that 1971 hit. The production starred Ben Vereen as Judas Iscariot. Jenn Fenholt in the role of Jesus Christ. Yvonne Elliman portrayed Mary Magdelene. I Don't Know How To Love Him showcases her magnificent voice and was also a recording chart topper. Although Elliman retired from showbusiness to become a wife and mother, lately there have been rumors that she would like to resume singing. Paul Ainsley as King Herod performing King Herod's Song is a showstopper. Bob Bingham as Caiaphas High Priest with Phil Jehtro, Barry Dennen, Alan Braunstein, Michael Meadows, Steven Bell, Michael Jason, and Samuel Wright are outstanding.

13 tracks with orchestrations by Andrew Lloyd Webber, conducted by Marc Pressel, Frank Laico recording engineer and Elvin Campbell re-mix engineer.

The orchestra included; Bruce Rowland, Bill Le Sage, Anthony Brooke, Joe Castaldini, James Brown, Andrew McGavin, Douglas Moore, John Burdon, Keith Christie, Frank Jones, Jeff Clyne, Peter Morgan, Alan Weighall, Alan Spenner, Les Condon, Kenny Wheeler, Harold Beckett, Ian Hamer, Ian Herbert, Clive Hicks, Steve Vaughan, Neil Hubbard, Carl Jenkins, Henry McCulloch, Chris Mercer, Anthony More, Peter Robinson, Chris Spedding, Louis Stewart, Chris Taylor, Brian Warren, Mike Vickers, and Mick Weaver.


NATIONAL ASSOCIATION OF BROADCASTERS OGLE AND HONOR
Bill Cosby entertaining at the National Association of Broadcasters. NAB Photo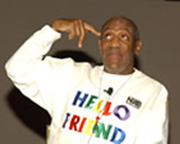 The longest line at the National Association of Broadcasters Convention, which took place in Las Vegas this past week, wasn't to the rest room or to obtain a star's autograph, rather to get up close to the satellite picture phones, which have raised the bar for broadcasting. If the public didn't know what they were last month, the man in the street does now - thanks to imbedded reporters covering the war. The satellite dish looks like a small laptop and the entire operation can get up in less than 30 minutes.

When the conventioneers weren't gazing at satellite telephones that take pictures, they were honoring their own.

The sold out opening celebration at the Bellagio Hotel featured Bill Cosby, with a special one-night performance, preceded by a reception. Cosby is about to expand his involvement with the small box medium. Animated Fatherhood based on the comedian's best-selling book Fatherhood is coming to Nick at Nite as the first original animated series for the channel. David Alan Grier will star. Fatherhood continues Cosby's relationship with the cable network; Little Bill airs on Nickelodeon, and reruns of The Cosby Show air on Nick at Nite. Cosby will be co-executive producer of the series, which is to premiere in December.



Cokie Roberts. NAB Photo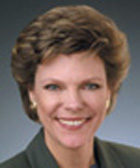 The National Association of Broadcasters honored ABC News' Cokie Roberts with the Distinguished Service Award. Roberts, the chief congressional analyst for ABC News, covers politics, Congress and public policy. In addition to her work for ABC, Roberts serves as a news analyst for National Public Radio where she has won numerous awards, including the highest honor in public radio, the Edward R. Murrow Award.

Keynote speaker was Barry Diller, Chairman and CEO, USA Interactive and Vivendi Universal Entertainment. Other speakers included Edward Fritts, President and CEO, NAB, Washington, DC and Roberts.



NAB Broadcasting Hall of Fame Recipient: The Wonderful World of Disney Television Anthology Series; accepted by Michael Eisner, Chairman & CEO, The Walt Disney Company; with NAB TV Board Chairman Michael J Fiorile (l) and NAB President/CEO Eddie Fritts (r) NAB Photo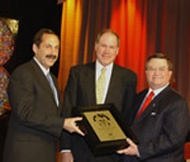 The Wonderful World of Disney Television Anthology Series was inducted into the NAB Hall of Fame during the All-Industry Luncheon at the Hilton Hotel. Michael Eisner accepted the award on behalf of The Walt Disney Company. NAB also honored Don Hewitt, creator and executive producer of 60 Minutes, with the coveted Spirit of Broadcasting Award.

In accepting his accolade, Hewitt praised what he called "the spectacular way" television has covered the current war in Iraq, then basically repeated what he had said on The Larry King Show.

"To give you an idea how long I've been in broadcasting - I knew Cokie Roberts' father - Hale Boggs - Lyndon Johnson's favorite Congressman. I also knew Michael Eisner's father - Walt Disney," he kidded.



Spirit of Broadcasting Award Recipient Don Hewitt, Creator and Executive Producer, 60 Minutes and CBS News (NAB TV Board Chair Michael J. Fiorile in background. NAB Photo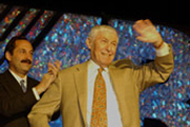 "Let me begin by paying tribute to the spectacular way this industry has risen to the task of covering a war I have to believe even Michael Moore and Susan Sarandon sneak a peek at every once in a while."

"Talk about above and beyond the call of duty, I have never been as impressed with what guys like me who go by the fancy name of journalist do for a living as I am right now - watching guys - both male and female - whom I work with and compete against - dodging unfriendly "incoming" - "friendly" outgoing - and sandstorms that come at them from every direction."

"Broadcasting has had no finer example of what I'm talking about than David Bloom of NBC, who died this weekend in Iraq."

"Looking at what television hath wrought since I took my first baby steps in this medium more than half a century ago - it hardly looks like the product that came out of that rinky-dink studio tucked away upstairs over Grand Central station that I was lucky enough to have wandered into in 1948, when nobody I knew even owned a television set."

"I was born before credit cards, ballpoint pens, and pantyhose when the hardware was a store on Main Street and software wasn't even a word."

"One of the few things still around today that pre-dated me is show biz - something so-called serious journalists used to avoid like the plague until 60 Minutes came along and showed the world that - with a little skill and a lot of artistry - you could marry "show biz" and "news biz" and not shame yourself. And that if you did it right, you could be a big winner."

"How big? How about putting a news broadcast in the top ten for a record 22 years - and making it - along with Bill Cosby and Archie Bunker - one of the only three broadcasts to ever become America's most-watched five separate times."

"What got me here today (was) the realization early on that if there was anything broadcasting's founding fathers - Bill Paley, David Sarnoff and Leonard Goldenson - three guys I also knew - wanted more than soul-searching public affairs programming, it was soul-searching public affairs programming that made money. How do you do that - take care of your boss's soul and his pocketbook?"

He answered his own question by thanking Mike Wallace, Harry Reasoner, Morley Safer, Ed Bradley, Steve Kroft, Lesley Stahl and Andy Rooney.



Job seekers at the career fair NAB Photo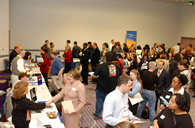 The Radio and Television Career Booth at the Las Vegas Convention Center was billed as the largest job fair in broadcasting and related industries. A few were curious, but most were people pretending not to be desperate for more face and voice time. They met with representatives from radio and television stations and related companies seeking employees for jobs ranging from entry-level to management positions.



Congressional Breakfast (l to r) Congressman Gene Green (D-TX); Senator Norm Coleman (R-MN); Senator Conrad Burns (R-MT); Congressman Eliot Engel (D-NY); Congressman Lee Terry (R-NE); Moderator Steve Newberry, Chairman & CEO, Commonwealth Broadcasting Corporation, Glasgow, Kentucky. NAB Photo

Also on the agenda was the Congressional Breakfast, an annual event affording Members of Congress, from both the House and Senate, the opportunity to address leaders in the telecommunications and broadcasting fields. Steve Newberry, President/CEO, Commonwealth Broadcasting Corporation served as moderator for Senators Conrad Burns and Norman Coleman and Congressmen Rick Boucher, Eliot Engle, Gene Green and Lee Terry.

The Paul White Award Reception & Dinner held at the Hilton honored Bob Schieffer, anchor and moderator of CBS' Face The Nation, who received the Paul White Award.

RTNDA established the Paul White Award in 1956 to honor the broadcast news pioneer who served as the first news director at CBS.



Bob Schieffer
The award recognizes an individual's lifetime contribution to electronic journalism. Past recipients include Pauline Frederick, Edward R. Murrow, Bernard Shaw, Dan Rather, Peter Jennings, Ed Bradley, and Tom Brokaw.

Schieffer has been CBS' Chief Washington Correspondent since 1982.

Legendary air personality and program director Scott Shannon at WPLJ in New York was inducted into the NAB Broadcasting Hall of Fame. Shannon's influence and innovation in contemporary radio can be heard on radio stations across the country. WPLJ morning co-host and program director Shannon came to New York in the summer of 1983 to launch a new top-40 station called WHTZ. He left in 1989 for Los Angeles and returned in 1991 to WPLJ (95.5 FM). His WPLJ morning show aired live from Vegas during the convention.



Broadway To Vegas is supported through advertising and donations. Priority consideration is given to interview suggestions, news, press releases, etc from paid supporters. However, no paid supporters control, alter, edit, or in any way manipulate the content of this site. Your donation is appreciated. We accept PAYPAL. Thank you for your interest. Laura Deni P.O. Box 60538 Las Vegas, NV 89160


SWEET CHARITY


TIGER JAM VI the annual Tiger Woods' event that benefits the Tiger Woods Foundation, which benefits charities based in Las Vegas and Los Angeles.

This year the Tiger Jam takes place April 19 at Mandalay Bay Resorts in Las Vegas. Sponsored by Coca Cola and hosted by Woods, the concert stars Bon Jovi and features the Goo Goo Dolls. The VIP event will be held before the Jam VI and there is also a post concert party at the House of Blues.



Bon Jovi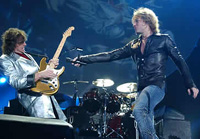 On April 16 at the H.G. Dad Miller Golf Course in Anaheim, California, the golfer will provide the first glimpse of what to expect from the Tiger Woods Learning Center at an onsite ceremony. The landmark project for underserved youth will include a 35,000-square-foot education center housing an Auditorium, Computer Lab and sophisticated Media Resource Center. Woods will also announce the first major donor to the Learning Center's $25 million fundraising campaign, which he kicked off in December 2002 with a $5 million pledge.



Tiger Woods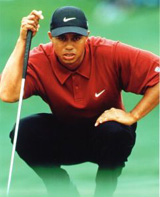 The ceremony will feature the groundbreaking for the Tiger Woods Learning Center. The Tiger Woods Learning Center will provide children with a hands-on approach to academics and other personal enrichment opportunities that help build self-esteem and break the cycle of academic failure. The $25 million Center will also include a 23-acre golf teaching facility, consisting of a 13-acre practice area & putting course and a 10-acre Par 3 course.

The Learning Center marks a major milestone for the Tiger Woods Foundation, an organization established in 1996 by Tiger and his father Earl. The mission of the Tiger Woods Foundation is to empower young people to reach their highest potential by initiating and supporting community-based programs that promote the health, education and welfare of all of America's children.

PULITZER PRIZES Joseph Pulitzer was the first to call for the training of journalists at the university level in a school of journalism. His 1904 will made provision for the establishment of the Pulitzer Prizes as an incentive to excellence. The will established Columbia as the seat of the administration of the prizes. Pulitzer bestowed an endowment on Columbia of $2,000,000 for the establishment of a School of Journalism, one-fourth of which was to be "applied to prizes or scholarships for the encouragement of public, service, public morals, American literature, and the advancement of education." For a complete list of the 2003 Pulitzer contenders click here


OTHER PEOPLE'S MONEY


SEATTLE REPERTORY THEATRE will have a series of one act plays staged in an effort to bolster a $500,000 shortfall that has forced a series of cutbacks.

Managing director Benjamin Moore announced that a full-time work force of 102 annual and seasonal employees will be cut to 93, and the number of productions next season will decline from nine to six. Moore is projecting income of between $6.5 million and $7 million next season, down from revenues of $8 million this year. Three events designed to raise funds for financially troubled ACT Theatre's 2003-2004 season will be staged by ACTion!, a group of artists, arts advocates and former ACT employees trying to keep the theater operating.

Let It Sing!, a revue featuring University of Washington Professional Actors Training Program students performed works by composers and lyricists who have been featured at ACT, took place last night, April 12. The Fantasticks by Tom Jones and Harvey Schmidt will be performed in a concert version April 21, directed by Stephen Terrell and Scott Warrender and Lonely Planet, Steven Dietz's play about friendship in the time of AIDS, will be staged May 5 with Dietz directing actors Laurence Ballard and Michael Winters.



THE PRODUCERS

Martin Short. Photo by: Laura Deni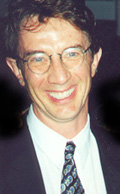 that don't miss show which has productions at the St. James Theatre on Broadway and a touring company, has some cast changes.

At the Pantages Theatre in Los Angeles, the first national tour opens in May 2 for seven months - through January 4, 2004 - with Jason Alexander and Martin Short taking over the roles created on the road by Lewis J. Stadlen and Don Stephenson.

Short plays Leo and Alexander is Max.

Short and Alexander will joined the show during the San Francisco run of the show, April 21-26 at the Orpheum Theatre. Stadlen and Stephenson then move their talents into the Broadway production.

Brad Oscar, who is currently in the Broadway show, will lead the second National tour playing Max Bialystock to Andy Taylor's Leo. That second national troupe begins goose-stepping June 17 in Boston at the Colonial Theatre for a 13 week run. Also featured are Rich Affannato as Carmen Ghia, Ida Leigh Curtis as Ulla, Bill Nolte as Franz Liebkind and from the first national tour, Lee Roy Reams as Roger DeBris.

THE PHANTOM OF THE OPERA welcomes Hugh Panaro, who returns to the title role in the Broadway production on April 14. In a revolving door situation Panarol succeeds the latest Phantom, Howard McGillin, who took over for him in 1999.

EDEN LANE a play by Tim Donaghy, will have its world premiere directed by Des McAnuff, La Jolla Playhouse's two-time Tony Award-winning Artistic Director. The production will complete the 2003 season at La Jolla Playhouse. Eden Lane is about a woman who has moved from the city to her dream house. It's a domestic comedy involving her husband, daughter and best friend that veers surprisingly into larger issues. McAnuff called Donaghy "a playwright whose work we've been following closely because of his unique storytelling style. This play has a great sense of irony and real heart a combination I find irresistible." Donaghy, 39, is currently a Guggenheim Fellow.

Eden Lane will begin previews August 12, open August 17 and run through September 14. La Jolla Playhouse was founded in 1947 by Gregory Peck and other Hollywood actors who wanted to practice the craft of the stage. La Jolla Playhouse received a Tony for outstanding regional theater in 1993.

SALOME starring Academy Award winners Al Pacino, Marisa Tomei and Dianne Wiest, in a staged reading of Oscar Wilde's once-controversial play, Salome. We enjoyed this as a fully-staged revival in which Pacino starred as Herod in Salome at Circle in the Square a decade ago. This production originated off-Broadway earlier this season.

Others in the cast directed by Estelle Parsons include; David Strathairn, Timothy Altmeyer, Jill Alexander, Daryl Diamond, Timothy Doyle, Robert Heller, Owen Hollander, Bob Lavelle, Chris McGarry, Ed Setrakian, Kevin Stapleton. Music by Yukio Tsuji. Sets by Peter Larkin. Lighting by Howard Thies. Costumes by Jane Greenwood.

Previews have begun at the Ethel Barrymore theatre and officially opens on April 30 closing June 7.

THE JACKIE WILSON STORY written and directed by Jackie Taylor. With Chester Gregory 2nd, Melba Moore, Katrina Tate, Lyle Miller, Mark D. Hayes, Eva D., Valarie Tekovsky, Elfeigo N. Goodum III. Presented by the Black Ensemble Theater at Harlem's Apollo Theater, NYC.

SHAKESPEARE IN HOLLYWOOD a new comedy by Ken Ludwig. Directed by Kyle Donnelly.

Max Reinhardt is trying to shoot his first Hollywood film, A Midsummer Night's Dream, but his leading lady can't act, his cast keeps falling in love with each other, and what's more, the real Puck and Oberon have just shown up! Proving that the course of true love never did run smooth, this madcap comedy suggests the sets of Hollywood and the woods of Athens have more in common than we thought.

The reading features Helen Hayes Award nominee Kate Baldwin as Olivia de Havilland, with Tony Award nominees Douglas Sillsas Oberon and Robert Prosky as Reinhardt.

Also participating are Susan Lynskey as Puck, Rick Foucheaux as Jack Warner, J. Fred Shiffman as Will Hays, Ian Gould as Daryl, Brandy Zarle as Lydia Lansing, Helen Carey as Louella Parsons, David Fendig as Dick Powell, Aubrey Deeker as Jimmy Cagney, Rick Hammerly as Joe E. Brown.

Monday, April 14 at Arena Stage's In the Works series in Washington, D.C.

BILL MAHER: VICTORY BEGINS AT HOME based on Maher's best-selling book, When You Ride Alone, You Ride With Bin Laden: What the Government Should Be Telling Us to Help Fight the War on Terrorism, begins previews April 29 at the Virginia Theater, NYC. Officially opens on May 5 for a limited run, closing May 18.

STREAKIN'! a new musical flashback to the outrageous 70s. Of course the production includes a real live Streaker, (i.e. someone running naked at high speed through a very public place.) The audience is invited to join in the party atmosphere of the show, by participating in a mock TV game show

Written by Jamie Rocco and Albert Evans with Heidi Karol Johnson, Patti Wyss and Ed Cionek and directed and choreographed by Rocco, the musical revue celebrates and pokes fun at the me generation and features over 40 hit songs and fast-paced skits. The fun musical features Tari Kelly, Monte Wheeler, La Vonda Elam, Darryl Jovan, Christi Moore-Leslie, and Danny Vaccaro, with Trevor Richardson and Sandra Bargman. Orchestrations are by Patti Wyss and Ed Cionek with the five-piece Mellow Bunch under the Musical Supervision of Jason Paul DeBord.

Streakin'! began as a workshop by creators/writers Jamie Rocco and Albert Evans. A six-week try-out at a small theatre in Wichita turned into a five month run. This engagement is produced by Steven Yuhasz and Jennifer Hall. The Production Stage Manager is Cecelia Martin with costume and scenic design by Anne Lommel, lighting by Herrick Goldman, sound design by David Arnold and General Management by Maria Productions.

Performances begin April 17th.

From April 17 through May 1, anyone bringing proof of graduating from high school during the 1970's will receive two $55 tickets for the price of one. High School Yearbook must be presented at Babalu Box Office to qualify for special Two for One offering. Streakin' opens officially on Friday, May 2nd. Babalu Restaurant/Theatre/Night Club, NYC.

NURSE! by Lisa Hayes, directed by Annie Levy, based on real life nurses strikes opens May 6 at the Jose Quintero Theatre in NYC as part of a New York theatre tour.

Nursing moves from the bedside to the bargaining table, headlines and picket lines in this production gleaned from real life situations. Hayes plays all 11 characters in her dramatization of what can happen when nurses go out on strike. This play is being sponsored by the New York State Nurses Association and produced by Theodore L. Manekin to celebrate Nurses Week May 6-12. Nurse! opens April 24-27 at Cabaret in the Square in Buffalo.

THE ALCHEMISTS created by Peter Mills and Cara Reichel. Reichel directs. Book, music, & lyrics by Peter Mills who was the 2002 Jonathan Larson Grant recipient.

Set on an estate in the Regency English countryside during the period of 1810-1825, The Alchemists follows the personal lives of five young artists and intellectuals during the English romantic period as they struggle over the inheritance of the estate.

Music direction by Daniel Feyer, set design by Scott Aronow, and lighting designed by Ji-Youn Francesca Chang. Presented by the Prospect Theater Company.Opening April 26 is preceded by a special reception at Global 33.

Prospect Theater Company - Cara Reichel producing artistic director, Melissa Huber managing director - is a non profit organization based jointly in New York City and in Rome, Georgia. It was founded in June, 1998 by five Princeton University graduates.

GEM OF THE OCEAN August Wilson's play about Citizen Barlow, who hides from the local constable at his Aunt Esther's house and sets into motion a series of events that put him on a course to redemption. The Goodman Theatre in Chicago April 18-May 24.

THE VIOLET HOUR surreal comedy ensues when a turn-of-the-century publisher finds a mysterious machine that spouts unsettling news about the future. Steppenwolf Theatre, Chicago April 17-June 15.

IN THE BLOOD a modern retelling of The Scarlet Letter sets Hester in a poverty stricken inner city apartment. A Midwest premiere from 2002 Pulitzer Prize winner Suzan-Lori Parks. Circle Theatre in Chicago April 23-June 1.

PEKING OPERA on stage Tuesday in Burlington, Vermont in the Flynn Theatre. On Wednesday they perform in Princeton, New Jersey at the McCarter Theatre.

A DIVINE COMEDY by Dennis Hassell. New seminary grad Bob Shephard has one year to turn around a struggling urban church but he's in for much more than he bargained for from the bizarre community at Saint Hilarias. The production officially opened April 11, at the Lamb's Players in Coronado, California continuing through May 18.

CATCH ME IF YOU CAN a comedy thriller by Jack Weinstock and Willie Gilbert starring Jamie Farr.

Described as "a whodunit with more twists and turns than a thrice-bent corkscrew. A plot doesn't get much thicker than this amusing mystery's. Just when you think you are on to it, another plot device comes in and catches you off guard. It's a comedy / mystery / thriller involving disappearances, imposters, insurance policies and a moose head at a honeymoon house in the Catskills. A new bride disappears, the groom calls the police, enter the befuddled detective. A priest arrives with a beautiful woman claiming to be the missing bride and the groom denies it categorically. Then the deli guy makes a delivery and the pastrami really hits the fan."

April 16 - June 22 at the New Theater Restaurant in Overland Park, Kansas.


WHO'S WHERE


PETER CINCOTTI on Wednesday, April 15 at Bimbo's 365 Club in San Francisco. He has a two nighter at Birdland in New York on Friday and Saturday.

NEIL SEDAKA will replace Burt Bacharach on the Oklahoma City Philharmonic's 2002-03 pops season closer April 18 and 19. Bacharach was forced to cancel due to a recent surgery. This year marks Sedaka's 45th year as an entertainer.

ELAINE STRITCH at the Ahmanson Theatre in Los Angeles through April 27.

DICKEY BETTS & GREAT SOUTHERN Thursday, April 17th, at BB Kings Blues Club in New York City.

ELTON JOHN AND BILLY JOEL perform Tuesday in Cleveland, Ohio at the Gund Arena. On Thursday the show is in St Paul, Minnesota at the Excel Energy Center and on Saturday they can be enjoyed in Fargo, North Dakota at the Fargodome.

ARLO GUTHRIE on stage Saturday April 18 at the McCarter Theatre in Princeton, New Jersey.

PRESERVATION HALL JAZZ BAND opens a two nigter tonight at the Peace Center in Greenville, South Carolina. On Tuesday they are center stage at Mississippi State University.

MELISSA MANCHESTER AND PAUL WILLIAMS perform at Feinstein's at the Regency in NYC April 15-April 26.

KAREN AKERS: THEATRE SONGS a program of songs by Sondheim, Yeston, Hamlisch, and others, including songs that Akers introduced from Nine and Grand Hotel. At the Oak Room in the Algonquin Hotel, NYC. Opening April 15.

HOOTIE AND THE BLOWFISH perform April 14 at the House in Blues in Myrtle Beach, South Carolina. On April 18 the guys are in the spotlight at Shelter Cove Park at the Hilton Hotel at Hilton Head, South Carolina.

SWEET HONEY IN THE ROCK performs tonight, April 13 in Lawrence, Kansas at the Lied Center.

DAVID SEDARIS performing Wednesday, April 18 in Dallas, Texas in Meyerson Symphony Center. Thursday he's on stage at Peery's Egyptian Theater in Ogden, Utah.

TONY DANZA who is always a delight, opens a three nighter Friday at the Sun Coast Hotel in Las Vegas.

MAUREEN McGOVERN April 14-19 at Founder's Hall, Orange County Performing Arts Center in Costa Mesa, California.

YANNI performs this evening, April 13, in Uniondale, New York at the Nassau Coliseum. On Tuesday he is center stage in Richmond, Virginia at the Richmond Coliseum. Wednesday the show is in Wilkes-Barre, Pennsylvania at the First Union Arena. Thursday finds the performer in New York City at Madison Square Garden.

WILLIE NELSON opens a two nighter Wednesday in Clearwater, Florida in Ruth Eckerd Hall. On Friday the performance shifts to the Mizner Park Amphitheatre in Boca Raton, Florida.


PIFFLE AND PROFUNDITIES


TONY RANDALL

Newberry Opera House. Tony Randall was instrumental in the renovation.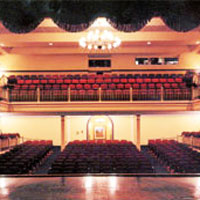 surprised his '70s sitcom co-star, Jack Klugman, last Tuesday after the second curtain call of On Golden Pond, in which Klugman was starring at the Newberry, South Carolina Opera House. Randall walked on stage just as Klugman looked around thinking somebody was presenting him with flowers. Instead he received a hug and a standing ovation from the audience who was moved to tears.

It was the first time back at the theater for Randall, 83, since he helped plan its renovations.

In 1882, the newly built Newberry Opera House housed, on the first floor, two stores, a fire station, a city council chamber, a clerk's office, and a police station. The second floor held a performance hall and stage. Touring companies of New York plays, minstrel and variety shows, famed vocalists and lecturers, magicians, novelty acts and boxing exhibitions appeared on its stage. In the 1920s the facility became a movie theater. After the movie theater closed in 1952, some people thought the building should be torn down, while others believed it was an important historical building. Eventually the supporters won and in 1970 the Opera House was placed on the National Register of Historic Places. In the 1990s the city government gave up its space on the first floor, making it possible for the entire building to be renovated and returned to its original use as an opera house and community arts center. Thanks to Randall, who headed up the project, the theater now has 427 theater seats that are historic reproductions, a stage, and a horseshoe-shaped balcony. Since its reopening, performances at the Newberry Opera House have included operas, musicals, jazz concerts, vocal and other performances.
















Next Column: April 20, 2003
Copyright: April 13, 2003. All Rights Reserved. Reviews, Interviews, Commentary, Original Photographs or graphics from any Broadway To Vegas (TM) columns may not be published, broadcast, rewritten, utilized as leads, or used in any manner without permission, compensation and/or credit.
Link to Main Page
---
Laura Deni


CLICK HERE FOR COMMENT SECTION