! >
Broadway To Vegas
  
  REVIEWS INTERVIEWS COMMENTARY NEWS

| | |
| --- | --- |
| | |
APRIL IS JAZZ APPRECIATION MONTH - - UP AT BAT: WARHOL AND BASEBALL - - PREMIERE STAGES AT KEAN UNIVERSITY - - HOOTERS IS GOING TO BE A DOUBLE EYEFUL IN LAS VEGAS - - MRS ROOSEVELT FLIES TO LONDON - - THE 2015 HONORS FOR EXCELLENCE IN THE THEATRE - - ROCK AND ROLL HALL OF FAME INDUCTION CEREMONY - - 11th ANNUAL SYDNEY AUSTRALIA COMEDY FESTIVAL - - DONATE . . . Scroll Down




Copyright: April 12, 2015
By: Laura Deni
CLICK HERE FOR COMMENT SECTION


APRIL IS JAZZ APPRECIATION MONTH
Tony Bennett and Lady Gaga will be performing at the New Orleans Jazz & Heritage Festival on Sunday, April 26th.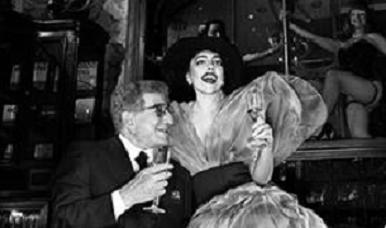 Get jazzy!

Jazz Appreciation Month (JAM ) is about musicians, radio stations, concert halls and local facilities promoting the music which is considered "American's music" - by offering themed programs to the public.

Ragtime, bebop, the blues are all types of jazz that have developed into the wide range of music we can hear today. But back in the 1800s in the American south jazz originated from slave plantations when the working slaves would try to break up the boredom of their day by singing. This accompanied the European-American musical tradition to create the basis for jazz.

In honor of Jazz Appreciation Month, Jazz at Lincoln Center offers a live webcast on Friday, April 17th.

For the past 25 years, saxophonist and clarinetist Joe Temperley has been the heart and soul of the Jazz at Lincoln Center Orchestra. The profundity of Temperley's presence is rooted in an illustrious career, which spans several decades. Temperley, now 85, has performed with the orchestras of Humphrey Lyttelton, Woody Herman, Thad Jones-Mel Lewis, Clark Terry, Joe Henderson, and most notably, Duke Ellington.

Jazz at Lincoln Center Orchestra celebrates their elder statesman when band mates debut arrangements of Temperley's Ellington favorites as well as his original music. Managing & Artistic Director Wynton Marsalis will present a three-movement concerto, written as a dedication to Temperley, about whose playing Marsalis says: "There is no greater sound on earth."

The Eau Claire Jazz Festival, in partnership with the University of Wisconsin, is a two-day music fest taking place April 17-18, 2915, On Friday, April 17, enjoy 52nd Street - a re-creation of the historic 52nd Street of New York City, where jazz greats like Miles Davis, Charlie Parker, and Louis Armstrong sat in with different ensembles in a variety of nightclubs, simply because they loved to play jazz.

Nearly 30 bands at multiple venues (all-ages and 21+) along Barstow Street in downtown Eau Claire, and feature a variety of music styles, including ragtime, blues, acoustic, and big band. It's an exciting night of live music downtown - you never know who might bring their horn to sit in!

Join Rialto, CA Mayor Deborah Robertson and City Council members at the 3rd annual "Drop In" Jazz Festival on April 25th.

This event will benefit the Rialto Youth Collaborative, with host Comedian Tommy Davidson and featured performances by the Sheila E. and David Benoit.

The famed New Orleans Jazz & Heritage Festival takes place April 24-May 3.

Some of the acts who will get the place jumpin' are: Elton John, The Who, Jimmy Buffett and the Coral Reefer Band, Tony Bennett & Lady Gaga, No Douby, Keith Urban, Pitbull, John Legend, Lenny Kravitz, T.I., Chicago, Trombone Shorty & Orleans Avenue, Hozier and Widespread Panic.



Ed Sheeran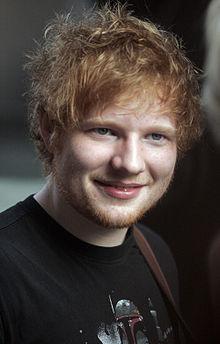 Ed Sheeran, who entertained live at the Vector Arena in Auckland New Zealand yesterday, April 11, 2015, will be performing his million selling hits.

Others on board include: Jerry Lee Lewis, Ryan Adams, Steve Winwood, Wilco, Budddy Guy, Allen Toussaint, The O'Jays, Tedeschi Trucks Band, Alison Krauss & Union Station, Dr. John, Aaron Neville, Estelle, Cassandra Wilson, Shirley Cesar, The Blind Boys of Alabama, Galactic featuring Macy Gray, Preservation Hall Jazz Band, Christian McBride Big Band with special guests Dianne Reeves and Jeffrey Osborne, Irvin Mayfield & the New Orleans Jazz Orchestra, Pastor Marvin Sapp, Bela Fleck and Abigail Washburn, Davell Crawford presents "To Fats with Love," a tribute to Fats Domino.

The 17th Annual Jazz & Heritage Gala takes place Thursday, April 23, at the Hilton Riverside Hotel.

The Gala offers top-notch entertainment, often featuring artists not appearing at Jazz Fest. Past headliners have included Willie Nelson, Ray Charles, B. B. King and Nancy Wilson, Fats Domino, Smokey Robinson, Bonnie Raitt, Natalie Cole, Dr. John, Al Jarreau, Little Richard and many others.

As they dance the night away, Gala patrons feast on a sumptuous supper prepared by some of New Orleans' finest chefs.

Proceeds from the Gala benefit the Don Jamison Heritage School of Music, the free education program of the New Orleans Jazz & Heritage Foundation.

April Jazz Espoo, staged April 21-26 is the largest jazz festival in Helsinki, Finland. Taking place for the 29th time at Tapiola in Espoo, the program will feature a wide spectrum of Finnish and international rhythm music stars. As in previous years, April Jazz Espoo will be hosted by the Espoo Big Band.

UNESCO proclaimed April 30 as International Jazz Day in November 2011. The aim of the day is to raise awareness of jazz in education, peace and unity. The promotion of jazz will not only encourage people to appreciate the music but it is also a great way of joy and reducing tensions around the world.






Broadway To Vegas is supported through advertising and donations. Priority consideration is given to interview suggestions, news, press releases, etc from paid supporters. However, no paid supporters control, alter, edit, or in any way manipulate the content of this site. Your donation is appreciated. We accept PAYPAL. Thank you for your interest.






ART AND ABOUT


UP AT BAT - WARHOL AND BASEBALL

Pete Rose by Andy Warhol. Image: Antiques Roadshow. THe image on display at the Cincinnati Museum is Painting, acrylic on canvas with silk screen image; 4 panels, each 54 x 44 in. (137.2 x 111.8 cm); Museum Purchase: Bequest of Mr. and Mrs. Walter J. Wichgar; 1985.208a-d © 2015 The Andy Warhol Foundation for the Visual Arts, Inc. / Artists Rights Society (ARS), New York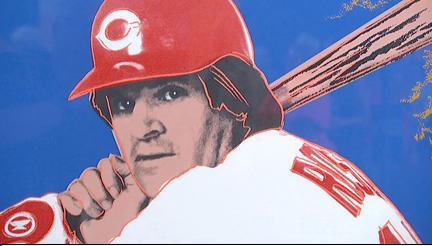 For the first time on record, the Cincinnati Art Museum brings together Andy Warhol's three known paintings of baseball players, each of whom rose to the level of pop celebrity during his lifetime.

Discover these consummate examples of Pop portraiture by a seminal figure in the Pop Art movement. The exhibition features the Cincinnati Art Museum's 1985 painting of Cincinnati Reds player-manager, Pete Rose, commissioned in anticipation of Rose breaking Ty Cobb's record of 4,191 hits.

Warhol's image of "Charlie Hustle" went on display at the Cincinnati Art Museum on Sept. 10, 1985, a day before Rose's famous, record-breaking hit.

The larger-than-life four-paneled painting was derived from a photograph by Gordon Baer and styled like a classic baseball card.

Warhol's progressive proofs for the screen print of Pete Rose, commissioned by the Museum, are also a part of this exhibition, along with several other examples of his Art and a historic selection of baseball cards from Dean's Cards, an online Cincinnati-based vintage sports card company.

That painting is joined by Baseball, 1962, on loan from the Nelson-Atkins Museum, portraying Roger Maris, and the 1977 portrait of Tom Seaver, who pitched his only no hitter as a member of the Cincinnati Reds, lent by the Andy Warhol Museum.

In addition learn how Warhol worked through progressive proofs for the limited-edition screen print of Pete Rose and see a historic selection of commercial graphics and baseball cards which inspired the composition.

This exhibition will also feature an interactive activity to provide hands -on insight into the process of silk screening.

On display through August 02, 2015 at the Cincinnati Art Museum in Cincinnati, Ohio.

Kristin Spangenberg, Cincinnati Art Museum Curator of Prints, organized the exhibition along with Cameron Kitchin, the Louis and Louise Dieterle Nippert Director of the Cincinnati Art Museum.

"This exhibition helps us see Warhol in a new way, recognizing the pop aspect of modern celebrity athletes," said Kitchin, "Bringing these images from the 1960s, 1970s and 1980s together for the first time gives us great insight into Warhol work and subjects.

FUTURE IDENTITIES - BODIES, PLACE. SPACES a new exhibit at the Laura Haber Gallery in Buenos Aires will open on April 20, 2015 for a month long display.

The art exhibit is a continuation of the same exhibit which runs April 14 to 19, 2015 in Milan, Italy at the Palazzo Radetzy.

On display will be a collection of photo works, video art, installations, paintings and performance art works that focuses on the relationship between the body and the space. The art pieces are also expected to show the identities of cultural, social, physical and urban settings.

This Buenos Aires art exhibit aims to shape a much better world by conducting a research. It also offers artists and their audience a chance to experience how the body is connected to space. The festival will also feature winning works by artists who joined the festival related to the art exhibit.

The curator is Architect Luca Curci.

BOUQUETS TO ART The Bay Area of California welcomes spring each year with this popular one-week-only exhibition featuring unique art and floral mash-ups in which floral designers create arrangements that pay tribute to and draw inspiration from the works in the de Young's permanent collection.

Throughout April 14–19, at the Fine Arts Museum in San Francisco, visitors can participate in floral demonstrations by prominent designers, hands-on art activities for children, catered luncheons, and more.





SPREADING THE WORD


11th ANNUAL SYDNEY AUSTRALIA COMEDY FESTIVAL is Sydney's biggest annual comedy event.

From April 20-May 17, 2015 hundreds of the world's funniest comedians take to stages across Sydney, Australia to entertain an audience of more than 111,000 people.

The festival kicks off in grand style with two lavish gala events:

The Sydney Comedy Festival Gala at the Sydney Opera House and Cracker Night - Sydney's biggest night of comedy - in multiple locations including the Enmore Theatre, Metro Theatre, The Concourse Chatswood, Riverside Theatre, and the Seymour Centre.

TALKBACK THURSDAYS WITH GARRY MARSHALL takes place April 16. Patrons are invited to participate in an informal Q & A discussion after the performance of Class, with playwright Charles Evered and director Dimitri Toscas, moderated by Garry Marshall.

Class tells the story of Sarah (Callie Schuttera), a young Hollywood starlet seeking lessons from Elliot (Gildart Jackson), an esteemed acting teacher in New York City. In the course of their work together, they learn more about themselves than the craft - and in doing so change each others' lives forever. Performances at the Falcon Theatre in Burbank, CA.

PREMIERE STAGES AT KEAN UNIVERSITY to Partner with Prevention Links on Playwriting Residency for Raymond Lesniak ESH Recovery High School at Kean.

The residency, for high school students in recovery from a substance use condition, will culminate in a public presentation of student-written plays read by professional actors on Friday, April 24 in Kean University's Little Theatre, located in the University Center in Union, NJ.

This residency marks the second collaboration between Premiere Stages and Prevention Links, which previously served as a community partner on Premiere's 2013 production of Erik Gernand's The Beautiful Dark.

"Premiere Stages is very excited to work with Prevention Links to showcase the work of these talented students and celebrate the launch of the Raymond Lesniak ESH Recovery High School," said John J. Wooten, producing artistic director of Premiere Stages.

The Raymond Lesniak ESH Recovery High School's mission is to provide a high-quality educational, enrichment, and recovery support program that offers a safe, sober and supportive school environment where students and their recovery efforts are understood, valued and fostered. Its goals are to reduce the relapse rate amongst New Jersey youth returning to the community after substance abuse treatment; support parental and community involvement and provide opportunities for literacy and related educational development to the families of participating youth; and to establish a set of Best Practices in order to create a replicable model for New Jersey.

Professional teaching artists work closely with classroom teachers to specifically tailor each residency to the needs of the students. Over the course of seven weeks, students learn the basics of playwriting and collaborate to write original short plays for the stage. Each residency culminates in a public presentation of the students' work, as performed by professional actors.


OTHER PEOPLE'S MONEY


HOOTERS IS GOING TO BE A DOUBLE EYEFUL IN LAS VEGAS there, we got that tackiness out of the way. Hooters, known for their wings, as well as their waitresses, has announced they will open its largest location in the Palms Casino Resort in Sin City, not far from the eatery in the Hooters Casino.

The humungous Hooters will be a 15,200 square-foot franchise, slated to open by June with a poolside bar opening May. While the upcoming bigger version is garnering all of the recent publicity, an interesting fact is that - of all the Hooters anywhere - the largest grossing Hooters is that "small" one based in the Hooters Casino in Las Vegas.

A couple of former Hooters girls did okay for themselves. Amy Adams was a Hooters' girl before becoming an Academy Award nominee, and the CEO of Cinnabon Kat Cole worked at Hooters in Jacksonville FL while she was in high school.


WITH THIS RING - HAPPY EVERY AFTER


TENNIS GREAT ANDY MURRAY AND KIM SEARS were married Saturday, April 11, 2015 at Dunblane Cathedral in Scotland.The groom wore a kilt and the beautiful bride wore an embroidered white gown with elbow-length sleeves, reported to be designed by Jenny Packham. On her feet were silver strap heels, rumored to be by Jimmy Choo.  Her  four bridesmaids were in pink.

The Reverend Colin Renwick officiated at the 45 minute service. A reception was held at  Cromlix House, the luxury country house-hotel which the tennis star owns.

HUGH JACKSON AND HIS WIFE DEBORRA-LEE FURNESS celebrated their 19th wedding anniversary on Saturday,  April 11, 2015.

The Tony Award winner used his  Instagram account  to post romantic photos of the two with  the caption 'Happy 19th Anniversary to the love of my life. #TheDebs'.

The couple are parents of two - a son and a daughter.



THE 2015 HONORS FOR EXCELLENCE IN THE THEATRE

Arnold Abramson, Adrian Bryan-Brown and Gene O'Donovan. Photo: Tony Awards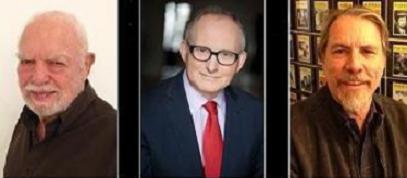 have been announced by The Tony Awards Administration Committee. They are:

Press agent Adrian Bryan-Brown, Hudson Scenic Studio founder Gene O'Donovan and scenery designer and painter Arnold Abramson.

These honors will be presented at the Tony Honors Cocktail Party, a private cocktail reception that will be held June 1 at the Paramount Hotel's Diamond Horseshoe in New York City.

Arnold Abramson began his career at Triangle Studios and Dunkel Studios. When William Nolan opened Nolan Scenery Studios in the newly purposed Brooklyn Ice Palace in 1956, he became Charge Scenic Artist and a partner in the business. During this time, Abramson taught scene painting for seven years at Yale University and 22 years at New York University Tisch School of the Arts. Abramson moved to Florida in 1991 and opened a Union shop called Studio South where he painted several backdrops for New York City Ballet, as well as productions that were sent to New York for Broadway.

Adrian Bryan-Brown is a partner in Boneau/Bryan-Brown, one of the largest theatrical public relations offices working today, established in 1991 with his business partner, Chris Boneau. Bryan-Brown has worked on more than 400 shows on and Off-Broadway, consulted on theatrical productions across the country and around the world, as well as providing strategic public relations advice to the film and music businesses and other areas of the entertainment industry. Productions represented by Boneau/Bryan-Brown have received eight Pulitzer Prizes and 195 Tony Awards. Adrian is married to the theatrical photographer Joan Marcus, who received a Tony Honor last year.

Gene O'Donovan is one of Broadway's most respected and successful theatre technicians, O'Donovan has been a member of the Broadway community for more than 40 years. His passion, commitment and technical expertise has directly enhanced a host of legendary Broadway productions, including The Wiz, Barnum, Annie, 42nd Street, Joseph and The Amazing Technicolor Dreamcoat, Les Miserables, Phantom Of The Opera, The Who's Tommy, Master Class, Titanic, Spamalot, Frost/Nixon, The Book Of Mormon, Matilda, Hedwig And The Angry Inch and The Curious Incident of the Dog in the Night-Time. He founded Aurora Productions, which over the last 20 years has supervised a combined total of more than 200 Broadway Shows, many Off Broadway shows tours, and international productions in London's West End, Europe, Japan and Australia.

In a joint statement, Charlotte St. Martin, Executive Director of The Broadway League, and Heather Hitchens, President of the American Theatre Wing, said, "We are thrilled to announce that Arnold Abramson, Adrian Bryan-Brown and Gene O'Donovan are this year's recipients for the Tony Honors for Excellence in the Theatre. They exemplify the dedication, creativity and tireless work that goes on behind-the-scenes to make attending a Broadway show the sensational and unforgettable experience we know it to be. We could not be more proud to honor these three outstanding individuals with this year's Tony Honors," The Tony Honors for Excellence in the Theatre were established in 1990 and are awarded annually to "institutions, individuals and/or organizations that have demonstrated extraordinary achievement in theatre, but are not eligible in any of the established Tony Award categories."

ROCK AND ROLL HALL OF FAME INDUCTION CEREMONY takes place Saturday, April 18, at Cleveland's historic Public Hall.

The evening includes:

Paul McCartney inducting Ringo Starr.

Stevie Wonder inducting Bill Withers.

Patti Smith inducting Lou Reed.

Peter Wolf inducting the Paul Butterfield Blues Band.

Fall Out Boy inducting Green Day.

John Mayer inducting Stevie Ray Vaughan & Double Trouble.

Steve Cropper inducting the "5" Royales.

Miley Cyrus inducting Joan Jett & the Blackhearts.

Performances include:

Zac Brown and Tom Morello performing for the Paul Butterfield Blues Band. John Mayer, Gary Clark, Jr. and others performing for Stevie Ray Vaughan & Double Trouble. Beck, Karen O, and Nate Ruess performing to honor Lou Reed. John Legend performing for Bill Withers.

Dave Grohl, Joe Walsh and Jimmie Vaughan will also perform.

THE BEN VEREEN AWARDS announced their 2015 nominees in the categories of Best Actor, Best Actress and Best Musical Production, and the five individual winners of the inaugural Student Health Initiative.

The competition will take place on Sunday, April 26th at the historic Balboa Theatre, and is hosted by CBS News 8 anchor Barbara-Lee Edwards.

The winning Best Actor and Best Actress performers from the Southwest Region will be flown to New York on an all expenses paid week of intensive training before they compete in the National High School Musical Theatre Awards (known as The Jimmy™ Awards), at Broadway's Minskoff Theatre, home of Disney's The Lion King on Monday, June 29, 2015, for the opportunity to win $10,000 towards a college scholarship.

Legendary stage and screen entertainer, Ben Vereen will attend the San Diego event and present this year's new category, the Student Health Initiative/Wellness Through the Arts Contest. All San Diego County high school students were invited to submit their story "The Moment I Changed My Life for the Better." The focus was on key topics of obesity, diabetes, low self-esteem or bullying, and was submitted in either written or video formats. The top five individual winners will each receive a $500 award.

Upon confirming his involvement, Vereen said, "I am so pleased to be working with Broadway/San Diego and the community again this year on something that's dear to my heart, helping our young people to change their lives for the better through the performing arts. I wanted each student to tell me what 'Their Best Day' was in dealing with their most challenging issue and, most importantly, how they used the arts to make a difference."

Vereen will teach a private master class to the San Diego semi-finalists and the SHI winners on 'Competition Sunday', and afterwards will greet VIP patrons at a pre-show reception prior to the April 26th competition.

2015 Ben Vereen Awards Individual nominees:

Best Actor
Ben Desoto Mayor – Pacific Ridge High School
David Batchman – Chula Vista High School
Jonah Duhe – El Camino High School
Justin Haupt – Cathedral Catholic High School
Michael Voegele - San Diego School for the Creative & Performing Arts
Nathan Wetter – La Jolla High School
Remy Reya – La Jolla Country Day School
Sam Brogadir – San Diego School for the Creative & Performing Arts
Shane Bushouer – Mira Mesa High School
Steve Macario – Canyon Crest Academy

Best Actress
Brooke Patterson – Canyon Crest Academy
Caroline Carlson – Coronado High School
Caroline Lezny – Francis Parker High School>br> Catherine Ames – Pacific Ridge High School
Catherine Lynch – Rancho Buena Vista High School
Emma Wineman – La Jolla High School
Grace Marshall – Rancho Buena Vista High School
Mackenzie Scott – Rancho Buena Vista High School
Ruby Ross – Francis Parker High School
Tina LaMar – Cathedral Catholic High Schoo

Winners of the Student Health Initiative Essay Contest/Wellness Through The Arts - "The Moment I Changed My Life for the Better/ My Best Day"
Amber Young, Chula Vista High School – Video
Carly Stacey, Point Loma High School – Written
Emily Armstrong, Clairemont High School - Written
Madeleine Fossler, Christian High School - Written
Molly Hafer, San Diego School for the Creative and Performing Arts -Written.

THE OLIVIER AWARDS took place Sunday night, April 12, 2015 at London's Royal opera House with host Lenny Henry.

Dame Judi Dench, Anne-Marie Duff and Chiwetel Ejiofor were among the stars handing out the prizes.

Kevin Spacey received a Special Olivier Award for his work at the Old Vic.

For a complete list of the nominees and winners



QUEEN FOR A DAY a World Premiere by Michael Ricigliano Jr.

Directed by John Gould Rubin.

Set in an abandoned warehouse, Giovanni (David Proval) is a respected "made-man" forced into a difficult position. Torn between love, loyalty and survival, he is asked to give up his crime boss brother, as part of a one day immunity deal also known as a Queen for a Day. Michael Ricigliano Jr.'s new play, A Queen for a Day "offers a glimpse into a world where loyalty is prized above all and there is nothing anyone would not do to protect their family."

Cast includes: David Deblinger, Portia and David Proval.

Creative team includes: Andreea Mincic (Set Designer), Bobby Tilley (Costume Designer), Isabella F. Byrd (Lighting Designer), Leon Rothenberg (Sound Designer), Libby Jensen (Production Manager), Erin Cass (Stage Manager) and Cheryl Dennis (General Manager).

Previews begin on April 14; officially opening May 3 for a run through July 26, 2015 at at Theatre at St. Clement's in New York City.

AMERICAN BUFFALO by David Mamet.

Directed by Daniel Evans.

Starring John Goodman in his West End debut, Tony nominated Tom Sturridge and Damian Lewis, OBE.

Walter "Teach" Cole (Lewis), Don Dubrow (Goodman) and Bobby (Sturridge) are "three small-time crooks, plan one big-time heist, a tragedy of errors spins this razor-sharp and darkly funny play into a blistering account of divided loyalties, insatiable greed… and a coveted Buffalo nickel."

Mamet's play has been performed three times on Broadway. A previous West End production took place at the Donmar in 2000.

Performances begin April 16 prior to an official opening April 27 at Wyndham's Theatre, London where it will play through June 27.

MRS ROOSEVELT FLIES TO LONDON new one-woman show exploring the life of one of the most extraordinary women of the 20th century.

Director of RADA Training Lucy Skilbeck - no relation to the writer and star. Starring Alison Skilbeck as Eleanor Roosevelt, the "First Lady of the World", relives her journey to the bomb-damaged Buckingham Palace and midnight factories of the UK during World War II.

In October 1942, Eleanor Roosevelt, wife of the President, takes a dangerous trip to wartime London, to visit US troops, and see how the British, most importantly the women, are coping.

In her last days, as the Cuban Missile Crisis pushes the world to the brink of final catastrophe, Eleanor relives her journey, from bomb-damaged Buckingham Palace to midnight factories, but also recalls her life, from unhappy child, to unconventional wife, to becoming, in President Truman's words 'First Lady of the World'.

Granted special permission to use Eleanor's writings, Alison Skilbeck's one-woman show explores the public, and hidden life of one of the most extraordinary women of the 20th century, a woman beset by deep personal insecurities and tragedy, but one who never lost her passionate belief in the strength of the human spirit.

A series of after-show discussions - hosted by Jonathan Steele, the Guardian's former Chief Foreign Correspondent - on safeguarding human and civil rights, the development of the United Nations and the Anglo/US relationship, with guest speakers including Edward Mortimer CMG, former Director of Communications in the Executive Office of the Secretary General of the United Nations and Stephen Erlanger, London Bureau Chief for the New York Times.

Billed as a thought provoking new production.

At King's Head Theatre in London with performances taking place April 14 through May 9, 2015.

RODGERS & HAMMERSTEIN'S THE KING AND I featuring the musical's original 1951 orchestrations by Robert Russell Bennett with dance and incidental music arranged by Trude Rittmann. Music director Ted Sperling conducts a 29-piece orchestra.

Directed by Bartlett Sher.

Choreography by Christopher Gattelli based on the original choreography by Jerome Robbins.

One of Rodgers & Hammerstein's finest works, The King and I boasts a score which features such beloved classics as Getting To Know You, Hello Young Lovers, Shall We Dance, I Have Dreamed, and Something Wonderful. Set in 1860's Bangkok, the musical tells the story of the unconventional and tempestuous relationship that develops between the King of Siam and Anna Leonowens, a British schoolteacher, whom the imperious King brings to Siam to tutor his many wives and children.

Featuring a cast of 51, including Kelli O'Hara, Ken Watanabe, Ruthie Ann Miles, Ashley Park, Conrad Ricamora, Edward Baker-Duly, Jon Viktor Corpuz, Murphy Guyer, Jake Lucas, Paul Nakauchi, and Marc Oka.

Sets by Michael Yeargan; costumes by Catherine Zuber; lights by Donald Holder; sound by Scott Lehrer; and casting by Telsey + Company/Abbie Brady-Dalton, CSA.

The King and I opens on Thursday, April 16 at the Vivian Beaumont Theater in New York City.

CAROUSEL music by Richard Rodgers. Book and lyrics by Oscar Hammerstein II. Based on the play Liliom by Ferenc Molnar as adapted by Benjamin Glazer.

Directed by JasonLoewith.

Original dances by Anges DeMille. Choreographed by Tommy Rapley.

Music director & Recorchestrations by Christopher Youstra.

The cast is led by Tally Sessions, making his Olney Theatre Center debut as Billy Bigelow.

After a bank robbery gone wrong, carousel barker Billy Bigelow is given a second chance to make things right for the love-of-his-life Julie Jordan and the child he never got to meet.

Featuring a 12-piece orchestra performing some of the form's best-loved songs: You'll Never Walk Alone, June Is Bustin' Out All Over, and If I Loved You.

Scenic Designer: Milagros Ponce DeLeon. Costumes by Seth Gilbert. Lighting Design by Jennifer Schreiver. Projection Designer is Zachary G. Boroway. Sound design by Tony Angelini.

This reimagined version of Carousel celebrates the 70th anniversary of the production.

April 15-May 10 at the Olney Theatre in Olney, Maryland.


WHO'S WHERE


CHRISTINE ANDREAS, RANDY GRAFF, ANDREA McARDLE, FAITH PRINCE in 4 Girls 4. An evening of song, dance, laughter and memories. They'll perform the biggest hits from their extraordinary careers. Friday, April 17, at the Virginia Piper Theater, Scottsdale Center for the Performing Arts in Scottsdale, AZ.

PAUL ANKA the only artist in history to have a record on Billboard's Top 50 chart for seven consecutive decades performs Friday, April 17, 2015 at the North Shore Music Theatre in Beverly, MA.

BRUCE HORNSBY performs Saturday, April 18, at The Smith Center in Las Vegas.

CHICK COREA AND HERBIE HANCOCK entertain Tuesday, April 14, at Massey Hall in Toronto. Thursday's gig is at Hill Auditorium in Ann Arbor, Michigan. Friday they stop at Symphony Center in Chicago. Saturday's gig is at The Palladium in Carmel, IN.

BARRY MANILOW whose secret marriage last year to his manager Garry Kief was disclosed this past week, performs Tuesday, April 14, at Staples Center in Los Angeles. Friday's romp is at the Sleep Train Arena in Sacramento, CA. On Saturday, he'll be singing hit hits at thr SAP Center in San Jose, CA.

PIANIST ELLIS MARSALIS and his son trombonist Delfeayo Marsalis will perform at the Toledo Museum of Art on Tuesday, April 21 . Part of "The Last Southern Gentlemen" tour to promote Delfeayo's newest album, Presented by the Art Tatum Jazz Society and the Museum.

IMAGINE DRAGONS entertain Tuesday, April 14, at Tecnopolis in Buenos Aires, Argentina. Thursday's show is at Citibank Hall in Rio De Janeiro. On Saturday the tour stops at Arena Anhembi in Sao Paulo, Brazil.

BRET MICHAELS live in concert! As the lead vocalist in the metal band Poison, Bret Michaels is best known for hits such as Every Rose Has Its Thorn, All I Ever Needed, and Go That Far. performs Friday, April 17, at the State Theatre in New Brunswick, NJ.

BOB DYLAN takes to the stage with his distinctive style on Tuesday, April 14, at the Johnny Mercer Theatre in Savannah, GA. Wednesday's gig is at the Montgomery PAC at Montgomery, AL. On Friday he's on stage at the Coliseum in North Charleston, SC. Saturday finds him at the Amphitheatre in Saint Augustine, Florida. Next Sunday, April 19, he'll be singing his hits at the Dr. Phillips Center for the Performing Arts in Orland, Florida.


FINAL OVATION


JULIE WILSON cabaret singer and Tony Award nominated actress died April 5, 2015 in New York City. She was 90.

She made her Broadway stage debut in the 1946 revue Three to Make Ready. In 1951, she moved to London to star in the West End production of Kiss Me, Kate and remained there for four years, appearing in shows such as South Pacific and Bells Are Ringing while studying at the Royal Academy of Dramatic Arts. She returned to New York to replace Joan Diener in Kismet. Additional Broadway credits include The Pajama Game (1954), Jimmy (1969), Park (1970), and Legs Diamond (1988), for which she received a Tony Award nomination as Best Featured Actress in a Musical. She also toured in Show Boat, Panama Hattie, Silk Stockings, Follies, Company, and A Little Night Music.

Later she found her r niche and forged her reputation as a cabaret performer, known primarily for her dramatic delivery of torch songs.

Twice divorced she is survived by her son Holt McAloney who acts under the name Holt McCallany. Another son, Michael McAloney Jr. died in 1991.

STAN FREBERG a satirist, hailed as the father of the funny commercial, died Tuesday, April 7, 2015 at Santa Monica UCLA Medical Center. He was 88.

For over seven decades he contributed to American culture as an author, recording artist, animation voice actor, comedian, radio personality, puppeteer and advertising creative director, whose career began in 1944. He remained active in the industry into his late 80s, more than 70 years after entering it.

When Freberg introduced satire to the field of advertising, he revolutionized the industry, influencing staid ad agencies to imitate Freberg by injecting humor into their previously dead-serious commercials. Freberg's long list of successful ad campaigns includes: Butternut coffee, Contadina tomato paste, Jeno's pizza, Sunsweet prunes, Heinz Great American Soups, Jacobson Mowers, Encyclopedia Britannica. Chun King, and Kaiser Aluminum foil.

He was was married to his first wife Donna Freberg from1959 until her death in 2000. He raised her two children Donna Jean and Donovan. He is survived by his second wife Betty Hunter-Freberg.

Neil Portnow President/CEO of The Recording Academy issued the following statement:

Grammy recipient Stan Freberg was an acclaimed humorist/satirist and a pioneering figure in both the entertainment and advertising industries. Considered one of the true geniuses in American advertising, he was one of the first to use satire in commercials and ultimately came to be known as 'the father of the funny commercial.' A multifaceted artist and creator, he was a renaissance man who was able to successfully cross over between show business and the advertising industry, working on everything from comedy records, to Broadway, to cartoon voiceovers to commercial jingles and beyond, garnering an impressive 21 Clio Awards — the advertising industry's top honor — along the way. Additionally, his involvement and service in The Recording Academy proved to be invaluable to our organization's early success. Our creative community has lost an influential and dynamic artist, and his remarkable legacy will forever be cemented in history. Our deepest condolences go out to his family, friends, and all who have been enriched by his exceptional work.

RICHARD DYSART veteran stage and Emmy Award winning actor died quietly in his sleep Sunday, April 5, 2015 at his home in Santa Monica, CA after a long battle with cancer. He was 86.

He got his start in radio as a teen, earned a Master's degree in Speech Communication at Emerson College, and worked at New York's legendary Circle in the Square Theatre in the 1950s.

He created the Broadway role of the Coach in That Championship Season, for which he won a Drama Desk Award in 1972,

In the 1960s, he became interested in repertory and became one of the founding members of the American Conservatory Theater in San Francisco. George C. Scott appeared with the company, and he and Dysart became good friends. Dysart later joined Scott in a New York revival of The Little Foxes.

In 1987, Dysart married his third wife, artist Kathryn Jacobi, who survives him. Other survivors include stepson Arie and daughter-in-law Jeannine Jacobi, mother-in-law Lenore, brother and sister in law, Nadine and John Jacobi, and grandchildren Abby and Levi.

A private memorial will be planned for a later time. In lieu of flowers, the family "requests that you donate to the Will Geer Theatricum Botanicum, a wonderful repertory outdoor theater in Topanga Canyon, California."

Theatricum Botanicum Artistic Director Ellen Geer, daughter of Will Geer, upon learning of the passing of Richard Dysart told Broadway To Vegas: "Overwhelmed. I loved him so for many, many years...met when I was twelve...a life friend."

TUT TAYLOR an American bluegrass musician died April 9, 2015. He was 91.

Taylor was a member of The Folkswingers in the 1960s, who released three LPs; he recorded his debut solo effort in 1964. Later in the 1960s, he played with the Dixie Gentlemen and in John Hartford's Aero-Plain band.

Neil Portnow President/CEO of The Recording Academy issued the following statement: "Grammy-winning Dobro master Tut Taylor was an undisputed legend in the bluegrass scene. A remarkable multi-instrumentalist, he dazzled on the Dobro as well as the guitar, mandolin and banjo. From his first professional recording gig playing the Dobro on Porter Wagoner's 1964 album Bluegrass Story, to performing in the Folkswingers alongside Glen Campbell, to releasing several solo albums of his own, he always proved to be both progressive and influential. In addition to his groundbreaking musicianship, he also became a much-sought-after producer, having worked on recordings with Norman Blake, Jerry Douglas, Mark O'Connor, Brother Oswald and many more. Beloved by many and a longtime Nashville staple, he co-founded the popular Nashville hotspots GTR, a noted instrument shop; The Old Time Pickin' Parlor, a popular nightclub and music store; and Tut Taylor's General Store. Throughout his career, his love for music and commitment to evolving the bluegrass scene never wavered. Our thoughts go out to his family, friends, his many collaborators, as well as to all who have been entertained by his exceptional talent.

JUDITH MALINA theater and film actress, writer and director died April 10, 2015 at the Lillian Booth Actors Home in Englewood, New Jersey.. She was 88.

She co-founded The Living Theatre, a radical political theatre troupe that rose to prominence in New York City and Paris during the 1950s and 60s. Malina met her long-time collaborator and first husband, Julian Beck, in 1943, when she was 17 and he was a student at Yale University. Beck, originally a painter, came to share her interest in political theatre. In 1947 the couple founded The Living Theatre, which they directed together until Beck's death in 1985.

In 1963 they had to close the Living Theatre because of IRS charges (later proved false) of tax problems, and Malina and Beck were convicted of contempt of court, in part because Judith defended Julian wearing the garb of Portia from The Merchant of Venice - and tried to use a similar argument. They received a five-year suspended sentence, and decided to leave the U.S. The company spent the next five years touring in Europe and creating increasingly radical works, culminating in Paradise Now. They returned to the US in 1968.

In 1969 the company decided to divide into three groups. One worked on the pop scene in London, another went to India to study traditional Indian theatre arts, and the third, including Malina and Beck, traveled in 1971 to Brazil to tour. They were imprisoned there on political charges for two months by the military government.

Malina's and Beck's marriage was non-monogamous. The bisexual Beck had a long-term male partner, as did Malina. In 1988, following the death of Julian Beck in New York City, she married her long term partner Hanon Resnikov. They co-directed the Living Theatre's activity in the Middle East, Europe and the United States of America, until Resnikov's unexpected death in 2008.

Judith Malina is survived by two children: a son Garrick, with Julian Beck, and a daughter Isha.

















Next Column: April 19, 2015
Copyright: April 12, 2015 All Rights Reserved. Reviews, Interviews, Commentary, Photographs or Graphics from any Broadway To Vegas (TM) columns may not be published, broadcast, rewritten, utilized as leads, or used in any manner without permission, compensation and/or credit.
Link to Main Page
---
Laura Deni



For the snail mail address, please E-mail your request.
CLICK HERE FOR COMMENT SECTION