! >
Broadway To Vegas
  SHOW REVIEWS  CELEBRITY INTERVIEWS     GOSSIP     NEWS 
| | |
| --- | --- |
| | |
Copyright: April 12, 1999
By: Laura Deni
CLICK HERE FOR COMMENT SECTION

JULIE ANDREWS RETURNS TO THE SPOTLIGHT
Julie Andrews is set to star in An Evening with Julie Andrews September 18 at The Palace Theater at Myrtle Beach, South Carolina. After battling back from health problems the last three years the incredible star is back on the marquee.


JULIE ANDREWS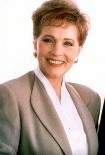 This won't be the first time the multi-talented lady has taken to a nightclub stage.

After winning an Oscar for her first film,Mary Poppins and then taking home an Emmy for her first television show, Andrews took on Las Vegas, making her worldwide nightclub debut at Caesars Palace in an August 12-18, 1976 engagement.

When then hotel president, Billy Weinberger, asked her if she would include songs from her Broadway musical My Fair Lady the performer answered; "Yes, and for what you are paying me, I'll sell flowers in the casino."

She didn't sell flowers, although she sold out the showroom.

The singer/actress marched on stage as a Buckingham Palace guard, tapped her way through a nostalgia segment, recalled a place fondly remembered as Camelot and how she "could have danced all night," in My Fair Lady. Her Sound of Music closer was rewarded with a standing ovation.

Caesars staged a lavish dinner following the show in the Palace Court restaurant. Don Rickles, who stars at the Desert Inn hotel April 22-25, was not only in attendance, but in character. Racing to be on time for his own show at the Riviera Hotel he whispered, "Quick, gimme a shot of insulin," referring to Julie's sweetness. Diana Ross was there in gold lame raving about Andrews, as was everyone else.

Andrews spent her spare time playing roulette in the casino.

Andrews began her career at the age of 12 when she played an egg in Humpty Dumpty. No yolk intended.

She starred on Broadway in Camelot, and walked into everyone's hearts as Mary Poppins and as Maria in The Sound of Music. The theater world stood at attention when it was announced that Andrews would return to Broadway as star of Victor/Victoria. Sadly, the heralded opening was the beginning of a personal three-act drama of health problems.

In February, 1996 she underwent gall bladder surgery while starring in Victor/Victoria. She missed 21 performances. During that time attendance dropped to only 75% capacity. According to court papers filed by the insurance carrier for the show, Lexington Insurance, a subsidiary of the American Insurance Group, those missed 21 performances caused a loss of $980,848. It's no wonder the lobby of the Marquis Theatre featured a huge get well card signed by everyone from co-stars to the cleaning staff.

According to the same court papers, in January, 1996, Andrews missed 10 performances due to laryngitis, and in December, 1996 missed five performances due to a swelling of the larynx. The following June the legend underwent throat surgery. Fears immediately surfaced that Andrews would never again be able to sing.

A representative of The Palace Theatre said; "she probably won't be singing" and wasn't sure what the Myrtle Beach engagement would encompass. If she just stands on stage and doesn't sing a note, being in the same room with her is worth the price of a ticket, which are priced at $40 and $45.

On May 13 Andrews will be honored during the 50th Anniversary annual spring luncheon of the New Dramatists, an organization dedicated to developing new playwrights. Andrews is being honored for her lasting contribution to the theater.


FROM HOT LIPS TO COOL JEWELRY

Loretta Swit, a.k.a. Hot Lips - the nurse with the reputation - on the long running M*A*S*H television series, is developing a different reputation - as a classy jewelry designer.

The talented actress is on a tour with a one woman show Shirley Valentine.

We don't know where she finds the time, but all of the jewelry in the line that bears her name is designed and made by the actress.

Long an animal activist, Swit recently received the Humanitarian Award from Dusty Wings, a group formed 16 years ago by ex-stewardesses.

The group held their annual gala at the Ritz-Carlton in Rancho Mirage, CA. Their pet project is Guide Dogs of the Desert. That association trains dogs to provide independence and mobility to the blind and multi disabled blind.

It costs approximately $20,000 to train one dog.

Swit is well known as a tireless worker for projects involving animals.

Twice she was named Woman of the Year by the Animal Protection Institute and by the International Fund for Animal Welfare.


STAPLETON AIMS FOR BROADWAY

Maureen Stapleton who became a household name thanks to her portrayal of TV's Edith Bunker and recently was delightful in the movie You've Got Mail, is anxious to return to Broadway.

The actress opened at the McCallum Theatre, Palm Springs, CA last night - April 11 - in Eleanor - Her Secret Journey. The multi dimension Stapleton takes on the daunting task of portraying Eleanor Roosevelt. The play, written by Rhonda Lerman, a successful novelist and biographer of the former first lady, is adapted from her research on Mrs. Roosevelt.

The play begins in 1945. Eleanor, a recent widow, received a phone call from President Harry Truman asking her to be a delegate to the United Nations. Eleanor declines and then the play flashes back to her youth, explaining events that would later cause her to become a feminist supporter. The play also has Eleanor addressing her husband's philandering ways.

Stapleton's goal is to take Eleanor to Broadway.

Broadway To Vegas is supported through advertising and donations. Priority consideration is given to interview suggestions, news, press releases, etc from paid supporters. However, no paid supporters control, alter, edit, or in any way manipulate the content of this site. Your donation is appreciated. We accept PAYPAL. Thank you for your interest.


MAC AWARD WINNERS
LIZA MINNELLI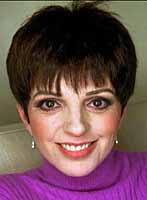 Town Hall was the setting for the annual MAC Awards, which stands for Manhattan Association of Cabarets and Clubs, and honors cabaret, comedy and jazz in 32 categories.

Liza Minnelli received the Directors Award for her encouragement of young performers.

She also received two standing ovations.

A performer who is always hyperkinetic, she teased herself about her weight gain, indicating there was "so much more of me to appreciate."

Because of missed Las Vegas performances rumors have been circulating that Minnelli's voice is shot. Her performance of Stormy Weather set the record straight.

Kathie Lee Gifford, who seems to polarize people, had the crowd in her corner. She also performed, offering a specialty piece about what has been written about her entitled It Sells.

Betty Buckley did a splendid rendition of Serenity.

Legend Barbara Cook, who is celebrating 50 years in the business, received two awards, a special lifetime achievement award, as did her accompanist Wally Harper. Cook also received the major female vocalist of the year award



TOM ANDERSEN

The only other performers to walk away with two awards each were; Amanda Green for best musical comedy performer and special musical material and Tom Andersen ( See Broadway To Vegas column of November 30, 1998 ) as male vocalist and recording of the year.

Other winners included:

Mary Foster for young jazz singer

Heather MacRae best female vocalist

Bobby Belfry, pop R&B vocalist

Baby Jane Dexter, major pop R&B vocalist

Angela LaGreca, female stand-up

Judy Gold, major female stand-up

Ron Poole, male stand-up

Jim David, major male stand-up

John Pizzarelli the major jazz performer award

James Naughton, best performance.


LUCILLE LORTEL AWARDS ANNOUNCED

The coveted Lucille Lortel Awards, considered the Off-Broadway version of the Tony Award, will be passed out to the winners May 3 at the Lucille Lortel Theater.

Wit takes home the prize for Outstanding Play. In a clean sweep, Wit star Kathleen Chalfant was named Outstanding Actress. Wit director Derek Anson Jones takes home the Best Director Award.

Mark Ruffalo of This Is Our Youth was named Best Actor The Mystery of Irma Vep by Charles Ludlam received The Outstanding Revival award. Paula Vogel's The Mineola Twins won the Set Design and Costume Design categories. There was a tie in the Lighting Design division. Sharing the spotlight are Kevin Adams for The Mineola Twins and Michael Chybowski for Wit.
WOODSTOCK STOCKS UP

Woodstock 99 scheduled for July 24-25, at Griffiss Park, about 50 miles west of Albany, NY is gearing up for an estimated 250,000 concert-goers. Gathering to the under 30 generation, the performer mix has mostly bands that were in diapers when the original Woodstock took place in Bethel in 1969.

Willie Nelson is set to perform, of course, as is President Clinton's brother, George Clinton, the wonderful Brian Setzer Orchestra, the Dave Matthews Band, Jewel, Metallica and Alanis Morissette.

Six returning acts participated in the 25- year anniversary concert. They are; Metallica, Aerosmith, Red Hot Chili Peppers, Sheryl Crow, Live and collective Soul.

Jumping on board this year's event are; Korn, Limp Bizkit, Fatboy Slim, Sugar Ray, Creed, Counting Crows, Rage Against the Machine, and Rusted Root.

Both Sheryl Crow and Korn perform tomorrow, April 13, in northern California. Crow at the Paramount Theatre in San Francisco and Korn at The Arena in Oakland.


GAME OVER IN LOVE MATCH


After two years of marriage Brooke Shields and Andre Agassi have filed for divorce in Las Vegas.

They fell in love and became engaged before Shields was cast in the starring role of Susan in the hit television series Suddenly Susan. Demands of taping that series first caused a delay in wedding plans, then became the biggest wedge in the split.



BROOKE SHIELDS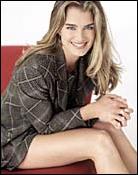 After their wedding was postponed because of Suddenly Susan taping demands, a very much in love Agassi was sincerely making unrealistic promises. "Between her career and my career, her career comes first. I will only play tennis as long as I improve. Brooke has worked a long time to finally get this series. We're definitely going to be together and watch the first episode together. "

"Everything Brooke dreams of is my goal and I'll do everything to make her dreams come true," he continued. "So much of what she does is behind the scenes. She goes to an acting coach, studies acting lessons. So much of what she does is behind closed doors, so I just have to be there when the doors open and let her know that I support everything she does."

It would have been unrealistic to expect Agassi to give up his tennis career and turn into "Mr. Brooke Shields."

Their professional schedules kept them apart. Recently, Brooke guested on a television talk show and admitted that she would like to have a baby. She then divulged that the pregnancy delay was because she was never able to spend any time with her husband.

Brooke and Andre are two lovely people that Las Vegans adore. (See Broadway To Vegas August 3, 1998.) We also knew there was trouble in the marriage. (See Broadway To Vegas February 22, 1999) We wish them both the best.

Shields' official statement said: "We have the utmost love and respect for each other and will remain the best of friends."


THE MUSIC GOES ROUND AND ROUND

The original cast recording of Lizzie Borden with music by Christopher McGovern; book and lyrics by McGovern and Amy Powers is out on Original Cast Records. ( See Broadway To Vegas column of January 25, 1999 )



ALISON FRASER
as Lizzie Borden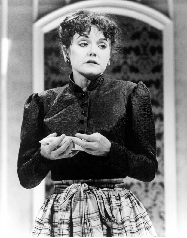 The musical creations are so complete that a listener will enjoy the CD even if they haven't seen the stage production. The musical construction reminded by of Les Miserables, which is a compliment since Les Mis is a long running hit.

McGovern and Powers obviously work well together. The lyrics actually provide an intelligent storyline, providing the listener an understanding of not only the play, but of the emotions within each scene. McGovern effectively uses music as an emotional pen. A crescendo, a pause, the tinkling of a piano, the crash of cymbals, the drama of a cello or three/four time - each speak their own language. The listener isn't bored or confused - rather enthralled - caught up into the action of the play.

In 1893 Lizzie Borden, accused of the "crime of the century" - hacking her father and step mother to death, was acquitted Yet, she remained a prisoner. The scandal made her a pariah - freed by the judicial system but sentenced by her contemporaries.

As with the real live events, the songs on this CD range from edgy and riveting to sad and desperate. Fly Away tells of Lizzie's oppression. The House on the Hill is of longing - the life Lizzie craves. First Tea Party examines Lizzie as the ambitious volunteer, who so desperately wants to fit in - and doesn't. This era where "women have a role in politics - a gracious one. - Assisting in a dignified way." Every Time I Look At You is heart wrenching - Lizzie remembering her twelfth birthday, and the gold locket she received from her ordinarily parsimonious father. I Cry Alone when Lizzie - alone - breaks down.

Lizzie Borden the original cast recording is a must for anyone who appreciates theatrical productions.

Conductor/piano/keyboards and orchestrations by McGovern. Jennifer Gravenstein on cello. Percussion and percussion arrangements by Glen D. Wikofsky. Original vocal direction by Rick Church. All should be proud of their accomplishments.

Cast on the CD include; Michael Babin, Joan Barber, Madeline Blue, Bethanne Collins, Brenda Cummings, Alison Fraser, Eleanor Glockner, Rex Hays, Steven L. Hudson, Jamey, McGaugh, Rose McGuire and Marian Steiner. Lizzie Borden received its world premiere at The American Stage Company, NY on October 31, 1998.


GET WELL SOON
EVEL KNIEVEL entered Sunrise Hospital, in Las Vegas last Wednesday fearing that the liver he received last January in a transplant operation, was either being rejected - or that hepatitis C has also taken over his new liver.

Knievel suffers from hepatitis C.

From his hospital bed the 60-year-old dare devil taped a public service announcement asking people to get checked for the disease, which gradually destroys the liver, and affects millions of people.

Tests determined that the liver isn't being rejected. The hospital explained that his body "was just being attacked by the hepatitis." He was released from the hospital.

IRENE WORTH who suffered a mild stroke. She was in previews of Ring Around The Moon at the Belasco Theater. Marian Seldes has replaced Ms. Worth until she is fully recovered.



JUDI DENCH opens on Broadway this Thursday, April 15, in London's National Theater hit Amy's View. The brilliant actress will also be honored May 1 when she'll receive a Golden Quill Award, presented by the Shakespeare Guild.

THE LONESOME WEST begins previews April 19, opening April 27 at the Lyceum Theatre. Written by Martin McDonagh who also penned The Beauty Queen of Leenane. Gary Hynes, who made theatrical history when she became the first woman ever to win the Tony Award for Direction for her work with The Beauty Queen of Leenane, will direct The Lonesome West.

The production features the original cast from the Druid/Royal Court production.

MARLENE the new musical play, written by Pam Gems, about Marlene Dietrich, which stars Sian Phillips and is directed by Sean Mathias opened last night, Sunday April 11, at the Cort Theatre, NYC.

Dietrich actually performed several times in Las Vegas.

After achieving fame as the vamp in top hat and blue stockings in 1929's The Blue Angel, her rendition of Falling In Love Again became hers alone.

Her sultry contralto delivery was in good form when she starred at the Sahara Hotel in December, 1953. Her accompanist was Burt Bacharach.

She also showed up in Vegas for the Sands Hotel's fourth anniversary party, as one of 450 invited dignitaries.

In 1962 Dietrich teamed up with Louis "Satchmo" Armstrong for an engagement at the Riviera Hotel.

She showed off her gorgeous legs by demonstrating the latest dance craze - the Twist.

A DOLL'S HOUSE winner of four 1997 Tony Awards opens Thursday, April 15, at Theatre Charlotte, N.C. Performances run through May 2.

BRING IN DA NOISE, BRING IN DA FUNK opens tomorrow, April 13 for a six night stand at the Carr Performing Arts Center, Orlando.

RAFAEL FILM CENTER opens its new $6.8 million Rafael, California center which is touted as comparable to the American Cinematheque in Los Angeles or the Walter Reade Theater Film Forum in New York.

The three-screen venue will showcase new independent for foreign-language movies in addition to documentaries and the classics.

A three-night festival April 16-18 will inaugurate the center. On April 16 the U.S. premiere of Breakfast of Champions, starring Nick Nolte, Bruce Willis and Glenne Headly takes place.

That is followed the next night with the world premiere of Election, starring Matthew Broderick and Reese Witherspoon. Broderick is extending his stay as star of the Broadway show Night Must Fall, which moves Wednesday from the Lyceum to the Helen Hayes Theater NYC.

PUTTING IT TOGETHER words and music by Stephen Sondheim continues at The Civic Theatre, Orlando through April 18.
WHO'S WHERE

KAYE BALLARD

KAYE BALLARD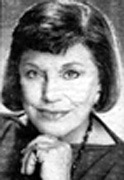 a delightfully zany talent, has joined the case of Over The River and Through The Woods at the John Houseman Theater.

She steps into the part of Aida Giannelli, a meddling, loving grandma, who sincerely believes that all problems can be solved by Italian cooking.

Ballard should feel comfortable in the role. Ballard starred in What A Dummy a one-season (1990-91) syndicated television series, in which she played Italian grandmother Treva Travalony.

The Cleveland born Ballard, who was discovered by Spike Jones, first jumped onto Broadway in The Golden Apple, becoming an instant hit when she knocked em dead with her rendition of Lazy Afternoon.

The comedienne/singer spent decades as a Las Vegas regular. In 1956 she starred with Larry Storch at the Las Vegas Flamingo Hotel (now the Flamingo-Hilton.)

A regular on the nightclub and cabaret circuit her act encompasses, singing, and comedy - to playing the flute with her nose and a dead-on impression of Liza Minnelli's dog.

Frequently Ballard includes a monologue in which she forgives her mother for ridiculing her showbiz aspiration telling Kaye she was "plain, had a big mouth, a Raucous voice, and a weight problem."

Ballard co-starred with Eve Arden in the 60s television hit series The Mothers-In Law.

Her Broadway credits include Molly, Carnival, and The Pirates of Penzance.

PAUL ANKA April 18 at the Konocti Harbor Resort & Spa, Kelseyville, CA.

SEEMS APPROPRIATE Rodney Dangerfield, that guy who gets no respect, opens on tax day, April 15, at the MGM-Grand hotel, Las Vegas.

RICHARD CHAMBERLAIN gives new life and dimension to The Sound of Music. Martin Beck Theatre NYC.

CAROLEE CARMELLO

CAROLEE CARMELLO

starred as Lucille Frank in the shuttered too soon Parade on Broadway. She replaces the previously announced Jean Smart in Bells Are Ringing.

Carmello appeared on Broadway in 1776, City of Angels, and Falsettos.

The Bells Are Ringing production kicks off Reprise! Broadway's Best in Concert's at the UCLA Freud Playhouse May 12-23.

Other cast members include; Stephen Bogardus who starred in City of Angels and Gary Beach of Beauty and the Beast.

SHARON LAWRENCE stars with the fabulous Cherry Jones in Tongue of a Bird, at the Public Theatre NYC. Lawrence, whom many associate with her role as Sylvia on NYPD BLUE, started out as a Broadway stage actress, appearing in Zorba, Cabaret, and Fiddler on the Roof. Following Tongue of a Bird, look for Lawrence to star in the revival of Kiss Me Kate.

ELAINE ST. GEORGE

ELAINE ST. GEORGE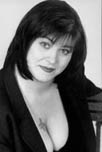 performs a new cabaret show The Girl That I Marry at Judy's, Chelsea's newest cabaret, opening April 29.

Musical conductor is Paul Katz, who created the musical Tales of Tinseltown and the role of Dooley on NBC's Another World.

St. George is a graduate of the Brearley School and Smith College.

Her latest CD is Just Around the Corner.

St. George's show at Judy's will feature cabaret standards and show tunes, many usually performed by male singers.

The Girl That I Marry will be directed by Ellen Rievman.

Bass player Frank Wagner will also perform.

BIG BAND CONCERTS have proved successful for the Stardust Hotel, Las Vegas. The Stardust has previously featured the bands of Woody Herman, Benny Goodman, Russ Morgan, Si Zentner, Buddy Childers, Tex Benecke and Harry James. On April 24 The Jimmy Dorsey Orchestra, one of the most prominent dance bands of the Swing Era, takes center stage. Appearing with the band will be the Pied Pipers, the vocal group that earned fame with the band led by Tommy Dorsey, Jimmy's brother. The Jimmy Dorsey Orchestra is led by Jim Miller, a former musicians in the Dorsey Brother's Orchestra, a band that was co-directed by Jimmy and Tommy. Upcoming big band engagements at the Stardust include the Glenn Miller Orchestra, July 3; Ray Anthony on Sept. 11; Les Brown moves into the spotlight on Oct. 30 and Guy Lombardo rings in the new millennium on Dec. 31.


THIS AND THAT


LEONARD NIMOY Shekhina: Feminine Presence of God, images by the actor/director are on display through April 24 at the Photographer's Gallery, Palo Alto, CA.

SALLY JESSE RAPHAEL will emcee this year's Gracie Allen Awards for women in broadcasting. Today, April 12, at the Hudson Theatre NYC.

PLAYBOY CENTERFOLD for the month of May is Las Vegan Tishara Cousino, who is hoping taking it all off will lead to a modeling career. In the meantime the 20-year-old is on a busy schedule that has included dinners at the Playboy Mansion, and meeting star Dan Aykroyd and boxer Oscar DeLa Hoya. The brunette beauty works out five times a week and fasts three times a year.

JULIE HARRIS underwent surgery in Florida April 3, to drain fluid from her head She received the injury when she fell off a stepladder during performances of The Gin Game in Connecticut. She is expected to make a full recovery and return this week to the touring production's Washington engagement.

THE SCARLET PIMPERNEL loses some of it's blood line when a downsized version opens at the Neil Simon Theater this fall. The current production, at the Minskoff Theatre, which has 41 cast members, closes May 30. The re-worked version will open with a cast of 29.

SATURDAY NIGHT FEVER is holding auditions in Las Vegas, New York and Los Angeles, for the Broadway production which begins previews Sept. 28 and officially opens on Oct. 21 at the Minskoff Theatre, NYC

BIG SUR JAZZ FEST The fourth annual event is April 16, 17, 18. Sunday's benefit concert features; The Roy Hargrove Sextet; Avishai Cohen Sextet; Mondell Lowe; Dave Ellis Quartet; Omar Sosa Quartet; Ledisi; Mark Levine Trio and Virginia Mayhew. Outdoors in Pfeiffer State Park, Big Sur, CA

TITANIC - SHIP OF DREAMS a $7 million attraction docked this past week-end in Orlando. The 25,000-square-foot attractions permits tourists to relive the disaster. Adventure includes 200 artifacts along with a costume worn by Leonardo DiCaprio in the movie Titanic, and memorabilia from the film A Night to Remember. The attraction re-creates the ship's grand staircase and has actors roaming the rooms as passengers. Titanic is a joint venture with Magicworks Entertainment, which became a subsidiary of SFX Entertainment last year. The company provided the Broadway musicals Cabaret and Dr. Jekyll and Mr. Hyde. Admission to the Titanic attraction is $14.95 plus tax for adults. Children get to pretend they are sinking for $9.95.

MARK YOUR CALENDAR The Louisiana International Goat Festival in Opelousas, LA is April 17.


FINAL OVATION


LUCILLE LORTEL known as the Queen of Off Broadway died in NYC. The Lucille Lortel Theatre is named after her. She either producer or co-produced about 500 plays, five of which were nominated for Tony Awards. In 1986, the Lucille Lortel Awards were established by the League of Off Broadway Theaters and Producers to honor achievements in Off-Broadway Theatre. She established the Lucille Lortel Fund for New Drama at Yale University to support the production of new plays at the Yale Repertory Theater. The Lucille Lortel Fellowship in Play writing was started at Brown University in Providence, R.I. in 1996. She was 98 and would truly hate it that all of the obits have listed such personal information. She would bristle at inquiries about her age, snapping: "Age is a number and mine is unlisted."



Mention BROADWAY TO VEGAS for Special Consideration
Call (800) 942-9027









Next Column; April 19, 1999
Copyright: April 12, 1999. All Rights Reserved. Reviews, Interviews, Commentary, Photographs or Graphics from any Broadway To Vegas (TM) columns may not be published, broadcast, rewritten, utilized as leads, or used in any manner without permission, compensation and/or credit.
Link to Main Page
---
Laura Deni




For the snail mail address, please E-mail your request.
CLICK HERE FOR COMMENT SECTION