! >
Broadway To Vegas
  
  REVIEWS  INTERVIEWS COMMENTARY NEWS

| | |
| --- | --- |
| | |
CHARLIE SHEEN AND HEIDI FLEISS; TONI MORRISON AND SNOOKI - -CHIHULY THROUGH THE LOOKING GLASS - - KATE MIDDLETON'S BRIDAL BOUQUET - - BRIDE-TO-BE CONVERTS TO PLEASE PRINCE - - SHELDON HARNICK MUSICAL OPENS 2011 WILLIAM INGE THEATRE FESTIVAL - - NEW YORK TIMES SQUARE HITS 107 - - TRACEY ULLMAN RETURNS TO THE STAGE - - JEWISH BOXING MUSICAL CUTMAN - - DONATE . . . Scroll Down



BOXING MUSICAL INTENDS TO BE A CONTENDER


Many people covering Broadway theater wouldn't have recognize a football game if it was in their back yard.

Then Lombardi kicked off and press dorks started rattling off the names of the Vince Lombardi Trophy and know that quarterbacks have won more Super Bowl MVP (which stands for Most Valuable Player) awards (24 of 45) than players at all other positions combined.

As a Broadway plotline, sports is making inroads.

Fran Kirmser and Tony Ponturo, the Producers of Lombardi have embarked on their next collaboration called MAGIC/BIRD, which chronicles the intertwined life stories of two of the most influential figures in sports and pop culture of the past 25 years, basketball Hall of Famers Larry Bird and Earvin 'Magic' Johnson.

The play will be produced in association with the National Basketball Association and Johnson and Bird themselves will participate in the creative process of this completely original play, which is expected to debut on Broadway in 2012.



Magic Johnson and Larry Bird. Photo: Lakers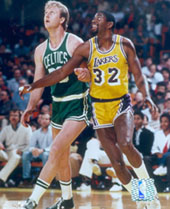 Not sitting on the sidelines is boxing.

Giving notice that they intend to throw their own punch is a new musical, Cutman, which is first on the season card of Goodspeed Musicals, opening May 12 at the Norma Terris Theater in Chester, CT.

This isn't a play about boxing, but a musical. Not a kick up your heels, let's go slug somebody romp, but a story about a Jewish kid who wants to be a fighter, only his big fight comes on Yom Kippur. What's a Jew to do?

Don't bet that a musical with what sounds like a lightweight plotline will be KOed.

At one time in America boxing was a major Jewish sport. 1900-1945 is known as the Golden Age of Jewish Boxing in America.

Allen Bodner, an attorney from New York and the son of Leo Bodner, a boxer and a professional manager, wrote When Boxing Was a Jewish Sport and Ron Ross authored Bummy Davis vs Murder, Inc considered the two Jewish bibles of boxing.

Many Jews during the beginning of this century became world champions such as Joe Choyinski (1888-1904), Abe Attell (1901-1912), Louis "Kid" Kaplan (1925-1927), Benny Bass (1927-1928), Izzy Schwartz (1927-1929). Most of the Jewish champions were in lightweight or bantamweight divisions. Four Jews won world championships in light-heavyweight: Battling Levinsky (1930-1934), Maxi Rosenblum (1934-1935), Bob Olin (1934-1935) and Mike Rossman (1978-1979).

They experienced tension, intrigue and heartache.

To appreciate this musical you don't need intricate knowledge of the Jewish faith. What is required is recognition of the cutman's power and importance.

cut-man - a person responsible for preventing and treating physical damage to a fighter during breaks between rounds of a full contact match such as boxing. The rules stipulate that injuries can be a cause for premature stoppage of a fight, counting as a loss for the injured fighter. The cutman is therefore essential, and can be a decisive factor in the outcome of the match. Cutman should not be confused with fight doctors whose task is closer to a neutral referee.

Cutman is the dramatic story of Ari, a young Jewish boxer who dreams of becoming the Welter-Weight Champion of the World.

Ari's father Eli is the synagogue custodian and former cutman to Marvin Hagler. Eli is both a religious and boxing fanatic. He trains his son, Ari, in the basement of their synagogue. Ari shares his father's devout faith and love of boxing but searches for recognition. He turns pro and takes the boxing world by storm. But when his shot at the title fight is scheduled on the eve of Yom Kippur, a choice must be made between a lifelong dream or defying faith.



Cory Grant who starred as Frankie Valli in the Broadway production of Jersey Boys will play the young pugilist in Cutman.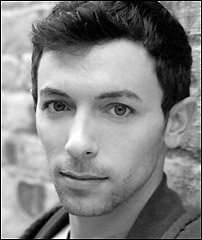 Eli's wife and Ari's mother, Edie, is the heart and soul of Hoffman's Bridal, her shop which has been custom gowning Jewish brides since 1989. Edie has been the bread winner for the family for 20 years and she doesn't approve of Ari being a professional boxer.

If Ari defies his mother and decides to fight during the holiest 24 hours of the Jewish year and his father decides to stay at the synagogue, another cutman will take his place. That could cost Ari the title.

From rock to pop to hip-hop to R&B, Cutman boasts a contemporary score which Goodspeed promises "is sure to pack a knockout punch".

The boxing musical has a book by Jared Coseglia who also directs. Music and Lyrics by Drew Brody. Story by Jared Coseglia and Cory Grant.

Grant, who recently starred as Frankie Valli in Broadway's Jersey Boys, is cast as Ari. Tony-nominated actor Robert Cuccioli plays the father.

Edi Hoffman will be played by Laura Dean, whose Broadway credits include The Who's Tommy and Doonesbury. The role of Olivia will be played by Ana Nogueira. Rabbi Roseman will be played by Mitchell Greenberg of Broadway's Ain't Broadway Grand and 3 Penny Opera. Moe Green will be played by Dennis Stowe of Broadway's Shrek The Musical and The Apple Tree. Garrett Long, who will play Cantor Aviva, and Jerold Solomon, who will play Lincoln, both appeared in Broadway's South Pacific.

The ensemble will include Joshua Boone, Jadi Collado, Ven Daniel, Albert Guerzon, Haley Hannah and Joshua Keith.

The creative team will include Adrian W. Jones (scenic design), Wade Laboissonniere (costume design), Jason Lyons (lighting design), and Jay Hilton (sound designer). Michael P. Price will provide the orchestrations and Lisa Stevens choreographs.

Presented by Goodspeed Musicals on the Norma Terris Theatre May 12 - June 5. Chester CT.



Broadway To Vegas is supported through advertising and donations. Priority consideration is given to interview suggestions, news, press releases, etc from paid supporters. However, no paid supporters control, alter, edit, or in any way manipulate the content of this site. Your donation is appreciated. We accept PAYPAL. Thank you for your interest.



ART AND ABOUT


CHIHULY THROUGH THE LOOKING GLASS Over the course of his career, Dale Chihuly has revolutionized the art of blown glass, moving it into the realm of large-scale sculpture and establishing the use of glass - inherently a fragile but also magical material - as a vehicle for installation and environmental art. This exhibition of new and archival works represents the breadth and scope of the artist's creative vision over the last four decades.

The exhibition will include installations such as Lime Green Icicle Tower, to be installed in the Shapiro Courtyard; a Persian Wall; a Chandelier room with six examples, including the Chiostro di Sant'Apollonia Chandelier; and a room containing a magnificent Mille Fiori installation that is nearly sixty feet long.

By 1965, Dale Chihuly was already captivated by the process of glassblowing. Influenced by an environment that fostered the blurring of boundaries separating the various arts, as early as 1967 Chihuly was using neon, argon, and blown glass forms to create room-sized installations of his glass.

Although his work ranges from the single vessel to indoor and outdoor site-specific installations, he is best known for his multipart blown compositions. Based in Seattle, Washington, Chihuly works with a team of glassblowers, a process that allows him to work on a grand scale and to explore and experiment with color, design, and assemblage. Chihuly: Through the Looking Glass provides an opportunity to see and explore the full range of his artistic achievements by immersing visitors in the beautiful and enchanting environments created through his extraordinary vision.

April 10, 2011 through August 7, 2011 at the Boston Museum of Fine Art.


NEW MUSICAL BY SHELDON HARNICK OPENS 2011 WILLIAM INGE THEATRE FESTIVAL: MARSHA NORMAN TO RECEIVE DISTINGUISHED ACHIEVEMENT AWARD
Sheldon Harnick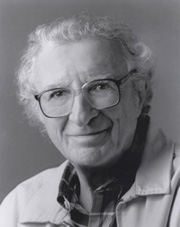 A preview presentation of a new musical by Sheldon Harnick, the co-creator of Fiddler on the Roof opens the 30th Annual William Inge Theatre Festival on April 13, 2011.

The Inge Festival - the Official State Theatre Festival or Kansas - runs April 13-16 in Independence, Kansas.

Harnick's newest work is A Doctor in Spite of Himself, based on the play by Moliere. David Glenn Armstrong will direct Tony Award winner Cady Huffman, Anthony Rapp, Burke Moses and John Schuck in a concert reading of this new musical, with music, books, and lyrics all by Harnick, who will be present at the festival.

"It is a tremendous honor to host a preview presentation of this terrific new musical" said Inge Center Artistic Director Peter Ellenstein. "Our mission is to support and nurture the creation of new scripts, whether by students, up-and-coming professionals, or, in the case of Sheldon Harnick, a creator of some of the most beloved musicals in the world."

A Doctor in Spite of Himself is a musical comedy whose classic plot devices lead to hilarious ends. A woodcutter is manipulated by his spiteful wife to impersonate a brilliant doctor. He is called to an emergency case - a lovely young woman curiously struck by muteness. Mix in a cast of eccentrics, and the comic antics build to the climatic resolution.

Winner of the Pulitzer Prize and multiple Tony Awards, Harnick was the 2007 William Inge Theatre Festival Honoree, in Independence. In addition to Fiddler on the Roof, he co-created The Rothschilds, The Apple Tree, She Loves Me, Fiorello!, The Body Beautiful, and many more.



Marsha Norman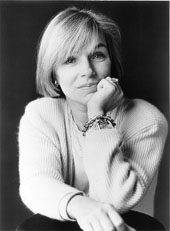 The Inge Festival culminates with a spectacular multi-media tribute to Marsha Norman, the Pulitzer Prize and Tony-winning dramatist of multiple moods and genres, which is on Saturday, April 16.

Ms. Norman will personally accept the William Inge Theatre Festival's Distinguished Achievement in the American Theatre Award at the William Inge Theatre at Independence Community College.

Norman, who will be present all four days of the Inge Festival, earned her Pulitzer Prize for Night, Mother, a drama of a war of nerves with fatal stakes between a mother and daughter.

At the other end of the spectrum, she wrote the book and lyrics for the Broadway musical The Secret Garden, capturing the magic of the famous children's novel. The Secret Garden earned Ms. Norman the Tony Award for Best Book of a Musical.

There is an additional Tony nomination, for the book of the musical The Color Purple, which opened in New York in 2005. Ms. Norman also penned the books and lyrics to The Red Shoes, another original musical for the Broadway stage.


SWEET CHARITY


THREE MARTINI LUNCH Woolly Mammoth Theatre's 10th Annual Spring Benefit Bash celebrating 31 amazing seasons on Saturday, April 16, 2011 - which has been called the most fun and un-Washington event in Washington, DC.

Enjoy a pre-dinner cocktail reception, a three-course meal, silent and live auctions, and dancing in the elegant Omni Shoreham ballroom as patrons are taken back to an era of glamour and indulgence inspired by AMC's Mad Men.

Saturday, April 16, 2011 at the Omni Shoreham Hotel in Washington, DC.


KATE MIDDLETON'S BOUQUET OF LOVE
Princess Elizabeth and Lieutenant Philip Mountbatten. The future queen's bridal bouquet was made up of white orchids and a sprig of Queen Victoria's myrtle.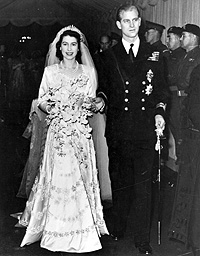 Although the design of her bridal bouquet won't be know until Kate Middleton steps out of the car at Westminster Abbey, you can bet the future Princess Catherine Elizabeth will include a sprig of myrtle, although we don't know if she'll take her last bath as an unmarried lady in myrtle water.

While it was a sacred ritual for brides of both ancient Roman and Greek cultures to bath in myrtle-scented water in preparing for their wedding, it was Queen Victoria who started the bouquet tradition.

Since the eleventh century, Fulham Palace on the Thames was the home to the Bishops of London and was surrounded by rather legendary gardens. According to Country Life magazine, "the four myrtle bushes on the east facade of Fulham Palace, facing the gardens, were grown from cuttings taken from Queen Victoria's wedding bouquet in 1840."

Since then all royal wedding bouquets have contained a sprig of myrtle taken from one of the bushes grown from the myrtle in Queen Victoria's wedding bouquet.

On November 20, 1947, in London's Westminster Abbey, Princess Elizabeth and Lieutenant Philip Mountbatten were married. Elizabeth's bridal bouquet was made up of white orchids and a sprig of Queen Victoria's myrtle. The following day it was laid on the grave of the unknown solider in Westminster Abbey.



Princess Diana carried a huge waterfall bouquet.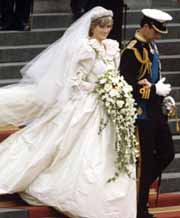 William's mother, Princess Diana, carried a wedding bouquet created by Longmans Limited of London. The center of the bouquet was a cluster of gardenia flowers supported by golden Earl Mountbatten roses. From the center was a cascade of white Odontoglossum orchids with soft golden centers. The shower, or waterfall, of the bouquet was made up of pips of Stephanotis, falling in three main drops, with each drop supported by miniature ivy and tradescantia leaves. The bouquet also contained small sprigs of myrtle - considered a Victorian symbol of fidelity in marriage - so the sprig in Lady Diana Spencer's bouquet was obviously defective.

Three versions of Lady Diana's bouquet were created by Longmans. The first was used at the rehearsal before the wedding, and then displayed in the front window of Longmans shop. The second was delivered to Lady Diana shortly before the wedding, and was the one she carried throughout the ceremony. The third version was delivered later that morning to Buckingham Palace and was used for the formal photographs. The second and third bouquets were laid at the Tomb of the Unknown Soldier in Westminster Abbey after the Princess had departed on her honeymoon.

Despite the marriage disaster of Charles and Diana, myrtle is still thought to bring good luck at weddings.



Camilla's wedding bouquet also contained a myrtle sprig, which some say was a gift from a friend.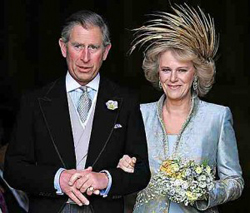 Camilla's 2005 wedding to Prince Charles had her bouquet designed by the famous Shane O'conolly. Lilly of the Valley played a major role accented by yellow, purple and white primroses - and a sprig of myrtle.

Traditionally, royal wedding flowers have been white and cream with lots of gorgeous green foliage. The flowers and foliages are usually chosen for their beautiful scent.

The most popular flowers for royal weddings are roses, orchids, lily of the valley, gardenias, lilies and stephanotis. Jasmine creates a lovely scent and gives the wedding bouquet softness. It is often used in the floral decorations throughout the venue too. Where possible, British-grown flowers will be used.

If you'd like to see what kinds of flowers the royals like and happen to be in the neighborhood, you can visit Buckingham Palace on a spring weekend, when it is usually closed to the public, for a tranquil tour of its famous garden.

The tour begins with tea and light refreshments and an illustrated introductory talk in The Queen's Gallery. Following the talk, which focuses on the garden's history, your group will enjoy an hour-long tour of the garden in the company of an expert guide.

Features of the garden tour include views across the beautiful lake, the colorful Herbaceous Border, the wisteria-clad summer house and Rose Garden, the enormous Waterloo Vase and the Palace tennis court, where King George VI and Fred Perry played in the 1930s.

The 39-acre garden has always played an important role in the private and public lives of the royal family, and is today the setting for The Queen's Garden Parties. Described as 'a walled oasis in the middle of London', it boasts more than 350 types of wild flower, over 200 trees and a three-acre lake.

Garden Tours take place on selected dates and time each year from April-June.

And, you can watch the wedding of William and Kate to see her bouquet. Keep an eye out for that sprig of myrtle.


MUSIC TO CELEBRATE A ROYAL WEDDING


As the world prepares for a Royal Wedding, the celebrations begin this week with great classics for a great occasion in the incomparable majesty of the Royal Albert Hall.

If you asked an average person to name "traditional" wedding music, the chances are that they would nominate Wagner's Wedding March from Lohengrin, "Here comes the bride" for the entrance of the bride and Mendelssohn's Wedding March for the exit of the bridal party at the end.

On Sunday, April 17, in London's Royal Albert Hall Music To Celebrate a Royal Wedding will be presented.

The selections will include Wagner: The Grand March from Tannhauser. and the Bridal March from Lohengrin. Handel will be represented with the: Hallelujah Chorus from Messiah. and See the conquering hero. Elgar compositions to be presented are Land of Hope and Glory, Nimrod. Of course Mendelssohn's Wedding March is on the list. Jupiter from The Planets by Holst will be performed as will Trumpet Voluntary by Clarke, Crown Imperial by Walton, Rule, Britannia! by Arne,Jerusalem with music written by Sir Hubert Parry in 1916, Toccata by Widow and Hornpipe by Wood.

Conducted by Anthony Inglis, performances will come from: Royal Philharmonic Concert Orchestra, Royal Choral Society and Fanfare Trumpeters of the Coldstream Guards Band.

Featured performers are Crispian Steele-Perkins on trumpet, soprano Sophie Bevan and organist Stephen Disley.


SPREADING THE WORD


TRACEY ULLMAN who will serve a Royal Wedding commentator for Canadian news network Bell Media's 16 hour coverage, will return to the London stage for the first time in 20 years to star in Stephen Poliakoff's new play My City, which will opened at the Almeida Theatre on September 8.

The comedian will play a former school headmistress in the ensemble production, which is the playwright's first work in 12 years. He will also direct.

Ullman last appeared on the London stage in the original production of Rita, Sue and Bob Too at the Royal Court in 1992. In 1991 she appeared in New York opposite Morgan Freeman in The Taming of the Shrew.

My City tells of a man who becomes reacquainted with his old primary school headmistress after finding her lying on a park bench. Rehearsals begin in August.

WAR HORSE the hit London import, which opens this week at Lincoln Center, will hold a pre-show discussion on Wednesday, April 13 with Michael Morpurgo, the author of the novel on which the show is based, who will be joined by the play's co-directors Marianne Elliott and Tom Morris. Moderated by Anne Cattaneo Dramaturg and Director, LCT Directors Lab. Beaumont Theater Lobby at Lincoln Center Theater, NYC.

THE THREE SISTERS the Chekhov classic will be recorded by L.A. Theatre Works April 13-17.

Starring Tessa Thompson, Jennifer Westfeldt, Sarah Zimmerman Jon Hamm and Reid Scott will be directed by Jenny Sullivan.

One of the greatest ensemble pieces of all time, Chekhov's play is a wistful romance of missed chances and wasted opportunities. The Prozorov sisters, carrying the torch for enlightened society in a provincial backwater town, entertain a visiting army garrison, all the while losing their hearts to the dashing soldiers, their quixotic ideals, and a world of what-might- have-been.

All performances will be recorded to air on L.A. Theatre Works' syndicated radio series. April 13-17. L.A. Theatre Works at the Skirball Cultural Center, Los Angeles.

BRITISH COLUMBIA BOOK PRIZE FINALISTS ON TOUR a selection of shortlisted authors are taking part in the BC Book Prizes On Tour presented by Rio Tinto Alcan. This author reading tour is taking the finalists to schools, bookstores and public libraries for free events in communities throughout BC through April 20, 2011.

Making the short list as a finalists for the 2011 BC Book Prizes-Hubert Evans Non Fiction Prize is former Las Vegas Elvis impersonator Morris Bates, for his book Morris as Elvis Take a Chance on Life written with Jim Brown and published by Fox Music Books. ( See Broadway To Vegas column of May 9, 2010 )

The BC Book Prizes, established in 1985, celebrate the achievements of British Columbia writers and publishers. The seven prizes, plus The Lieutenant Governor's Award for Literary Excellence, are presented annually at the Lieutenant Governor's BC Book Prize Gala in April.



NEW YORK TIMES SQUARE HITS 107
Times Square

New York Times Square turned 107 last Friday. On April 8, 1904, Longacre Square was officially named Times Square after The New York Times headquarters. The Times Tower stood on the triangle of land at the intersection of 7th Avenue, Broadway and 42nd Street and was at that time Manhattan's second tallest building.

The area was already an entertainment hot spot. Oscar Hammerstein's sprawling Olympia, precursor to the modern entertainment complex, occupied an entire block on 42nd street, including three theatres and a magnificent roof garden populated with swans, monkeys and the murmuring of a waterfall as a backdrop for diners and dancers.

The 1914-1915 Broadway season witnessed 113 productions in Tines Square's 43 theaters.

The Great Depression hit Times Square hard, causing many theaters to close. An outpouring of joy filled the streets of Times Square as World War Two ended.

In the 40s, Times Square was place of vast crowds and cheap thrills. Visitors could sample Ripley's Wax Museum or frequent one of the innumerable late night cafeterias or pinball arcades that dotted the neighborhood. On the surface, Times Square was a diverting middle-class tourist escape - hiding a growing underbelly of serous crime. It's the Times Square made famous by Damon Runyon in such classics as Guys and Dolls.

By the 1970s the area had disintegrated into a dysfunctional danger zone.

Today the Times Square Alliance proudly describes the are as "an electrifying commercial carnival; by night a wildly flashing arcade game, by day a chaotic and globalized performance of light, noise and crowds. The neighborhood is a mirror of America, reflecting the obsessions, desires and priorities of a changing nation.


OTHER PEOPLE'S MONEY
Heidi Fleiss
Charlie Sheen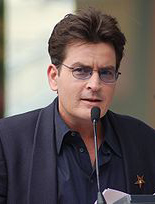 CHARLIE SHEEN in one of his on-stage rants bragged about how many millions of dollars he has, then confessed that he owes former Hollywood Madam Heidi Fleiss $2 million, explaining that he paid for sex.

Apparently Fleiss is the only madam in the world to have ever permitted her clients a line of credit.

In June 1993, she was arrested for multiple charges, including attempted pandering, for which she was initially convicted. However, the Second District Court of Appeal overturned that body parts conviction, ruling that jurors engaged in vote-swapping misconduct to avoid a deadlock. The following year, Fleiss was tried in a federal court, where she was convicted of money laundering and tax evasion. In 1995 Charlie Sheen testified at her tax evasion trial that he alone paid Fleiss $53,000 for the sexual services of prostitutes. Fleiss received a 37-month sentence, which she served at the Federal Correctional Institution in Dublin, California.

Fleiss lives in Pahrump, Nevada. In 2007 Fleiss opened a Laundromat called Dirty Laundry, in the town 60 miles from Las Vegas. In February, 2008 she was arrested in Pahrump on charges of illegal possession of prescription drugs and driving under the influence. In 2009, Fleiss was treated for substance abuse at the Pasadena Recovery Center, which was filmed for the third season of Celebrity Rehab with Dr. Drew. Her house in Pahrump caught fire on November 25, 2010.

Charlie admits he owes the hooker bill and has the money to pay. Pay her. Living in Nevada isn't free.



Toni Morrison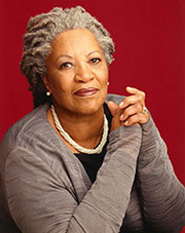 Snooki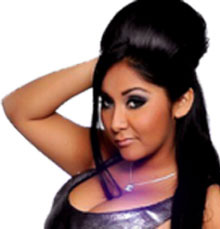 SNOOKI'S LAW has been proposed by New Jersey State Sen. Joe Kyrillos after Rutgers University paid Jersey Shore star Nicole "Snooki" Polizzi $32,000 to blabber about her thoughts on the importance of higher education - "Study hard, but party harder."

Over 1,000 students attended her two inspirational talks.

Republican Kyrillos wants to pass a law that would stop state schools from using mandatory student activity fees on such entertainment. His bill will permit students to pay for only the events they attend.

When asked her philosophy of life, Snooki said: "Being tan. When you're tan, you feel better about yourself." As she left the stage she said: "I love you bitches!"

No statistics as to whether the future leaders of tomorrow who gathered for Snooki are the same 1,000 who buy tickets to hear Charlie Sheen ramble.

The reality star's payday was $2,000 more than Pulitzer and Nobel Prize-winning novelist Toni Morrison will receive for giving the school's commencement speech. We don't know if Snooki's IQ is higher than her poof, but she did once enroll - but did not complete - a program to become a veterinary assistant. On July 27, 2010, the cast of Jersey Shore appeared at the New York Stock Exchange and Snooki rang the opening bell. On that day the Dow closed flat after three straight triple digit gains.

Morrison is the Robert F. Goheen Professor Emeritus in the Council of the Humanities at Princeton University. She has degrees from Howard and Cornell Universities.

Snooki gets the big bucks because she isn't intimidating. She makes the average and underachieving feel comfortable.



HAPPY BIRTHDAY TO . . .


JOEL GREY the Oscar and Tony Award winning actor is the birthday boy on April 11. Grey plays Moonface Martin in Anything Goes, the frothy, fun Roundabout revival which officially opened' April 7 at the Stephen Sondheim Theatre.

It's not too many people who are the focus of a museum exhibit. Birthday boy Grey receives just that as a unique present. The Museum of the City of New York, in its forthcoming exhibition Joel Grey / A New York Life, examines the enduring impact that legendary actor and his adopted city have made on each other. Through rare artifacts from his stage and screen career, objects from his personal collection, and his own photography, MCNY offers a unique look at New York through Grey's eyes as well as a visual retrospective of his career.

The exhibition's opening night reception will take place on the evening of Monday, April 11, which is also Grey's 79th birthday. It will open to the public the following day, and remain on display through Monday, August 8.

DAN LAURIA scoring a touchdown in his role as Lombardi in the Broadway show of the same name opens his presents on April 12.


WEDDING NEWS


MICHAEL BUBLE AND LUISANA LOPILATO are both legally and religiously wed. The couple were first joined in a civil ceremony held on Thursday, March 31. On April 2 they were united in marriage in a religious ceremony attended by 300 guests in Buenos Aires. Under the three ceremonies is a charm rule, the couple will participate in a third event in Buble's native Canada.

CHARLENE WITTSTOCK

Prince Albert and Charlene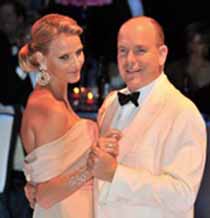 the former South African Olympic Swimmer who will marry Prince Albert II of Monaco has converted to Catholicism for her religious wedding ceremony.

"Miss Charlene Wittstock who profess the Christian faith, was admitted by a free personal decision, to full communion in the Catholic Church", announced an April 4th statement from the Palace of Monaco.

Catholicism is the official religion of the principality. Her conversion will allow her to enter into a sanctioned marriage with the reigning sovereign and also meets the constitutional requirements regarding any possible heirs.

Although Prince Albert has two illegitimate children from two other relationships, they do not quality as heirs.

The civil ceremony - required by law - will take place in the Palace Throne Room, on the evening of July 1 with 100 friends and family in attendance. Afterward, the couple will make an appearance on the balcony of the princely palace. Monsignor Bernard Barsi, Archbishop of Monaco, will then conduct the religious ceremony and Mass the next evening in the palace chapel. A large number of royals have been invited to the wedding, as well as 3,500 other guests. Just as William and Kate have done, the future bride and groom have said they do not want wedding gifts but requested that wedding donations be made to various humanitarian organizations.

Prince Albert, son of the former Hollywood star Grace Kelly, and his bride-to-be will attend Will and Kate's wedding and Britain's love-birds will be present for the vows exchanged by Albert and Charlene. Also attending the Monaco nuptials will be Crown Prince Willem-Alexander and Princess Máxima who will be the only Dutch royals to attend the wedding in Monte Carlo. Willem-Alexander and Albert met through their work for the International Olympic Committee.


STORK DELIVERY


MARISKA HARGITAY AND HUSBAND PETER HERMANN are the proud parents of an adopted, mixed-race baby daughter whom they named Amaya Josephine. Anxiously awaiting the opportunity to show her how to run the household is August, her 4-year-old big brother.



SPECIAL TONY AWARDS HAVE BEEN ANNOUNCED The recipients for the Special Tony Award for Lifetime Achievement in the Theatre, the Isabelle Stevenson Award and The Tony Honors for Excellence in the Theatre will be presented their awards at the 2011 Tony Awards, which will be held June 12 at the Beacon Theatre.

The Special Tony Award for Lifetime Achievement in the Theatre will be presented to playwright Athol Fugard and Philip J. Smith, Chairman of The Shubert Organization. The recipient of the Isabelle Stevenson Award will be V-Day founder and artistic director, Eve Ensler. The Isabelle Stevenson Award "recognizes an individual from the theatre community who has made a substantial contribution of volunteered time and effort on behalf of one or more humanitarian, social service or charitable organizations, regardless of whether such organizations relate to the theatre," according to the official statement.

The Tony Honors for Excellence in the Theatre were established in 1990 and are awarded annually to "institutions, individuals and/or organizations that have demonstrated extraordinary achievement in theatre, but are not eligible in any of the established Tony Award categories."

This year's Tony Honors will be presented to animal trainer Bill Berloni, The Drama Book Shop on West 40th Street in Manhattan, and Sharon Jensen and Alliance for Inclusion in the Arts.



GOD OF CARNAGE

Original Broadway production. Marcia Gay Harden, Hope Davis, Jeff Daniels and James Gandolfini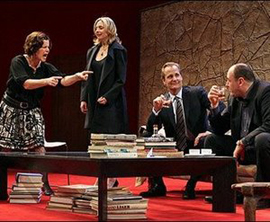 the 2009 Tony Award Winner Best Play and the Laurence Olivier Award for Best New Comedy written by Yasmina Reza.

Translation by Tony award winner Christopher Hampton.

God of Carnage is a comedy of manners without the manners. Two young boys, a stick and some broken teeth are the catalyst in this tale of two families. Veronica, a writer, and Michael, a company wholesaler, are parents to Henry. Annette, a wealth manager, and Alan, a lawyer, are parents to Benjamin. The two couples meet to discuss the misdemeanors of their sons. The evening begins quite amicably, with apple and pear clafoutis, and the four parents intending to resolve the situation diplomatically. However, as their hopes for this begin to splinter and disillusionment sets in, the evening deteriorates from one of mild unease and discomfort, into a deluge of accusations, recriminations, jealousy and rage. There is drinking, fighting, vomiting and the destruction of some rather lovely tulips.

Boys will be boys, but can the grown ups be grown up enough to resolve their differences without losing sight of right and wrong? The façade of civility shatters as the God of Carnage wreaks havoc in the living room and all hell breaks loose.

Starring the original Broadway cast Jeff Daniels, Hope Davis, James Gandolfini and Marcia Gay Harden.

At the Ahmanson Theatre in Los Angeles, the production officially opens on Wednesday, April 13 with performances through May 29.

In Boca Raton, Florida God of Carnage, directed by Kenneth Kay, stars Nick Santa Maria, Kim Ostrenko, Kim Cozort and Michael Serratore

That production opens April 10 with the press opening on April 15. Performances continue through May 15, 2011 at the Caldwell Theatre in Boca Raton, FL.

FRAGMENTS by Samuel Beckett. Directed by Peter Brook and Marie-Hélène Estienne.

Revered director Peter Brook, returns to the Kennedy Center for the first time since 1973, bringing together five short works by playwright Samuel Beckett for this theater collection.

The works are, Rough for Theatre I, Rockaby, Act Without Words II, Neither, and Come and Go.

The production will be performed in English with a cast that includes Hayley Carmichael and long-time Brook collaborators Bruce Myers and Yoshi Oïda.

Lighting design is by Philippe Vialatte.

April 14 - 17, 2011 at the Eisenhower Theater, Washington, DC.

WALKING THE VOLCANO by Jon Lipsky. Directed Elaine Vaan Hogue.

From Jon Lipsky, acclaimed author of Dreaming with an AIDS Patient and Living in Exile, comes his latest play Walking the Volcano, featuring Boston favorites Gabriel Kuttner and Paula Langton. "From a meeting in an airplane bathroom over the Pacific to a tryst in a seedy room in Saigon during the Tet Offensive, Lipsky's characters are complex, compelling, and in a search of the truth. We've all walked the volcano."

The cast also includes Jess Moss and Brian Vaughan.

A collaboration between Playwrights' Theatre at Boston University, and the Boston Center for American Performance at the BU School of Theatre.

April 15 - May 1 the Boston Playwrights' Theater in Boston.

DOCTOR ZHIVAGO a new musical based on the famous novel by Boris Pasternak, the stage musical has music composed by Lucy Simon, lyrics by Michael Korie and Amy Powers, and book by Michael Weller.

Directed by Des McAnuff.

Starring Anthony Warlow as the ardent young Doctor Yurii Zhivago. Joining Warlow will be Lucy Maunder as the alluring Lara, and Taneel Van Zyl in the role of his wife Tonia. Martin Crewes plays political radical Pasha Antipov, Bartholomew John is Viktor Komarovsky, and in the roles of Alexander and Anna are Peter Carroll and Trisha Noble.

Music Supervisor Eric Stern Choreographer - Kelly Devine; Musical Director - - Kellie Dickerson; Set Designer - Michael Scott-Mitchell; Lighting Designer - Damien Cooper; Costume Designer - Teresa Negroponte.

The Lyric Theatre in Brisbane, Australia debuts Doctor Zhivago, from July 6, 2011.

THRILL ME: THE LEOPOLD & LOEB STORY book, music and lyrics by Stephen Dolginoff. Directed by Guy Retallack.

Based on the shocking true story of infamous thrill killers Leopold & Loeb.

Chicago, 1924. Two wealthy college kids and a contract signed in blood. One is obsessed with crime, the other with love. Thrill Me reveals the series of events in that led about?to?be law students Leopold and Loeb to be forever remembered as 'the thrill killers'. Focusing on their obsessive relationship, which exploded into violence, and utilizing Leopold's 1958 parole hearing as a framework.

The case attracted global attention at the time due to the nature of their crimes and the duo being young, well educated and wealthy. The true events were also the basis for Never the Sinner, Swoon and Alfred Hitchcock's famous 1948 thriller, Rope.

Starring George Maguire as Richard Loeb and Jye Frasca as Nathan Leopold.

Design by James Turner, lighting by Richard Williamson and musical direction by David Keefe. Voice overs recorded by Les Dennis, Patricia Quinn and Lee Mead.

Dolginoff's Thrill Me won an ASCAP Music Award for the New York production in 2005. It was nominated for the Drama Desk Award for Best Musical and Best Music Score and for an Outer Critics Circle Award for Best Off Broadway Musical. The UK premiere at the Tristan Bates Theatre in London runs through April 30, 2011

RAPPAHANNOCK COUNTY a new musical theater piece composed by Ricky Ian Gordon. concept and lyrics by Mark Campbell.

Directed by Kevin Newbury. Musical direction by Rob Fisher.

Inspired by letters, diaries and other personal accounts of Virginians in the Civil War - black and white, rich and poor, soldiers, nurses, widows, and survivors.

This moving new music theater work was co-commissioned by the Virginia Arts Festival to commemorate the 150th anniversary of the start of the Civil War. Renowned composer Ricky Ian Gordon ,creator of the Obie-Award winning Orpheus & Euridice and the acclaimed opera Grapes of Wrath, has composed music for 20 songs with stories and words created by celebrated librettist/lyricist Mark Campbell that he drew from diaries, letters, and personal accounts.

On a stage transformed by projections of the Civil War, witness the lives of Virginians at war as portrayed by Aundi Marie Moore, Faith Sherman, Matthew Tuell, Kevin Moreno and Mark Walters.

Ricky Ian Gordon & Bruce Coughlin are the orchestrators. Wendall K. Harrington is the scenery and projection designer. Jessica Jahn costume designer. Robert Wierzel lighting designer. Ed Ayers serves as the creative advisor.

Tuesday, April 12 - through Sunday, April 17, 2011 at the Harrison Opera House in Norfolk, VA.

CAUSE CELEBRE by Terence Rattigan.

Directed by Thea Sharrock.

To celebrate the centenary year of Terence Rattigan's birth The Old Vic in London is staging Cause Célèbre, which was Rattigan's final play.

Based on the true story of Alma Rattenbury who went on trial with her 18-year-old lover for the murder of her husband, Cause Célèbre is an intriguing tale of love, betrayal, loyalty and obsession.

Starring Niamh Cusack and Anne-Marie Duff with Lucy Black Timothy Carlton, Simon Chandler, Richard Clifford, Oliver Coopersmith, Rory Fleck-Byrne, Freddie Fox, Jenny Galloway, Patrick Godfrey, Nicholas Jones, Tommy McDonnell, Lucy Robinson, Tristan Shepherd, Richard Teverson, Sarah Waddell, Michael Webber, and Tristram Wymark.

Designer - Hildegard Bechtler; Lighting - Bruno Poet; Music - Adrian Johnston; Sound - Ian Dickinson; Casting - Sarah Bird.

Performance through June 11, 2011 at The Old Vic in London.


WHO'S WHERE


OZZY OSBOURNE is Down South, way Down South, as in South America this week. He performs Tuesday, April 12, at the Estadio Monumental in Lima, Peru. On Thursday the rocker is in the spotlight at the Coliseo Ruminahui in Quito, Ecuador. On Saturday the show is at the Simon Bolivar Park in Bogota, Colombia.

PINK MARTINI and the NSO Pops offer a cool vibe with a hint of the wild side. April 12-16 at the Kennedy Center for the Performing Arts in Washington, DC.

JAMES TAYLOR performs at Carnegie Hall in NYC on Tuesday, April 12.

KEITH URBAN on stage Tuesday, April 12, at the Entertainment Centre in Tamworth, Australia. On Thursday he's in the spotlight at the Sydney Entertainment Centre in Daring Harbour and on Friday he can be enjoyed at the Brisbane Entertainment Centre in Boondall, Australia.

TRACE ADKINS brings his talents to the Community Arts Center in Williamsport, PA on Thursday, April 14. On Friday he can be enjoyed at the American Music Theatre in Lancaster, PA. Saturday's performance is at the Seneca Niagara Casino in Niagara Falls, NY.

EILEEN FULTON will appear at Bob Egan's – New Hope Cabaret, at the Ramada of New Hope, PA on Sunday afternoon, April 17th in a new show, Blame It On My Youth. Directed by Diana Basmajian, with Bob Goldstone as Music Director and Tom Hubbard on Bass, Fulton will add her signature flair to such classic standards as well as perform a special rendition of Blame It On My Youth, the famous jazz standard written by Oscar Levant and Edward Heyman. Fulton will also share memorable stories of growing up as a preacher's daughter in North Carolina; becoming the vixen of daytime television on As The World Turns; her time spent in Hollywood and all of her loves and let go's - the men who got away - and the men who she survived to tell about.

ADELE on stage Friday, April 15 at the ABC1 in Glascow. Next Sunday, April 17, she's in the spotlight at The Ritz in Manchester, England.

PAUL SIMON performs Friday, April 15 at the WaMu Theater in Seattle, WA. Next Sunday, April 17 Simon will deliver another show in Seattle, but that performance will be at the Showbox at the Market.

JOSHUA BELL on stage Monday, April 11, at the Konzerthaus in Vienna, Austria/ Tuesday's performance is at Dvorak Hall in Prague, Czech Republic. On Thursday he's in the spotlight at the Agence de Concerts et Spectacles Caesilia in Martigny, Switzerland. On Saturday he can be enjoyed at Wigmore Hall in London.

SUGARLAND entertains Thursday, April 14, at the Civic Center in Pensacola, FL. On Friday the show is at the Amphitheater in Tuscaloosa, AL. On Saturday they are on stage at the Bridgestone Arena in Nashville.

LGBT COMEDY CABARET the annual comedy night with Poppy Champlin, hosted by Richard Skipper. April 16 at the Nyack Center in Nyack, NY.

DJ SOPHIA LIN at the Playboy Club in Macao through May 21.According to the hotel's release "Sophia is often spotted at gigs in Las Vegas including Pure at Caesars, Planet Hollywood, Tabu at MGM and Coyote Ugly Saloon."

LITTLE ANTHONY AND THE IMPERIALS perform through April 16 at Feinstein's at Lowe's Regency in New York City.




FINAL OVATION


SIDNEY LUMET Oscar winning film director died at his home in New York City on April 9, 2011. He was 86. The cause of death was lymphoma.

Lumet received five Oscar nominations for his work. He awarded an honorary Oscar in 2005 for his "brilliant services to screenwriters, performers and the art of motion pictures."

He had over 50 films to his credit, including 12 Angry Men (1957), Dog Day Afternoon (1975), Network (1976) and The Verdict (1982).

Lumet made his professional debut on radio at age four and stage debut at the Yiddish Art Theatre at five. As a child he also appeared in many Broadway plays, including 1935's Dead End and Kurt Weill's The Eternal Road. After returning from World War II service (1942–1946) as a radar repairman stationed in India and Burma, he became involved with the Actor's Studio, and then formed his own theater workshop. He organized an Off-Broadway group and became its director, and continued directing in summer stock theatre, while teaching acting at the High School of Professional Arts.

During the 1950s he evolved into a highly respected TV director. Lumet was married three time - to actress Rita Gam, socialite/designer Gloria Vanderbilt and Gail Jones the daughter of singer-actress Lena Horne - before marrying his current wife Mary Gimbel in 1980. He is survived by his wife, stepdaughter Leslie Gimbel, stepson Bailey Gimble and daughters Amy Lumet and Jenny Lumet as well as nine grandchildren and a great grandson.

SAM MELCHIONNE musician, died March 31, 2011 in Las Vegas. He was 79. A regular on the Las Vegas Strip, he fronted the Sam Melchionne Quartet during 1960s-1980's.






Next Column: April 17, 2011
Copyright: April 10, 2011. All Rights Reserved. Reviews, Interviews, Commentary, Photographs or Graphics from any Broadway To Vegas (TM) columns may not be published, broadcast, rewritten, utilized as leads, or used in any manner without permission, compensation and/or credit.
Link to Main Page
---
Laura Deni



For the snail mail address, please E-mail your request.
CLICK HERE FOR COMMENT SECTION