! >
Broadway To Vegas
  
  REVIEWS INTERVIEWS COMMENTARY NEWS

| | |
| --- | --- |
| | |
ANGELS IN AMERICA REVIEW - -ESCAPE TO MARGARITAVILLE REVIEW - - FRIARS CLUB HONORS JAMIE deROY - - BURNING MAN FESTIVAL TICKETS - - JERRY LEWIS' HOME FOR SALE - - PLAY BALL BASEBALL AT THE DIA - - LOVE, LIZA AUCTION - - THE 15th ANNUAL JEFFREY FASHION CARES FASHION EVENT - - DONATE . . . Scroll Down





Copyright: April 1, 2018
By: Laura Deni
CLICK HERE FOR COMMENT SECTION


FROM ESCAPE TO MARGARITAVILLE TO ANGELS IN AMERICA - THERE IS SOMETHING FOR EVERYBODY ON BROADWAY
ESCAPE TO MARGARITAVILLE

Tammy (Lisa Howard) and bartender Brick (Eric Petersen) and the cast of Escape to Margaritaville. Photo by: Matthew Murphy.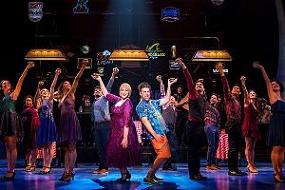 is frothy stop for Parrotheads at the Marquis Theatre. Think of it as a beach party on a stage geared for a specific type of party-goer.

From the luau themed atmosphere to the beach resort attired ushers, in my memory, this is the most laid back show to ever open on Broadway.

I've never had a Margarita frozen or otherwise, but I have seen Jimmy Buffett perform in person and now the Broadway musical incorporating his music. A Buffet in person concert is a laid back, happy affair. In an arena setting, before the performance, beach balls are bounced into the crowd. When one comes your way you pat it to somebody else. Everybody has a good time. People are there to hear the music and Buffet has a list of hits that is long enough to - be used to string together a Broadway musical.

He also has a rabid following.

The signature hand of Jimmy Buffett is everywhere. The minute you walk through the door Buffett's marketing style greets you. For decades Buffett has been a master at marketing and he knows what his fans want. Forbes reports that the man earned over $50m in 2017 and has a net worth of $550 million.

Conceived as a way to present the Jimmy Buffet playlist, Buffett first described his music as "drunken Caribbean rock 'n' roll" on his 1978 live album You Had To Be There. The story line is officially described as being: "about a part-time bartender, part-time singer, and full-time charmer named Tully who thinks he's got life all figured out – until a beautiful career-minded tourist steals his heart and makes him question everything." The plot can be ignored, although it has to be there; otherwise on stage would be a Jimmy Buffett tribute concert.

Parrotheads are there for their escapism music. Along the way there is some excellent, energetic, invigorating dancing, ably choreographed by Kelly Devine.

Buffet's catalogue - and a couple of new tunes - are in this show which features 22 ditties including: It's 5'o'clock Somewhere, Cheeseburger in Paradise, A Pirate Looks at Forty, License To Chill, Why Don't We Get Drunk (and Screw), Fins, We Are The People Our Parents Warned Us About, Come Monday, and My Head Hurts, My Feet Stink and I Don't Love Jesus.

Nobody ever claimed this show was high class. The high-point of the production is going to be whichever songs are your favorite.

The performers can sing, are upbeat, in a party mood, and seem glad to be there. Christopher Ashley, who won the Tony last year for directing the magnificent Come From Away, helms the cast which stars Paul Alexander Nolan, Alison Luff, Lisa Howard, Eric Petersen, Rema Webb, Don Sparks, Andre Ward.

Also in a party mood: Matt Allen, Tessa Alves, Sara Andreas, Tiffany Adeline Cole, Marjorie Failoni, Samantha Farrow, Steven Good, Angela Grovey, Albert Guerzon, Keely Hutton, Justin Keats, Mike Millan, Justin Mortelliti, Ryann Redmond, Jennifer Rias, Julius Anthony Rubio, Nick Sanchez, Ian Michael Stuart and Brett Thiele.

For Parrotheads, the songs don't sound as laid-back as they do in a concert, but this is Broadway. The costumes by Paul Tazewell are Caribbean casual and colorful. Walt Spangler's sets are appropriate and interesting. Lighting design by Howell Binkley couldn't be better and the sound design by Brian Ronan is easy on the ears.

Before the Broadway mounting this effort made stops at the La Jolla Playhouse in San Diego, the Saenger Theatre in New Orleans, Houston's hobby Center and the Oriental Theatre in Chicago.

Margaritaville is a song infused, romp which is meant to showcase the funky Golf Western music which is the escapism method of choice for Buffett fans.

Parrotheads don't need to fret. Although in more controlled fashion, at the end, colorful beach balls make an audience appearance.

ANGELS IN AMERICAN at the Neil Simon Theatre.

This is the season of revivals with productions whose messages resonates today as much as they did when first mounted.

If you want to experience great theater go see the 25th anniversary revival of Tony Kushner's Angels in America. If you are a student of acting - go see and study the performance skills of Andrew Garfield, Nathan Lane, Susan Brown, Denise Gough, Amanda Lawrence, Beth Malone (at select performances), James McArdle, Lee Pace, Nathan Stewart-Jarrett, Patrick Andrews, Glynis Bell, Amy Blackman, Curt James, Rowan Ian Seamus Magee, Mark Nelson, Matty Oaks, Genesis Oliver, Jane Pfitsch, Lee Aaron Rosen, Ron Todorowski, Silvia Vrskova and Lucy York.

That's right, all of them.

As for the principles - I've never seen Nathan Lane in anything where this national treasure wasn't superb. There have even been productions where he saved the show. In this revival Lane, as Roy Cohn, is performing with his peers - all of whom deliver exquisitely powerful and nuanced performances.

It's also a two-part, seven-and-a-half-hour event with two distinct parts: Millennium Approaches and Perestroika, staged in repertory during a limited engagement that closes July 1, 2018.

When I first saw the show in May 1991, the Walter Kerr theater was filled with celebrities. The late actor Dom DeLuise was seated near me. At the beginning of the first intermission he walked to the stage, grabbed it as if he needed to be held up and sobbed. I dare venture that he would have done the same with this revival - a magnificent production from London's National Theatre.

In 1991 AIDS had and was killing some of the best and brightest in the performing arts. Back then this opus sent a message about the AIDS crisis. As a no-doubt about-it heterosexual, I saw it more as a brilliant skewing of hypocrisy.

Today AIDS no longer is a death sentence. Unfortunately, hypocrisy still flourishes. I don't know the message or feelings this brilliant revival provides to the gay community. I still see the same messages - the insightful, bold, pointed and sarcastic take down of hypocrites, scandals and corruption - be they in politics, religion, the law or society in general.

During the original mounting, this work won numerous awards, including the Pulitzer Prize for Drama, the Tony Award for Best Play. I would expect this revival and the people in it to carry home more awards this year.

To those who are young or weren't old enough to see the original version, some of the characters are based upon real people. Others roles are a combination of individuals or represent circumstances. To fully appreciate the production and understand the complex story-line, you do need to know some of the characters or what they represent.

ROY COHN a sensational Nathan Lane delivering a maddeningly brilliant performance – A closeted gay lawyer, based on real life Roy Cohn. Just as in history, in the play it is eventually revealed that Cohn has contracted HIV and the disease has progressed to AIDS, which he insists is liver cancer to preserve his reputation.

ETHEL ROSENBERG played by Susan Brown in her Broadway debut – The ghost of a woman executed for being a Communist spy, based on the real life Ethel Rosenberg. She visits Roy, whom she blames for her conviction and execution. Julius and Ethel Rosenberg, a married couple convicted of conspiracy to commit espionage in 1951, were put to death in the electric chair on June 19, 1953.

Prosecutor Roy Cohn, who would play a major role assisting Joseph McCarthy with his hearings as his chief counsel, later bragged about his influence and that presiding Judge Irving Kaufman imposed the death penalty based on Cohn's personal recommendation, according to The Rosenberg File by Ronald Radosh.

Information released after her death from confessions, KGB and U.S. government files, and grand jury testimony released in 2015, revealed Ethel was most likely framed and not involved in the way Roy Cohen had her portrayed to the jury.

THE MORMON CHURCH which believes the Holy Land is located in Missouri (which in the play is moved to San Francisco). If Jesus returns, the Show Me state is the place. When this play was first presented the Mormon Church did not accept gays in any fashion. Today, the LDS community purportedly will accept a gay as long as the gay person renounces the lifestyle.

Mormon women are expected to be subservient to their husband and are required to do "temple work" as is depicted in one scene. In 1991 Mormon women in the state of Utah were prescribed Valium more than women in any other state and used a disproportionate number of anti-depressants, according to several studies. Several published reports state that in Utah one-third of adults were prescribed an opioid pain medication in 2014 - the most filled prescription was OxyContin. In June 2016 the US attorney in Salt Lake City, John Huber, warned of "an insatiable appetite in Utah for pain pills and for heroin".

A 2016 report by Chris McGreal quoted Dan Snarr, a member of the high priest group leadership within the LDS church whose son, Denver, died of a prescription drug overdose at the age of 25, pointed to the church. "The LDS church is a big part of it," he said referring to the abundance of drug use. "I go to church every week and I see where the challenge is. They make people feel that they should be perfect and they feel inferior, like they can't live up to the standards of what they expect them to live up to. So they start using prescription painkillers not to address pain, physical pain, but the mental issues that go along with feeling inferior. That you just cannot cope with all the things you're expected to be and to do."

Snarr, a former mayor of Murray, Utah told McGreal that he became aware of the extent of the problem after his son died. "A lot of people recognize that it's beyond anything to do with pain. It alleviates the stress and pain of this life and the challenges that you face," he said.



Nathan Lane as Roy Cohn and Nathan Stewart-Jarrett as Belize in Angels in America. Photo by: Brinkhoff & Mögenburg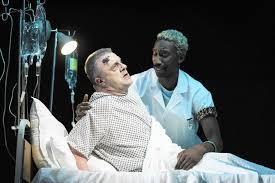 Angels in America is about hiding, inequality, pressure to conform, guilt and the inability to confront, cope and accept. It's also about greed, ruthlessness, power and self absorption.

HARPER PITT played by Denise Gough in her Broadway debut who demonstrates how a subdued approach can scream to the upper balcony – An agoraphobic Mormon housewife with incessant Valium-induced hallucinations. After a revelation from Prior (whom she meets when his heavenly vision and her hallucination cross paths), she discovers that her husband is gay and struggles with it, considering it a betrayal of her Mormon marriage.

JOE PITT played by Pace in a vivid performance – Harper's husband and a deeply closeted gay Mormon, Republican chief clerk at the U.S. Court of Appeals, Second Circuit, and friend of Roy Cohn. Joe eventually abandons his wife for a relationship with Louis. Throughout the play, he struggles with his sexual identity.

PRIOR WALTER in a rich, vital performance by Andrew Garfield – the play's hero is a gay man with AIDS, who once relied on a blue blooded trust fund before confronting AIDS, experiences various heavenly visions. When the play begins, he is dating Louis Ironson. His best friend is a nurse named Belize, a former drag queen, he is Prior's ex-boyfriend who later becomes Roy Cohn's nurse. which is played with sensitivity, sass and insight by Nathan Stewart-Jarrett.

LOUIS IRONSON played by James McArdle delivering a pulsing performance as Prior's boyfriend. Unable to deal with Prior's disease, a blowhard of a legal clerk, he ultimately abandons him. Despite wallowing in Jewish guilt, he meets Joe Pitt and later begins a relationship with him.

Over the years Kushner has done what amounts to significant rewrites of Perestroika. Kushner has made it clear on several occasions that he wants a "pared-down style of presentation, with scenery kept to an evocative and informative minimum."

And, so it is with turn table cubic scenic design by Ian MacNeil with emotional and physical boundaries defined in neon by Paule Constable, offering the patron the opportunity to watch almost as a voyeur peaking through windows.

Costumer Nicky Gillibrand has eschewed the glowing, pristine white, winged wonder of an angel in the original production. In this revival, the angel (a perfect Amanda Lawrence in her Broadway debut) has been in a few battles. Her giant wings are dirty and ragged, their droopy feathers requiring support from six creatures looking as though they reside in the netherworld.

Set in 1985 New York and Salt Lake City as well as hallucination locations, as directed by Marianne Elliott, Angels has lost none of its punch or prickle. It's a must see show of this season.

Angels in America was commissioned by the Eureka Theatre in San Francisco, by co-artistic directors Oskar Eustis and Tony Taccone. It was first performed in Los Angeles as a workshop in May 1990 by the Center Theatre Group at the Mark Taper Forum. Millennium Approaches premiered in May 1991 in a production performed by the Eureka Theatre Company, directed by David Esbjornson. The entire two-part play debuted on Broadway at the Walter Kerr Theatre in 1993, directed by George C. Wolfe, with Millennium Approaches performed on May 4 and Perestroika joining it in repertory on November 23, closing December 4, 1994.

Lighting, Paule Constable; puppetry direction & movement, Finn Caldwell and Nick Barnes; music Adrian Sutton; sound Ian Dickinson for Autograph; movement Steven Hoggett; hair, wigs, makeup, Rick Caroto; original movement Roby Graham; puppet design Finn Caldwell & Nick Barnes; illusions Chris Fisher; production stage manager, Kristen Harris. Associate Director (US) Gina Rattan.

Movement Consultant Steven Hoggett; Movement Associate Patrick McCollum; Dialect & Vocal Coach Deborah Hecht; Fight direction by Thomas Schall; Dance Captain: Curt James; Fight Captain: Lee Aaron Rosen; Puppetry & Movement Associate Curt James.

Another major revival is slated for Berkeley Rep with Stephen Spinella, who won consecutive Tony-awards for Best Featured Actor and Best Actor for his performance as Prior Walter in the original Broadway production of Angels in America: Millennium Approaches and Angels in America: Perestroika respectively, assumes the role of Roy Cohn and Caldwell Tidicue is playing Belize. Berkeley Rep Artistic Director Tony Taccone, who has been with the production since the beginning, directs.






E-Book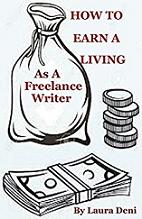 Soft back Book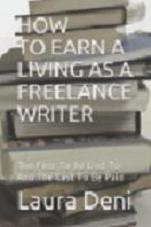 This is not your typical, totally boring textbook.

In the pages of How To Earn A Living As A Freelance Writer (the first to be lied to and the last to be paid) you'll find sex, celebrities, violence, threats, unethical editors, scummy managers and lawyers, treacherous press agents, sex discrimination; as well as a how-to for earning money by writing down words.






Broadway To Vegas is supported through advertising and donations. Priority consideration is given to interview suggestions, news, press releases, etc from paid supporters. However, no paid supporters control, alter, edit, or in any way manipulate the content of this site. Your donation is appreciated. We accept PAYPAL. Thank you for your interest.


ART AND ABOUT


PLAY BALL BASEBALL AT THE DIA

A T206 Honus Wagner baseball card is considered the most valuable card in the world. It's part of the Play Ball! Baseball at the DIA exhibit. Photo: Detroit Institute of Arts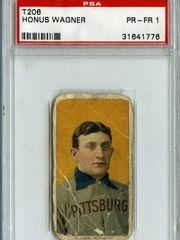 at the Detroit Institue of Arts invites you to take a step back in time and celebrate the great American pastime of baseball at Play Ball! Baseball at the DIA, featuring items from the Rochester, Michigan-based lawyer and avid baseball memorabilia collector E. Powell Miller and the Detroit Institute of Arts.

Valued at more than $5 million, this exhibition commemorates the 50th anniversary of the Detroit Tigers' 1968 World Series victory with memorabilia, baseball cards and collectibles. Visitors will also experience the extraordinary opportunity to view the only complete set of all 524 baseball cards known as the "T206 White Border Set," which were produced via vibrant, color lithography photographs printed from 1909 to 1911 by the American Tobacco Company. Miller's collection of these vintage cards is noted for its rarity and superlative condition, and includes a Joe Doyle "error card" as well as the coveted and rare Honus Wagner card which Miller purchased eight years ago for $282,000. At a recent auction, a Wagner card sold for $600,000.

Play Ball: Baseball at the DIA was organized by the Detroit Institute of Arts. Baseball cards and other related material are from the collection of E. Powell Miller. On display through Sunday, September 16, 2018.

DUCHESS KATE is on a working maternity leave. On the first day of her "maternity leave" it was announced by Kensington Palace that "The Duchess of Cambridge would become the first Royal Patron of the Victoria and Albert Museum. Furthering Her Royal Highness's interest in the visual arts, photography and design," she "formally" took up position on March 26, 2018.

The soon-to-be mother of three previously visited the V&A in June 2017 to officially open the Museum's new entrance, courtyard and exhibition gallery on Exhibition Road.

The wife of Prince William majored in art history at St. Andrews University.

The V&A is the world's leading museum of art, design, education and performance. It was established to make works of art available to all and to inspire British designers and manufacturers.

THE POPPY: A SYMBOL OF REMEMBRANCE

The Poppy flower is a symbol of remembrance.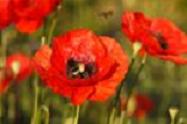 exhibition examines the history of the poppy and its emergence as a symbol of remembrance. Through a variety of objects, photographs and interviews, the exhibition explores the manufacture of poppies in Scotland, the charitable work of the poppy appeal and present a reflection on recent debates about what some regard as the politicization of the poppy as a symbol.

The Poppy: A Symbol of Remembrance coincides with the centenary of the conclusion of the First World War, and concludes National Museums Scotland's commemorative program of events and exhibitions relating to the conflict.

Through January 27, 2019 at the National War Museum, Edinburgh Castle, Edinburgh, Scotland.






E-Book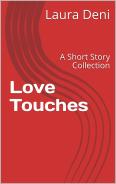 Soft back Book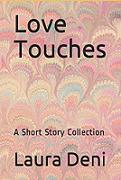 SWEET CHARITY


THE 15th ANNUAL JEFFREY FASHION CARES FASHION EVENT will take place Wednesday, April 11, at the Intrepid Sea, Air & Space Museum in New York City. Hosted by Tony and Emmy Award-winning actress and human rights activist Judith Light, the event will benefit work of the Elton John AIDS Foundation (EJAF), the Hetrick-Martin Institute, and Lambda Legal.

Since 2002, this highly anticipated fashion industry fundraiser, featuring a cocktail party, silent auction, and fashion show for 600+ guests, has raised more than $12 million for LGBT human rights, HIV/AIDS prevention and research, and breast cancer research and treatment organizations.



SPREADING THE WORD


LOVE, LIZA AUCTION will have on the block more than 1,000 lots belonging to the singer-actress, her mother Judy Garland and movie director father Vincente Minnelli. California auction house Profiles in History announced that the Love, Liza auction is the first from Minnelli's vast personal collection.

"Throughout my long career I have collected wonderful possessions and memorabilia and now I've reached a point in my life where I want to simplify and share with my fans who have always been there for me," Minnelli, 71, said in a release. "Without their unending love and support, none of this would have been possible. I hope my fans will be thrilled to not only have a chance to own a piece of my history, but also that of my mother and father."

Highlights from the auction include Minnelli's signature "Sally Bowles" ensemble from Cabaret - a bowler hat, boots, and jewelry - as well as photos of the star by Andy Warhol, Richard Avedon and Annie Leibovitz.

If you have the winning bid you can own Minnelli's 1971 Rolls Royce Silver Shadow as well as her hand-annotated shooting script for Cabaret.

An entire room of the exhibit will be devoted to Minnelli's relationship with late designer Halston, including a black and crimson beaded flapper dress, a red sequined tuxedo from the 1970s, .and designs she wore when was with her party hardy friends at Studio 54.

The two-day sale will take place in Calabasas, near Los Angeles, in late May and will be preceded by a free public exhibition at the Paley Center in Beverly Hills from April 4-29th, the auction house said.

JOHN BAILEY will continue to serve as president of the Academy of Motion Picture Arts and Sciences. as a complaint of sexual harassment brought against him on March 13, 2018, has been dismissed. The complaint had alleged that Bailey had attempted to inappropriately touch a woman while they were riding in a transportation van on a movie set more than a decade ago.

MEREDITH BAXTER AND MICHAEL GROSS the parents on television's Family Ties reunite to perform in A. R. Gurney's Love Letters.

When Andrew accepts an invitation to Melissa's birthday party, and Melissa writes a thank-you note, a romantic friendship and correspondence is born that will last more than 50 years. Though their relationship constantly changes, these pen pals remain each other's most trusted confidantes. A touching romance through old-fashioned pen and paper. Baxter and Gross have appeared together multiple times in this A.R. Gurney's Pulitzer nominated 1988 play, which has performances April 4 - 8, 2018 at the Bucks County Playhouse in New Hope, PA.

THE KANSAS CITY BALLET is celebrating its 60th anniversary with two-weekend celebrations April 6-8 and April 13-15 at the Muriel Kauffman Theatre. The first week-end features the Kansas City Ballet's first-ever performance of Diamonds, considered the most challenging section of Balanchine's full-length ballet Jewels, Ji?í Kylián's Petite Mort, touted as one of the most important ballets of the past 50 years. and The Uneven by Matthew Neenan,

PANDAS a documentary adventure from IMAX tells a heartwarming story about introducing captive-born giant pandas into the wild. Narrated by Kristen Bell, Pandas takes audiences on an exciting and educational journey for the entire family, with a species loved the world over: giant pandas. At the Chengdu Panda Base in China, scientists are taking the captive-breeding program to the next level and preparing captive-born cubs for the wild. This film follows a researcher from the Chengdu Panda Base, whose passion leads her to initiate a new technique to prepare the giant pandas for the life they were born to have.

"I am thrilled to team up with IMAX and Warner Bros. Pictures to help tell this incredible story in the larger-than-life IMAX format," said Kristen Bell. "Pandas not only spotlights the important work being done to protect these beloved and ridiculously cute animals, but it provides us with inspiration and hope and showcases the great things we can achieve when we work together."

Pandas is directed by the filmmakers behind Born to be Wild and Island of Lemurs: Madagascar, David Douglas and Drew Fellman.

Pandas opens in the Heikoff Giant Dome Theater at the Fleet Science Center in Balboa Park, San Diego on April 6, 2018.

TODAY, SUNDAY APRIL 1 April Fool's Day is National Soylent Green Day and National Sourdough Bread Day. April 2 is National Peanut Butter and Jelly Day. April 3 is National Chocolate Mousse Day. April 4 is National Cordon Bleu Day and International Carrot Day. Friday, April 6, is National Tartan Day, National Caramel Popcorn Day, International Carbonara Day and New Beer's Eve. Saturday is, obviously, New Beer's Day as well as Caramel Day and National Raisin & Spice Bar Day.






E-Book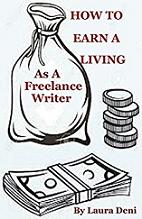 Soft back Book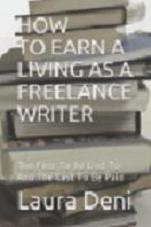 This is not your typical, totally boring textbook.

In the pages of How To Earn A Living As A Freelance Writer (the first to be lied to and the last to be paid) you'll find sex, celebrities, violence, threats, unethical editors, scummy managers and lawyers, treacherous press agents, sex discrimination; as well as a how-to for earning money by writing down words.





OTHER PEOPLE'S MONEY


BURNING MAN FESTIVAL TICKETS all 26,000 early tickets, priced at $425 each plus taxes and fees, sold out in 30 minutes. Vehicle passes cost an additional $80.

The annual festival attracts 68,000 people to Northern Nevada's Black Rock Desert each year. Taking place August 26 - September, this year's theme is I, Robot.

This year Burning Man provides ticket holders with a notice regarding "consent."

"As a city built on principles that include Civic Responsibility and Communal Effort, we all have a stake in the safety and security of our fellow Burners. Sexual assault at Burning Man, while uncommon and unconscionable, can happen. Should something happen to you or a fellow Burner, there are resources available before, during, and after the event. We need everyone's help to foster an educated, empowered, and safe community."

Burning Man allows nudity and permits sex- and sexuality-oriented camps during the event. The event has now attempted to notify their community, known as Burners, about "not only sexual consent but also consent to have photos taken and participate in activities."

JERRY LEWIS' LAS VEGAS HOME is for sale with an asking price of $1.4 million. The entertainer died at the home on August 20 at the age of 91.

Michael McGraw of Northcap Residentia is handling the sale of the Lewis home which covers over 7,325 square feet, with six bedrooms and six baths, a bar, an elevator, a separate casita, office and expansive backyard with a swimming pool.

Lewis and his wife, Sam, moved into the house in 1983.

That the famed star died in the home has the potential of both increasing and decreasing interest in purchasing the property, depending upon the psyche and motives of the buyer - including using the home as part of a celebrity death tour. Called "psychological damage" some states have rules as to whether a seller must disclose if a person has died in that home within a certain number of years. For instance, under California Civil Code Section 1710.2, it's within 3 years - unless the death was AIDS related. In that case "Federal law classifies AIDS as a disability, so disclosure of someone's death due to this cause is considered discriminatory,". according to homeguides.com

According to NOLA, "in some states, sellers are explicitly told (within the law or by court decisions) that they do NOT need to disclose deaths on the property to buyers. This is the case in Arizona, Georgia, and Pennsylvania."

Nevada law NRS 40.770 doesn't require real estate agents to disclose that a suicide, murder or death by any other cause occurred in a particular property.



THE NEW YORK FRIARS CLUB will honor the multi talented Tony Award winner Jamie deRoy at a celebration marking her 30th anniversary as one of the Club's first eight female members on Wednesday, April 11, 2018.

In 1988, deRoy joined illustrious performers Liza Minnelli, Joan Rivers and Brooke Shields; Broadcast Music, Inc. President and CEO Frances Preston; Filmworld Television President Beverly Partridge; independent television commercial producer Jeanne Harrison and Outer Critics Circle President Marjorie Gunner in rounding out the eight.

The event, Jamie deRoy, 30 Years a Friar, will be at The Friars Club, beginning with cocktails, followed by dinner and the show.

Jamie deRoy, 30 Years a Friar, will feature special tributes and performances by: Tony Award nominee Craig Bierko, Tony Award winners Chuck Cooper and Jim Dale, Emmy Award winner Penny Fuller, Grammy Award winner Larry Gatlin, Tony nominee Anita Gillette, Grammy winner Julie Gold, and multiple Tony winner Rupert Holmes, who penned one of my favorite songs the Pina Colada Song. Also performing are Tony Award winner Frances Ruffelle and Drama Desk award winner Benjamin Scheuer.

Directing the show will be Barry Kleinbort with Musical Director Ron Abel. Hosting will be comedian Judy Gold.

"It is especially fitting that we honor Jamie, a Friars Club trailblazer, for her many show business achievements, including her devotion to the Club and its Foundation," Michael Gyure, New York Friars Club executive director, said.

In addition to Tony Awards, deRoy has won eight MAC Awards; four Back Stage Bistro Awards and 11 Telly Awards for her extensive work on stage and screens. deRoy has produced nine CDs in the Jamie deRoy & friends series, all available on Harbinger and PS Classics labels. Her monthly cable television show spotlights well-known entertainers and newcomers.

The Friars is the preeminent members-only club for entertainment professionals and others involved in show business. It is dedicated to charitable endeavors and committed to fostering and promoting strong social and professional bonds among its members. Perhaps best known for its famed rollicking roasts, the Club through its Friars Foundation has historically raised funds to help entertainers in times of need.



E-Book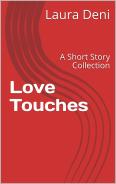 Soft back Book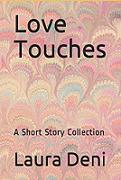 THE AGE OF INNOCENCE by Edith Wharton. Adapted for the stage by Douglas McGrath.

Directed by Doug Hughes.

New York City society at its most cultivated, wealthy and rigid - an elite class of people who dreaded scandal more than disease. In her Pulitzer Prize-winning novel, Edith Wharton introduces us to the courtly young gentleman lawyer Newland Archer; his traditional and demure fiancé May; and the free-spirited Countess Olenska, who has come home from Europe, tainted by scandal. From the moment Newland meets the Countess, he is torn between virtue and desire, and all three are forced to make the agonizing choice, ever old and ever new, between love and honor.

Starring Sierra Boggess as Countess Ellen Olenska. Boys Gaines as The Old Gentleman, Helen Cespedes as May Welland, Darrie Lawrence as Mrs. Manson Mingott Deirdre Madigan as Mrs. Welland/Mrs. Van Der Luyden/Florist Haviland Morris as Mrs. Archer. Josh Salt as Thorley/Riviere/Dallas Andrew Veenstra as Newland Archer. Tony Ward as Mr. Van Der Luyden/Larry Lefferts/Letterblair and Nick Wyman as Julius Beaufort/Sillerton Jackson/Mr. Hickey.

Students from The Hartt School at the University of Hartford form the ensemble: Sara Norton, Daniel Owens, Sara Schwab, Alessandro Gian Viviano.

Scenic Designer John Lee Beatty Costume Designer Linda Cho. Lighting Designer Ben Stanton. Sound Designer and Original Music Mark Bennett. Production Stage Manager Lori Lundquist. Assistant Stage Manager Jared Oberholtzer. Casting Director Caparelliotis Casting.

April 5-May 6, 2018 at Hartford Stage in Hartford, CT.

SIGNIFICANT OTHER Written by Joshua Harmon.

Directed by Stephen Brackett.

In this comedy from Bad Jews writer Joshua Harmon, twenty-something Jordan is the life of the wedding party, until it dawns on him that he is "always a groomsman, never the groom."

This play about finding and lacking love, follows Jordan - a single, young professional with a close group of female friends who slowly drift away from him as they get married one by one, while he searches for his own "Mr. Right".

April 3 - May 6, 2018 at the Geffen in Los Angeles.

THE DOPPELGÄNGER (AN INTERNATIONAL FARCE) by Matthew-Lee.Erlbach.

Directed by ensemble member Tina Landau.

The dangerous back channels of international resource politics, a wealthy British businessman suffers an untimely accident just before a critical African copper deal is signed. So when his unwitting (and witless) American doppelgänger is thrust into negotiations to avert intercontinental disaster, chaos erupts, leaving us wondering: whose side are we supposed to be on... and who will save Africa?? This new American farce is "a hilarious, irreverent and timely look at the back-room deals that shape our world and the unlikely cast of characters who make them."

Starring Rainn Wilson as Thomas Irdley/Jimmy Peterson with Eric Slater in the role at select performances. The production also features Michael Accardo, Whit K. Lee, Andy Nagraj, Karen Rodriguez and Dan Plehal.

Featured ensemble members are: Celeste M. Cooper, Audrey Francis, Ora Jones, Sandra Marquez, and James Vincent Meredith

Scenic Design Todd Rosenthal. Costume Design Clint Ramos. Lighting Design Scott Zielinski. Sound Design and Original Music Michael Bodeen and Rob Milburn. Stage Manager Malcolm Ewen. Assistant Stage Manager Christine D. Freeburg. Casting Director JC Clementz. Company Vocal Coach Gigi Buffington. Artistic Producer Jonathan Berry. Physical Comedy Consultant Jeff Jenkins.

April 5 - May 27, 2018 at Steppenwolf in Chicago.

THE MODERATE SOPRANO by David Hare.

Directed by Jeremy Herrin.

The critically acclaimed hit transfers to the West End for a limited time following a sold out run at Hampstead Theatre in 2015 with Triple Olivier Award winner Roger Allam reprises his role as the fearlessly passionate founder of Glyndebourne, John Christie, alongside Nancy Carroll, who also returns to play Christie's wife and muse.

The cast is completed by Paul Jesson as conductor and music director Dr Fritz Busch, Anthony Calf as Professor Carl Ebert, Jacob Fortune-Lloyd as opera impresario Rudolf Bing and Jade Williams as maid Jane Smith.

The two great passions in John Christie's life were opera and a beautiful young soprano, Audrey Mildmay, with whom he was completely smitten. Together with his formidable drive, they fuelled what many first saw as a monumental folly in the South Downs. Glyndebourne was triumphantly born amidst stiff manhattans, rolling lawns and the sound of sheep from across the HaHa. It was to become revered the world over.

A story of an intense love affair between unlikely bedfellows, and of the unrelenting search for artistic excellence in the face of searing scrutiny, sacrifice and war.

Lighting design by Olivier and Tony Award winner Paule Constable. Lighting Design by Simon Baker Olivier award winner and Tony nominee Simon Baker. Musical composition by Emmy Award winner Paul English and Luke Halls video design.

Opens at the Duke of York's Theatre in London on April 6, 2018.

CLEO by Pulitzer Prize winning author Lawrence Wright.

Directed by Bob Balaban.

Set during the filming of the disastrous 1963 movie Cleopatra, Cleo is the story of the scandalous romance of Elizabeth Taylor and Richard Burton. Their relationship brought condemnation from the Vatican and the US Congress, and it opened the age of paparazzi and tabloid celebrity, ensuring that the names Burton and Taylor would always be associated with the greatest sex scandal in ancient history.

Starring Lisa Birbaum as Elizabeth Taylor, Mark Capri as Rex Harrison, Brian Dykstra as Joe Mankiewicz, Adam Gibbs as Eddie Fisher and Richard Short as Richard Burton.

Richard Hoover Scenic Design - Alejo Vietti Costume Design - David Weiner Lighting Design - Rob Milburn and Michael Bodeen Sound Design - Brandon Weinbrenner Assistant Director.

A World Premiere with performances beginning April 6 at the Alley Theatre in Houston, Texas.



E-Book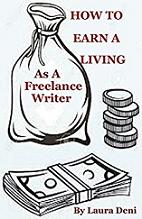 Soft back Book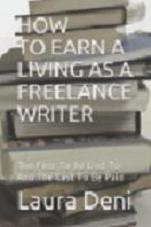 This is not your typical, totally boring textbook.

In the pages of How To Earn A Living As A Freelance Writer (the first to be lied to and the last to be paid) you'll find sex, celebrities, violence, threats, unethical editors, scummy managers and lawyers, treacherous press agents, sex discrimination; as well as a how-to for earning money by writing down words.





WHO'S WHERE




TONY BENNETT the ageless vocal wonder performs Thursday, April 5, at the State Theatre in New Brunswick, New Jersey.

PATTI LaBELLE lady of soul and Grammy-winning artist live in concert. Known for her powerhouse vocals and electrifying live performances, LaBelle's hits include If Only You Knew, When You Talk About Love, New Attitude, and Stir It U. Sunday, April 8, at the State Theatre of New Jersey in New Brunswick, NJ.

CHRISTIAN SANDS a young Steinway Artist and five-time Grammy nominee is considered an emerging jazz force. He's touring with new music he has composed and performs Saturday, April 7, at the Woodruff Arts Center's Rich Theatre in Atlanta, Georgia.

THE TEXAS TENORS perform in concert Friday, April 6, at the Grand Theater in Wausau, WI.

THE SM TOWN LIVE WORLD TOUR VI a four hour show will feature performances from 10 of the the world's most famous KPop superstars such as Kangta, BoA, TVXQ, Super Junior, Girls Generation, SHINee, Exo, Red Velvet, Trax, F(x) and Henry. SM Town is the name given to the music artists signed to the S.M. Entertainment record label, and they started their first world tour in 2008, visiting cities such as New York, Paris and Tokyo. This year they are stopping off in Dubai as part of their sixth world tour. April 6, 2018 at the Autism Rocks Arena in Dubai, UAE.

NORAH JONES on stage Sunday, April 1, at Le Palais in Megeve, France On Monday she'll be performing with Christ Thomas at can be enjoyed at La Seine Musicale, in Boulogne-Billancourt, France. Saturday's stop is at the Acropolis Salle Apollon in Nice, France.

JUSTIN TIMBERLAKE stars at Little Caesars Arena in Detroit, Michigan on Monday, April 2. Wednesday finds him at opening a two nighter at the TD Garden in Boston, Massachusetts. Next Sunday, April 8, he can be enjoyed when he begins a two night stand at the Centre Bell in Montréal, Quebec, Canada.

ETHAN BORTNICK on stage next Sunday, April 8, at the Wilbur Theatre, Boston, MA.

BRAD PAISLEY sings his hits Thursday, April 5, 2018 at the Value City Arena, Schottenstein Center, Columbus, OH. On Friday he's on stage at the Bridgestone Arena, Nashville, TN. On Saturday he's in the spotlight at the Van Andel Arena, Grand Rapids, Michigan.

THE DOOBIE BROTHERS perform April 7 at The Cosmopolitan Resort in Las Vegas.


FINAL OVATION


JAY B. ROSS was not an exclusive, but an oddity among his profession - an entertainment lawyer with integrity, who fought for music legends and their heirs to get paid and recover royalties, died March 1, 2018 of a heart attack in his Chicago home. He was 76.

Active until his death, in November 2017 he presented a panel at the Chicago International Movies & Music Festival where he spoke on How to Negotiate Great Deals in Both Music and Film.

Adopted by an aunt and uncle at the age of 2, he earned a law degree from the University of Illinois.

At different times, he represented James Brown, Muddy Waters, Willie Dixon, Jerry "Iceman" Butler, Ray Charles, Koko Taylor, Sister Sledge, the Chi-Lites, Dinah Washington, Rufus, gospel queen Albertina Walker and many others. In addition to his expertise on copyrights and royalties, clients said he kept an eye out for unauthorized sampling, streaming, video games and the use of artists' likenesses.

He loved parties and he rapped. In December 2015 he took up a dare and made a commercial video Rappin' Lawyer with some of his clients in which he rapped Sue the Bastards - often referred to as his battle cry.

"We'll sue them federal, we'll sue them state
We'll sue them in a way they can relate
And after all this, if they still retort,
Why hell, we'll take them to the Supreme Court."

In 2014 Jay B. Ross had an honorary street named for him near his law office.

He was buried at a private ceremony at Rockford Hebrew Cemetery on March 4. He is survived by several cousins.

JOSÉ ANTONIO ABREU was a Venezuelan orchestra conductor, pianist, economist, educator, activist, and politician best known for his association with El Sistema, died March 24, 2018. He was 78.

Considered an educational visionary in 1975 he founded El Sistema to help Venezuelan kids learn to play musical instruments and be part of an orchestra.

The El Sistema approach has been widely copied in Europe and North America and enthusiastically championed by Abreu's most successful protégé, Gustavo Dudamel, the music director of the Los Angeles Philharmonic, who continues to tour the Venezuelan Youth Orchestra worldwide.

Gabriel Abaroa Jr. President/CEO of The Latin Recording Academy issued the following statement: "We wish to offer a well-earned tribute to the extraordinary career and legacy of the great teacher, musician, composer and pianist, José Antonio Abreu, who passed last Saturday in Caracas, Venezuela. Maestro Abreu, who was the recipient of the 2009 Latin Recording Academy Trustees Award, created the innovative El Sistema method of musical education, which has reached more than two million young Venezuelan musicians, whom he brought to music with the aim of improving society and intellectual life through the Venezuelan Youth Symphony Orchestra. A musical and cultural icon for Latin America, Abreu was awarded countless other prizes and awards in countries including the United States, Canada, Japan, Sweden, Italy and Spain, among others. Maestro Abreu's legacy will live on in the hearts of all the young people he inspired, and it will echo across future generations who are committed to keeping his teachings alive."

PAUL LAVERN CUMMINGS famed female impersonator who spent 26 years starring at Finnochio's nightclub in San Francisco died in Las Vegas on March 23, 2018, after he was struck by a car. He was 90.

Cummings was crossing a street when the police report states that a 78-year-old driver hit him while he was in a crosswalk. He died at the scene. Police indicated that the driver responsible for the crash is cooperating and authorities are considering possible charges, including involuntary manslaughter, since the driver should have yielded to a pedestrian in a crosswalk.

Cummings' friend and fellow female impersonator David de Alba posted the following tribute: "One of the most beautiful transformations on stage from make-up and wigs to lovely gowns and the use of personalized musical charts to compliment his soprano voice Lavern left a stellar amount of acting and singing achievement on stage. He performed in The Jewel Box Revue from 1950 to 1956 and during that period had a short run in 1954 at The Beige Room in San Francisco. He opened at Finocchio's in 1956 and closed in 1982. Toward the end of his career he used the technique of dropping from soprano to baritone. Audiences were shocked seeing he really was a guy in drag."

He was born on August 17, 1927 in California. Called "incomparable," Cummings retired in 1982 and moved to Las Vegas. There are no survivors.

DRUE (DOREEN MARY) HEINZ co-founder of Ecco Press and publisher of The Paris Review for 15 years, died Friday, March 30, 2018 in Lasswade, Scotland. She was 103 and the widow of H.J. "Jack" Heinz II, grandson of the founder of H.J. Heinz Co, which he also led as CEO.

Mrs. Heinz edited Anton Chekhov's work for Ecco Press, which she started in 1971 with Daniel Halpern, editor of Ecco, an imprint of Harper Collins since 1999.

In 1980, she began supporting the University of Pittsburgh's fiction prize. Fifteen years later, in 1995, she endowed the prize with a $1 million gift to the University of Pittsburgh.

Winners of the Drue Heinz Prize for Literature receive $15,000, and the University of Pittsburgh Press publishes their short stories or novellas.

Married three times her first husband was John Mackenzie Robertson. The couple had a daughter, Wendy Mackenzie. In 1948, she married Dale Wilford Maher, a West Point graduate. She and her daughter moved to Pretoria, South Africa, early in 1946 to join Mr. Maher, who was charge d'affaires at the U.S. embassy. Two years later, in June 1948, Mr. Maher, 51, was found dead in his car just outside Pretoria. He was buried in Arlington National Cemetery.

For a time she tried her hand at acting. Using the name Drue Mallory, she had a small role in the 1948 movie Uneasy Terms, which starred Michael Rennie. She was also cast in three 1950 movies, Please Believe Me, starring Deborah Kerr, Three Came Home and Breakthrough.

Her acting career ended in August 1953 when, at age 38, she married Heinz, who was 45 and became a philanthropist. It was the third marriage for both and they were together for 34 years. He died age 78 in 1987.

From 1993 to 2007, she was publisher of The Paris Review, run by her close friend, author George Plimpton. When the archives of The Paris Review were sold to The Morgan Library in 1999, Mrs. Heinz put up the purchase price of $850,000, according to Nelson W. Aldrich Jr.'s 2008 biography of Plimpton titled George, Being George.

She inspired the creation of Heinz Hall Plaza in Pittsburgh and chose the sculpture there. Funds from her foundation generate exhibitions at the Carnegie Museum of Art's Heinz Architectural Center and help publish the Lincoln Center Theater Review. She was a member of the Founding Council of the Rothermere American Institute, University of Oxford.

In the United Kingdom, she supported London's Tate Gallery and the Royal Institute of British Architecture.

In 1973, Mrs. Heinz established a fund for travel, research and scholarly activities at New York's Metropolitan Museum of Art and became a Met trustee in 1979. A curatorship at The Met also bears her name. She contributed to the Museum of Modern Art in Manhattan. The Cooper-Hewitt Museum in New York houses the Drue Heinz Study Center for Drawings and Prints, which covers architecture, decorative arts, gardens, interiors, theater and textiles.

She served on the boards of many cultural organizations, including the American Academy in Rome, and also served on the International Council of the Museum of Modern Art.

Mrs. Heinz was named an Honorary Dame Commander of the Most Excellent Order of the British Empire in July of 1995. She was elected an Honorary Fellow of the Royal Society of Literature in 2002. That same year, she endowed the Drue Heinz Professor of American Literature at the University of Oxford in England.

Surviving are two daughters, Wendy Mackenzie of New York City and Marigold Randall and two grandchildren, Alexander and Ian Jacobus.

KENNY O'DELL singer-songwriter died March 28, 2018 at a health care facility in Cool Springs outside of Nashville, Tennessee. He was 73.

O'Dell was one of the longest serving members for the board of directors for the Nashville Songwriters Association International, earning the reputation as a devoted proponent for songwriters.

He was inducted into the Nashville Songwriters Hall of Fame in 1996.

He was married to the Nashville guitarist and singer Corki Casey O'Dell, who died last year.

Neil Portnow President/CEO of the Recording Academy issued the following statement: "Grammy winner Kenny O'Dell was a renowned songwriter, recording artist, and advocate for musicians' rights. He was a force in the country music field, best known for having penned hit tracks for artists including Charlie Rich, the Judds, and Kenny Rogers, among others. He earned three Grammy nominations for his songs: Mama He's Crazy (recorded by the Judds) and the Charlie Rich-sung Behind Closed Doors, which won the Grammy for Best Country Song for 1973 and also earned a Song Of The Year nod. Kenny leaves a lasting legacy as a proponent for songwriters and dedicated member of the Nashville music community. Our condolences go out to his family, friends, and collaborators during this difficult time."






E-Book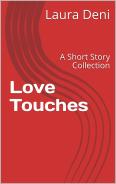 Soft back Book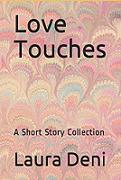 Next Column: April 8, 2018
Copyright: April 1, 2018 All Rights Reserved. Reviews, Interviews, Commentary, Photographs or Graphics from any Broadway To Vegas (TM) columns may not be published, broadcast, rewritten, utilized as leads, or used in any manner without permission, compensation and/or credit.
Link to Main Page
---
Laura Deni



For the snail mail address, please E-mail your request.
CLICK HERE FOR COMMENT SECTION