! >
Broadway To Vegas
  SHOW REVIEWS     CELEBRITY INTERVIEWS     GOSSIP     NEWS 
| | |
| --- | --- |
| | |
Copyright: April 1, 2001
By: Laura Deni
CLICK HERE FOR COMMENT SECTION

APRIL FOOLING AROUND
"The first of April is the day we remember what we are the other 364 days of the year. " American humorist Mark Twain


MARK TWAIN (Samuel Langhorne Clemens)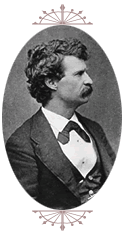 Some say that April Fools Day began in many parts of the world at the same time, in celebration of the spring equinox. Pranks were a big part of even the most boring equinox parties, everywhere from Sweden to India.

Others argue that the modern April Fool's Day followed the adoption of a reformed calendar in France circa 1564. In medieval times, the octave of New Year's began on March 25 with the eight days of festivities ending on April 1. With the reform of the calendar under Charles IX, New Year's Day was moved from April 1 to January 1. Due to the slowness of "sandal-net" communication back then and general resistance to change, the January 1 date was not fully accepted for several years. Those traditionalists who clung to April 1 as New Year's Day were scoffed at as "fools" and sent fake party invitations and prank gifts.

Widespread observance in England began in the 18th century. The English, Scotch and French introduced the custom to their colonies in America. One of our forefathers' favorite jokes was to send someone on a "fool's errand." For example, one might have been asked to go out and obtain a copy of The History of Adam's Grandfather, or bring back some "sweet vinegar."

In Scotland, April Fools Day is 48 hours long and you are called an "April Gowk", which is another name for a cuckoo bird. The second day in Scotland's April Fool's is called Taily Day and is dedicated to pranks involving the buttocks. Taily Day's gift to posterior posterity is the still-hilarious "Kick Me" sign.



The "foolish" tradition is celebrated in Mexico, too, but on a different day and for different reasons. "El Dia de los Inocentes," which is December 28, was set aside as a day for Christians to mourn Herod's slaughter of innocent children. Over time, the tone of that "unluckiest of days" has evolved from sadness to good-natured trickery.

In sixteenth-century France, the start of the new year was observed on April first. It was celebrated in much the same way as it is today with parties and dancing into the late hours of the night. Then in 1562, Pope Gregory introduced a new calendar for the Christian world, and the new year fell on January first. There were some people, however, who hadn't heard or didn't believe the change in the date, so they continued to celebrate New Year's Day on April first. Others played tricks on them and called them "April fools." They sent them on a "fool's errand" or tried to make them believe that something false was true. In France today, April first is called "Poisson d'Avril." French children fool their friends by taping a paper fish to their friends' backs. When the "young fool" discovers this trick, the prankster yells "Poisson d'Avril!" (April Fish!)

Each country celebrates April Fool's differently.

In England, tricks can be played only in the morning. If a trick is played on you, you are a "noodle".

In Portugal, April Fool's is celebrated on the Sunday and Monday before Lent. The traditional trick there is to throw flour at your friends.

In America, a big prank is the stock market. Or, the playing of small tricks on friends and strangers alike on the first of April.



Broadway To Vegas is supported through advertising and donations. Priority consideration is given to interview suggestions, news, press releases, etc from paid supporters. However, no paid supporters control, alter, edit, or in any way manipulate the content of this site. Your donation is appreciated. We accept PAYPAL. Thank you for your interest.


SWEET CHARITY

HARRY BELAFONTE held a benefit concert last Monday at Lincoln Center's Avery Fisher Hall, for the Center for Cuban Studies, a nonprofit organization with the same mission. "We want to celebrate Cuban culture, especially the music of Cuba with this concert," the entertainer said. Danny Glover was emcee.

VERA WANG was bestowed The Mother of the Year 2001 award during a luncheon benefiting the American Cancer Society. The event was held at the St. Regis Roof in New York City with Joan Rivers presenting the award to the designer.


APPLAUSE, APPLAUSE

STEVEN SODENBERGH who carried home the Best Director Oscar for Traffic had a belated celebration party in Las Vegas. Sodenbergh is in Vegas directing Ocean's Eleven When he arrived at the Las Vegas country Club to shoot a scene with George Clooney, Carl Reiner and Elliot Gould he was presented with a cake proclaiming Steven Soderbergh Best director 2001. Then on Thursday it looked like a mutual admiration society when Oscar winners Stephen Mirrione and Julie Roberts, arrived in Sin City to shoot one of the Ocean's Eleven segments - a faux blow up of the New York- New York resort.

The party hardy crowd celebrated at the Bellagio dining on caviar and Peking Duck. Roberts was decked out in an outfit that featured Sodenbergh's face on the front. About 150 of their nearest and dearest partied until the wee hours of the morning.

QUINCY JONES 68, the Grammy-winning producer, arranger and composer has been named a commander of the French Legion of Honor by French President Jacques Chirac. The ceremony took place Monday at the presidential palace in Paris.

AMERICAN THEATRE WING held their kick-off party at Planet Hollywood on Times Square, NYC to finalize the American Theatre Wing Gala, which will be held on April 16th and will honor Broadway's leading women directors and choreographers - Graciela Daniele, Susan Stroman, and Julie Taymor


STILL KICKIN'


GENE HACKMAN 71, had his first experience on stage, acting with silent screen star Zasu Pitts at the Pasadena Playhouse . After moving to New York the struggling actor roomed with another wanna-be - Dustin Hoffman.

MERV GRIFFIN 75, who started out as the boy band singer before becoming a television talk show host and the major big cheese behind Wheel of Fortune and Jeopardy, has returned to singing. Griffin's first album in about 25 years arrives in stores this week. It's Like a Dream, released by Pat Boone's Gold Label, includes standards My Funny Valentine, The More I See You and You Stepped Out of a Dream.

Just don't ask Merv to sing his hit I've Got A Loverly Bunch of Coconuts. The singer/tycoon hates the song.

BROOKE ASTOR who should be the role model for every charity/society doyenne celebrated her 99th birthday yesterday.


TALKS A LOT
THE ROCKY HORROR SHOW will be discussed April 2nd as part of TimesTalks.

Engaging talk with cast members of the Broadway show based on the cult film.

The moderator is Bill Goldstein who is the New York Times books editor. The panelists include; director Christopher Ashley, actors Dick Davett and Tom Hewitt.

Caspary Auditorium of The Rockefeller University.


MAC AWARDS PRESENTED TONIGHT
ROSEMARY CLOONEY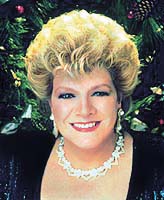 The 15th annual MAC Awards presented by the Manhattan Association of Cabarets and Clubs takes place tonight, April 1 at Town Hall, NYC

Receiving the Lifetime Achievement Award is Rosemary Clooney, who is currently performing at Feinstein at the Regency.

The high profile presenters include Cy Coleman, Michele Lee, Erv Raible, Susannah McCorkle, Eileen Fulton, Margaret Whiting, Julie Wilson, and Susan Lucci who will present an award to John McDaniel.

Lucci is going to be opening the act for Regis Philbin in an upcoming Atlantic City gig and McDaniel will serve as musical director.


THE NOMINEES ARE


FEMALE VOCALIST
- Natalie Gamsu - ALGONQUIN OAK R00M
- Audrey Lavine - JUDY'S CHELSEA
- Jeanne MacDonald - FIREBIRD CAFE
MAJOR REMALE VOCALIST


BARBARA COOK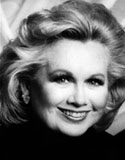 - Barbara Cook - FEINSTEIN'S
- Karen Mason - ARCI'S PLACE
- Sally Mayes - FIREBIRD CAFE
MALE VOCALIST
- Scott Coulter - DON'T TELL MAMA
- Jack Donahue - FIREBIRD CAFE
- Lee Lessack - FIREBIRD CAFE
MAJOR MALE VOCALIST
- Michael Feinstein - FEINSTEIN'S
- Phillip Officer - WESTBANK/LAURIE BEECHMAN THEATRE
- Steve Ross - FIREBIRD CAFE
VARIETY PRODUCTION
- Jamie deRoy & friends - Jamie deRoy - WESTBANK/LAURIE BEECHMAN THEATRE
- Monday Nite Madness - Angela LaGreca - DON'T TELL MAMA
- Poole Party - Ron Poole - DON'T TELL MAMA
FEMALE COMEDY PERFORMER
- Shecky Beagleman - DON'T TELL MAMA
- Kim Cea - DON'T TELL MAMA
- Nancy Witter - DON'T TELL MAMA
MALE COMEDY PERFORMER
- Rob Magnotti - CAROLINES
- Ron Poole - DON'T TELL MAMA
- Paul J. Williams - DON'T TELL MAMA
MUSICAL COMEDY PERFORMER
- Jim Caruso - ARCI'S PLACE
- Sammy Goldstein - DON'T TELL MAMA
- Amanda Green - WESTBANK/LAURIE BEECHMAN THEATRE
MAJOR STAND-UP COMEDY
- Mario Cantone - CAROLINES
- Jim David - CAROLINES
- Judy Gold - CAROLINES
MUSICAL THEATRE AND COMEDY DUO/GROUP
- Scott Barbarino & The Bev-Naps - THE TRIAD
- "Indigo Rat" - John-Richard Thompson - UPSTAIR'S AT ROSE'S TURN
- "The Next Big Broadway Musical!" - DON'T TELL MAMA
DUO/VOCAL GROUP
- The Accidentals - WESTBANK/LAURIE BEECHMAN THEATRE
- Eastern Standard Time - JUDY'S CHELSEA
- High 5 Vocalworks - DON'T TELL MAMA
JAZZ PERFORMER
- Mary Foster Conklin - DON'T TELL MAMA
- Natalie Douglas - FIREBIRD CAFE
- Laurie Krauz - DANNY'S SKYLIGHT ROOM
MAJOR JAZZ PERFORMER


JOHN PIZZARELLI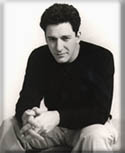 - Judy Barnett - WILSON'S
- John Pizzarelli - FEINSTEIN'S
- Billy Stritch - FIREBIRD CAFE
POP/R&B VOCALS
- David Gurland
- Karen Mack - DON'T TELL MAMA
- Parker Scott - DON'T TELL MAMA
FEMALE NEW YORK DEBUT
- Julie Reyburn - JUDY'S CHELSEA
- Traci Reynolds - DON'T TELL MAMA
- Vickie Smith - DON'T TELL MAMA
MALE NEW YORK DEBUT
- Kane Alexander - FIREBIRD CAFE
- Kristopher McDowell - WESTBANK/LAURIE BEECHMAN THEATRE
- Craig Rubano - WESTBANK/LAURIE BEECHMAN THEATRE
IMPERSONATION/CHARACTERIZATION
- James Beaman - "Marlene! Alive at the Cafe de Paris" - FIREBIRD CAFE
- Tommy Femia - "Judy Garland Live" - DON'T TELL MAMA
- Richard Skipper - "An Evening with Carol Channing" DON'T TELL MAMA
PIANO BAR / LOUNGE ENTERTAINER
- Jenifer Kruskamp - DON'T TELL MAMA
- Jerry Scott - DANNY'S SKYLIGHT ROOM
- Daryl Sherman - WALDORF-ASTORIA
MUSICAL DIRECTOR
- Christopher Denny
- Rick Jensen
- Ross Patterson
DIRECTOR
- Barry Kleinbort
- Lina Koutrakos
- Lennie Watts
TECHNICAL DIRECTOR
- Michael Barbieri - JUDY'S CHELSEA
- Tony Lauria - FIREBIRD CAFE
- Shawn Moninger - DON'T TELL MAMA
RECORDING: VARIOUS ARTISTS
- "Grateful: The Songs of John Bucchino"
- "Jamie deRoy & friends: The Child in Me, Vol. 2"
- "The Stephen Sondheim Album" - (Fynsworth Alley)
RECORDING: DUO/MUSICAL GROUP
- "The Mickey and Judy Show" - Jeff Harnar and Shauna Hicks
- "Meet the Lounge-o-Leers" - The Lounge-o-Leers
- "The Sweetest Sounds of Richard Rodgers" - KT Sullivan with Larry Woodard
RECORDING: SOLO FEMALE
- Jeanne MacDonald - "Company"
- Sally Mayes - "Boys & Girls Like You & Me"
- Julie Wilson - "Julie Wilson: The Cy Coleman Songbook"
RECORDING: SOLO MALE
- Jack Donahue - "Lighthouse"
- Craig Rubano- "Finishing the Act"
- Lennie Watts - "I Want .. You Want"
REVUE OF THE YEAR
- "American Rhapsody" Mark Nadler, KT Sullivan
- "Forbidden Broadway 2001: A Spoof Odyssey" Gerard Alessandrini
- "The Mickey and Judy Show" Jeff Harnar and Shauna Hicks
SONG ON THE YEAR
- "Since Love s Come Around" Tim Di Pasqua
- "I Am Home" Karen Mack
- "Time" Joseph Thalken and Barry Kleinbort
SPECIAL MATERIAL OF THE YEAR
- "Wicked Woman"- Francesca Blumenthal
- "Bistro Baby" -(parody)- David Gurland & Stephen Sondheim
- "Teddy Cares" - John McMahon & Jay Jeffries



THE PHILADELPHIA STORY

CALISTA FLOCKHART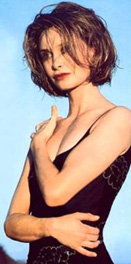 starring Calista Flockhart as Tracey Lord, opens a ten-week run at the Shaftesbury Theatre in London with previews beginning May 21. The official opening is June 7.

Flockhart has appeared in numerous New York stage productions including Neil LaBute's Bash and Eve Ensler's The Vagina Monologues. Written by Philip Barry, the original production opened on Broadway in 1939 with Katharine Hepburn in the lead. She reprises the role which, in the movie version, also starred Cary Grant as Dexter Haven and Jimmy Stewart as the reporter.

In 1956 the play was turned into a classic film musical High Society which starred Grace Kelly, Frank Sinatra, Bing Crosby and Celeste Holm. The tunes were Cole Porter.

An unsuccessful attempt to mount the production on Broadway in 1998 starred Melissa Errico, Daniel McDonald, Stephen Bogardus and John McMartin.

CIRQUE DU SOLEIL'S DRALION premiere Wednesday at Liberty Island is considered a hot ticket. The Kremly Vodka cruise on Princess World Yacht taking VIP guests to the premiere has added security to prevent the uninvited from sneaking on board.

THE INVENTION OF LOVE by Tom Stoppard stars Byron Jennings, Paul Hecht, Mark Nelson, Robert Sean Leonard and Richard Easton. After a month of previews the play officially opened March 2. This New York City premiere production is presented by Lincoln Center Theater at the Lyceum Theatre. Jack O'Brien directs.

BELLS ARE RINGING starring the talented and delightful Faith Prince and Marc Kudisch opens April 12 at the Plymouth Theatre, NYC with an opening night party following the performance at Sardi's. Book and Lyrics by Betty Comden and Adolph Green. Music by Julie Styne. Directed by Tina Landau and Choreography by Jeff Calhoun.

ONE FLEW OVER THE CUCKOOO'S NEST a revival of Dale Wasserman's 1970 play - based on the famous Ken Kesey novel stars Gary Sinise, as Randle P. McMurphy, who leads an inmate insurrection against the authoritarian Nurse Ratched played by Amy Morton. The production, directed by Terry Kinney, began life last year at Chicago's Steppenwolf Theater Company. Over the summer, it traveled to London, where it was greeted with rave reviews and sold out houses. Opens April 8 at the Royale Theatre. NYC. It's a limited engagement through June 17.

STONES IN HIS POCKET by Marie Jones. The comedy opens tonight at the Golden Theatre. NYC.

TROILUS and CRESSIDA by William Shakespeare will be presented by Theatre for a New Audience in this it's twenty-second season. Performances begin Tuesday, April 3, opening Sunday, April 15th at The American Place Theatre, NYC.

Directing Off-Broadway for the first time, Sir Peter Hall, founder of the Royal Shakespeare Company, will stage Troilus and Cressida, Shakespeare's most modern play -- cynical and heroic, romantic and obscene. Love and war are looked at unblinkingly. Written in 1602, but largely neglected until the 20th century, Troilus and Cressida speaks to contemporary audiences.

Hall's acclaimed staging of Tantalus, John Barton's modern treatment of The Trojan War, recently premiered at the Denver Center for the Arts.

The creative/design team includes Douglas Stein (sets), Scott Zielinski (lights), Martin Pakledinaz (costumes), Herschel Garfein (composer;) and B.H. Barry (fight director).

ONCE A MAN, TWICE A BOY

JOE LUCAS as Joe O'Neil Photo By: Dan Feld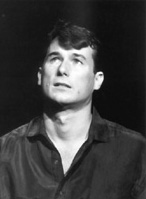 presented by Cold Productions and Michael J. Kuntz written and performed by Joe Lucas and directed by Mark W. Travis.

Performances begin Thursday, April 5th opening Wednesday, April 11th running through May 13th at the Irish Arts Center, NYC.

After "abandoning" his family by leaving home, Joe O'Neil returns to his hometown to be by his dying da's bedside.

One a Man, Twice a Boy tells of Joe's pursuit of his family's American dream, as he humorously examines his Irish heritage and the drudgery of working in the mines of the Anthracite regions of Eastern Pennsylvania.

THE TALE OF THE ALLERGIST'S WIFE staring Linda Lavin is at the Ethel Barrymore Theatre. NY. Despite a pulmonary infection and tracheal bronchitis, which had taken her out of numerous performances since November, Lavin is fantastic. Don't miss this show.

CABARET April 3-April 8 in Orlando, FL at the Bob Carr PAC

MADAME MELVILLE by Richard Nelson, starring Joely Richardson and Macaulay Culkin opens at the Promenade Theatre in NYC on April 2. Macaulay originated his role in the London producton portraying the student who discovers through his teacher played by Richardson - the daughter of Vanessa Redgrave and sister to Natasha Richardson - that beauty, loneliness, sex and art are one.

RICHARD II starring Austin Pendleton as the enigmatic monarch Richard II with Martin Carey, Rhonda Cole, Joe Corey, Letty Ferrer, Matthew Freeman, Peter Hess Friedland, Charlotte Hampden, Roland Johnson, William Laney, Austin Pendleton, Stewart Walker and Ted Zurkowski has been extended. The Frog & Peach Theatre Company production, directed by Lynnea Benson, will run through April 8 The Theatre at the West-Park Church, NYC.

LOVE, JANIS musical about Janis Joplin was set to begin performances on April 3rd at Village Theatre. Performances are now set to begin on Tuesday, April 10th with the official opening still set for Sunday, April 22nd. The reason for the delay because Eric Nederlander, owner of the Village Theater is remodeling the former Village Gate space, adding seats, and bringing in the most modern lighting and sound equipment in the hopes of making the Village Theater one of the most sought-after locations in the city.



Janis Joplin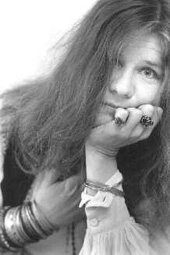 Conceived, adapted and directed by Randal Myler, the show is based on the book, Love, Janis by her sister Laura Joplin and comprised of the moving and revealing letters that the legendary star wrote home to her family. The entire spoken text of Love, Janis comes directly from Janis herself through her letters as well as her many press, TV and radio interviews. Love, Janis is also her extraordinary music. Nineteen of Joplin's best known songs, including, Piece of My Heart, Get It While You Can, Me and Bobby McGee, Ball and Chain, Turtle Blues, are interwoven throughout. It is a story about a legendary rock-and-roll star. It is also the story of a thoughtful, intelligent, emotionally fragile, loving daughter and sister attempting to communicate across a generation gap.

Love, Janis features three performers playing Janis. The private Janis who speaks from her letters, played by Catherine Curtin; and the public/performing Janis Joplin who belts out the songs, with alternating performances by Cathy Richardson and Andra Mitrovich. There is also an offstage male interviewer, to whom both Janis' respond as they interact with each other, played by Seth Jones.

Another name that was essential to Janis' time was Sam Andrew. Andrew sang and played guitar alongside Joplin in Big Brother & The Holding Company and later in her Kozmic Blues Band. He was with her when she fired off those dispatches from the road back to her family in Port Arthur, Texas, and was alongside her as she mesmerized audiences with her songs. Sam Andrew, as Musical Director for the production, is back with Janis Joplin.


WHO'S WHERE

DAVID COPPERFIELD

DAVID COPPERFIELD Collapsed while rehearsing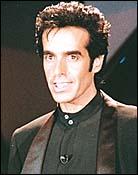 has re-occurring nightmares that he is going to die in a fire. That long standing terror developed because of a childhood trauma.

Never-the-less Copperfield intends to immerse himself in a raging tornado of fire - indoors in a building on Pier 94 near the West Side Highway and 55th Street, in a stunt which will be shown live April 3 on CBS.

The event has been plagued by problems. It took the 44 year old illusionist a year of negotiating to convince New York City to grant him a permit to turn himself in a fireball.

Then last Friday while rehearsing Copperfield collapsed. He was rushed to St. Luke's Hospital by private ambulance after flopping over about 3 p.m. on the Pier 94. He was rehearing for Tuesday night in a tornado of flame stirred up by a giant, whirling overhead fan. Suddenly Copperfield fainted, slightly injuring his neck in the fall.

After about three hours Copperfield was released from the hospital. He indicated he was exhausted. Despite the collapse, Copperfield's stunt is to be broadcast as scheduled. His staff issued a statement which said:"He will not allow himself to be psyched out by this setback."

The illusionist intends to stand in the center of a fiery tornado created indoors by helicopter blades with winds whipping around him at about 150 mph. That will stir a 25-foot-high, 2000-degree fire, fueled by propane gas.

Copperfield has been on a cross country promotion of the stunt and physicians blamed his collapse on exhaustion.

ANDREA BOCELLI April 4 he performs in Hartford, CT at the Hartford Civic Center. Then on April 6 he's center stage in Toronto, ON at the Air Canada Centre

MAUREEN McGOVERN is having a busy week. Tonight she's at Lehman Center for the Performing Arts in Bronx, NY.On April 3 she performs at Mechanics Hall in Worcester, MA. On April 4 she's in the spotlight at Community Theater in Morristown, NJ. On April 5 it's center stage at the Eisenhower Auditorium -- Penn State in University Park, PA. The next night, April 6, Maureen does it again at the Tilles Center in Brookville, NY then it's on to the Union county Arts Center in Rathway, NJ on April 7.

NEIL SEDAKA April 6 at Harveys Convention Center, in Council Bluffs, IA

HOT 97's ANNUAL APRIL FOOL'S DAY COMEDY SHOW returns to the Theatre at Madison Square Garden tonight, April 1. This year's show will include performances by Dave Chappelle, Mo'nique, Dominique, Rickey Smiley, Wil and Mike Epps.

BETTY BUCKLEY tonight, April 1, at the Keswick Theatre in Glenside, PA

BERNADETTE PETERS backed by the symphony April 6 at the Bass Perf. Hall in Fort Worth, TX. Then on April 7-8 the multi-talented lady performs at the Grand 1894 Opera House in Galveston, TX

MATCHBOX TWENTY plays April 2 in Vancouver, BC at the Pacific Coliseum. Then on April 3 they're in Seattle, WA for a show at the Key Arena at Seattle Center. On Wednesday it's center stage in Portland, OR at the Rose Garden Arena Saturday finds the group in El Paso, TX for a performance at the University Of Texas.

MAYNARD FERGUSON April 3 in East Liverpool, OH at the Westgate Middle School

TONY BENNETT returns to where he left his heart - San Francisco on April 8 for a performance at the Fairmont Hotel

DENISE DI RENZO who recently appeared at Judy's Chelsea in NYC, will appear at Odette's in New Hope, PA on April 7th and 8th. Denise is celebrating the release of her new CD Sweet Refrain.

AARON CARTER the blond cutie of the nearly-teen set, has joined Seussical, the Broadway musical, over the week-end, five days earlier than previously announced. The 13-year-old international star, known for such songs as Crush On You and Crazy Little Party Girl, plays the lost kid, Jo Jo, who feels Alone in the Universe in the Lynn Ahrens-Stephen Flaherty tuner drawn from the works of Dr. Seuss. He was originally announced to start April 4. He stays with the troupe at the Richard Rodgers Theatre to May 6. Cathy Rigby joined Seussical, playing The Cat in the Hat, March 15 and continues indefinitely.


THIS AND THAT


RICHARD PRYOR may have made significant contributions to the world of entertainment, but his contribution to his own substance abuse resulted in the city council in Pryor's hometown of Peoria, Ill., last Tuesday voting 6-5 against renaming a street for the comedian. Several council members said there was virtually no public support for the project and a plethora of public outcry against it. Councilwoman Gale Thetford said she received several calls objecting to honoring Pryor because of his well known previous drug habit.




Mention BROADWAY TO VEGAS for Special Consideration
Call (800) 942-9027









Next Column:April 8, 2001
Copyright: April 1, 2001. All Rights Reserved. Reviews, Interviews, Commentary, Original Photographs from any Broadway To Vegas (TM) columns may not be published, broadcast, rewritten, utilized as leads, or used in any manner without permission, compensation and/or credit.
Link to Main Page
---
Laura Deni


CLICK HERE FOR COMMENT SECTION